in HappyAddons
Free and Pro!
We are thrilled to inform you that we have released HappyAddons free v3.0.0 and Pro v2.0.0! It's a major update from our end. Here are the things which you'll be enjoying,
Released On: 3 August 2021
We have added a global tooltip feature for any content of the Elementor. Even you can show images, gifs as your tooltip. And it's a lightweight Elementor Tooltip than others, as we build our own library for you without using any third-party tooltip JS Library.
Released On: 3 August 2021
Image accordions are the most interactive design element for any website. And we have brought it for you for free.
Display images in a stacked group. You can manage its groove positioning as well. No need to use several sections to display a group of images in a row with the tooltip option.
Released On: 3 August 2021
Who doesn't love the trendy flyout or off-canvas content/menu items for their Elementor site? From now you can create lucrative off-canvas content within your Elementor site.
HappyAddons for Elementor comes with the best one-page navigation Elementor widget that offers all the possible customization within it.
Released On: 3 August 2021
Global credential key dashboard
From now on, you can manage our third-party tools integrations from one single page of the backend dashboard.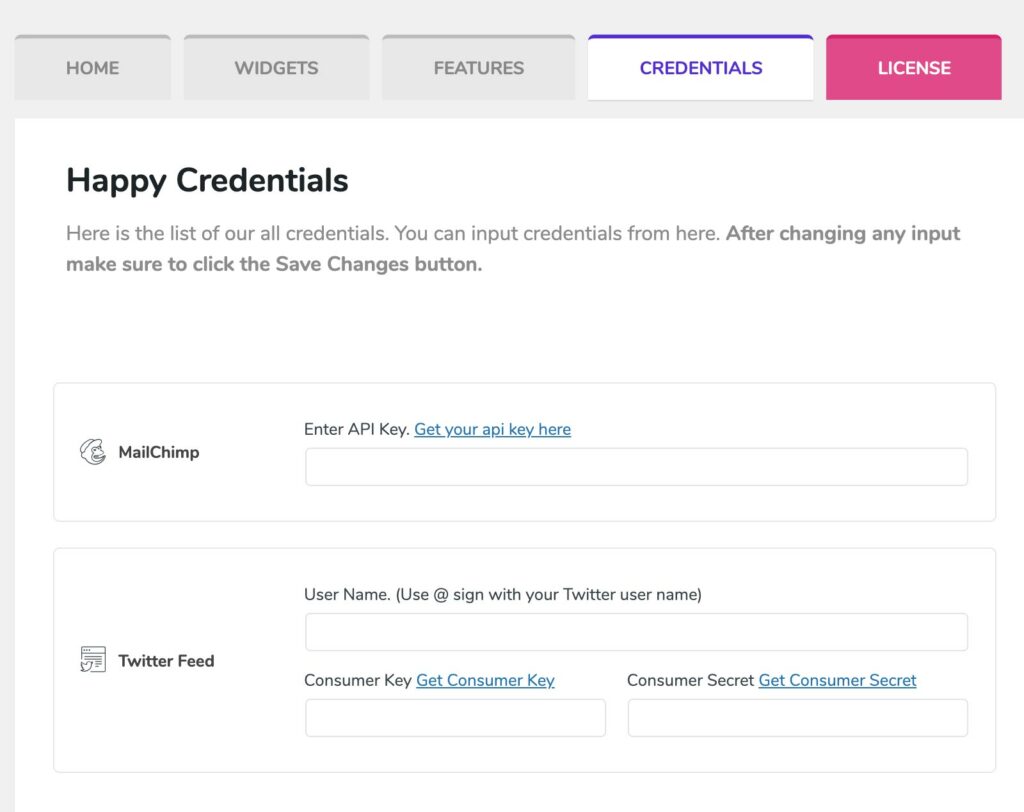 HappyAddons Fee 3.0.0 – 3 August 2021
New: Image Stack Group Widget

New: Image Accordion Widget

New: Happy Tooltip feature

New: Added Team Member widget Lightbox option

New: Added Horizontal Timeline Title HTML Tag control option

New: Added Taxonomy List HTML Tag control option

New: Added Post Tab Title HTML Tag control option

New: Added News Ticker widget Post Title HTML Tag control option

New: Added Carousel Widget Title & Subtitle HTML Tag control option

New: Added Sliders Widget Title & Subtitle HTML Tag control option

New: Added Global credential key dashboard. User can set credentials in the settings panel and use them globally (Mailchimp Widget, Twitter Feed Widget)

Update: Image Hover Effect Title HTML Tag control

Update: All widgets Coding structure update

Update: Happy sellect 2 control update

Update: Mailchimp form alignment improved and optimized with some coding updates.

Fix: Taxonomy List Sellect2 issue

Fix: Post tab Sellect2 issue

Fix: Post list Sellect2 issue

Fix: News ticker Sellect2 issue

Fix: Mailchimp Sellect2 issue

Fix: Improve some style for compatibility on the content switcher
HappyAddons Pro v2.0.0 – 3 August 2021
New: One Page Navigation Widget

New: Off-Canvas Widget

New: Added Flip Box Frontend & Backend Title HTML Tag control option

New: Added List Group Title HTML Tag control option

New: Added Price Menu Title HTML Tag control option

New: Added Post Tiles Title HTML Tag control option

New: Added Product Carousel Title HTML Tag control option

New: Added Product Category Carousel Title HTML Tag control option

New: Added Single Product Title HTML Tag control option

New: Added Global credential key dashboard. User can set credentials in the settings panel and use it globally (Advanced Data Table Widget, Facebook Feed Widget, Instagram Feed Widget)

Tweak: Happy Particle Effects code improved & loading performance optimization.

Tweak: List Group Widget control improved and added simple HTML support for both title and description.

Update: Update Hover Box Title HTML Tag control option

Update: All widgets Coding structure update