The world of web design is vast and ever-evolving. The rise of web technologies like blockchain, headless, AMP, data security, motion UI, micro frontends, virtual reality, and more have completely changed the landscape of web design and development in the last 15 years.
It has skyrocketed the demand for professional web designers at the same time. Certifications can be a great way to prove your worth and expertise in the job market. They will not only enhance your skill in web development but also work as a portfolio.
This article will list the best web design courses and certifications to help you kick-start your career. We'll list them in two separate sections (free and paid) so you can easily find the one as per your affordability. Keep reading!
What is Web Design Course and Certification?
The web design course is a set of modules that teaches students the skills and techniques needed to create and maintain a website. It is the very first step of web development. Below are the modules that web design courses commonly include.
Basics of web designing
Web technologies
Mathematical structure
HTML
CSS
JavaScript
BootStrap
Adobe Dreamweaver
Page Builders
Certification is the process of providing official documents that recognize you have completed certain courses. You can use this certificate when applying for a job whether in agencies or freelancing platforms.
Why Do You Need Web Design Certifications?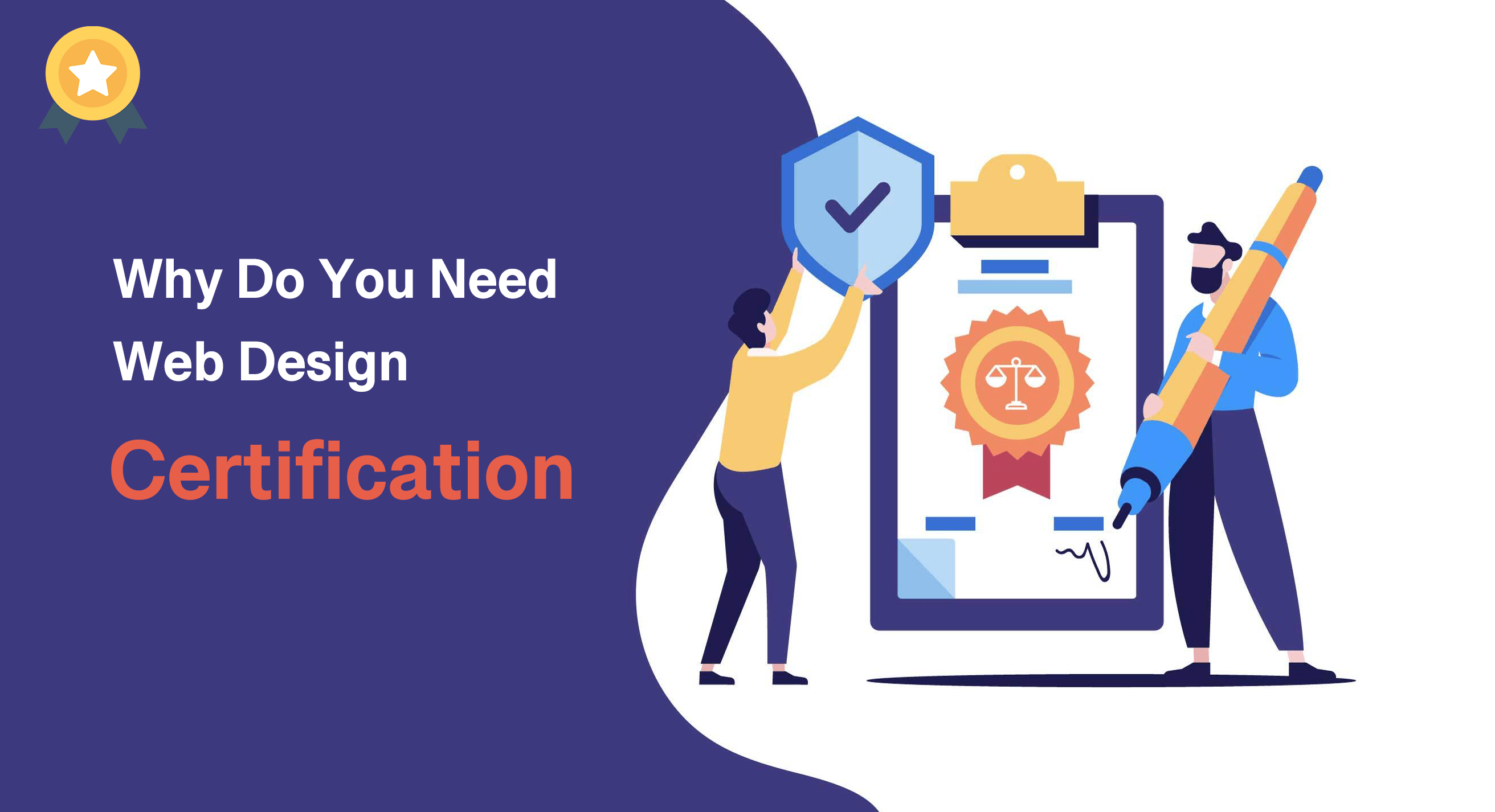 Web design courses and certifications can help you stand out in the highly competitive job market. It can maximize earning potential and give you a healthy life. Look at the factors below of how web design certificates can be beneficial for you.
a. Grow Professional Recognition
A professional certification can help HR quickly understand the skills, potential, and expertise you have. When tons of candidates' applications are submitted, a professional certificate can give you additional leverage to catch their attention.
b. Amplify Industry Knowledge
eLearning platforms like Udemy and Coursera update their courses whenever new topics come to the market. Participating in certification programs at regular intervals can help you know about the latest web design best practices, trends, and tools.
c. Receive Hands-on Experience
Paid courses usually include tests, quizzes, projects, and exams in the certification process. Thus, it gives you a way to have hands-on experience alongside the theoretical parts of these modules.
d. Career Switching Ability
If you're a junior web designer but looking to reach top-tiring positions, professional certification(s) can make the path comfortable. It will ease for you to prove your acceptance among the top authorities.
e. Build Network
Renowned certification programs are conducted by industry experts. Enrolling in such a program will give you a scope to get in touch with them. Someday they may offer you a job personally or recommend a prestigious agency.
Best Free Web Design Courses
You'll find tons of free web design courses online. But not all of them will reward you with certifications. Also, keep in mind that you'll hardly find in-depth lessons in free courses. Comprehensive parts are available mostly in premium courses.
However, below is a list of free web design courses that will reward you with certificates end of the program.
1. FreeCodeCamp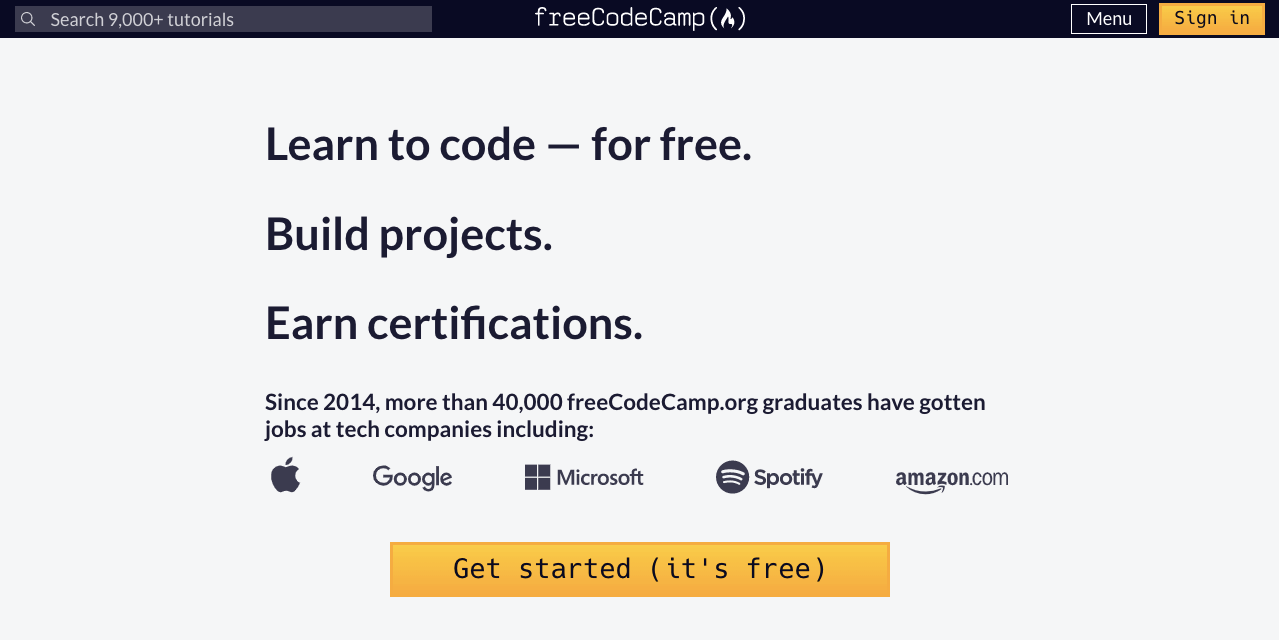 FreeCodeCamp offers you interactive lessons and tutorials on web designing. The certification pathway includes a series of exercises. Each subsequent exercise asks you questions and problems from the immediate previous lessons.
Thus they build your knowledge base. However, most tutorials in these lessons briefly cover the topics. Still, they are able enough to build a solid foundation on the basics of web design.
Time to Complete: 300 hours
Topics covered:
Responsive Web Design
JavaScript Algorithms and Data Structure
Front-End Development Libraries
Data Visualization
Back End Development APIs
2. Ultimate Web Design Course – Webflow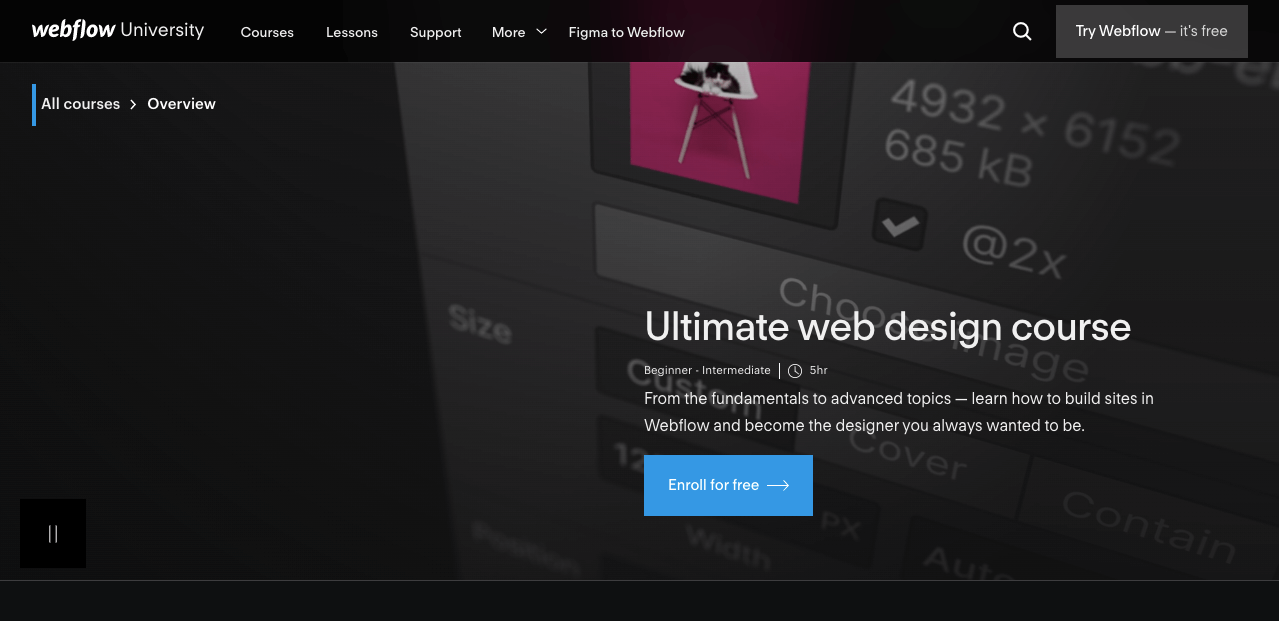 Webflow is popularly known as a web building and hosting provider. It's an online visual editor that lets you build, design, and launch websites. Alongside, Webflow is an educational platform that offers a variety of online courses on web design and development.
The Ultimate Web Design is a free web design course including over 100 videos. It covers topics from fundamentals to everything you need to get started with Webflow and the advanced concepts in designing.
Time to Complete: 5 hours
Topics covered:
Intro HTML & CSS
Web Structure
Elements
Buttons & Links
Typography
Media
Components
Styling Basics
Layout Basics
3. Become a Web Designer – LinkedIn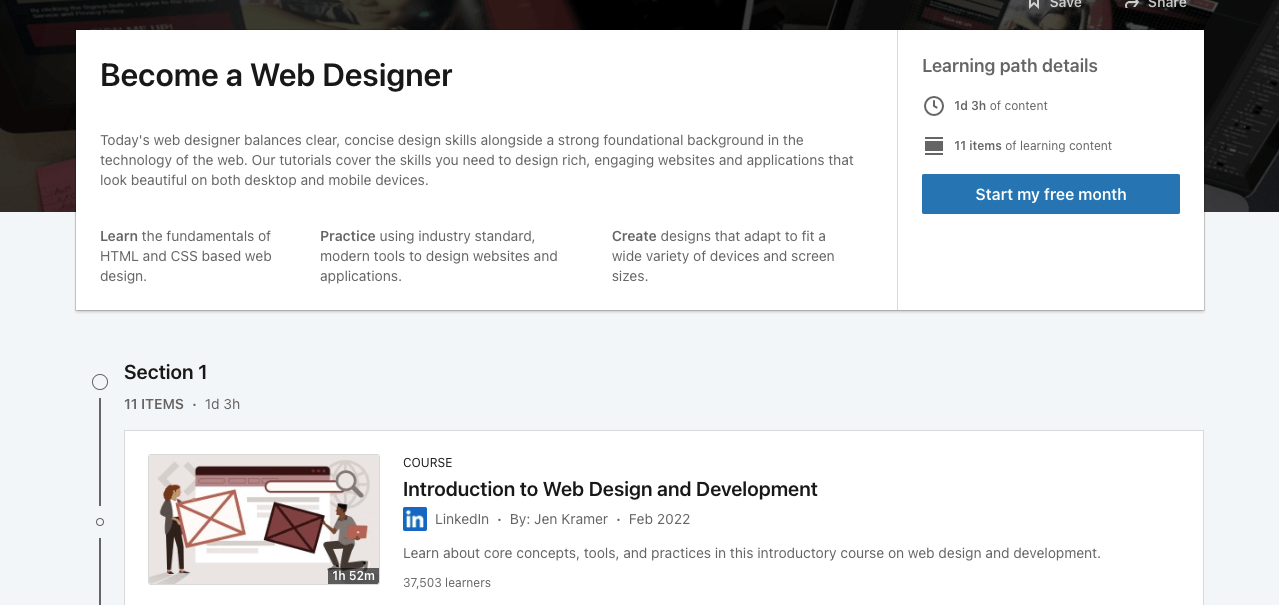 Though LinkedIn is globally known as a social network for professional workers, it creates highly educational content and courses for its users. Also, they keep updating their courses with recent information and technologies.
LinkedIn offers you a one-month free trial to explore and enjoy all its free features. If you finish any course within the time frame, LinkedIn will provide you with a certificate. This way, you can enroll in its Become a Web Designer course and complete certification.
Time to Complete: 28 hours (it will increase if they upload new content)
Topics Covered:
Introduction to Web Design and Development
Design Aesthetics for the Web
User Experience for Web Design
Mapping the Modern Web Design Process
HTML Essential Training
CSS Essential Training
4. Build Your First Web Pages With HTML and CSS – Open Classrooms
If you have no prior experience in web designing and know nothing about coding, Build Your First Web Pages With HTML and CSS can be a great repository to learn web designing. This course talks about HTML and CSS in detail and teaches how together they create wonderful websites.
Open Classroom today is a leading e-learning platform in Europe. At the end of each learning part, they will take quiz tests. This course has been designed and curated by Emily Reese (Head of the Technology Academy at OpenClassrooms).
Time to Complete: 10 hours
Topics Covered:
Introduction to HTML and CSS
Create HTML text elements
Structure an entire page
Spice up your content with CSS
5. UI/UX for Beginners – Great Learning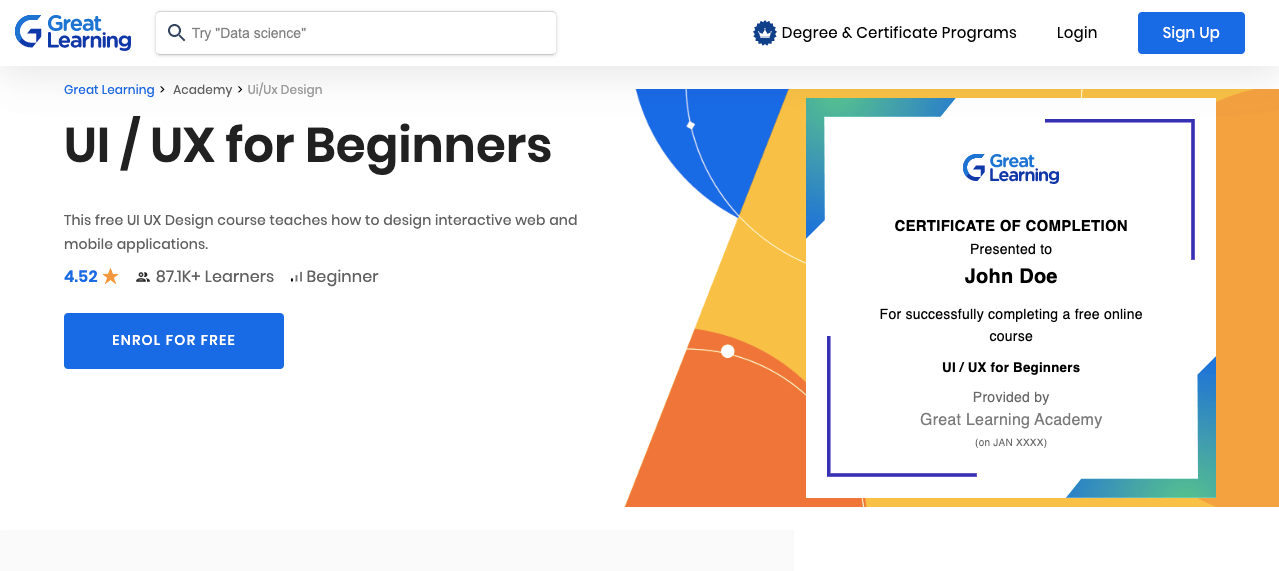 User Interface (UI) and User Experience (UX) are two essential parts of today's web design. They play a significant role in catching visitors' attention and getting recurringly come again. Adobe XD is a free tool that allows web designers to create wireframes and website prototypes.
UI/UX for Beginners is a short course that will talk about UI/UX philosophy, the differences between them, and how to create website prototypes and wireframing.
Time to Complete: 1 hour
Topics Covered:
Introduction to UI/UX
Difference Between UI/UX
The UX Process
Wireframe and Prototype
Best Paid Web Design Courses
We already said once in free courses you may come across some points that don't cover the topics in detail. Teachers and instructors who have put in the effort to create course content and resources will surely expect to have some honorarium.
Besides in paid courses, you may get the opportunity to contact the course instructors if you fail to understand any critical point. Below we've listed some best-paid web design courses as per learners' reviews.
1. Web Design for Beginners: Real World Coding in HTML & CSS – Udemy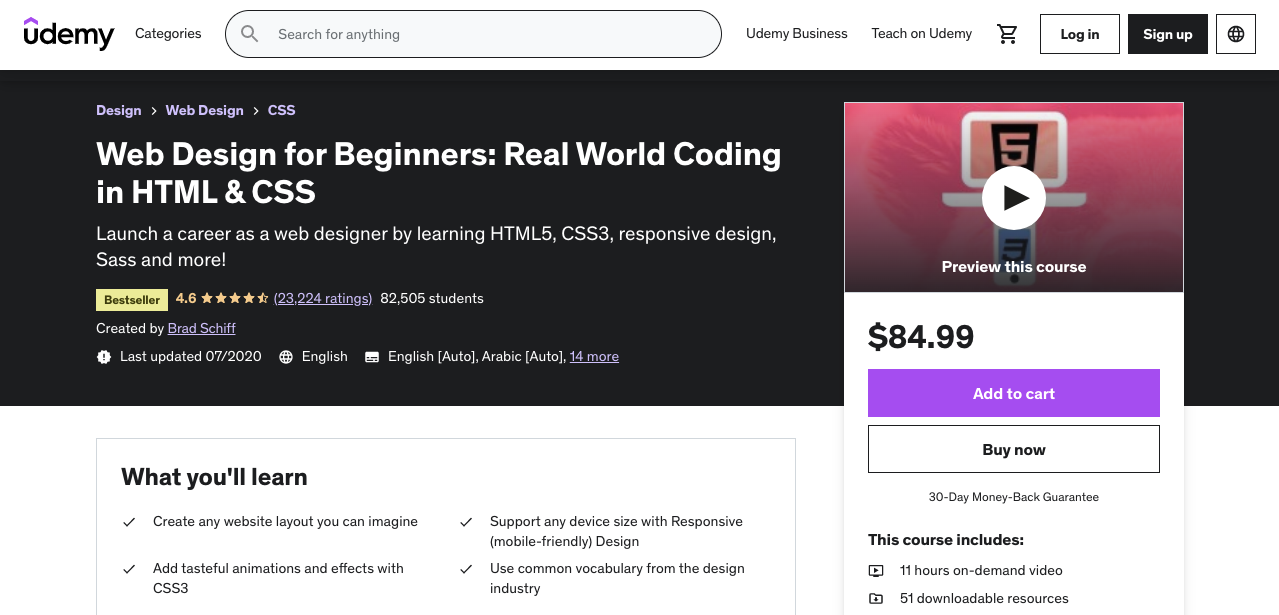 Udemy is globally recognized as a premium online learning platform. Their Web Design for Beginners course will help learn everything you need to create a mobile responsive website using HTML and CSS. You'll also learn how to start your career in freelancing.
Many top-tier companies in the world use this course to train their in-house employees in web design. Udemy offers 7-day free access to any user. Once someone becomes a premium user for any course, he gets lifetime access to it. In case Udemy updates the course, he can check it for free.
Time to Complete: 11 hours
Topics Covered:
HTML Essentials
Adding Media to Web Page
Text Basics
Semantics and Organizations
Forms
Tables
CSS Essentials
Intermediate CSS
Cost: $84.99 (30-day money-back guarantee)
2. Google UX Design Professional Certificate – Coursera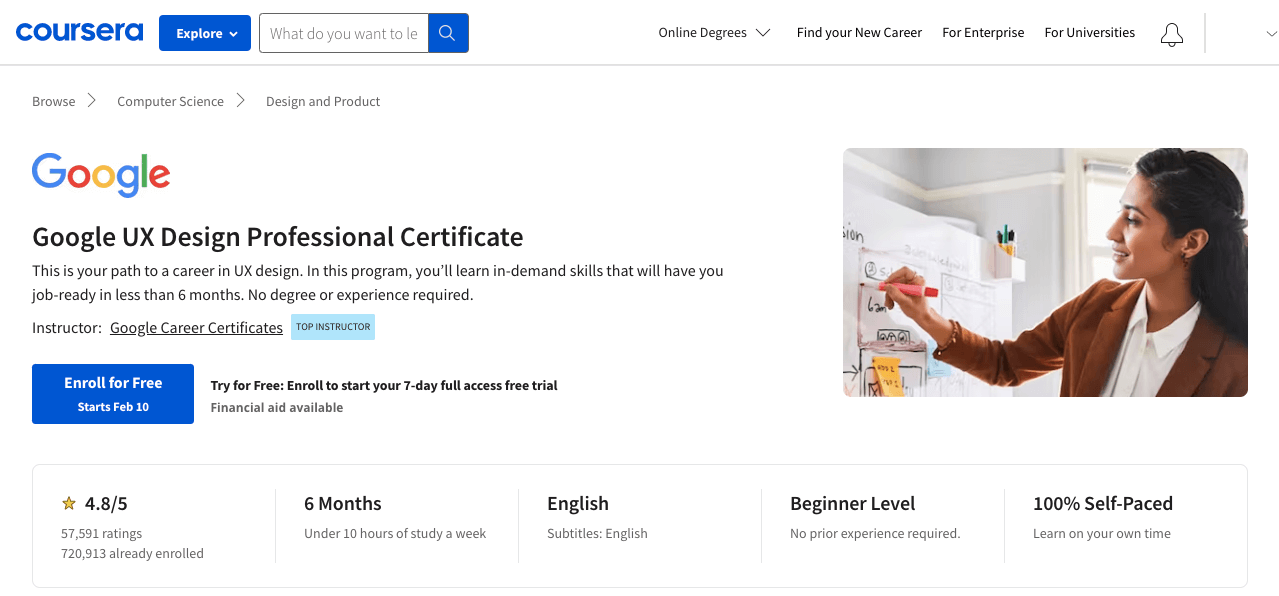 If you're looking for a prestigious platform to learn UX web design without any prior experience, Coursera will undoubtedly be a great repository. It will not teach you to design web interfaces but also products, software, and mobile apps.
Google UX Design Professional Certificate will also help you create wireframes, design prototypes, and identify the pain points involved in the process. You'll learn to use popular web designing tools like Adobe XD and Figma.
Time to Complete: 6 months (under 10 hours of a study week)
Topics Covered:
User Experience (UX)
UX Research
Wireframe
Prototype
Adobe XD
Usability Testing
Cost: $39/month (7-day free trial)
3. Adobe Experience Cloud Certification – Adobe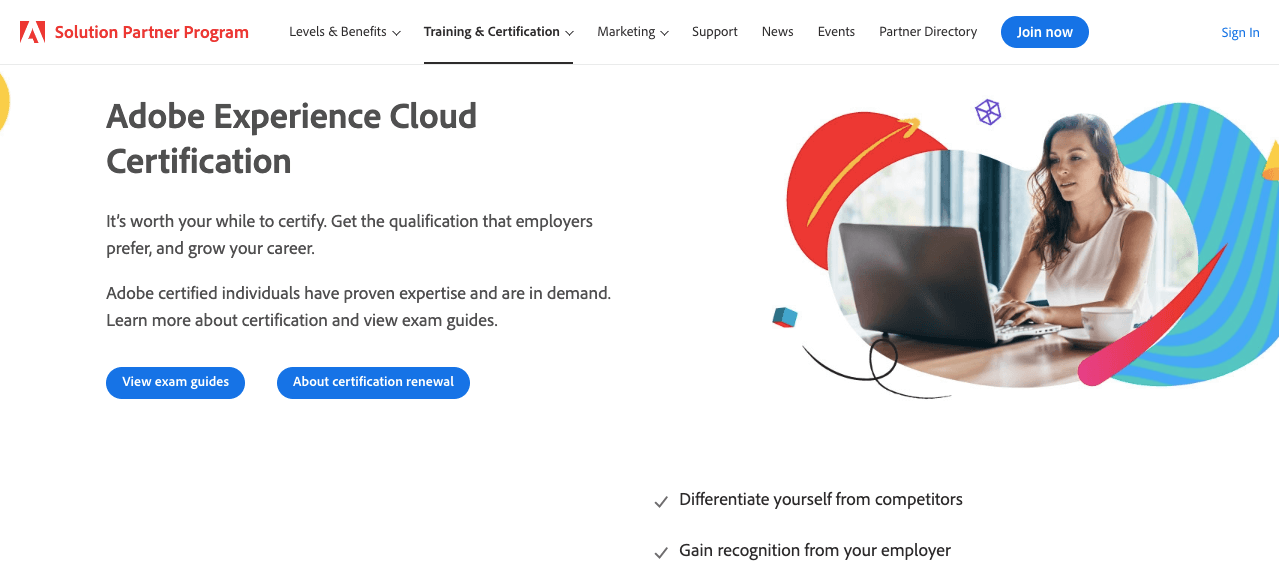 Adobe is a pioneer of design digitalization. Adobe Creative Cloud has already created some exciting design tools like Adobe XD, Photoshop, and Dreamwave that designers are using globally. You'll hardly find any software agency that hasn't heard of Adobe.
This is why Adobe Certified Professionals are highly appreciated in the job market. Adobe offers you adequate resources in its repository covering lessons on HTML, CSS, responsive design, and more for free. After your practicing is done Adobe will ask for a fee for the certification exam.
You can take the exam anytime once you are fully prepared after rigorous practice.
Time to Complete: N/A
Topics Covered:
Code HTML, CSS, and JavaScript
Define Page Structure
Create a Responsive Grid Layout
Create New Dreamwave Templates
Work with Edge Web Fonts
Style Web Page Tests with CSS
Cost: $180
4. W3Schools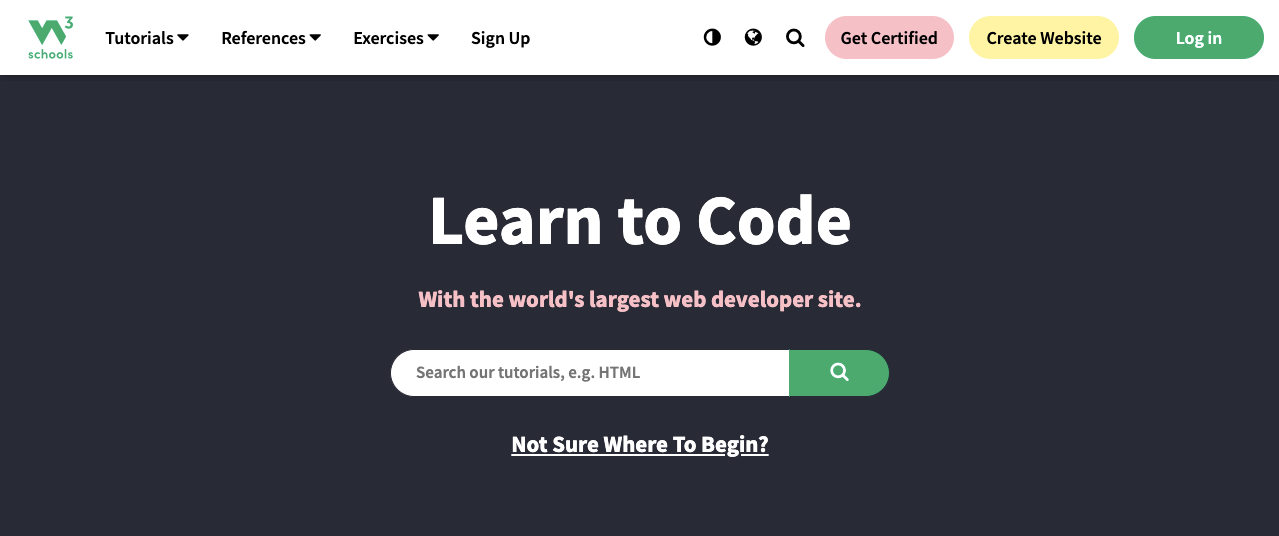 W3Schools is one of the biggest platforms to learn web design and development. It has tons of tutorials available in its repository over the core languages and frameworks used in web designing. Not only courses. It can participate in dozens of exercises and quiz tests to sharpen your learning.
You don't even need to create a user account or pay money to get access to these resources. You have to pay only if you want certifications.
Time to Complete: N/A
Topics Covered:
HTML and CSS
JavaScript
Programming
Server Side
Web Building
Data Analytics
XML Tutorials
Cost: $95 (per language)
5. Front-End Development – Skill Crush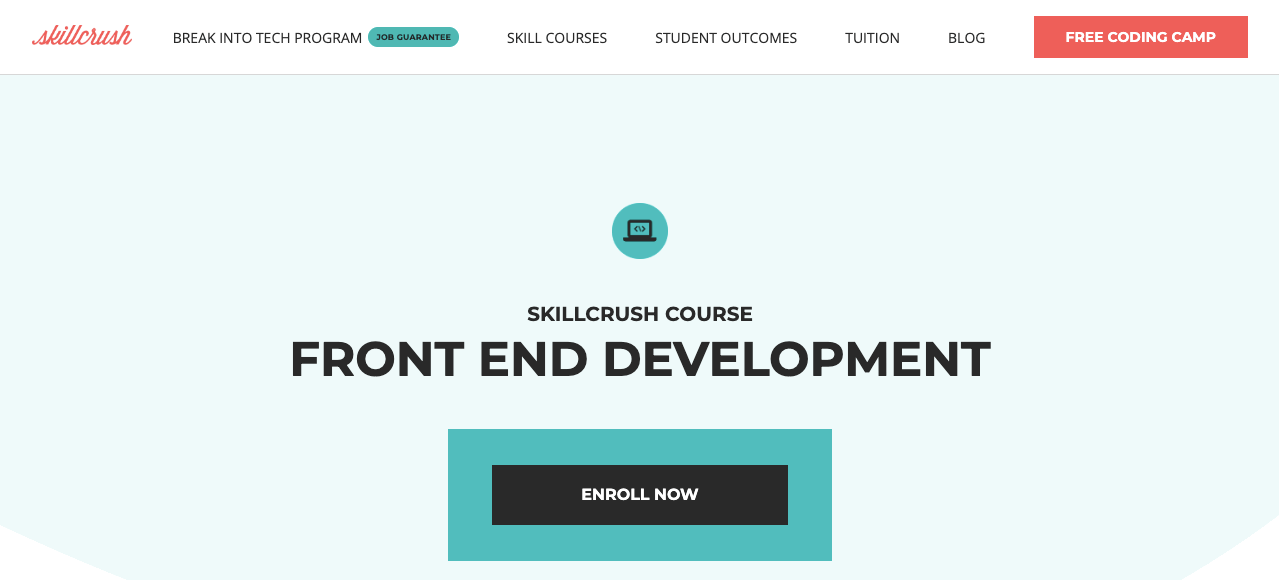 If you're looking for an educational program to learn web designing and development, you must have a look at the Front End Development course. You'll get lessons on how to create modern websites using HTML, CSS, and JavaScript languages.
The front-end development knowledge will help you curate dynamic websites that today have high demand in the market. It will create an opportunity for you to enjoy better job opportunities and a good salary.
Time to Complete: 3 months
Topics Covered:
Basics of HTML, CSS, and JS
Git and GitHub
jQuery
Media queries and responsive design
Flexbox basics and implementation
Price: $549 one-time payment (or $199/month for three months)
Code Free Solutions to Web Design
HTML, CSS, and JavaScript are some common languages web designers used to create wonderful websites of any kind. But today, you will find tons of drag-and-drop and block-based page builders available by which you can design an entire website without coding.
If you are a no-code user and looking for such a product, Elementor will be the best solution. It's actually a WordPress-based plugin being used on over 5+ million websites at present. It has 100+ exciting widgets and 20+ features.
If Elementor isn't enough, no problem. You can use the HappyAddons plugin alongside. It will come up with many additional widgets and features to further power up your website. Watch a short clip of how these drag-and-drop page builders work.
Last but not least! With these plugins, you may not create excessively complex websites. But for no-code users, there is no good alternative. Plus if you have at least average-level coding knowledge, these page builders will make your world limitless.
FAQ on Best Web Design Courses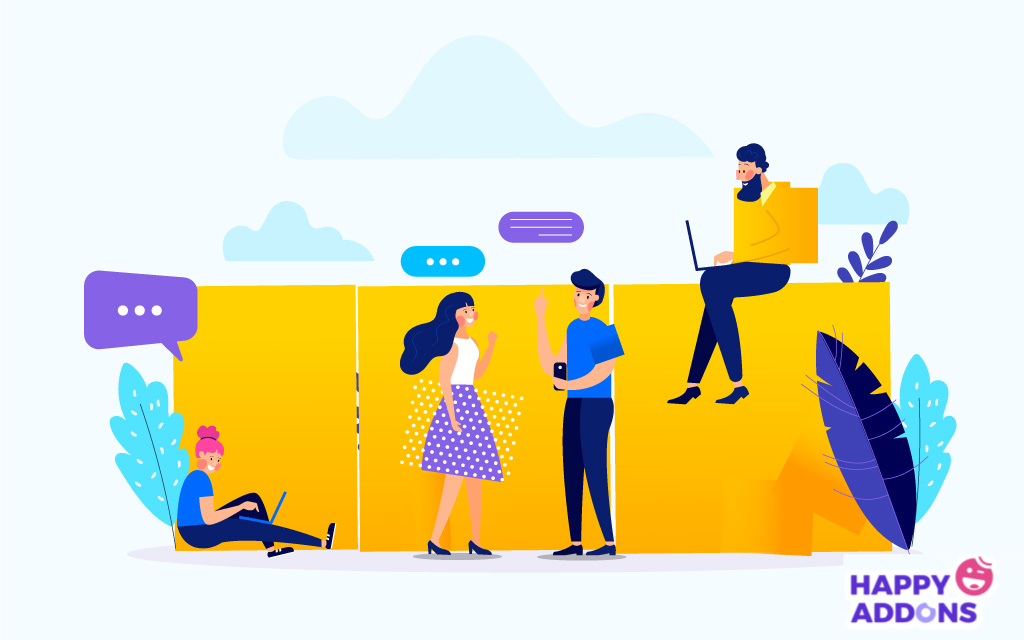 Hope the above discussion will make it easier for you to pick the right web design course as per your demand. This section will answer some questions frequently found online related to the topic of best web design courses.
Is there a future in Web Design?

According to marketwatch.com, the global market size of web design, design, and related services was around $56 billion in 2021. And this market size is expected to cross the threshold of $85 billion by 2027.

So, if you are skilled enough and updated with recent technologies, you'll always have a place in this industry.

What are the languages used in web designing?

There is a number of different programming languages used in web designing. But the most used ones are HTML, CSS, PHP, and JavaScript.

What is the average web designer's salary?

The average web designer's salary varies by location. According to some globally renowned job websites, the average salary of web designers is:

Glassdoor: $51k/year ($38k to $72k)
ZipRecruiter: $58k/year ($22k to $112k)
Payscale: 50k/year ($33k to 72k)

Is web designing a stressful job?

There is no one-line straight answer to this question. Every job is stressful if you don't enjoy it. If you love web designing, you'll surely find it amusing. However, if you are handling a big project and have less time at hand, then it could be a stressful thing. But this phenomenon is common in all jobs.

Can I be a web designer without coding?

Yes, you can. Today there is a good number of page builders online by which you can design your web pages without a single line of coding. For example, Elementor is a great drag-and-drop page builder that is used on millions of websites today.

If you have good color, typography, and alignment sense, you can create magical websites using Elementor.
Have You Decided Which Web Design Course to Enroll in?
Time and tide wait for none! We're now setting at the beginning of the fourth industrial revolution in which web technologies will undoubtedly play a very crucial role. To waste a day today means you're making tomorrow's competition much tougher for you.
Hope the courses we've mentioned above will be good enough to upgrade your skill set. Our recommendation is please start your journey with the free courses. Do some local projects afterward. Once you gained some sort of experience and confidence in work, sit for the professional certifications.