Email marketing provides the highest ROI (4200%) among all available revenue-generating activities. Sending well-crafted emails to the leads and converting them to customers will be easy if you use an email automation tool.
MailChimp comes to the top of the list whenever you are looking for an email marketing tool. Its functionalities get even better on WordPress websites with the help of different plugins. These plugins integrate with your WordPress website and MailChimp accounts to ease your email marketing journey.
The number of daily email users is 4 billion. This number is hoped to jump to 4.6 billion by 2025.

Statista.
This blog will introduce the best WordPress Mailchimp plugins and analysis their benefits and cons in helping readers. After reading this post, you can easily choose a suitable Mailchimp plugin for your website.
First, let's know why you should use a WordPress MailChimp plugin.
Why You Need a WordPress MailChimp Plugin
MailChimp has earned unparallel popularity when it comes to email marketing solutions. It removes the hassle of coding with a simple and intuitive drag-and-drop email creation tool. You can easily write text, add images, insert links and customize your emails to a great extent using the features and functionalities offered by MailChimp.
Different WordPress plugins add new capabilities to MailChimp by ensuring tight integration between your website and MailChimp account. They encourage more people to sign up to your mailing list and collect these subscription data to the MailChimp email lists.
They help create attractive, user-friendly, and mobile-optimized sign-up forms. They also maintain a seamless integration with popular plugins like Contact Form 7, Gravity Forms, BuddyPress, Easy Digital Downloads, WooCommerce, and more. But all plugins don't come with the same features. We made a list of the top 5 WordPress Mailchimp plugins in the following section for you.
5 Best WordPress MailChimp Plugins
There are several plugins available on WordPress that plays nice with MailChimp. We considered the active installations, user ratings, and features of these plugins while making this shortlist.
Here is the list of our recommended WordPress plugins for MailChimp.
1. MC4WP: Mailchimp for WordPress
2. Easy Forms for MailChimp
3. MailChimp Forms by MailMunchMailOptin
4. MailOptin
5. Brave
Keep reading to get an overview of all these excellent plugins with pros, cons, and pricing.
1. MC4WP: Mailchimp for WordPress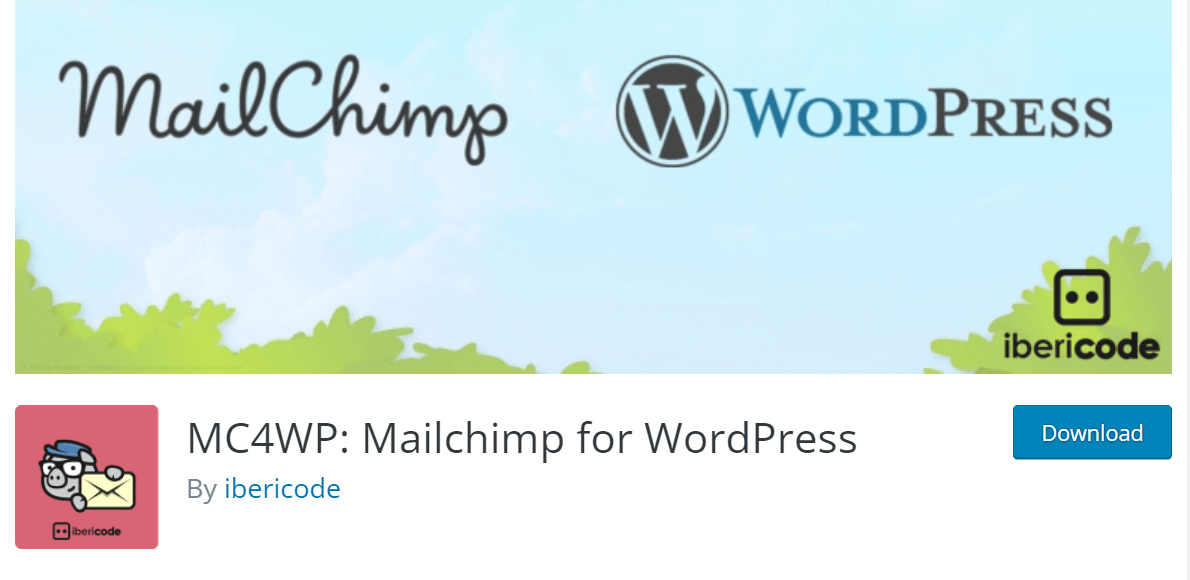 This plugin makes it to the top of our list with 2M+ active installations and an average rating of 4.8 out of 5 stars from more than 1400 reviews. Mailchimp for WordPress connects with a MailChimp account instantly and allows users to use its features to the fullest potential.
It attracts visitors to subscribe to your newsletters, manages your MailChimp list, and helps you collect better converting leads for your email marketing software.
With Mailchimp for WordPress, you can write better newsletters, create beautiful opt-in forms, and produce amazing forms integrated with other forms on your website. Learn the pros and cons below.
Pros
Seamless integration with all popular forms and plugins (WooCommerce, EDD, Gravity Forms, BuddyPress, and more)
Multiple built-in form styles with customization options
Clean and easy to understand in-depth reports
Advanced integration with WooCommerce for eCommerce
Auto-sync for the email list when new subscribers join
Email notification for each form submission
Free plugin available
Cons
Most features are available only for premium versions
Pricing: The premium plan starts at $59 per year for a single site. This plugin also offers a 30-day money-back guarantee.
2. Easy Forms for MailChimp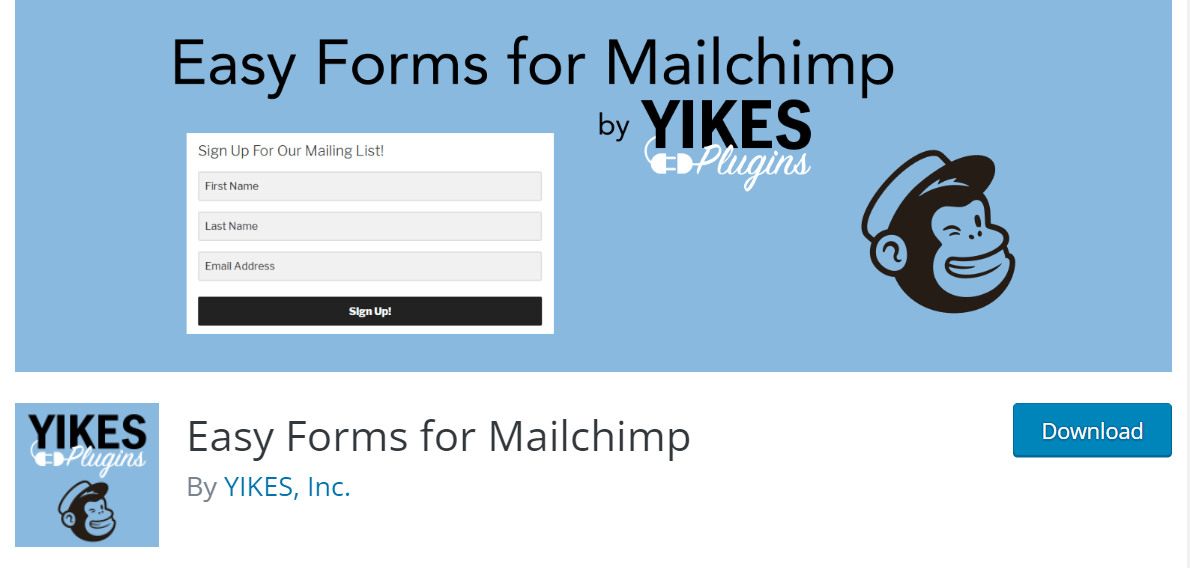 This plugin has more than 100,000 active installations with a rating of 4.7 out of 5 stars. Easy Forms for Mailchimp allows users to create unlimited signup forms for their WordPress site. You can also add these forms to pages, posts, sidebars, and other areas.
The MailChimp API key instantly connects your website to your MailChimp account and brings in all your list information.
You can see the stats and overview of the list details like subscribers, unsubscribe, subscription rate, etc. from your account's dashboard. The pros and cons are as follows.
Pros
Easy to use admin dashboard
Unlimited forms for any email list
Account integration with an API key
One-click form duplication
Form styling and customization
Compatible with many third-party plugins (WooCommerce, EDD, BbPress, Contact Form 7, and more)
Easy troubleshooting with advanced debugging technology
Free version available
Cons
Form styling may seem difficult to beginners
Pricing: The plugin is free but its creator YIKES, Inc. offers an unlimited license for all its premium plugins for $124.99 a year.
3. MailChimp Forms by MailMunch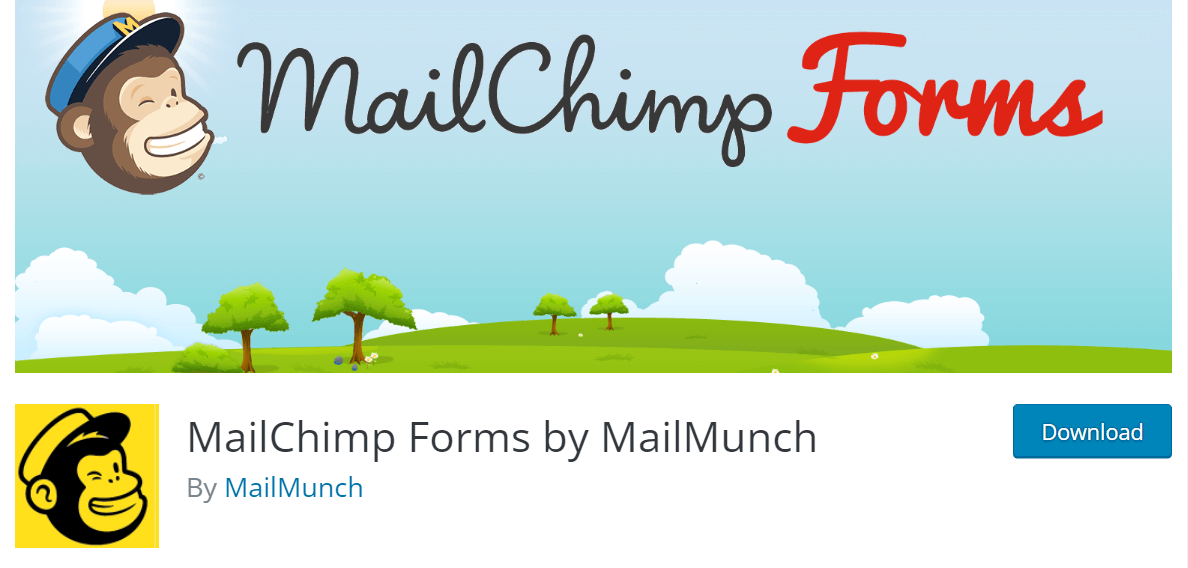 It earned the third spot on our list with 40,000+ active installations and an average rating of 4.6 out of 5 stars. MailChimp Forms by MailMunch offers one of the easiest ways to convert your visitors into subscribers to your email list. You can create high converting, beautiful opt-in forms within a few clicks with this plugin.
This plugin completely integrates with your MailChimp account to allow you to sync all information of your subscribers to any of your email lists. These pieces of information include names, phone numbers, birthdays, tags, and other relevant data.
You can add the signup forms to pages, posts, widget areas, and other places across your website as you see fit. These beautiful forms will help you improve conversions and develop an email list rapidly. Mailchimp forms by MailMunch offer great customization for all forms. Know the pros and cons of this plugin from the below section.
Pros
Unlimited forms for any MailChimp email list
No API keys needed
Beautiful, mobile-responsive, and user-friendly signup forms
Reports and analysis for the MailChimp forms
A/B test enabled for split testing purposes
Completely GDPR compliant
Google reCAPTCHA protection for the forms
Deep integration with the email lists
Free plugin available
Cons
It may not support all popular plugins
Pricing: Mailchimp forms by MailMunch don't have an individual price tag. You can buy the complete email marketing solution of MailMunch at $13.99/month.
4. MailOptin- Popup & Optin Form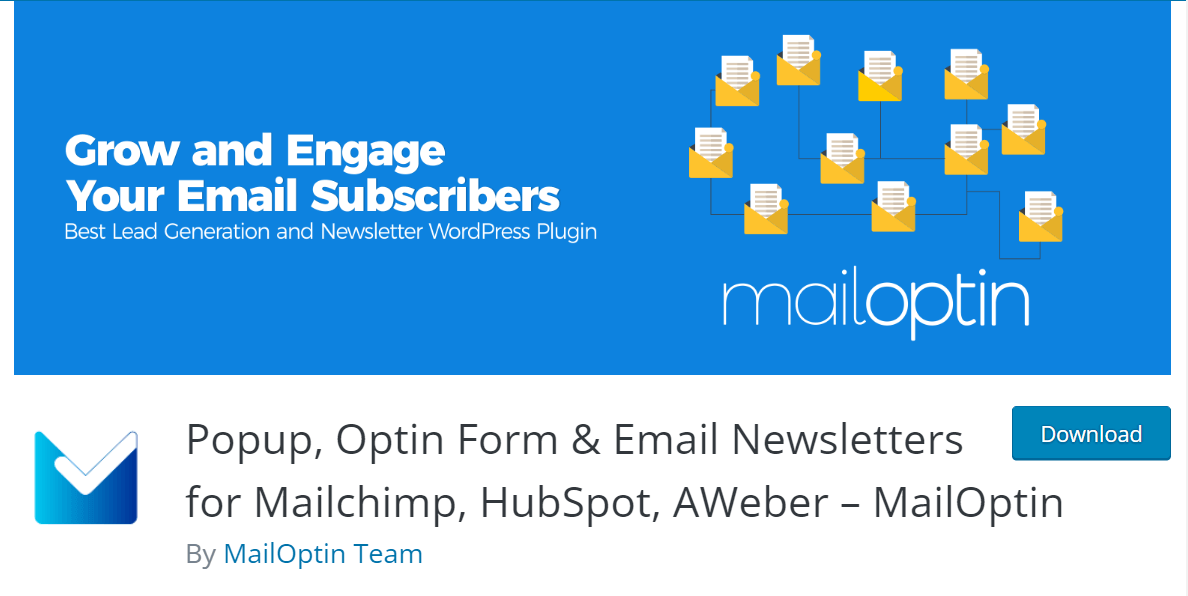 MailOptin is gaining popularity with MailChimp users with 30,000+ active installations and an excellent average rating of 4.8 out of 5 stars. This opt-in form and popup builder is ideal for creating subscribe forms, registration forms, popups, and sending newsletters to your MailChimp list.
With this plugin, you can display forms, CTAs, targetted messages, and various types of popups across your website including notification bars, sidebar widgets, posts, pages, and more.
MailOptin automatically notifies the users whenever you publish new content. You can send email newsletters consisting of blogs with this GDPR-compliant plugin. Here are the pros and cons:
Pros
Grabs visitors' attention with various popup opt-in forms (Lightbox, Sidebar, Widget, and more)
Displays personalized messages with CTA buttons
Protects users from spam contacts
Supports after conversion actions
Creates automated email newsletters based on day, week, and month
Allows scheduling for sending the newsletters
Supports all popular email marketing platforms
Provides advanced analytics with important metrics
Allows A/B testing for better conversions
Comes with a free version
Cons
Limited features on the free version
Pricing: The premium plan starts at $89 per year for a single website. It also has a 14-day refund policy for the customers.
5. Brave Visual Builder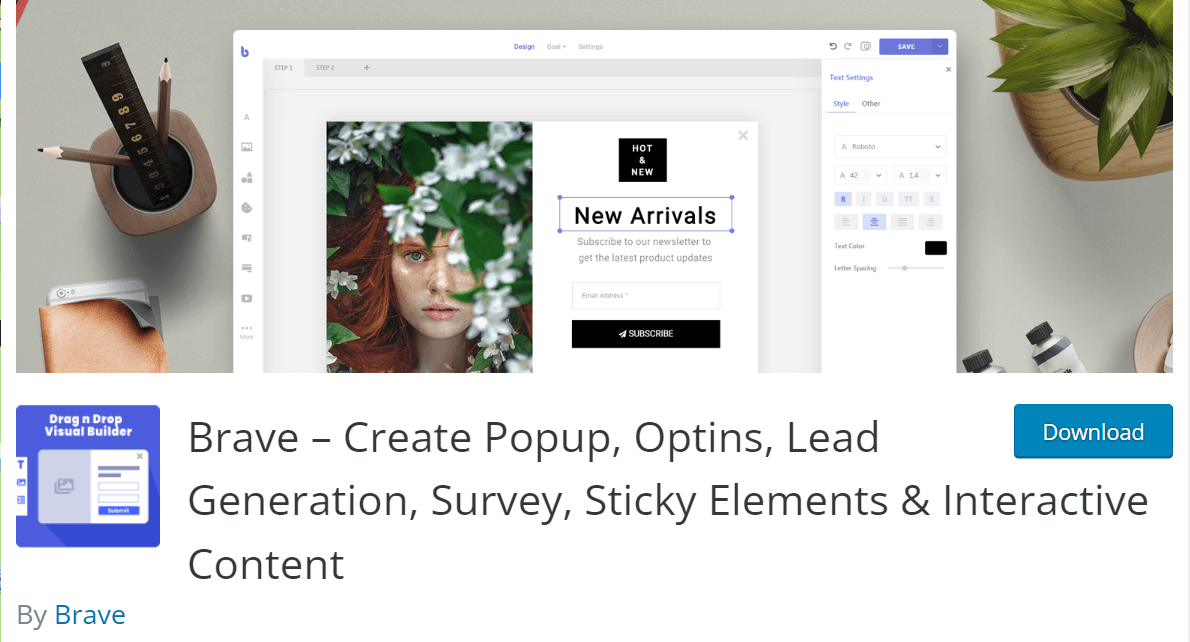 Brave is improving gradually with over 10,000 active installations and a 4.8 out of 5 stars average rating. It is a powerful widget builder that can improve your conversion rate with popups, forms, sidebars, and more.
You can create visually rich popups, opt-in forms, lead generation forms, sticky bars, etc. using the intuitive drag and drop builder.
The free plugin provides nine customization elements(images, texts, forms, buttons, and so on) with more exciting features available on the paid version. It is compatible with almost all email marketing tools including MailChimp.
Pros
Intuitive and drag-and-drop visual editor
10+ beautiful design elements for popups
Good for advanced forms and all kinds of popups
Both mobile and PC responsive popups
Supported by 23 newsletter services (MailChimp, SendGrid, MailPoet, HubSpot, SendinBlue, etc.)
Easy to understand analytics
Integration with free assets from Pixabay and Giphy
100+ ready to use popup templates
Free versions available
Cons
Pricing: The PRO plan starts at $59 a year for a single website.
Top 5 WordPress MailChimp Plugins Compared
Some of these mentioned plugins can create both signup/opt-in forms and popups when some are good at creating only forms. You should choose one that fits all your needs and budget.
Here's a quick comparison table to help you see all five plugins at a glance.
| | | | | | |
| --- | --- | --- | --- | --- | --- |
| Name | Active Installations | User Rating | WooCommerce Integration | Best For | Pricing |
| MC4WP: Mailchimp for WordPress | 2M+ | 4.8/5 | Yes | Forms | Starts at $59/year |
| Easy Forms for MailChimp | 100,000+ | 4.7/5 | Yes | Forms | Free |
| MailChimp Forms by MailMunch | 40,000+ | 4.6/5 | N/A | Forms | Starts at $13.99/month |
| MailOptin | 30,000+ | 4.8/5 | Yes | Forms & Popups | Starts at $89/year |
| Brave | 10,000+ | 4.8/5 | Yes | Forms & Popups | Starts at $59 /year |
Comparison Table- Best WordPress MailChimp Plugins
Bonus: Use Happy Addons Free MailChimp Form Widget to Add Subscription Forms
Creating customized subscription forms for MailChimp is easier if you have a WordPress site built with Elementor. You can create attractive MailChimp forms using the MailChimp Form widget, introduced by Happy Addons.
No coding skill or third-party plugin is required. All you need is a MailChimp API Key to connect your MailChimp account with your website.
Learn how to use this widget from here: How To Use MailChimp Form Widget
You'll get multiple customizable sections in the 'Content' section, namely MailChimp, Form, and Success & Error. All these sections are editable with several style elements including Typography, Border Radius, Padding, Box Shadow, Border Type, Text Shadow, Margin, Color, Background Type, Location, Icon Spacing, Icon Size, and more.
Moreover, Happy Addons comes with many pre-made templates to ease your form creation journey. You can copy the sections of a template and paste it inside your Elementor editor to create a new form like the template.
You can also check the documentation of the Happy Addons MailChimp Form Widget.
Choose the Best MailChimp Plugin for Your WordPress Website
If your priorities are creating forms and managing MailChimp lists, MC4WP, Easy Forms, and MailChimp Forms are the options to go for. All these plugins have free versions, but MC4WP: Mailchimp for WordPress is the best choice for a premium version at a lower price.
You can create beautiful forms and attractive popups with MailOptin and Brave. If your priorities involve popups and sending newsletters, these two are the best choices. Both come with a free version but you can also use the premium version for enhanced functionalities.
Hope now you have deep insights into the best WordPress MailChimp plugins. Now, use the knowledge gained from this blog while choosing the right plugin that suits your needs. All the best for your future email marketing campaigns!
Subscribe to our newsletter
Get latest news & updates on Elementor