weDevs is always developing its brand image in the WordPress universe with innovative products including satisfactory support. Now they have expanded their technical expertise in the healthcare sector to help Doctors.
With this noble thought, weDevs has introduced Enzaime as a technical partner to their community as well as to the WordPress universe. Enzaime is a SaaS-based website solution. It provides all the essential tools that a doctor needs to create his/her own personal website using WordPress.
Let's explore the amazing features of Enzaime shortly:
Enzaime: The Best Way To Experience Website Building For Doctors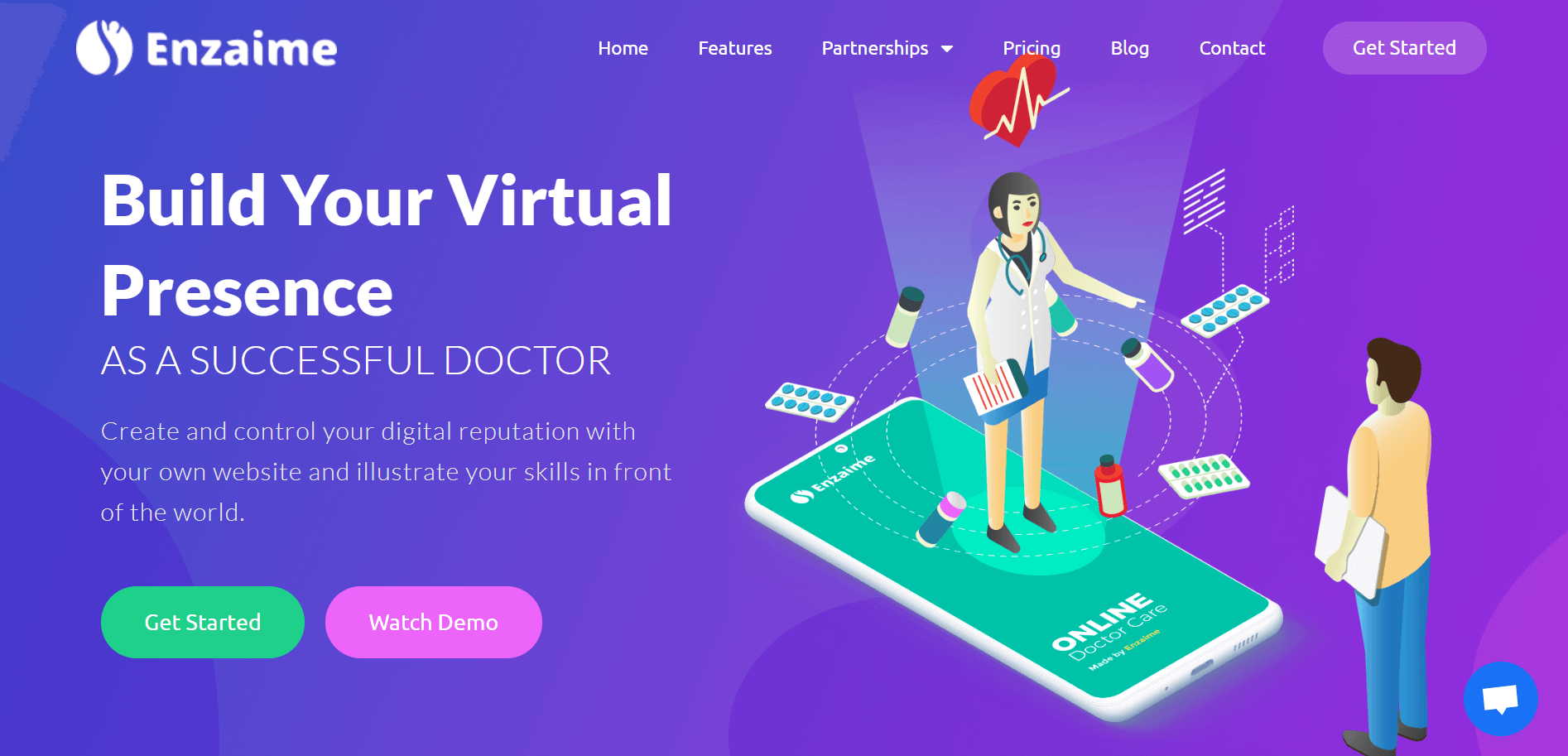 Enzaime is a web solution provider that facilitates doctors with all the features they need to run personal online practices. As a doctor, now you can easily build your website with a few clicks. It lets you build your virtual presence strongly and serve more patients online. With Enzaime, doctors can promote their skills in front of the world through a high-functional website.
Enzaime also has other attractive features like WordPress premium themes, responsive designs, integrated online payment and appointment facility, maintaining the patient database, and more.
Moreover, all of these features are provided by Enzaime at an attractive price for their valuable clients. Besides that, there is a free version. Doctors and developers who purchase Enzaime's website solutions will have access to Happyaddons pro features like Preset, Image Masking, Floating Effect, Unlimited Section Nesting, and many more.
Create Custom Built WordPress Website
Building an exclusive website is no less than building a Boeing airplane. You need to build and set all the parts in place and have to ensure it flies safety. This is where Enzaime comes to rescue all doctors and developers. All you have to do is modify our pre-built websites and deliver them to your clients.
What Makes Enzaime Different from Others
Enzaime believes in business transparency. We are offering all the customized themes, premium plugins and widgets, drag and drop builder, and lot more.
Enzaime is offering the easiest and most effective way to create personal and fully customizable websites for Doctors.

ENZAIME
Starting from Basic packages to the person who hasn't any knowledge about coding. You will find different packages with distinct facilities at incredibly attractive prices.
Highlighted Features of Enzaime
As a doctor, your online presence creates reliable authority. It builds trustworthiness which is the key factor that matters to the patients. Enzaime can help you to do that with its different features. So, let's check which features will help you to provide an online medical chamber.
WordPress Premium Themes
Enzaime offers the solution to strengthen online reputation with WordPress, the most popular CMS out there. Also, it offers custom-tailored premium themes for doctors' websites. It adds quality, uniqueness, functionality, and security to your existing or new website, which leaves you completely tension free.
We have dedicated ourselves to maintaining the highest quality possible. All the designs are unique and will cater to the doctor's particular expertise.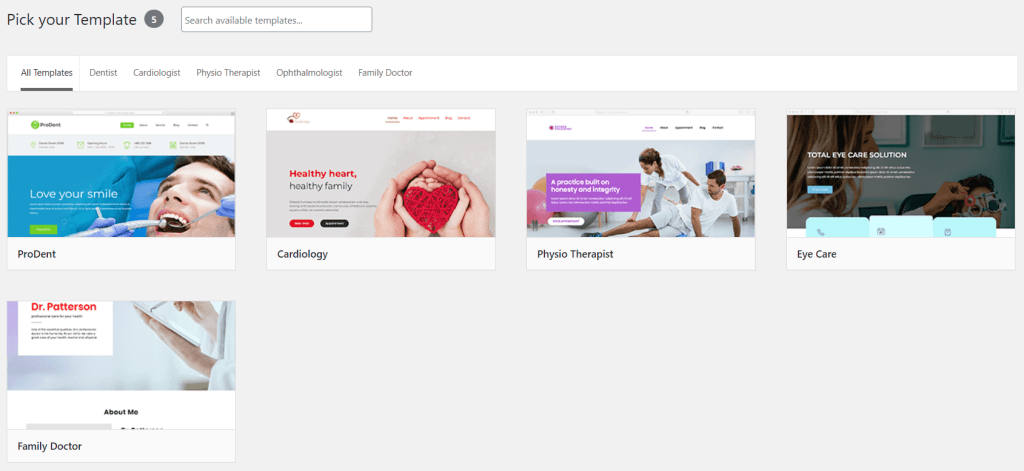 Also, all the websites are SEO friendly, ensuring the website pops up on the first page of the search engines. The must-have functionalities of a doctor are already there. They just need to log in and do whatever they require.
However, the moment the site is live, the question of security comes. Enzaime ensures that the site remains secure as the websites are hosted in Amazon Web Services (AWS) server, which is HIPPA Compliant. In addition to that, we provide security plugins that will keep your site safe away from hackers.
To ensure the best possible service, Enzaime provides regular updates for the facilities given and stays alert all the time to cater to clients' needs. After all, we are here to give you the best.
Premium Plugins and Widgets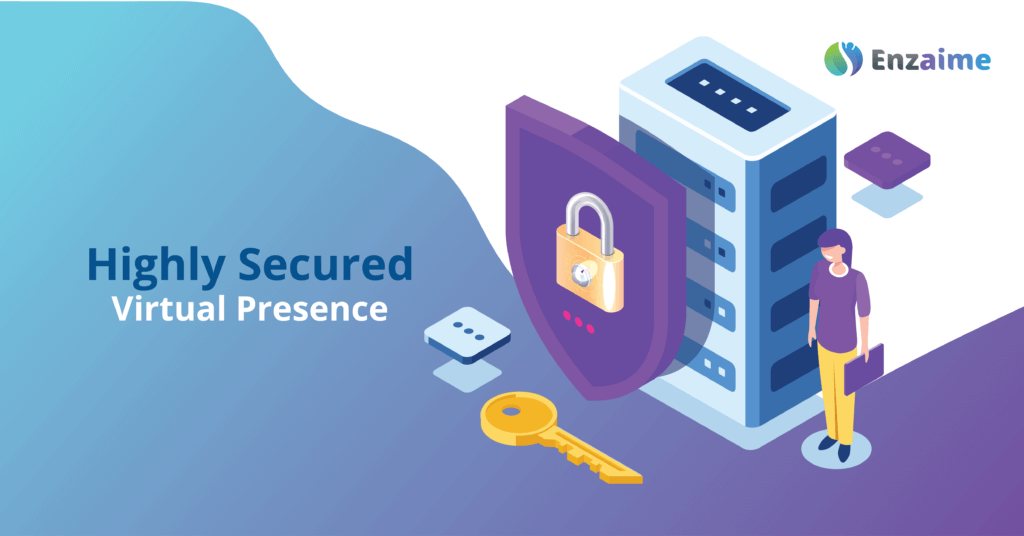 Enzaime provides some of the industry's most popular plugins and widgets for its clients to make the whole designing process a lot easier. Namely, Bookly, WeForms, HappyAddons Elementor drag, and drop page builder, etc. These are the powerful tools that empower WordPress- the most popular CMS in many ways.
Drag & Drop Web Builder
We know that doctors are not familiar with codes. Thus, we have designed our websites in such a way that a person who has not seen or even heard about WordPress before would not struggle to maintain them.
To ensure that, we have added the Elementor Premium Page Builder software, which requires no code at all to use. You just need to drag the functionality or feature you want to add to your website, then drop and voila! It is done! If still, it's hard for you, we have an excellent 24/7 support team.
Responsive Design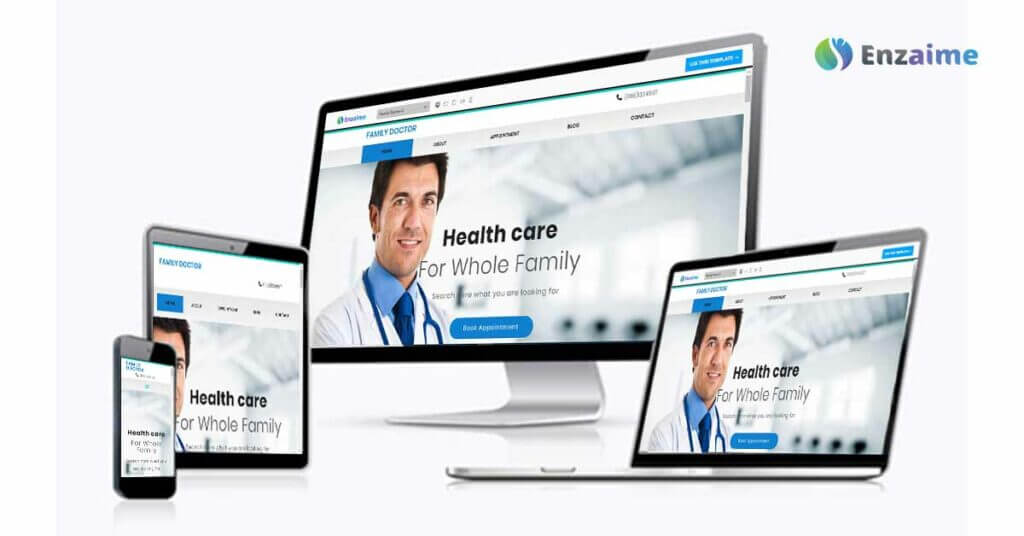 Statistics tell us that more than 60% of internet users are mobile internet users. So, having a mobile-friendly website is something a professional cannot do without. Enzaime feels that too. That's why we have made the websites all device responsive. However, it can be a computer, laptop, mobile, tab, etc. The contents, profile, or the whole website will display according to the device automatically.
Online Appointment
Enzaime wants to create an ecosystem for doctors where everything can be done virtually, which requires the ability of the patients to make appointments online. So, Enzaime has integrated an online appointment system using Bookly premium plugin with all its sites.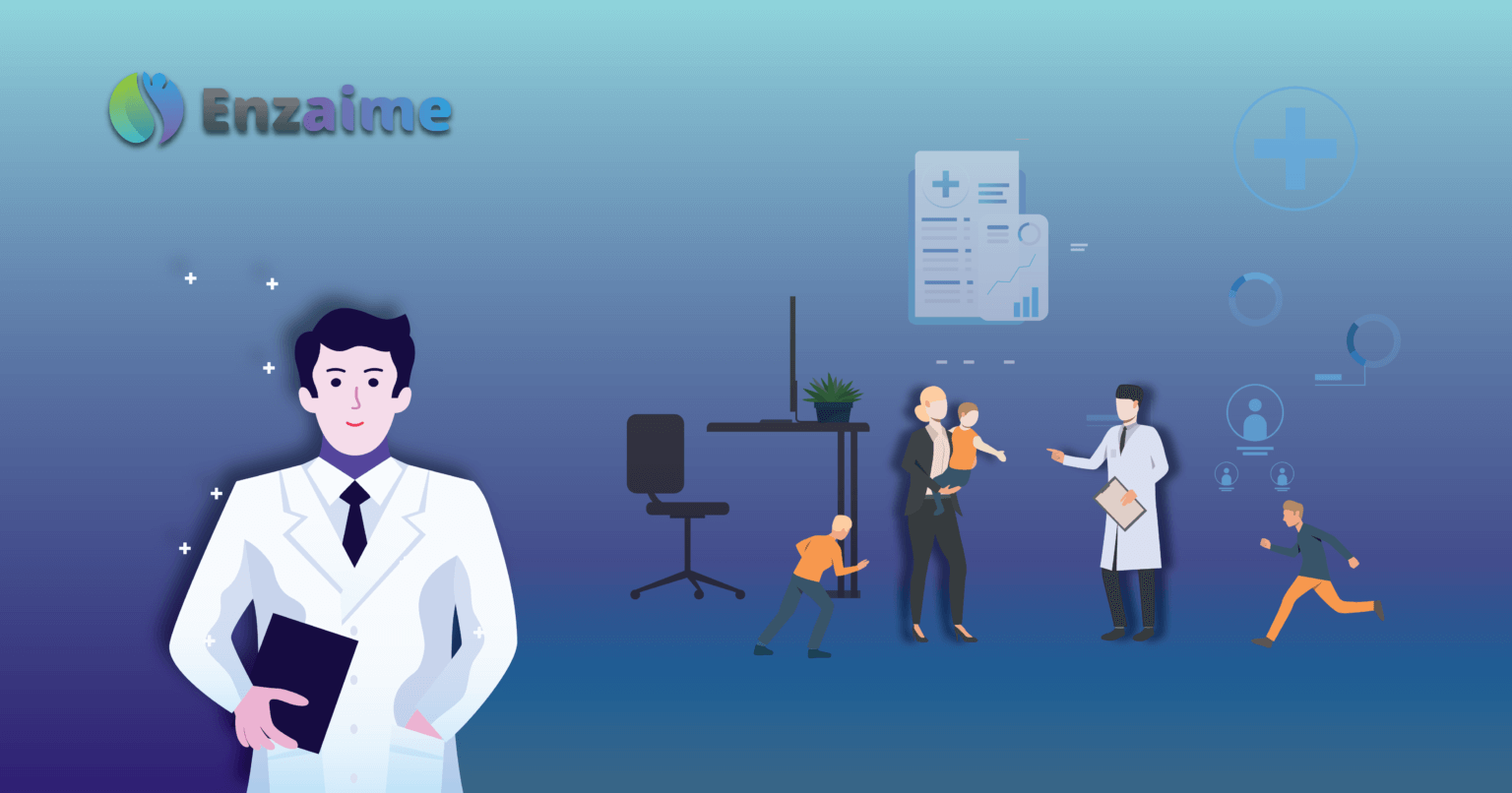 This premium plugin will enable doctors to keep track of all their appointments. It will, in the process reduces working hours and difficulties. And, it is beneficial for the patients also as it facilitates them to stay in touch with their doctor quickly.
Online Payment
The online appointment might require online payment. With Enzaime, doctors can accept payment through secure channels with numerous payment gateways. It will enable patients to have reliable and hassle-free transactions.
Enzaime wants the security and reliability of our honorable doctors as it uses sophisticated and encrypted data channels to facilitate the whole process.
Enzaime Patients form
In Enzaime, patients will fill up a form about their conditions online on the doctor's website. This will save time significantly during the visit and make the whole process hassle-free. For this purpose, Enzaime integrated the weForms premium.
Content and Social Media Marketing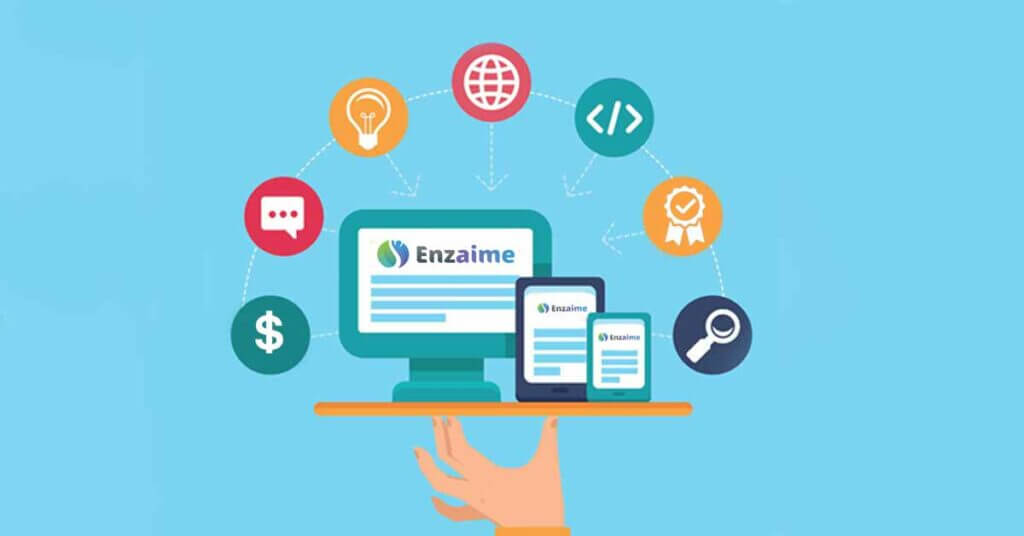 In this tech world, you are absent on the web, you are a nobody. It is an obvious thing now. We all admit it, and that is why Enzaime provides content and social media marketing on demand for doctors.
Remember, your name should be on the search engine results page, along with what you do and how good you are. There is no other way around it. Not only it recognizes people who you are but it also spreads your updates on the internet.
Final Countdown on Enzaime
Each sector of service is now under the cloud of the internet and undoubtedly, they are doing super-well. Most of the online service providers haven't any knowledge of coding. So, intelligent doctors can manage all the things just by spending some of their valuable time.
Doctors who already have published their websites know the importance. But due to insufficient service from the providers, you may not get the required attention you deserve. Enzaime offers Doctors to unite and join forces in the journey to create their websites together. The time and cost-effective websites are just a few clicks away from you.
Enzaime has made all the tasks very easy for you. As we have mentioned before, the 24/7 support team can solve your possible problems instantly. To build an online platform, you need to just push yourself toward Enzaime.
Don't forget to share your views or queries in the comment section below.