Yes, finally, the celebration time is here! Last week HappyAddons became a proud family of 50,000+ Happy Members. And we touched this milestone within 6 months only. But it won't be possible without your support, patience, and productive feedback. The love of our valuable users, clients, partners, and well-wishers was tremendous throughout this journey.
We are beyond thankful for your diligence and appreciate your contributions. Now it's time to give it back to you. That's why we are offering a special treat to all our fellow members.
Happy Addons is hosting a Grand Giveaway Program for you. Anyone can participate & get an amazing gift (Popular premium tools) along with the possibility of getting an Ipad.
Also, we're giving away a lot of WordPress products as a token of love. So, hurry and grab your gift before someone blows it away!
The more you engage, the better your chances to win.
Have a quick look to know what you can win from this Grand Event and get the most prominent WordPress plugin, theme or hosting for your business. Don't forget to check the list of our awesome partners who help us to make this possible!
What is Waiting for You in this Grand Giveaway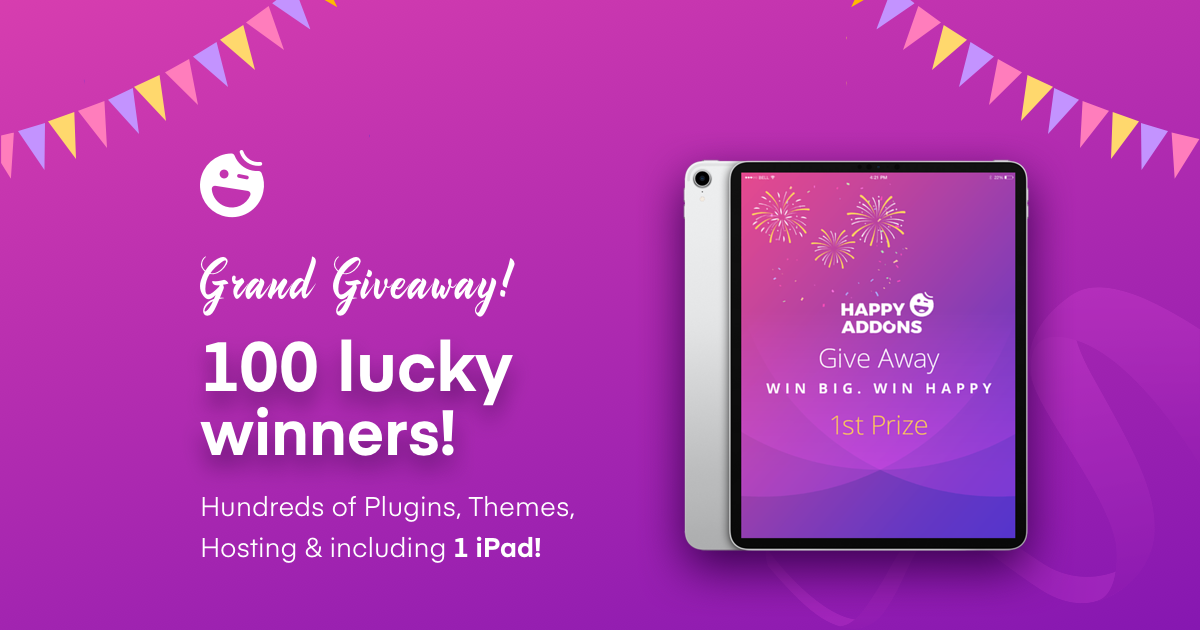 Team Happy Addons always prioritize you as a valuable customer. We are really grateful to you for being with us through good and bad to make HappyAddons a popular Elementor add-on within a very short period. So, we want to celebrate this big achievement with them all.
We are arranging a Grand Giveaway for you to share and spread the love vastly. By participating in this Giveaway, you will not go empty-handed. We get a prize for everyone! 🙂
Yes, you heard right. Most amazingly, each entry rises your chance to win a Bigger Price: Ipad. 😀
It's not the end. There is more to explore! Team HappyAddons is not only giving away an Ipad but also has partnered with many WordPress companies to bring you some of the best WordPress products – for free!
We are offering hundreds of amazing gifts worth more than $35,000. Grab your chance by participating in our Grand Giveaway. We promise you will find at least a handful of gifts that make you HAPPY!
How the Gifts will be Distributed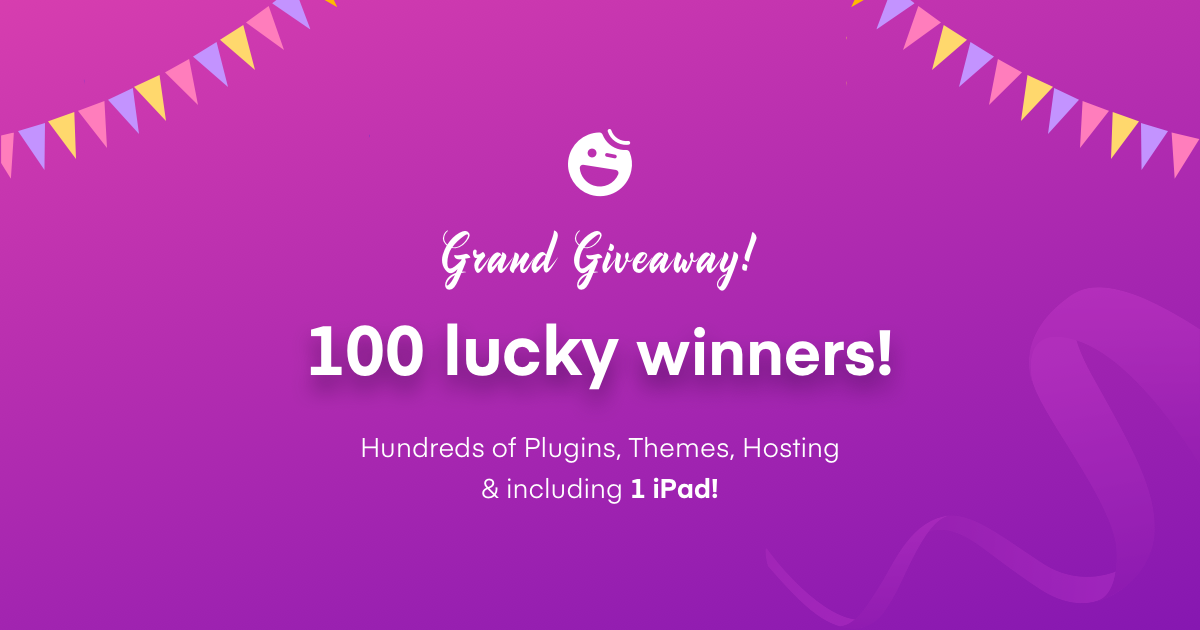 You might be curious how we will distribute the amount of the total prize pool as we will be selecting 100 winners from the thousands of entries.
We have a better plan for everyone. Winners will categorize into their segments, and the total amount will be distributed in three partial amounts.
Here is the distribution plan:
| | | |
| --- | --- | --- |
| Level of Prizes | Number of Winners | Amount of Gifts |
| 1st Level | 15 Winners | 60% of total prize pool |
| 2nd Level | 25 Winners | 25% of the prize pool |
| 3rd Level | 60 Winners | 15% of the Prize Pool |
Let me explain this; the top 15 scorers will get 60% of the total prize pool. The amount of 60% of the $35,000 will be distributed equally. The same rule will be applicable to the rest of the winners' segment.
Who will be the winner of the iPad?
Now the essential thing needs to be precise. The top highest scorer will be the winner of the iPad. Along with will the distributed amount of the prizes. If there is a tie between more than one top scorer, then we will go for the raffle draw system to choose the winner of the iPad.
Be the topper and win an iPad ?
Check out the Grand Giveaway Winner list below:
HappyAddons Grand Giveaway Winner List
We have selected the top hundred winner list. Here is the list of the winners. Please check your email to get the prizes. ?
Our Top Scorer Mr. David Escamilla win the iPad. ?
Here is our Happy Grand Giveaway's winner David Escamilla who won an iPad along with other Paid WordPress Themes, Plugins, and Hosting.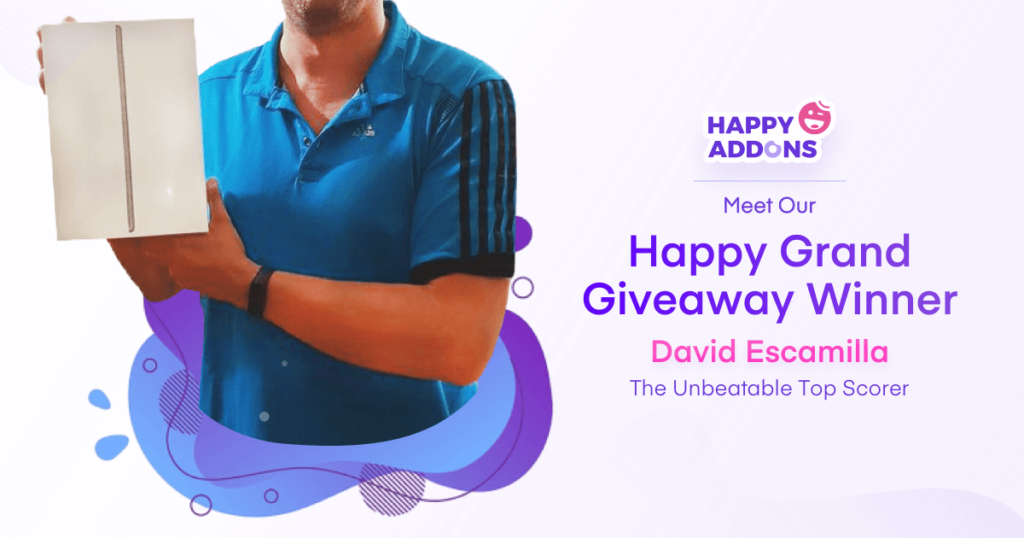 He scored 694, which is the highest number among all the participants. Unfortunately, we failed to send the gift to him on time due to the COVID-19 crisis. However, David was patient and finally, we have now been able to send him his iPad.
Let's congratulate our winner! His active participation has made our event more lively. We really appreciate his hard work and patience. Why don't you also join our happy community to be part of our next Big Blast!
Here is the top 100 winner list:
Process of Collecting Gifts
We have sent all the necessary details through our email ([email protected]) to your email addresses. As every product company has its own policy, we have tried our best to find a better way for our winners to distribute the products. You may find some contact person email addresses on the given prize list in your email. We have sent your email address to our partners as well. To collect their product, you have to drop emails to that email address. They will give you your desired products. And there are some coupon codes and licenses for other products. We have mentioned the licenses as the license tag to make it easy for you.
HappyAddons Grand Giveaway Tools List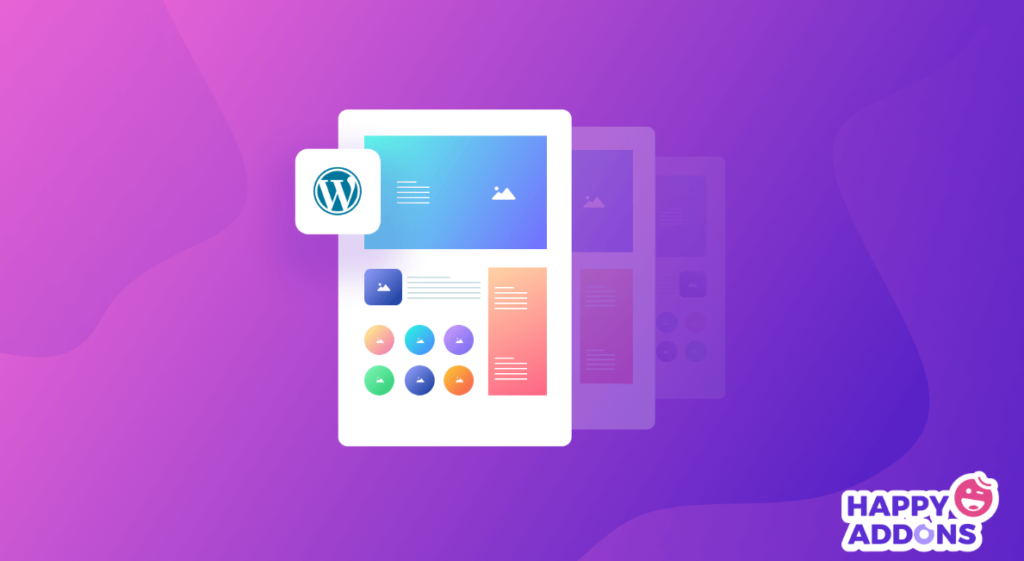 With Happy Addons, you always get something more than your expectations. It is the most unique Elementor addons offering 40+ amazing widgets and 15+ outstanding features.
However, this time we bring 20+ leading WordPress companies together under one roof. They are offering 40+ amazing and helpful tools to leverage the participants with profitable deals. Including plugins, themes, and hosting- HappyAddons has got you all covered!
Starting off with web hosting, Cloudways, a managed cloud hosting platform, is the Platinum hosting partner for this giveaway.
WordPress Plugins
Dokan
WPERP
WP Project Manager
WP User Frontend Pro
Happy Addons
WebARX
WPREMOTE
BlogVault
WP Security Audit Log
Password Policy Manager
Social media share and follow buttons
Fonts Plugin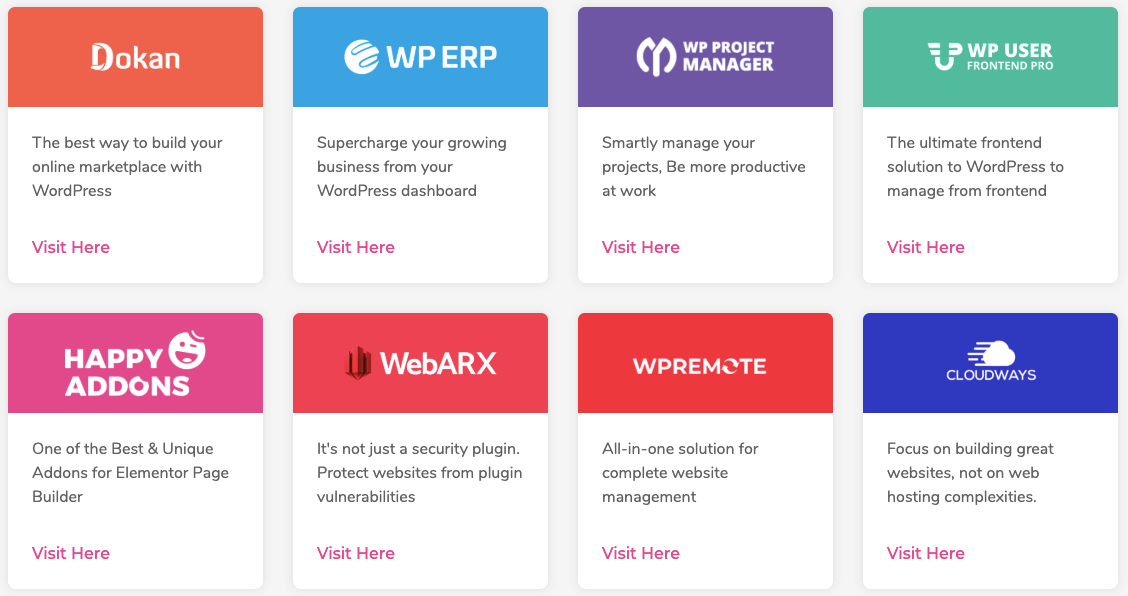 WP Coupons And Deals
ComingSoon & Maintenance Mode
G Map Widget
Social Booster
WEGLOT
Woo Sell Services Plugins
EDD Sell Services
WP Rocket
CSS Hero
SEOPress
AAWP
WP VR
Affiliate Coupons
Ali Drop Ship
Social Rabit
WordPress Themes
Writers Blogily
GUTENSHOP
ShowTrack
Branding Magazinely
WooVina
StoreMate Dokan
LearnMate LearnDash
LearnMate LifterLMS
Reign BuddyPress & bbPress
Woostify
MHTHEMES
Grab the best deal before it's going out of your hand!
How to Participate in this Grand Giveaway & Grab The Price!
Happy Addons believes that you cannot achieve something great alone. And only by empowering others you can make a long-lasting impact on people's lives.
However, join this joyful event just by following these 3-easy steps.

Enter the game by giving your personal email or Facebook id. Must use your genuine id, as we will contact you for further instructions through these platforms. You will get a verification email instantly in your mailbox.
Well, after registering, you will get a panel with different social media icons. You can earn extra points by sharing on these social platforms.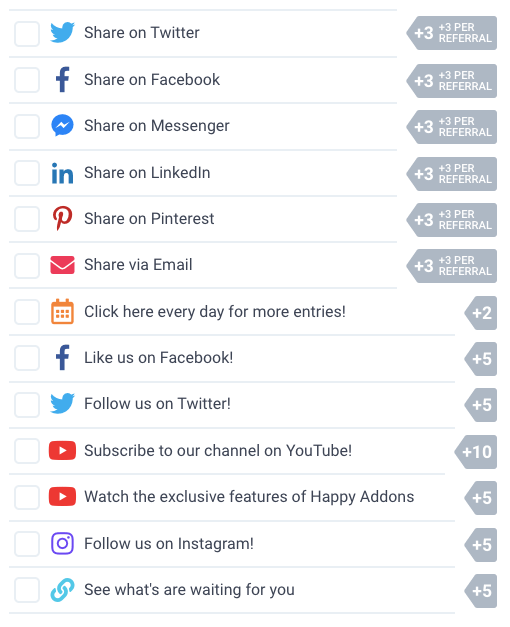 Also, use your original profiles here, as if your friends sign-up through that link, you will get benefited.
Subscribe to our YouTube channel because it holds the maximum points. Also, click on the "Click here every day for more entries". So that you can earn extra points every day.
Note: Recheck and disable your 'Add blocker' if you get a 404 error.
Check the HappyAddons Giveaway Policy; it will help you to proceed further without facing any hassle.
Let's meet those amazing WordPress brands and our beloved friends who helped us to broaden our HAPPINESS!
Meet Our Friends and Respected Partners
The Grand Happy Giveaway 2020 wouldn't be possible without our awesome contributors. Let me introduce them to you:
Platinum Sponsors of the Giveaway Program
We are happy to announce our Honorable Platinum sponsors. They have contributed products worth more than USD 5,000. Their support gives us the courage to run the Grand Giveaway on this large scale. Meet our Happy Platinum Sponsors,
weDevs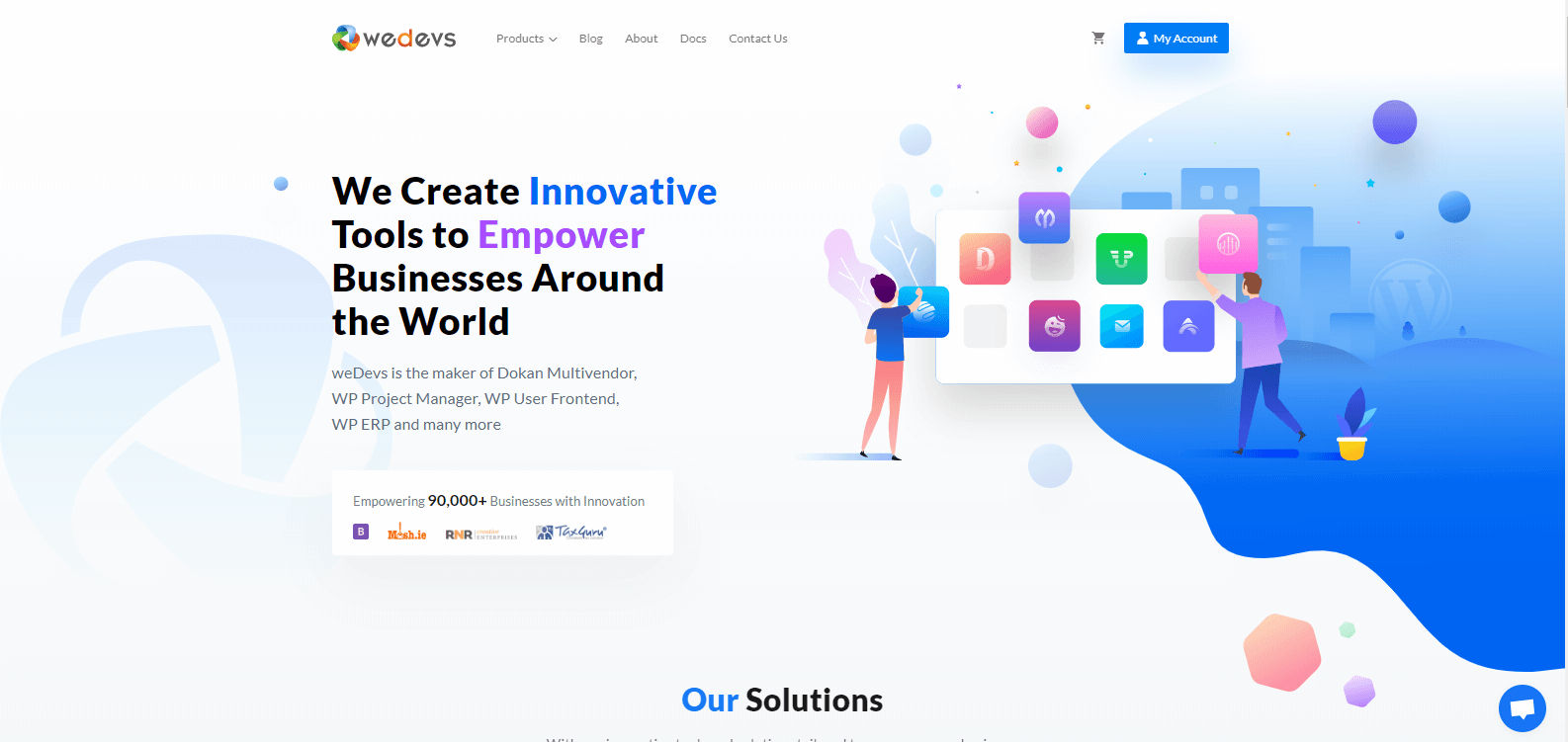 weDevs is the maker of many amazing WordPress tools to empower your small-large sized business effectively.
With these innovative tools and solutions, you can boost your business growth at rocket speed. You just need to sit back and see your problems solved.
WP ERP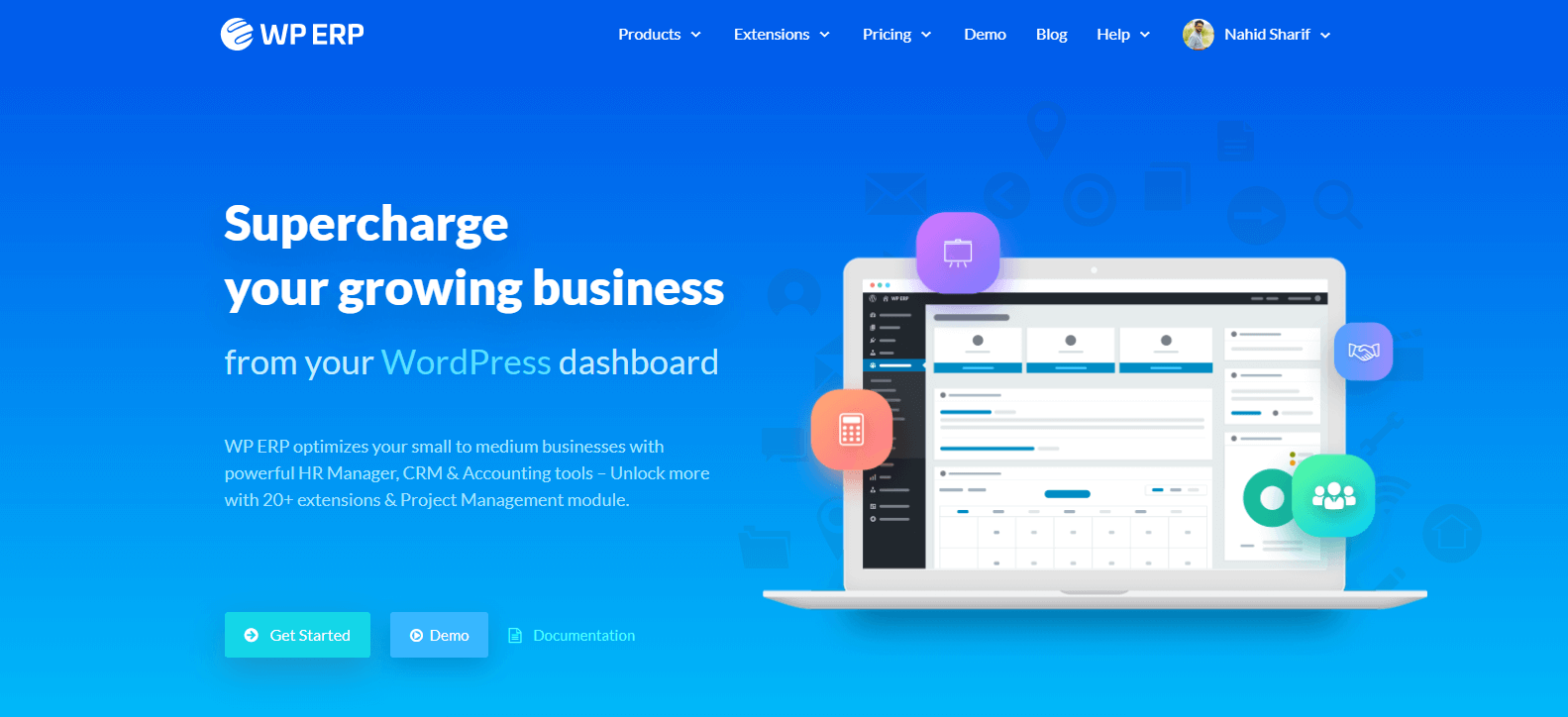 WP ERP is the first full-fledged ERP system through which you can simultaneously manage your WordPress site and business from a single platform. It is trusted by 10000+ small and medium businesses.
WP ERP has 3 core modules: HR, CRM, and Accounting, which together make a complete ERP system for any type of business.
WebARX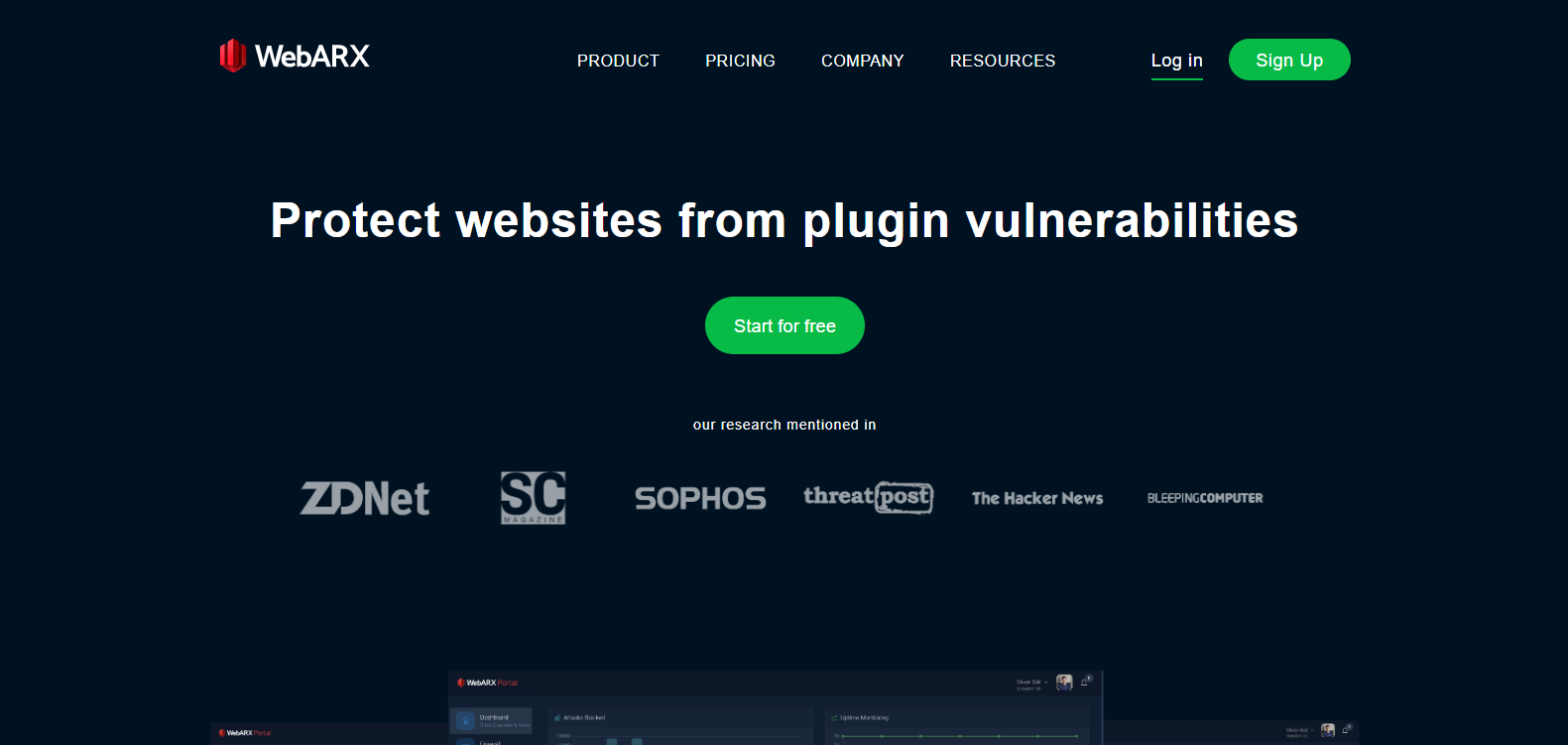 WebARX is a WordPress and PHP security platform that helps web developers and agencies protect their websites from plugins and third-party component vulnerabilities. It can prevent malware infections, SEO injections, bot attacks, and other malicious traffic.
They offer managed web application firewall, which protects the sites from OWASP's top 10 web application vulnerabilities such as SQLi/XSS/CSRF and more.
WP Remote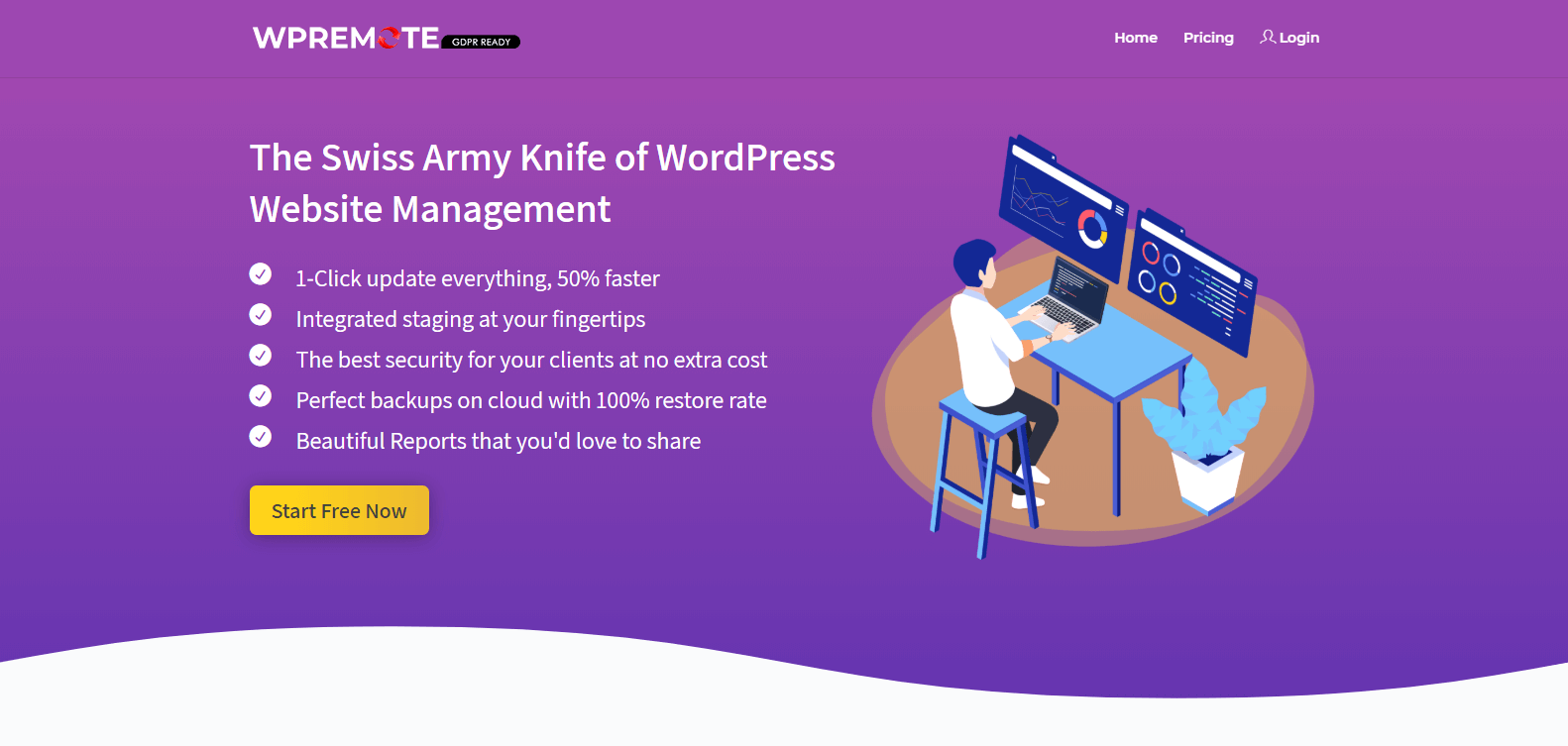 WP Remote allows you to manage and update all your WordPress sites remotely. This WordPress plugin has been acquired by BlogVault. With this intuitive plugin you can:
1-Click update everything, 50% faster
Track and update all of your WordPress sites from one place
Track and update all of your WordPress plugins and themes from one place
Install and activate plugins and themes from one place
Get perfect backups on the cloud with a 100% restore rate
Get the best security for your clients at no extra cost with organized reports.
Cloudways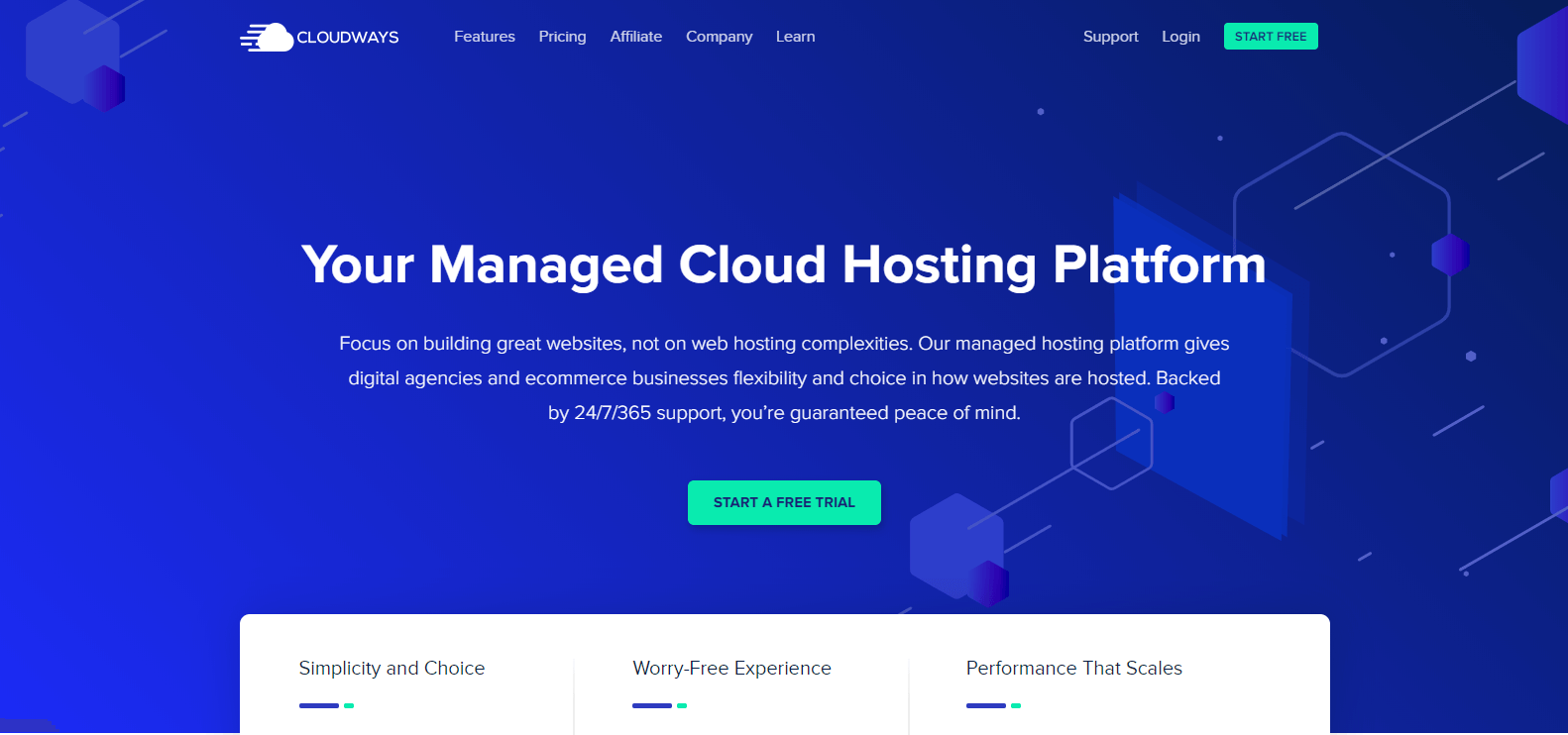 Cloudways offers growing businesses and agencies a simple yet powerful managed cloud hosting platform. So that business owners can manage their servers without any hassle. They ensure fast website performance with maximum speed and fool-proof security for your WordPress website.
Let's mention some key features Cloudways offers-
Cloud-based managed WordPress hosting
Affordable price with great functionalities
Lets you scale the hosting resources as your website grows
SSD-Based Hosting
Unlimited Staging Site
No Restrictions on Plugins
PHP 7+ Support
Not only that, you will get a 3-days free trial period to test the platform before purchase.
Their infrastructure is optimized for speed, performance, and security.
Gold Sponsors of HappyAddons Giveaway Program
Meet our honorable Gold Sponsors. They have contributed products worth 3,000 to 4,999 to boost up our Happy Grand Giveaway. Check out the sneak peek of our Gold Sponsors,
Super Theme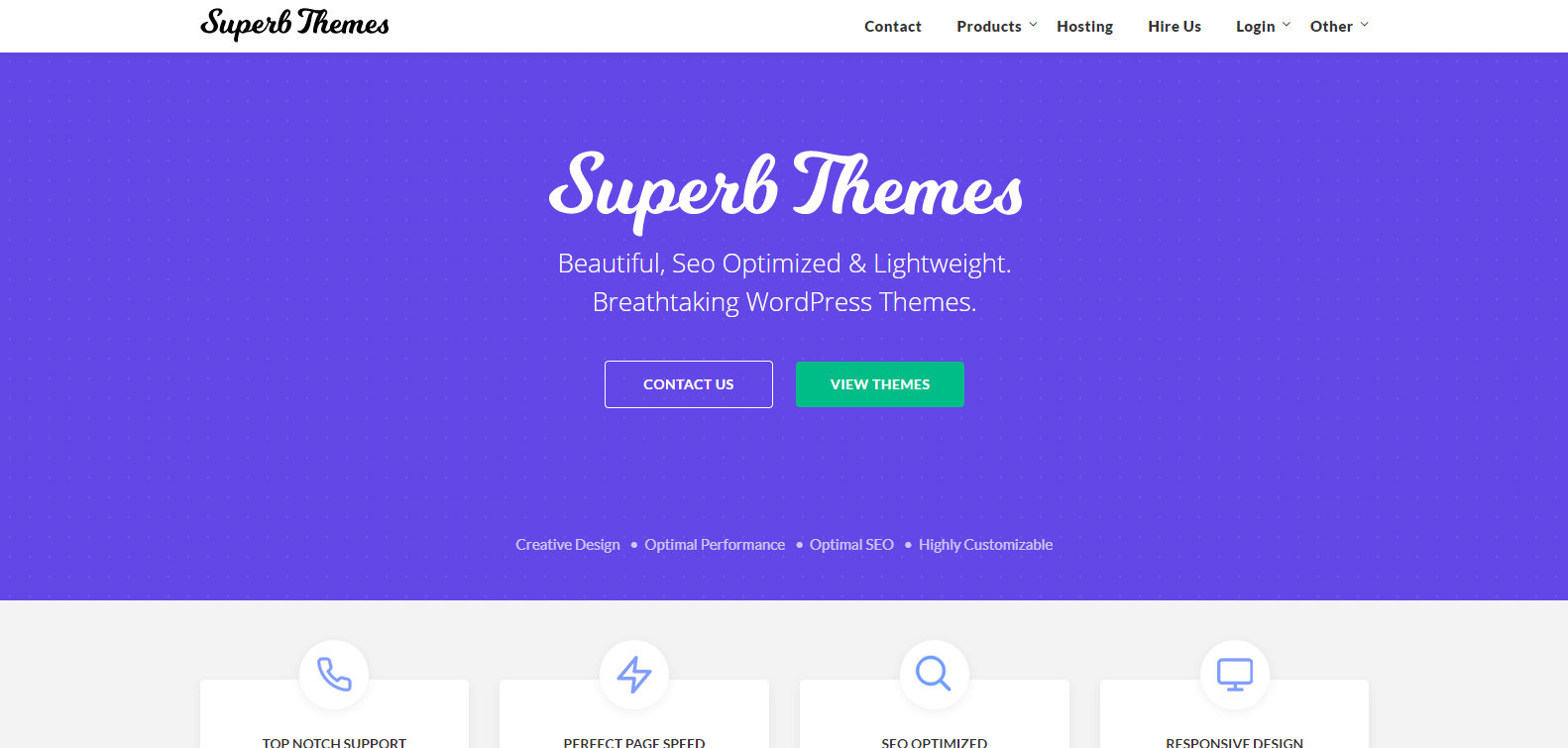 Superb Themes are built from scratch with these goals in mind: hand-written crawlable code, on-page search engine optimization, and slick responsive design. So, it will help you to rank well in search engines and convert visitors into action to succeed.
WooVina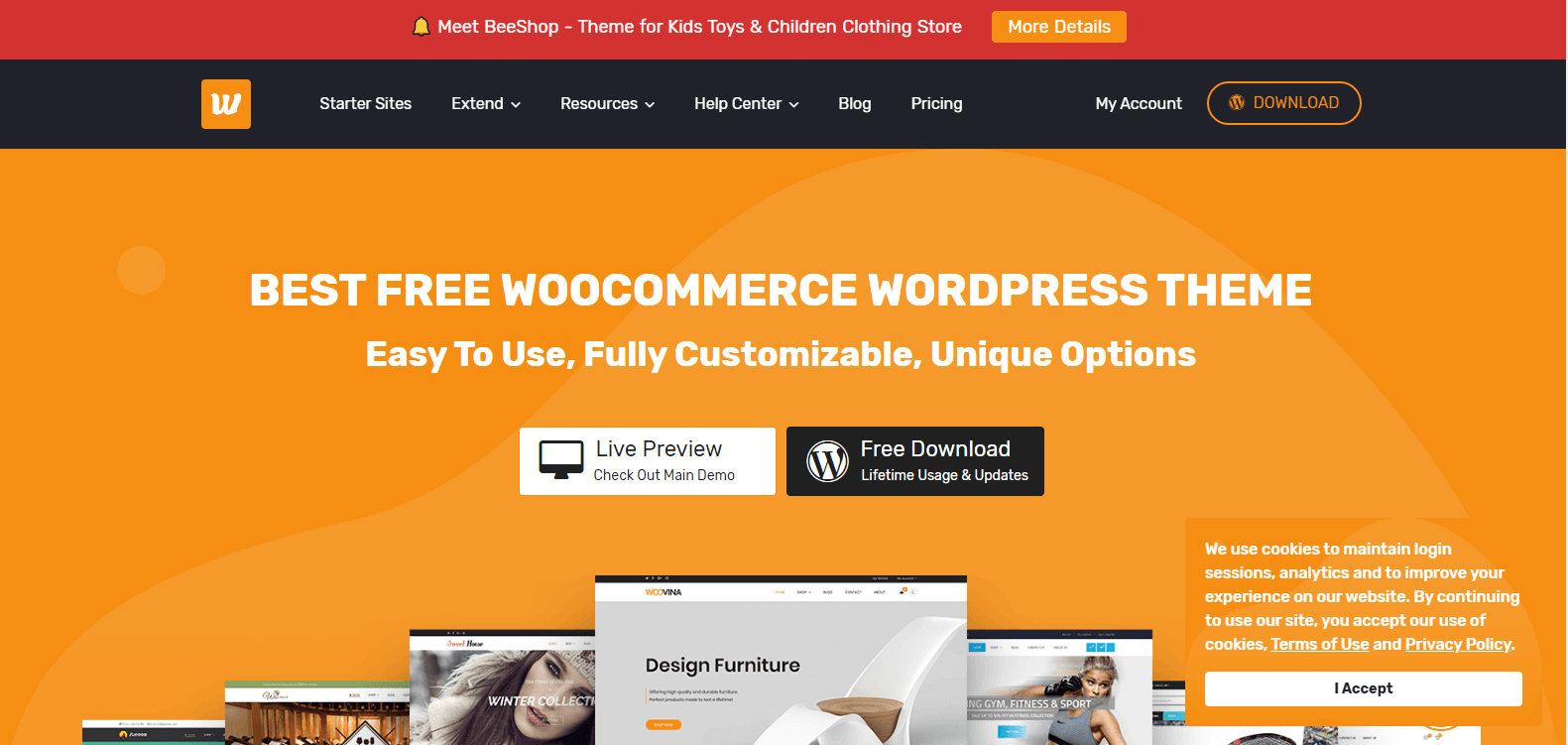 WooVina is the best theme offering deep WooCommerce integration, with unique features and countless customizations you can build a store that matches your brand. It built 60+ website templates to save your time for creating a new website. Pick a demo, import, tweak and go live!
WP White Security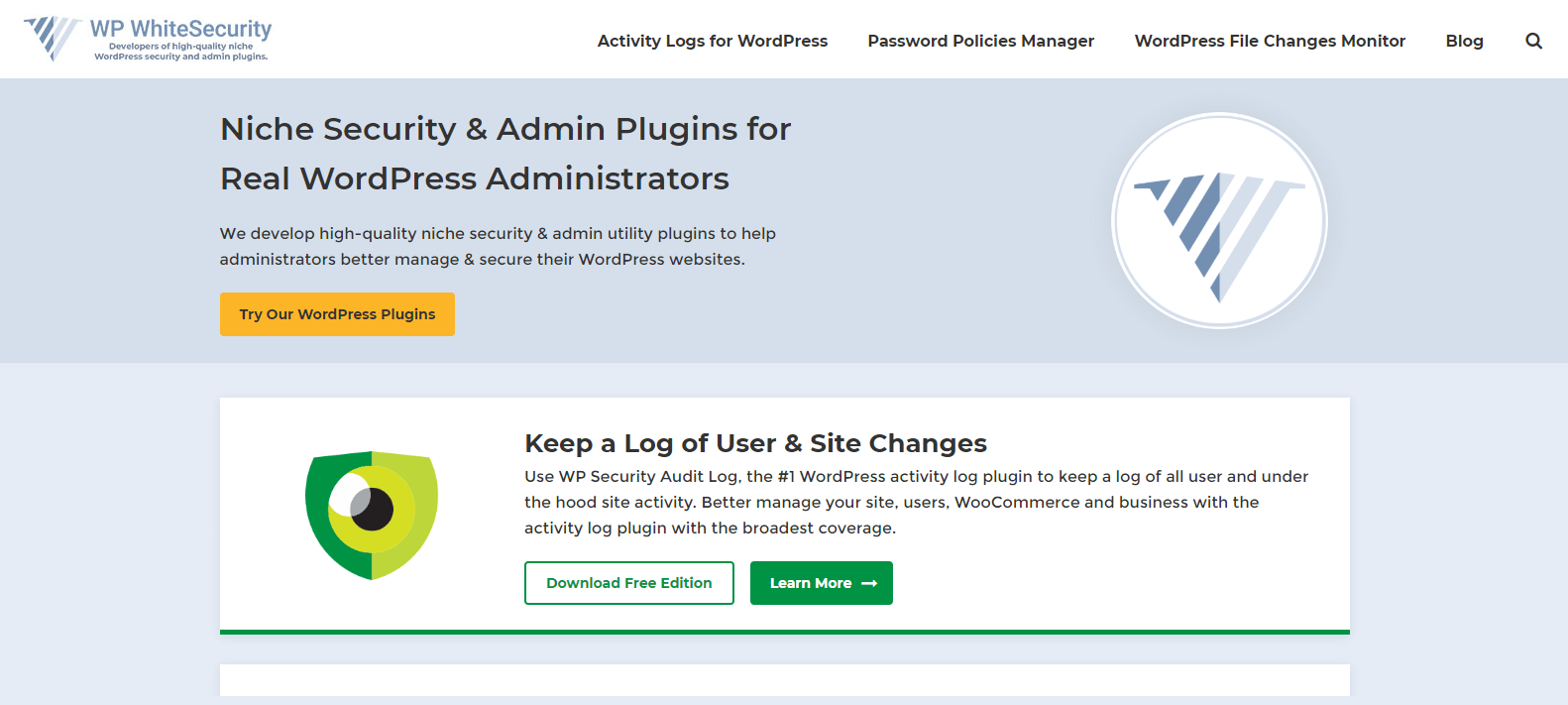 WP White Security develops high-quality & niche WordPress security and admin plugins to help administrators better manage and secure their sites. The company was founded in 2013 and its four WordPress plugins are used on more than 100,000 WordPress websites.
Silver Sponsors of the Giveaway Program
Here are our Honorable Silver sponsors. All of our Silver Sponsors individually contribute up to USD 2,999. Check out their awesome tools below,
Bronze Sponsors of the Giveaway Program
Each of our Bronze sponsors helps us by contributing up to USD 1,000. Don't forget to check out the exclusive products of our honorable Bronze sponsors from here,
Happy Addons- Ultimate Design Tool for Elementor Users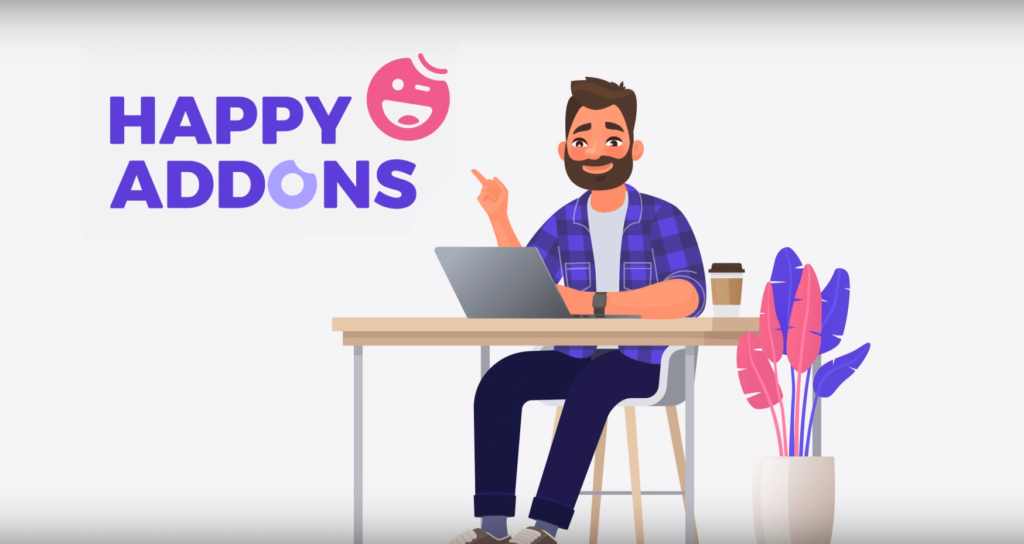 Elementor itself is a powerful developing tool that can assist you in building a professional site in minutes. However, it's not possible for a single tool to cover all the tiny elements of WordPress alone. In order to help Elementor users and make their designer hands more powerful, there are a ton of plugins are available in the market.
Among those helpful tools, Happy Elementor Addons makes its unique place by giving some outstanding features and widgets completely free. Now you can add animation to your site without coding. Happy Addons makes this happen in real life with Floating Effects.
HappyAddons is a unique Elementor Addon. It might be the best addon package for Elementor.

Adam Preiser, Founder of WP Crafter
Happy Elementor Addons is the ultimate freemium (free+premium) widgets library for Elementor to take your website design to the next tier. With its extraordinary features, now you can do stuff once possible only by professionals.
Join the Great GiveWay & Try Your Luck
Whether you are a HappyAddons user or not, you should participate in this big event. Save your pocket by cracking the best deal for you. Happy Addons is arranging this Giveaway Program to give the sweetest treats to everyone!
Don't miss this opportunity! Go and participate in the Happy Grand Giveaway. ? Grab the chance to win popular WordPress plugins & themes! Nevertheless, one lucky winner will also get a chance to win an iPad!? Also, read our Giveaway Terms & Condition.
To get all the updates about this giveaway or Happy Addons, you can join our Online Community.
Don't forget to share your experience, likings, difficulties, or problems with us regarding Elementor or Happy Addons with us in the comments below.