With the majority of businesses being carried out online today, it is important to have a beautiful website to showcase your business. However, it is more important that the website is both fast and optimized for search.
If your website is not SEO friendly, then it doesn't matter how beautiful it looks, people will not find it anyway. And regardless of how stunning your site looks, no one will wait patiently if it takes forever to load. Actually,
40% of internet users will abandon a site if it takes more than 3 seconds to load.
So, how do you get your website to not only look beautiful but also load fast and bring you tons of organic traffic, even if you don't have the technical knowledge to tinker with your site's code?
The answer to this is SuperbThemes.
What Is Superbthemes?
SuperbThemes is a package that gives you access to more than 30 stunning and responsive multipurpose WordPress themes and plugins that are optimized to ensure quick load times and high search engine rankings.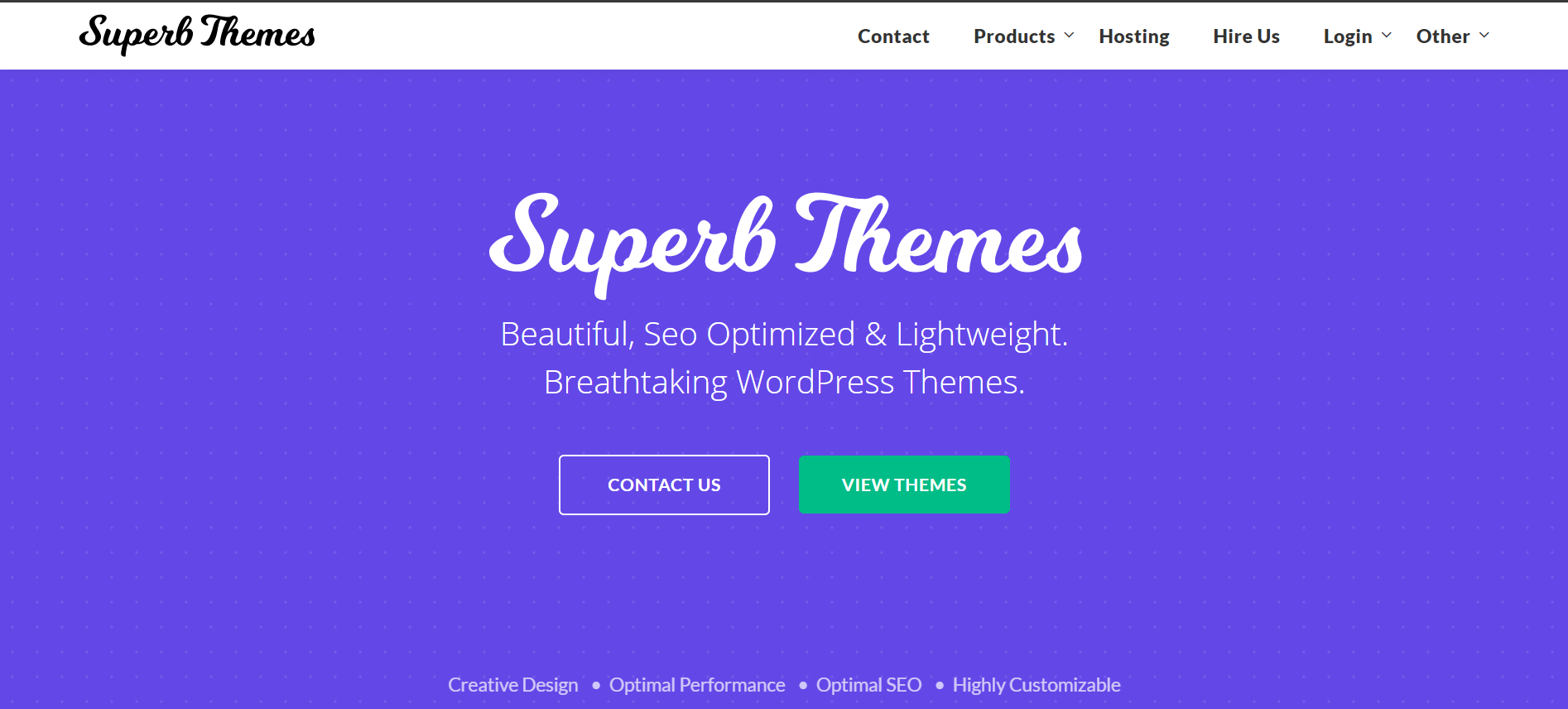 The themes that make up the SuperbThemes package are designed and built by a company going by the same name. It was started in 2014 and is based in central Europe. Despite being a relatively young company compared to other theme creators like Theme Isle and ElegantThemes, SuperbThemes has already started making a name for themselves. Mainly owing to their focus on elegance, speed, and search optimization. At the time of writing this, SuperbThemes is active on over 179,000 websites.
The themes in the SuperbThemes collection cover a wide variety of niches, and the team behind is always adding more niches. Therefore, whether you want to run an e-commerce site, a fashion site, a photography site, a blog, a digital agency, a portfolio site, or if you are simply a freelancer who wants to showcase his or her services, you will never go wrong with SuperbThemes.
The best part about SuperbThemes is that it offers a free version of most of their themes, allowing you to try out their themes before committing your money to buy their premium products.
Superbthemes Features
Every theme has its own unique features that make them different from each other. These include:
Perfect Page Speed
Load speed is the core focus of every theme in the SuperbThemes collection. To ensure fast load times, the code in each theme has been tweaked. And the themes are lightweight, without any unnecessary code, plugins, or bloatware that could slow download speeds. Finally, all the elements in each theme are designed and optimized to render as fast as possible. The result is perfect page speeds for sites using SuperbThemes.
SEO Optimized
The team at SuperbThemes knows the importance of organic traffic. That is why all their themes are built according to the latest standards and guidelines from Google and other popular search engines. All the code in each theme is SEO friendly to ensure that your site ranks as high as possible.
Responsive Design
SuperbThemes are highly responsive. With more people today accessing the internet on mobile devices rather than computers. Whether a user is viewing your site on a computer, a tablet, or a smartphone, SuperbThemes readjusts your site's appearance to provide the best possible viewing experience for the user. In addition, the layouts and designs are minimalist to provide uncluttered, distraction-free browsing that keeps the user focused on what matters – your content.
Compatibility With Popular Tools And Plugins
SuperbThemes are compatible with the most popular tools and plugins to provide even greater flexibility and maximize conversions. It has compatibility, including WooCommerce, Yoast SEO, Contact Form 7, WP Super Cache, W3 Cache, SSL, EDD, and many more.
Translation Ready
The team at SuperbThemes understands that you might have an audience in different geographic regions, which is why all the themes are translation ready and come with .pot language files.
Popular Themes in the Superbthemes Collection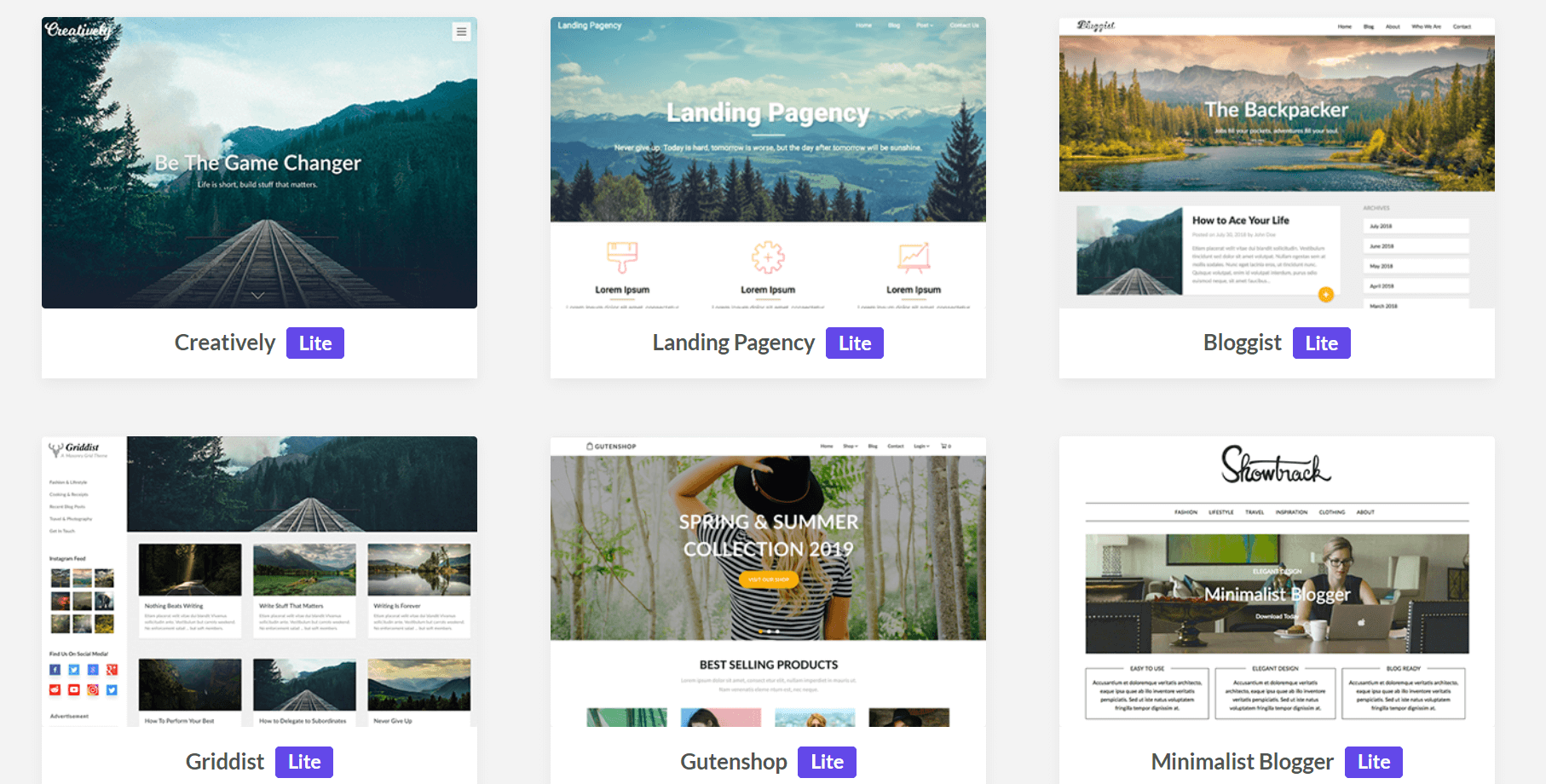 While the SuperbThemes collection contains more than 30 beautiful WordPress themes, below are five of the most popular themes within the collection:
Creatively
This is a multipurpose WordPress theme. It is preferable for online magazines, personal blogs, and portfolio sites. People love this theme for its straightforward design, minimalistic style and layout, and its simplicity.
The theme is highly customizable, allowing you to create a look and feel that perfectly matches your brand. Like all themes within the collection, it is highly SEO friendly, and it supports the Gutenberg editor for easy post-editing.
Gutenshop
This theme is for e-commerce. It is a great choice for those who want to build online stores, boutiques, and webshops. Gutenshop, powered by WooCommerce and is designed in a manner that allows you to focus the user's attention on your content and products. You can also use this theme to create a one-page shop.
The design of this theme is minimalist, clean, responsive, and ensures that the content on your site stands out despite the device it is being viewed on. The use of shadows against a flat design allows you to easily highlight your products and make your online store look amazing. Gutenshop is also compatible with Gutenberg for easy post-editing.
MinimalistBlogger
This is a stunning WordPress theme. Bloggers and online newspapers can get great benefits from it. The theme's minimalist look and elegant design are what make it popular among bloggers and news sites. Whether you want to blog about travel, fashion, food, or cars, or share news about tech, entertainment, sports, or business, this is the perfect theme for you.
Publishable Mag
This multipurpose WordPress theme is perfect whether you want to create an affiliate review website, a classic news website, a modern lifestyle blog, or an online editorial magazine. The theme is a perfect blend of beautiful and professional and offers limitless customization.
For those who intend to make money from their sites through advertising, the theme has offered lots of ad space – perfect for all kinds of ads, including banners and video ads. Advertising revenue depends on traffic, which is why this theme is optimized for search. You can easily drive organic traffic to your site.
Landing Pagency
This is a stunning one page WordPress theme focused on creating beautiful landing pages. Whether you are a corporate, a creative agency, a startup, a consulting business, or an entrepreneur who wants to launch a new business, product, or service, this is the perfect theme for you.
The theme also allows you to create a blog in case you want to talk more about your product, service, or business. Whether you want to collect emails ahead of your launch or whether you simply want to promote your business or product before launch, you won't go wrong with Landing Pagency.
Related Article: Best Lightweight Themes in WordPress Powerup Your Website
Superbthemes Customer Support
The team at SuperbThemes cares deeply about providing fast, super friendly, and super knowledgeable customer support. Therefore, you don't have to worry when you encounter any issues with your purchase, installation, or use of SuperbThemes. Because the support team is there to guide you through everything and help you resolve any problems.
The support is available through email, with an average response time of 9 hours. They also have a FAQ section to help with the most common issues, though I feel it is a bit shallow.
Superbthemes Pricing Plans
SuperbThemes offers two different pricing plans. The first one is an annual business subscription which currently goes for $67. With this package, you get
one year access to all the premium themes, plugins
support for up to 15 domains
one year access to child themes
unlimited premium support
unlimited access to premium updates.
The second plan is the one-time purchase, lifetime access package, which is currently going for $199. With this plan, you get lifetime access to all the premium themes, plugins, child themes, support for domains, support, and updates.
If you don't want to purchase one of these plans, you can find a theme you want to use and purchase it individually. If you decide to go this route, most themes cost an average of $29.
From time to time, SuperbThemes also offers coupon codes that give you access to discounts.
Wrapping Up
If you want to have an easy time building beautiful, fast, and SEO-optimized sites, SuperbThemes is a great option. It gives you access to 30+ premium themes across a wide variety of niches.
For non-technical people, building a site for your business, SuperbThemes is also a great option. It allows you to build fast and SEO-optimized sites without having to tinker with any code. However, for a single site, I recommend purchasing the theme you want individually.