Images and visuals are crucial in grabbing audiences' attention and conveying messages effectively to them. They can evoke emotions and leave long-lasting impressions on users. However, creating high-quality visuals requires strong design skills, countless hours of work, and considerable budgets.
As a result, businesses and professionals had to spend a lot on creating desired visuals. However recent advancements in AI image generation tools have remarkably changed the landscape. You can now create stunning images and visuals based on text prompts with these powerful AI tools.
In this article, we'll introduce you to some free AI tools to generate images that won't charge you anything to a certain level. Before that, we'll cover a short discussion on why and where you should use AI image generation tools. Get started!
What is AI Image Generator?
AI image generators are software and web applications that use artificial intelligence (AI) algorithms to generate images based on your prompts and given inputs. The generator analyzes the input text, understands the context, and creates images that align with the given description.
The AI image generation tools have applications in various fields, like graphic design, arts, advertising, eCommerce, and personal projects. You can generate images to support your storytelling and creative ideas so people can visualize your content/concept before even reading them.
Why and When Should You Use Image Generation Tools?
There are various situations where AI image generation tools can be helpful a lot. They can save you time and reduce the need for extra human effort by automating the image creation process. Let's take a look at some key scenarios where you may consider using AI image generation tools.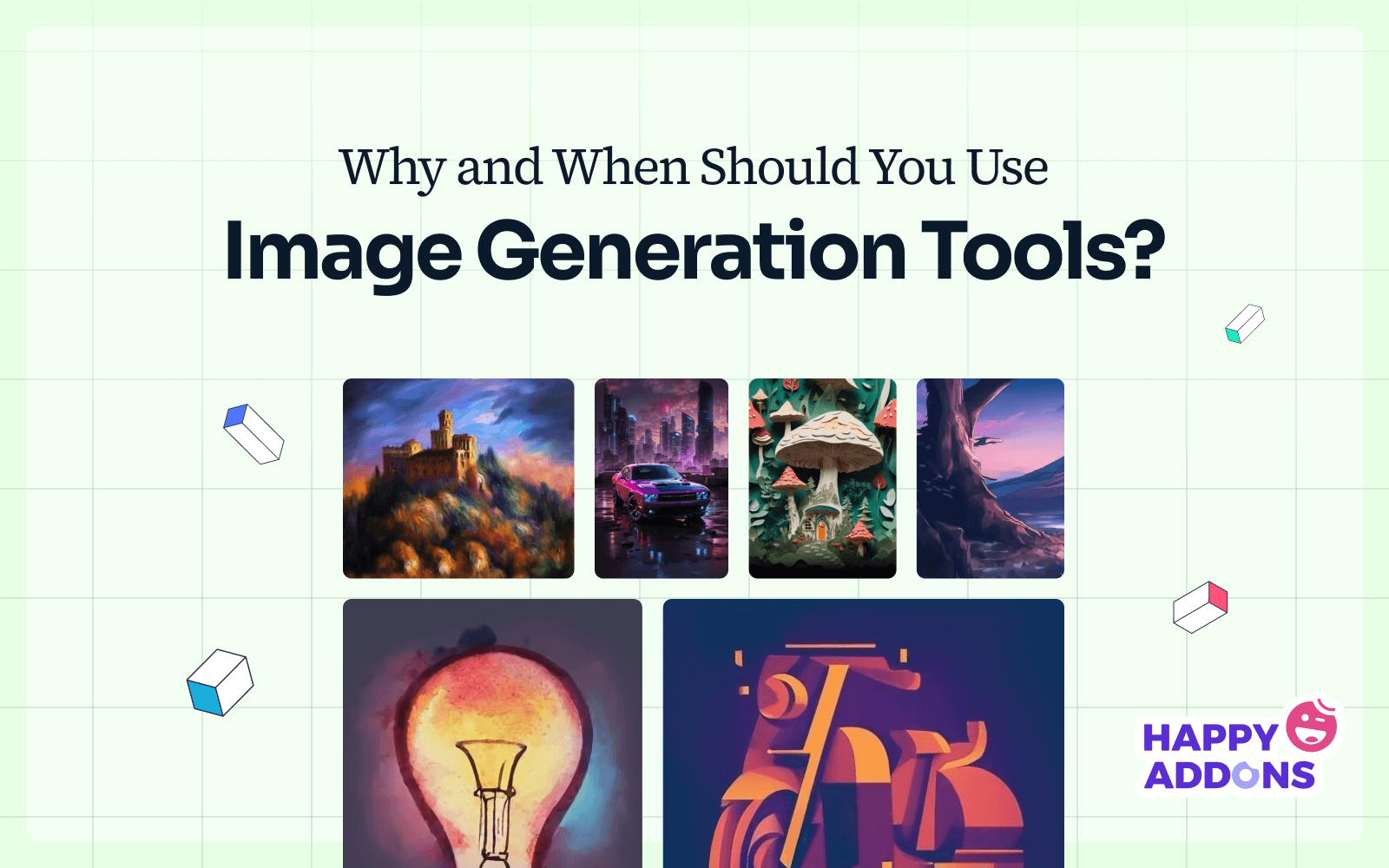 b. Explore New Design Ideas
Whether you are a professional or seasonal graphic designer, image generation tools can help you brainstorm new design ideas. You can take the generated image results as suggestions and create better designs, taking inspiration from them.
a. Content Creation
You can use image generation tools to create visuals for various types of content, like blog posts, presentations, marketing, and social media posts. They can help you generate relevant images to engage audiences by enhancing your content visualization power.
Explore how to personalize website content.
c. Data Visualizing
Suppose you are a data scientist with lots of stat results at hand. With image generation tools, you can visualize the data in various ways, like pie charts, bar charts, heatmaps, scatter plots, network graphs, etc. It can also make your presentation easier.
d. Marketing and Branding
Image generation tools can be used to create powerful visuals to support your branding, marketing, and advertising activities. Definitely, you can generate images that effectively convey messages to audiences if you can write prompts correctly.
e. Create Virtual Characters and Illustrations
AI image generation tools are great for creating virtual characters and illustrations commonly used in games and animations. You can greatly harness these tools if you are an animation maker, caricature designer, or even a product designer.
Best Free AI Tools to Generate Images from Text
You can find tons of AI image generation tools online. But not all of them have free packages included, so you may end up being frustrated. To simplify your task, we'll list some of the best AI image generation tools with free packages in this section. Keep reading!
1. Dall-E 2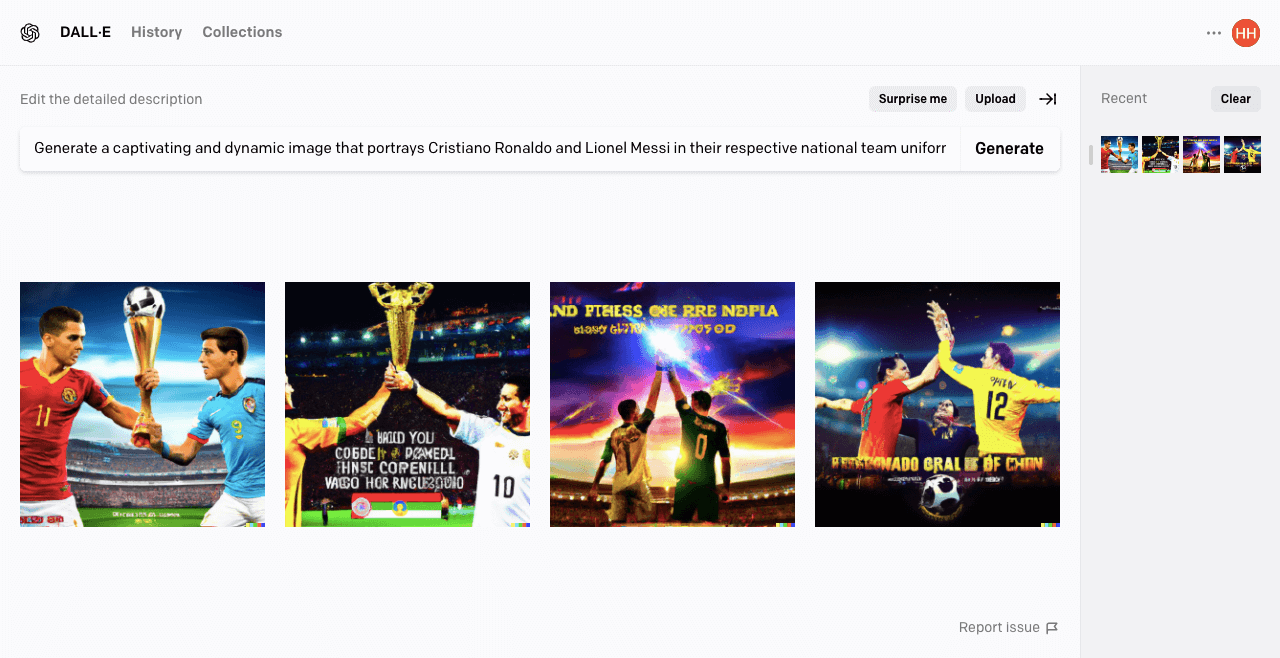 Dall-E is developed by OpenAI and was first released in January 2021. It uses deep learning and generative adversarial networks (GANs) to generate new images. Dall-E depends on a neural network that has been trained on a massive dataset consisting of text-image pairs.
The dataset covers a wide range of diversified textual descriptions paired with corresponding images. Whenever someone submits a prompt, the dataset tries to figure out the relationships between the words and visual concepts. Accordingly, the tool generates unique images.
Dall-E 2 is an updated version of Dall-E. Its name is a combination of the artist Salvador Dali and the animated character Wall-E. Developers are constantly trying to develop it more in the coming days.
Key features of the Dall-E 2 image generation tool
Offers a simple and user-friendly interface
Allows users to check the history of the images generated
Users can save their favorite pieces of generated art in the collection
The paid version allows you to train your own models using Dall E
You can use the tool from your mobile browser (officially, no app yet)
Users can upload their own images and customize them using Dall E
Pricing of Dall E 2
Dall E has a free version available. Once the free credits end, you must upgrade to the premium version to buy new credits. You can generate around 115 images with a minimum credit cost of $15.
2. Bing Image Creator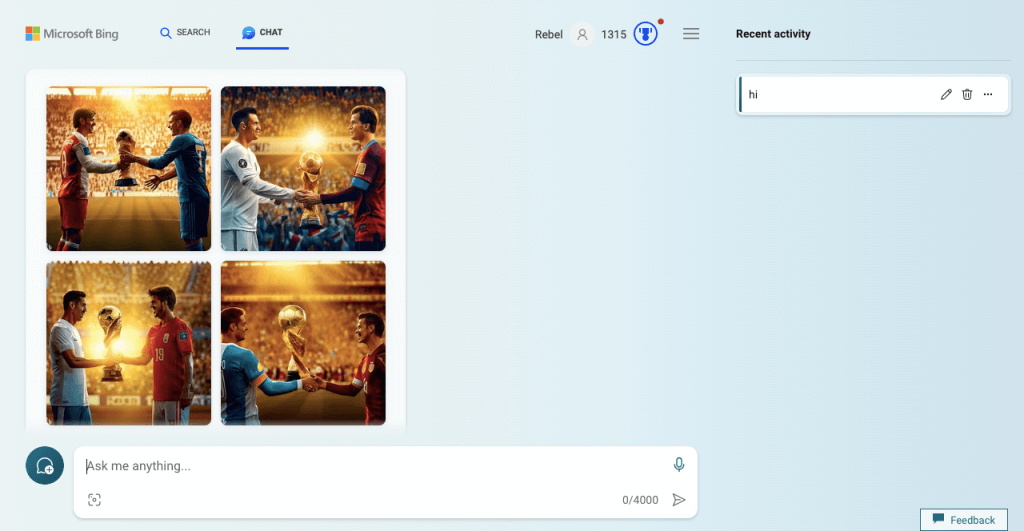 Bing is a Microsoft product commonly known as a web search engine. Bing Image Creator was integrated into the search engine in March 2023. This image generation tool is powered by a more advanced version of Dall-E. So, it can generate better results compared to Dall E.
The biggest advantage of this AI tool is that you can access the image generator and Bing AI chatbot from the same place. If you have access to the AI chatbot, you can generate images by typing prompts from there. You don't need to open a new tab for that.
So, if you want to create long content with the required visuals, you can do everything from the same place, saving you valuable time.
Key features of the Bing Image Creator
Creates a variety of styles: cartoon, anime, watercolor, cyberpunk, and more
Comes with a built-in AI content checker
Users can upload images and command Bing to take inspiration from it
You can apply various filters and effects
Check the history and download options
Has integration with Bing and Microsoft accounts
Pricing of Bing Image Creator
Bing Image Creator is free to use. Every day, it renews 100 credits for your account, enough for anyone to generate all the necessary visuals.
3. Leonardo AI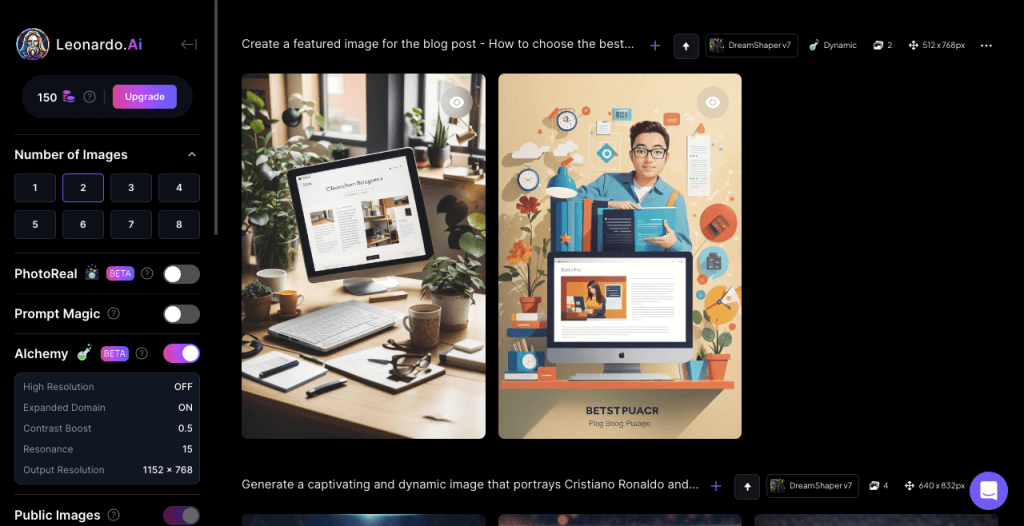 Among the handful of AI tools that can generate near-realistic images, Leonardo AI is one of them. It uses pre-trained AI and machine learning models to curate high-quality images, making it a top choice for artists, designers, and digital content creators.
Another standout feature of the tool is access to Community Feed. On the feed, you'll see countless images already generated by other Leonardo AI users. This can be great for growing design inspiration and ideas. You can also create your own dataset to train your desired model for better results.
In addition to image generation, Leonardo has recently introduced two other tools: AI Canvas and Texture Generation. In the coming days, Leonardo will come up with many more things that will revolutionize the AI image generation industry.
Key features of Leonardo AI
Communication Feed shows you the images generated by other users
Allows to generate various image types: landscapes, portraits, abstract art, etc.
Easy to set the aspect ratio and blend images together
You can finetune your own models and train up datasets
Has a Prompt Generator to better up your prompts
The PhotoReal feature generates almost human-alike images
Price of the Leonardo AI
Leonardo AI offers you free 150 tokens daily by which you can generate dozens of images. The premium version starts from $12/month.
4. Canva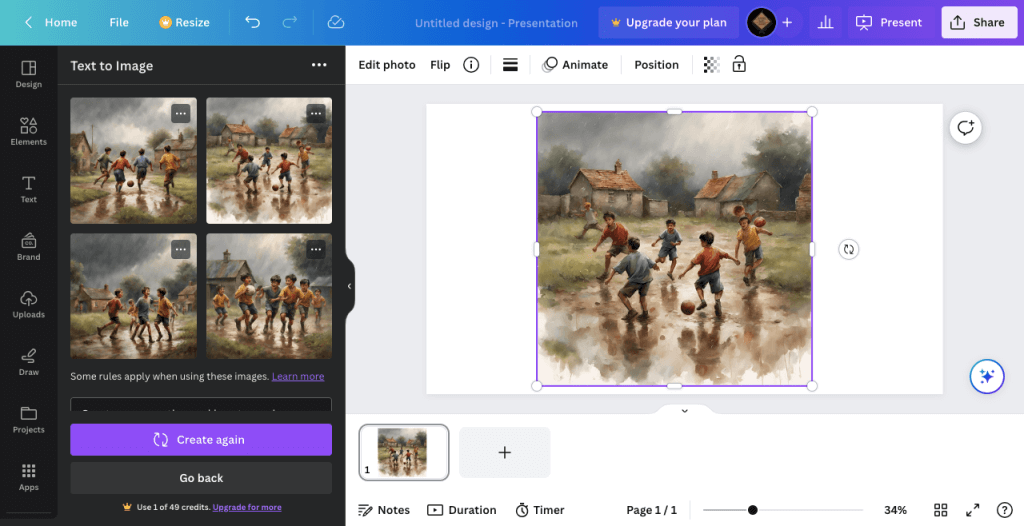 Canva is a renowned graphic designing platform. It's a go-to choice for quickly editing or creating images from scratch. On September 15, 2022, Canva launched its first image generation AI, which is integrated directly into Canva's design dashboard.
The biggest advantage of using Canva is that the platform offers you a vast library of templates and elements for graphic designs. Once your images are generated, you can further edit them as needed for social media, websites, docs, and presentation projects on the same canvas.
This means you don't have to take the hassle of downloading and uploading the images to another platform for editing. You can access Canva on multiple platforms, including websites and mobile phones.
Key features of Canva AI
Magic editing lets you automatically enhance your image quality with just a click
Magica eraser instantly removes any unwanted distractions without manual touch
You can apply various art styles like watercolor, filmic, neon, retro wave, etc.
One-click background remover can instantly remove your image background
You can add text, icons, and graphics to your images
Price of the Canva AI
You can enjoy the Canva free version as long as you want. But to enjoy advanced features, you must upgrade to the premium version. The price of Canva Pro starts from $54.99/year.
5. DreamStudio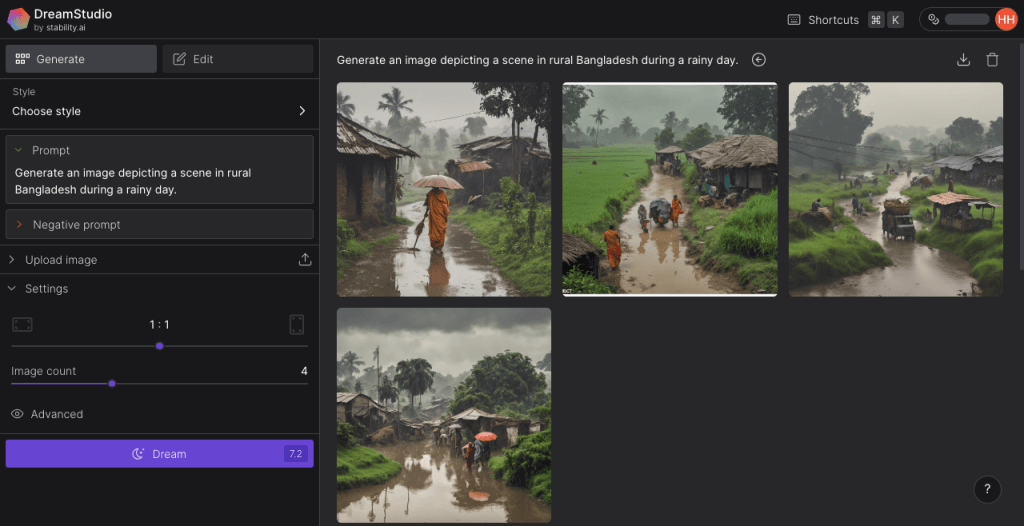 DreamStudio is another promising AI art generator owned by the well-known Stability AI company. This one can also generate near-realistic images based on your prompts. You can specify the number of numbers along with their length, width, strength, and contrast level.
DreamStudio maintains a dedicated page that regularly covers the basics of writing accurate prompts. It has a safety filter turned on that may blur some parts of your images. You have to readjust your prompts to remove the blurness. You won't be charged for modifying blurred images.
DreamStudio has a negative prompt field. If you want words or phrases not to be used in the image generation process, specify them in the field. This can make your images more accurate.
Key features of DreamStudio AI
Allows you to apply various styles (cinematic, anime, comic, origami, etc.) to your images
Negative prompts exclude specific words from the image generation process
Lets you upscale the image resolution for better quality
You can edit and enhance your existing photos by uploading them to the platform
Offers third-party integration with free access to tutorials
Price of the DreamStudio AI
DreamStudio AI offers 25 free credits after you sign up. Once the free credits end, you have to upgrade to the premium version, spending a minimum of $10 for 1000 credits.
6. DeepAI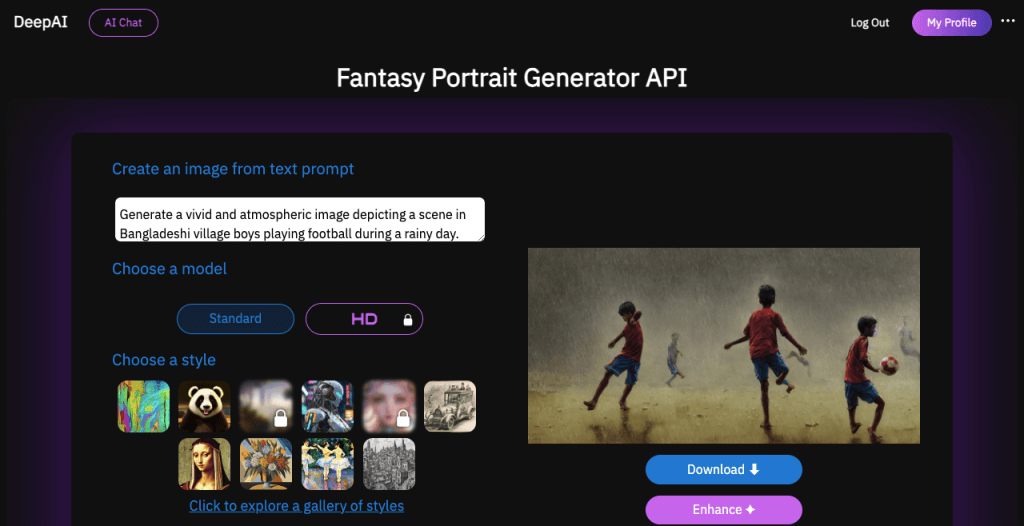 Naturally, AI tools have too many options that confuse newbie users. They have to invest a minimum amount of time in exploring all the options and getting into the image generation phase. DeepAI is a great solution for those who don't want to take all these hassles.
Because DeepAI is one of the easiest free AI tools to generate images. Just create an account, type your prompt, select a model, and specify your desired style. After the image is generated, you can download it or better up the quality using the magic Enhance button.
Key features of DeepAI
Has a simple and intuitive interface
The AI chatbot is ready to provide the necessary help
The free version includes styles like abstract, painting, old, fantasy, and cyberpunk
Pro users have access to more stylization options
Lets you easily enhance the generated images
Price of DeepAI
The free version is open with access to limited features and stylization options. Upgrading to the premium version will allow you to use advanced language models to generate high-quality images. The premium version starts from $4.99/month.
7. Craiyon AI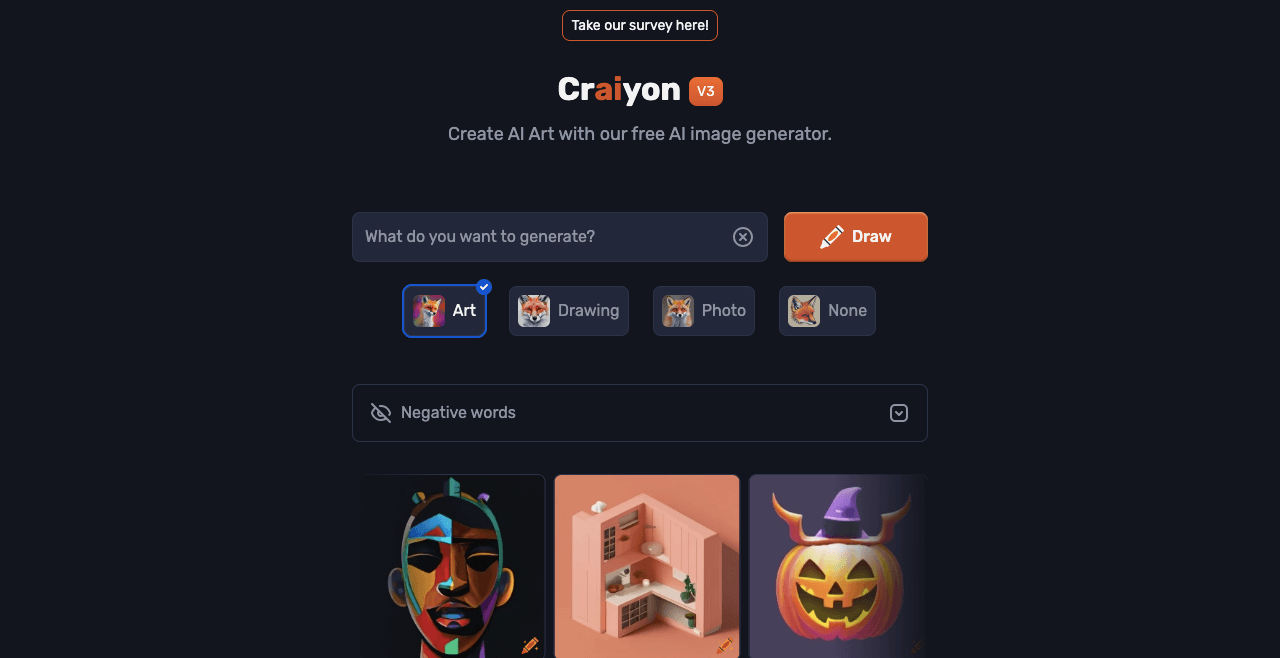 Craiyon is another simple AI tool for image generation. Initially, it started its journey based on Dall E. Craiyon was then known as the Dall E mini. But it's no longer affiliated with OpenAI or Dall-E. Rather, it's an open-source alternative today.
Craiyon uses StyleGAN2 to give you wow feelings by generating high-quality images based on prompts. The tool offers you four image style variations: art, drawing, photo, and none. You can also mention the negative words you want to avoid during image generation.
Craiyon is ideal for anyone who wants to generate images for social media, marketing campaigns, inner images for blog posts, and more.
Key features of Craiyon AI
Has a vast library of pre-existing design elements and images
Create 9 different versions of images
Easy to upscale images with just one click
Negative words can prevent undesired concepts from images
Has a printing service that prints your design on T-shirts based on your orders
Price of the Craiyon AI
There is no limit yet to generate free images with Caiyon AI. But upgrading to premium versions will keep your images private with high-priority support.
8. Starry AI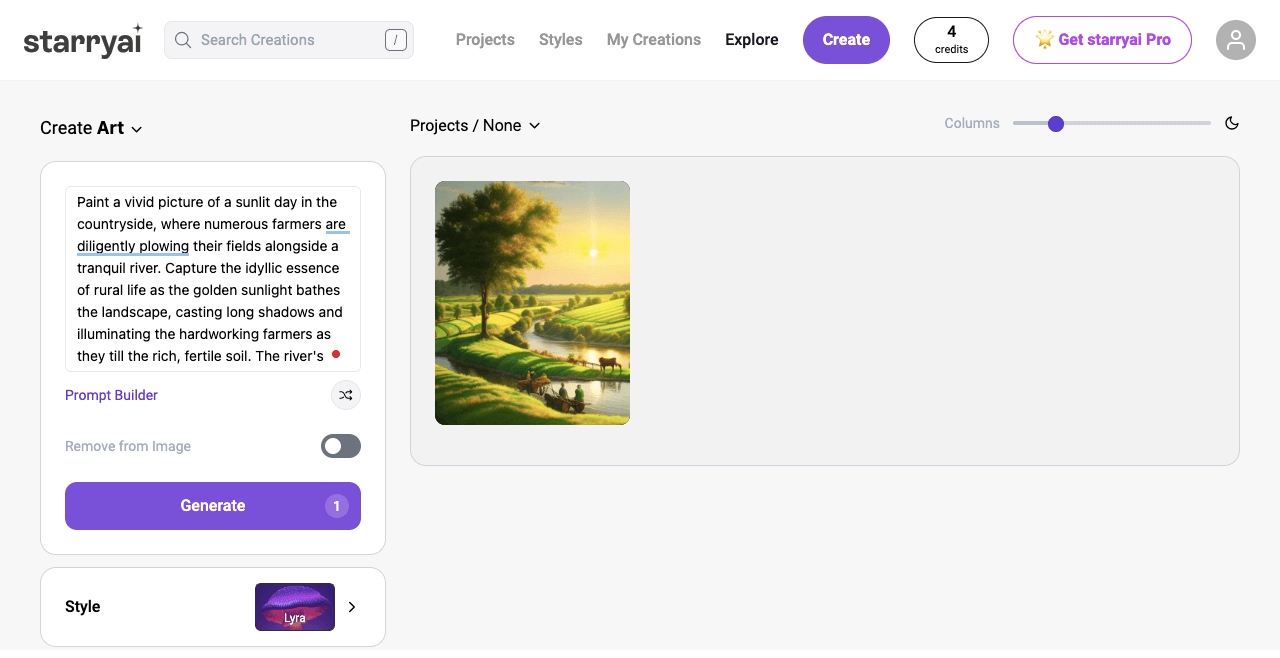 Starry AI is a simple tool that you can use both on desktops and mobile devices. Whereas all the other AI tools use existing art styles and random patterns, Starry AI uses the famous painting "Starry Night" by Vincent van Gogh for inspiration. The tool also uses two AI models: Altair and Orion.
Accordingly, the AI algorithm generates art pieces based on your prompts. After logging into the website, you have to select an AI image type first. Specify the canvas size and runtime afterward. Hit the Generate button at the end. You'll see the magic in a few seconds to a minute.
Key features of Starry AI
You can choose from a variety of models, styles, and aspect ratios
Offers a seamless and enjoyable experience on different devices
Allows you to remove unwanted concepts by typing respective words
Lets you upload and retouch existing images
Price of Starry AI
Starry AI refills 5 free credits every day. They charge one credit per image generation. The premium version starts from $11.99/month.
9. SoulGen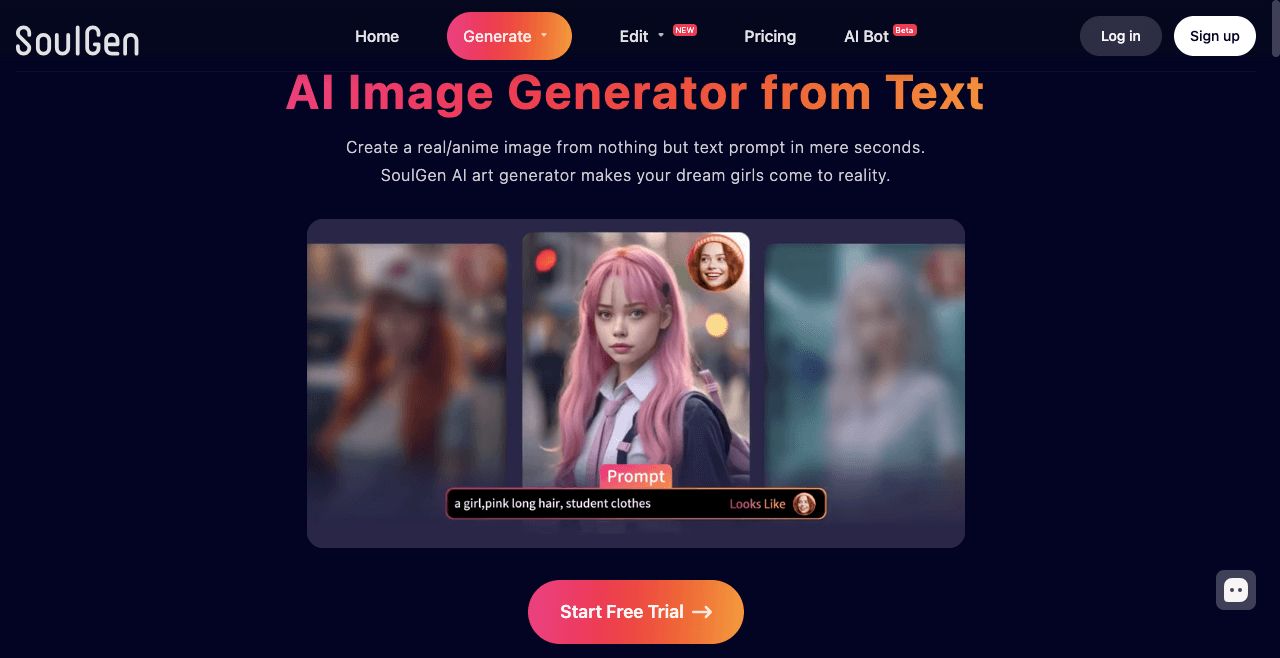 Based on your text prompts, SoulGen can generate visually appealing real or anime portraits of girls. Not only characters but also the tool can change the backgrounds of the images. So, if you are an anime lover who wants to upload animated characters on social media and are fond of role-playing, SoulGen can be a handy tool.
SoulGen can also be helpful for digital artists who have to curate digital artworks, avatars, and characters for regular self, agency, and freelancing projects. The tool can provide viable references and inspirations that you can realize in practical design works.
Key features of SoulGen:
Provides a good collection of hint tags that you can use in prompts
Allows you to customize the aspect ratio
You can edit ready or your mobile captured images simply by prompts
Let you specify the total number of variations that will be generated in each command
Generate high-quality images suitable for various applications
Pricing of SoulGen
Free users can generate only one image variation per command. Only pro users have access to generate multiple variations per command. The premium version of the tool starts from $19.99/month.
FAQ on Free AI Image Generators
Hope you are enjoying fun exploring all the above-mentioned free AI image generators. We'll now answer some top questions we usually come across online on free AI image generators.
Are AI images legal?

Arts and images created by artificial intelligence without any human touch are considered free of copyrights under the USA law.

Can I use Midjourney for free?

Midjourney doesn't have any free package for users. They closed all the free trials days ago due to excessive user demand.

What are the best places to sell AI-generated art?

Freepik, Adobe Stock, Redbubble, and Etsy are some best places to sell AI-generated art.

Will AI image generators replace human designers?

Indeed, AI image generators have revolutionized the design industry and will continue to do so in the coming days. Yet, it cannot completely replace human designers. However, they may have the ability to eat the jobs of beginners and semi-skilled designers.

What are the best beginner-friendly AI image generators?

Canva, DeepAI, Craiyon, and Starry AI are some of the best beginner-friendly AI image generators.
Final Thoughts
Generating images with AI is really an interesting thing. If you are newly exploring AI art generators, you will be delighted and amazed simultaneously. You will definitely find many AI generators online, but not all of them will give you free access. At one point, you may get frustrated.
Again, there are many free tools that don't give you access to enough number of features. So, we have tried to filter out and list the best AI tools in this article that you can really benefit from. Please let us know in the comment box which tool you have selected and enjoyed the most.