A comparison table gives users quick details about similar or different products by showing them side-by-side. It helps customers in decision-making as well as enhances the customer experience on your site.
However, it might be a little bit tricky if you want to add custom features to your comparison table. Fortunately, Elementor makes the process easier by offering a wide range of helpful addons like Happy Addons. With Happy Addons 'Comparison Table' widget, you can easily display multiple products' features in one frame.
In this tutorial blog, you are going to learn how to create a comparison table inside your WordPress site. Let's start with the basic query-
Why is Product Comparison Important for Your Business Website
A comparison table refers to a table where you can display groups of data of multiple products or services side-by-side for a better undestanding.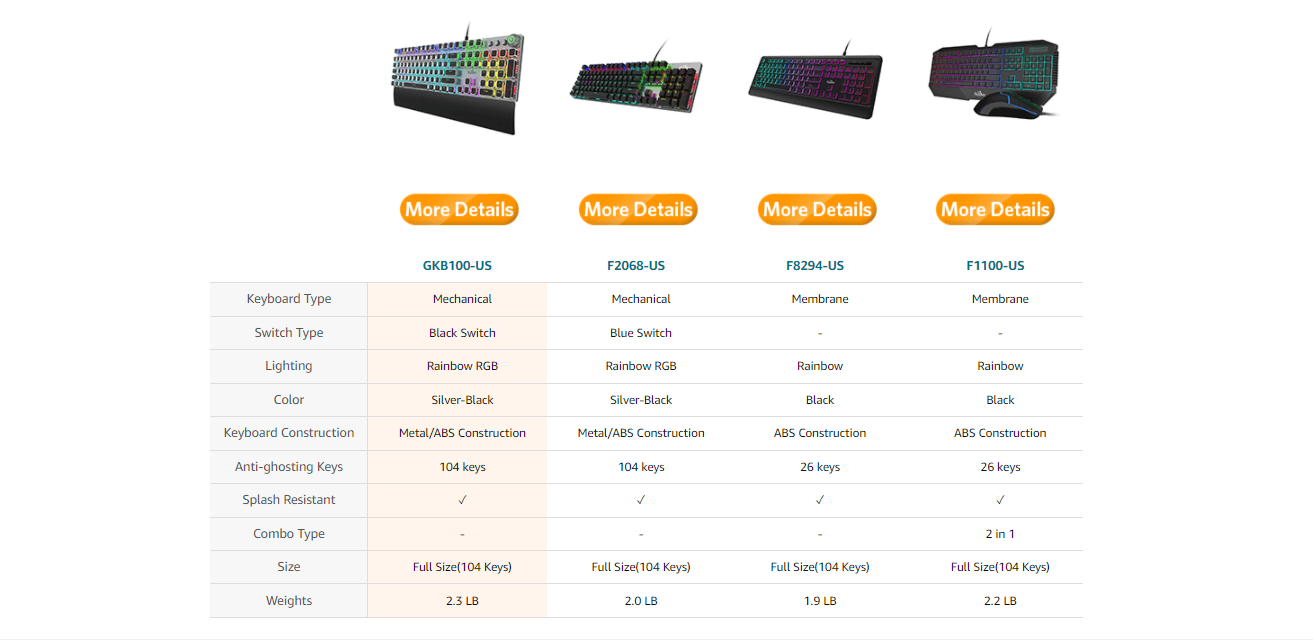 It is mainly used in eCommerce websites to share different products' models, images, features, pricing, description, etc. However, website owners also use a comparison table to prove their product is the best product by comparing their competitor products under the same table.
It helps customers to find the pros & cons of a product in a glimpse. Using this effective comparison table data, customers are able to select the right product in minutes and save valuable time.
How Does Happy Addons Help to Create Product Comparison Table
With the new Gutenberg block editor, you can create a table for your basic need. But, if you want to create a product comparison table for product comparison, you need a 3rd party plugin or write custom code for this feature. That consumes a lot of time and money because the free plugin comes with some initial features.
You can solve these types of barriers using Happy Addon's new free widget called 'Comparison Table'. With this widget, you can efficiently create and customize responsive tables to compare your products side-by-side in a more organized way.
Let's see why you need to use the Happy Addons widget:
Mobile friendly

Add image in a column
A wide range of support icons
Offer readymade table designs
Designing The Perfect Feature Comparison Table Inside WordPress
It's time to show you how to use the Happy Addons' Comparison Table widget and create an interactive product comparison table for your website.
Before that, you need to install and activate the following plugins in your WordPress website:
You can add the comparison table to any part of your website. But here, we'll demonstrate the widget into a blank page.
You can also check this guide to learn how to create a new page on WordPress.
Here are the steps you need to follow to create the comparison table:
Step 1: Add Comparison Table Widget
Step 2: Manage Table Head
Step 3: Manage Table Row
Step 4: Manage Table Button
Step 5: Table Settings
Step 6: Style Comparison Table
Let's get started:
Step 1: Add Comparison Table Widget
First, you need to find and add the widget into the suitable place of your website. You get the widget from the Elementor widget gallery area.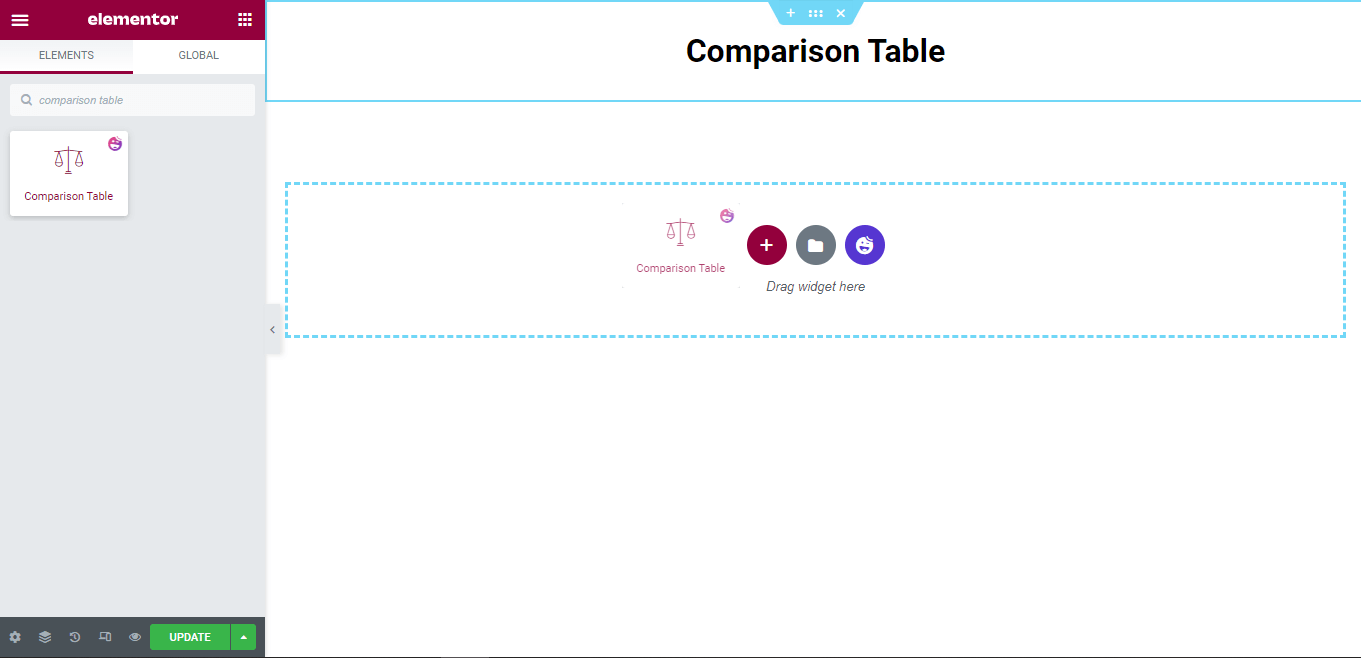 Comparison Table Content Area
After adding the widget, you get the default table design like the image below. The content area has the necessary settings to manage the table content.
Here you'll get.
Table Head
Table Row
Table Button
Table Settings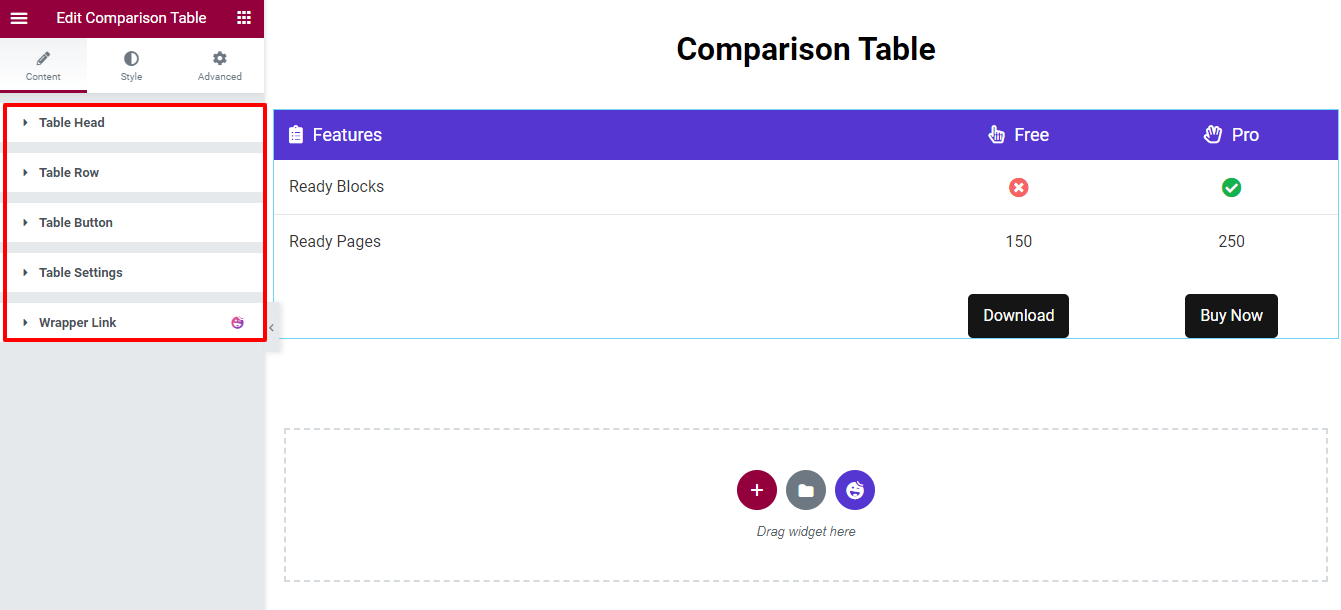 Now, we'll cover each of the settings so that you can easily manage the table content.
Step 2: Manage Table Head
The Table Head option allows you to add the head item of the table by clicking the ADD ITEM button. You are able to Copy and Remove an item. Also, you can easily set the Alignment (left, center & right) and Icon Position (left & right) of the entire table head content.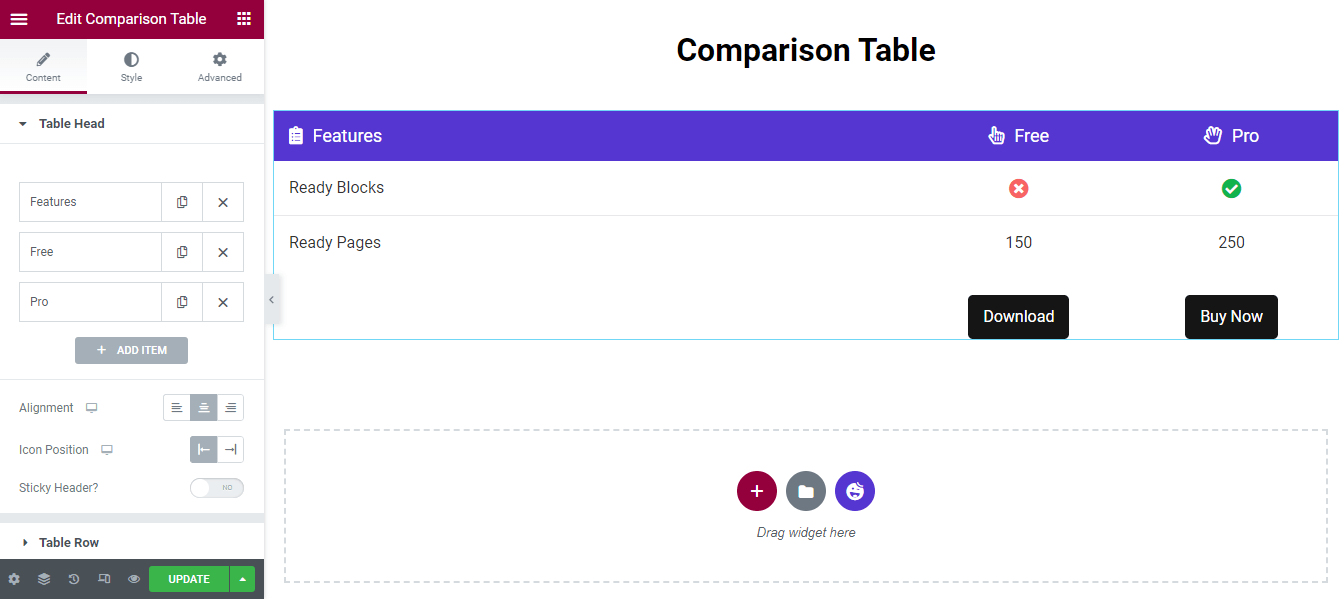 Customize Table Head Items
To customize the Table Head individual item, you need to open an item first. Then you can add the Title, select Title HTML Tag set Content Width, insert an Icon, set the Icon Color, and write a Description.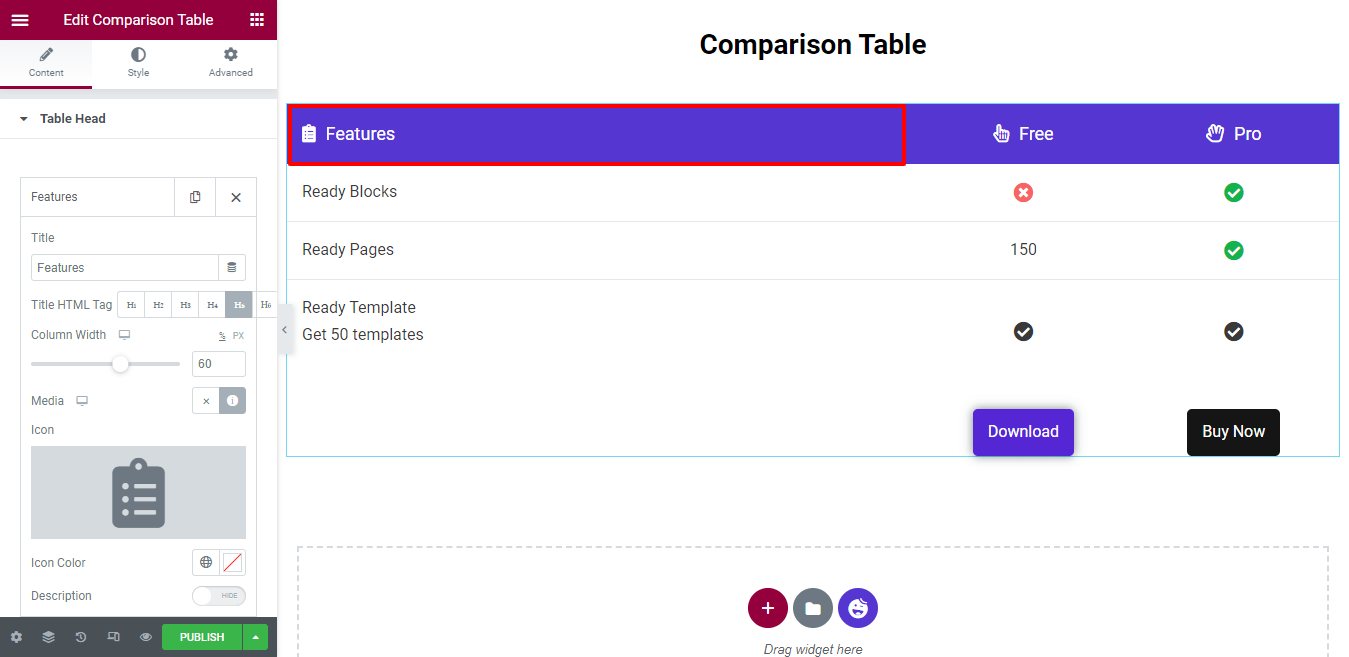 The entire Column Width is defined as 100%. Here, you notice that we've set the Column Width 60 (%). That means the feature column gets 60% space and the other two columns get 20% space.
You can also write a Description. First, you switch on the Description option. Then you'll get the text editor to write the description. We don't need to add the description that's why we didn't enable it.
Add Sticky Header
If you want to add the Sticky Header, you need to activate the Sticky Header option first. Then your table header will display on the top whenever you scroll down.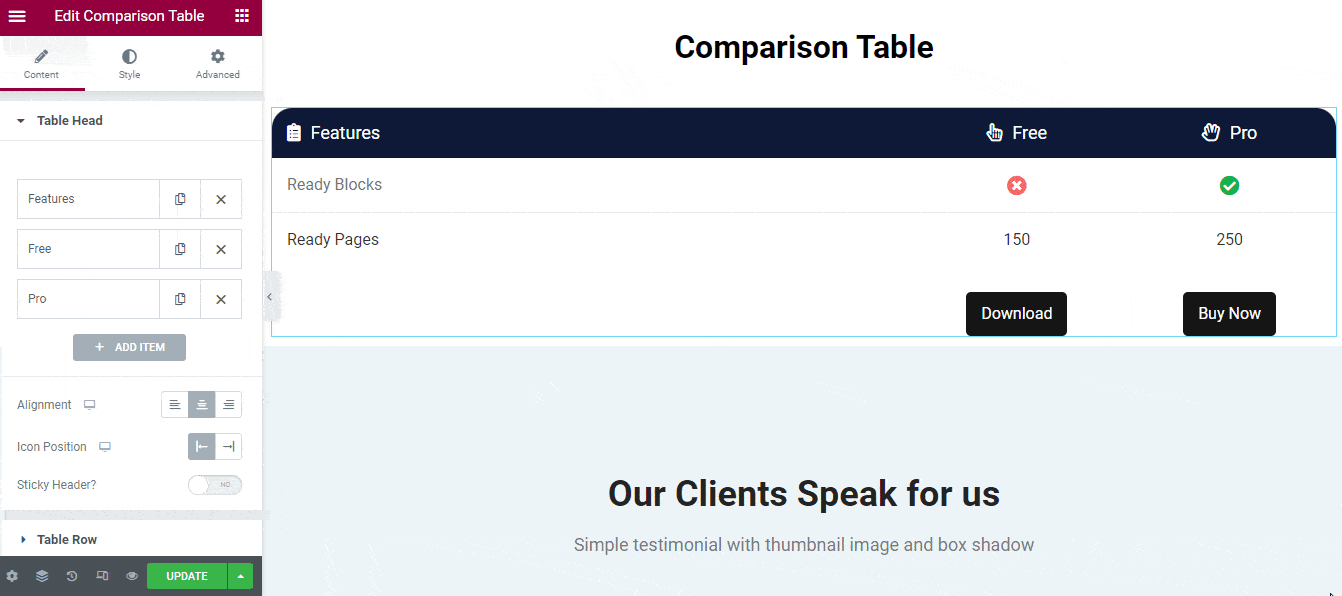 Step 3: Manage Table Row
By default, the widget comes with two Rows with Columns. You can add a new row and insert the required columns in it.
For customizing the row & column content, you need to open a row or a column then change the content based on your purposes.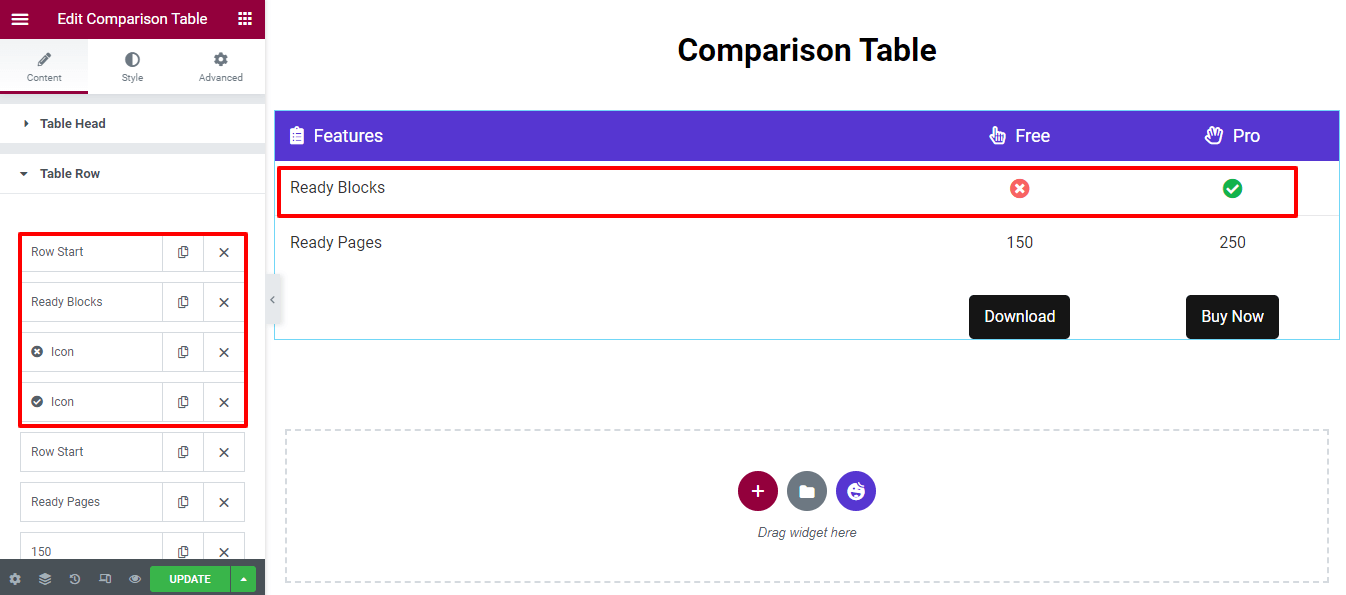 Add a New Table Row
To add a new Table Row, you need to click on the ADD ITEM first.
After that, you'll get the option to insert a Row. You have to choose the Row instead of a Column and set the Content Type->Blank as it's a row. It's not necessary to change the Image Size so keep it default.
However, you are able to add three types of content in the column like Heading, Icon, and Image.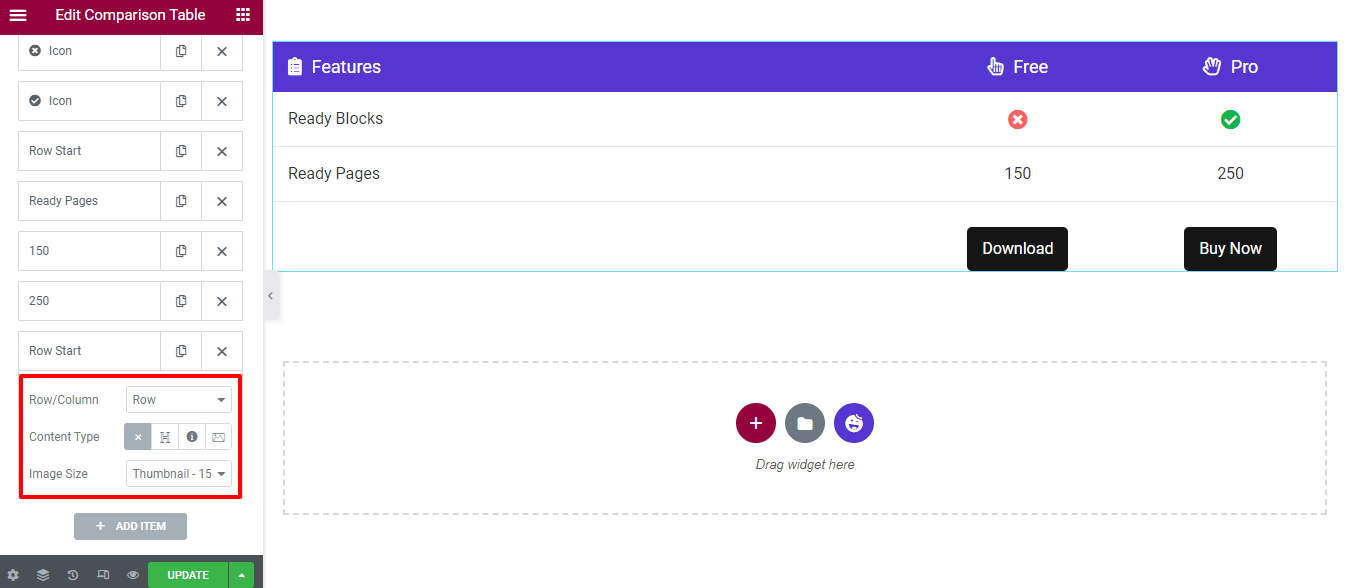 Add Column with Heading
Let's show you how to add a column in a row.
First, you need to add an item by simply clicking the ADD ITEM button. Second, select the Column (Row/Column) and set Content Type–>Heading. Finally, you can write the Title of the heading.

Write the Description
You are able to write a description under the Title. First, Show the Description option. Then you'll get the text editor panel and you can write the description in your own way.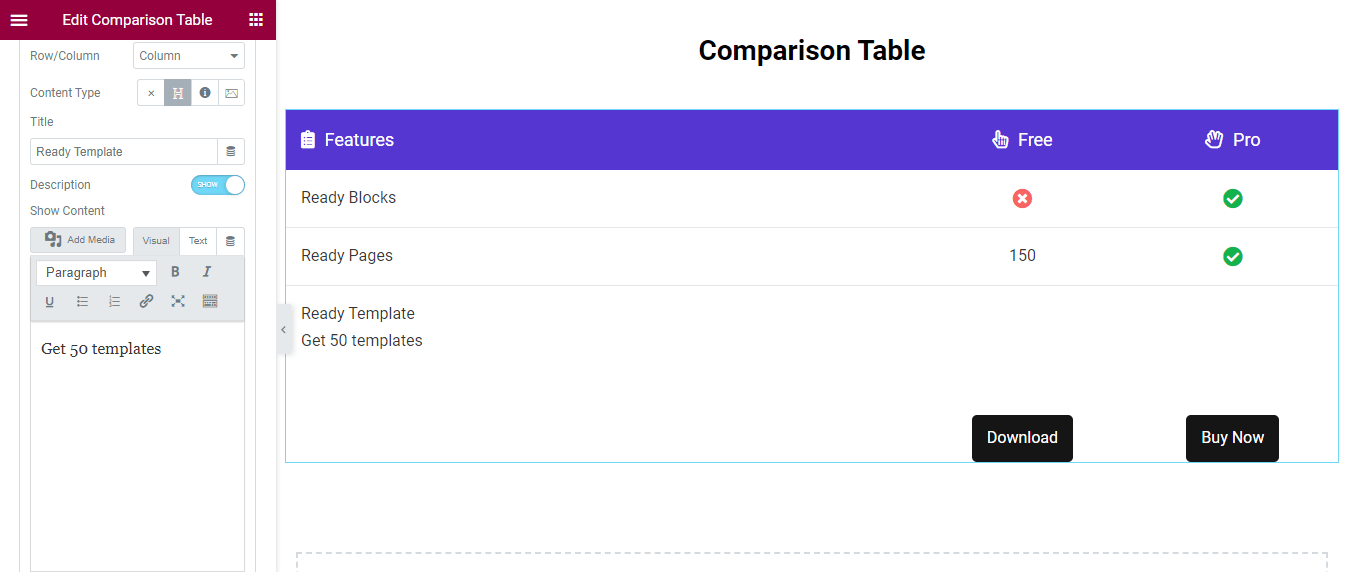 We've also added two columns. And this time we've used the Content Type–>Icon. Here is the current table view.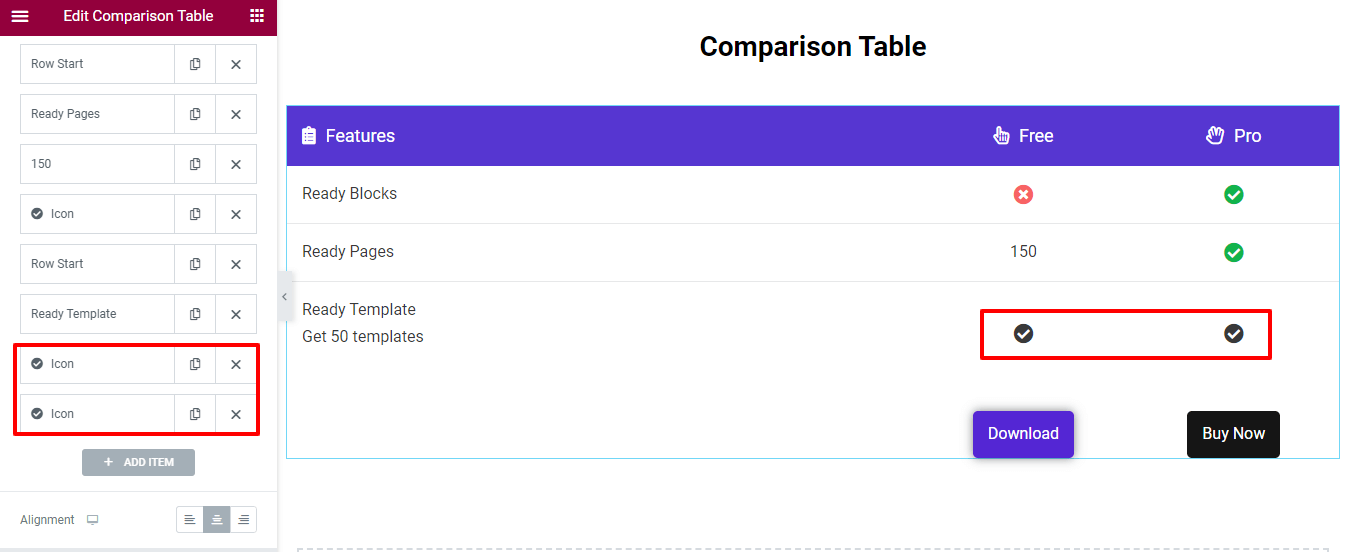 Note: Remember whenever you add content into a column the content will display from Right to Left.
Step 4: Manage Table Button
Go to the Content->Table Button area then you can write the Title and insert a Link to the button.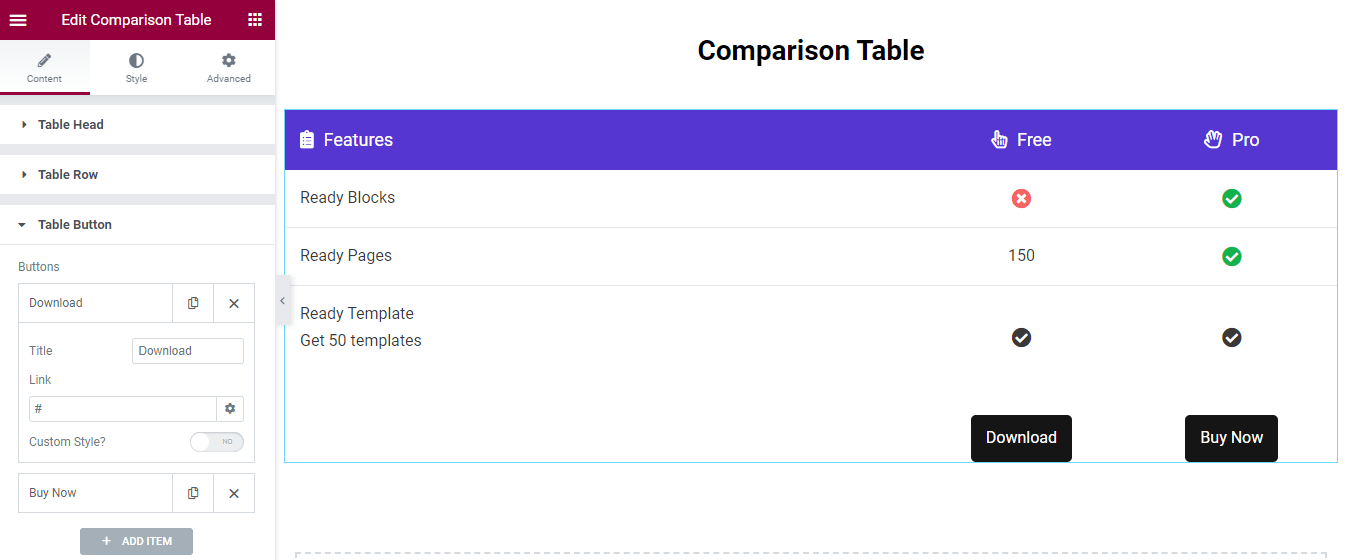 Customize Button
You are able to add the Custom Style to decorate the button. Active the Custom Style first. Then you'll get the essential settings to add a new button style.
You add the Text Color, Background Color, and Box Shadow to the button. You also can add different styles on the button Hover.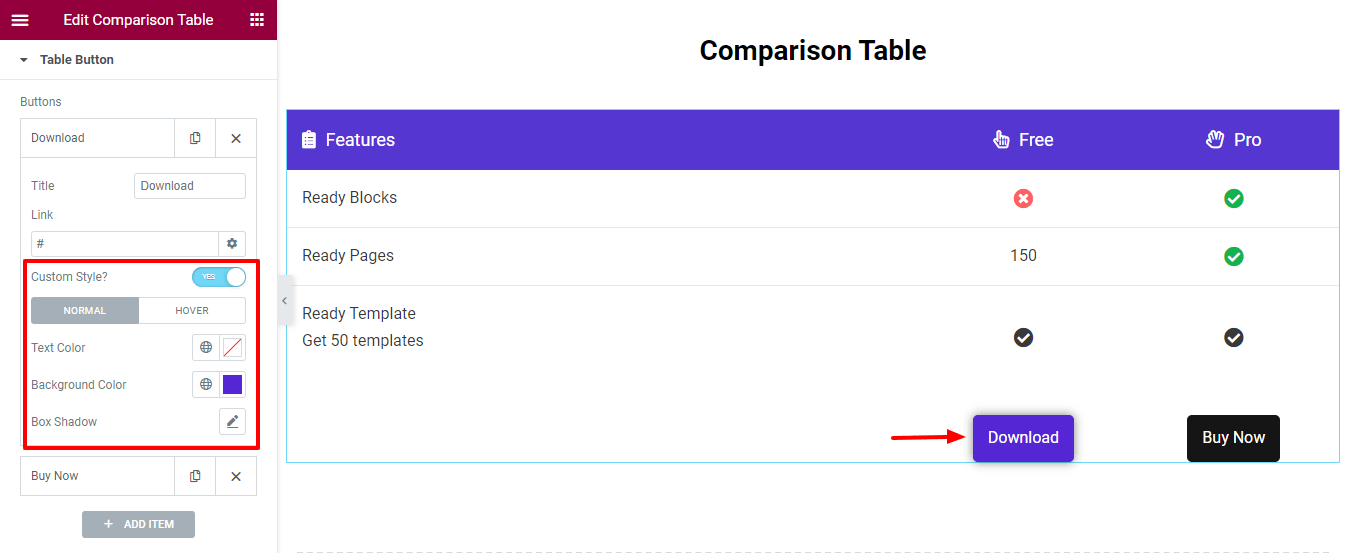 Step 5: Table Settings
The Table Settings area gives you the option to set the Table Width according to your devices. In the Tablet and Mobile view, the table items will be scrollable. That way, you'll control the table responsiveness.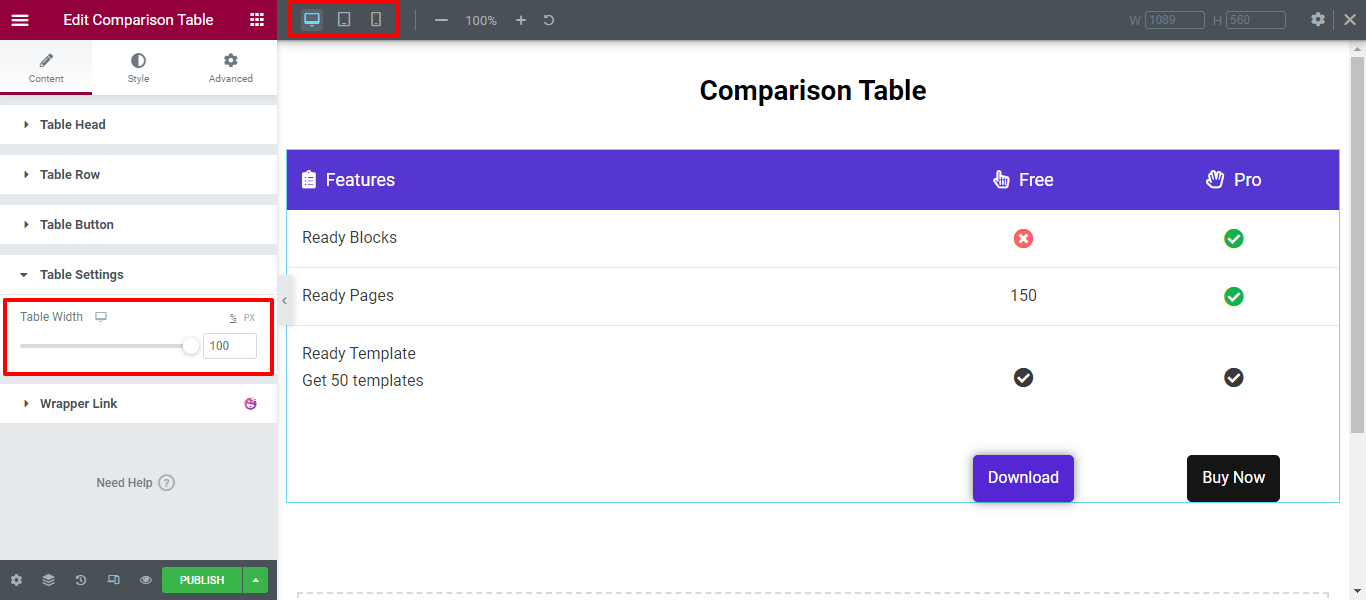 Step 6: Style Comparison Table
The Style area has the necessary styling options to customize the Table Head, Table Row, and Table Button.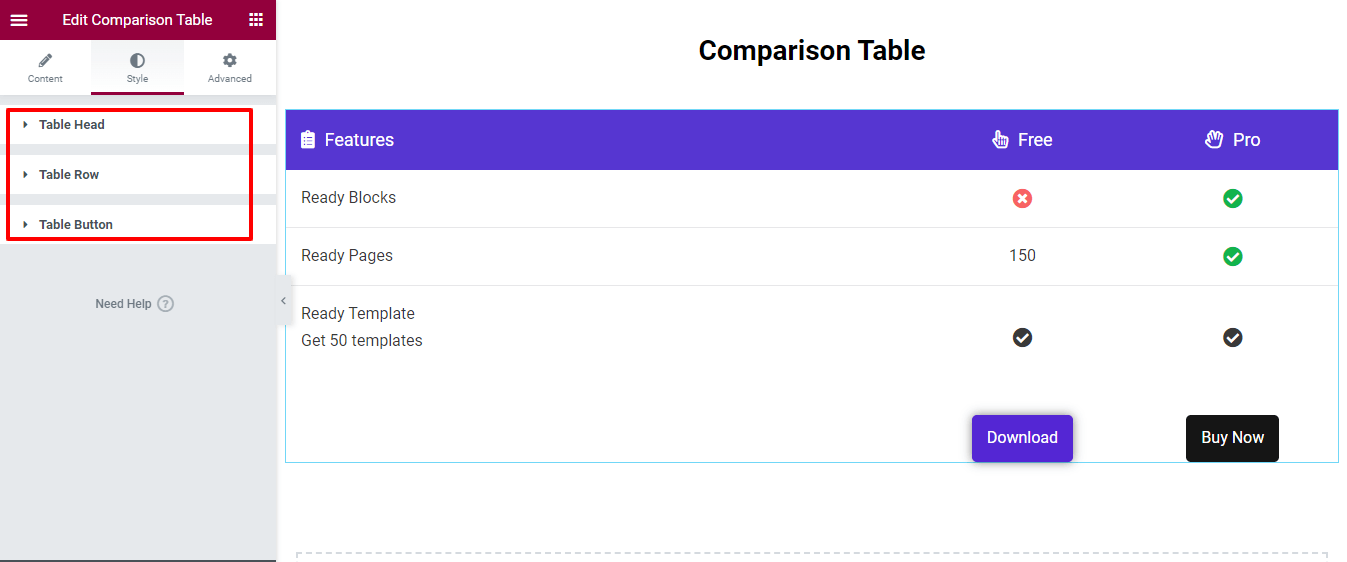 Using this widget, you can design this type of Elementor comparison table to compare your product side-by-side.
Final Output of Your Product Comparison Table
After designing all the parts of your comparison table you'll get a perfect look to showcase your products in an attractive way including features, images, and other elements. Below is the table we've created today-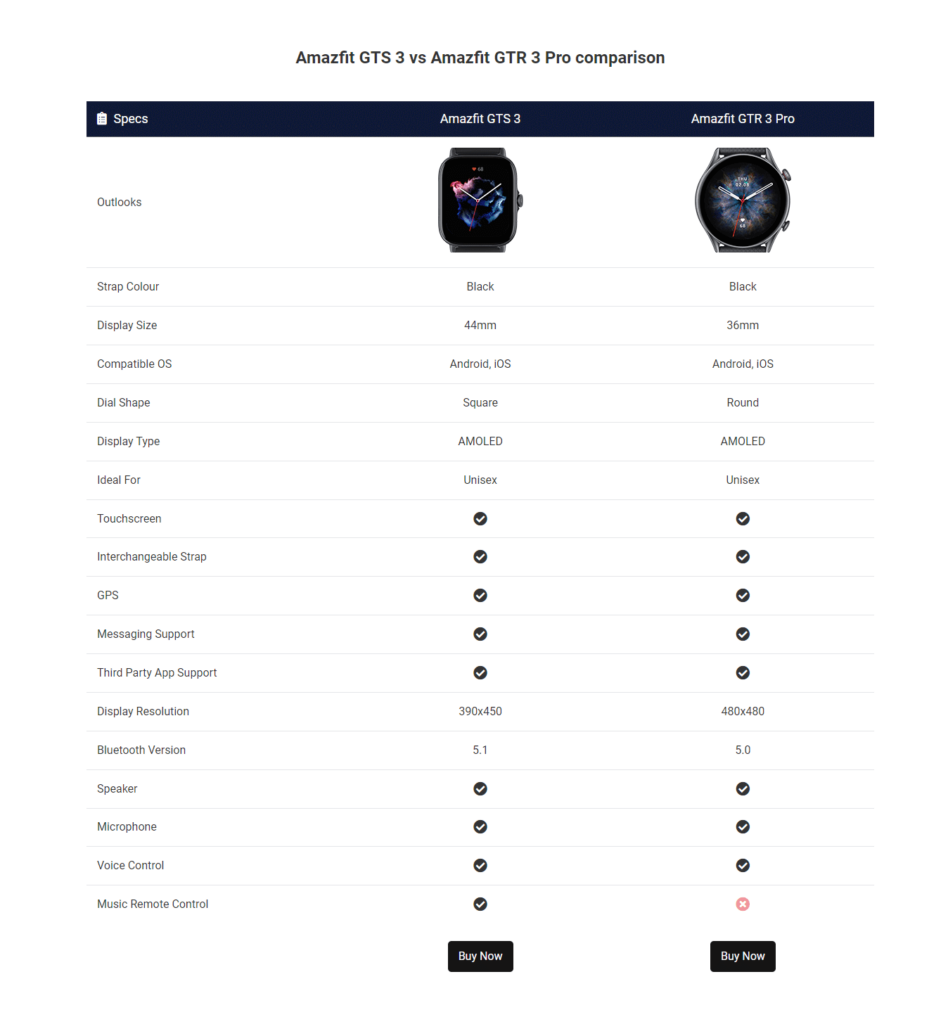 Use different style options to make a design that aligns your brand. You can also check the full documentation of the Comparison Table widget.
Ready To Create Comparison Tables On Your WordPress Site?
An interactive comparison table gives your users a better view while comparing the products. Designing a comparison table using Elementor & Happy Addons is not difficult anymore if you follow the above steps.
In this guide, we've shown why you need to use the Happy Addons' Comparison Table widget. Also, we've shown you how to create a comparison table on your WordPress site.
If you still have any queries regarding this blog, you can comment on us.
We request you to join our newsletter. Don't forget to connect our social channels Facebook, Twitter, and YouTube.
Subscribe to our newsletter
Get latest news & updates on Elementor