A single image can help to explain a complex idea, and that is more effective than a description. Because you can zoom in and explore the image for more detail. But to make the image come alive you need to make It clickable. For that, you need to use hot spot images.
It is a known fact that information conveyed via images is easier to understand and remember.
The idea of image hot spots is to provide users with interactive images that will help them understand the information you are trying to convey. Hot Spots are points of areas in the image that when clicked, pop up a window. That pop-up can contain tooltips, text, videos, or an URL link. Here is an example,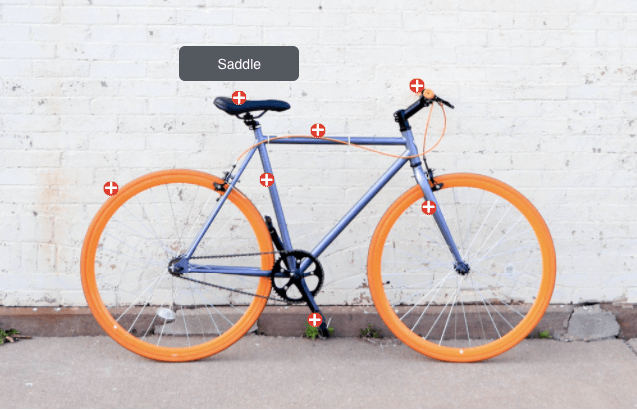 To know about Bicycle parts, you can click on the pointed areas and know which part is what. You don't need to read descriptions.
However, creating a hot spot image is a complex task. Unless you have a WordPress site. You can create an image with hot spots using HappyAddons then.
HappyAddons is the ultimate Elementor Addons. With 100,000+ active installations, it is one of the popular Elementor Addons in the industry right now. It has 88 pro and free widgets along with 16 unique features at the moment. Among the pro widgets, Happy Addons offers a Hot Spot Widget that you can use to create an interactive image like above.
So in today's post we will show you how to make an image responsive with hot spots and also some inspirations on how you can use these images.
How to Create Hot Spot Images for WordPress using Happy Addons
Adding hot spots to an image is a fun way to interact with users and also a great way to catch their attention. It encourages them to engage with your content.
With that in mind, we are going to show you how you can create the perfect hot spot image in five steps with the HappyAddons hot spot widget.
Step 1: Select the Widget & Drop in the Section
At first, open your Elementor editor and select the hot spot widget from the left sidebar. Then drag and drop it to the editing section.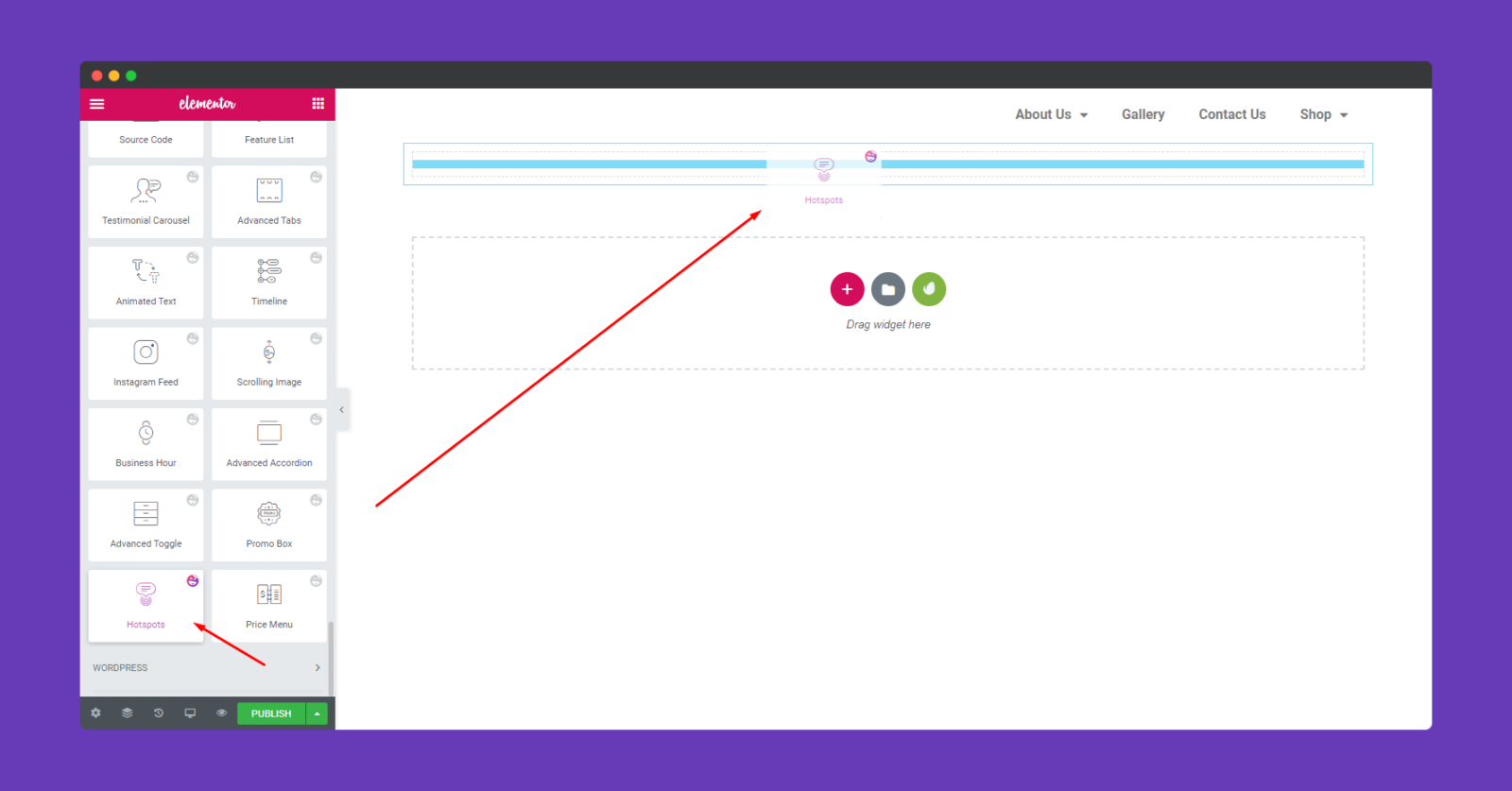 Step 2: Choose the Image You Want to Add
Now you need to add an image. Click on the marked area and choose the image. You can either select an existing image or upload new images.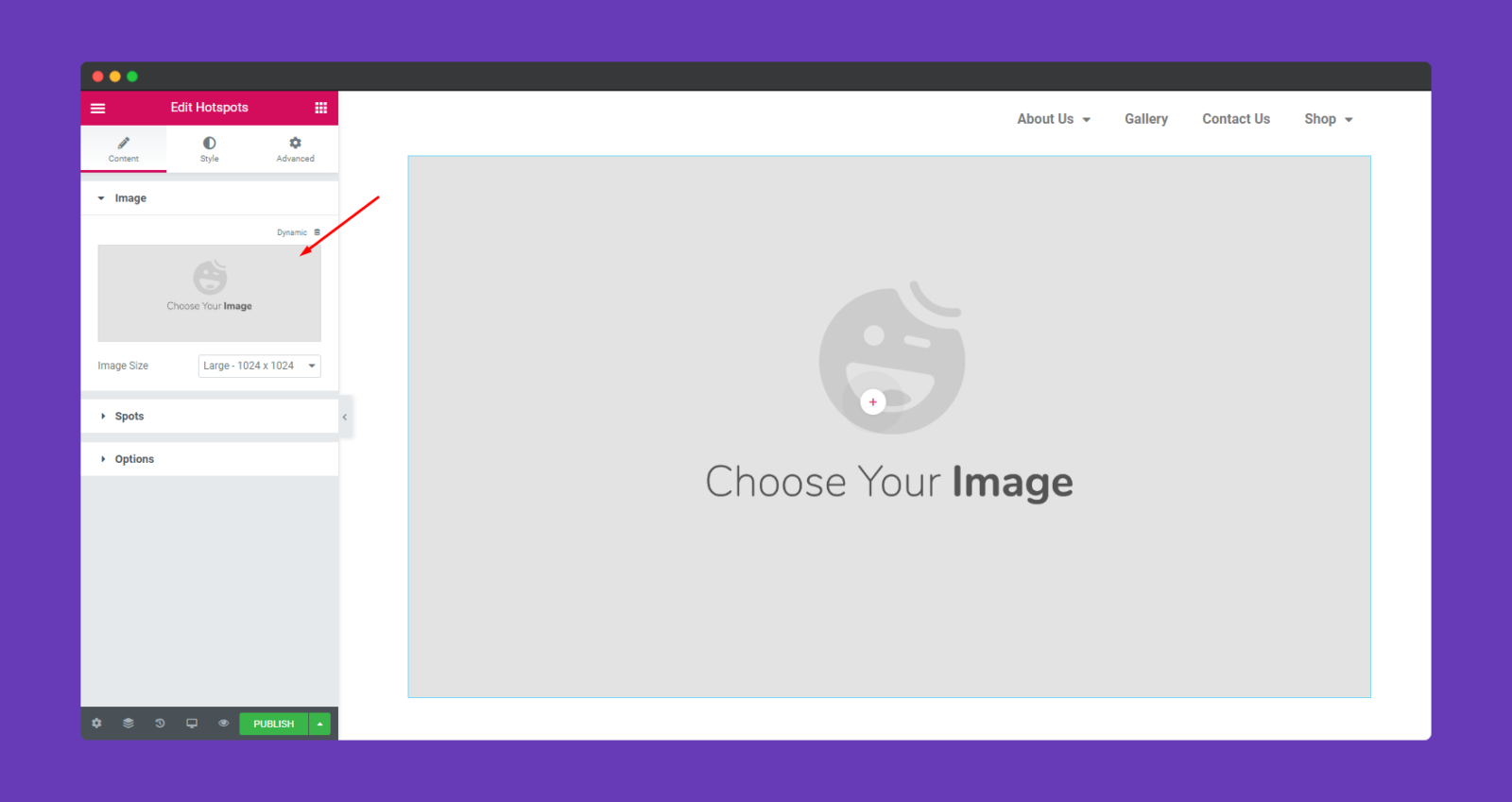 Step 3: Add Hot Spots to the Image
After adding the image you will see a spot in the image. Now, look for the 'Spot' option. When clicking on the spot option you can add as many spots as you want.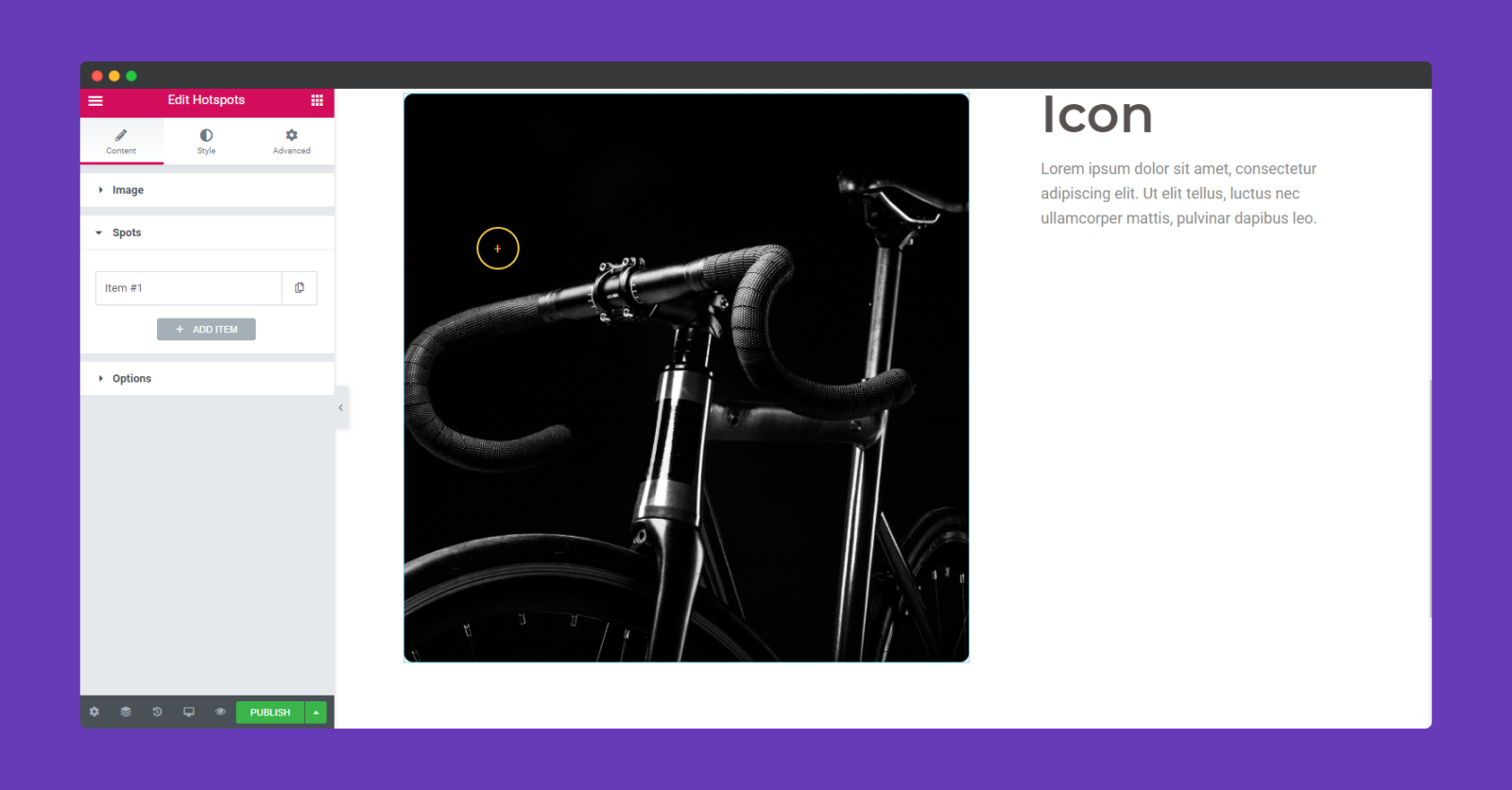 The reason you can use any number of spots you want so that you don't fail to mark the important part of your image.
Moreover, you can customize the spots individually. You will find options to add text, icons, and also images. But this decision totally depends on your background image.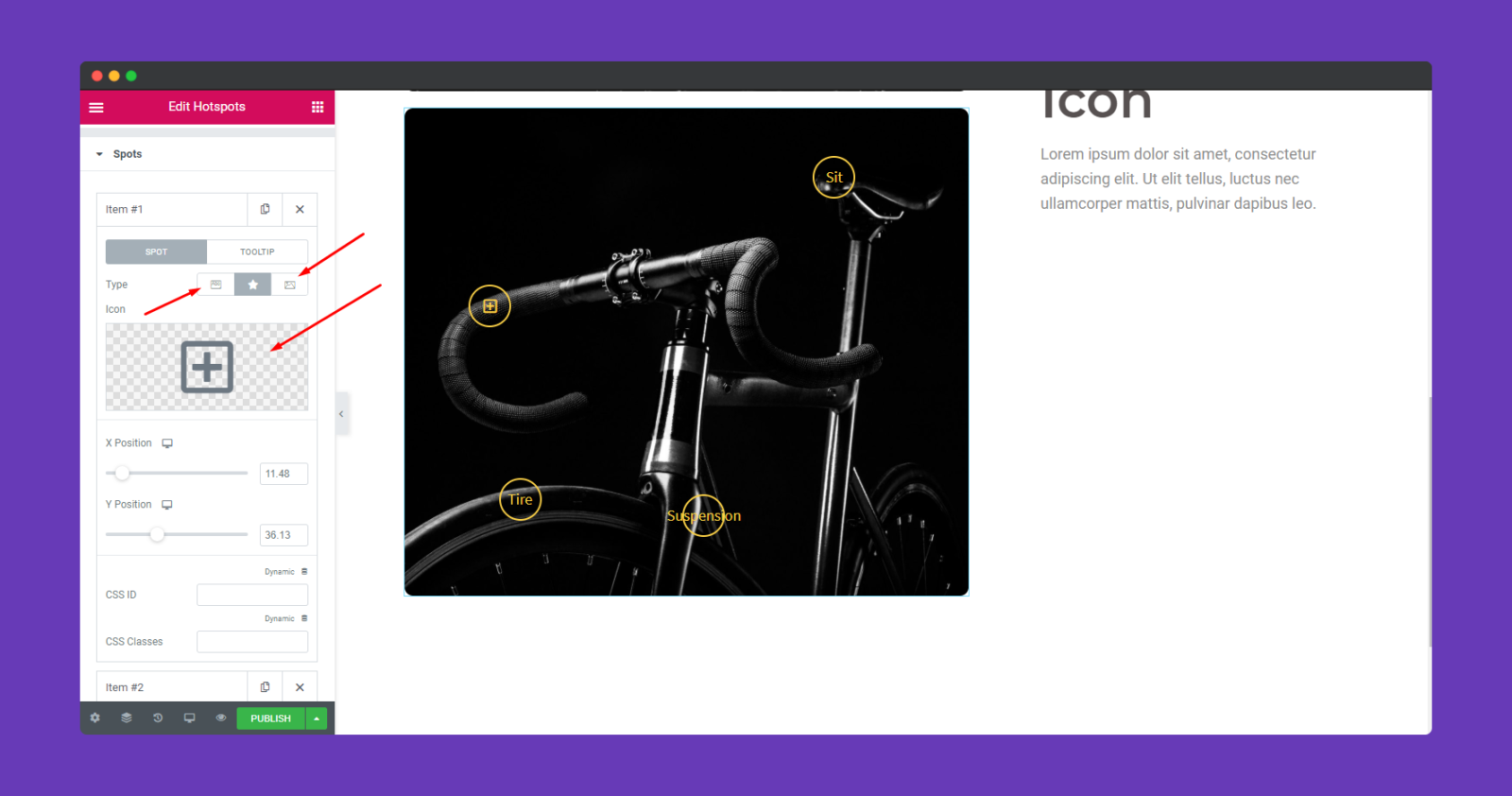 If you choose to add texts then you can add an overall text on the spot. Your text will appear in a blue pop-up window.
Click on the 'ToolTip' option. And you can add the text here that you want to show. You need to follow the same process to add texts in all other hot spots.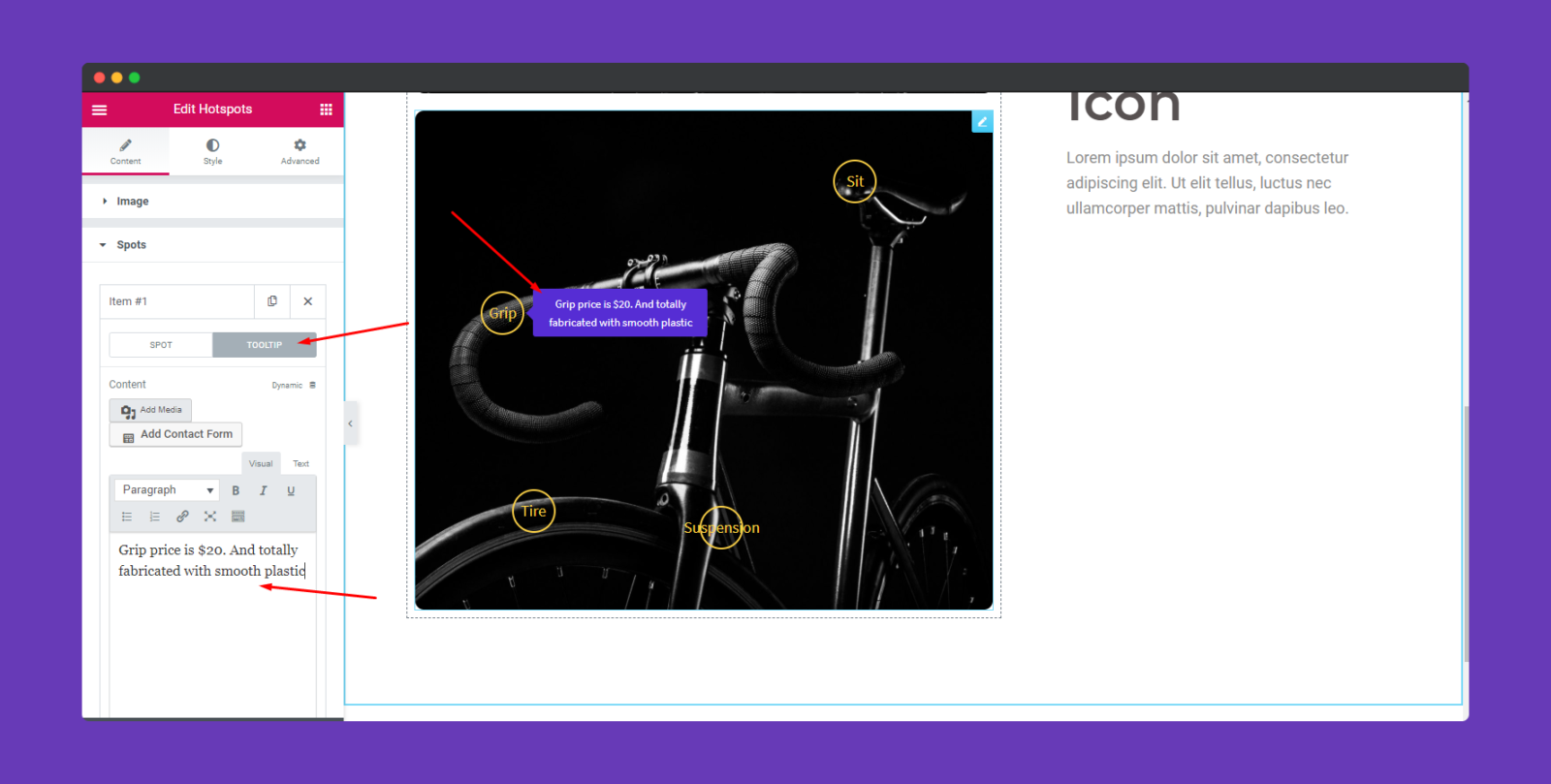 Step 4: Stylize the Hot Spots
As we said earlier, you can customize the hot spots individually. You will find all the customizing options in the 'Style' option.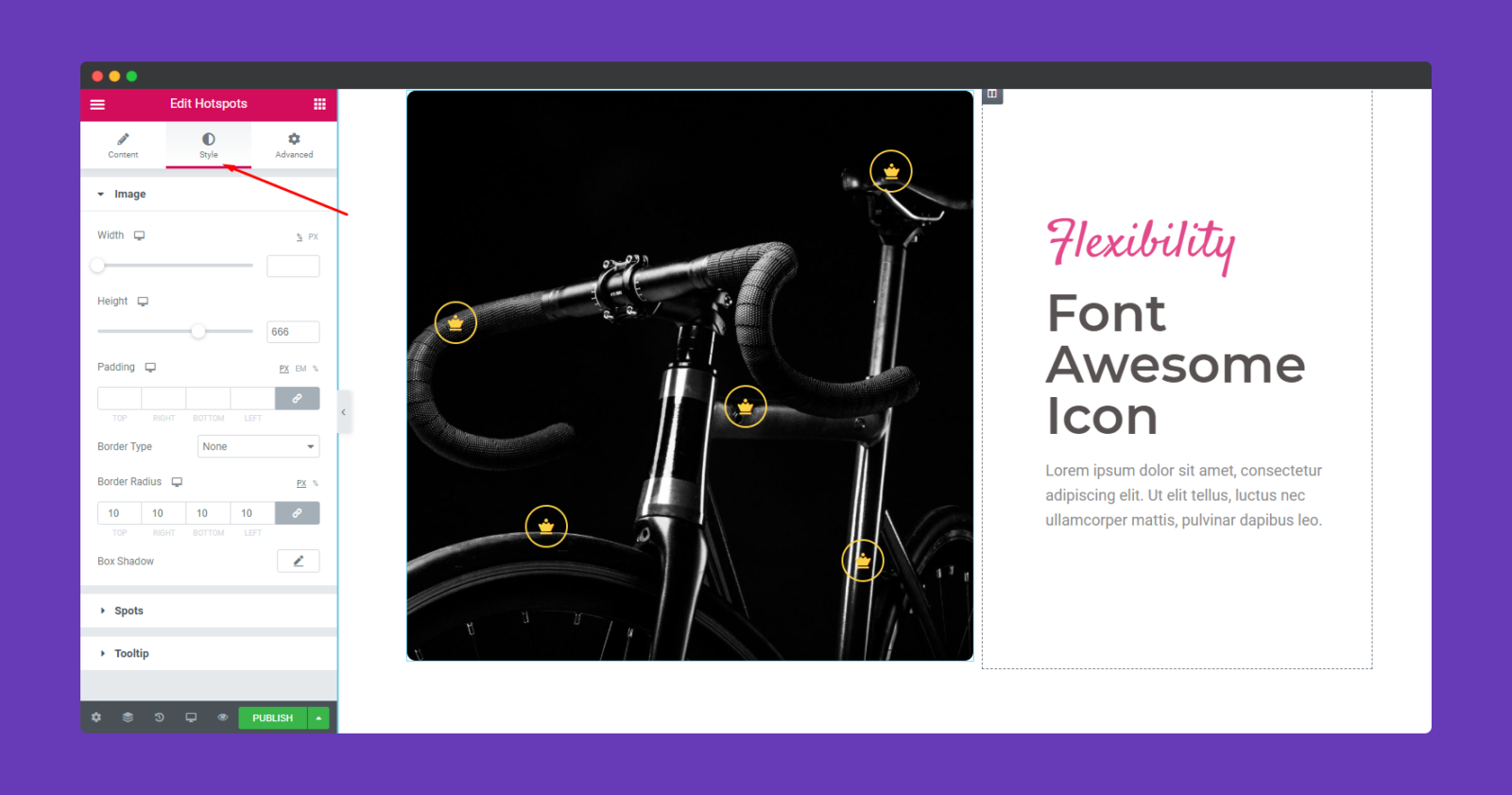 There you can edit various elements of the hot spot like,
Width
Height
Padding
Border
Color
Text color
And tooltip background color.
You can adjust these options according to your design or layout, you will get the result you desire.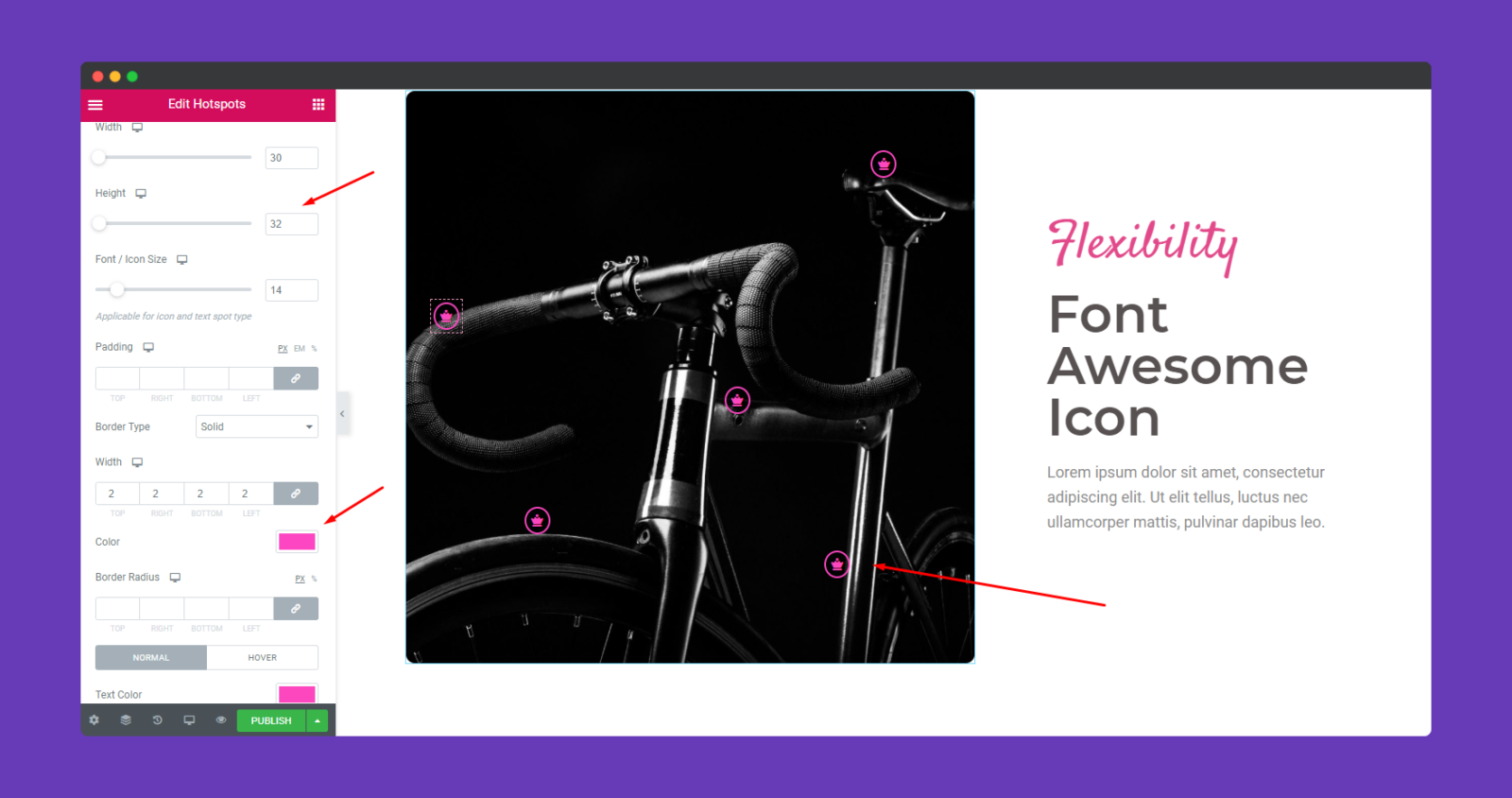 If you want you can customize the tooltip. Click on the Tooltip option and just adjust until you find the right combination according to your layout.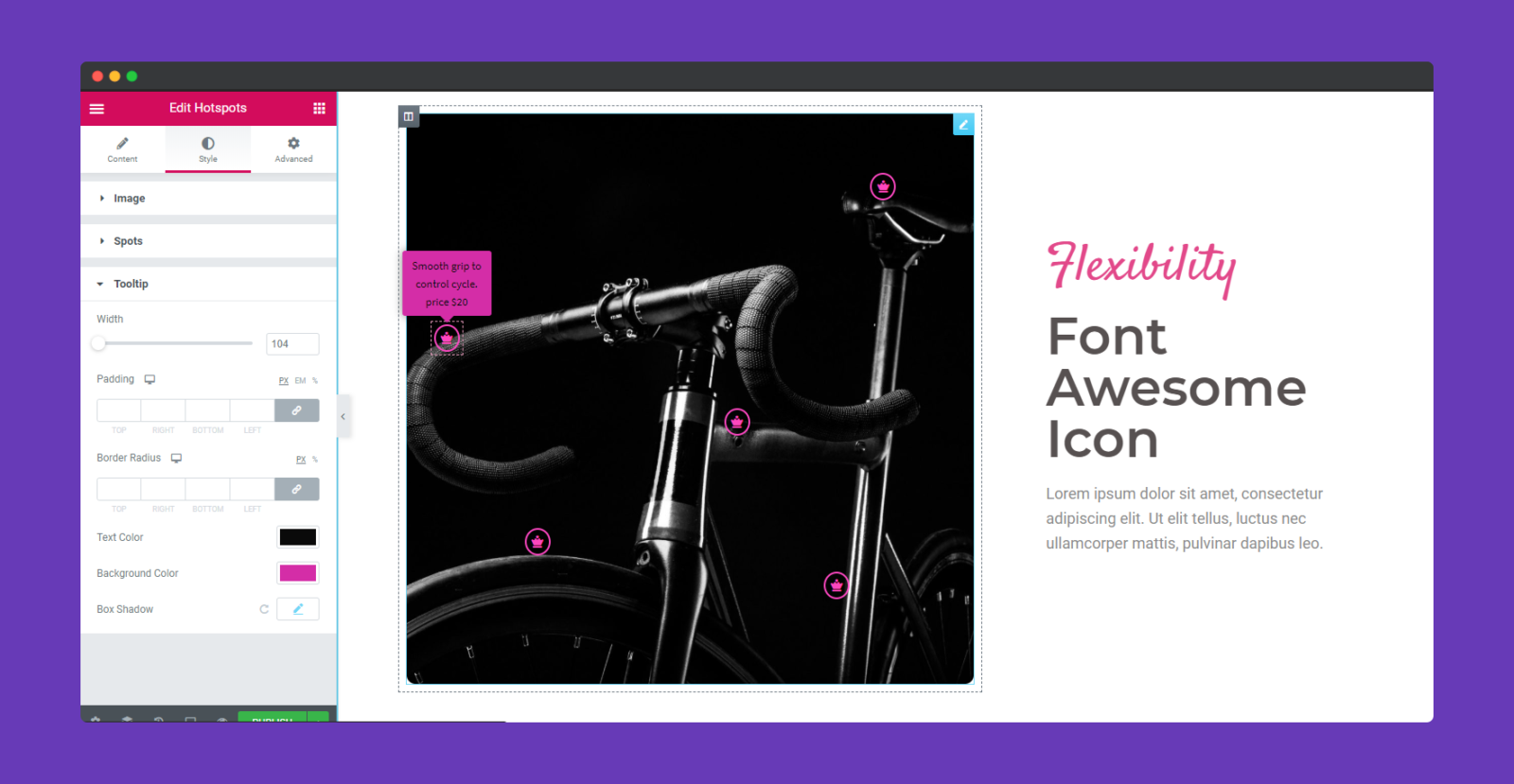 Step 5: Use the Advanced Section to Add More Effects
If you want to add motion effects, Happy Effects, background, or make the page responsive, click on 'Advanced' to explore those options. The 'Advanced' is a default feature of Elementor. Give a read to this Document to know more about advanced features and their uses.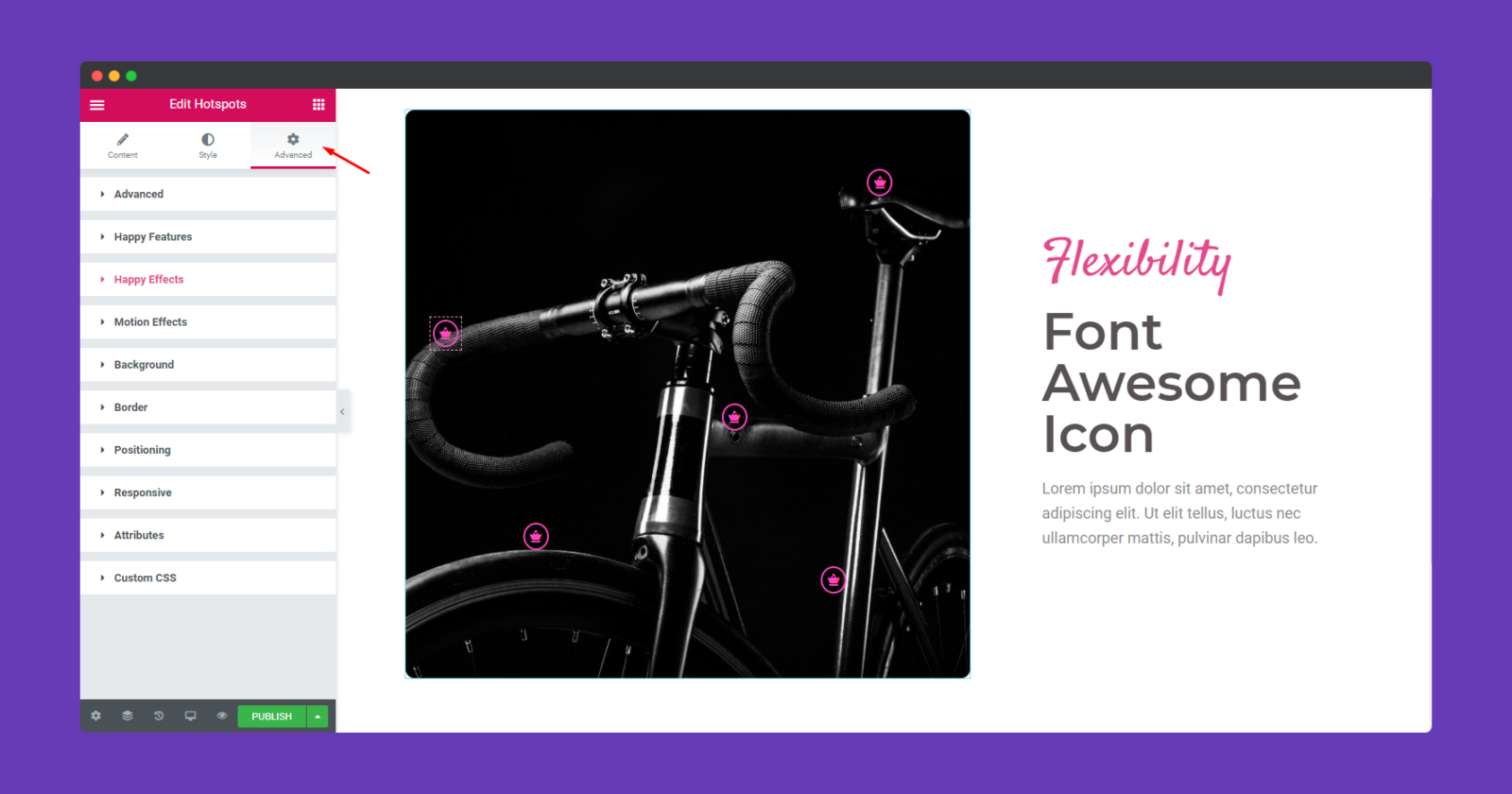 That's it.
Note: There is no limit to the number of hotspots one can add to an image map.
Also, using the Elementor Responsive Mode you can easily determine whether the image is perfectly aligned across all the platforms.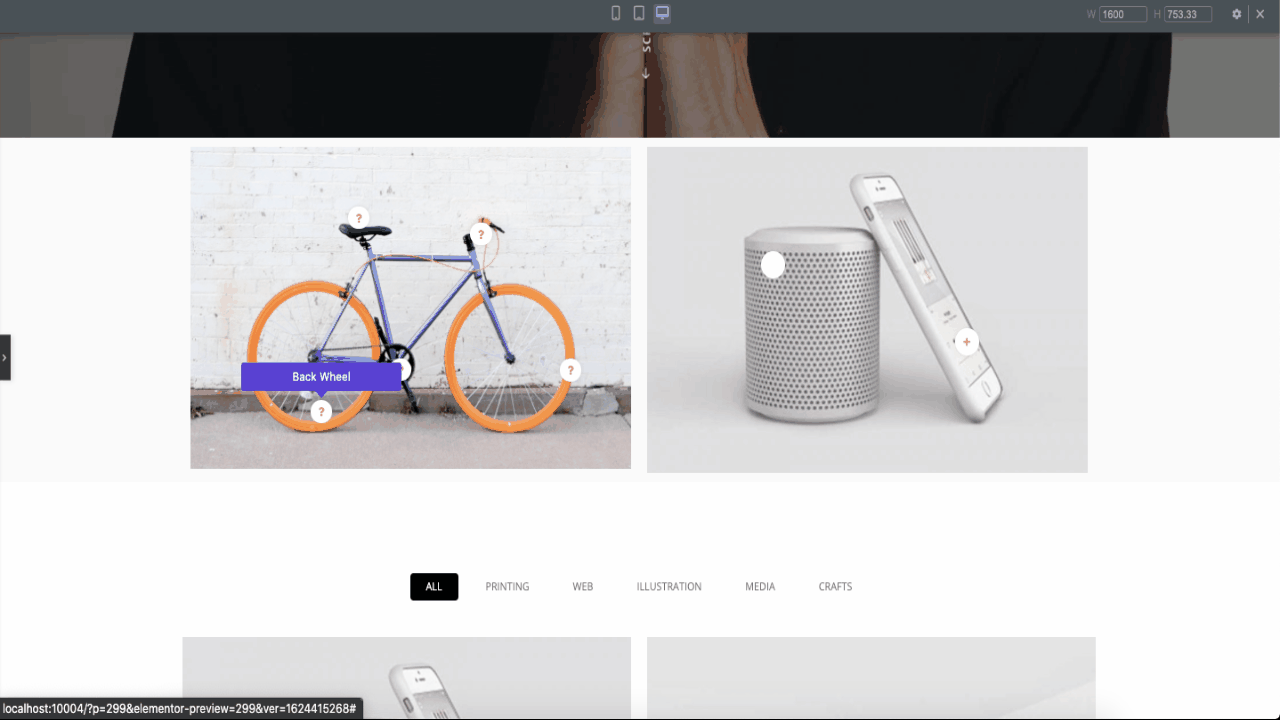 Hot Spot Images: Use Cases and Importance
"A picture is worth a thousand words" is a well-known English phrase. But that doesn't mean you can say everything with a single image. That is where hot spot images make the difference. Because this feature provides additional context to your images. Also, it makes the images user-friendly and interactive.
When you combine image with texts, you will get great response. Here are some of the examples of where image hot spot will come in handy.
Product Marketing
In 2021, there are anywhere between 12 to 24 million online shops.

digital intheround
This is an obvious choice. There are millions of online stores globally. So, why would users choose your store? What you are doing differently than other stores? – Hot Spot in product images.
In order to stand out from the rest, using hot spots in product images is a great idea. It will reveal extra pieces of information about the product. But the main attraction is, customers will be able to grasp the concept of your product just by clicking on the product image.
Also, you can easily bring out the unique points rather than describing them in the text. Because there is a possibility that the user might miss the description.
Infographics
Infographics are a great way to convey information to your users. You will find that many infographics contain tutorials, stats, guides, etc. In other words, infographics are very interactive.
However, if you can apply the hot spot feature to these infographics, then it will become more responsive. You can add extra information without altering the design of the infographic.
Learning
Image hot spots is great way to show interactive images in the class. Here are some examples,
Biology
Well, we don't have to tell you that the best way to learn about human body is through images. And with image hot spots you can add all body part name by marking the right spots. Here is a short example,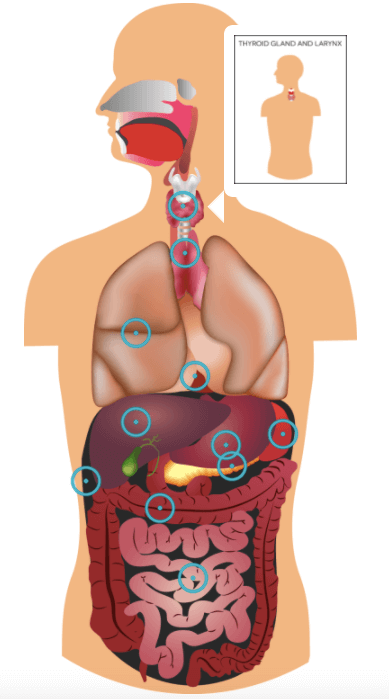 Geography
Well, if you ask students which class they find most boring and hard, Geography will make the list. Because, it is hard to remember the name of any country and continent by reading. So, how about just showing them in the map. Yes, with hot spot you can mark the country on the map. That way students will remember all the countries easily.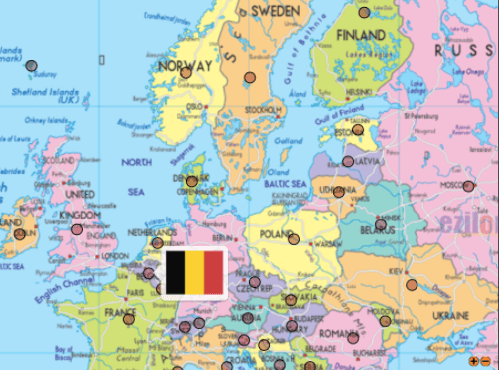 History
Well, it is unusual to use the hot spot feature in history classes. But, it can be used. When explaining a historical event involving famous people, you can mark who it is using the hot spot. This way students will easily identify the famous legends easily and also remember any historic event.
FAQ(s) Regarding Hot Spot Images
What is a Hot Spot Image?
Hot Spots are point of areas in the image that when clicked, pop-up a window. That pop-up can contain tooltips, text, videos or an URL link.
Which Are the Different Types of Image Hot Spot?
There are different types available. Like,
1. Image-Based Content Types.
2. Collage.
3. Drag & Drop.
4. Image Hotspots.
5. Image Slider.
What Are the Possible Shapes When Creating a Hot Spot?
When you are designing a hot spot , you can use rectangular, circular, and polygonal hotspots.
How Do I Use Image Activity Hot Spot?
If you want to make the image interactive then you need to use Image Hot Spots. When the user clicks on a hot spot, a pop-up containing texts, images or video is displayed. You can configure,
1. The number of hot spots in an image
2. The placement of the each hot spots
3. The customization of the hot spots.
Drive More Conversion with Hot Spot Interactive Images
When you design a website, you should always look for ways to drive more users and engage them. Hot Spot images can be a viable option. You can make your images more interactive and engaging. But more so, it will add value to your website and its content.
And you can see from our article that creating image hot spots with HappyAddons Hot Spot Widget is very easy. With Elementor's responsive mode you can easily check how the image will display across all platforms.
If you have any queries don't forget to reach out to us.