Keyword research holds a very important place in SEO. Finding proper keywords and building your content around those, is the only way you can attract the right audience and get your online business to your desired target. Keyword research tools are the tools that help you do just that!
However, right now there are so many keyword research tools around that a beginner would be lost while choosing one. So we took it upon ourselves to present you with the top keyword research tools. We've also added some free tools if you don't have the budget upfront.
Table of Contents
What is Keyword Research and Why is it Important?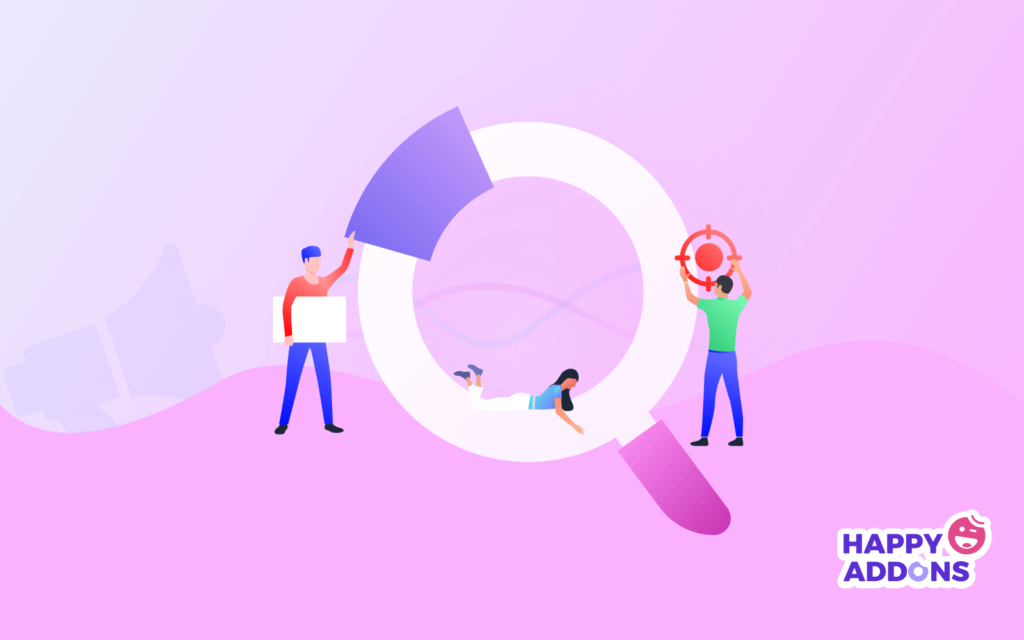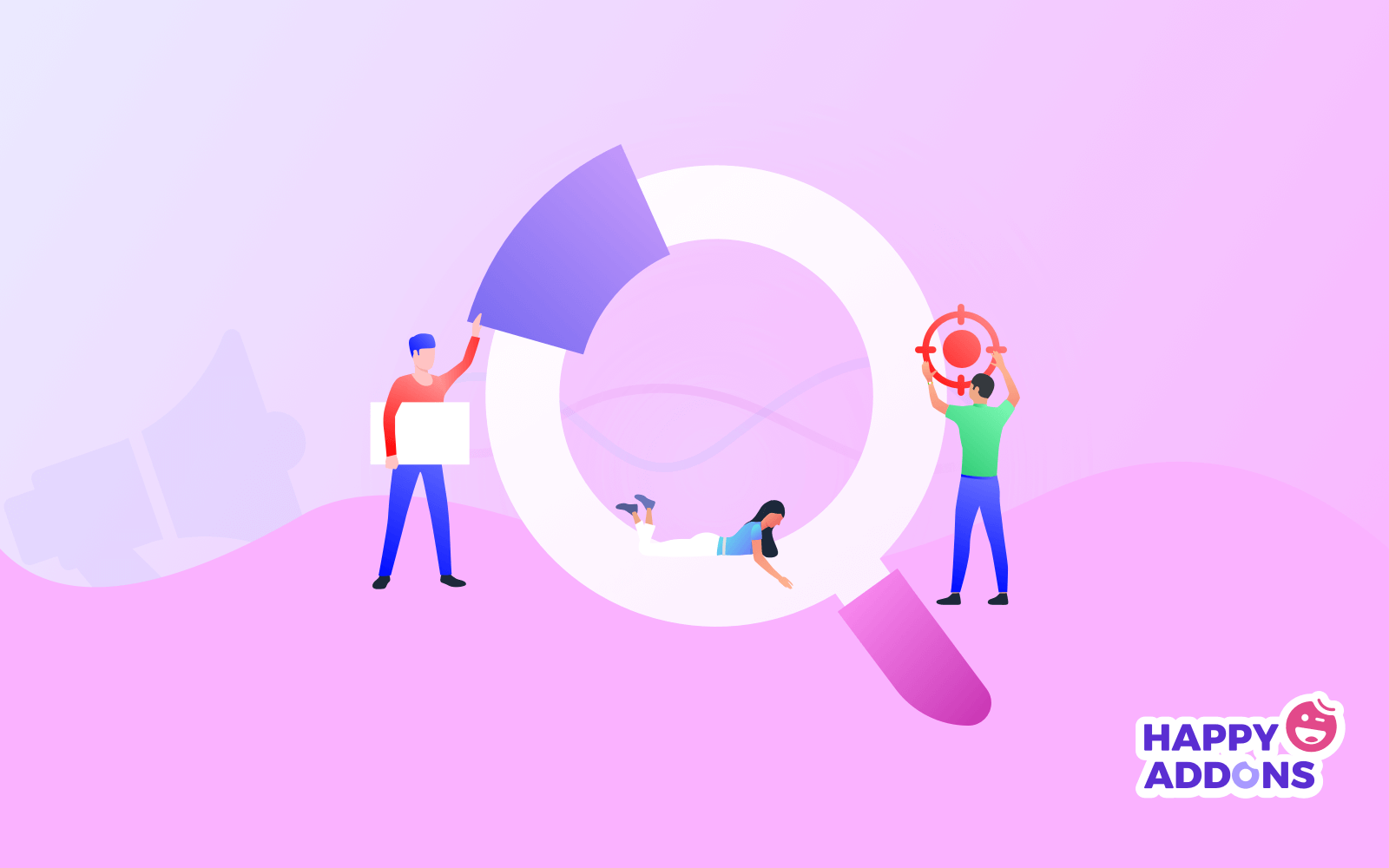 When we search on Google or any other search engine, it finds us the websites that match our search term. We call these search terms "Keywords".
The main goal of SEO is to find the keywords that people search for and use that to rank on top of the search engines when people search with those keywords.
There are some tools that can show you the search volume of a keyword for a certain period. They are known as keyword research tools or keyword analysis tools. Using these tools you can not only get the data of what people search most, you can also compare many keywords and find keywords that can help you increase visitors to your website through search engines.
Top Keyword Research Tools (Free & Pro)
Now, there are a lot of keyword research tools available on the internet. Let's be honest, not all of them are equally effective. So we've gathered some of the best keyword analysis tools for you. If you are someone who is just starting a new venture, we've got you covered too. This list of keyword planner tools also includes some free names. And if you are looking for some advanced tools, we have included some great paid tools for you as well.
1. Google Keyword Planner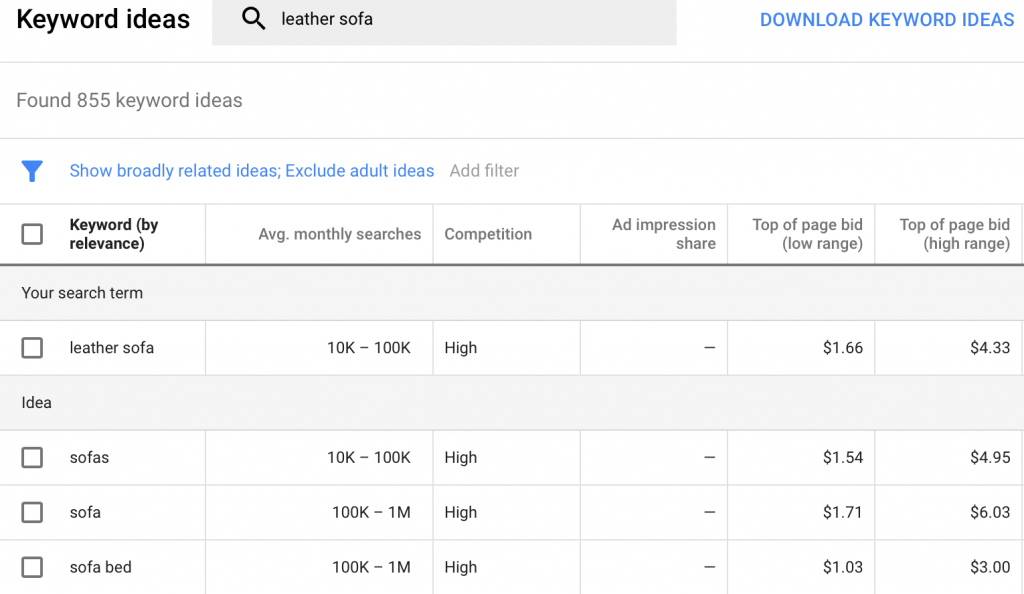 Before we talk about why we chose Google Keyword Planner as our first tool, let's get your fact right. According to statistics, more than 90% of online searches are done on Google. So it's obvious, Google is the search engine you have to target. And where better to get the keywords than from the google itself.
Having its root in Google Keyword Tool, Google Keyword Planner is one of the best free tools to check the number of average monthly searches of your keywords. It will also show you whether the competition is high or low for your keyword. In
However, apart from showing you some essential data, Google Keyword Planner doesn't do anything fancy. In recent years it has also stopped showing exact search volume, rather showing tentative volumes. Yet, it is the most reliable tool for accurate data, as it comes from the search engine itself. So whether you are just starting a new business, or you have been doing keyword research for some time, you should use this tool.
Price: Free.
2. Ubersuggest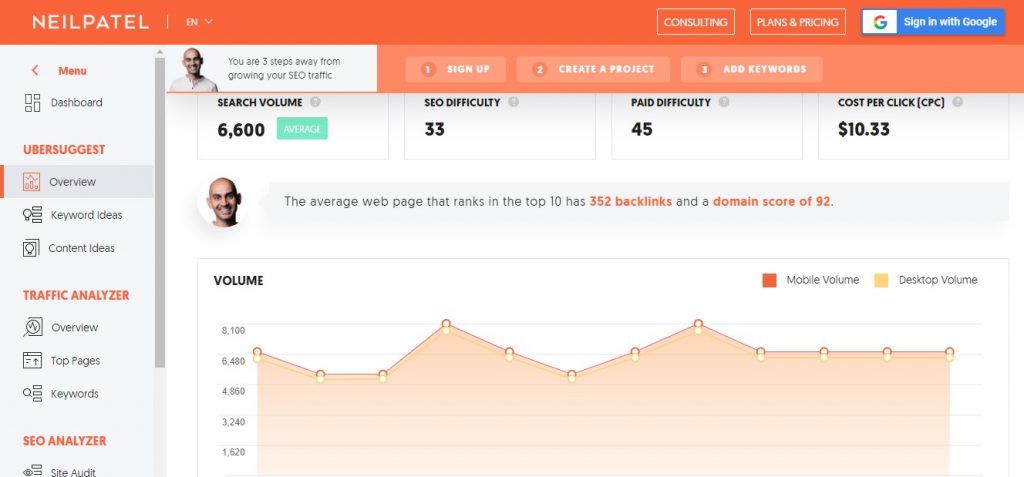 Ubersuggest is an increasingly popular tool that helps you do keyword research for free. Initially, it started as a tool to generate keywords by scraping google suggest. Later, it was bought by digital marketing entrepreneur Neil Patel.
Now Ubersuggest does well with not just keyword ideas, but also monthly Search Volume, CPC, Search Difficulty, and Paid Search Difficulty.
You can also analyze a specific keyword for the search trend. Apart from that, you can also find top keywords used on a website or the number of backlinks on a website.
Price: Free & Premium (Starting from $12/month).
3. Soovle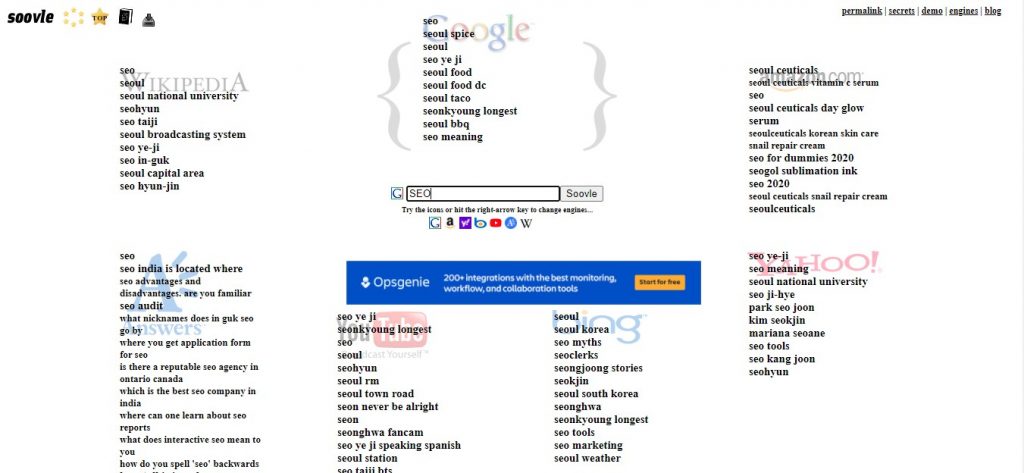 Soovle has a unique proposition for you "Let the web help". But we say, let Soovle help. Soovle is a powerful tool that provides keyword suggestions for Google, YouTube, Bing, Yahoo, Amazon, and more.
It is like the search engine of search engines! Apart from getting proper keyword suggestions, you can also save your keywords with a drag and drop within the page. However, Soovle doesn't provide you the search volume of the competition for that keyword, so you need to get help from other tools to do that. Nonetheless, it is one of the most powerful tools for seo that is available at no cost.
Price: Free.
4. KeywordTool.io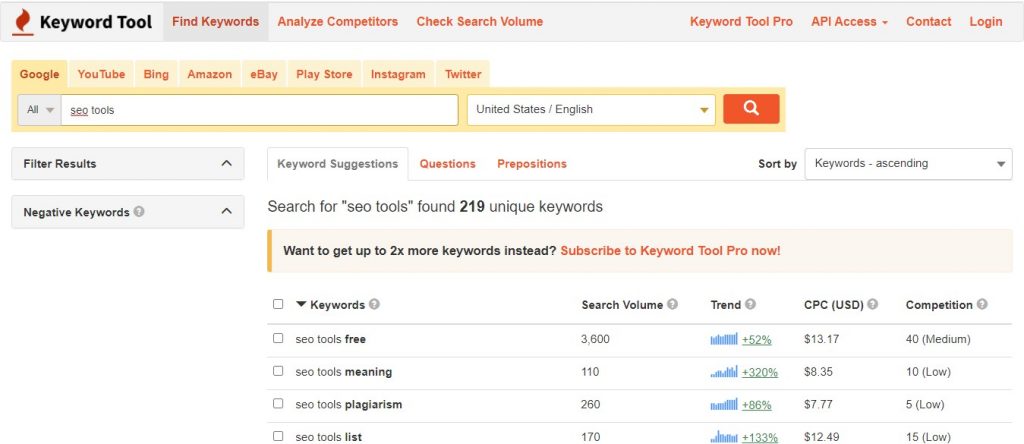 KeywordTool.io can be used as an alternative to Soovle and Ubersuggest. With the help of KeywordTool.io you can literally generate a large number of keyword ideas. There are also some very useful filer options to find amazing keywords. You can find keywords for Google, YouTube, Bing, Amazon, eBay, Play Store, Instagram, and Twitter.
You can expect to get some pretty interesting keywords. It is a free tool. However, in order to get data like Search Volume, Competition you need to buy it.
Price: Free & Premium (Starts from $69/month).
5. Keyword Surfer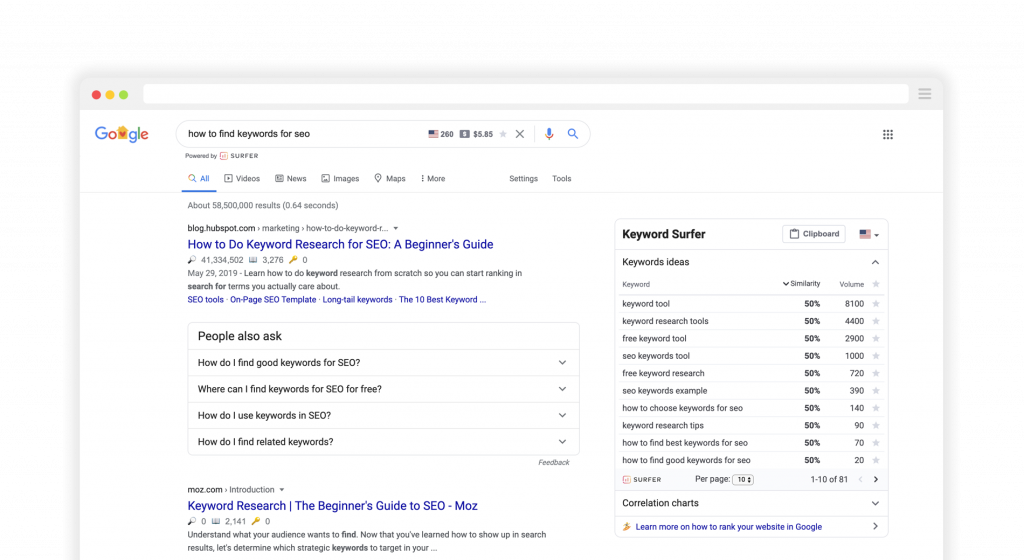 Keyword Surfer is a chrome extension that shows you the estimated search volume of a query on SERP when you type it in google. It shows search volumes and finds similar keywords according to your query. It can even show exactly how many times your keyword is used on the top-ranked sites.
Moreover, it shows all the data for 70 countries and you can see the data for any single country specifically.
And all these features are available for free. Yes, free. And according to their website, they are planning to stay that way forever. So if you are someone who is looking for free seo tools, this should be on your radar.
Price: Free.
6. Google Trends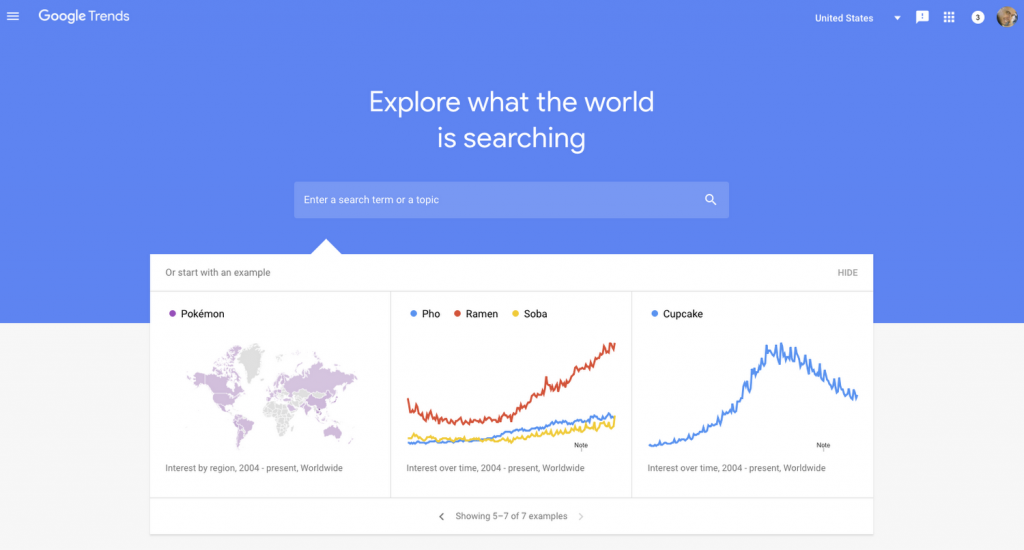 Google trends is another google service that is excellent for keyword research. You can search for keywords and how much they're trending over time. You can also compare two different keywords.
Google trends also help you find keywords for Youtube, which is undoubtedly becoming the next big platform for showing ads.
Price: Free
7. Keyword Generator

Keyword Generator is a free tool from one of the SEO giants, ahrefs. Keyword Generator generates related keywords for any keyword type. Along with that, it also shows you the search volume and difficulty to rank with these keywords.
You can get some really good untapped keywords if you stick to it. It shows you data for as much as 170 countries. Although this is a free tool, they also have a pro version that not only suggests keywords but shows other advanced insights. But we will get to that later! As for the basic keyword generation, their free tool is enough to get you covered.
Price: Free.

8. Keyword Sheeter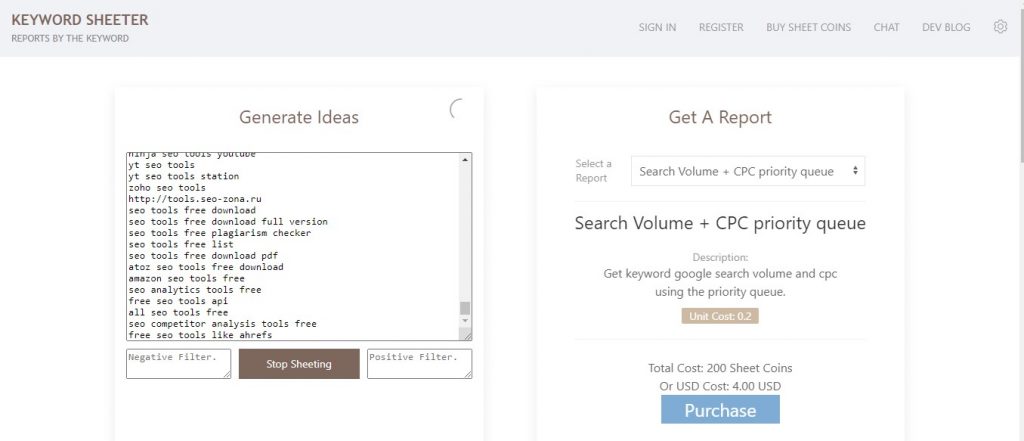 If you need plenty, this tool will give you plenty. All you have to do is enter one or more basic keywords and click on "Sheet Keywords", and it will bless you with thousands of autocomplete suggestions from Google based on your input. You can even download the data as a CSV file for free with one click.
Now, there is not much more you can do with Keyword Sheeter. We suggest you do good use of this free seo tool to generate keywords and then find out the search volume and other data from another tool.
Price: Free.
9. Questiondb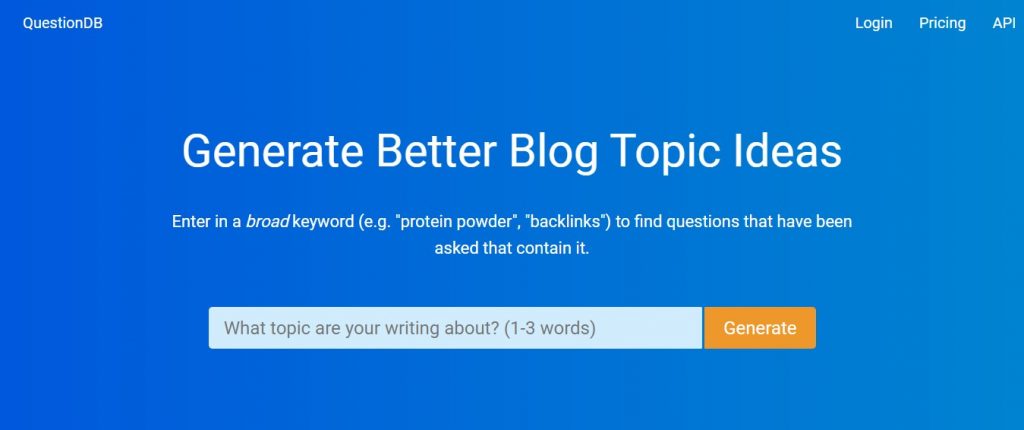 If you are a marketer or a blogger, QuestionDB can be an extremely helpful tool for you. It is not really a keyword research tool. Rather it finds questions related to your keyword that people are asking. You can easily get an idea for a new blog or know about what people care most about the keyword you're planning to target.
If you can use it right, QuestionDB will constantly give you new ideas for blogs and update you with the current trends that you can go after. It costs nothing unless you want more than 10 results per search. The pro version can show you up to 800 results.
Price: Free & Premium ($10/month).
10. Keywords Everywhere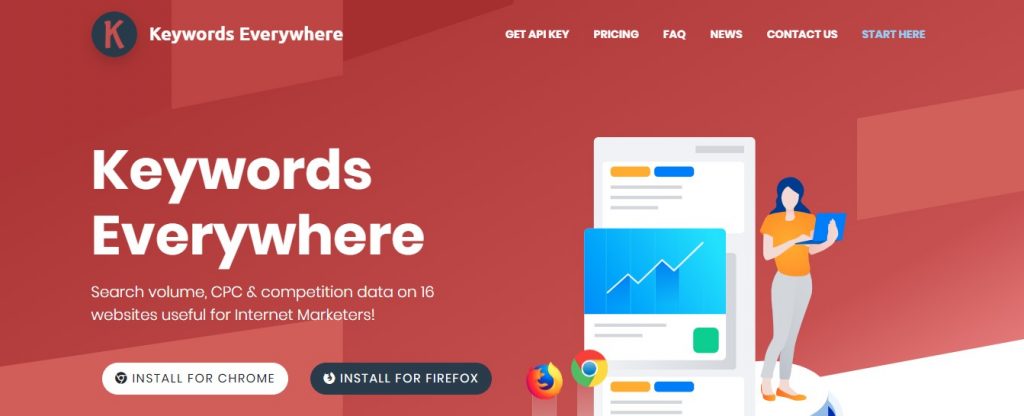 Keyword Everywhere does what Keyword Surfer does, and then some more. It's a browser extension like the Keyword Surfer But unlike the previous one, it is available for both Firefox and Chrome. Like Keyword Surfer it does a very good job of showing an estimated search volume of a keyword for Google but it does the same for 9 other websites like Amazon and eBay. So you can be sure that it is worth the penny, though it recently became a paid tool.
Another thing we like about this tool is the "People also search for" feature, where it shows the related searches to a keyword. It comes in handy and we often get some really good suggestions.
Price: Premium (Starts at $10 for 10000 Keywords).
11. SECockpit

If you are an experienced campaigner of SEO, SECockpit can be your best friend. If you're still on the learning curve, steer clear of this tool and start with some easy to learn tools. Why? Because, what SECockpit takes some time to get a hold of. But for pro, it can offer in-depth results on competition, niche suggestion, keyword trends, and many more.
With this tool in hand, you can expect to get some invaluable insights for a very little amount.
Price: Premium ($25/month)
12. KWFinder

KWFinder can make your life a lot easier when it comes to Keyword Research. KWFinder shows you the search volume, and how hard it will be for you to rank with your keyword. If you are finding it difficult to find a suitable keyword, you can even know the keywords that your competitors are ranked for. All you need to do is just input their domain or URL. Their basic subscription is very cheap, and you'll start loving it once you start using it.
Price: Premium (Starts at $29.90/month).
13. Moz Keyword Explorer

Moz is one of the most common names in the SEO arena. All of their tools are efficient and effective. Just like their keyword explorer tools. What sets this tool apart is its smartness. It suggests keywords that are related to your topic, yet that might not even come to your mind. It tells you approximately how many clicks you may get from your preferred keywords.
Its priority feature compiles all the relevant data (such as search volume, top sites with the same keyword, PPC ads, etc) for a keyword and then gives an overall score so that you can determine, whether or not you should pursue that keyword. Pretty smart, right?
However, you can not buy the standalone subscription for the Moz Keyword Explorer, but we assure you that you'll not regret purchasing their whole SEO Pro pack.
Price: Premium (Starts from $99/month).
14. Ahrefs Keyword Explorer

We told you we'll introduce the paid tool from ahrefs, and here it is. Ahrefs Keyword Explorer has some unique features that are unmatched by any other keyword research tools. It gives you all the information that you need to rank your keyword and gives them in detail.
Like any other keyword research tool, you'll get the standard keyword suggestions and search volume for each one, but with Ahrefs Keyword Explorer, you'll also exactly how many backlinks are needed to rank with that keyword. This is pretty impressive stuff and not going to lie, we love it!
Price: Premium (Starts at $99/month).
15. SEMrush

SEMRush does magic in what it does. Enter any domain name of any site and it'll show you exactly what keywords they focused on. This way you can rank your website higher with the already tried and tested keywords. You can also see the competition for each of the keywords they are ranked for. You can even see the information for any specific country.
Apart from that, you can also get the standard long-tail keyword suggestions by searching for your keyword. And it is really intelligent and suggests some gem from time to time! If you have the budget, spending a very small amount on a tool like this will be one of the best decisions you'll ever make.
Price: Premium (Starts from $83.28/month).
Choose the Right Keyword Tools that Serves Your Need
With everything being said, the best keyword research tools for you depends on your personal preference. Some of the free tools are very efficient but as your business grows you'll find the limitation in those and will want to move to a paid tool. Paid tools usually have a huge database and an intelligent system to back them up, so that you can be assured to get the perfect keywords to rank your website. We hope you liked reading the article. If you already have a preferred keyword research tool, let us know in the comment box.