No website is complete today without a contact form. It provides a vital gateway both for website owners and visitors to maintain seamless communication with each other. In addition, contact forms play a crucial role in lead generation and growing subscribing lists.
WordPress is a powerful content management system because you'll get almost everything you need. You'll find over a dozen of contact form plugins on this platform. Elementor, on the other hand, is a popular page builder by which you can design stunning websites.
This article will introduce you to some of the best contact form plugins for Elementor so you face no hassle in integration. Before that, we'll answer some theoretical questions. Let's dive in.
What is a Contact Form in WordPress?
We have already said that a contact form makes a communication bridge between the website owner and users. It allows users and web visitors to pass messages to website owners and get in touch with them. A contact form usually includes fields like name, email address, subject, and message.
Whenever a visitor or web user wants to send a query to web admins, they have to fill out these fields. As a result, respective information about the user, along with the query is stored in the website's database, which is very important to run targeted email marketing campaigns.
If you start receiving messages from bot users in a big number, no worries! Enabling the CAPTCHA security system is enough to keep your contact form clean from bot users.
Importance of Contact Form on Website
If you are still confused about the importance of contact forms on a website, take a look at the points below. We'll get some crucial insights.
a. Data Organization
You can create and add multiple contact forms to your website pages to collect different types of information in a structured format. Some may be for queries, some for newsletters, and some for booking. This will help you run targeted campaigns effectively.
b. Spam Prevention
Most contact form plugins include spam filtering and validation check features. If you start receiving unwanted and irrelevant messages, no worries! Just turn on the CAPTCHA or reCAPTCHA system. Bot users will automatically be prevented.
Here are 16+ effective ways to prevent newsletter spam sign-ups.
c. Data Analytics
Many contact form plugins come with built-in analytics. You can track user preferences and demographics for market research. Using relevant metrics, you can check how many queries you have received per month, answered and not answered.
d. Attachment Support
Users can also submit files and documents using the contact form if you include this option. This is especially important for government, charitable, and booking sites.
Things to Consider in a Contact Form Plugin
You'll truly find lots of contact form plugins online. But you can't randomly choose one. You must check first if it can meet your needs. Better if you have a checklist of the things you need to consider while choosing a contact form plugin. Below is the checklist we have prepared for you.
Ease of use
Features (spam protection, file uploads, analytics, email notification)
Safe integration with other plugins
Templates and stylization
Mobile responsiveness
Cost and review
Explore how to create a contact form in Elementor.
Best Contact Form Plugins for Elementor
Theoretical parts are covered. We'll now list some of the best contact form plugins for WordPress in the following discussion, covering their key features, pricing, rating, and other points. Hope this will help you select the right contact form plugin for your site.
1. Elementor Form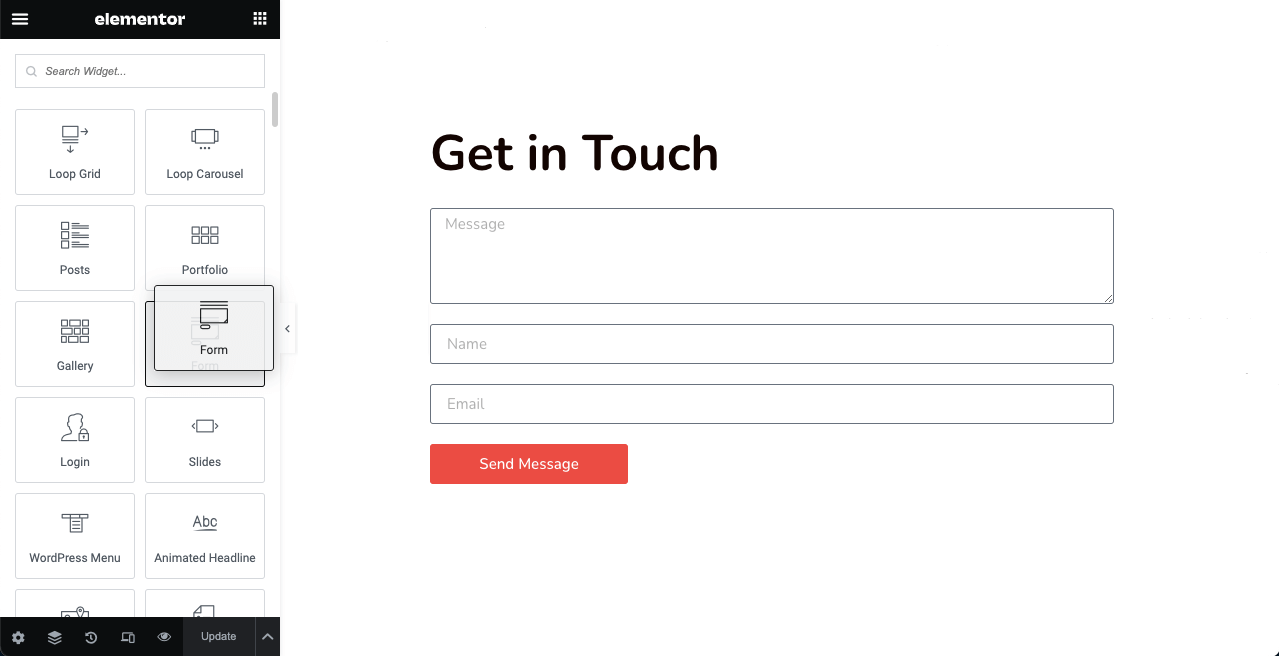 If your website is designed in Elementor, the good news is that you will probably no longer need to depend on other contact form plugins. Because Elementor itself now has a Form widget by which you can create and design almost any kind of form for your website.
This can save you the money you would spend buying an additional contact form plugin. The Elementor form widget currently has 20 custom fields. You can change the form labels, size, and alignment. You can also specify the after-actions once someone submits an entry.
Here's how to sync Elementor Form with weMail email marketing plugin.
Key features of the Elementor Form
Offers robust customization options (color, layout, typography, spacing, etc.)
Integrates with many CRM and email marketing services
Helps to create long forms with multiple steps.
Supports PayPal and Stripe payment systems
Easy to make the form responsive on multiple devices
Allows to set up validation rules to prevent spam messages
Price of the Elementor Form
Elementor Form is reserved only for Elementor Pro users. The price of the Elementor page builder starts from $59/year.
Our Remarks on Elementor Form
If your site is on Elementor and you want to save money, use the Elementor Form. But you won't find many ready-made templates that other contact form plugins offer. Plus, if you need more fields than Elementor Form offers, use a separate contact form plugin.
2. Contact Form 7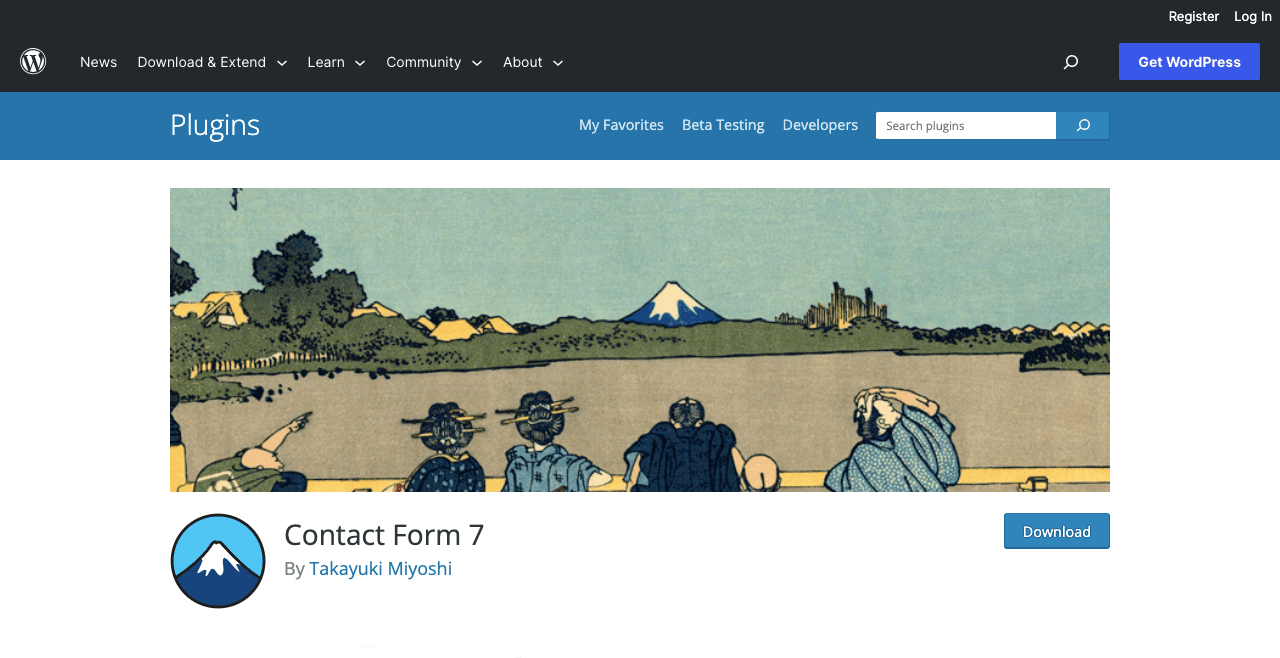 Contact Form 7 is a free contact form plugin for WordPress. It allows you to create as many contact forms as you want with just a few clicks. The plugin currently includes 14 fields: text, email, URL, tel, number, date, text area, quiz, file, text box, etc.
You just have to select the field you want while creating the contact form. A shortcode will automatically be generated for each form after it's ready. You can copy-paste code anywhere on your website to showcase the form.
Key features of the Contact Form 7
Easy to customize placeholder and message content
Supports Ajax-powered form submission
Perfectly integrates with many third-party plugins
Includes CAPTCHA and Akismet spam filtering
Has integration with the Stripe payment system
Provides helpful online documentation
Helps to manage and organize forms easily
Price of the Contact Form 7
Free to use. Contact Form 7 doesn't have a premium version yet.
Our Remark on Contact Form 7
Though Contact Form 7 is a good plugin, it misses many exciting features available only in premium plugins. If you have a basic-level site, the Contact Form 7 is enough. But for advanced functionalities, you need a premium form plugin. Explore them below.
3. Ninja Forms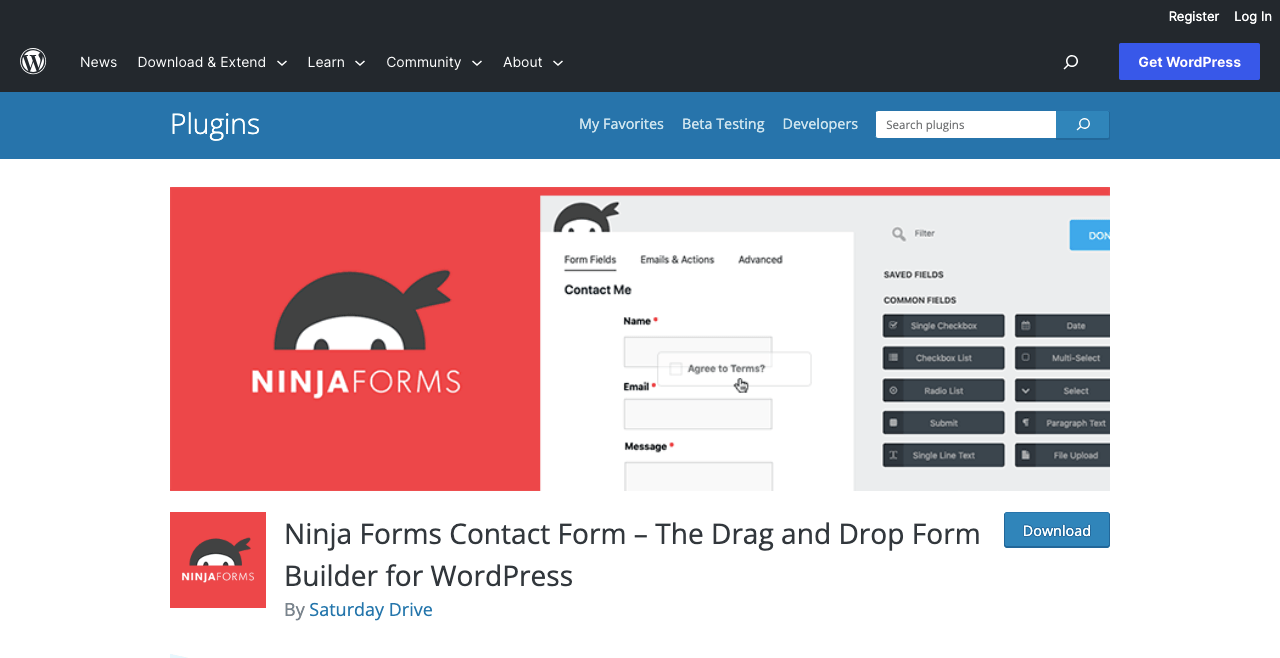 Ninja Forms is an advanced contact form plugin where you get almost all the form-related features and solutions. It offers 28+ form fields with a drag-and-drop interface. You can drag and drop the fields you want to prepare your form in a few minutes.
Besides, if you don't want to build the contact form from scratch, you can use the ready-made templates of the Ninja Forms. This can save you a lot of valuable time. Using the stylization option, you can also customize the colors and typography of various forms and their fields.
Key features of Ninja Forms
Allows to create and manage unlimited contact forms
Lets you export the submitted forms via CSV files
Sends email notifications once a form is submitted
Accepts payments via PayPal, Stripe, and credit cards
Recommends a handful of addons to increase functionalities
Includes 9+ form templates for different use cases
Uses various anti-spam techniques to prevent spam submissions
Price of Ninja Forms
Ninja Forms has a free plan available. Its premium version starts from $99/year with conditional refund policies.
Our Remarks on Ninja Forms
If you want to handle complex works with contact forms where security is a must, you can use Ninja Forms. But as the plugin doesn't have any straightforward refund policy, we recommend you use its free version first and have a chat with the support before buying the pro version.
Learn how to personalize your form design.
4. weForms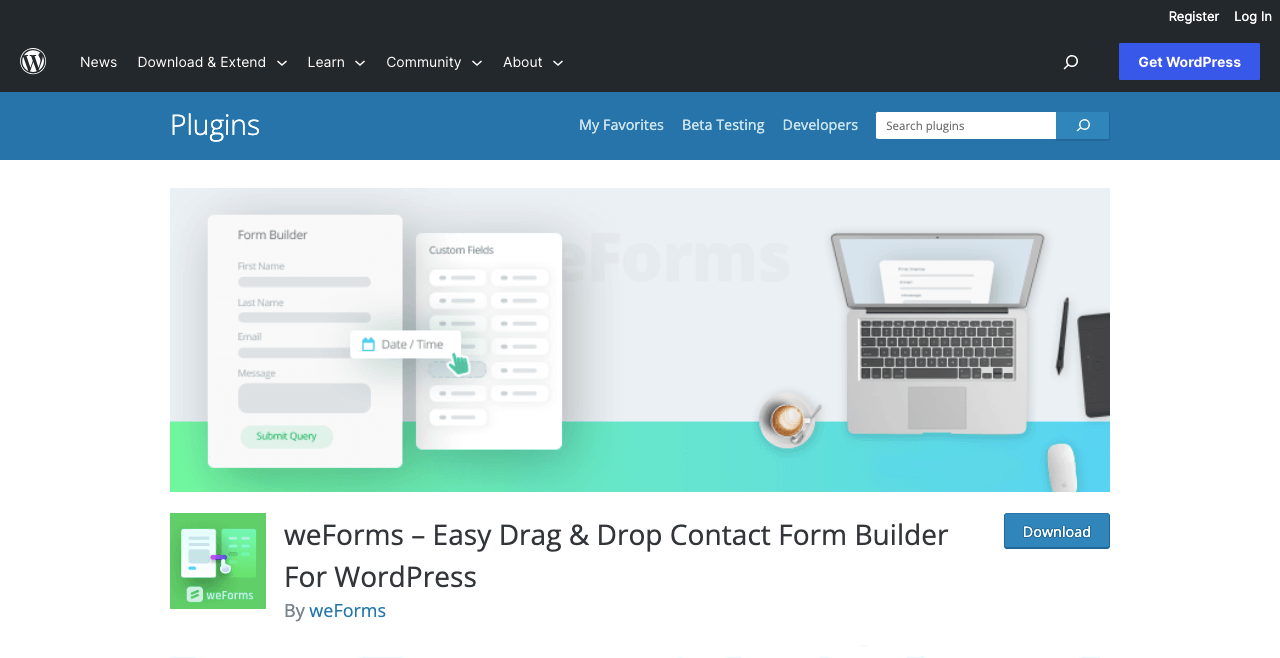 weForms is another easy-to-use contact form plugin for beginners to expert users. It provides a drag-and-drop form editor with 30+ custom form fields to craft the form as you want. You can easily re-order the respective fields by dragging them up or down.
You can change the label and meta key of each field. You can also add helpful text for the complicated fields so users can understand their purposes. The plugins support dynamic value propositions and adding CSS class names. The CSS class names can help you apply stylization.
Key features of weForms
Allows integrations with tons of modules
Generates a shortcode for each form
Supports PayPal and Stripe payment systems
25+ ready-made templates (many are only for Pro users)
Supports adding conditional logic (Pro version only)
Prevents bot and spam submission using the anti-spam feature
Imports forms from other contact form plugins.
Price of weForms
weForms have a free version available. Its premium version starts from $89/year with a straightforward 14-day refund policy.
Our Remarks on weForms
weForms is highly useful for any beginner-friendly user. You'll hardly find any necessary feature missing in this plugin. However, you may often get the notification 'the plugin doesn't have a valid header' while activating the plugin. But no worries! You can solve it by following some tutorials.
5. WPForms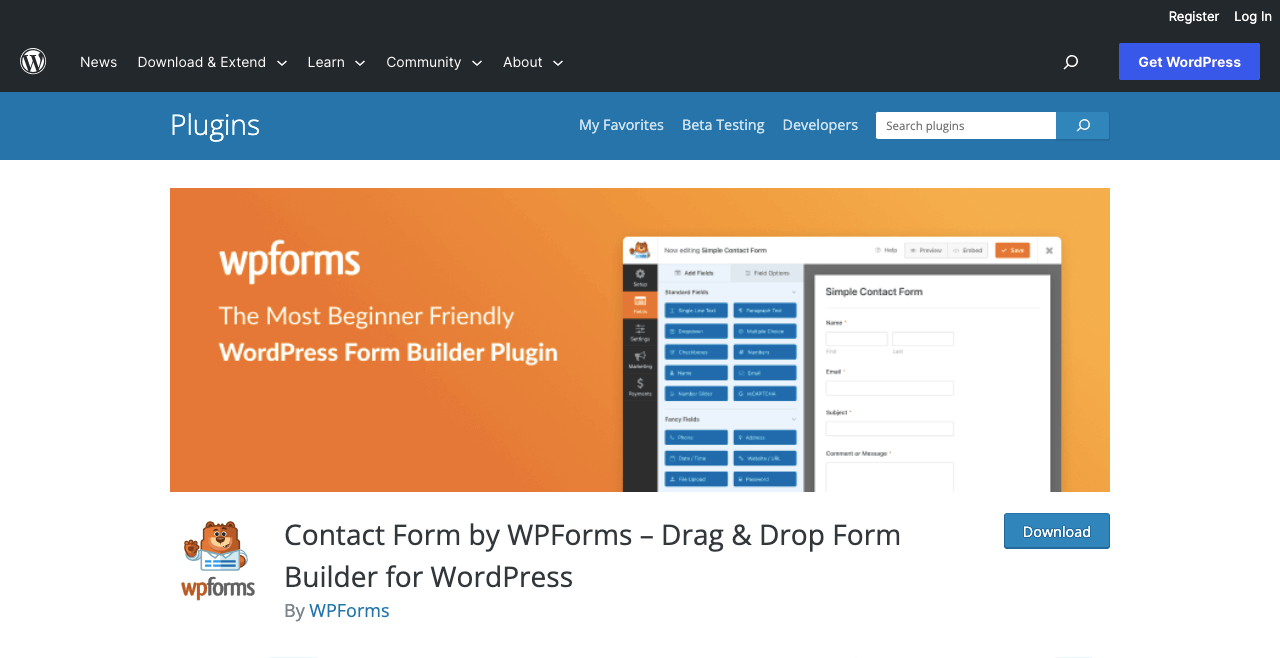 WPForms is the best WordPress contact form plugin. It's a feature-rich plugin with so many ready-made templates that you are bound to fall in love with it after using it once. 5+ million users currently use the plugin, which has received 12,500+ five-star ratings.
WPForms have integrations with the WP Mailer SMTP. It ensures emails sent through WPForms are delivered successfully, bypassing all deliverability issues. You can also import entries and submissions you received through other contact form plugins.
Key features of WPForms
Comes with a drag-and-drop form-building tool
Has 1000+ stunning form templates for different use cases
Includes 38+ custom form fields
Supports PayPal, Stripe, Square, and Authorize.net
Offers multiple anti-spam features to prevent bot submissions
Smart conditional logic improves form performances (for pro users)
Allows creation of subscription forms for email marketing services
Price of WPForms
WPForms have a free version available. Its premium version starts from $99/year with a 14-day refund policy.
Our Remarks on WPForms
WPForms is a great contact form plugin. You can use it for any kind of website. But you can't enjoy too many features with the free version. You'll even have limited access to the submitted entries as a free user. So, be prepared to buy its premium version if you choose it.
6. Gravity Forms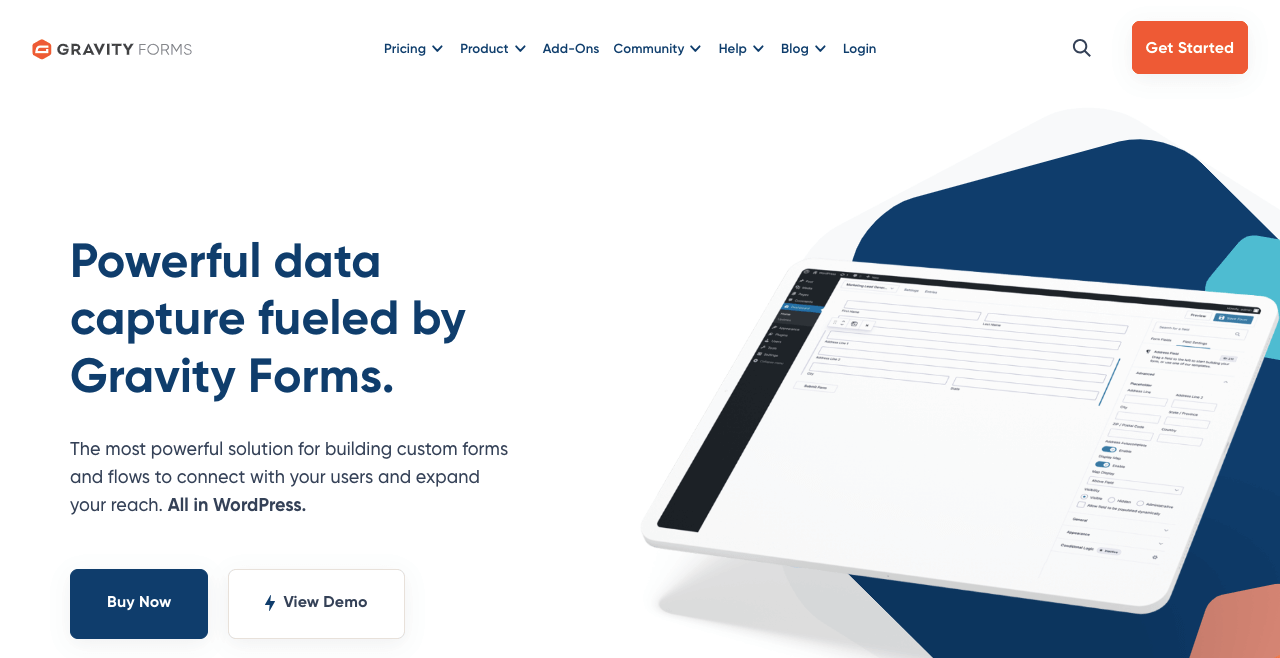 Gravity Forms is a premium contact form plugin for WordPress. It also provides a drag-and-drop form builder to create forms for various purposes, like contact, surveys, quizzes, and more. You can show or hide certain questions based on user preferences using smart conditions.
It has been a trusted contact form plugin for years and is being used on numerous websites. It provides a range of addons and extensions, like GP Nested Forms, GP Conditional Pricing, and GP Unique ID, to improve the form features and functionalities.
Key features of Gravity Forms
Creates advanced contact forms using smart conditional logic
Includes 30+ custom form fields
Adds coupons to custom order forms on Commercial sites
Lets users attach and submit files with the form
Works with Debit and credit cards, PayPal, Apple Pay, Google Pay, Stripe, etc.
Allows to create long-form in multiple pages with pagination
Price of Gravity Forms
Gravity Forms doesn't have a free version available. You must buy to use the plugin. Its price starts from $59/year with a 30-day refund policy.
Our Remakrs on Gravity Forms
If you are looking for a form plugin solely for eCommerce websites, you may consider using the plugin. But you may look into other contact form plugins for other types of websites.
7. Fluent Forms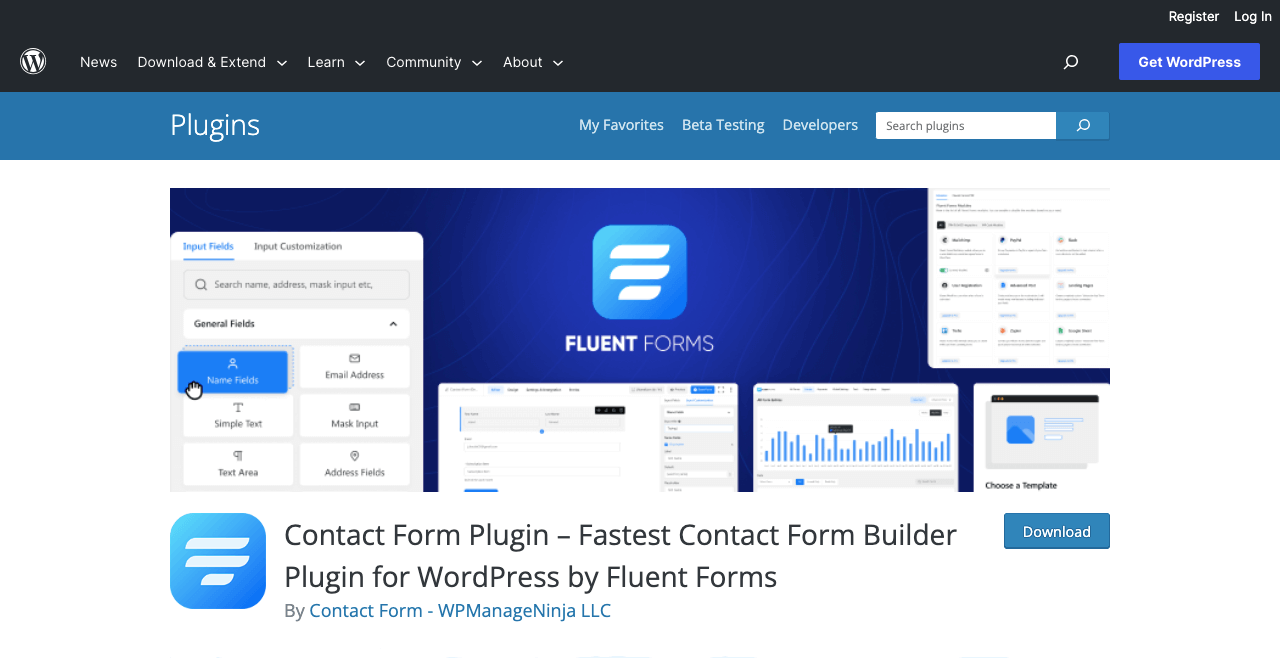 Fluent Forms come with a handful of features and functionalities you can use for various purposes. You can use them to collect payments, send notifications, and connect CRM tools. It offers lots of ready-made templates, so you don't have to start everything from scratch.
After installing the plugin, you'll get a Global Settings option by which you can configure all the necessary settings from one single place. You don't have to specify settings individually for each form. It also comes with a built-in STMP feature that ensures email deliverability rate.
Key features of Fluent Forms:
Drag-and-drop editor with ready-to-input fields
63+ ready-made templates on different niches
Allows to schedule forms, specifying when to show or hide them
Integrations with 45+ third-party tools
Has multi-column layout options
Blocks spam using reCAPTCHA and other features
Price of Fluent Forms:
Fluent Forms have a free version available. Its premium version starts from $59/year with a 14-day refund policy.
Our Remarks on Fluent Forms:
Compared to many other form plugins, Fluent Forms is more affordable. Its free version also offers many helpful features by which you can support a basic-level website.
8. Formidable Forms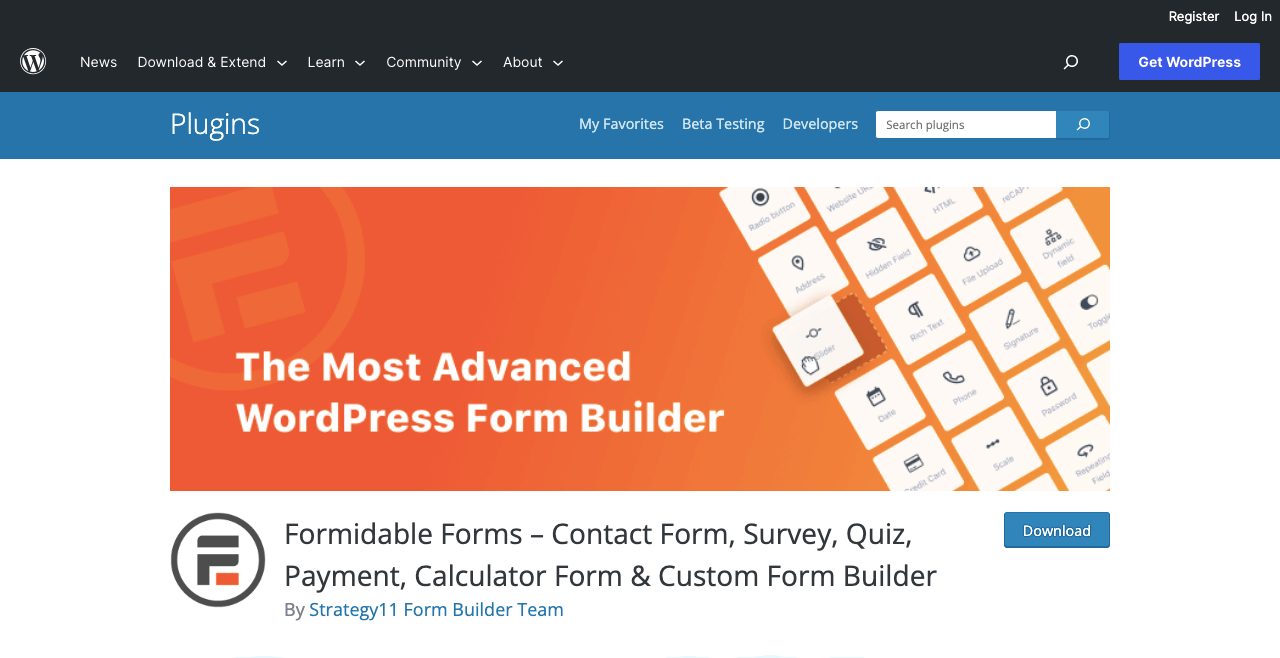 Formidable Forms is an intuitive contact form plugin with many advanced features. Using the drag-and-drop functionality, it allows users to create a wide range of forms, including contact forms, user registration forms, payment forms, quizzes, surveys, and more.
The plugin includes a global setting and style menu. You can stylize (color and typography) each of your forms individually or configure many parts globally. This plugin is suitable for anyone, like freelancers, agencies, bloggers, photographers, developers, eCommerce sites, etc.
Key features of Formidable Forms
Simple entry management for data management and collection
Includes 40+ custom fields and 430+ ready-made templates
Easy to customize the form design and layout
Can collect payment through PayPal, Stripe, Authorize.net, etc.
Trigger automated response based on form submission
Ables to manage bookings and appointments
Price of Formidable Forms
Formidable Forms have a free version available. Its premium version starts from $79/year with a 14-day refund policy.
Our Remarks on Formidable Forms
We highly recommend the Formidable Forms plugin because of its easiness of use and customization power. Although you may be overwhelmed by its numerous options at the beginning, you can bring this plugin under your control within an hour of practice.
9. Everest Forms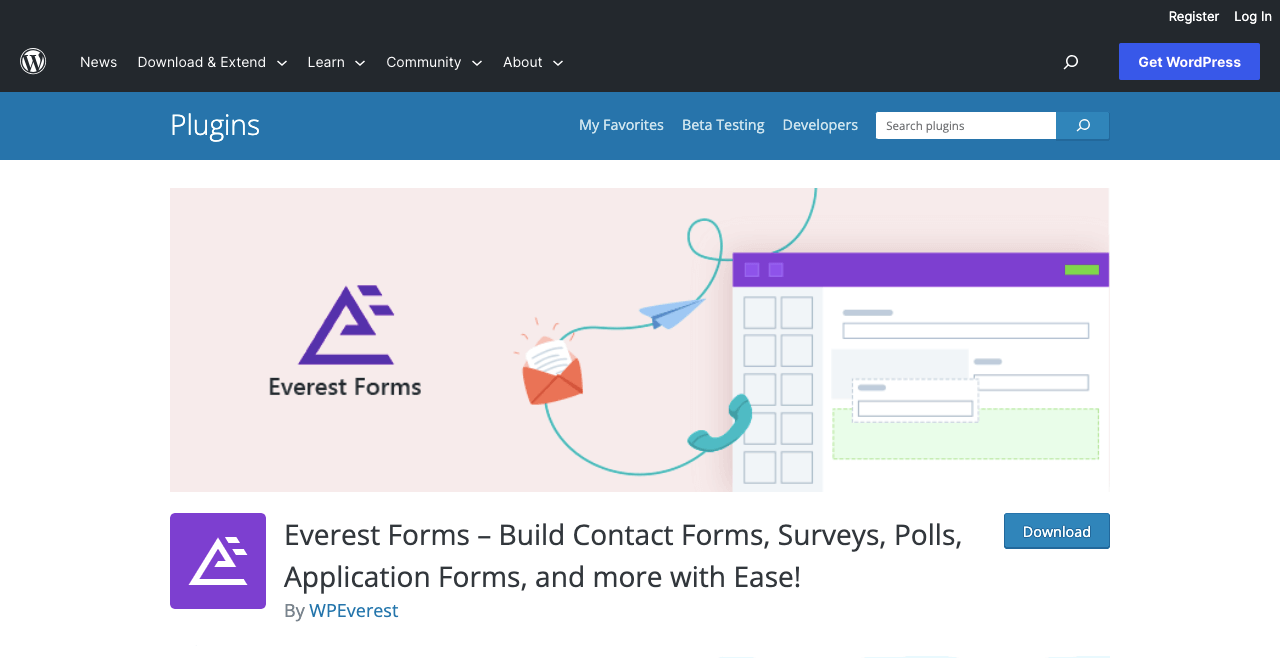 Everest Forms is a promising WordPress contact form plugin. Although it doesn't have a large user base yet like other contact forms, you won't feel a shortage of features and functionalities in this plugin. Don't just take our words. Rather, use the free version of the plugin at least.
You'll feel much more comfortable in creating and managing forms with the plugin. It has a super-simple admin dashboard with a drag-and-drop form builder editor. Flexible settings can help make your forms match your brand and user experiences perfectly.
Key features of Everest Forms
Multiple captcha systems to prevent spam form submissions
Allows to import and export forms via JSON files
Includes 40+ custom form fields
You can arrange fields on two-columns
Easy to create customizable email templates and notifications
Lets you create pull, survey, and quiz forms
Price of Everest Forms
Everest Forms has a free version available. Its premium version starts from $69/year with a 14-day refund policy.
Our Remakrs on Everest Forms
You won't find many ready-made templates in this form plugin. Currently, the form offers only 14 templates, which is very low compared to the other contact form plugins.
Take a look at how to create an online survey in WordPress.
FAQ on Best Contact Form Plugins for Elementor and WordPress
Hope you are enjoying this discussion. We'll now present you with some common questions and answers in this section to help you explore contact forms and make informed decisions.
Does Elementor have a contact form?

Yes, Elementor has a contact form widget. With this widget, you can create almost all kinds of forms for your website and manage entries from the backend. This widget is compatible with a good number of CMR, addons, and email marketing plugins.

Does Gutenberg block-based form plugins work with Elementor?

Yes, Gutenberg block-based form plugins are compatible with Elementor. But most of them won't be as friendly as the ones we have listed in this article. For example, we explored the plugin JetForm Builder while writing this article.

This one is a Gutenberg block-based form plugin. We found this plugin has a complex interface, which will be difficult for beginners to understand. This is why we haven't included this plugin in this article.

What is honeypot security in form plugins?

Honeypot security adds some extra fields to the form that stay invisible to human users but become visible to bot users. If someone fills out the fields, the form plugin counts this entry as a spam submission.

Which contact form plugins have the honeypot security system?

1. Contact Form 7
2. WPForms
3. Ninja Forms
4. Formidable Forms
5. Gravity Forms

Does WordPress have a built-in contact form?

WordPress doesn't have any built-in contact form. But you will find tons of free contact form plugins by which you can support basic-level websites. Besides, there are many themes, including built-in contact forms.
Final Words!
Forms are an important element for any website today. Missing forms on important posts and pages means you are missing out on many potential leads and subscribers. Therefore, well-functional forms have become a must-have component for a proper marketing funnel.
So, at whatever stage of your website you decide to install a form plugin, you must choose the right one wisely. Because if you think of switching to a new contact form plugin after a few days, months, or years, you have to re-integrate it with all the running tools and extensions, which is really time-consuming.
We tried our best to cover all the best Elementor-compatible form plugins in this article so you can make informed decisions. Comment below if you have any further questions about this plugin. Our team will get back to you soon with an informative reply.