WordPress still stands as a leading website creation platform for its versatility and user-friendliness. The ability to create custom post types is a standout feature of the platform by which you can create and manage various types of content beyond the traditional blog posts and pages.
But WordPress alone can't help you create custom post types. You need a custom post types plugin on your websites. But the true magic happens when you combine the custom post types plugin with Elementor, so you can create dynamic and engaging websites.
This article will introduce you to the best WordPress custom post types plugins with seamless integration with Elementor. Before that, take a look at what custom post type means in WordPress.
What is Custom Post Type in WordPress?
In WordPress, post types are a way to classify different types of content on your website. By default, WordPress has five post types: post, page, attachment, revision, and navigation menu. Each one has one set of attributes and functions reserved for specific types of content.
Custom post types allow you to create and organize additional different types of content on your website. They may come with more custom fields and categories beyond the default ones. Suppose you want to create a book review site. You can create custom post types for ratings and reviews.
Similarly, for food blogging sites, you can create a custom post type for recipes. You can add custom fields, like recipe name, ingredients list, images, etc.
Why You Need to Use Elementor with the Custom Post Type Plugin
Using Elementor with a custom post types plugin can offer several advantages. The duo can help beautify your custom post types templates and add new functionalities. Take a look at some key points and why you should consider using both of them together.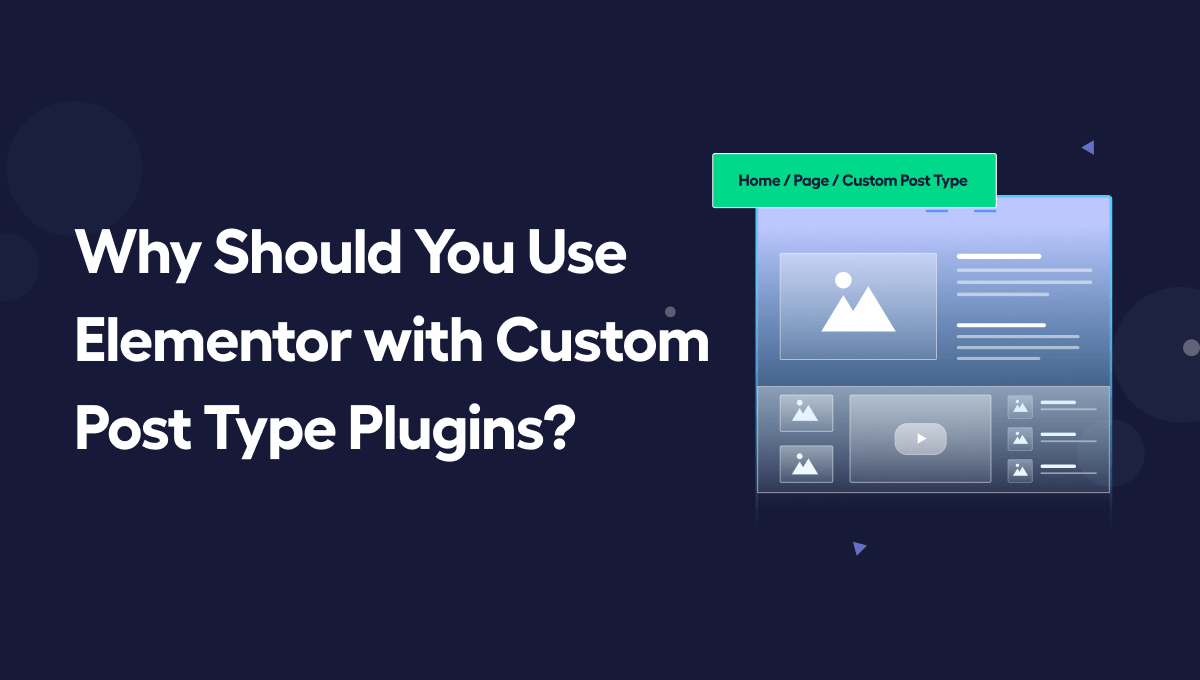 a. Customize Content Layouts
Elementor can allow you to create highly customized and visually appealing layouts for your custom post types content. This can simplify the content creation process and uphold user experience. Make sure you are creating wireframing before starting to design your page.
b. Dynamic Content Integration
Elementor has many dynamic widgets. You can use them to automatically pull content from your website and display them through custom post types. This eases the content management process.
c. Create Responsive Design
Elementor is well-known for its responsive design capabilities. You can make your custom post types templates responsive and look great on all devices using Elementor.
d. Time and Cost Efficient
Elementor is a great no-coding page builder solution. So, you don't have to depend on extensive custom coding to design custom post types templates.
e. Create Aesthetically Pleasing Design
Elementor offers robust customization options. You can change the site-wide color scheme, fonts, typography, hover effects, animation, and more to make custom posts eye-soothing. Take a look at how to create professionally beautiful websites.
Best WordPress Custom Post Type Plugins for Elementor
Hope you are now convinced why you should consider using Elementor with the custom post types plugin. This section will discuss some great custom post types plugins seamlessly integrating with Elementor. Keep reading to the end!
1. Advanced Custom Fields (ACF)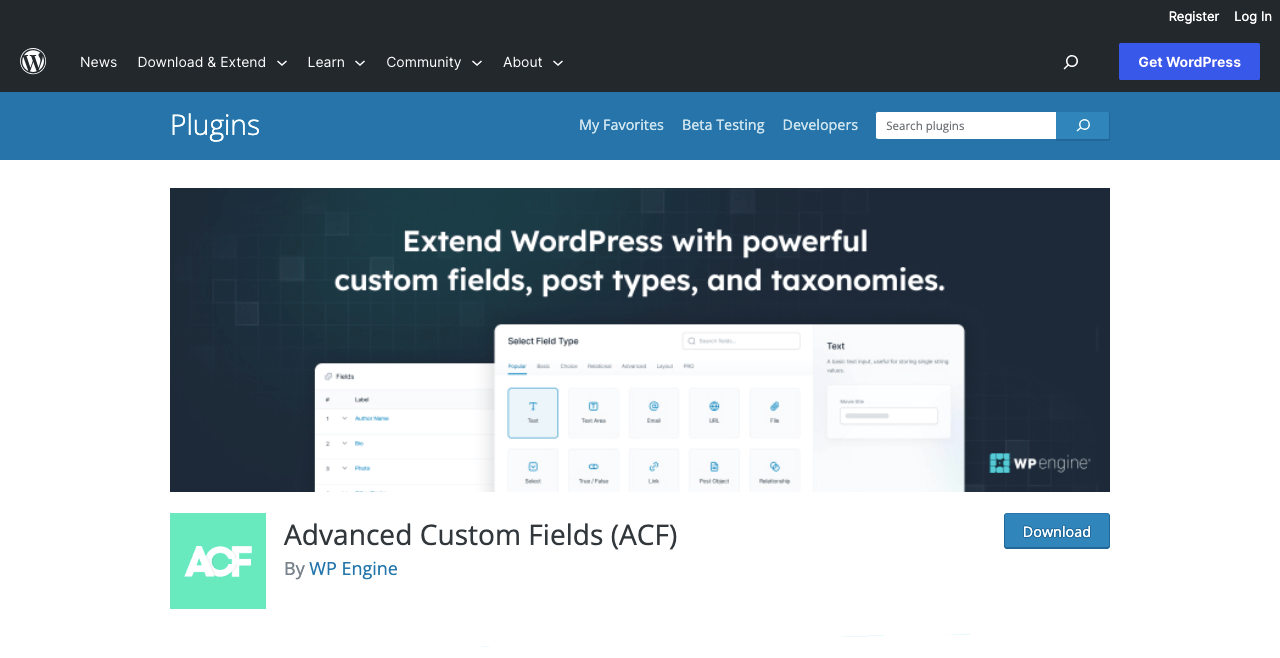 Advanced Custom Fields (ACF) is a powerful plugin to extend WordPress functionalities by adding custom fields to the web content. Once your custom fields are ready, you can register them separately as custom post types. ACF allows you to create 30+ different types of custom fields.
You can add the fields all over your WordPress site, including posts, pages, users, media, comments, taxonomy terms, and custom options pages. You can define the custom fields' labels, settings, and capabilities of custom post types directly within the plugin's interface.
Key features of the Advanced Custom Fields (ACF) plugin
Simple and user-friendly interface
Flexible to customize the settings of each field
Repeater fields let you create sets of fields to be used multiple times
Conditional logic allows to hide or show fields based on conditions
Seamlessly works with all the popular themes and plugins
Extensive documentation and community support
2. Custom Post Type UI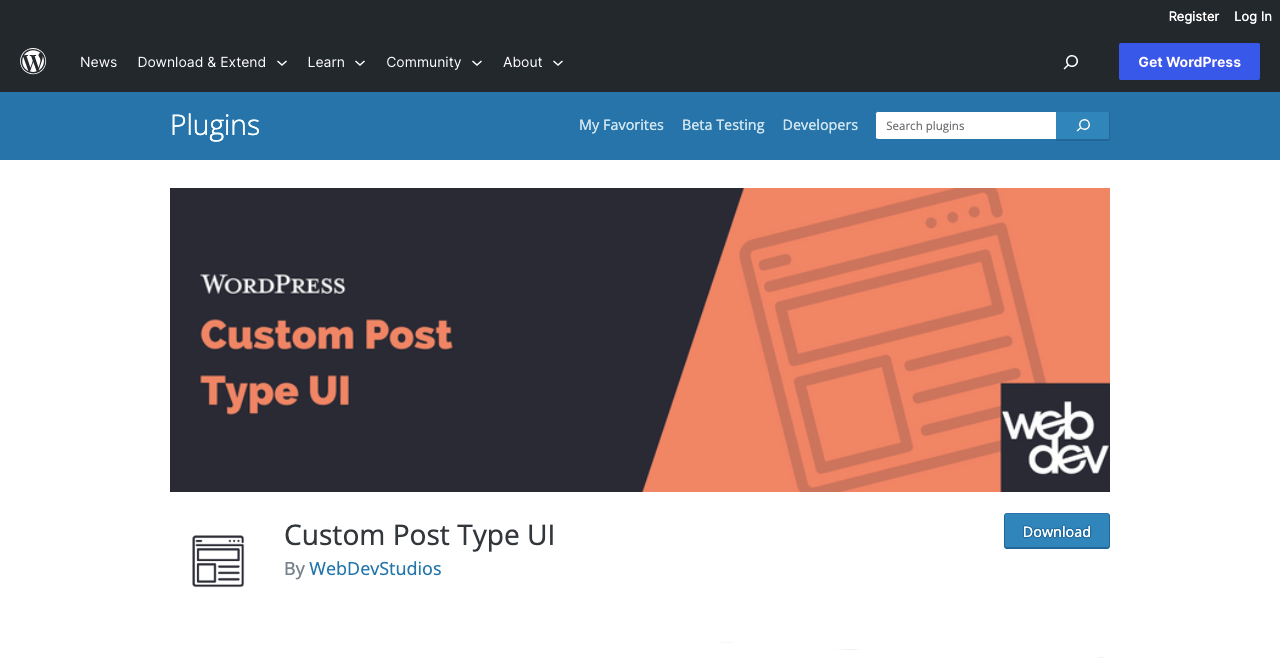 Custom Post Type UI is the most custom post type plugin for WordPress. It comes with a straightforward setup process so you can get started easily. Once installed, you can create almost any custom post type and taxonomy for your website.
If you already had any custom posts before installing Custom Post Type UI, you can import them and edit them via the plugin. You can also export the custom post types and use them on other websites with the plugin. This makes content management remarkably easy between different sites.
Key features of the Custom Post Type UI
Easy to create and configure custom post types and taxonomies
An intuitive dashboard to create and manage custom post types
Advanced labeling options for post types
Easily integrates with other themes and plugins
User-friendly navigation system between options
Completely free to use (no pro version yet)
3. Toolset Types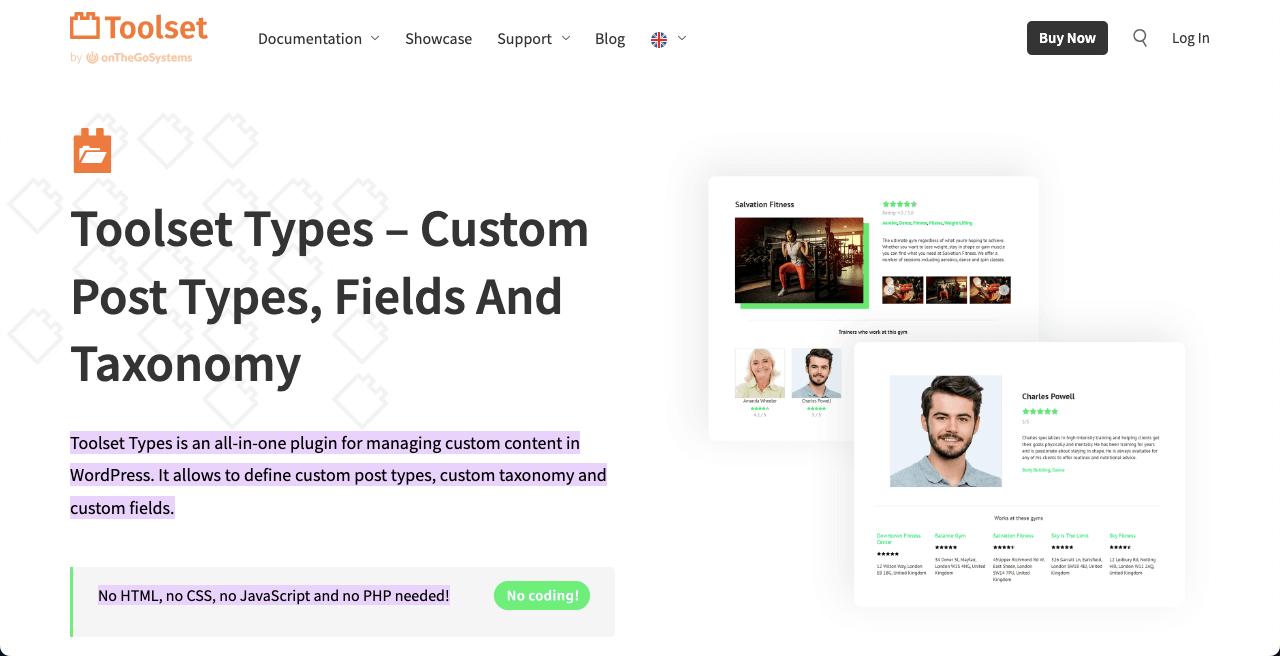 Toolset Types is a prolific custom post types plugin. It adds advanced functionalities to your website by which you can create and manage custom post types, custom fields, and taxonomies. Its intuitive interface allows you to build dynamic websites without needing to do any custom coding.
Toolset Types allow you to create reusable field groups and use them repeatedly across your website. You can organize content by category and custom fields to create custom content types. You can also specify the mandatory fields so all the necessary information is filled in.
Key features of the Toolset Types
Built-in validation ensures content that users input is complete and correct
Allows to connect between different post types
Seamlessly integrates with WooCommerce, Yoast, and other popular plugins
Has comprehensive documentation and user guides
The Toolset Map is extremely helpful for advanced directory sites
Lets you create custom post templates, archives, and search functions with the Toolset blocks
4. JetEngine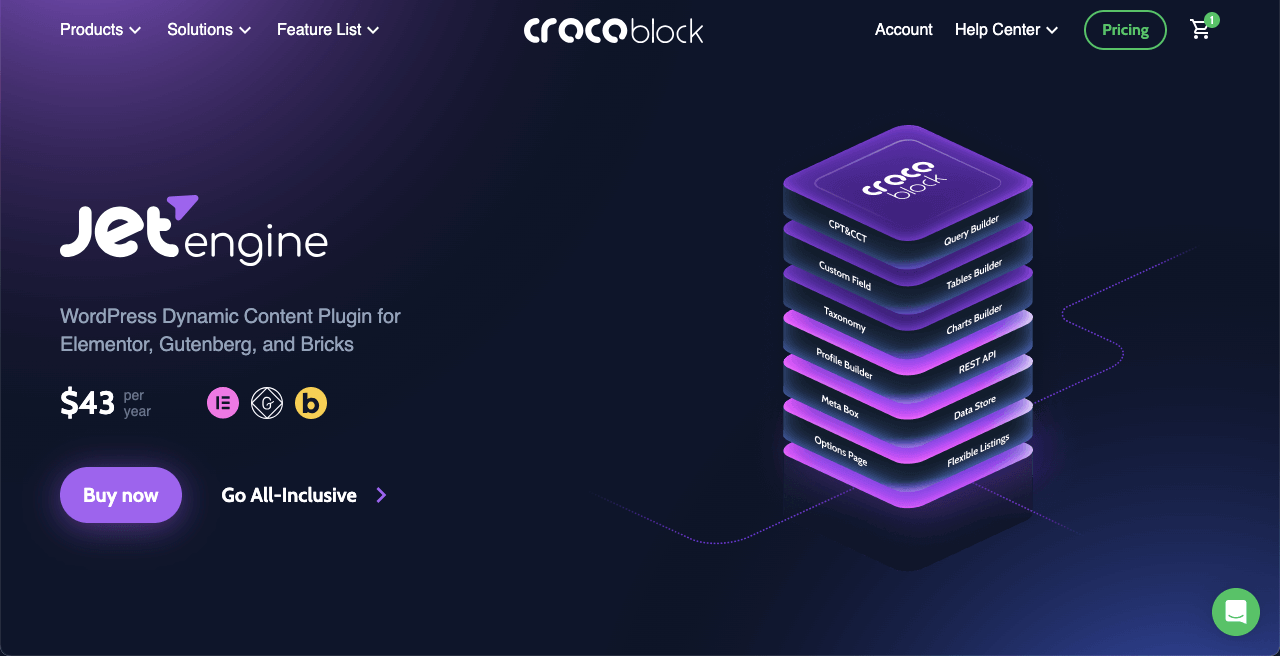 JetEngine is a versatile and feature-rich WordPress plugin for creating and managing advanced dynamic content and complex websites. The plugin excels in creating custom fields, taxonomies, repeater fields, conditional logics, templates, and front-end submission forms.
Another standout feature of the plugin is creating custom post types and establishing relationships between various post types. As a result, users can create connections and associations between related content. The feature proves invaluable for websites with complex structures requiring seamless navigation.
Key features of the JetEngine plugin
Powerful Query Builder enables users to create advanced loops and queries
Allows to create meta fields to store additional information in custom post types
Easy to change the labels of various elements, like fields and custom post types
Lets you create categories for organizing information
Conditional logic allows you to hide or show fields based on certain situations
Advanced filtering and search options help visitors quickly sort relevant information
5. Meta Box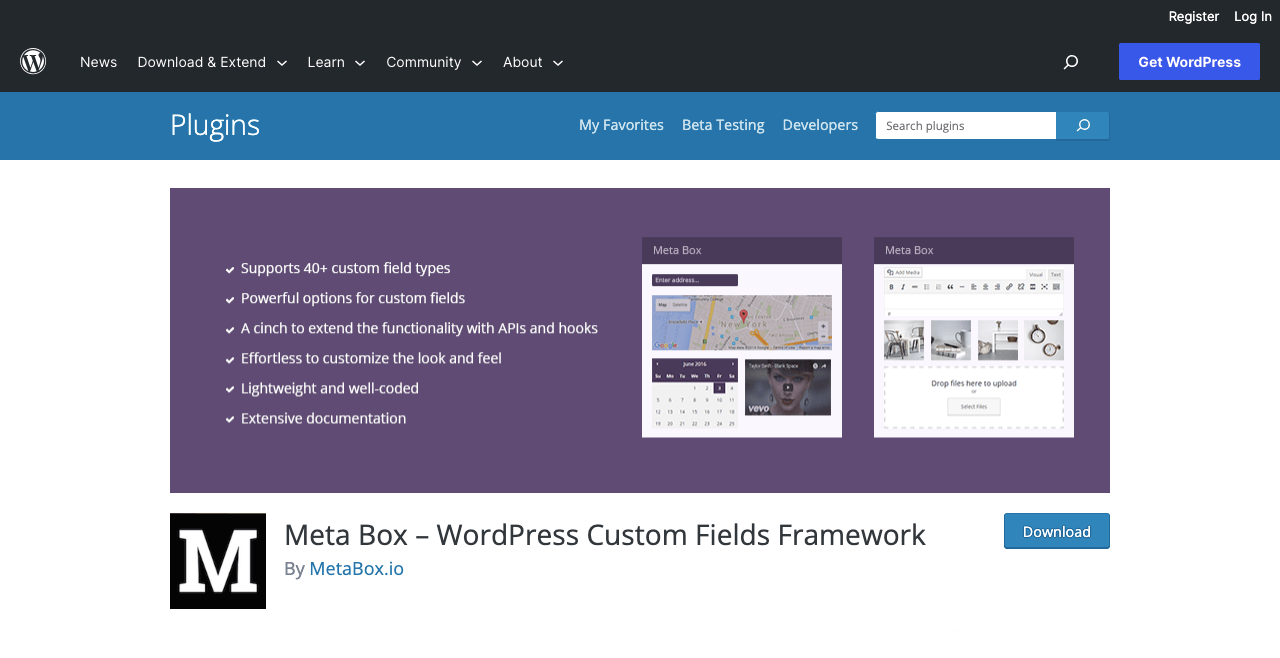 Meta Box is a robust WordPress plugin to create custom fields and custom meta boxes for websites. You can add various types of custom fields to your content, like checkboxes, date pickers, text, text areas, images, files, radio buttons, user, taxonomy, and embed.
The plugin has various extensions, like box builder, box group, settings page, conditional logic, and user profile. The custom post type is also an extension by which you can easily create and manage custom post types on WordPress with an intuitive interface.
Key features of the Meta Box plugin
Supports 40+ custom field types
Lightweight and well-coded
Has lots of powerful options for custom fields
Allows to create any type of metadata or custom fields
Offers lots of free extensions
Extensive documentation and tutorials are available
6. Post Type Switcher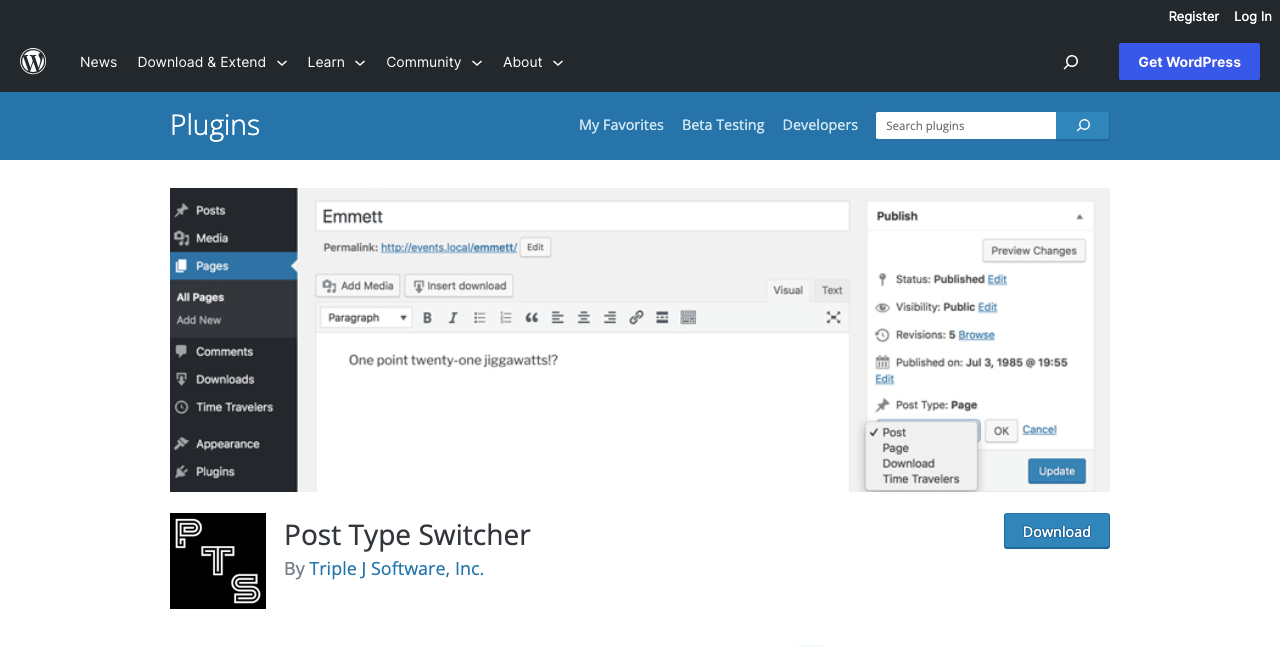 The Post Type Switcher is a beginner-friendly WordPress plugin that provides you with a convenient way to switch or convert the post type of content. You can easily change the type of any post, page, or custom post to another post type with it.
You'll get the post type switcher functionality within your post editor screen. You have to select the desired post type from the dropdown menu from the right sidebar of your editor. Once you save the changes, the post will be converted to the new post type.
Key features of the Post Type Switcher plugin:
A user-friendly interface is integrated into the WordPress dashboard
Maintains integrity of content and its structure during the conversion
Supports conversion between different post types, pages, and custom posts
Simplifies the process of reorganizing content
Allows bulk editing and seamlessly works with the block editor
7. Pods – Custom Content Types and Fields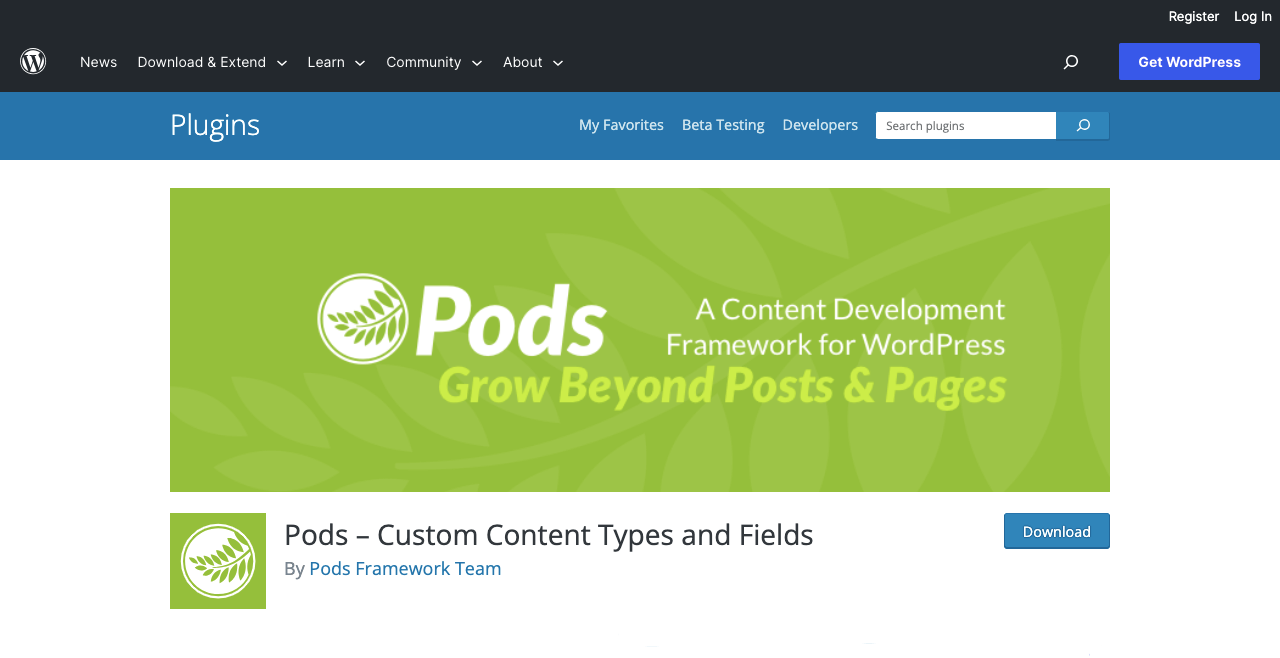 Pods can help you create a content management platform on your WordPress site to create and manage any content. It provides additional tools to extend the functionalities of the default post type and drive your content growth.
You can define new fields and taxonomies to create unique data structures for your content. This feature is extremely useful for directories, portfolios, and eCommerce sites. Pods also allow you to create custom templates and reuse them in different cases.
Key features of the Pods plugin:
Add and display custom fields anywhere
Advanced relationship management ability between fields
Works with tons of addons (both pro and free) to extend content creation power
Integrates with WPML and Polylang for sitewide translation
Offers robust API support for customization and integration with other plugins
Explore how to design dynamic web pages in WordPress with Pods and Elementor.
8. Custom Post Types and Custom Fields Creator – WCK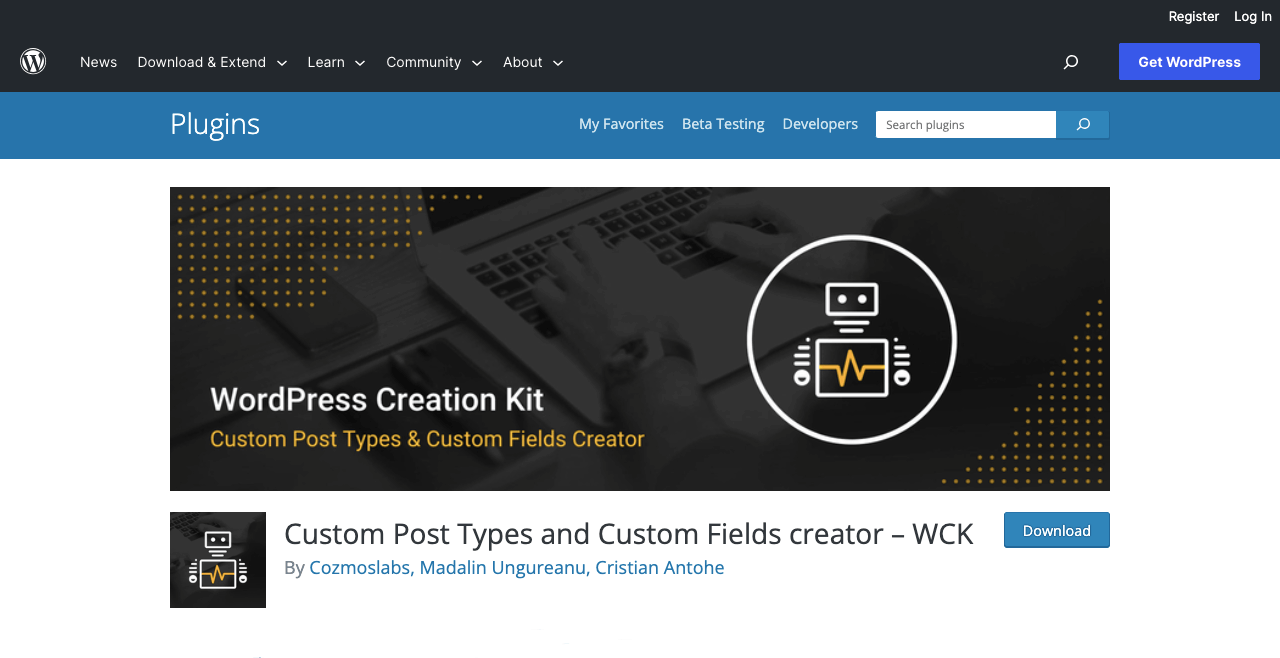 Custom Post Types and Custom Fields Creator is also known as WordPress Creation Kit. It consists of three different tools that help you create custom post types, custom taxonomies, and custom fields (with meta boxes).
Its drag-and-drop interface allows you to define custom fields for your posts without needing to code. Besides, the plugin offers various field types, so you have the flexibility to capture and display different types of data.
Key features of the Custom Post Types and Custom Fields Creator plugin:
Hierarchical relationships between post types for creating complex data structure
Has seamless integrations with other post types plugins like ACF and Toolset
Advanced options are available for labels, descriptions, and field settings
Suitable both for beginners and advanced users
Supports repeater fields and groups for custom fields.
FAQ on Best Custom Post Type Plugins for WordPress
Hope you got a quick idea about the top WordPress custom post type plugins from the discussion above. We'll now answer some common questions that people usually want to know about custom post type plugins. Keep reading!
What is the difference between posts and custom posts?

Posts are the default content type in WordPress, typically used for news articles and blog posts. They can be categorized and ordered by tags and dates, so you can quickly navigate them afterward.

Custom posts are used to create and manage different types of content, quite different from blog posts. You can define your own content structures and fields, which aren't possible in default posts.

Custom posts are used to present respected sections of portfolios, products, events, testimonials, etc.

How many custom post types are there in WordPress?

There are five custom post types in WordPress. They are:
1) Post
2) Page
3) Attachment
4) Revision
5) Navigation menu.

What are the things you should consider when creating custom post types?

Purpose, functionality, naming, slug, labels, supports, hierarchical order, capabilities, templates, and compatibility are the things you must consider when creating custom post types on WordPress.

Can I create custom post types without a plugin?

Yes, it is possible to create custom post types in WordPress without using a plugin. WordPress provides a function called register_post_type() that allows you to create custom post types programmatically.

But this option won't be helpful for beginners and no-code users.

Can I edit custom posts with Elementor?

Yes, you can edit custom posts with Elementor. Elementor actually works with all posts and custom post types in WordPress.
Final WordPress!
Custom post types are mandatory when default post types provided by WordPress aren't enough to showcase your content properly. For example, eCommerce, portfolio, review, event, maps, and directory are some common types of websites where you badly need the support of custom post types.
Now, it's your turn to explore all the plugins we have listed above and select the one that best suits you. Toolset Types and JetEngine are the only plugins that have no free versions. But the rest have a free version on WordPress.org.
You may explore the free versions at first. If you find them enough, you may stay with the free version and update anytime later. Thanks for staying with us and reading the full post.