If you are going to design your website, you can do it in several ways. For example, you can take help from professional web designers and web developers or you can do it by yourself. In either of the cases, it takes both money and time.
Fortunately, if you choose WordPress to manage your website, you can also develop and design your website by using WordPress themes and plugins. But the problem is still you can not quickly add your own taste the way you want by changing each and every element with custom styles.
This is where Elementor web page builder can go all out to change each and every elements exactly the way you crave for. However, the core plugin sometimes needs to be extended with third party extensions to add extra functionalities.
Today, we will talk about such a third party extension, the Happy Elementor Addons, and the fact that whether it is really worth buying the Happy Addons for Elementor in light of its uniqueness and exclusivities. Now let's begin…
A Brief Intro to the Happy Elementor Addons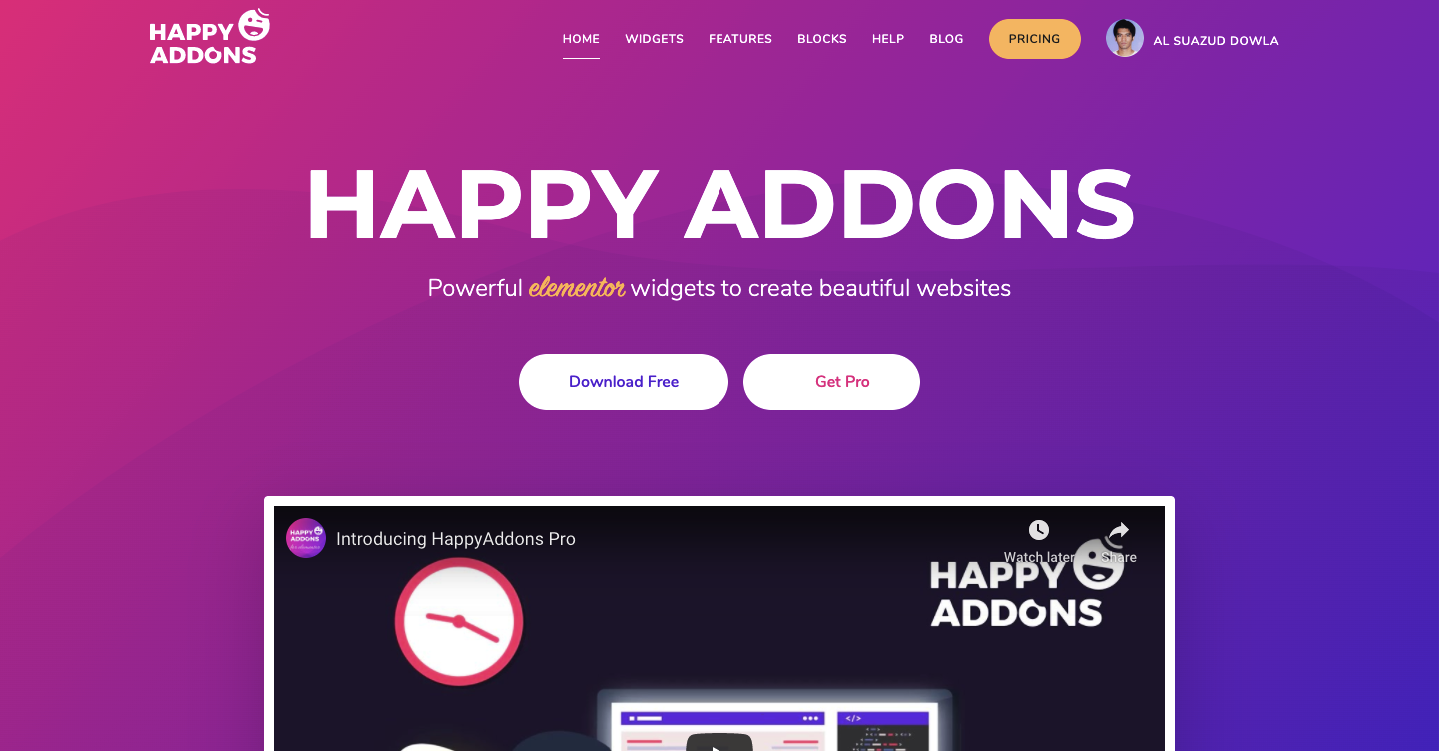 The Happy Elementor Addons or simply the HappyAddons is a one of a kind WordPress Addons that extends the power of the Elementor Page Builder. By giving it extra widgets and functionalities like adding Unlimited Nested Elements, Preset, Live Copy-Paste, Animations, Floating effects, and so forth.
Currently, the Happy Addons has a whopping 100,000 active installations.
With this unique page builder extension, you can make customize the webpage as a professional web designer does.
Unique & Exclusive Features – Is It Really Worth Buying the Happy Addons for Elementor
These are the unique utilities if you are going to choose the Happy Elementor addons:
Floating Effects
With this unique Happy Addons effect, you will be able to place an element or elements on your webpage as if they were floating in the water by giving effects like 3D translate, rotate, etc. This way, you can create cool effects and showcase your products or other things like a pro. This widget can be used with any Elementor widget.
CSS Transform
Using the unique CSS Transform effects, you can have an element (such as text or image) rotated, translated, skewed and scaled at your disposal. It works with every Elementor widget apart from Happy Addons widgets.
Widget Background Overlay
The unique background overlay widget helps you to use an image as the background. Not only can you use the image as the overlay but also you can change the overlay color, opacity, etc., without any hassle. You can use this feature with every Elementor widget.
Happy Column Control
We know how much it is important to make a webpage responsive to any device. Especially a great number of visitors prefer using mobile phone sets to browse the internet. Thus, optimizing the webpage for mobile devices has become necessary. With the Happy Column Control widget, you can also control the width of the columns by pixel-perfect ratio.
Wrapper Link
In the Elementor editor, you will need to add links to a particular section, column, and widget. To do so, you will usually need a button. But adding links with buttons may damage the aesthetics of your design.
But with the Wrapper Link widget, you will be able to add links without using any button. Cool, right?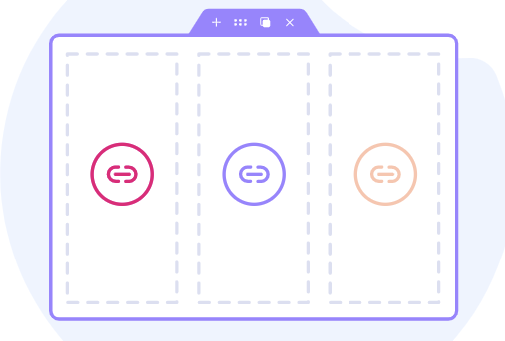 Happy Line Icon
Line icons are the reflection of the delicate and exquisite nature of the agency behind the website. They perfectly illustrate the point and add freshness and crispness to a design.

Designmodo
To stand out from the icon you need to use appropriate icons for the sake of neatness and perfect illustrations. The Elementor page builder comes with only a set of 5 icons. But with the Happy Addons Line Icon, you can now have a staggering 500 amazing icons in your library.
On-Demand Asset Loading
None will deny the importance of faster page loading speed. If you are using the Happy Widgets, only those limited number of assets will load on the page. This significantly helps to increase the page loading speed.
Grid Layout
To ensure the alignment of the webpage elements, the grid system is a must. It also helps to ensure the optimal navigation path for the visitors. Some of us may design depending on the eye vision. Fortunately, the Happy Addons has this feature built-in.
Presets
If you want to get exciting design for your website from scratch, it will take tons of time. Because of the time-consuming process, you will get easily dulled.
But here we have the solution for you with 400+ ready-made presets for instant use. Now you are able to get any design just for some single clicks.
Cross-Domain Copy Paste
Who doesn't want to save their time by using this amazing feature? If you have multiple websites and want to use the same design on another website.
With the Happy Addons Pro, you can copy any interesting eye-catchy design from HappyAddons Demo site to your site.
You just need to copy and paste the design from one website to another. This is exclusively possible in the Happy Addons. Just like you have the power of Harry Potter's magic wand.
Unlimited Section Nesting
The current version of Elementor page builder it's impossible to add multiple sections within a page. You are able to go with the limited feature of the default inner section widget but to develop your work by adding more sections.
To do that we developed Unlimited Section Nesting Feature of Happy Addons Pro, now you can add unlimited sections within a single section.
Live Copy
Who says that crafting the demo designs are impossible? A lot of users say that it is impossible to copy the same design to their website. For these users, we have introduced the Live Copy feature. With this feature, you can copy and paste designs with just a few clicks.
Image Masking
Sometimes it is not enough to use a bland square or rectangular shaped images for the sake of aesthetic design. This is why you need SVG shapes to add extra beauty to your designs.
If you are using the Happy Addons, you don't need to use the Adobe Photoshop or Illustrator to do image masking anymore. With the Image Masking SVG shapes of the Happy Addons, you will be able to transform an image to beautiful masked images.
Display Condition
You can restrict a certain contents of your webpage based on the Operating System, Browsers, date range, days, login status, user role, etc. This is effective especially if you want to make your website more user-friendly by showing appropriate content to the appropriate audience.
Happy Clone
If you are done with a design in a particular page or post, you can effortlessly clone to other webpages as well. Unlike any other Elementor plugin, this exclusive feature will help you find any design you have done before with the Happy Addons.
You can find the previously made designs by searching it using the Elementor finder (cmd/ctrl+E). You will then find options to clone the same design.
Awesome Widgets
Here are a few reasons why it is worth buying the Happy Elementor Addons for your website:
Exclusive Collection of Widgets
The Happy Elementor Addons ships with 25 free widgets and 26 premium widgets. Using these widgets, you can shape your webpages up with using a different type of Elements. Here are a few noteworthy widgets of the HappyAddons:
Fun Factor Widget
If you want to showcase your business achievement or happy clients or things like these then this widget can give you full freedom to showcase them using a lot of different styles.
There are a lot of designs already available to the website. So, you don't have to make designs from scratch all the time. You can just copy and paste the designs from the website.
Radar Chart
If you have multiple related data to show on your webpage then, this is the widget to go. This nifty widget helps you to create a map of your product information in great visual representations.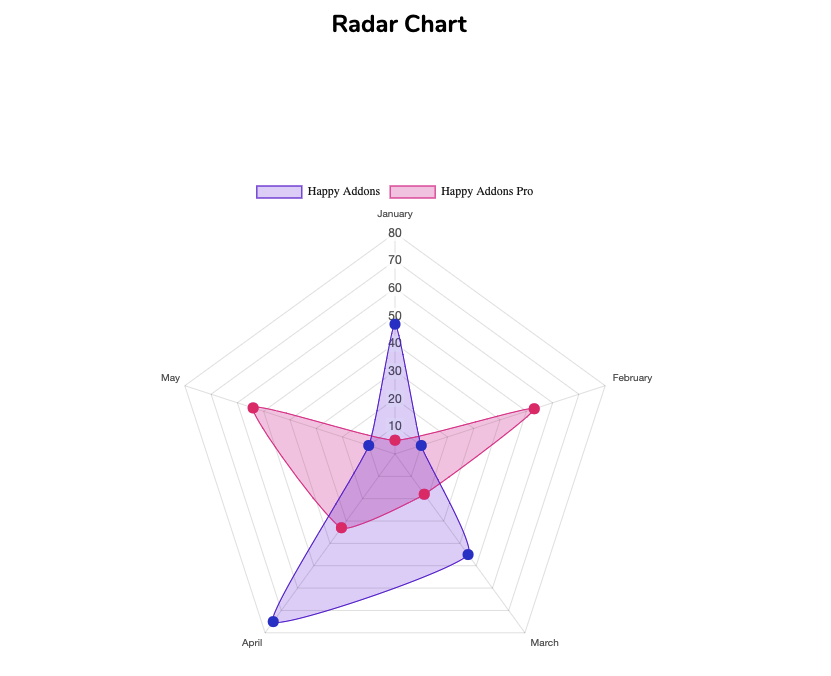 You can also change the appearance of the widgets very easily using the styling options.
Polar Area Chart
Polar Area Chart widget is much like the Radar Chart widget which also helps to show data in graphical representations. The widget will show the numbers and name of the area with eye-catching animations while you place your mouse over it. Here is a sample design: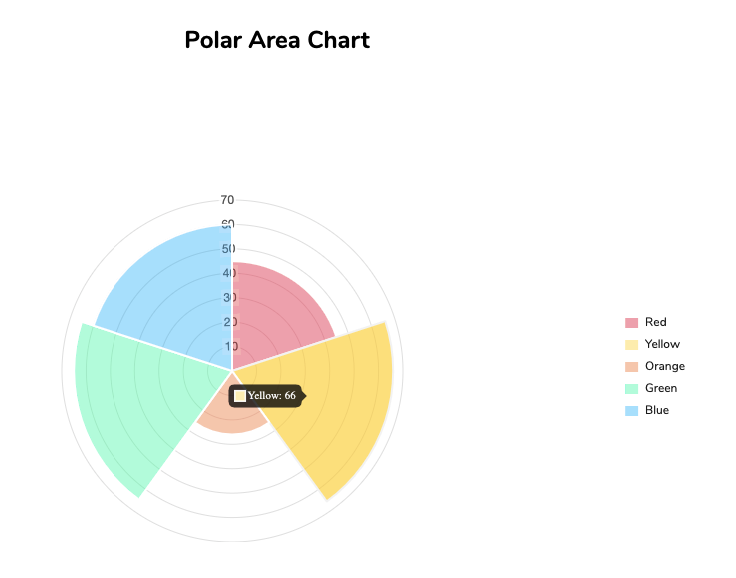 Hotspot Widget
This widget is a clever tool to describe the different sections of an image. For example, you may want to introduce your team from an image or you may want to explain different parts of your products from an image: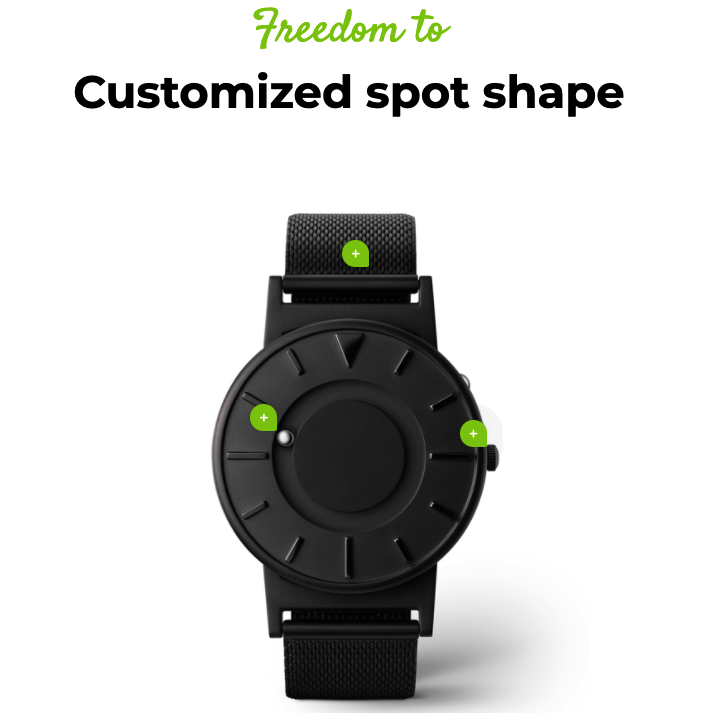 Promo Box
If you are launching new products on your website, nothing can beat the idea of using a Promo box. With this simple yet effective widget will make your products and offers more lucrative. You can customize the widget and use the premade designs by simply copying the designs from the website.
Price Menu Widget
For any online store, the price menu is a bare necessity. So, you have got to use it to showcase the product pricing of your products. The Happy Elementor Addons brings you the Price Menu widget so that you can easily design your pricing page: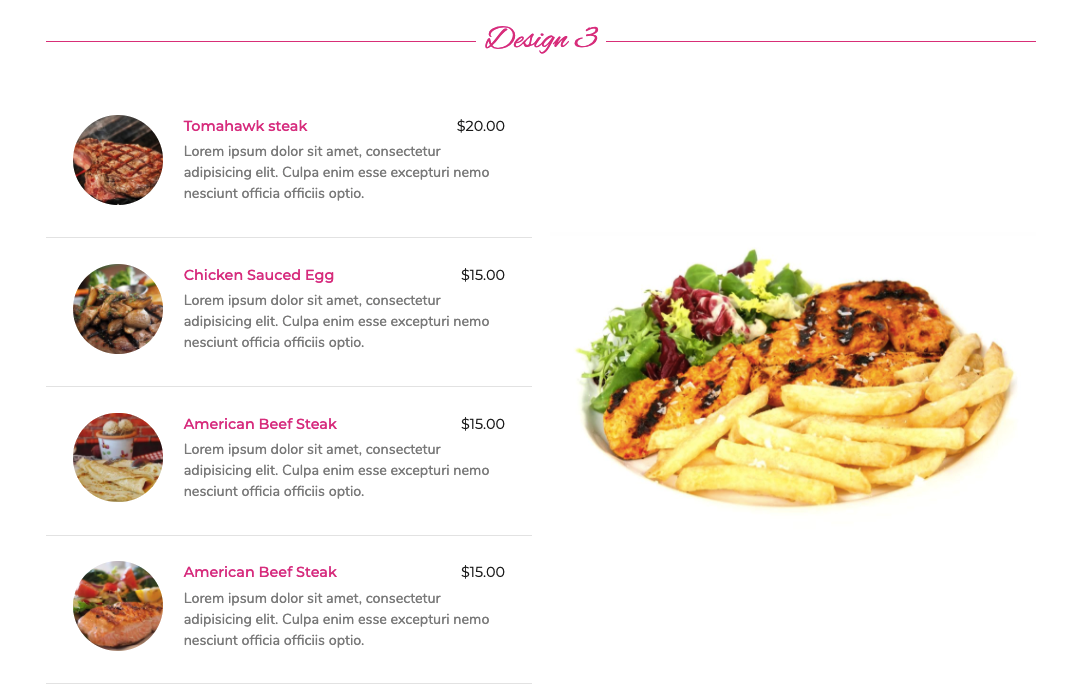 Instagram Feed widget
None can deny the importance of Instagram marketing. With the help of the Instagram Feed widget, you can show your photos without any effort. Interestingly, you don't have to design the photo layouts yourself. That means you can effortlessly copy, paste, and customize the design of the Instagram Feed anytime.
List Group Widget
You can use the list group when you are enlisting your product features or the services you are dealing with. While using this List Group widget, you can style them using the Elementor editor. You can also use the Happy effects for this widget. Here is a sample design of the List Group Widget: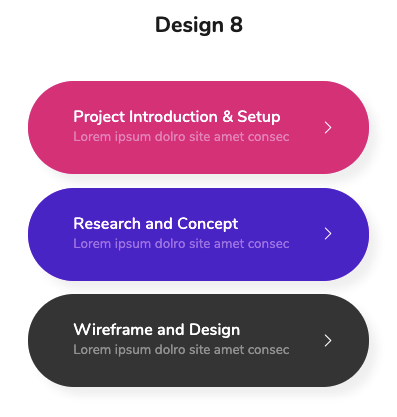 Logo Carousel Widget
If you want to show your product logos and partner logos with a good-looking animation then this Logo Carousel widget to choose from. With advanced controlling, you can add effects or change the default appearance of the premade designs.
Timeline Widget
It's quite common that companies or any institution want to showcase their business journey or history in a graphical timeline. This helps the visitors portray the history of your business on the mind of the visitor very easily.
Flip Box Widget
With the Flip Box widget, you can create amazing viewing angles of an element by rotating it. Like all other widgets, you can easily customize the widget as per your need.
Wait! It's not finished yet!
The Happy Elementor Addons also comes with a lot more unique exciting features like:
Needless to say how much it is important to embed a contact form on your website. With the Happy Elementor Addons, you can add a host of web forms. Currently, the tool has integrations with 6 web forms.
They are:
weForms
Contact Form 7
Ninja Forms
Gravity Forms
WP Forms
Caldera Forms
And guess what these integrations come even with the free version.
Conclusion
It's not the Happy Elementor Addons alone out there in the market as the third-party Elementor Addons. So, why would you go for the Happy Elementor Addons?
Well, the answer is very simple – That is it differentiates while comes to the unique and exclusive features compared to the other available Elementor addons.
Finally, it's all up to you to make your website stand apart from the crowd. If you already using the Happy Addons, please let us know your experience by dropping us a line. Thanks.