Haven't you joined the grand celebration of HappyAddons yet? Hurry up! Don't miss this great opportunity to treat yourself with amazing deals and huge discounts from renowned WordPress companies.
Its the celebration of our great achievement. HappyAddons has touched another milestone within a short time period. Yes! now we are a proud family of 40,000+ Happy Members.
This can't be possible without your enormous support and unconditional love. Now it's our turn to give back the favor. Take it as a token of love for our beloved clients, users, and well-wisher.
HappyAddons gives you the opportunity to win $35,000+ Worth of Premium Plugins/Themes along with the possibility of getting an iPad. Anyone can participate in our Grand Giveaway by following some easy steps only!
We have been conducting this event from the first week of March and it will end in the next week. Thousands of people have already joined us to snatch the best deals from the top brands.
So, what are you waiting for? You have still a fair chance to grab your desired gifts as well. Have a quick look over what you can miss not performing this event!
What You Can Win From this Grand Giveaway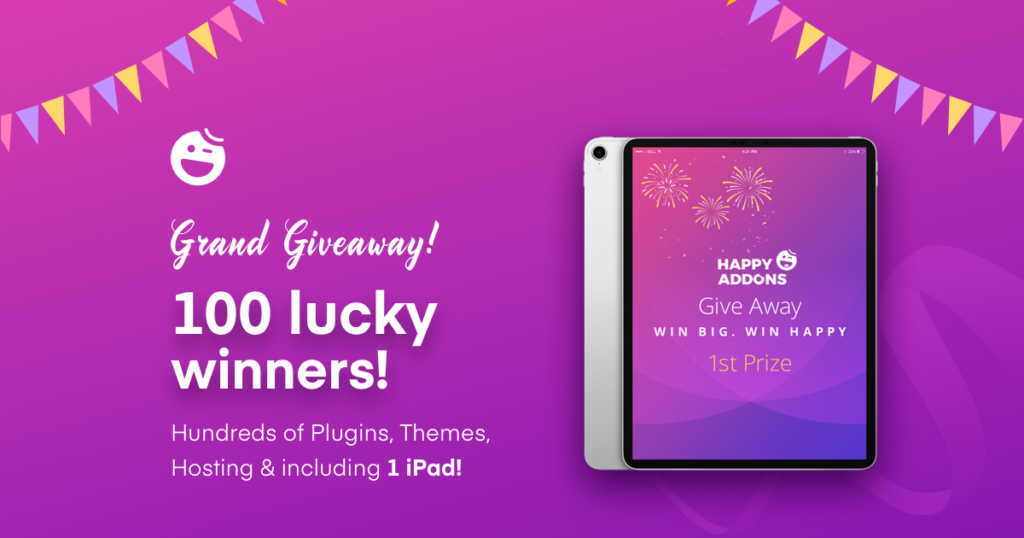 Since most of us pass this time in home-quarantine. In this epidemic, get yourself active and make your lazy-time productive by winning some useful gifts for your business. It won't take more than 10 minutes.
This time we are offering hundreds of premium WordPress themes, plugins, and web hosting service for our participants. It worth more than $35,000.
For that, we have partnered with many WordPress companies to bring you some of the best WordPress products – for free! And we promise no one will remain empty-handed. There are some gifts for everyone!
Not finish yet! We have a Grand Prize for the highest scorer. So, you have the chance to win an iPad also.
Try your luck today by participating in this Grand Giveaway.
How the Giveaway Gifts will be Distributed
Get curious about how we will distribute the prizes? Well, we will shortlist 100 winners from the thousands of entries based on their points. Then, categorize the winners into 3 segments. And distribute the total amount in three partial amounts.
Here the distribution plan:
| | | |
| --- | --- | --- |
| Level of Prizes | Number of Winners | Amount of Gifts |
| 1st Level | 15 Winners | 60% of total prize pool |
| 2nd Level | 25 Winners | 25% of the prize pool |
| 3rd Level | 60 Winners | 15% of the Prize Pool |
Be the Highest Scorer & Win an iPad ?
HappyAddons Grand Giveaway Winner List
We have selected the top hundred winner list. Here is the list of the winners. Please check your email to get the prizes. ?
Our Top Scorer Mr. David Escamilla win the iPad. ?
Here is our Happy Grand Giveaway's winner David Escamilla who won an iPad along with other Paid WordPress Themes, Plugins, and Hosting.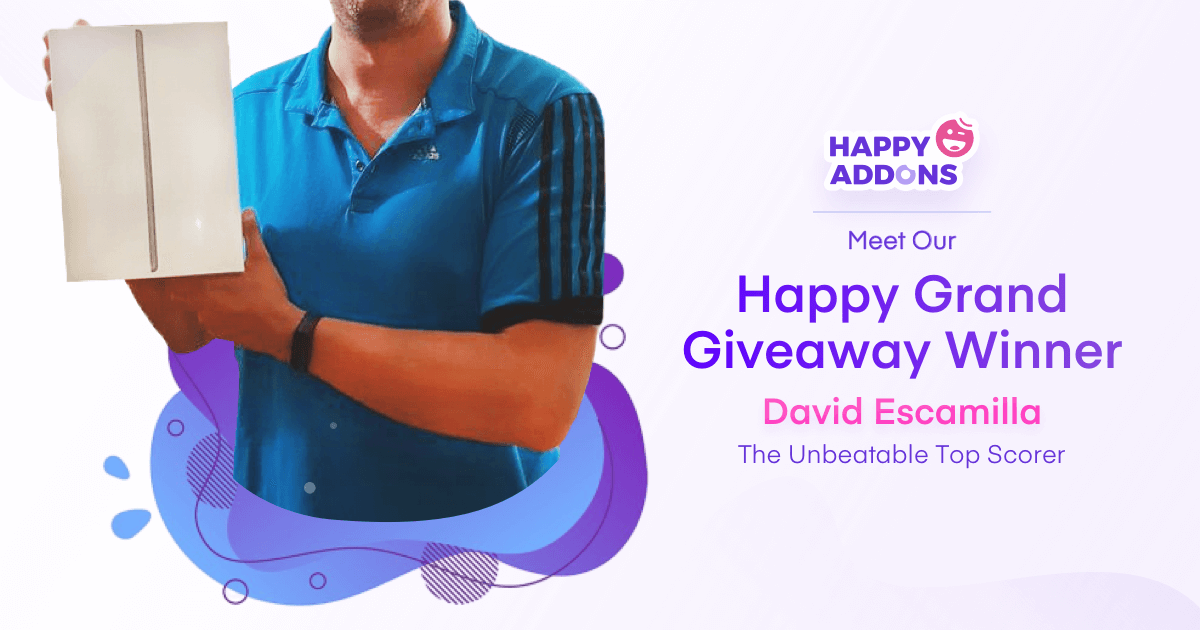 He scored 694 which is the highest number among all the participants. Unfortunately, we failed to send the gift to him on time due to the COVID-19 crisis. However, David was patient and finally, we have now been able to send him his iPad.
Let's congratulate our winner! We really appreciate all of his hard work and effort. It's a matter of joy to have him with us at this Grand Celebration.
Process of Collecting Gifts
We have sent the all necessary details through our email ([email protected]) to your email addresses. As every product company has its own policy so we have tried to do our best to find a better way for our winners to distribute the products. On the given prize list in your email, you may find some contact person email addresses. We have sent your email address to our partners as well. To collect their product you have to drop emails to that email address. They will give you your desired products. And there are some coupon codes and licenses for other products. We have mentioned the licenses as the license tag to make it easy for you.
HappyAddons Grand Giveaway Tools List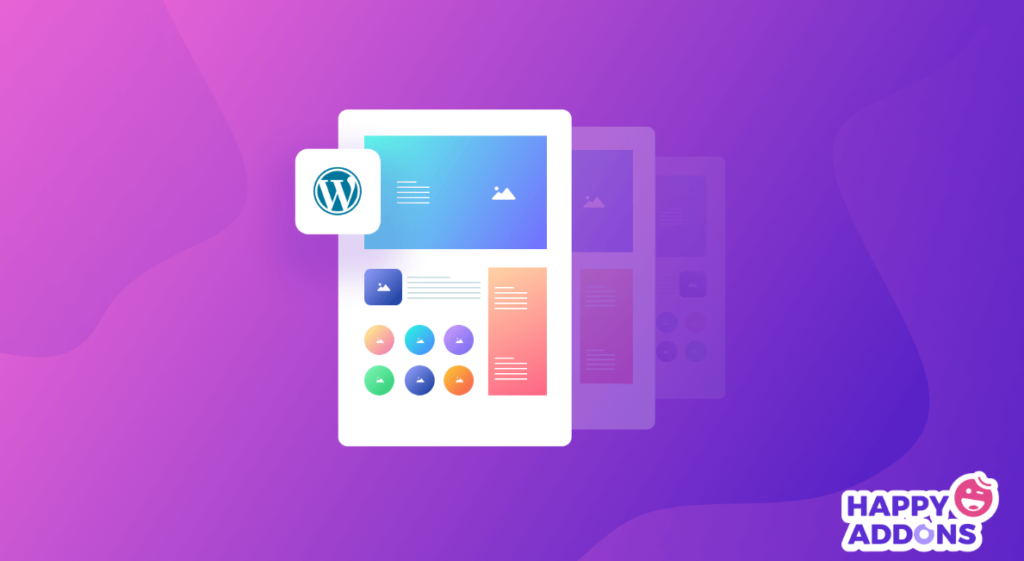 Check out the Grand Giveaway Tools list below:
Starting off with web hosting, Cloudways, a managed cloud hosting platform, is the Platinum hosting partner for this giveaway.
WordPress Plugins
Dokan
WPERP
WP Project Manager
WP User Frontend Pro
Happy Addons
WebARX
WPREMOTE
BlogVault
WP Security Audit Log
Password Policy Manager
Social media share and follow buttons
Fonts Plugin
WP Coupons And Deals
ComingSoon & Maintenance Mode
G Map Widget
Social Booster
WEGLOT
Woo Sell Services Plugins
EDD Sell Services
WP Rocket
CSS Hero
SEOPress
AAWP
WP VR
Affiliate Coupons
Ali Drop Ship
Social Rabit
WordPress Themes
Writers Blogily
GUTENSHOP
ShowTrack
Branding Magazinely
WooVina
StoreMate Dokan
LearnMate LearnDash
LearnMate LifterLMS
Reign BuddyPress & bbPress
Woostify
MHTHEMES
How to Participate in this Grand Giveaway & Grab The Price
You only follow these 3-easy steps to join this HappyAddons Grand Giveaway.

Use your personal email or Facebook id to enter this game. Your ID should be genuine as we will contact you for further instructions through these platforms. Also, you will get a verification email instantly in your mailbox.
After registering you will get a panel with different social media icons. This is the place to earn some points. So, add points to your profile by sharing on these social platforms.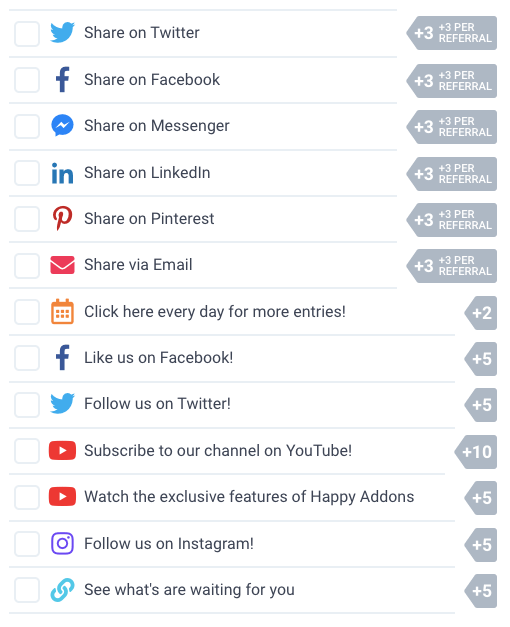 Moreover, you will get some advantages if your friends sign-up through your shared link also.
Don't forget to subscribe our YouTube channel because it holds the maximum points. Also, click on the "Click here every day for more entries". So that you can earn extra points every day.
Note: Recheck and disable your 'Add blocker' if you get a 404 error.
Make It Worth Staying Home & Win Amazing Gifts
We are really thankful to all of our clients and users. Without your contribution, we can't make this so far. In addition, we also grateful for our glorious sponsors for their splendid contribution to make this event successful.
Participate and win popular WordPress plugins & themes today! Have a quick look over our Giveaway Terms & Condition before starting.
HappyAddons always try to include exclusive features and widgets to its list. So that users can get useful tools to create Elementor sites effortlessly. This time also we arrange this event to facilitate our users with some extraordinary.
Don't miss out! Make it worth staying home by joining this event. And save your pocket for upcoming days. As we are spreading HAPPINESS to make everyone HAPPY!
HappyAddons Giveaway is now over. Signup our newsletters to keep yourself up to date with the next campaign