After publishing a site on WordPress, you'll see a text like 'Another WordPress Site' or 'Powered By WordPress' at the bottom of your web footer section. Many WordPress themes also automatically generate this type of text in the footer section, such as 'Built By Theme Name'.
Although it may not bother some web users, leaving it unchanged can cause a severe negative impact on your website. Visitors will count your website as unprofessional and think it is outdated. This is why updating the copyright status is so vital for the authenticity of a website.
You also need to change the copyright year when updating the copyright text. This article will present to you multiple ways how to change footer copyright text in WordPress. It will help you choose the suitable method that matches your preferences.
Let's get into the discussion without wasting any more time.
Table of Contents
Why Should You Change the Copyright Text in the Footer Section?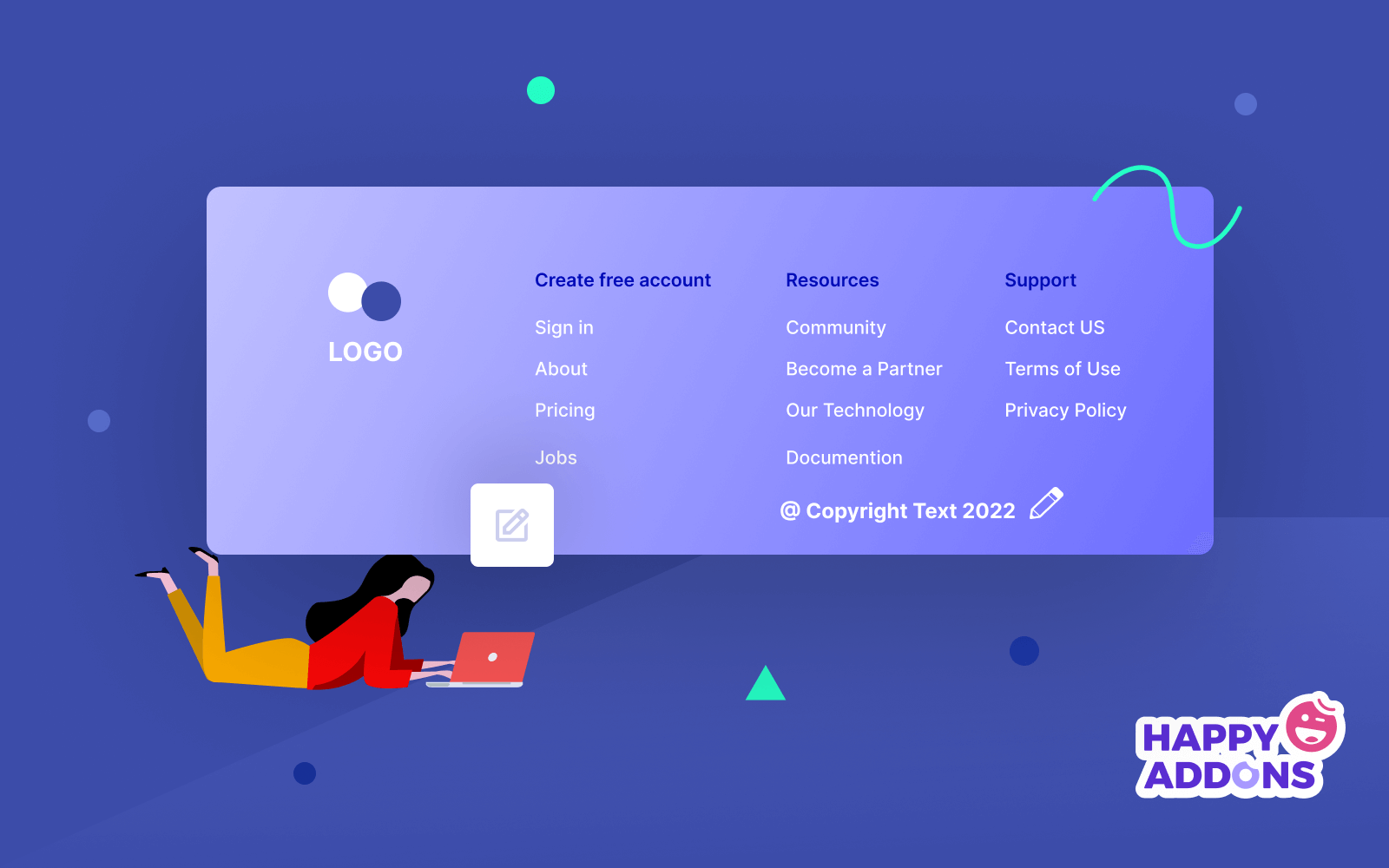 Whenever you publish content on your website, it instantly becomes copyrighted when Google indexes it. Even if the content becomes old, search engines don't take the copyright status away. Yet there are some important reasons why you need to update the copyright text and year. Check them out below.
a. Build Trust
If visitors notice that your website is displaying the copyright status of another entity or the last year's date, they may assume your website is outdated and no longer exists. Accurate copyright status can create a sense of trust among visitors that your website is verified and currently in active mode.
b. Show Your Seriousness
Customers love to deal with those websites that are serious about work and commitments. Unless you update your copyright texts and date correctly, it will send a single to the customers that you are lazy and careless. Updating the copyright status can magnify your seriousness.
c. Keep Your Brand Image Clean
A brand is a combination of security and commitment. The web footer section is an integral part of your branding. If it includes the copyright texts of other entities, customers will surely be confused and fall into a dilemma. Having this section accurate will keep your brand image clean.
d. Protect Your Content From Being Copied
The copyright text works as a copyright notice. It deters people from copying your content and using it on their websites. If any website copies your content, you'll be able to file a complaint against it on Google. But for that, you must have a copyright notice on your website beforehand.
Is It Legal to Change the Footer Copyright Text in WordPress?
The answer is a big "YES".
WordPress is an open-source content management system. It follows the GNU General Public License (GPL). It allows anyone to modify their websites by changing the WordPress source code.
WordPress themes and plugins also follow the same licensing principles of GPL. They also allow you to change the footer copyright text if any default text is automatically created there. It won't break any law.
What to Write the Web Copyright Notice?
A copyright notice costs you nothing but can save your website from different types of infringements. It gives your website solid ground to make a complaint against any website that copies your content. A valid copyright text includes the following elements.
A copyright symbol ©.
A word like 'Copyright' or 'Corp.'
Name of the web owner or name of the website.
Year of publication.
You can either include the symbol '©' and 'Copyright' text in the WordPress footer or exclude one. After that, you have to write your company or website name. For example, © John Doe 2023, ABCseed @ 2023, Copyright @ 2023 SeedCrops, @ Copyright 2023 ScropDeep.
How to Change Footer Copyright Text: Step-by-Step Guide
You can change the footer copyright text of your WordPress site in many ways. You can do it whether by a plugin, customizing the theme footer builder, editing the PHP file, or using a page builder. We will explain them in this section so you can choose the right one per your expertise.
Method 01: Using a Plugin
With 30,000+ active installations, Visual Footer Credit Remover is one of the most popular plugins to change the WordPress footer copyright text. Right after you install the plugin, navigate to:
Tools > Visual Footer Credit Remover.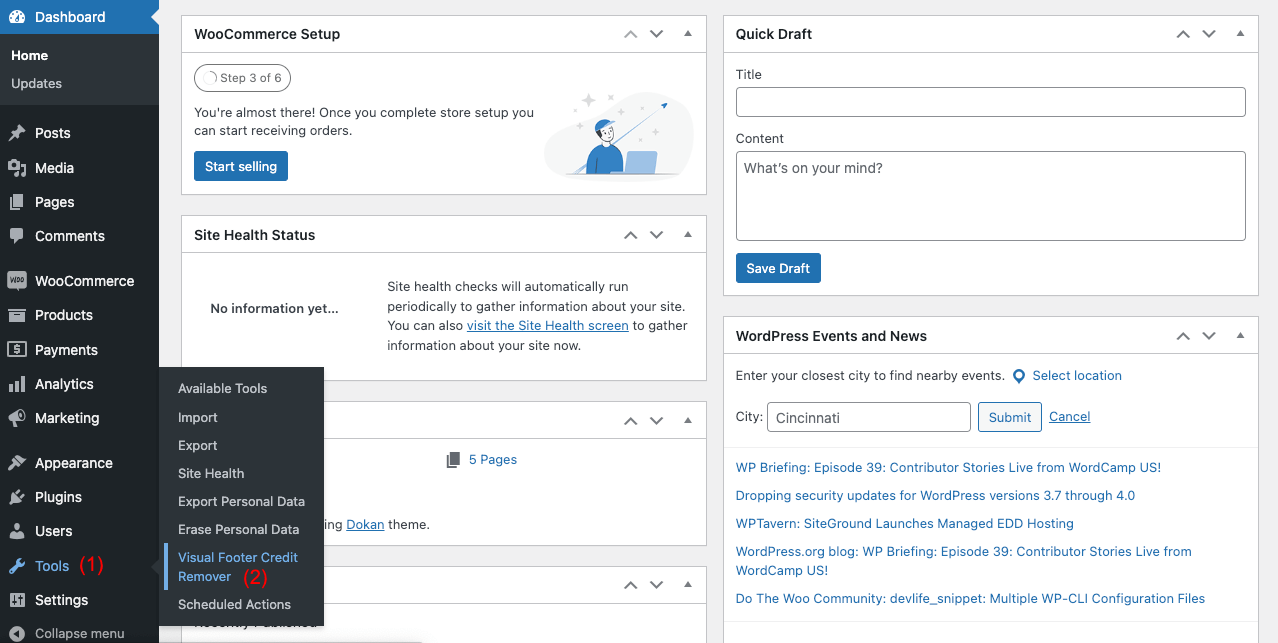 It will open up your home page. Scroll down to the footer section.
Double-click on the copyright text section. It will remove the default copyright text from there.
Then, type the copyright text you want in the right-side text editor box.
You will see your copyright text appearing in the footer section. Thus you can edit your WordPress footer copyright text easily with the plugin.
But if you don't want to use an additional plugin just to remove the footer copyright text, try the next method.
Method 02: Customizing the Theme Footer Builder
Most WordPress themes allow users to customize some of their parts. But not all themes allow you to customize similar options. What parts you can customize depends on the theme. First, you have to check whether your theme has the footer builder option or not.
Astra is a popular WordPress theme that allows you to change the footer copyright text. If you have the Astra theme installed, you can remove the copyright footer text in the following ways.
Navigate to Appearance > Customize.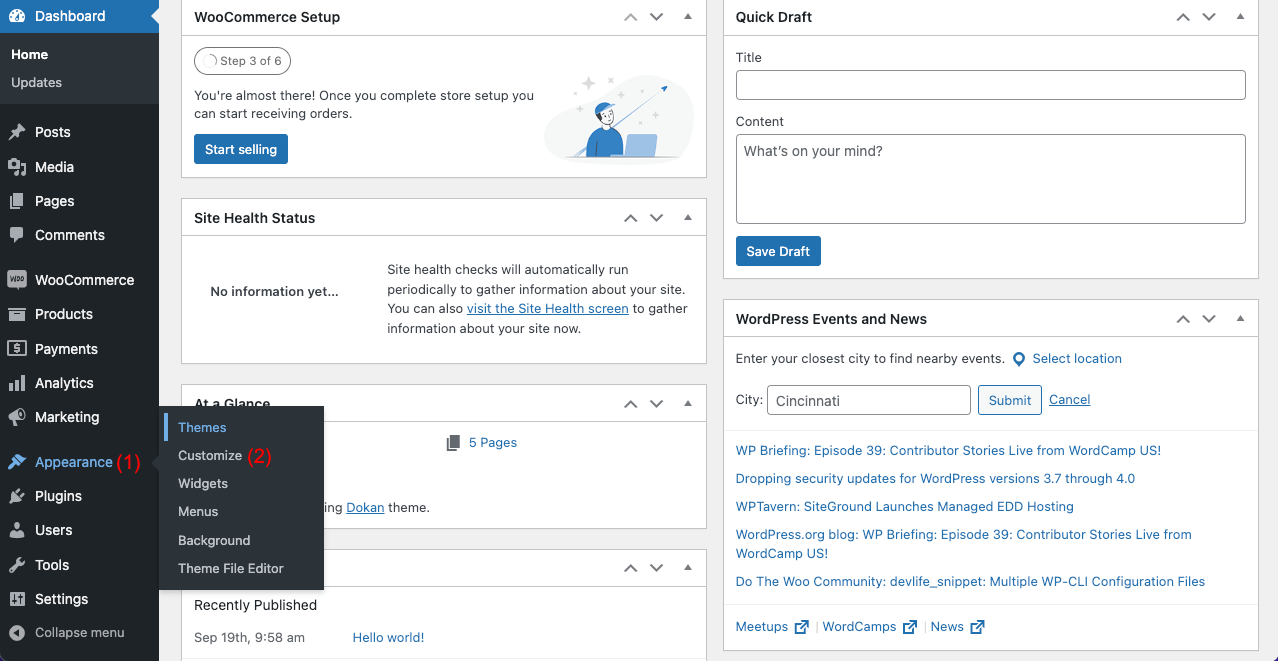 Click on the Footer Builder.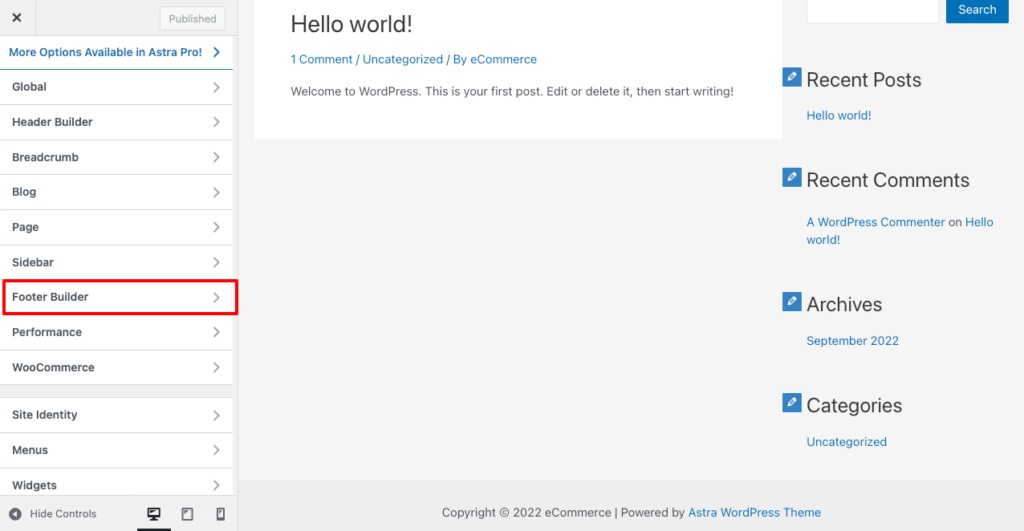 Select the copyright block.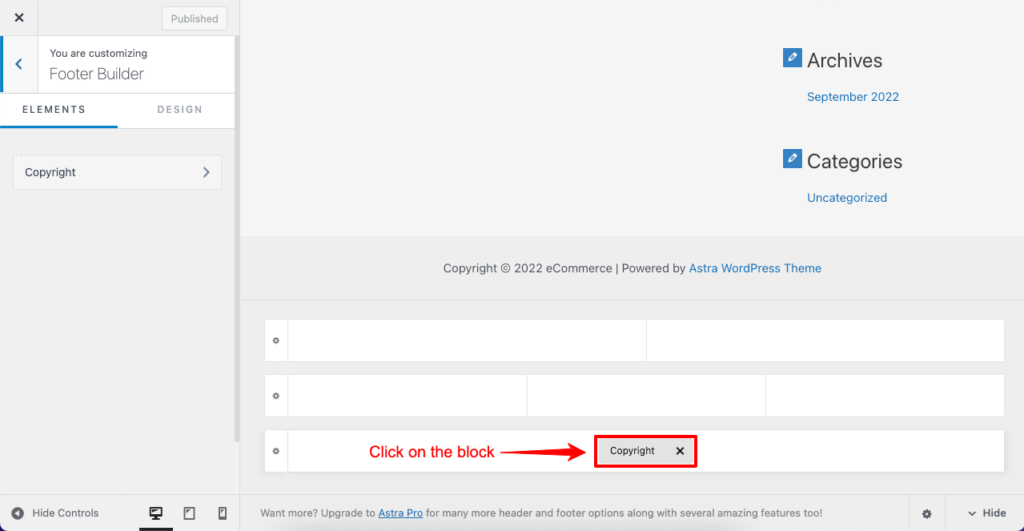 It will open up a text editor left side.
Write your text there and see the changes on the right side.
Click on the Publish button after your editing is done.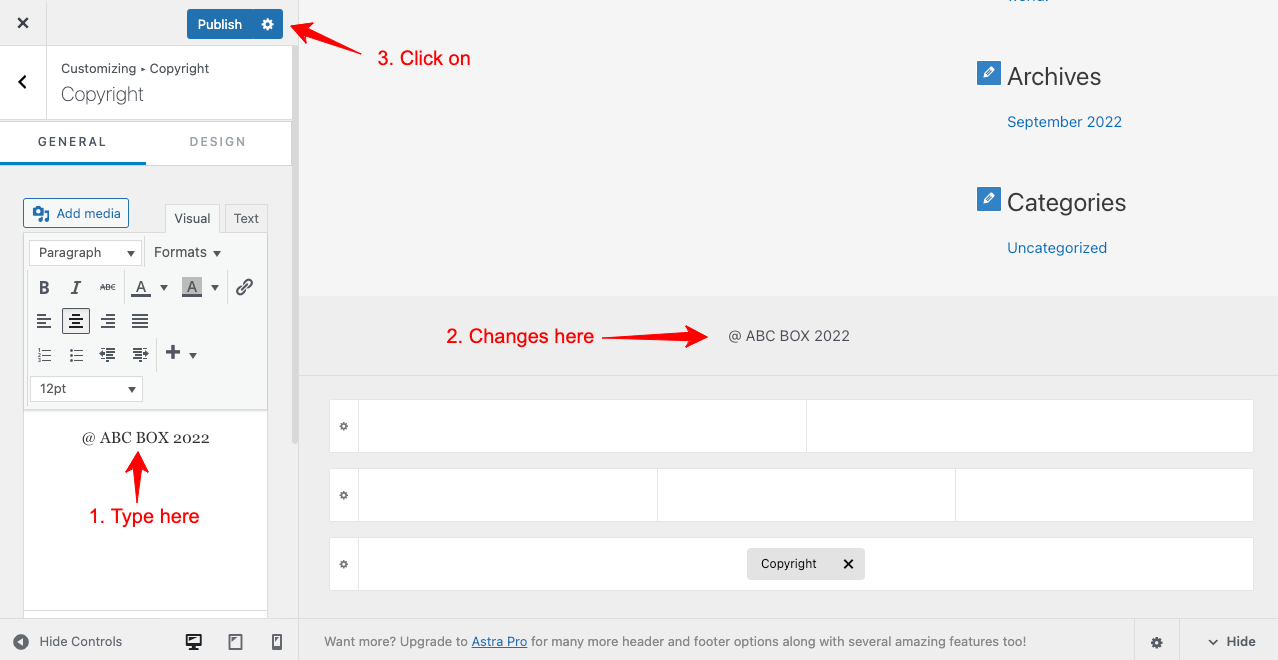 If you don't have the built-in footer builder option in your theme, try the alternative options explained below.
Method 03: Edit Footer PHP File
You can change the footer copyright text from the footer.php file. You will find this file in the Theme File Editor section. But the same rule applies here too. Not all WordPress themes allow you to customize the footer credit text from the PHP file section.
WordPress default Twenty Twenty-One is a theme that also allows you to edit the footer credit text. If you have the theme installed, follow the steps below.
Navigate to Appearance > Theme File Editor.
Select Theme Footer from under the Theme Files.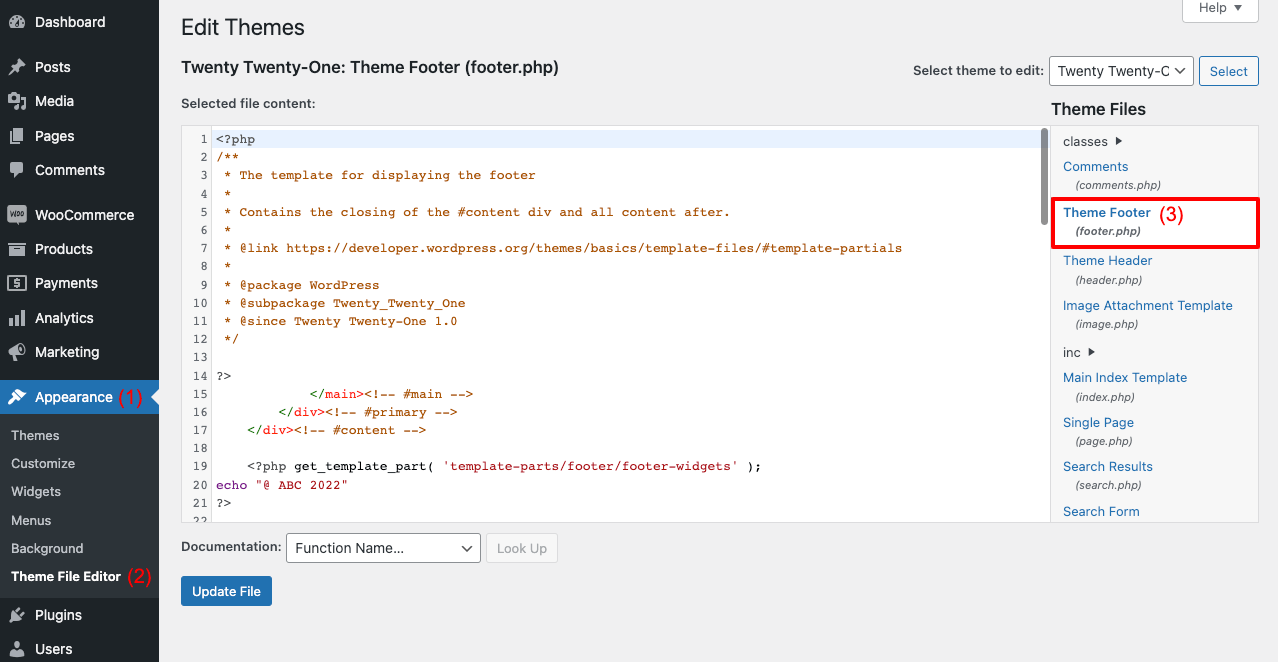 Find the below-marked code from the footer.php file.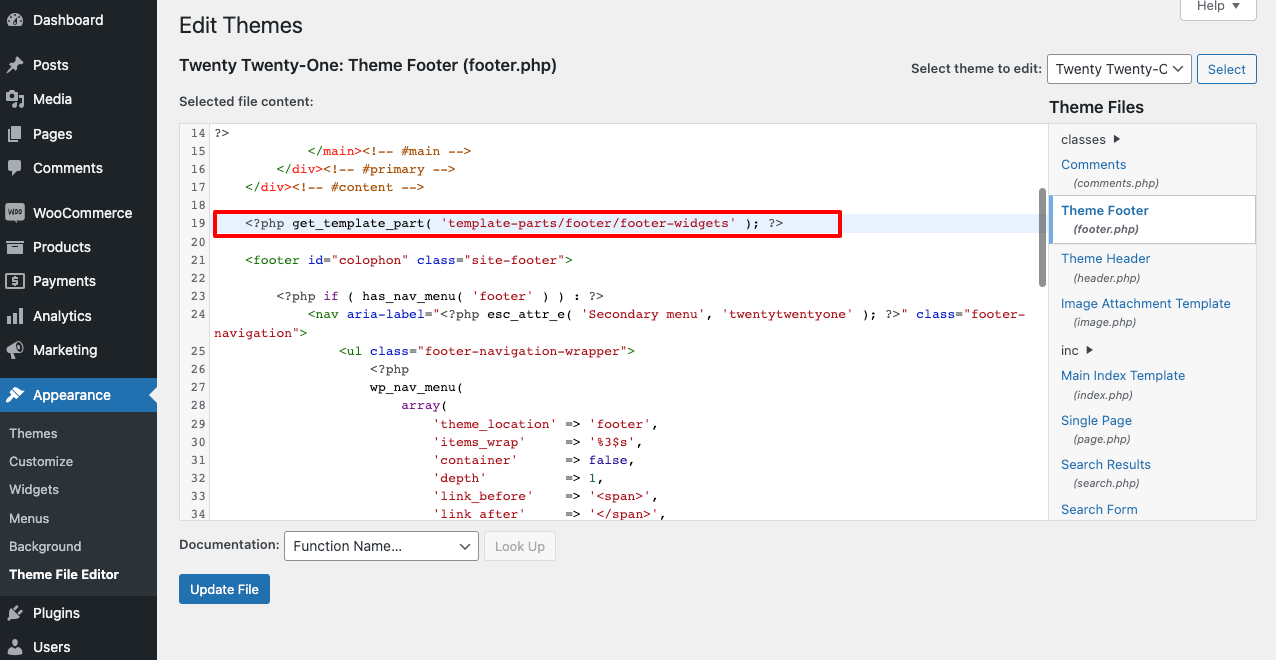 Add the code [echo "@ copyright text"] inside of this code following the image below.
Click on the Update File button once you are done.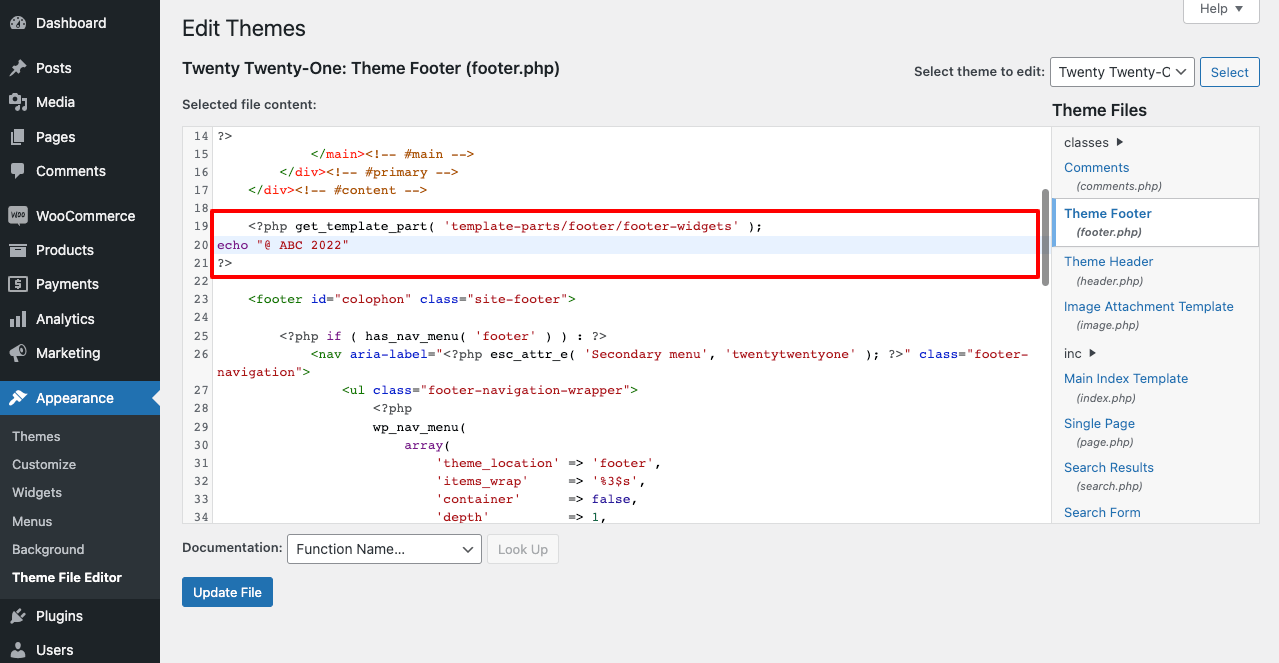 You will see the final result like this.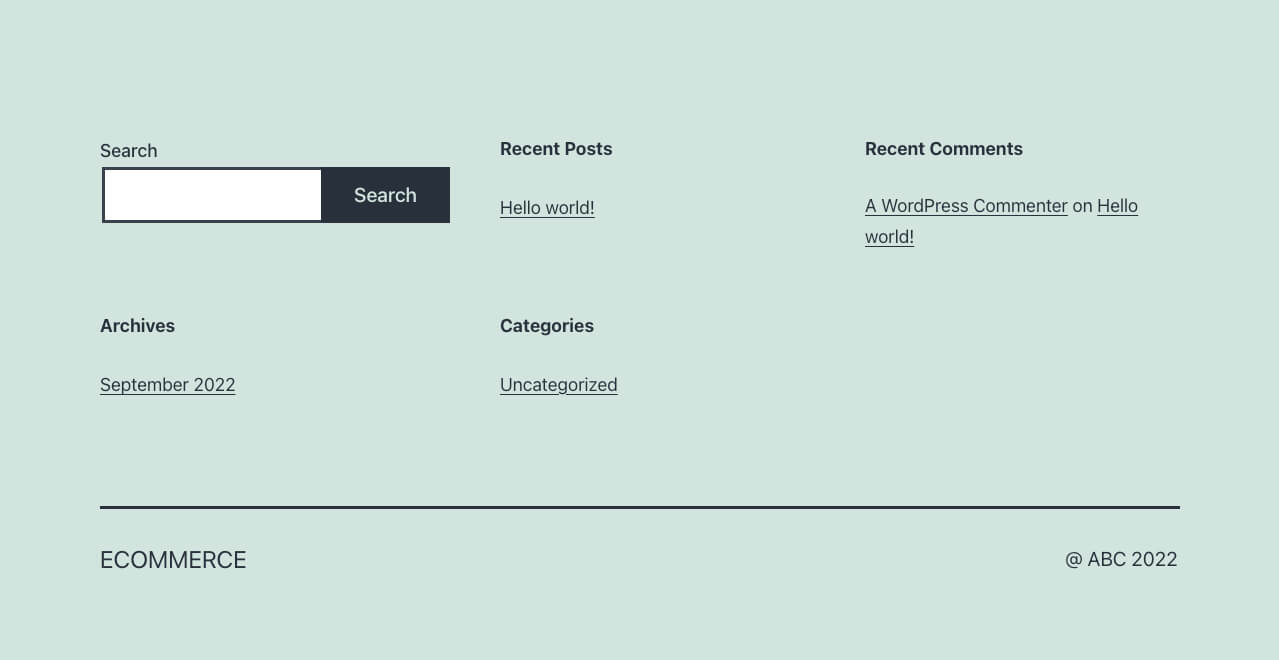 You may not find the footer credit customizing option in your footer.php file. Many theme developers don't keep this option open for the users. If your website doesn't have it, follow the other methods explained in this article.
Note: Editing the theme code is so risky if you don't have expertise in HTML/CSS. Just a single mistake can cause a breakdown in your website. Better you create a child theme before touching this section. It will save your website even if you make any mistake in the Theme File section.
Method 04: Using Elementor Page Builder
With over 5+ million active installations, Elementor is a popular page builder plugin by which you can design and customize all your web pages as you want. It has hundreds of exciting widgets and numerous features that can further power up your website.
It will allow you to customize the footer copyright text and dynamically set the copyright year at a time. First, install and activate the Elementor plugin on your website. Next, follow the steps explained below.
Navigate to Templates > Theme Builder.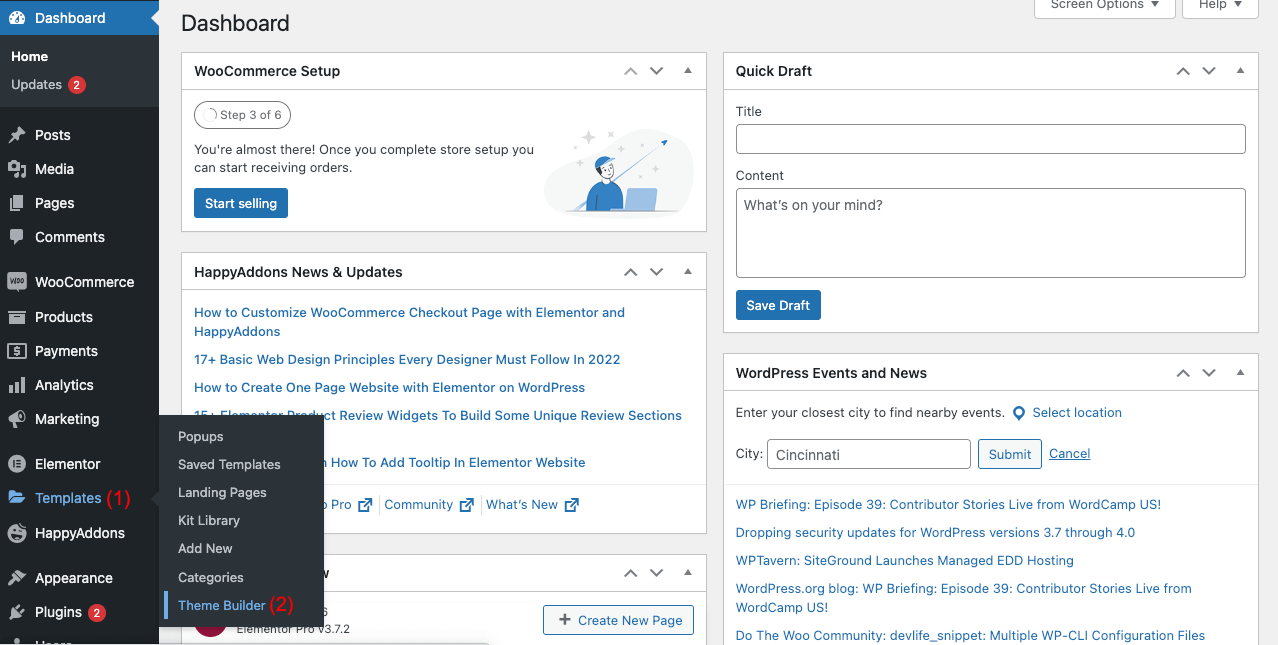 Click on the Footer section.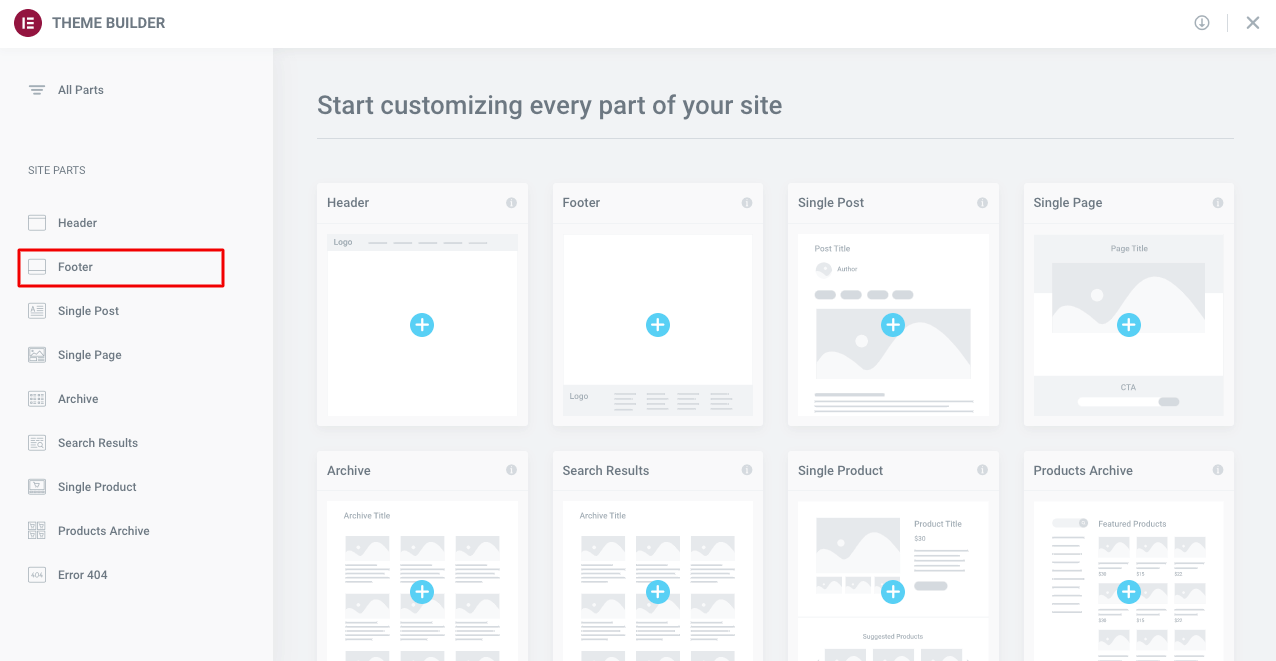 Click on the Add New button.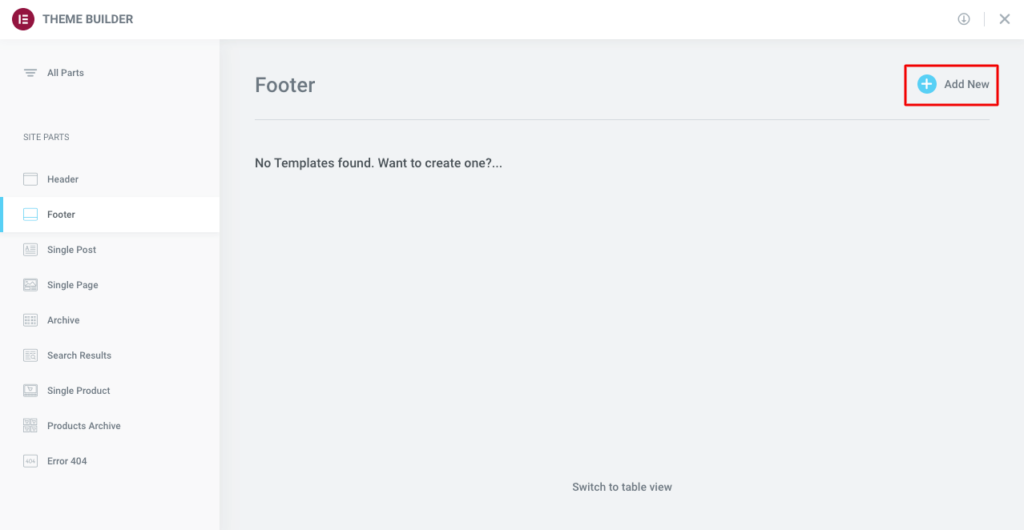 You will find numerous ready-made footers here. Choose the one you like.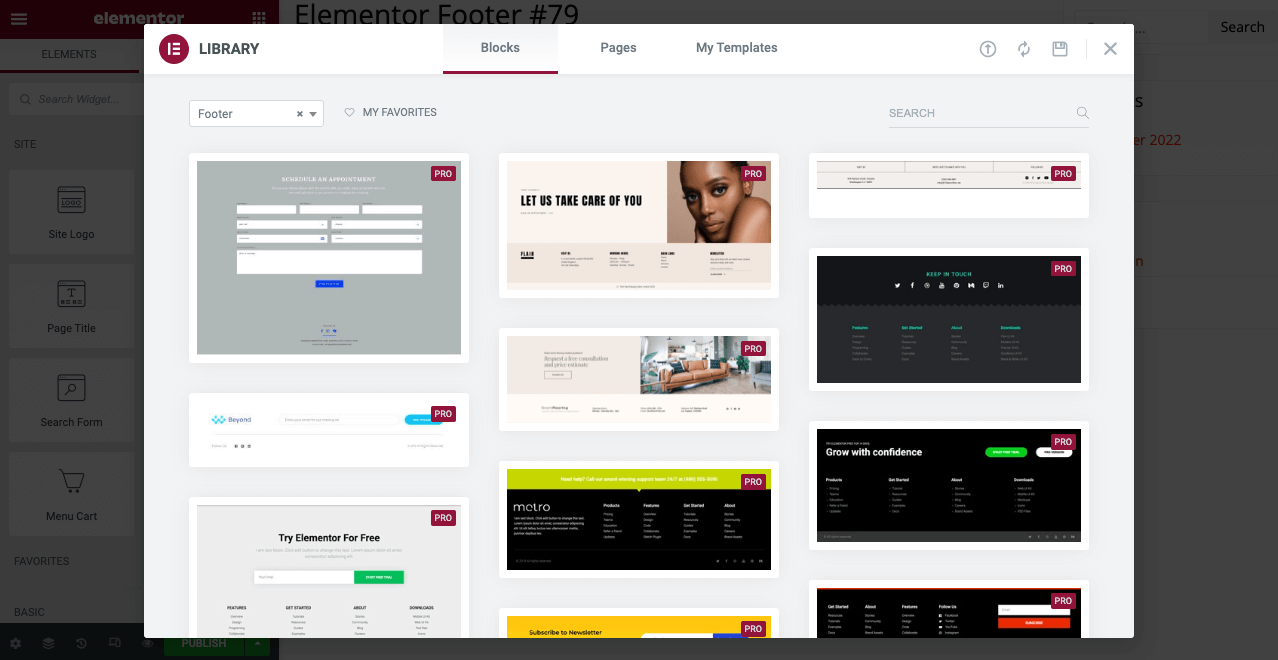 Take your cursor on the copyright footer text section and click on it.
You will get a text editing option on your left side.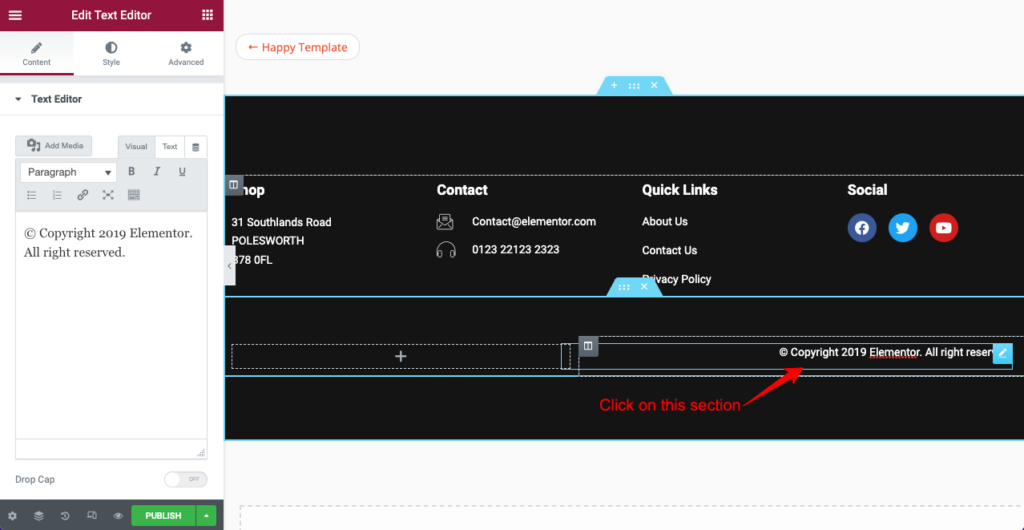 Elementor allows you to set the publishing year in the copyright text dynamically. It means this publishing year will automatically keep changing once a year ends. You won't have to do it manually.
There is a dynamic tag option in the text editor. Click on it.
Select the Current Date Time from the tag list. You will see the publishing date got automatically changed.
Click on the Current Date Time field.
You will get options to change the Date and Time format.
You can add copyright text and set its position from the Advanced section.
As demonstrated in the video below.
You can change the text position, typography, color, and text-shadow from the style section if you want.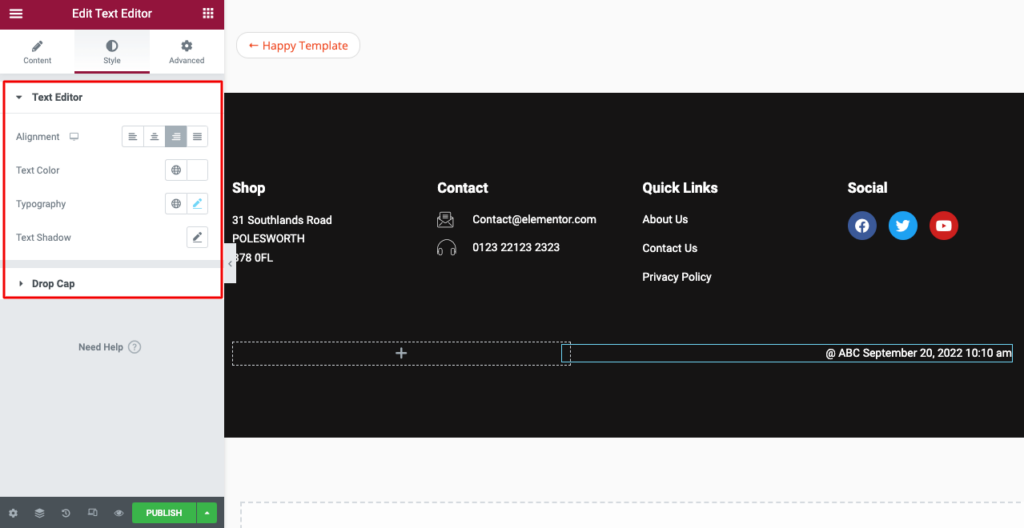 Finally, click on Publish button from the bottom of the Elementor panel. Thus you can edit the copyright footer text and set the publishing year dynamically.
FAQs on How to Change Footer Copyright Text in WordPress
Now, we'll answer some most frequently asked questions regarding how to change footer copyright text in WordPress. We hope it will further improve your knowledge base.
What does the copyright symbol mean?

The copyright © symbol in a website means the web owner legally owns the content of this website. If any other website tries to copy this content, the web owner has the right to file a complaint against those websites.

What is a footer on a website?

A footer is the bottom section of any website. It includes important information like a copyright notice, sitemap, logo, privacy policy, social media links, icons, an email sign-up form, content information, etc.

What things on a website cannot be protected by a copyright notice?

A copyright notice cannot protect the content idea, concepts, keywords, content structure, and topical mapping. It ensures that none can directly copy your blogs, copywriting, and published images.

How does Google handle copyright infringement?

Google complies with the Digital Millennium Copyright Act (DMCA) of 1998. It protects the content of a copyright holder from online theft. This online theft can happen through illegal reproduction and distribution of copyrighted content like texts, books, movies, texts, music, etc.

How do I report to Google if my web content is copied?

Google rolls out multiple updates each year. If it finds a website plagiarising another website's copyrighted content, it automatically blacklists that website. But this is sometimes a lengthy process.

So if you want to file a report against any plagiarizing website instantly, you can follow the steps below.

1. Go to Google Legal Help
2. Google Search
3. Google Search
4. Intellectual Property Issue
5. Copyright Infringement
6. Yes, I am the copyright owner or authorized to act on the copyright owner's behalf
7. Other
8. Create a Request
Final Takeaways on How to Change Footer Copyright Text in WordPress
We mentioned one thing at the beginning of this article- many web users aren't bothered about the default copyright text in the footer section. But the real scenario is most of them believe that changing it is a complicated task. Hence, they don't love to give a hand to it.
But changing the footer copyright text is super easy if you know the right method. We have explained four different ways in this article by which you can do it. Hopefully, after reading them, all your fears and hesitations will fade away. It's your turn to choose the method that matches your needs and technical expertise.
If you still face any problems regarding this topic, we request you mention this in the comment section below. Our support team will reply to you soon. For more interesting articles, subscribe to us and follow our Facebook and Twitter pages.
Subscribe to our newsletter
Get latest news & updates on Elementor