While visiting an eCommerce website, you may have seen a lot of categories in the menu bar. After hovering over a specific category, you will see a large drop-down menu with more categories. This is called the mega menu.
A mega menu is a web element used to guide users to navigate a website's lower-level sub-pages, categories, and subcategories. Most of the big websites like eCommerce, news, and hotels, are using the mega menu.
A mega menu improves your website UX design and attached users for a long time. However, you can also add content blocks, sliders, images, icons, videos, etc to the modern-day mega menu.
In this blog, we are going to show you 10 well-structured mega menu examples of ten different websites.
Along with that, we also cover these topics in this article-
Why & When You Should Use A Mega Menu

10 Good Mega Menu Examples
Mega Menus Best Practices
How to Create a Mega Menu in WordPress Using Elementor & Happy Addons
FAQs on Mega Menus
Let's start with the basics.
Why & When You Should Use A Mega Menu on Your Website
If your website deals with many categories and subcategories, a mega menu will be the right choice to set your website navigation.
A mega menu not only gives you the option to display essential website elements but also helps your website users to find their required data. Thus, it improves your users' experience. Generally, you can see the mega menu in eCommerce, hotels, restaurants, and other websites that deal with many web content.
Here are some possible areas where you need to use a mega menu. You can,
Create a mega-menu for your eCommerce website
Display many product categories for online stores
Use a mega menu to display topics and categories in blogs and magazines' website
Add a mega menu for your big-sized corporate websites
Design a mega menu to feature rooms and accommodations on hotel websites
Learn how to create a menu in WordPress.
10 Good Mega Menu Examples
In this part of our blog, we are going to show good mega menu examples. Here, we've picked different types of websites. That ultimately helps you to see different use cases of a mega menu.
Let's get started:
1. InVision
InVision is a popular website that principally provides a project handling solution that centralizes the entire workflow system. It has an organized mega menu that linked many essentials internal pages. Under the Product menu item, you see the menu has many internal pages under three different categories like Product Overview, Freehand, and For Teams.

The product menu item also has an option to display the product update where you find the update of the InVision products. Ultimately, this is an ideal mega menu example that helps users to navigate the website easily.
2. Dribbble
Dribbble world popular marketplace where designers can showcase their work. It has a beautiful mega menu design that improves the user experience. Under a single menu item like Marketplace, you see an icon with an internal page link and a short description of the page.

However, this menu has another area where it displays the specific categories. In short, it's another great example of a good mega menu.
3. weDevs
weDevs is one of the popular WordPress products-based companies that built some great products including the Dokan Multivendor Marketplace plugin. It comes with a very clean and simple mega menu. You will notice that under the Products menu item there are multiple products showcased with a product logo and a brief tagline.

Also, it has a link to View All products to go to the product page. It is responsive, so you can easily use it on your small devices.
4. Adidas
Adidas is one of the world's most popular sports brands. If you visit the official Adidas website and go to the menu area, you'll see their mega menu. It is well-organized.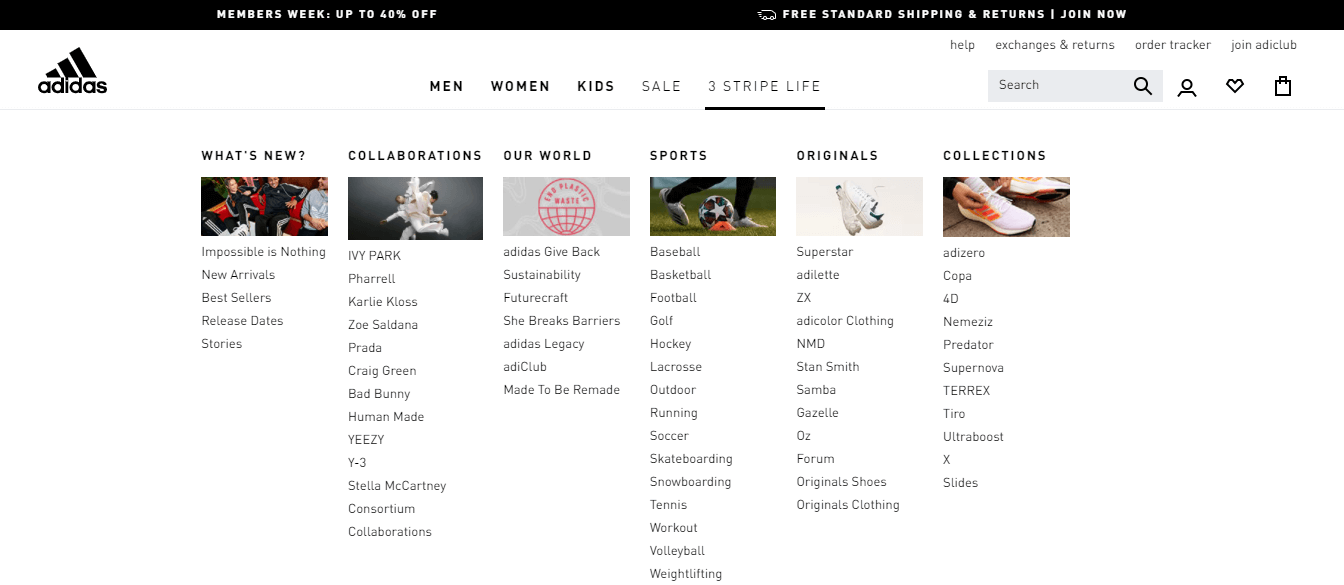 Under the 3 STRIPE LIFE menu item, there are six categories such as What's New, Collaborations, Our World, Sports, Originals, and Collections. Each of the categories has several internal pages and starts with an image.
5. Figma
Figma is a popular design tool. On their website, they use the handy mega menu to display their essential website content. Their mega menu is different from other.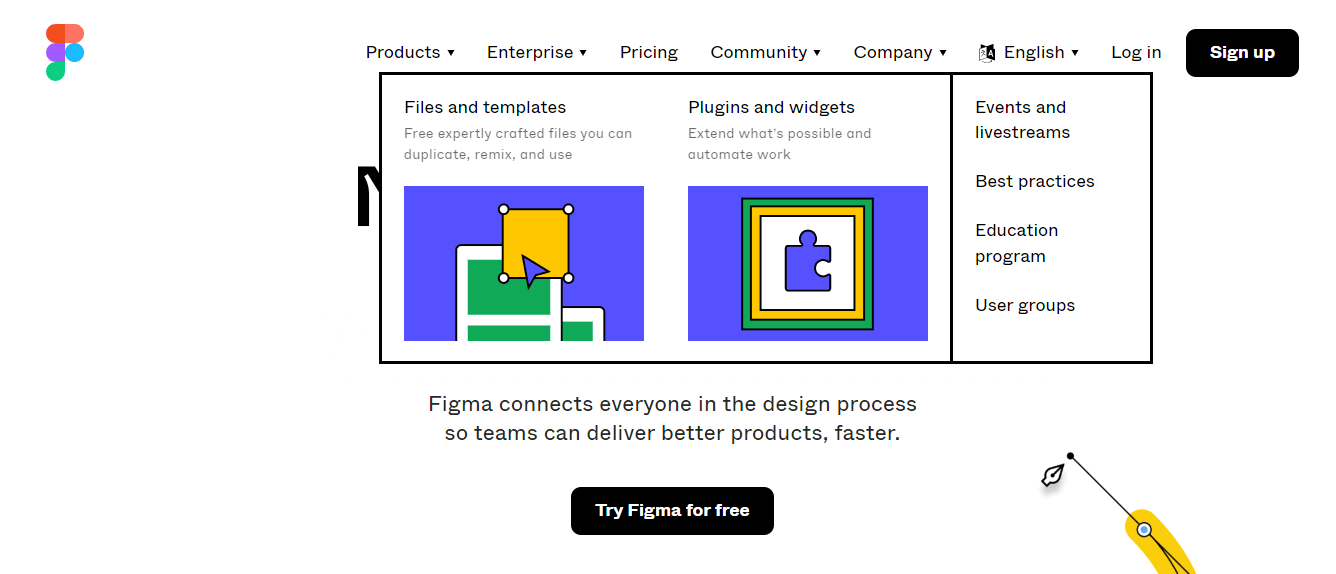 Here they use infographics to improve their user experience. Also, they separate the menu sections using a solid border.
6. Asana
Asana is a well-known web and mobile work management platform made for managing teams and their work. This popular website has a large-scale mega menu. It displays many necessary website contents.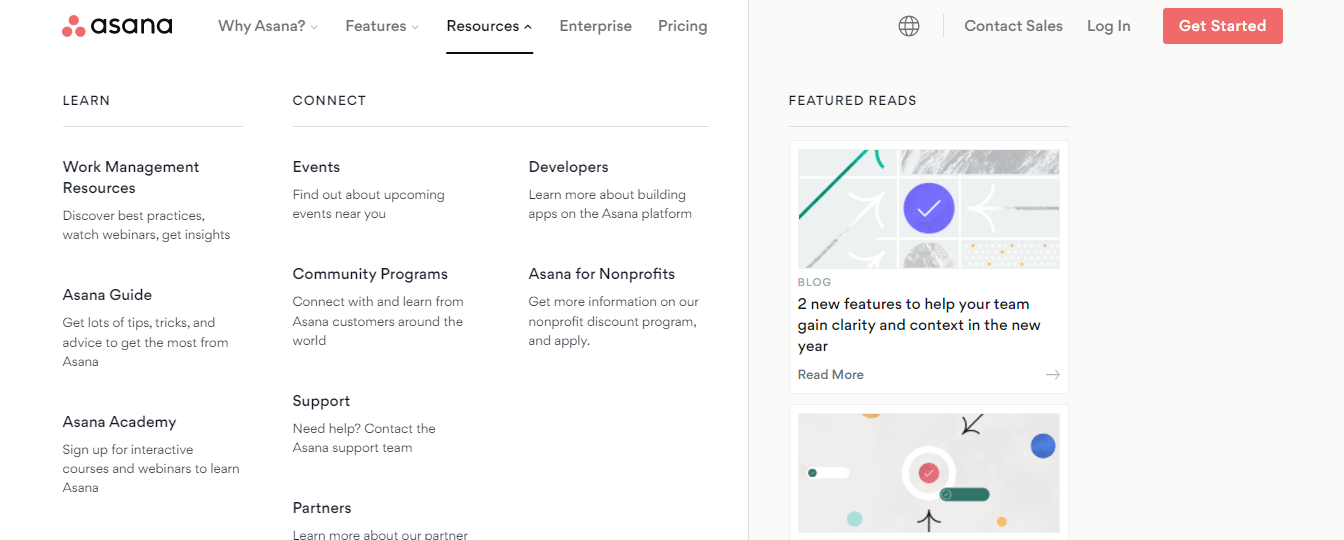 Under the Resouces main menu item, the mega menu shows two-dimensional menu content using two categories LEARN and CONNECT. Both of these categories have many internal pages that are systematically listed. However, it also has a FEATURED READS option to showcase the feature blog posts of the website.
7. Bobbi Brown
Bobbi Brown is another great example of a modern-day mega menu. It is an online store that mainly sells cosmetic items. This website has a mega menu which is very simple in design but dazzling.

It displays cosmetic items with an image and the category name. It also focuses on responsive design so that anyone can access the mega menu using their mobile phones and tablets.
8. eBay
Most of you are familiar with eBay one of the world's biggest eCommerce brands. This top eCommerce website has a rich mega menu. Under each of the main menu items have the mega menu. Focus on the Fashion menu.

Under this menu item, there is a big-sized mega menu used to showcase the Most Popular Categories and More Categories. And these two categories have tons of subcategories which are also listed as the menu items. However, it also displays a featured product that grabs the customer's attention.
Read: eBay: Magical Journey of Becoming Global E-Commerce Business Leader
9. Food Network
Food Network is a restaurant website that has a mega menu to display the restaurant food menu. Under the Recipes menu item, it has a mega menu that shares the RECIPE OF THE DAY and TRENDING RECIPES.

Their mega menu presentation is very iconic each of the recipes has an image that attracts customers. However, it also has an option to display the other Recipes List and has a button to SEE ALL Recipes.
Learn more about how to create a restaurant website using WordPress and Elementor.
10. Evernote
Evernote is a tool specially made for project managing, organizing, note-taking, archiving, and task management. This website has a stunning mega menu to show its valuable features.

This is a beautiful mega menu that comes with unique green icons, feature names, and a short tagline. Also, it has a SEE ALL FEATURES link to see the all feature of Evernote.
5+ Mega Menu Best Practices
Based on your need, you can create your website mega menu. But make sure that your mega menu is well-designed, responsive, and easy to use. For making your mega menu flawless, you should follow the below tips.
Keep your mega menu simple for users to scan
Focus on responsive design
Try to add icons/images to make it more engaging
Use one single link color
Avoid having links too close together
Make sure that all menu items are visible at once, skip the scrolling
Use one trigger option hover or click
Bonus: How to Create a Mega Menu in WordPress Using Elementor & Happy Addons
Back in the day, creating a mega menu for a WordPress website was a disaster. You need to write custom code, install 3rd-party plugins, and sometimes need to hire an expert to finish the job properly.
But the current scenario is different. You can efficiently design your own website mega menu using Elementor and Happy Addons.
Happy Addons is one of the popular and fast-growing Elementor addons that comes with an extraordinary widget Happy Mega Menu. With this advanced widget, you can create a mega menu in real-time. This drag & drop widget allows you to add icons, badges, images and saved Elementor templates into the mega menu.
However, it is also focused on responsive design so users can easily access your website mega menu using mobile or other small devices.
Using the Happy Mega Menu widget, you can create a large-scale mega menu like the above examples weDevs, Adidas, Dribbble, InVision, and more.
Why waiting? Let's watch this step-by-step video tutorial and learn how to create a mega menu in WordPress.
Read the Happy Mega Menu documentation and learn how to use this widget properly.
FAQ(s) on Mega Menus
There are many questions people often ask online regarding the mega menu. Here, we've answered some common questions that may help you to learn more about the mega menu.
1. What is a Mega Menu?
A mega menu is a largescale dropdown navigation menu used to showcase enormous internal page links of a website. It differs from the default WordPress submenu or dropdown menu. In a mega menu, you can add icons, images, and other advanced features to decorate your website navigation area.
It allows your website visitors to access the deepest sections of your website using the main menu. However, A mega menu improves a website's usability, helps drive more sales, increases conversions, and helps your visitors browse your website for longer.
2. How Can I Create a Mega Menu for My WordPress Website?
You can use a mega menu plugin to create a mega menu for your website. But if you are an Elementor user, you can simply create a mega menu with the help of Happy Addons' Happy Mega Menu widget. We've already discussed this. Follow the above part of our blog.
3. Are Mega Menus Good or Bad for SEO?
Basically, a website Mega menus don't impact your website ranking. But it helps to improve your website navigation. That's why you can say it is good for SEO.
On the other hand, the code of the mega menu mainly loads first as it displays to your website. As the mega menu listed many internal pages or other necessary web elements, it slows down your website losing speed.
For that reason, it is bad for SEO as Google measures the page loading time for scoring your website SEO.
4. Should I Use Mega Menu?
It depends on your purpose. Typically, a mega menu is used for a large website such as eCommerce, blogs, magazines, news, etc. If you have such a website or a large content-based website then you should use a mega menu.
5. Does the Mega Menu Work with Elementor?
Yes, the mega menu is fully-compatible with Elementor.
Learn Perfecting Your Website Navigation Using Mega Menu
In this blog, we've listed 10 good mega menu examples. So you can get the right idea about the mega menu. However, we've also covered some necessary information regarding the mega menu like why & when you should use the mega menu, mega menu best practices, and answered common questions that people often asked online on the mega menu.
Apart from that, we've discussed how to create a mega menu in WordPress with Elementor. Now creating a mega menu is not difficult for Elementor users with the help of Happy Addons' Happy Mega Menu widget.
If you like this post, share it on your social channels. And don't forget to join our newsletter for getting more handy blogs on WordPress and Elementor.
Subscribe to our newsletter
Get latest news & updates on Elementor