Did you know WordPress is known as the king of the CMS world, which covers over 30% of all websites? Undoubtedly, creating an eCommerce website was never a simple task before WordPress WooCommerce. On the other hand, WooCommerce is one of the major eCommerce technologies in use today.
WooCommerce is a WordPress plugin and a proven eCommerce solution for WordPress. And that's why the combination of these two is the perfect choice for you to create a powerful eCommerce website in no time. Nowadays, it's quite common to get confused in choosing the right WooCommerce marketplace theme for your online business, as you have a wide range of free and paid options in front of you. But it's important to pick a theme carefully that can match your business scheme and satisfy all the other functionalities.
So, if you want to create a stylish e-commerce website using WordPress but don't know which theme to choose or how to create an eCommerce Website for selling your products online then WooVina is the answer to your every problem.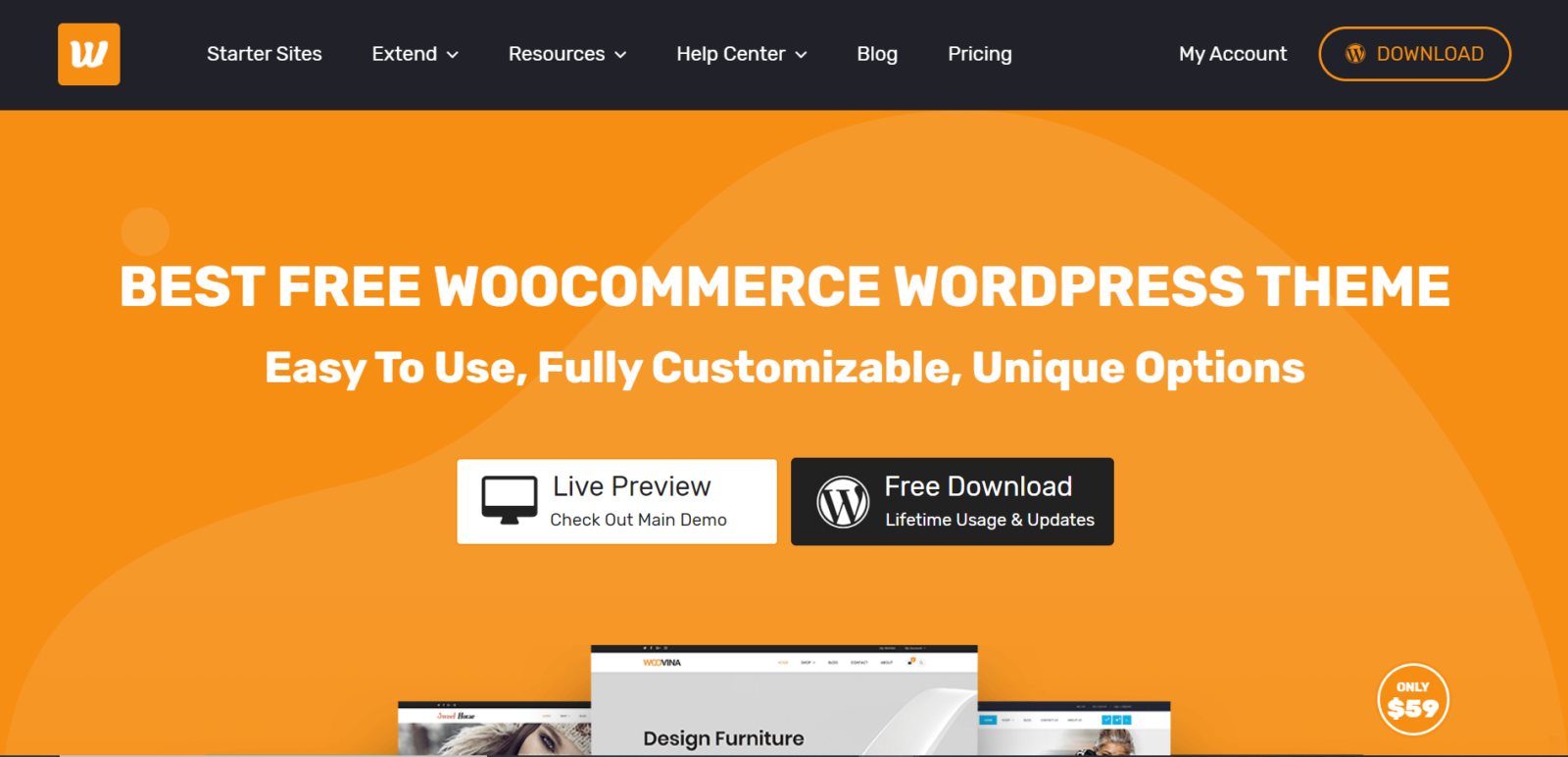 It's the perfect platform for your next WooCommerce project because it is an intuitive & flexible and free WooCommerce theme, offering deep integration with WooCommerce. With its amazing perks, you can easily achieve a modern, responsive, and stylish theme that can scream your brand loudly to the globe.
How Does It Work?
To build your websites with WooVina, all you need to do is follow the following four steps:
Download & Install WooVina: To transform the shop of your dreams, the first step is to download WooVina and install it.
Pick a Demo & Run Import: After installing WooVina, you need to pick a demo from the starter sites and run the import. Keep in mind that your website will work exactly as you'll see in the creative demos that are available on the official website.
Customize Your Website as Per Your Requirement: Now comes the part of uploading your brand identity with your business logo, set colors, fonts, and everything that defines your trademark. You can use live modifier to change everything. They offer different templates with a plethora of color schemes. Therefore, based on your requirements, the website can be changed quite easily according to its feel and overall look.
Enter Products & Go Live: Yup! That's the last step, folks! All you need to do in the end is to enter your products, hit the "GO LIVE" icon and you'll have your dream website that will work seamlessly with WooCommerce.
WooVina is the Best Free WooCommerce WordPress Theme
WooVina is a highly adaptable theme that can be molded in beautiful ways to get amazing results as per your requirements. Whether it's a laptop display or a mobile show, the WooVina theme is suitable to create a powerful store that can be easily configured on any screen size with its added sliders and theme settings. Not just in theory, but actually tested, tweaked, and perfected on iOS and Android with a custom mobile layout built just to make your store website look exactly how you want, all-time engaging and ready.
Websites built with the WooVina theme are 100% responsive. So, fitting your websites to different devices is no more an issue.
The Essence of WooVina
We all know that WordPress themes do not always support complete WooCommerce functionality and pre-styled template. But, as luck would have it, WooVina is the right WooCommerce theme for your marketplace due to its compatibility with all the features of your e-commerce business like
WooCommerce settings,
smooth navigation,
easy payment methods,
built-in review/rating system,
attractive colors,
typography,
appealing display, etc.
However, every coin has two sides. Similarly, with a lot of positive things to offer, WooVina has some negative sides too. Let us uncover its pros and cons to realize both sides of the coin.
Pros:
Unlike all other WooCommerce themes out there, WooVina is easy to understand and follow.
You can customize everything easily
It also supports Multilanguage and Translation, which means that WooVina is also RTL Ready
It also gets the highest grade in speed testing tools
Free Theme, Lifetime Usage, Lifetime Updates
Easy to Understand
The WooVina theme gives you access to a variety of free and creative demos that make it quite easy to understand and follow. It has multiple free, pro and child themes that are perfect for pre-built WooCommerce store websites. All you need to do is import your template, make it your own, and start getting sales, and voila – you have a site!
Effortless Customization:
You can customize your online store depending on your business requirements with the aid of WooVina. It offers a live customizer that helps in customizing everything easily. So, without any hurdles, you can upload your logo, set colors, and fonts that integrate well with your brand. This provides a lot of flexibility and control to your site.
RTL Ready
WooVina fully supports RTL language. So, there is no need to make your stores look like others. No matter which language you speak, you can easily tailor your sites to your mother tongue.
Page Builders Compatible
WooVina is made to work with Page Builders like Elementor, Beaver Builder, Visual Composer, Divi, etc.
Load time
WooVina gets the highest grade in speed testing tools. It quickly adapts to all kinds of online shops, regardless of your market niche or your products! The end-users can load the page of your sites at a fast speed which makes high SEO scores as well as elevates user satisfaction and engagement.
Lifetime Usage & Updates
WooVina theme sends out periodic updates, which ultimately gives you more and better features on your site. And that's not all; It has the motto of "Now and Forever." You get the full features, lifetime usage, and lifetime updates for free and extend with affordable packages.
Cons:
Undoubtedly, the more advanced your website gets in terms of desired functionality, the more complex it will be to run and manage. So, using a free WooVina theme can sometimes make it hard to do well.
Coming across extra features in WooVina lifetime updates means more learning needs to be done to properly use them, which can seldom consume a bit of your time.
However, despite all the above cons, extensive WooVina demo videos are available online to help you get through just about any problem you may face.
Woovina as an E-Commerce Platform for Small Business
We can all agree upon the fact that online shopping has indeed made life easy. We don't need to spend much time going to stores physically and searching for a thing we want to buy, and that's why the E-commerce market is growing exponentially. With such massive competition, so many great options are available when considering an eCommerce platform.
However, WooVina provides you with every opportunity to establish a unique identity to stand out among the rest of the market. Offering a top-notch site performance, it's a multi-purpose WooCommerce theme that is ideal for any small business. Why may you ask? Well, let's take a look at the following reasons, and they'll surely be enough for your satisfaction.
60+ Pre-built E-Commerce Website Templates

Keep in mind that template selection is about more than just picking an option that looks good, it's also about selecting something that works well for your content and website goals. Although templates for every eCommerce platform render well on all screens, WooVina takes special care to ensure the user experience is great when viewed on any screen. All 60+ pre-built eCommerce website templates have a unique motile experience matching the overall style of the store.
Saves Time
Typically, the main reason people use a pre-built theme is that they do not want to waste their time in the arrangement of tools and functionalities. WooVina is a highly organized platform that incorporates a sense of time management; it's usually much faster, easier, and cheaper to build. Just import any demo with a few clicks and, select your template, make it your own to start getting sales.
11+ Premium Extensions to Boost the Sale
Finding the right extension to keep your WooCommerce site running the way you want can be daunting. Add the wrong one and suddenly, your site will putter along at a snail's pace or stops functioning entirely. But, with WooVina 11+ premium extensions, you can easily add useful features to your WooCommerce store that will help boost your sales.
Just $59 for 3 Websites
Sounds unbelievable, right? Well. It's true! WooVina offers a flat fee of $59 for three websites, which is a one-time charge! It means that WooVina will allow you to have lifetime usage and updates.
Final Verdict
It's quite important to remember that our eCommerce site can lose tens of thousands of traffic just because of an unattractive and distracting theme. Hence, with 23,692 downloads so far, WooVina can be considered one of the best options that have everything you need to build your next site as a start-up. This preferential support is exactly what you're paying $59 for just 3 websites. So give it a try, peeps and I bet you won't be disappointed. Good luck!