Elementor itself is a powerful page builder to create a beautiful website in a flash. It's an easy-to-use interface, and advanced design tools have changed the concept of WordPress site development overnight. Currently, it is ruling the industry with 5+ million active installations. However, you can still extend its power by adding the best Elementor Addons to your site.
There are a number of useful Elementor add-ons available in the market. All they have amazing features and functionalities to make your life easier. Then how to pick the right addons that you actually need?
Well, here we have compiled a list of the top 12 popular Elementor add-ons to take your design up a notch. So that you can easily check them out and pick your preferred one.
Let's start with this primary question.
What is Elementor for WordPress?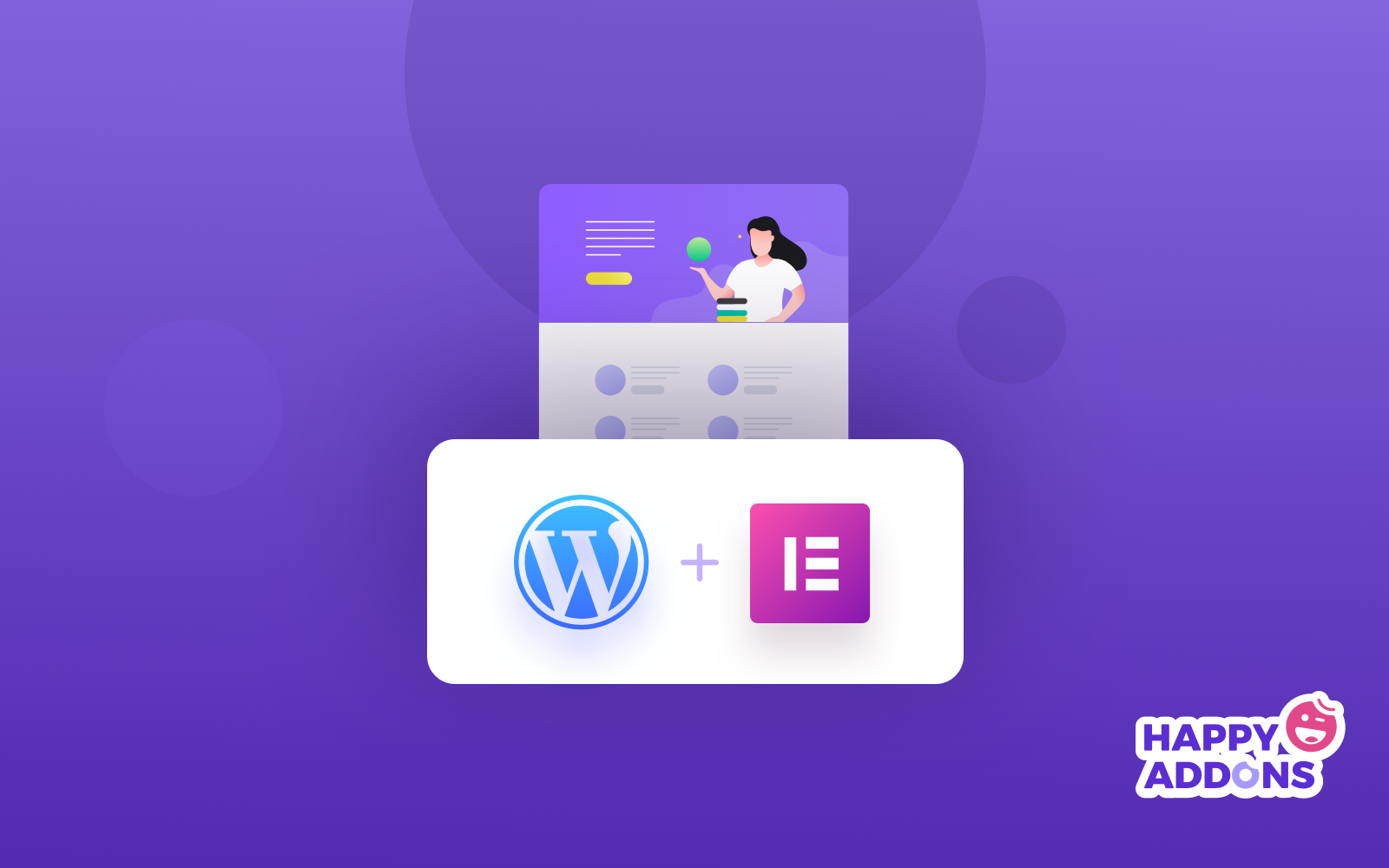 Elementor is built to design and customize all types of WordPress-powered sites; such as commercials, personal blogs, membership sites, online shops, or anything you may require.
Elementor is a modern and very efficient way to build sites both for users and experts. Speaking of it's cons nothing which can't be get worked around like forced styling and not being able to directly edit elements. – Ihtisham Zahoor, Web Developer
This frontend page builder allows limitless design possibilities. It has a set of beneficial widgets, an attractive template library, an exclusive toolset for mobile editing, and a history trial for visual revision.
With Elementor, you will get a live frontend editor where you can design your site without writing a single-line code. Also, you can view the changes live, no need to change the tab. Sounds amazing, right?
Is Elementor Free?
The core Elementor is free with a wide range of functionality and widgets. This WordPress Pagebuilder can be extended with Elementor Pro or other free and premium add-ons and extensions.
You may also like to read: What Should You Do When Elementor Pro Expires.
If you are using Elementor, you can also pick the best-fit add-ons for your website. Give a check to our list of top 12- essential addons for Elementor:
Explore The Unique Attributes & Usability of the Best Elementor Addons!
1. Happy Addons – Top-notch Design & Unique Custom Facilities

HappyAddons is a collection of efficient, well-organized, and powerful widgets. Specially designed to work in conjunction with Elementor Page Builder. This Elementor plugin creates a huge buzz among Elementor users due to its unique custom designs and flexibility.
Also, it has a large collection of 50+ effective widgets, including Card, Info Box, Pricing Table, Animated Text, Advanced Heading, Testimonial Carousel, Feature List, Contact Form 7, Social Feed and many more about to reveal. In addition, it facilitates you with a lot of amazing Happy Features like instance, Preset, Live Copy, Cross-Domain Copy Paste, Image Masking, etc.
They offer two amazing Happy Effect for every Elementor Widget:
And CSS Transforms.
Facts to Consider Before Subscribing :
70,000+ active installation
Compatible with WordPress Version 4.7 & higher
Built-in motion effects for amazing animation
Easy adaptable, and customizable with any exciting site
24 hours of professional customer support
Update new features and widgets every week
Price: The Pro version starts from $39/year. You can get a lifetime subscription at $549 only. It also offers a lot of amazing widgets and features that are completely FREE.
Happy Addon can be your best partner to build a trendy and speedy website without spending a dime.
2. Premium Add-ons

Premium Addons allow you to build a professional website in the fastest possible time. You can enable only the widgets you are using for faster performance.
Plus, it supports a wide range of free custom widgets including Media Grid, Pricing Table, Carousel, Banner, Vertical Scroll, Fancy Text, Image Separator, Button, and many more.
Moreover, in the pro version, you will get 50+ widgets with endless customization options. Such as Content Switcher, Tab, Image Comparison, Accordion, Image Layer, Image Hotspot, Horizontal and Multi Scroll, etc.
Basic Things at a Glance:
300,000+ Active Installations

Compatible with WordPress Version 4.5 and higher

22+ Free yet fully customizable add-on widgets

Super lightweight and contribute to website performance

Disable option for the element you are not using

Free Online Support for both free and premium users

Fully Responsive and Cross Browser Compatible
Price: Price of Pro version starts from $39.
If you love to work on a ready template with unlimited customization, Premium Elementor is the best fit for you.
3. Essential Add-ons

The Essential Add-ons allows you to design your website with ready blocks. It has 57+ elements, which help you to design WordPress pages and posts easily still stunning.
The free version of Essential comes with 40+ widgets; Such as timeline, counting, team member, WooCommerce, Gravity, Ninja, Countdown, Social Feed, Content ticker, Progress Bar, Sticky Video, Woo Checkout, etc.
Further, in the paid version you will get 29+ elements including Instagram Gallery and Feed, Testimonial Slider, Post Block, Static Product, Dynamic Filterable Gallery, Interactive Promo, Data Table, Price menu, Mailchimp, Fancy Divider, etc.
Another four extensions are also available with pro features like Parallax Scrolling, Particle Effect, Advanced Tooltip, and Content protection.
Basic Things at a Glance:
700,000+ active installation

Compatible with WordPress Version 4.0 and higher

100+ ready-made blocks

Ultralight and instant loadable

Completely customizable

Elements control options to minimize loading time
Price: Pricing starts from only $29.97. All 3 available packages and other custom offers come with 14 days money-back guarantee.
The product is suitable for eCommerce business owners, web designers, WordPress users, and all-sized enterprises as they offer special deeper, and faster support for agencies.
4. Livemesh Addons for Elementor

Livemesh Addons offers a great number of highly functional extensions to enhance the outlook of your Elementor site.
Here you will get everything to make a professional-looking website without having a premium theme. Activating this plugin you can just drag, drop and live your site with a stunning look.
This plugin comes with 13+ free attributes like Blog post grids, testimonials slider, Pricing plans, Bar charts, team profiles, etc.
Besides, the Premium Version of this plugin offers 25+ additional extensions and advanced customization to the Elementor users. Some significant elements like Twitter Grid, Image Gallery and Slider, Video Carousel, Responsive tabs, FAQ Elements, and many more.
Basic Things You Should Know:
100,000+ Active Installation

Compatible with WordPress Version 4.5 and higher

25+ widgets available for Premium Version

Premium elements to customize without switching premium theme

Unique design for individual niche

Regular release update

Full-time client support for paid users
Price: The premium version comes in different packages- $37.99.
If you are looking for a budget-friendly and easy drag and drop solution to give your free template a professional look then you can definitely go for Livemesh Add-ons.
5. AnyWhere Elementor

AnyWhere addons lets you create global elementor sections in a few clicks. Its special functionality allows you to change in one place and reflect everywhere. Insert elementor pages, library templates, and global templates anywhere just using shortcodes.
Moreover, it supports WooCommerce sites with complete control over Single Product, Category Archives, and Shops page layouts.
In addition, this Premium Elementor Add-on offers a wide range of advanced attributes like Global Post Layouts, Post Archive Templates, Category, Tag Templates, Global layouts for Custom Post Types, Design 404 Pages, Design Search Page layouts and more.
You Should Know before Install:
60,000+ Active Installation

Compatible with WordPress Version 4.4 or higher

Full support for WooCommerce

Customization options for all components

Multiple Layout Modes – Show posts in Grid, List, Slider, Carousel & Smart Grids
Price: AnyWhere Elementor offers 4 different package starts from $25 per year.
You can develop versatile and custom layout for a single post or Taxonomy archives with AnyWhere Elementor.
6. Addons & Templates for Elementor by Sizzify Lite

Sizzify offers both advanced add-on and templates that are designed to be used in conjunction with the Elementor Page builder.
It is most likely used in the WooCommerce site for easy handling of Product Categories, Best Selling Products, On sale products, featured products, popular products, and so on.
Furthermore, Elementor Addons and template has other widgets like post grid, pricing table, and services. It also supports a broad vault of beautifully designed and custom templates.
Things You Should Know:
70,000+ active installation
Compatible with WordPress Version 4.4 and higher
Custom widgets and addons for pricing table, blog posts, grid, etc.
Specially designed for WooCommerce sites
Initially has 10+ custom widgets and more on the way
20+ ready web page templates
Price: The price of premium version estimates from $59.
You can get custom add-ons and templates for elementor especially WooCommerce related widgets to enhance your page building experience.
7. Element Pack

Element Pack has the highest number of advanced and super flexible widgets for Elementor.
31+ widgets are available in the Demo version, including countdown, ninja, fancy list, flip box, image magnification, lightbox, scroller, slider, etc.
Apart from this, the PRO version has another 133+ widgets. It includes an advanced icon box, counters and heading, bbpress, buddy group, Carousel, Crypto-currency, Dark mode, Grip, FAQ, fancy card, etc.
It supports almost all popular WordPress themes and offers plenty number of ready-made templates too. Works smoothly with other third-party widgets like Event Carusel, Instagram Feed, Layer Slider, Contact Form 7, WP Forms, and others.
Basic Things at a Glance:
100+ widgets for Elementor

Customizable

header and footer with ready-made blocks

Minimize page loading speed with efficient coding based on the

latest WordPress API
Wide range of beautiful color pallets
Superfast response to customers'

problems

Provide video tutorials to educate the users

Built-in WooCommerce compatibility

24/7 customer support
Price: They offer 6 different types of plans for the yearly and lifetime package.
Element pack allows you to design a catchy eye site by editing everything separately and style them uniquely, including icons, titles, text, buttons, and others.
8. JetWidgets for Elementor

It is one of the best selling add-ons for Elementor Page Builder. JetWidgets is a plugin that adds extensive modules for Elementor live page builder, allowing us to build different kinds of content easily.
With JetWidgets you can add different custom blocks and additional modules to your website, which are not included in the core Elementor Page Builder.
Plus, it has 45+ custom widgets that include Advanced Carousel, Animated Box, Headline, Image Comparison, Image Layout, Map, Button, Image Grid, and more.
You Should Know before Install:
8,000+ active installation

Compatible with WordPress Version 4.7 and higher

Easy and fast design template

Professional customer support available

30-day money-back guarantee
Price: No free version available. Pricing starts from $24/year for a single site.
You can create and develop any type of content with ready blocks and beautiful designs.
9. Elementor Extras

Elementor Extras provides plenty of unique and extraordinary facilities that are not available on core Elementor. It has 30+ easy to use and custom widgets and extensions.
This add-on offers only top graded widgets that are highly useful to the users. Some of the new widgets are Post Extra, Gallery Extra, Slide Menu, Offcanvas, Calendar, Google Map, Search Form, Pop up, Toggle Element, Random Image, and others.
Moreover, it supports some extremely unique extension compared to others. Such as Age Gate, Devices, Gallery Slider, Switcher, and many more. The most recent addition in design settings are parallax effect, background, stick, and tooltip.
Basic Things You Should Know
20,000+ active installation

Offers only highly usable and unique features

Easy to design creative template

Fully customizable and flexible to design your own brand

Fast and reliable customer support

14-days money-back guarantee
Price: No free version available. Pricing starts from $26.
With Elementor Extra you can design something really flexible and unique as you will get many customizable options rather than stick to one.
10. Ultimate Add-ons

The Ultimate add-ons is a rich library of unique widgets to add more features and flexibility to the Elementor Page Builder.
This addon helps to build a website with stunning design and the fastest loading speed. Brainstorm Force has created this premium add-on for Elementor.
It integrates 24+ widgets, which includes a Timeline, Dual Color headings, Sliders, Heading Style, Map, Image Gallery, etc. It also supports some WooCommerce related widgets.
Basic Things at a Glance
Endless options for customization and combinations

Built with top UX approaches

Equally friendly for developers, designers, and beginners

Translator available

14-days money-back guarantee
Price: The ultimate add-on is not a free product. The cost of it ranges from $49.
They offer different packages based on your business size and advance facilities.
The ultimate add-on for Elementor is suitable for developers, digital marketer, small business owner, and technical gigs.
11. PowerPack Elementor Addons

PowerPack for elementor extends the design possibilities for your website without affecting the loading time and helps you to maintain your personal brand value while developing clients sites.
Furthermore, it's integrated with 70+ creative elementor widgets.
You will get 25+ free widget completely free with PowerPack including business hours, Counter, Divider, Icon list, Dual Heading, Info list, Info Table, Link Effects, Logo Grid, Price Menu, Promo Box, Contact Form 7 and more.
Basic Things You Should Know
30,000+ active installation

Compatible with WordPress Version 4.7 and higher

Lightweight, fast loading and easy to use

Wide range of designing and styling options

Regularly updated with the latest version of WordPress and Elementor

Available customer support

14 days No Questions Asked Money Back Guarantee
Price: They offer two different packages for Yearly subscription at $59.
You can build beautiful websites and landing pages efficiently with the fastest loading time without any code bloat.
12. Envato Elements

Envato allows you to download unlimited themes, plugins, graphics, photos, fonts, and more. You can import a premium photo directly into your site without leaving WordPress.
Envato has created an unlimited Elementor templates resource, offering a huge array of templates that fit almost every purpose. – Ben, CMO, Elementor
Basic Facts at a Glance:
200,000 + active installations

Compatible with WordPress 4.6 and higher

1500+ free yet beautifully designed page templates for different niche

790,000+ Premium Stock Photos and updated every week

500+ free Block Templates with headers, footers, pop-ups and more

No dedicated element for GutenBurg but they are working on it.
Price: Unlimited Download of premium images from stock Gallery and Custom Template starting from $16.50/m.
If you need a premium but royalty-free images for a commercial project or custom template for a specific business niche then Evanto can be your one-stop solution.
Final Words on Best Addons for Elementor
Easy to use, simple interface, and huge functionality makes Elementor the best WordPress Page Builder with a huge range of satisfied clients. Furthermore, you can expand its facilities by adding your desired add-ons on the board.
Read all the features and best uses of our top 12 best elementor addons. It helps you to pick the best fit for your Elementor website.
Do you have any insight that you would like to share with us? Please share your opinion in the comments section below.