The usage of a website form helps you in many ways. You can get instant feedback for your blog. Bring only qualified leads who're really interested in your business. Collect necessary data when required, facilitate the registration process of events, and more.
Most WordPress users use a form builder plugin to create their website form as the manual form designing process is time-consuming and needs technical knowledge.
Among the hundreds of available WordPress form plugins, the Contact Form 7 and Ninja Forms are the most popular ones. Contact Form 7 is popular because it's good enough for beginners and free forever. On the other side, Ninja Forms is famous for its variety of exclusive features.
This article will describe the features and functionalities of these two form plugins and places them in the same order to help readers understand the differences. You will also find the comparison table for a quick insight. Keep reading to learn more about Contact Form 7 vs Ninja Forms.
Note: Happy Addons is fully compatible with Contact Form 7 and Ninja Forms. You can easily add any of them to your Elementor-powered website using the Happy Addons Form Widgets 1- Happy Addons Contact Form 7 Widget and 2- Happy Addons Ninja Forms Widget. We have added a short overview of these widgets at the end of this article.
Why Use WordPress Form Builder Plugins for Your Website?
Building contact forms is the most common use of WordPress form builders. But, these forms have the potential to do a lot more. All you need to do is know their capabilities and learn how to use them. Learn the versatile uses of WordPress form builder from the list below. The list may work as an eye-opener for you.
To create contact forms
To enhance subscriber lists with CTAs
To integrate customer data with CRM solutions
To collect customer feedback on products and services
To book and register for events
To accept images, audio files, videos, and other media files
To receive documents and job applications
To collect leads for specific campaigns
To register and manage WordPress users efficiently
There are more interesting uses of a WordPress form builder. You can explore them once you have a competent plugin installed on your WordPress. Ninja Forms can help you with complex forms whereas Contact Form 7 is suitable for doing only the basic things.
Contact Form 7 vs Ninja Forms: An In-depth Comparison
The Contact Form 7 and Ninja Forms come with many excellent features with a few downsides. We have gone through the various functionalities of these two popular form plugins in the following section. Ease of use, premade templates, personalization, third-party integrations, etc. are the top criteria we have discussed here.
Contact Form 7 – A Free Form Builder for Beginners
Ninja Forms- A Freemium Drag & Drop Form Builder
Are You in a Hurry? Check this Short Comparison
Get a quick overview of the detailed comparison we made throughout this article.
| | | |
| --- | --- | --- |
| Criteria | Contact Form 7 | Ninja Forms |
| Active Installs | 5M+ | 1M+ |
| Rating | 4.1/5 | 4.4/5 |
| Price | Free | Starts at $49/year |
| Templates | 1 | 17 |
| Form Fields | 14 | 28 |
| Ease of Use | Easy | Very easy |
Let's start with Contact Form 7.
1. Contact Form 7 – A Free Form Builder for Beginners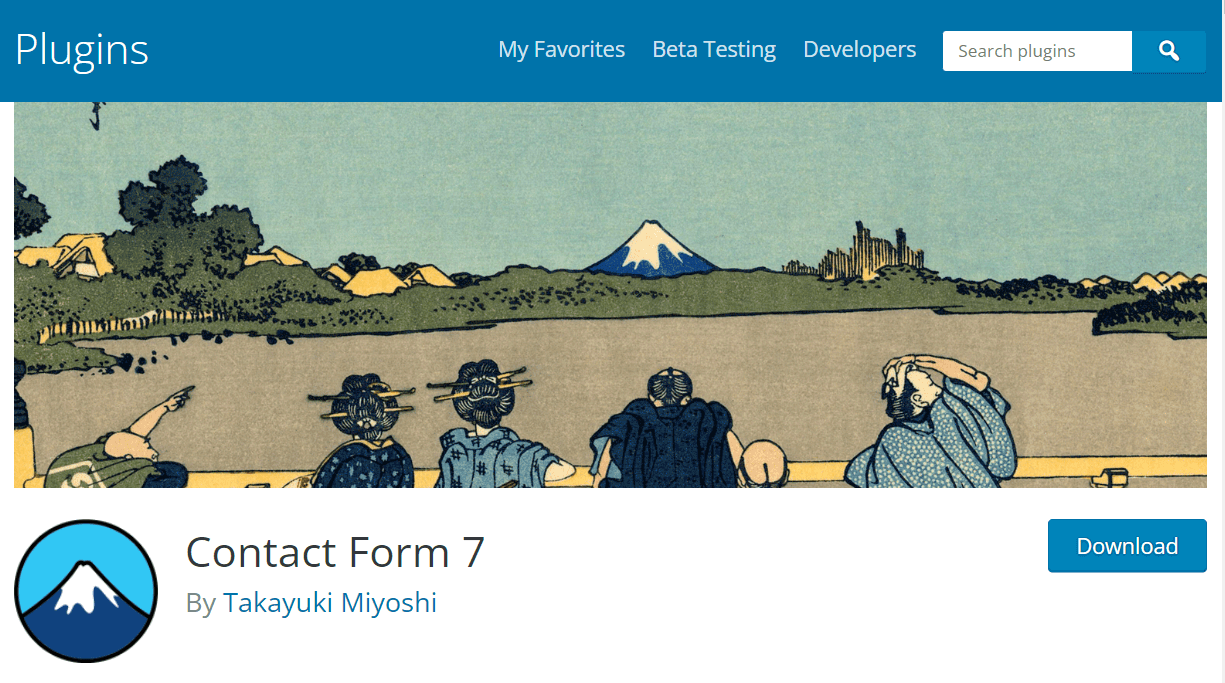 Contact Form 7 is one of the oldest and most popular form builder plugins available in the WordPress ecosystem. Currently, it has more than 5M active installations with an overall rating of 4.1 out of 5 stars. This form is free and has no premium version. It works well for beginners but you may need a more advanced plugin as your website grows bigger.
Key Features
It allows users to edit a form template using form tags which are actually a placeholder for HTML code snippets. You can use the tag-generator tools it provides for fields like-
Text
Email
URL
Tel
Date, and more.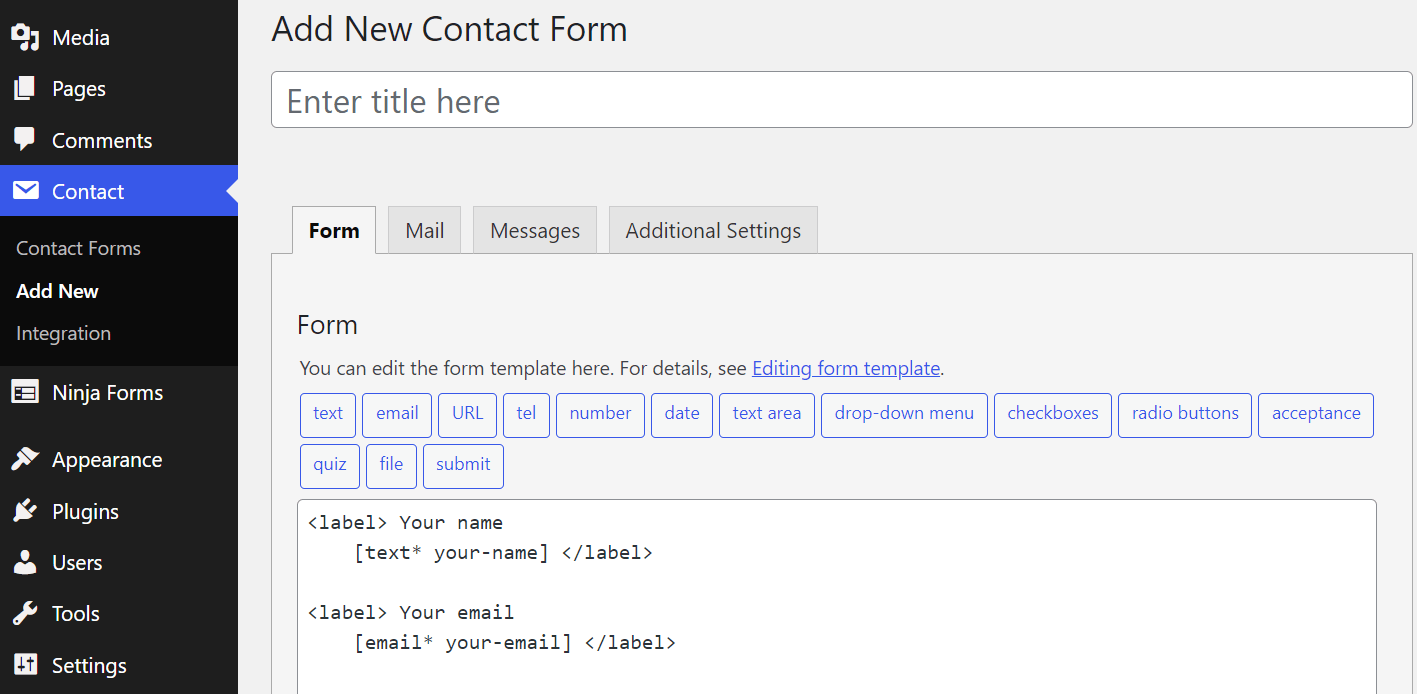 You'll get a shortcode after editing or creating a new form. Then you can display the form by copying the shortcode and pasting that to your post, page, or text widget content.
Ease of Use
Contact Form 7 requires the users to have basic knowledge about HTML markup. You'll have to use shortcodes and form tags to create forms using it. If you are a developer, it's very convenient to use. But, people with low or no technical knowledge may find it difficult to use.
Form Fields & Customization
It offers only a few readymade fields for the users. You will get the following fields from this form plugin.
Text
Email
URL
Tel
Number
Date
Text area
Drop-down menu
Checkboxes
Radio buttons
Acceptance
Quiz
File
Submit
You can customize a form using any of these pre-defined fields. Besides, Contact Form 7 comes with different add-ons to provide users with additional features.
Embedding
You need to embed your contact form into a post using shortcodes or the WordPress editor. Once you're done creating a form, Contact Form 7 will give you unique shortcodes that contain all the customization you make. You can easily display a form inside a page or post by pasting the dedicated shortcodes for a specific form. Or choose the Contact Form 7 icon from the Gutenberg blocks.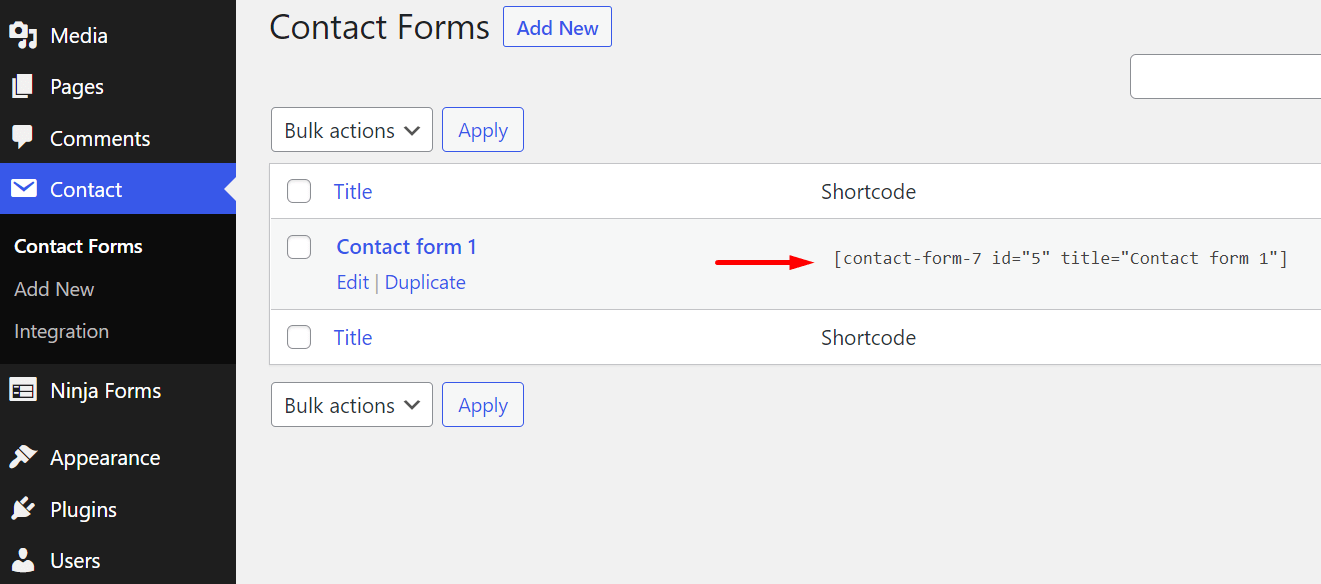 Payment Gateway Integrations
By default, it doesn't offer integration with PayPal or Stripe. But, there are third-party plugins that allow users to receive payment or deal with donations through Contact Form 7. Note that you may find compatibility issues when integrating these plugins with Contact Form 7.
Email Marketing Integrations
It has no direct integration with email marketing services. You can connect it with email marketing tools like Sendinblue, and Constant Contact with API keys. To use other email marketing accounts like MailChimp, you'll need to use third-party extensions or plugins.
Documentation
Contact Form 7 has a dedicated Docs page to help users with the necessary information to run this plugin smoothly. It has five sections- Getting started, Creating forms, Integrating with external API, Tips, and Troubleshooting. Besides, it has supporting content about Security, Announcements, Releases, and Developer's cookbooks.
Support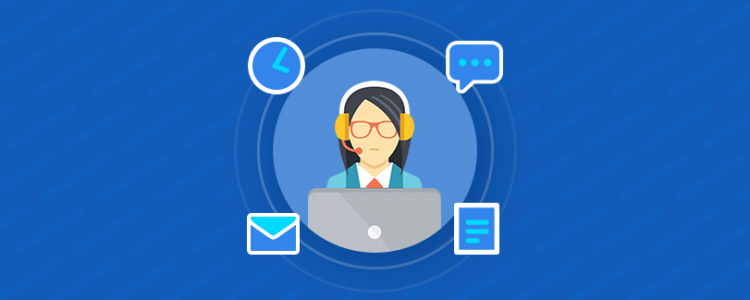 It is free, so it offers limited support. Their supporting content available on the website is enough to help you create the basic forms for WordPress.
You can also reach out to the Support Forum to find effective solutions to your problems. The forum is very active with the participation of volunteer developers.
Pricing
Contact Form 7 is free but it accepts donations from the users. These donations encourage its creators to develop the plugin continuously and provide better user support.
Also, learn how to create a contact page with Elementor.
2. Ninja Forms- A Freemium Drag & Drop Form Builder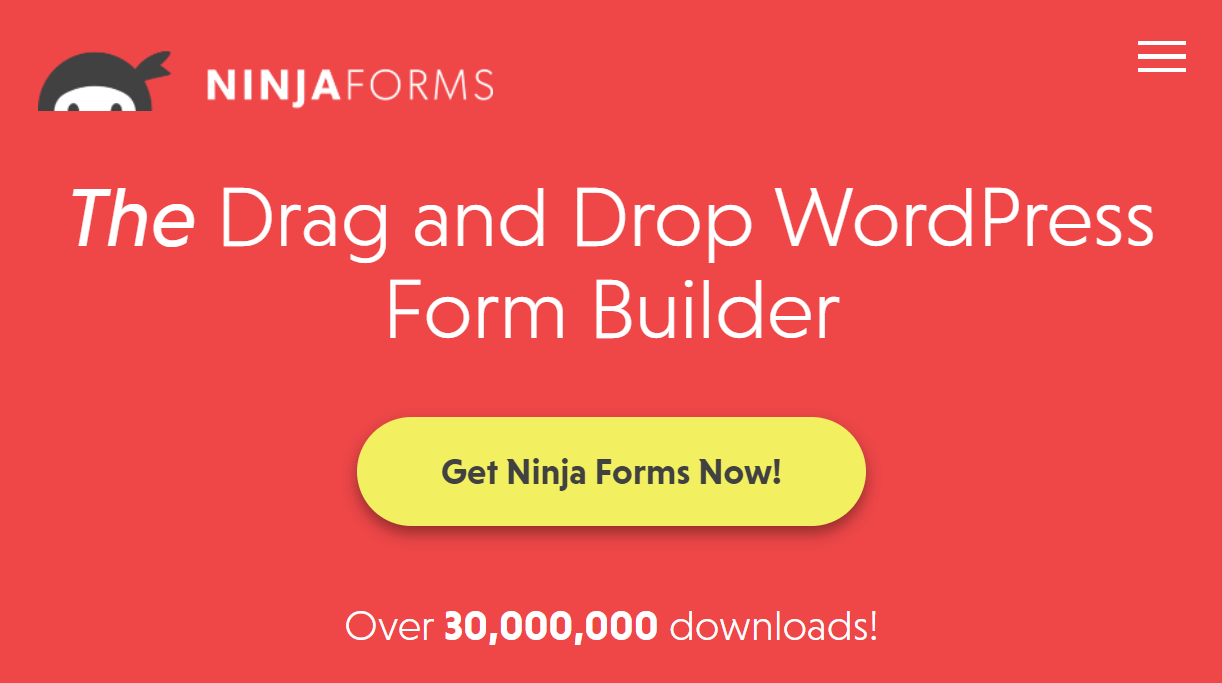 Ninja Forms is a powerful and feature-packed WordPress form builder. It comes with excellent pre-built templates and drag-and-drop functionality to help people with little or no technical knowledge. As of now, it has 1M+ active installations and an average rating of 4.4 out of 5 stars. Ninja Forms have a premium version capable of building advanced and complex forms for WordPress websites.
Key Features
It is a drag-and-drop form builder. It has many pre-made form templates that allow users to create-
Contact forms
Feedback forms
Event registration forms
Job application forms
Quote request forms
User profile forms
Payment forms, and more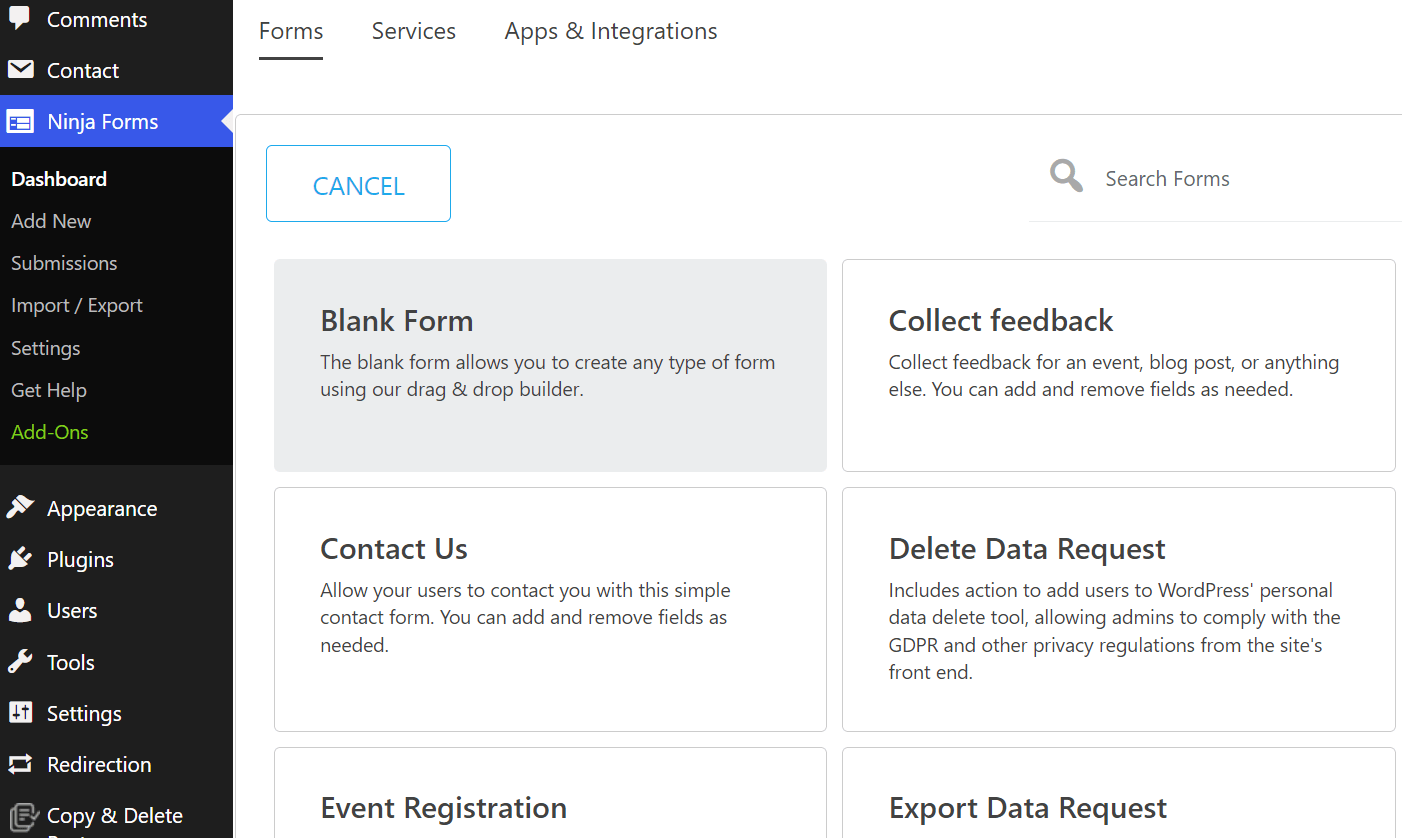 This plugin has integrations with many apps and third-party plugins like Zapier, MS Excel, PayPal, Stripe, MailChimp, MailPoet, Help Scout, Zoho, and more. Here's a list of the key features of Ninja Forms.
17+ pre-built templates
27+ available form fields
Mobile-responsive forms
Multi-lingual (supports over 16 languages)
Unlimited form creation
Export and import functionality
Compliant with WordPress GDPR
Dedicated customer support
Easy to use even for beginners
Integration with multiple apps and plugins
Ease of Use
The user interface of Ninja Forms is very intuitive. It looks very straightforward and devoid of unnecessary HTML placeholders. You can easily access it from the WordPress admin panel sidebar. Add new forms and display them on the front-end using the auto-generated Ninja Form shortcodes.
Form Fields & Customization
It is better than most of its competitors and a better alternative to Contact Form 7. Because it has many templates and each template has 28 form fields inside them. These fields allow users to create any kind of form using a drag and drop interface. Check the following picture to see the form fields available at your disposal.
Embedding
Like Contact Form 7, Ninja Forms also generates shortcodes specific to each form. You can paste these codes inside the WordPress editor and display the forms on the front end. Or you can use the block section of the Gutenberg editor. Choose the Ninja Form icon from the block, it will show you all available forms. Embed the one you need.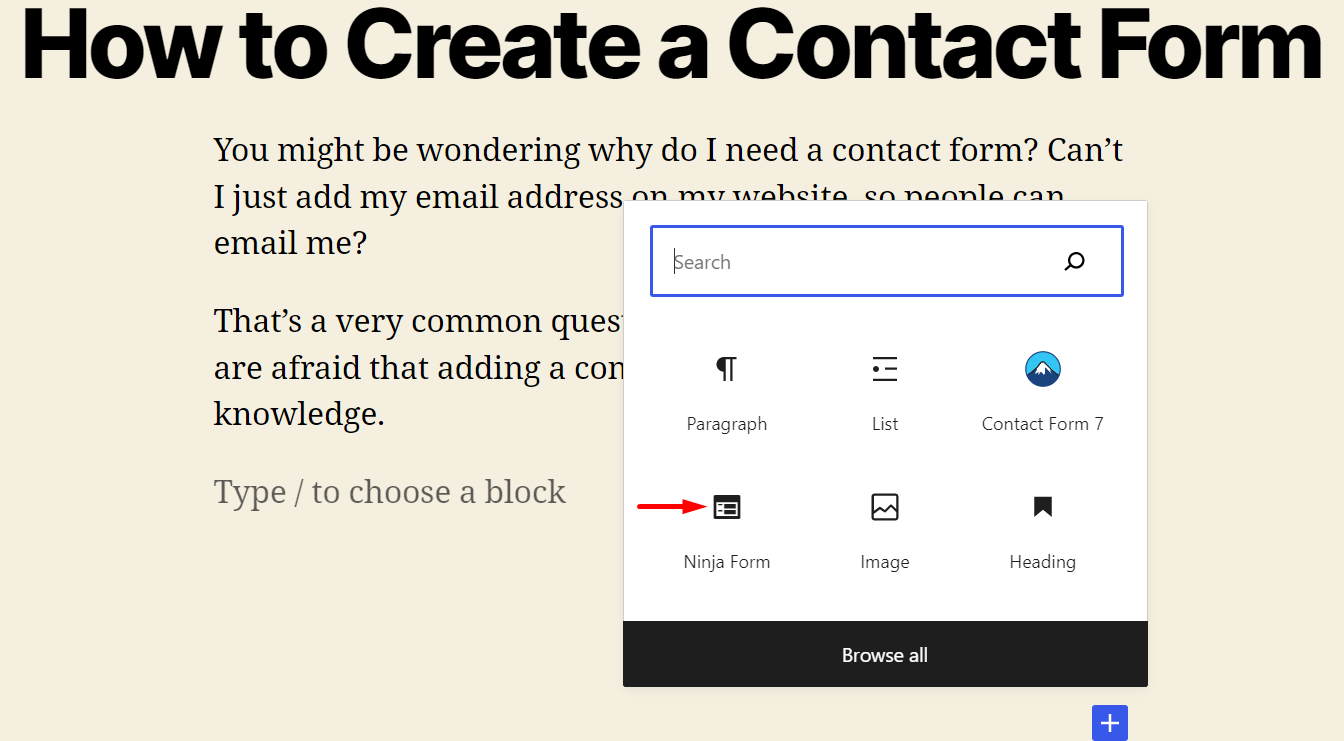 Payment Gateway Integrations
Ninja Forms is well integrated with PayPal and Stripe. You can provide multiple payments and donation options for the users. It supports single payments, subscriptions, and fixed and variable amounts. Moreover, these transactions are fast, secure, and hassle-free.
Email Marketing Integrations
You'll get fully customizable email subscription forms and catchy lead generation forms from Ninja Forms. With this plugin, getting more subscribers and leads becomes easier with integration with top email marketing tools like MailChimp, Campaign Monitor, Salesforce CRM, Zoho, Constant Contact, and more.
Documentation
Ninja Forms has extensive documentation sections required to answer all the queries of the users. It has several docs under a few categories. The categories are as follows:
Getting Started
Using the Builder
Settings
Add-on Actions
Emails & Actions
Troubleshooting
Frequently Asked Questions
CRM Integrations
Payment Gateways
Email Marketing add-ons
Changing the Form's Appearance
Installation and Updates
Field Add-on
All documents are very well-explained for users with minimum technical knowledge.
Support
It has a responsive support team. You're likely to get a solution to your issues within 24 hours. It has a premium support option for PRO users. Free users also get support but you may need to have the patience to receive responses from the support team in that case.
Pricing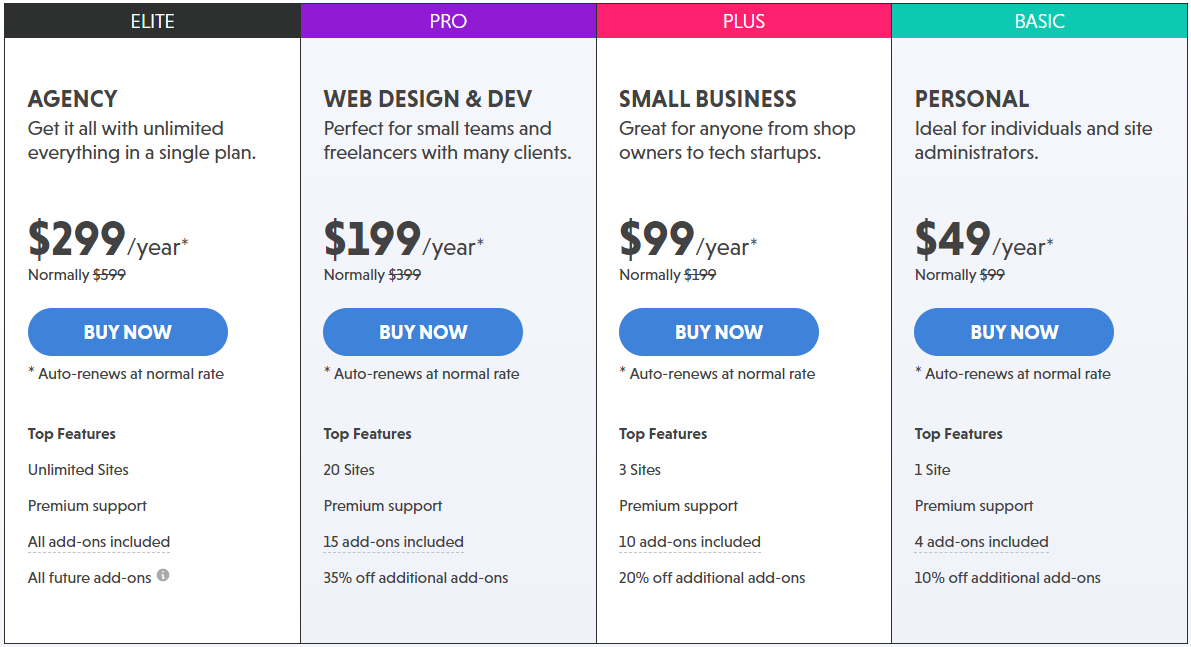 The premium version of Ninja Forms starts at $49/Year for one site. You need to buy an advanced package if you have more than one site to manage. Other packages are Small Business, Web Design & Dev, and Agency. Check out the ninja forms pricing page for details.
Pros And Cons of Contact Form 7 vs Ninja Forms
Let's have a look at the pros and cons of both Contact Form 7 and Ninja Forms to find out the better one.
Contact Form 7
Pros:
Many custom fields
Compatible with all WordPress themes
RE-CAPTCHA authentication to prevent spam
Regular updates
Free
Cons:
Limited templates
Lack features
Difficult to use for beginners
Ninja Forms
Pros:
Intuitive drag and drop form builder
Supports conditional logic
Integrated with several apps and tools
Smart use of Ninja form shortcodes
Email notification on successful form submission
Fast submission via Ajax
Wide range of templates and form fields
Cons:
Depends on other add-ons for additional features
The core plugin offers limited functionalities
A bit pricier compared to other form builders
Contact Form 7 vs Ninja Forms Compared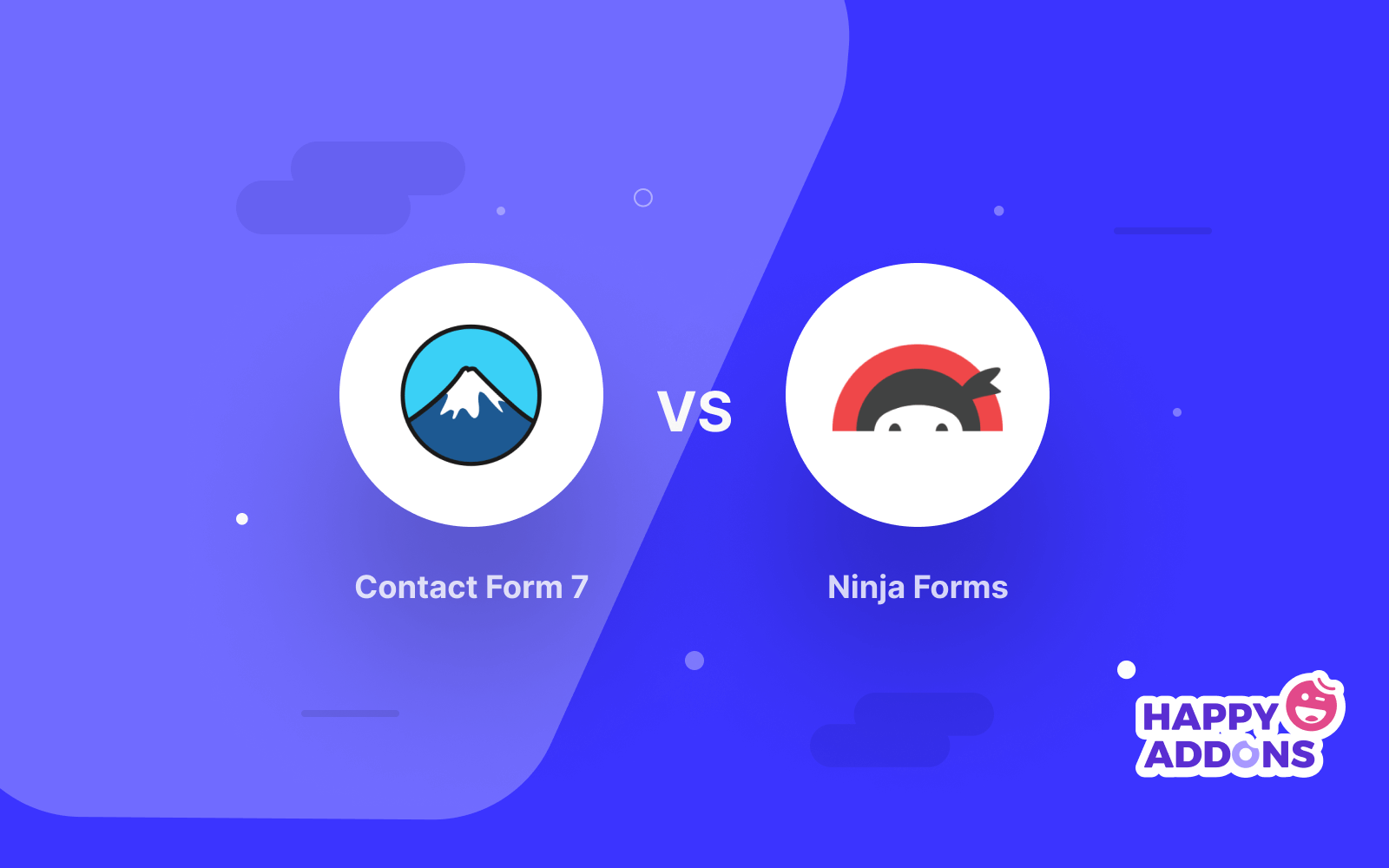 Hope now you know which form plugin may perform better for your website. Let's sum up the whole comparison in a table to help you see the side-by-side comparison. This comparison table will remove your confusion if you have any.
| | | |
| --- | --- | --- |
| Criteria | Contact Form 7 | Ninja Forms |
| Active Installs | 5M+ | 1M+ |
| Rating | 4.1/5 | 4.4/5 |
| Price | Free | Starts at $49 per year |
| Templates | 1 | 17 |
| Form Fields | 14 | 28 |
| Ease of Use | Easy | Very easy |
| Embedding | Shortcodes & Editor | Shortcodes & Editor |
| Support | Limited | Moderate |
| Documentation | Moderate | Extensive |
| Payment Integration | Depends on 3rd-party plugins | Well-integrated |
| Email Marketing Integration | Integrated with a few tools | Supports almost all top marketing tools |
Design Your Forms with Free Happy Addons Forms Widgets
Elementor is the best page builder plugin for designing pixel-perfect websites. It is equipped with 100+ drag & drop widgets including custom form building features. You need to activate the Elementor pro version to create custom forms.
But if you install and activate Happy Addons one of the fast-growing free Elementor addons to your website, you can easily enhance extra features to Elementor's functionality. This advanced add-on comes with 8 Forms widgets covering almost all popular plugins. You can also use its premade form templates and save your valuable time.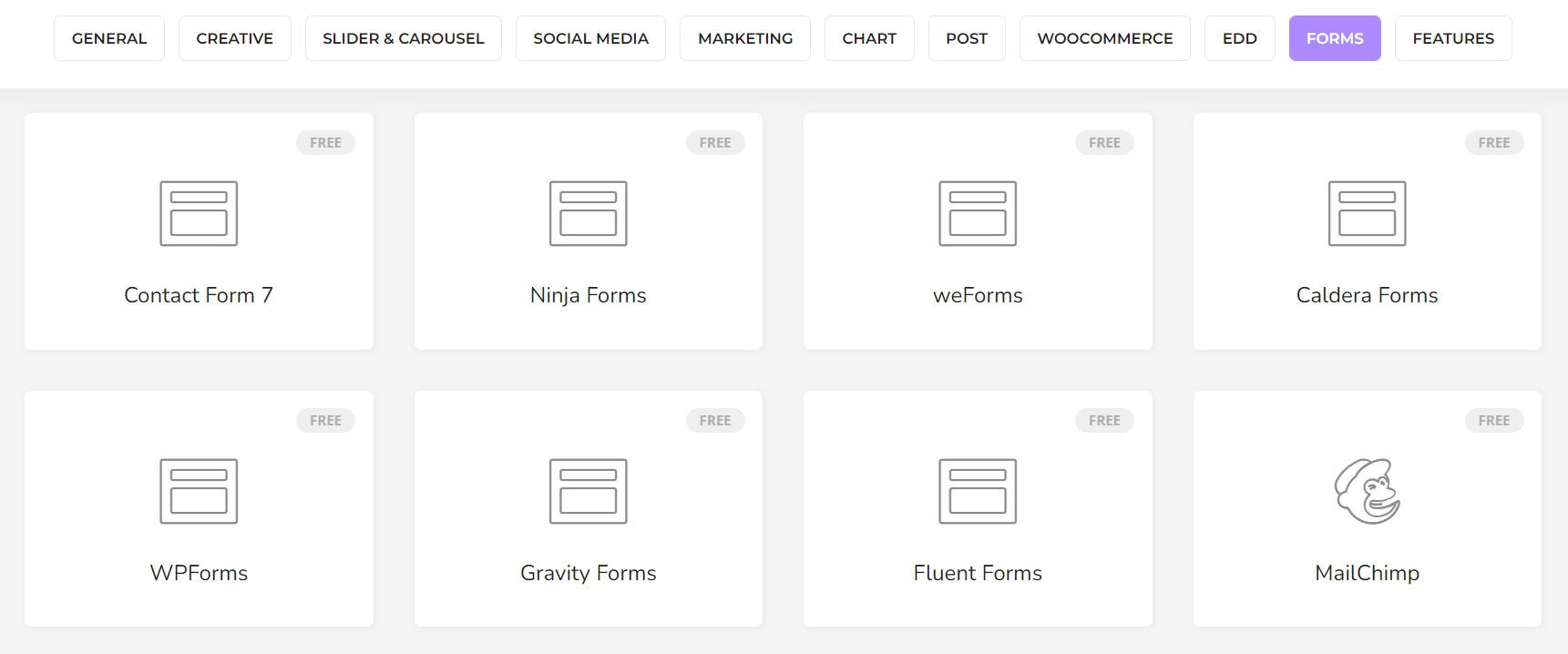 Most importantly, Happy Addons have dedicated free widgets for both Contact Form 7 and Ninja Forms. You'll see both widgets available on the left sidebar of the Elementor editor. Drag the widget you need from there and place it in the empty area. Then start designing using your imagination and creativity.
Follow the below official documentation to learn how to use these widgets:
Ninja Forms: How to Use Ninja Form Widget in Happy Elementor Addons
Contact Form 7: How to Use Contact Form 7 Widget of Happy Elementor Addons
Which Plugin Should You Use for Making Forms?
Look for the best WordPress form builders, Contact Form 7 and Ninja Forms will make it to the list any day. By now it should be easier for you to choose the right one between Contact Form 7 and Ninja Forms. We've dived deeper into the many aspects of these two forms in this blog to facilitate your decision-making process.
If you have a small website that requires only simple contact forms, Contact Form 7 is the best for you. But, if you have a growing website that needs to handle complex forms, Ninja Forms or other freemium WordPress form plugins are there for you.
Since everyone has different business goals, their choices are different as well. Understand your needs at first and align them with your budget. Hope this detailed guide on Contact Form 7 vs Ninja Forms will help you choose the suitable one for your business.