From the very beginning, we, the Team HappyAddons is trying to give our users some special editing experience within Elementor Page Builder. For that reason, Adam Preiser the founder of WP Crafter mentioned Happy Elementor Addons as a unique one among the rest of the Elementor Addons.
To keep up the innovation and provide you with one of the best web design experiences along with Elementor, we have released Happy Addons v2.0.0.
What You Will Get with Happy Elementor Addons v2.0.0
Maintaining our legacy, we are introducing some new and cool features along with the most unique and intuitive Plugin Dashboard. So many of our users have been giving us feedback for introducing a plugin dashboard from where they can manage Happy Elementor Addons extensively. Here is our v2.0.0 changelog,
Happy Elementor Addons v2.0.0 Changelog

New

: Plugin Dashboard

New

: Image popup support for Justified Grid Widget

New

: Image popup support for Image Grid Widget

Update: Improved HTML tag support for description and title fields
Update: Added more icons in Happy Icons
Update: Improved HTML escaping support for security

Fix: Skill Bars admin label fix
Fix: Missing style issue while copy-pasting widget style
Fix: Happy Icons cache issue
Fix: Admin bar menu spacing issue
First Look at Our Intuitive Plugin Dashboard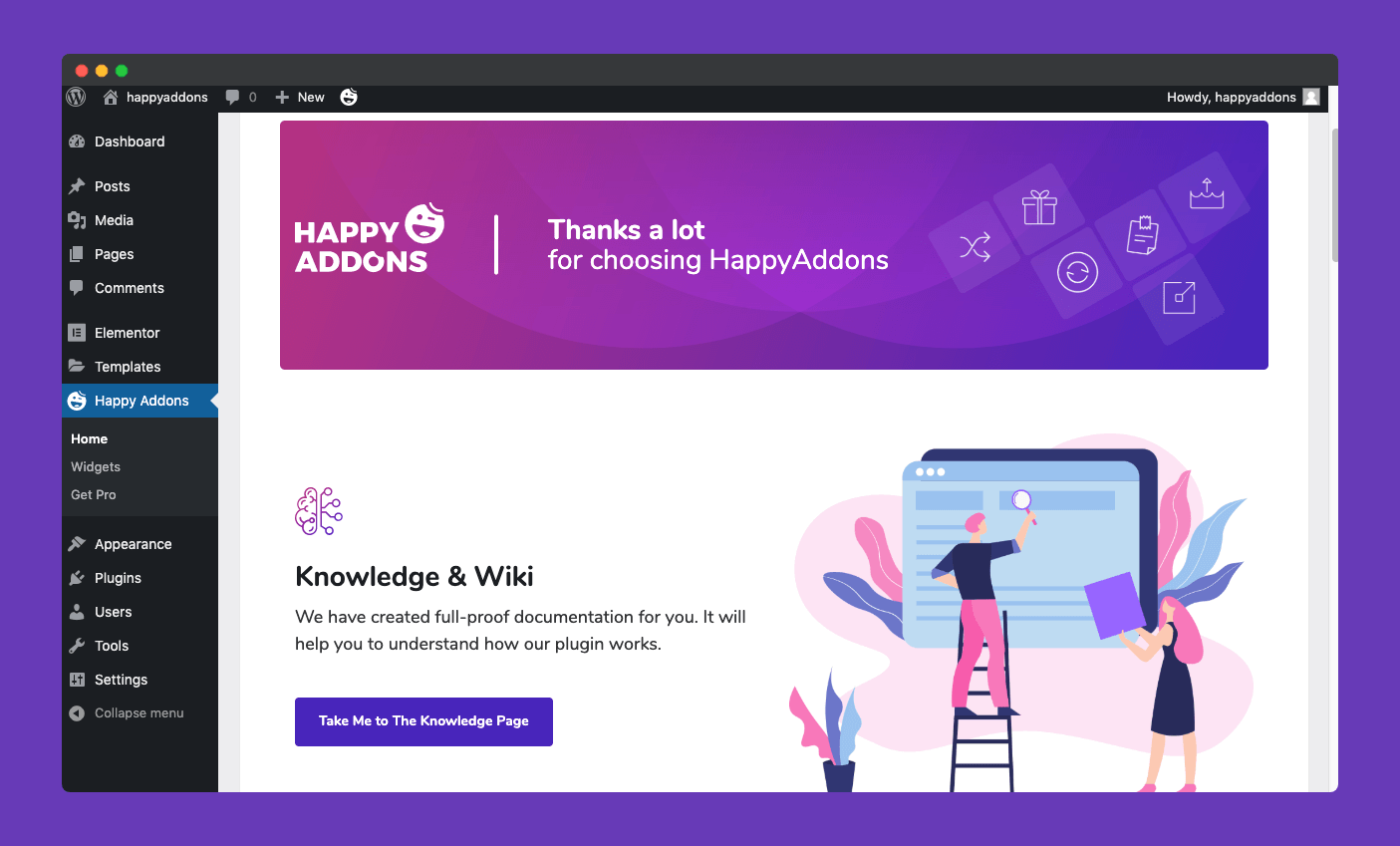 After installing and activating Happy Elementor Addons you will automatically redirect to the plugin dashboard's Home Tab. There are two more options there – Widget Tab and Get Pro Tab.
Introducing Plugin Dashboard's Home Tab
In this Home Tab, you will get all the important and useful links regarding Happy Addons. We have brought all sorts of facilities to you at a single stage.
You will get our official support channels link, knowledge, and wiki section, and most importantly, you will find a section requesting a new feature for our plugin. You can easily request a new feature when you feel you are missing out.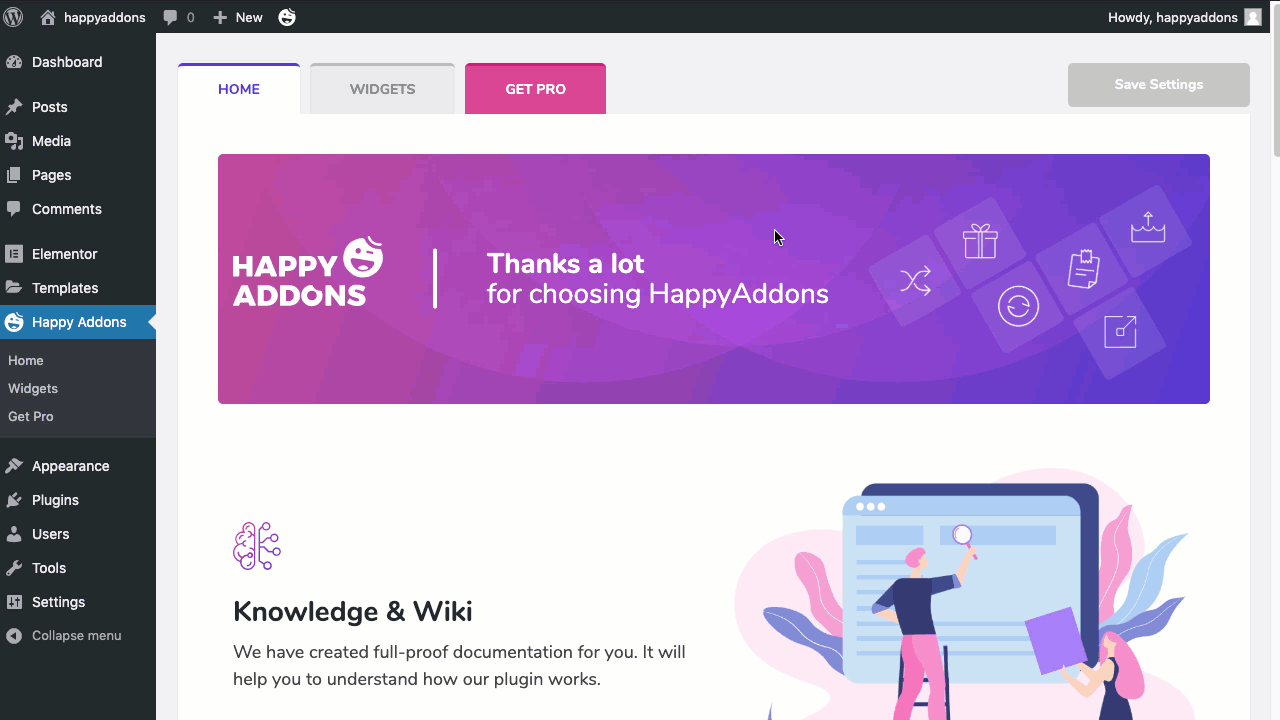 What You Will Get in The Widget tab
As it's our motto to give our users exclusive design materials from the beginning and we are trying to do so. But we have another motto not to be a blocker in the case of your site speed and optimization matters.
For this reason, we made our plugin so lightweight. Besides that, Happy developers always maintain a decent coding standard.
We have introduced On-demand Asset Loading Feature in the v1.4.0. Now in the v2.0.0, we have launched the widget management system within the plugin dashboard. You have the full freedom to choose your widget as per your need. This means you can activate or deactivate any widget from here.
Also, you will get the demo links of every single widget. It'll help you to get inspiration to make your own creations. Isn't it cool?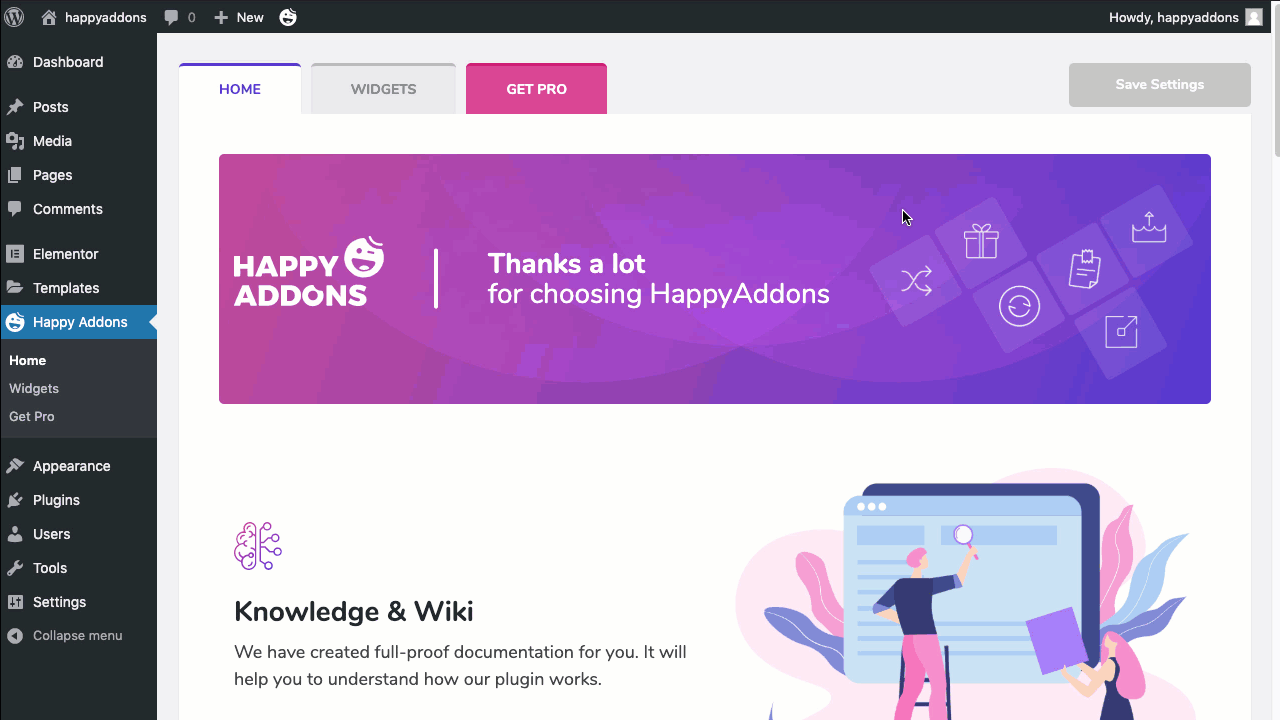 But whatever you do, don't forget to click the "Save Changes" button after doing any changes in the Widget Tab.
Get the Pro Tab
To give you a premium experience of Happy Elementor Addons, we are planning to launch the Pro version soon. From this dashboard, you can avail yourself that easily and learn more about the exciting and game-changing features that are waiting for you.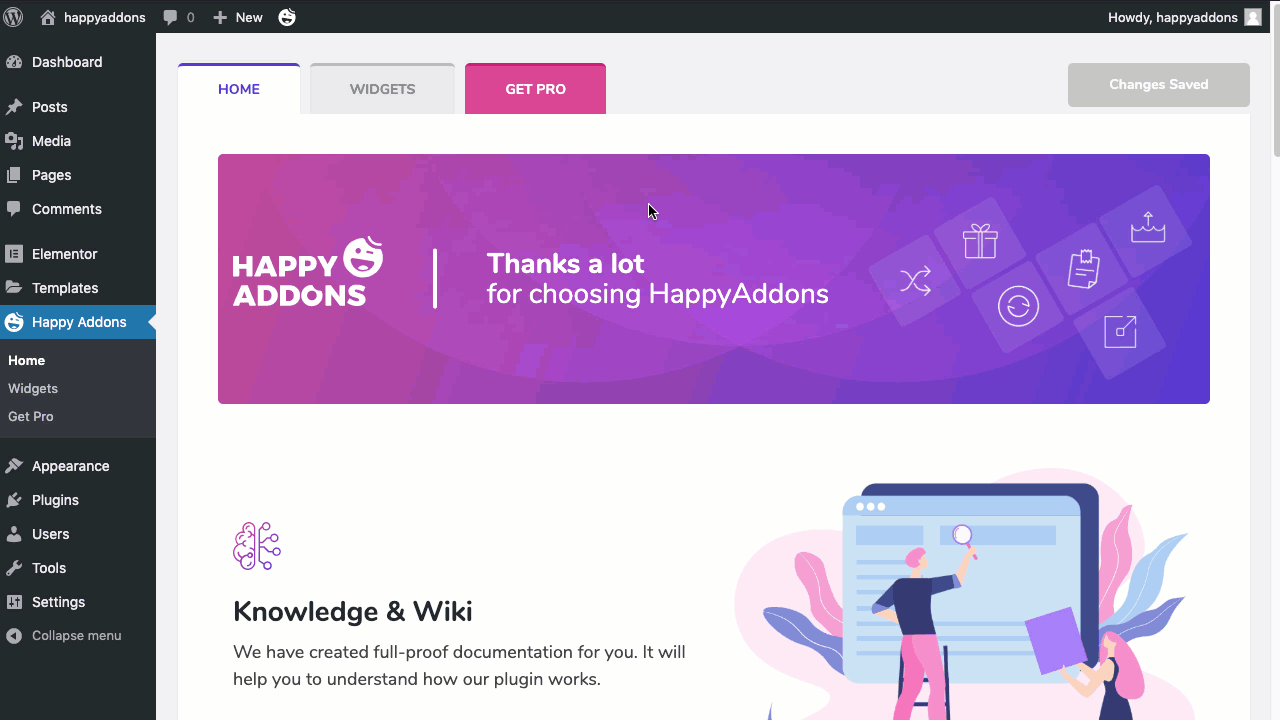 Glimpses of the Premium Offerings
So, what will you be getting in the premium package?
Here is a sneak peek of the premium version that is waiting for you.
Premium Features of Happy Elementor Addons

Premium Happy Features: What You will Get in Pro Version,

Will get the freedom to do copy and paste any elements within different websites. We are calling it as a cross-domain copy-paste feature.
You will get the privilege to add Unlimited Sections within a single section. Which is unavailable in Elementor Page Builder. It's the Unlimited Section Nesting Feature.
We are introducing Presets. With this feature, you can use any of our premade design sets in a dropdown facility. We are giving you 400+ premade presets to you which will reduce the pain of recurring & repetitive work.
One-click page sync feature which will help you to deploy any site from staging to live within a minutes.
And many more in the Happy Elementor Addons bucket list.

Premium Widgets

We are providing high-level customizable 15+ widgets for you.
More are coming soon.

Are You Interest in Booking Your slot to Try the Premium Plugin at a 30% Discounted Rate?
Book your slot Now ?
Are you excited like us too? Then show your level of happiness by sharing the news on the social channel ?
We Want to Hear From You
Please let us know your opinion about the new dashboard design, and it's functionality. It'll help us to create these kinda things in the near future. Your kind co-operation helps us to keep ourselves motivated and enthusiastic.