Nowadays, people like informative, and unique content with a well-designed interface on the web. And when it's about an eCommerce platform, users expect more and something special. So, your product layout design should get the top priority in the initial stage.
In 2017, eCommerce business was in charge of around $2.3 trillion in deals and is relied upon to hit $4.5 trillion by 2021!

Shopify
So, you can easily understand that eCommerce is going to lead the physical products market in the near future. A large number of people are giving priority to online platforms.
It's a great opportunity to be successful in this industry. Basic things you should consider are- building a smart eCommerce website, ensuring proper user experience, and keeping promoting through well-informed content.
In this article, we are going to show how you can easily design your site's product layout without any coding.
What is Product Layout Design?
Actually, product layout design means a smart and suitable structure where customers can easily get what they want. In a layout, products are designed consecutively based on their types.
For example, if you want to get any electronic items, then the product layout will easily tell you where to click.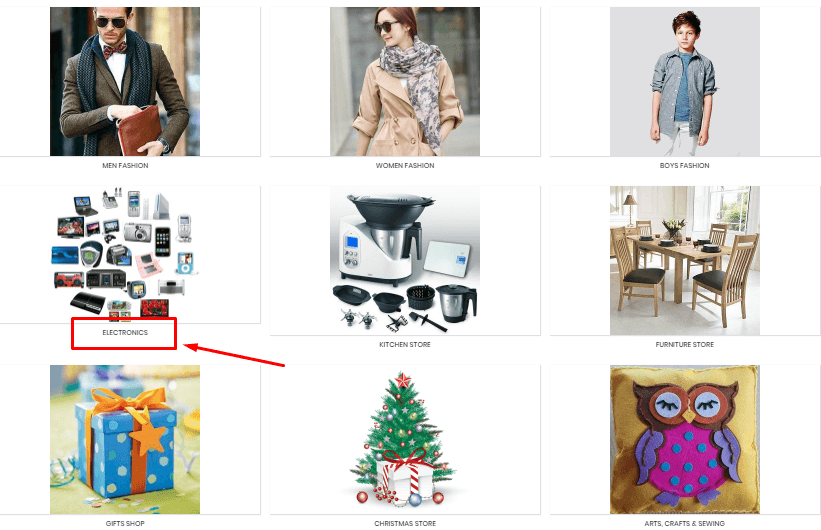 After choosing the electronic item, you will see another window with sub-categories. And here you can choose your desired items.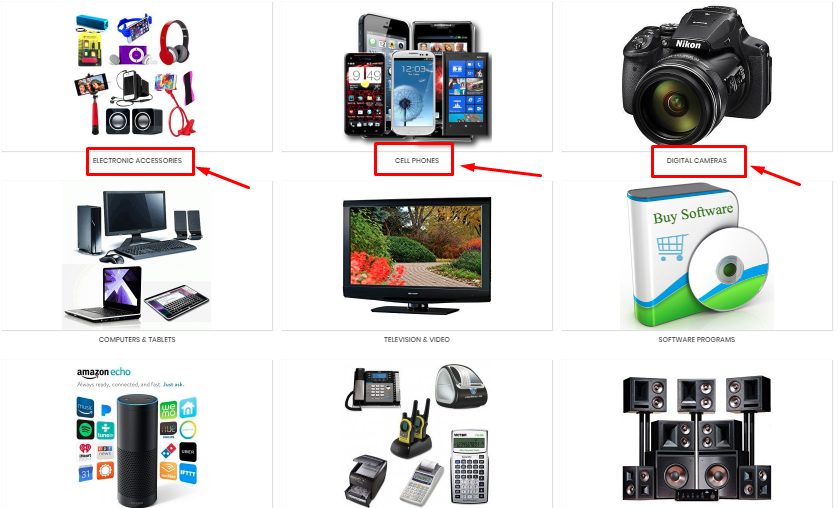 So customers can easily choose the products using layouts whatever they need. Isn't it simple?
The right product layout can boost sales, improve loyalty and help customers find what they want faster
There are different types of product layouts. Before designing any layout, we have to know their types. So let's get started.
Types of Layout Design
Different websites have different product layout designs. So first, you need to consider what types of websites you are running and what types of products you have. After that, you can select the right layout to demonstrate your product sequentially.

Let's know the types of product layouts:
Product Layout
Process Layout
Cellular Layout
Combination/Hybrid Layout
Fixed-position Layout
And Other Layout
So these are the basic types of product layouts. And in this article, we'll be discussing product layout design.
The Difference between Product Layout and Process Layout
There are different strategies for grouping, which are normally called layout. They are product layout, process layout, fixed position layout, cellular layout, and hybrid layout. Among them, Product and Process layouts are the most important.

What is Product Layout?
Product Layout is a type of layout design where the products are arranged in one line according to the category-wise activities.
Let's know what benefits you will have in product layout design.
Easily arrange the products in a sequential way
It categorizes products by quantity
You can inspect products at a minimum level
The smooth and immediate flow of mass quantities of products
What is Process Layout?
Process Layout indicates the type of layout design where it combines products according to their functions. Process layout design helps to deliver products when they are ready to distribute.
Let's check out some benefits of process layout design:
Process layout arranges different products in a group
You can find different workflows with process layout design
The cost of process layout is higher than product layout design
The workflow in process layout design is variable
Product Layout Design With Happy Addons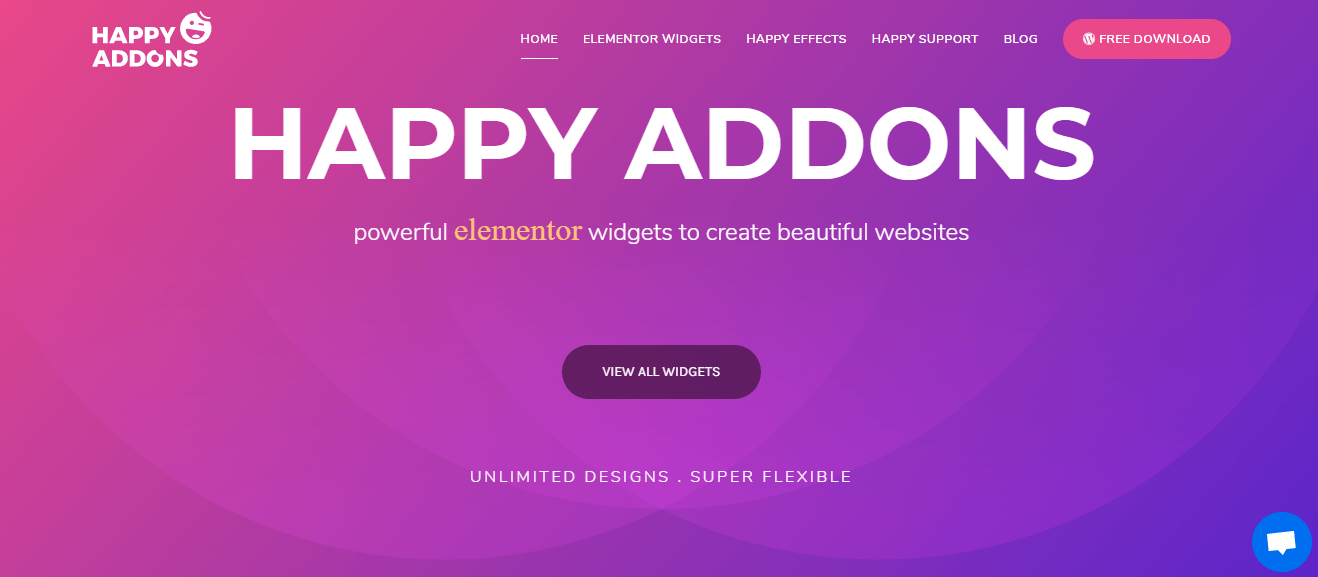 You can easily design awesome product layouts with Happy Addons. And it's free.
In this section, you will get all the ideas about product layout design. So let's get started.
Requirements before Starting
How to install Elementor and Happyaddons?
It's very easy to add and install a plugin in WordPress. Follow the guide and install Elementor.
Now, follow the instructions to install HappyAddons.
Navigate to WP-Admin>Dashboard>Plugin>Add New Plugin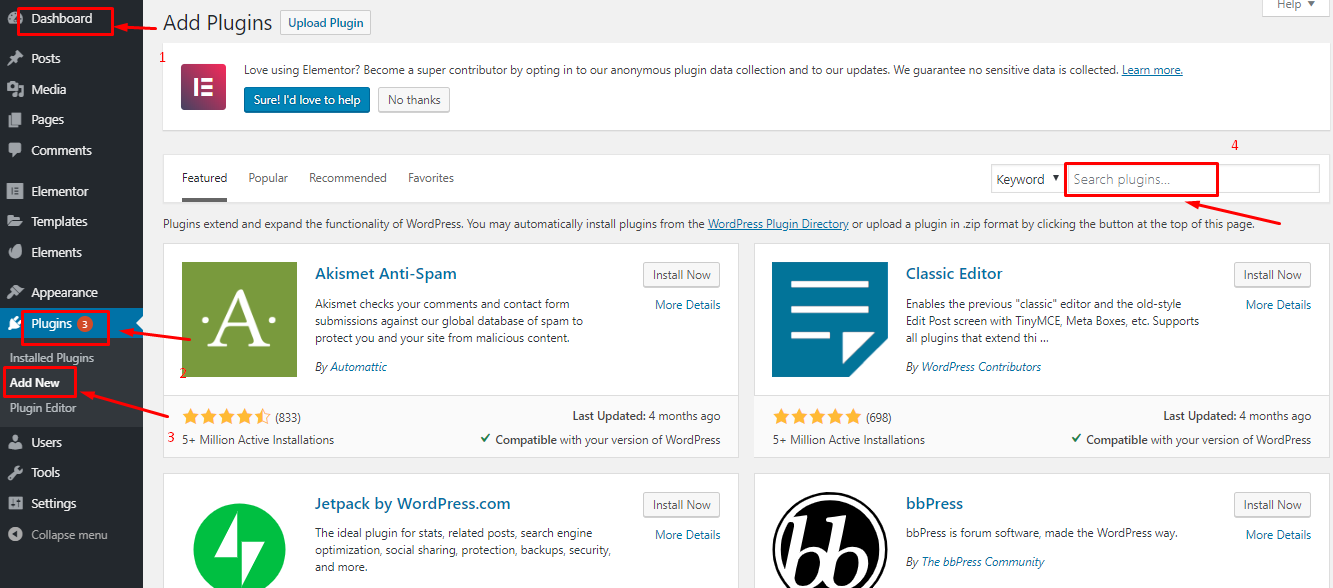 Next, Type Happyaddons>Install>Activate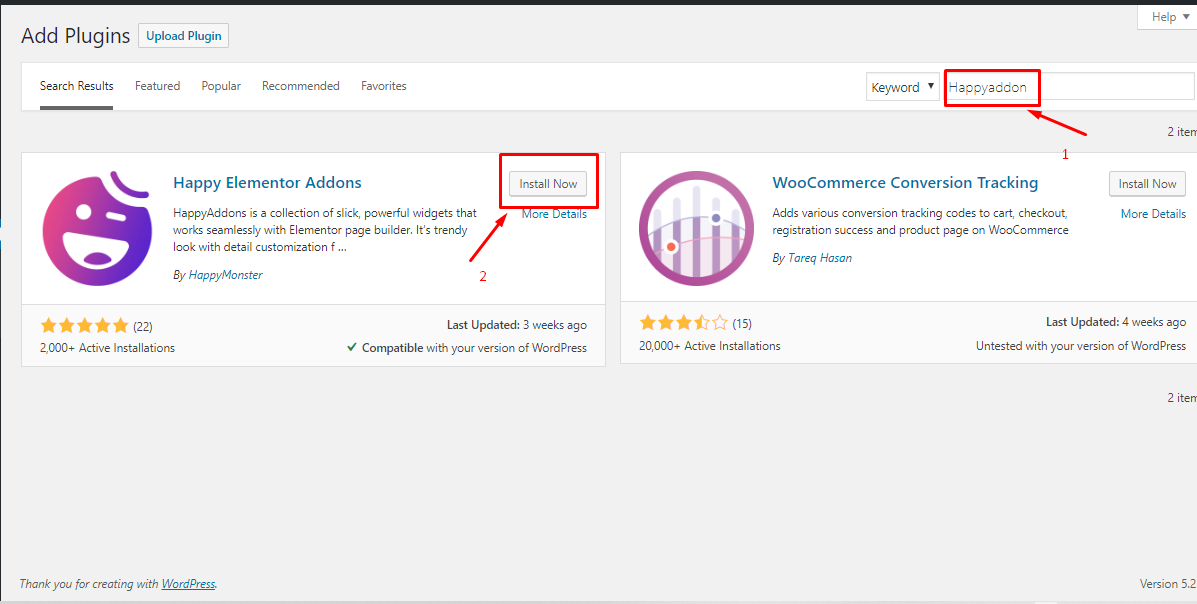 Now you have both Elementor and Happyaddons plugin to design your product layout. Let's dive into the tutorial.
eCommerce Product Layout Design Using Elementor and Happy Addons
Step One: Create a Blank Page
Add a page then give a title
Select Elementor Canvas
You can save it as a draft or publish it.
As we have already created this page before so it shows "Switch to Draft" and "Update".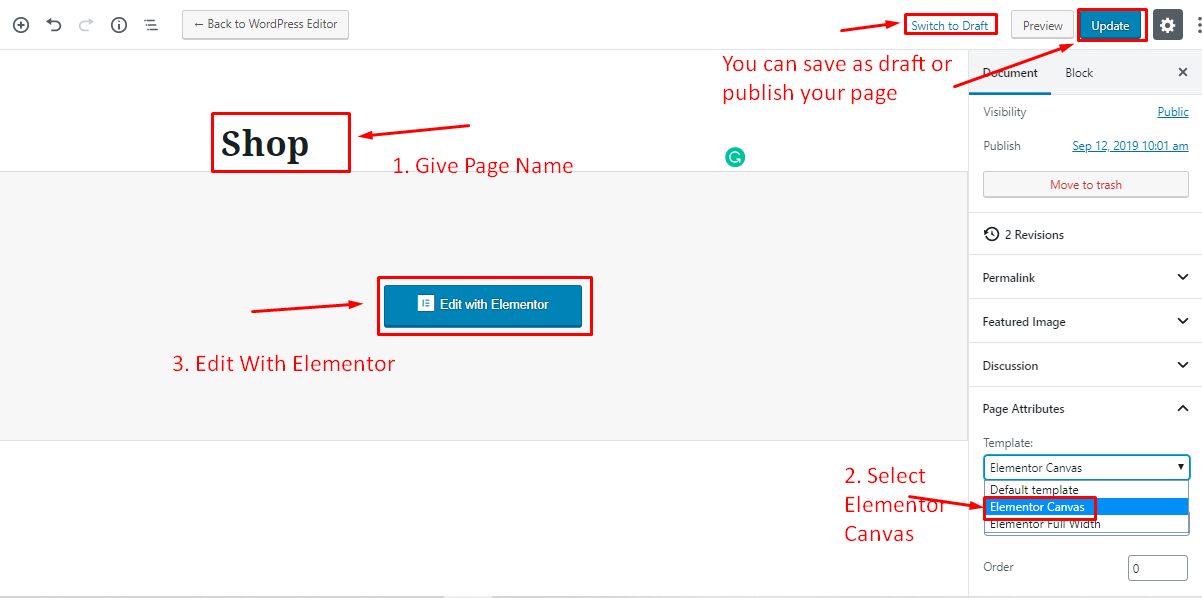 Step Two: Adding Header
It's easy to add Header using HappyAddons. To add header, check out the tutorial
Step Three: Adding Divider
To add a divider under the header like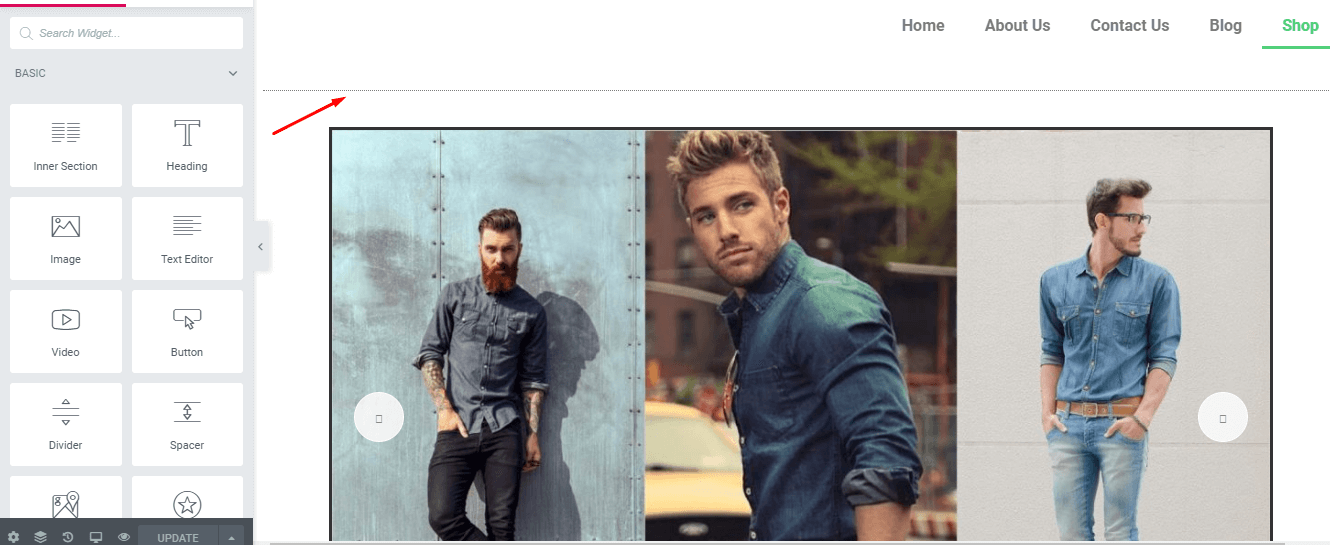 Select the "Divider Widget" and drag it to the selected area.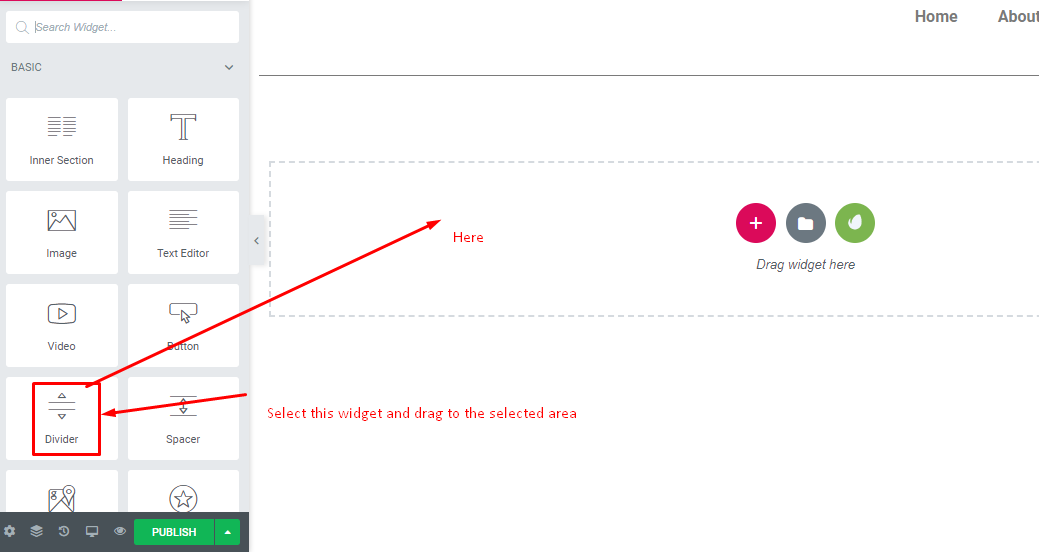 Step Four: Adding a Slider
It's very easy, quick and customizable.
Click on the "+" button. Select a blank page and then slider. And drag it to the blank area.

This will appear like this.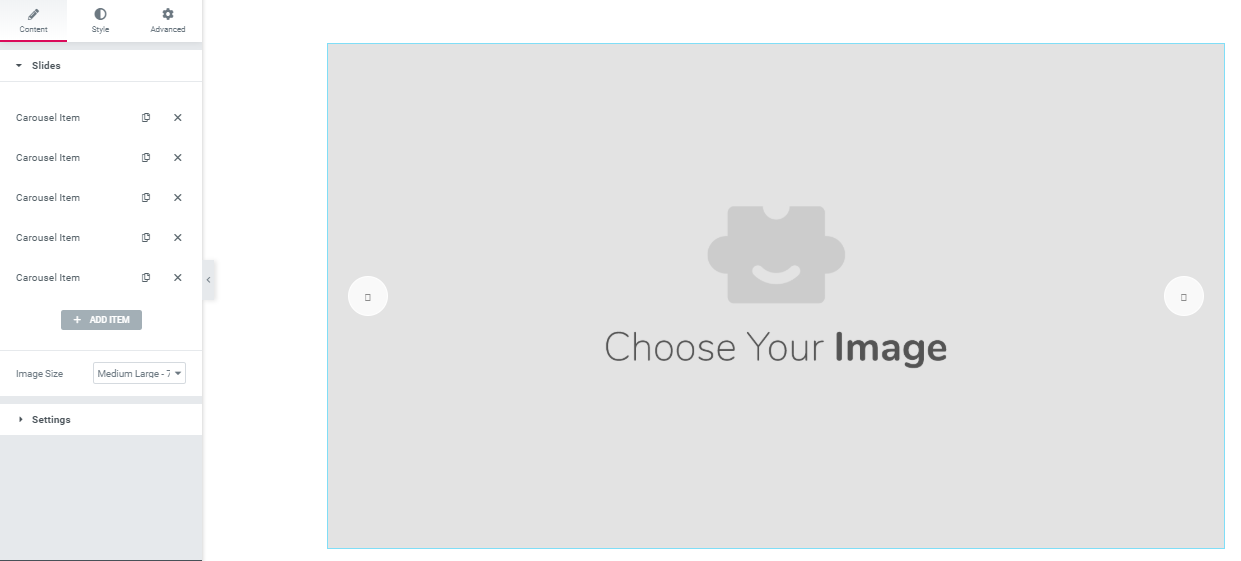 Then click on the "Carousel Images" And add images. After adding images your slider looks like this.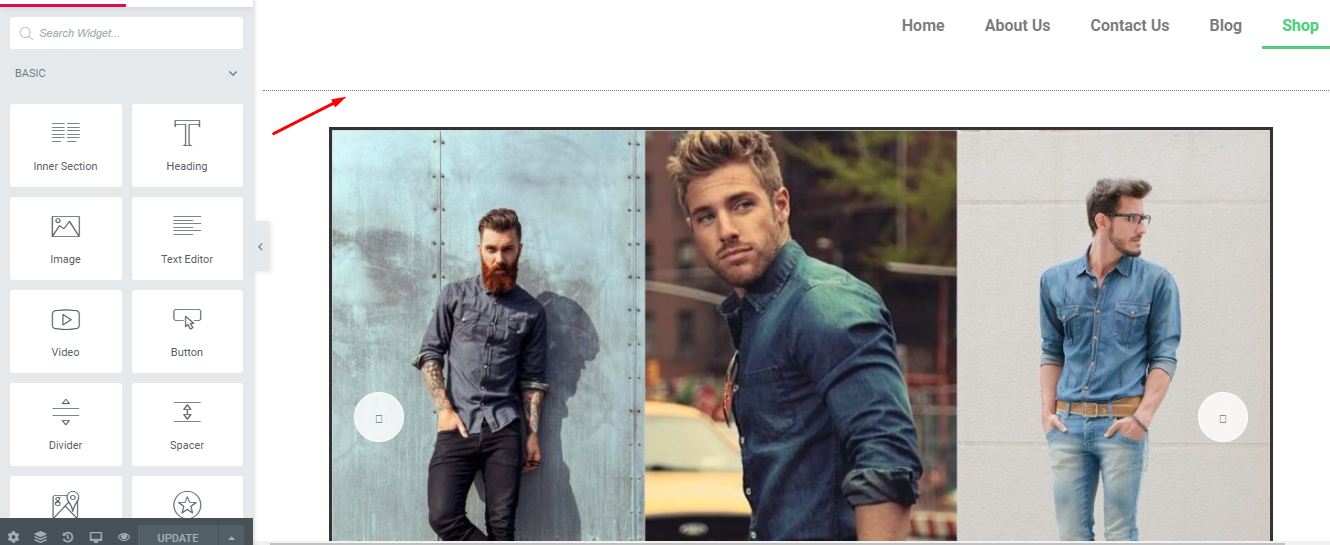 Step Five: Adding Header Text under the Slider
It's all up to you, how you prefer to design your product layout page. To do this-
Select a blank block and then "Header Text widget"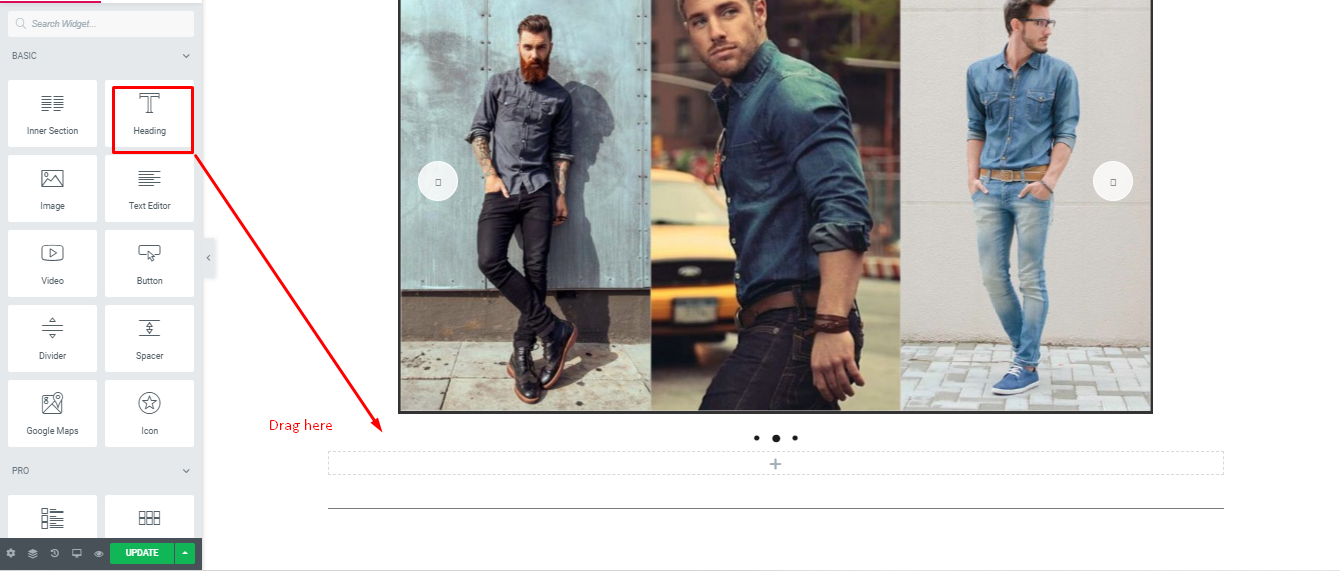 Now type a slogan or a customer engagement sentence
You can float your images and other things using Happy Addon. Check out the complete tutorial on how to float elements with Happy Addon.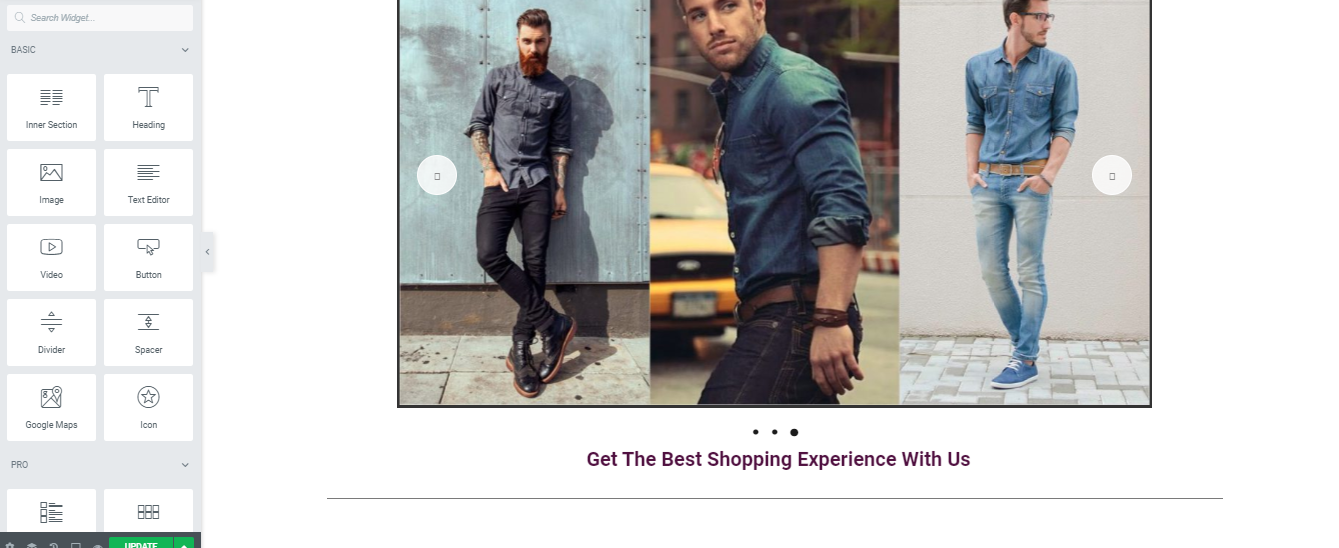 Step Six: Creating a Layout with The Elementor Widget
You can design different types of layouts according to your needs. Here we used the Elementor core widget. So you can try this one.
Select a blank block according to your product quantity. Add a section that you want.

After selecting the section then select "Text Header" to add a category name.

Here you can design your own preferred layout. Try to experience the widgets to get different types of designing flavor. Then you can insert the images in the box with category name.

To add infobox along with images. Drag the infobox widget to the empty area. And similarly, insert the images along with details.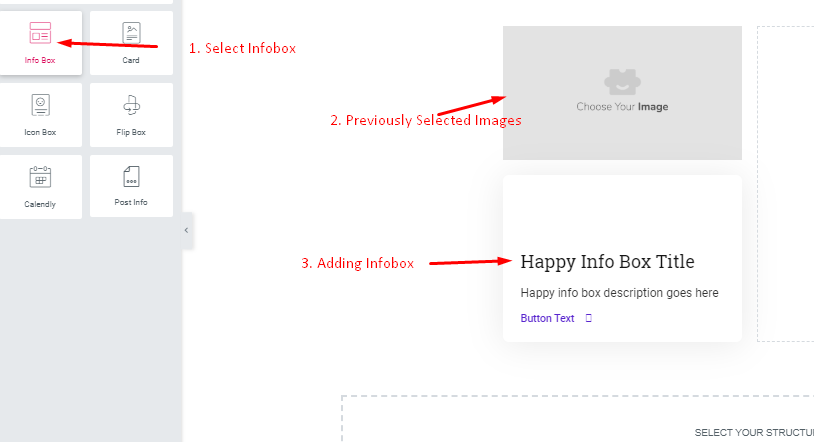 Then you can experience the widget left side of the window to make different styles or layouts.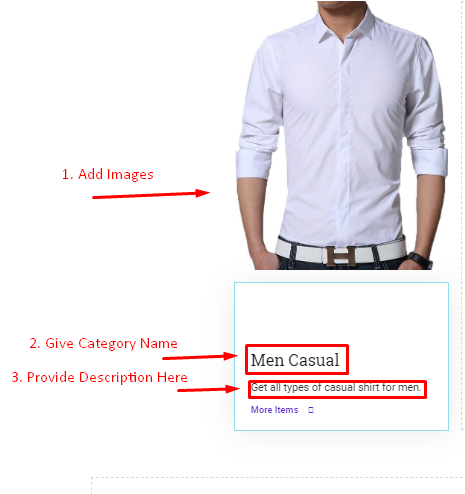 Add images like the same way we added in the above section
Then give a category name
Provide a product description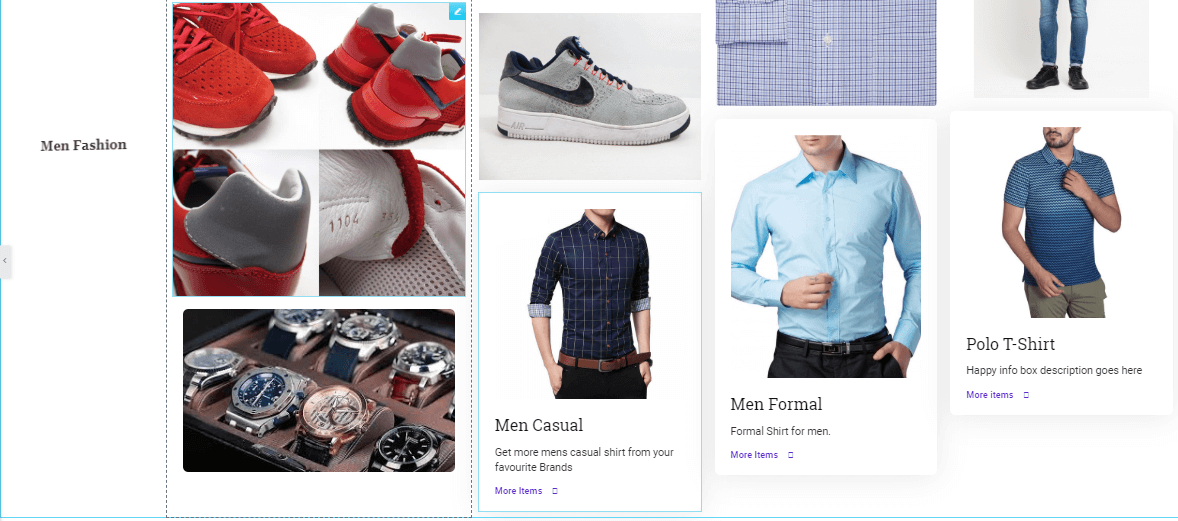 By following this way you can design your own layout only using Elementor widgets. You can also do the same process for other categories.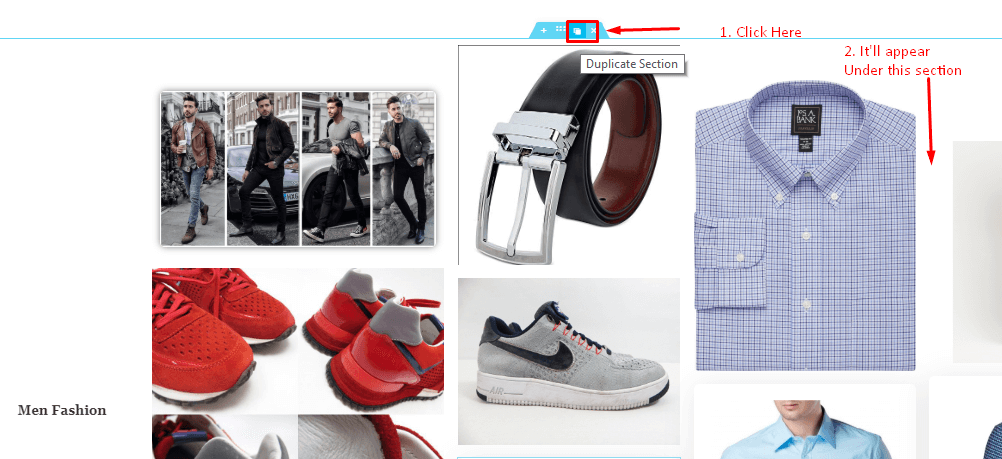 To save time, you can duplicate the section which you have already created.
By following the same process, you just need to add women's fashionable photos.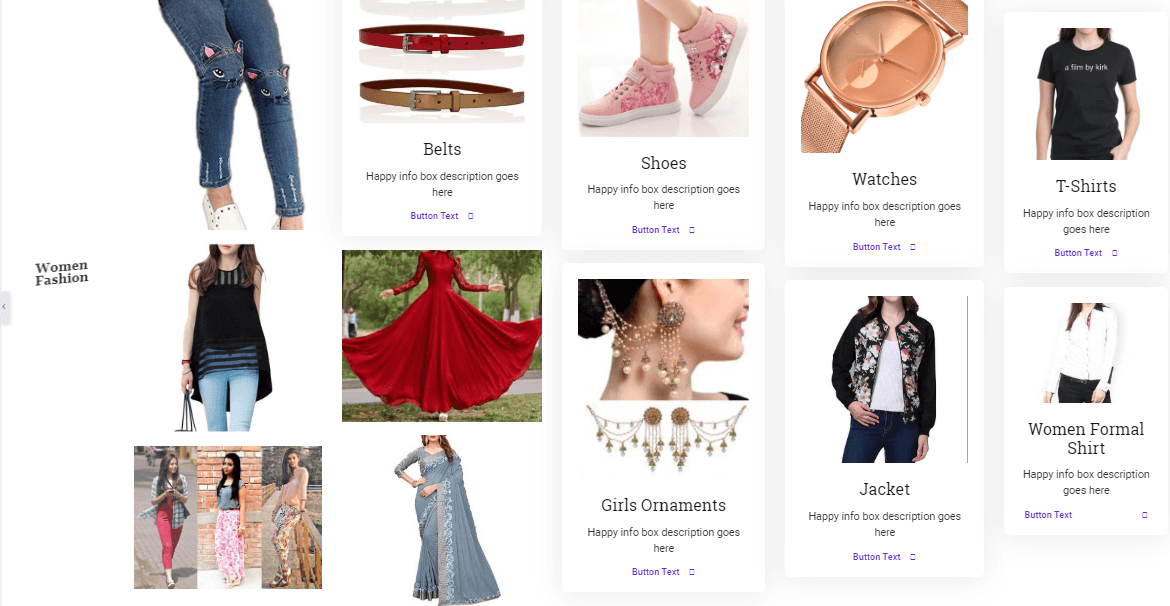 So this is the complete process of product layout design using Elementor Pro along with Happyaddons.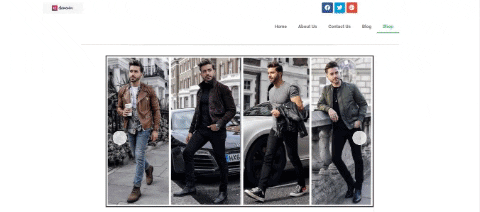 There is an interesting thing we want to share with you. Do you know that you can float any type of elements within your site with HappyAddons? Yes, this is the first Addons that enable users to float elements without a single code. Moreover, it's Free!
Watch out the full video given below.
Final Thrills on Product Layout Design
Using Elementor Widgets along with Happy Addons, you can now create or design amazing stuff.
So without making any delay, just download Elementor Pro for your WordPress site along with Happy Addons and design your dream website.
Please let us know in the comment section if you have any questions or queries.