Are you looking for how to add a Search Bar in WordPress? Follow this tutorial to know about why your website should have a search bar and different ways to display that search bar on your website.
There are a number of elements that you need to consider in order to make your user experience remarkable on your website. Including an interactive "Search Bar" is one of them. Since it allows your visitors to find their desired queries faster.
You have a large blogging site or eCommerce shop with hundreds of pages categorized. But a user doesn't come to a website to read all the information that is available on it. Their search is usually limited to some specific queries or products.
Without the search option or having confusing search results may frustrate your users. Besides, it could be very difficult for them to find what they're exactly looking for just by clicking around. This makes the configuration of an efficient and functional search bar very necessary.
There could be several ways to add a Search Bar to your WordPress site. Today we'll show you 4 methods to do it with ease-
Method 1: Adding A Search Bar From the Widget Panel

Method 2: Adding A Search Bar Widget Using Elementor

Method 3: Manually Add A Search Box to Your Website
Method 4: Adding A Search Bar Using Third-Party Plugins
Let's get started:
Why You Need A Search Bar On Your Website
A search function is a part of a website design strategy that provides users with an easy way to find content. User can input their search query by simply writing specific words and phrases. And the backend functionality will fetch all the related information available on the website and show it to the searcher.

You may think having intuitive navigation is enough to make your user journey simpler. Well, seamless navigation is crucial to your website's success. But including a search bar is also important to give quick service to your visitors.
According to research, if a website offers a search feature, 59 percent of visitors will take advantage of it.
Here are some benefits of having a search feature on your website-
1. Increase Conversion Rate
Including a search feature on your website helps visitors to find what they're looking for. Apparently, it creates a positive user experience. If visitors get a pleasant and effortless experience on your website, they're more likely to make a purchase.
2. Boost the Average Time Spent
Visitors come to your site and after a quick glance or maybe a half-scroll, they don't get their desired products. This situation must lead them to leave your site. But with the search bar, they can instantly search for the information or products they're actually looking for. This helps them to make more reliable decisions. And of course, grab their attention for a longer time on your site.
3. Strengthens SEO
Better user experience helps your business get repeated visitors or consumers. As the traffic and amount of time spent on your website increases, search engines like Google will consider your website to be relevant and high-quality. This result leads your website to improve its ranking in search results.
4. Better Understand Your Audience
You can track the search queries and exact phrases people use to search for information on your site. Based on these queries you can more accurately understand what people want from you. Also, you can identify the phrase they use to search. Later, incorporate those phrases with associated products or categories so people can easily relate them to their needs.
How to Add A Search Bar in WordPress- 4 Easy Methods
Below are 4 simple yet effective methods to add a search bar to your WordPress site-
Method 1: Adding WordPress Search Bar From Widgets Panel
This is the easiest and fastest way to include the search bar on your site. Follow the below steps-
Step1: Login to the admin area of your WordPress website and go to the Appearance → Widgets. Here, you'll find different areas to place your Search bar.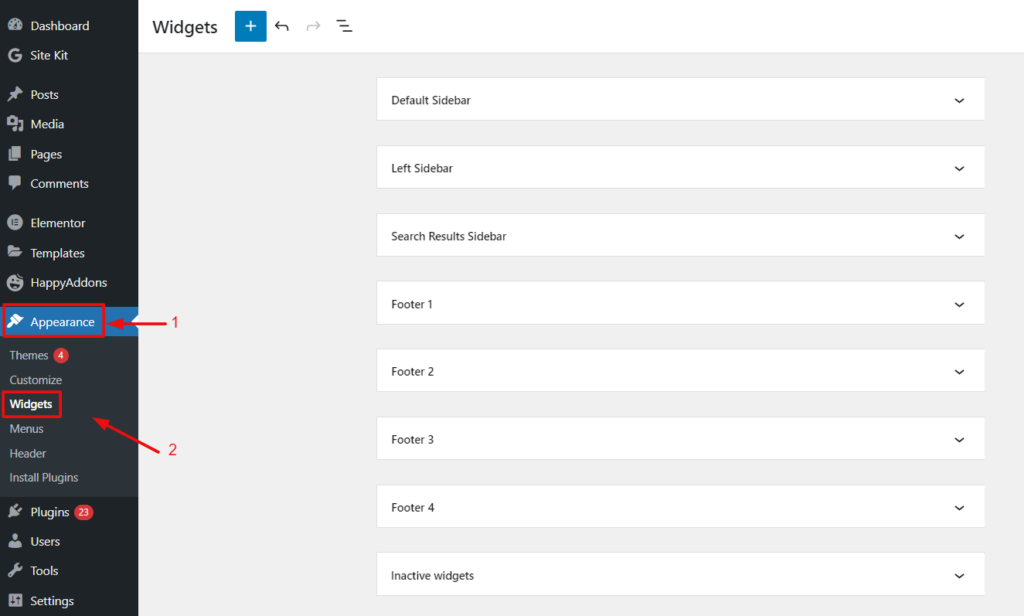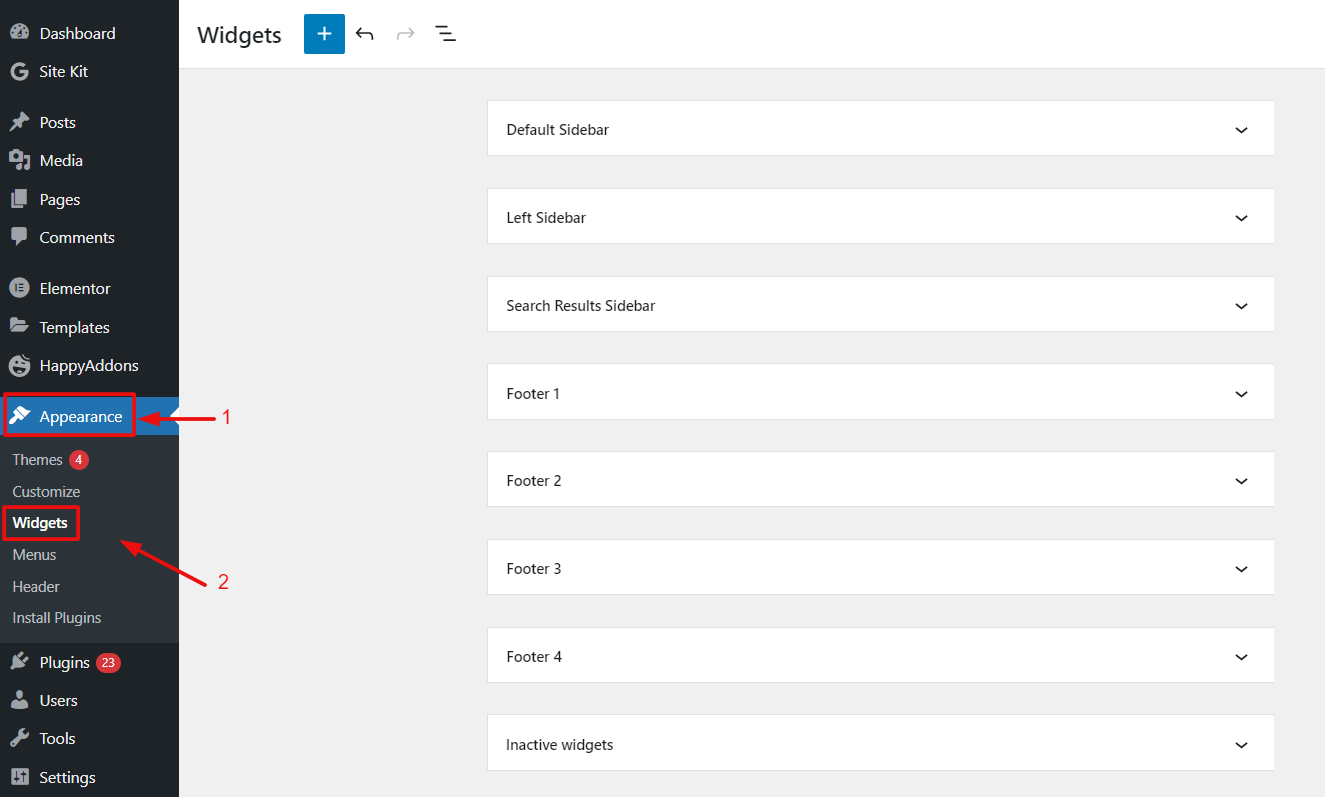 Step 2: Suppose, you want to add your search bar to the Default Sidebar. Now click on the arrow from the right corner and expand the Default Sidebar.
Next, click on the plus button "+". It appears with the available block type you can select from.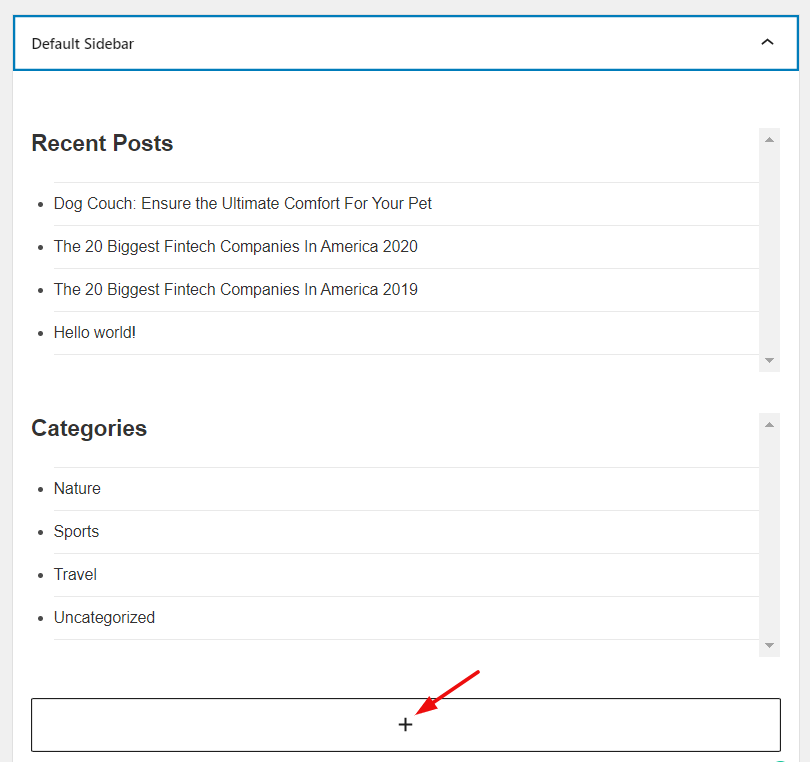 Then, look for the search widget and include the widget by simply clicking on it.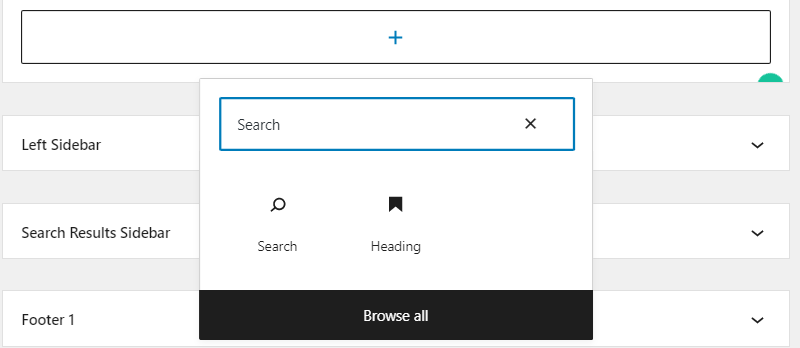 Step 3: Here, you get the search bar for your website. You have the flexibility to change the title of the search bar and other styles too.

Finally, go to your site and you'll see the Search widget on the sidebar.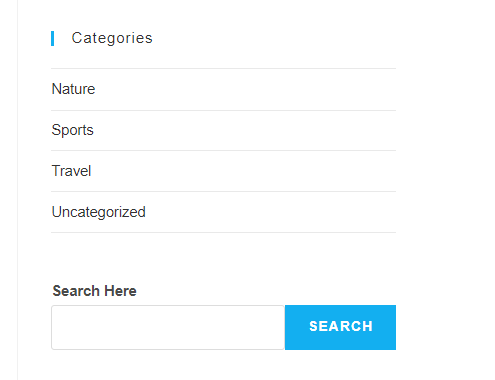 Method 2: Adding Search Bar Widget Using Elementor
Elementor is the most popular WordPress page builder with an easy drag and drop option. Elementor gives you 400+ pre-designed templates & blocks and a wide range of helpful widgets to design your dream website in minutes.
Below we'll show you how to add a search bar in WordPress with Elementor-
Let's assume you have successfully installed Elementor and do all the basic configurations. If in case you are new to Elementor, check this Elementor guide for getting a smooth web development experience.
Step 1: Drag & Drop Search Widget
First, go to your WordPress Dashboard and click on Add New Page or go to the page you want to add the search bar. If you create a new page then add a title to the page. Next, click on the blue button called "Edit with Elementor". It takes you to the Elementor Interface right away
Once you get into the Editor, search for the Search Form widget inside the side panel search bar. Then drag and drop the widget into the interface.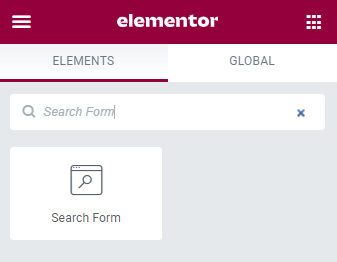 After adding the widget, you'll get a Search Bar like the screenshot below:

Now customize it according to your way. For example, you can add a title, change its size & color, align it, and a custom link to it. Also, you have the flexibility to modify the button as well.
Step 2: Design Your Search bar
Using the Style tab you can design your search bar considering your theme color pallet, website color scheme, audience preferences, etc. Here we change the search text, modify the color, apply border shadow as well as customize the button style.

Step 3: Give Your Design a Unique Touch
For further customization click on the Advanced tab. Here, you'll find a bunch of customization options to adjust the margin, padding, position, and others. If you are familiar with CSS coding then you can add your own CSS Code snippet right from there.
Furthermore, you can extend the advanced functionalities by getting a third-party Elementor Addons like Happy Addons.
Method 3: Manually Add A Search Box to Your Website
For this method, you'll need a bit of technical knowledge. So, you can get full control of customization and styling.
Go to the header.php or sidebar.php file (where you want to include the search button).

Simply add this function

<?php get_search_form(); ?>

in your code. It will call the search form from your

searchform.php

template. No problem if there is no

searchform.php

file. It will create one by default.

Now, go to your homepage and you'll see the Search box in the side menu (if you've added the function in sidebar.php) or in the upper panel (if you've added the function in header.php).
If you want to change the style of this box, open the style.css file and modify the search-form position, size or styling according to your need.
Method 4: Add A Search Bar to Your WordPress Website Using Third-Party Plugins
Apart from all these methods, you can include a search bar on your WordPress website with the help of a third-party plugin. To do this, go to WordPress Dashboard → Plugins → Add new. Then, look for the best search plugins that will help you include a functional search box for your website.
Install and activate the plugin on your site and do the further configuration. This method is also an automated process for adding a search box.
Also, learn how to install WordPress plugins the right way.
Final Words
The WordPress search bar can improve your site navigation and help you convert more leads to your loyal customers. After going through this blog, you should have all the knowledge you need to get started.
In a nutshell, WordPress is quite easy to use and customize. Here, we've discussed four different ways of adding a search bar here. You can edit your theme's existing search box, add a new one from the dashboard, or you can easily design it using Elementor.
Do you still have any questions about how to add a search bar in WordPress? Let us know in the comments and we'll do our best to help!