Many WordPress users want to display their recent posts on their websites. It's like the most basic things that can help in both internal linking and user engagement.
Recent posts can be displayed on many parts of your website. There are different options that you would find on the internet to do so. Today, we will show you the easiest ways to display recent posts with step by step guide.
Why Would You Want to Display Recent Posts in WordPress?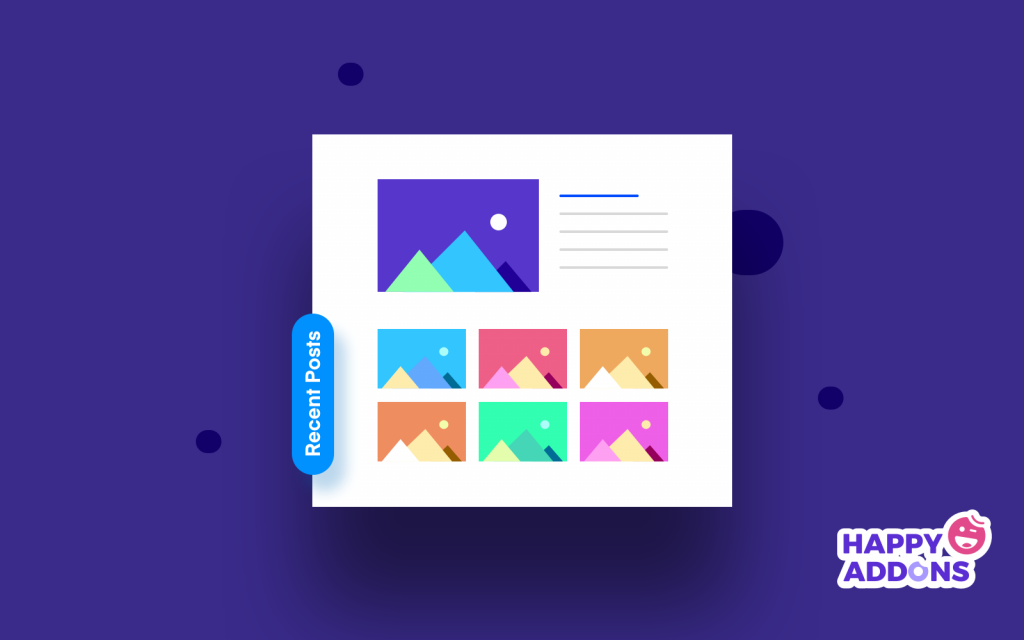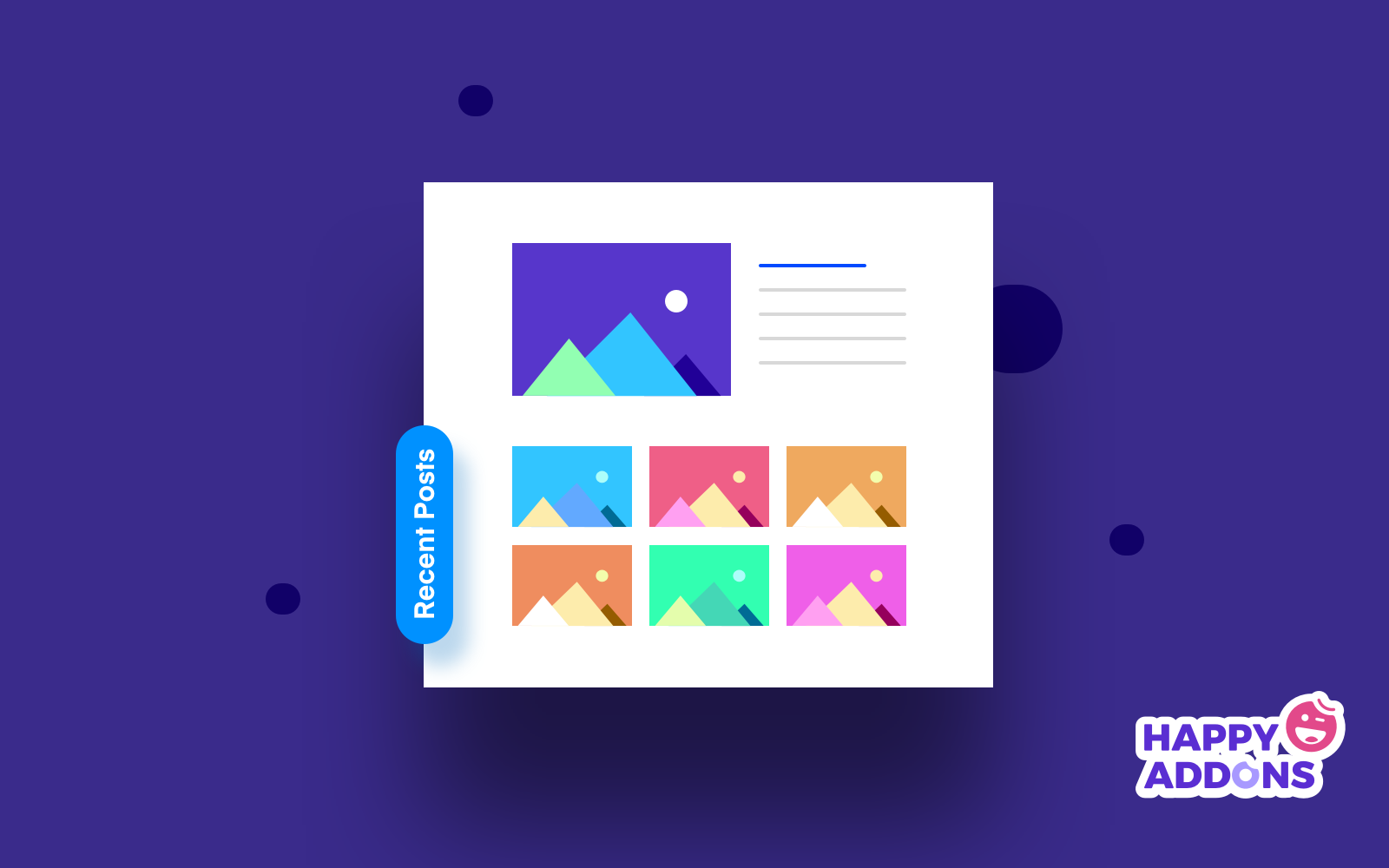 If you search on Google, you will find hundreds of guide on how to keep visitor a little more time on your website. People just don't stay on a website longer now-a-days.
In fact, studies show that 55% people stay on a webpage for less than 15% seconds only.
It needs a combined effort on many aspects of your website to keep the visitors engaged. One of the easiest way to start however, is by displaying recent posts in your pages. So what happens when you have a recent post widget on your webpage? If the visitor finish checking out the current page, or attempt to leave, you will have a way to keep him on your website a bit longer.
That is why today we will talk about a couple of ways on how to display recent post in WordPress websites.

How to Display Recent Posts in WordPress: 4 Easy Ways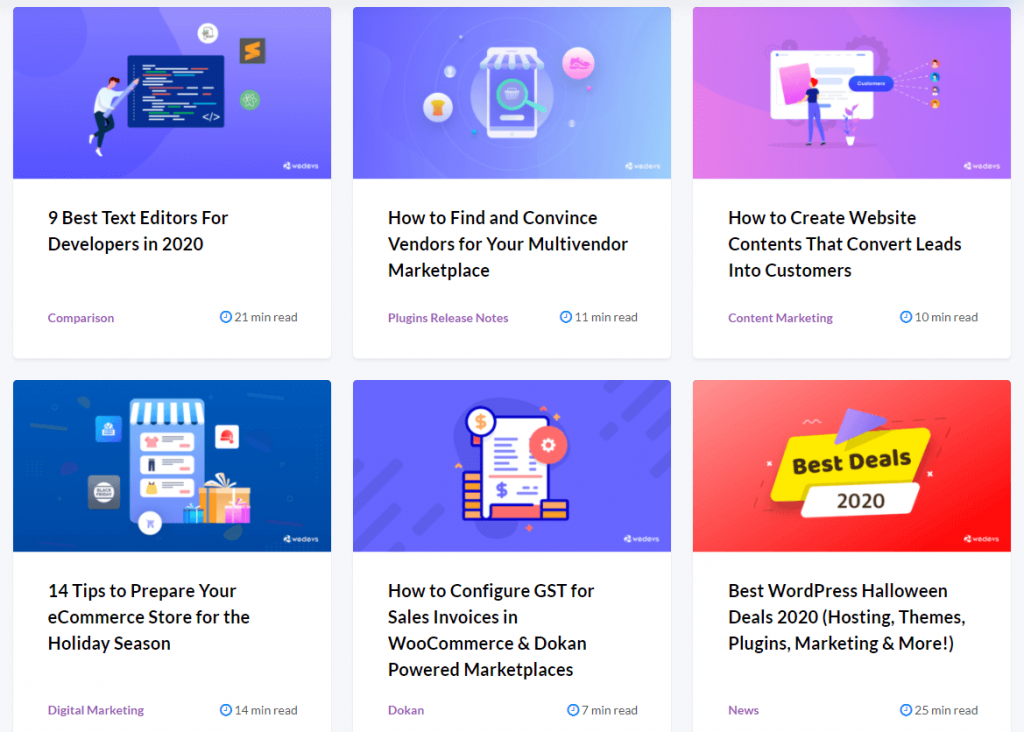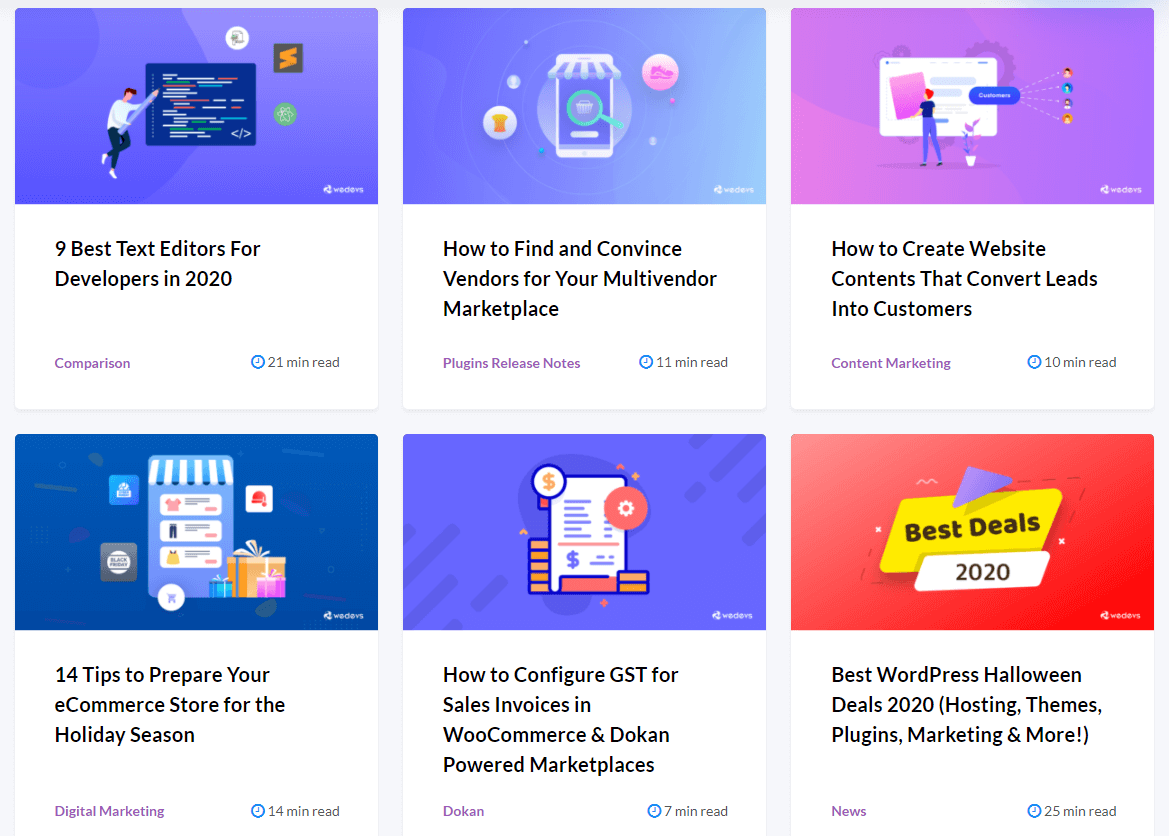 Depending on where you want to show the recent posts, there are quite a few ways to display recent posts in your WordPress website. However, today we will talk about 4 of the easiest ways to display recent posts on your website. These ways will help you show recent posts on pretty much everywhere on your website.
So now, let's begin with the first way to show recent posts on your website.
Use Gutenberg Block to Display Recent Posts
Gutenberg has a built-in block to display recent posts on your website. With the help of Latest Posts block, you can display your recent posts on inside any pages or posts.
To do this just click on the (+) button to insert a block and then search for "Latest Posts".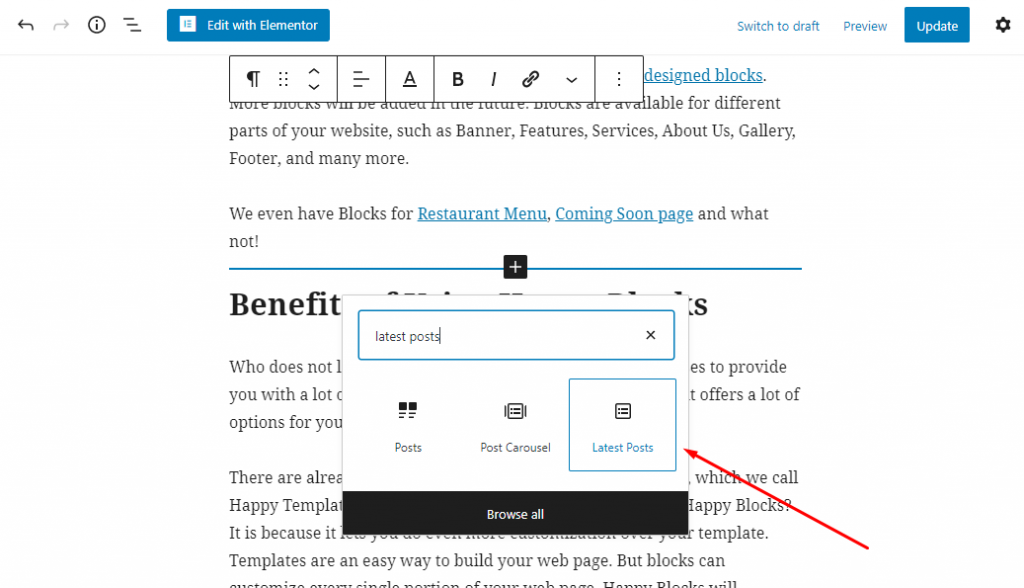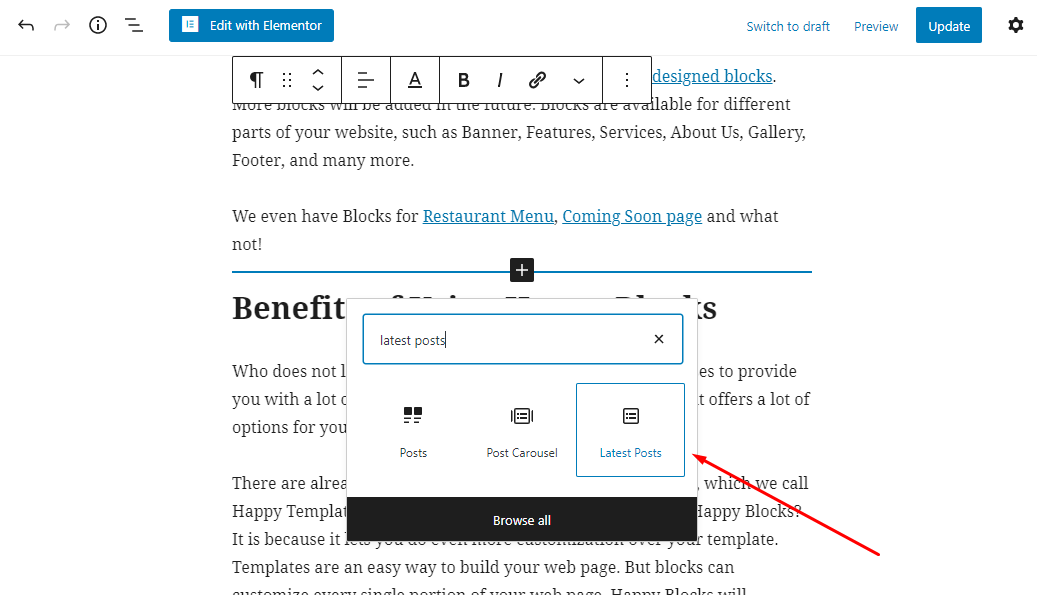 Once you add the block, there are a lot of settings to customize it. Following are some of the things you can do.
You can decide to show only the headlines, or a part of the contents inside (you can even set how many words you want to display).
You can display author name and post date as well.
You can also show the feature images of the posts.
You can show posts of only selected categories.
Last but not the least, you can set exactly how many posts you want to display.
Clearly, Gutenberg's easy to use block itself has more than enough options to fulfill your needs when it comes to displaying recent posts.
Use the WordPress Recent Posts Widget
Let's talk about another default way to display recent posts on your website. The way we will talk about now is perhaps the most effortless way to show recent posts on WordPress websites. Yes, we are talking about WordPress widget for recent posts.
It let's you add recent posts on your sidebar, footer, or simply any place where WordPress let's you add a widget. The process is simple, and just like adding any other widget.
To use WordPress recent posts widget follow the below process –
Step 1: Login to your WordPress admin dashboard and navigate to Appearance > Widgets.
Step 2: Now drag and drop the Recent Posts widget to any place you want.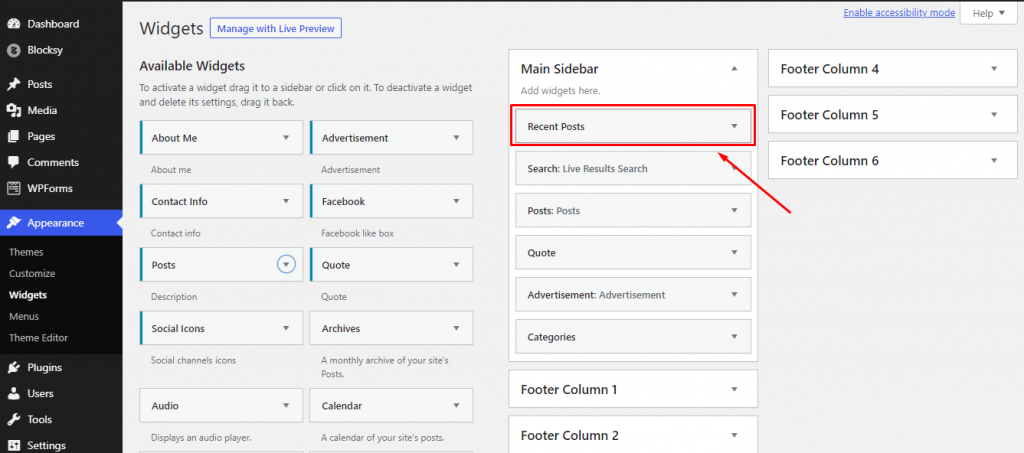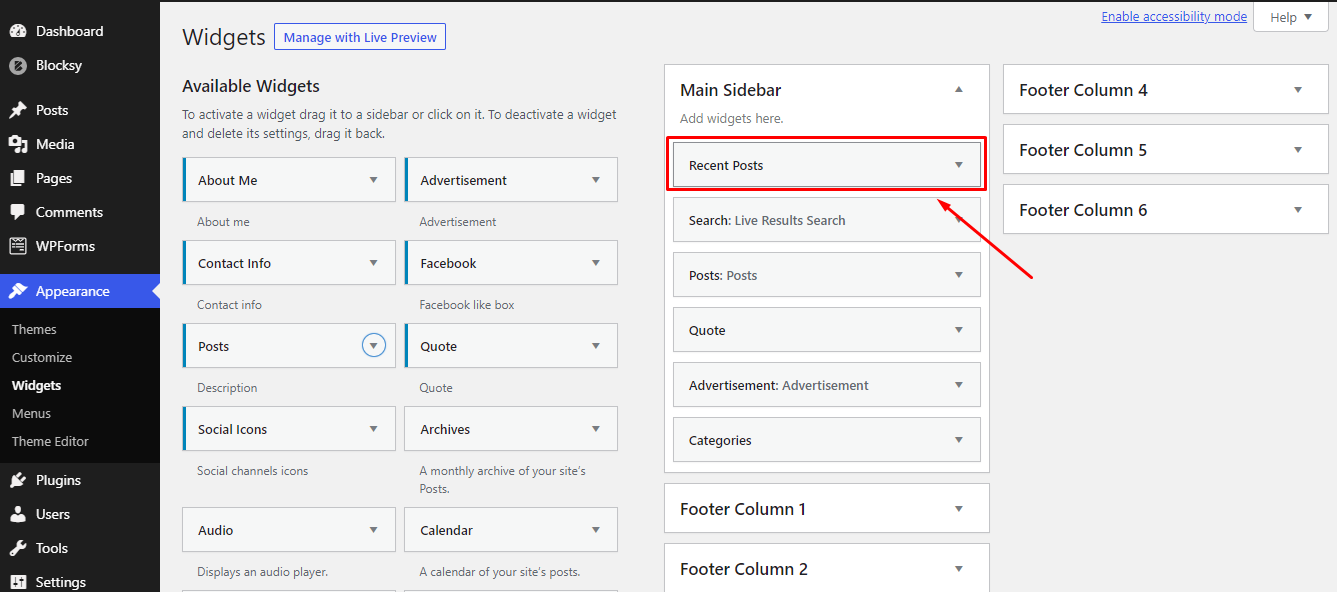 Step 3: Once you click on the recent posts widget, you will be able to add a name of the widget and how many posts you want to show.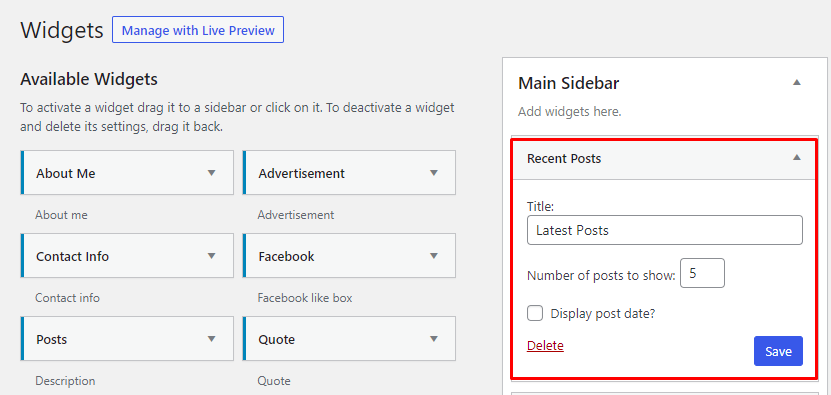 That's pretty much all you can do with the default recent posts widget. So, if the default way is not featureful enough for you, you can also opt for a third-party plugin to display recent posts. Below is how you can do that.
Display Recent Posts Using a Plugin
If you think you need an alternative of the default ways to display recent posts, there are enough plugins on WordPress repository to make you confused.
However, for our tutorial we chose to use one of the finest plugins to display recent posts. Developed by Kybernetic Services, the plugin is called Recent Posts Widget with Thumbnails. Interesting thing is that, this plugin is build on top of the default Recent Posts widgets and simply add features to that. Now let's move on to the tutorial.
Step 1: First login to your WordPress Admin Dashboard and navigate to Plugins > Add New.
Step 2: Now search with term Recent Posts. Once you find the desired plugin, install and activate it.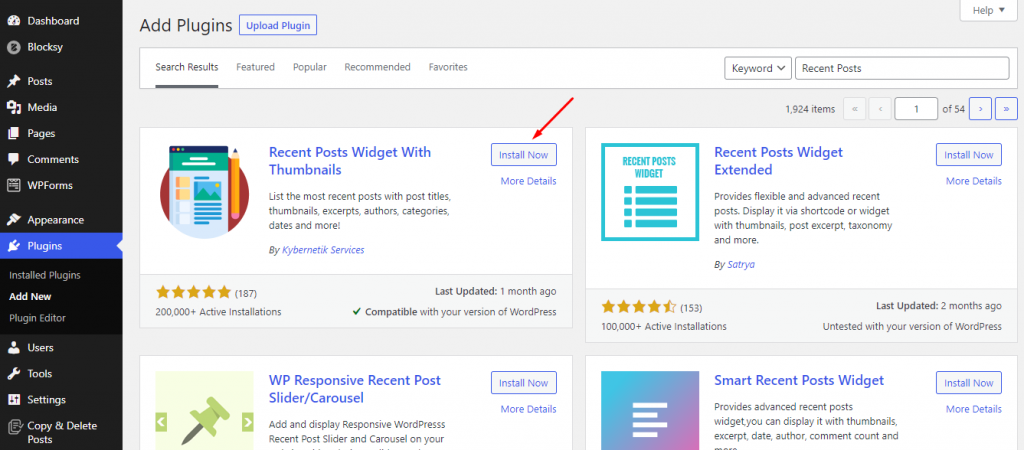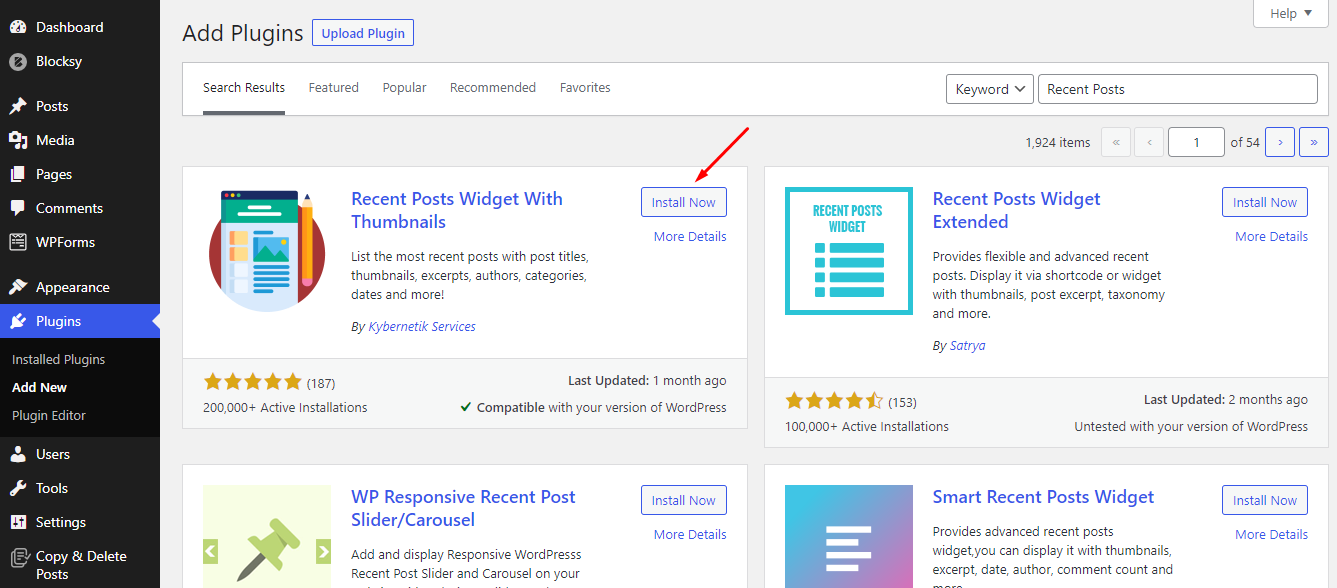 Step 3: Once you activate the plugin, navigate to Appearance > Widgets. Here you will now find a option called Recent Posts With Thumbnails.
Step 4: Drag the widget to Sidebar, Footer or anywhere you need. Now click on it, and you will a find a lot of options to customize how your recent posts will show and look like.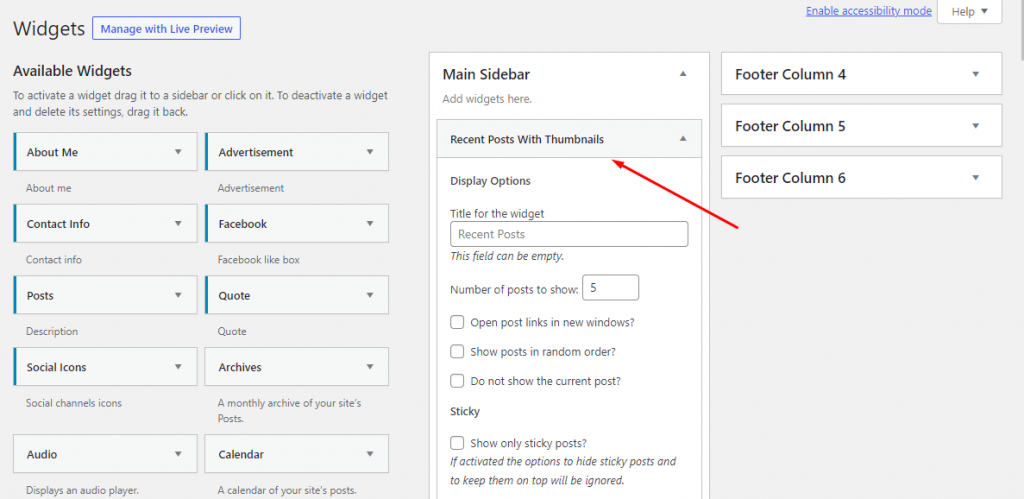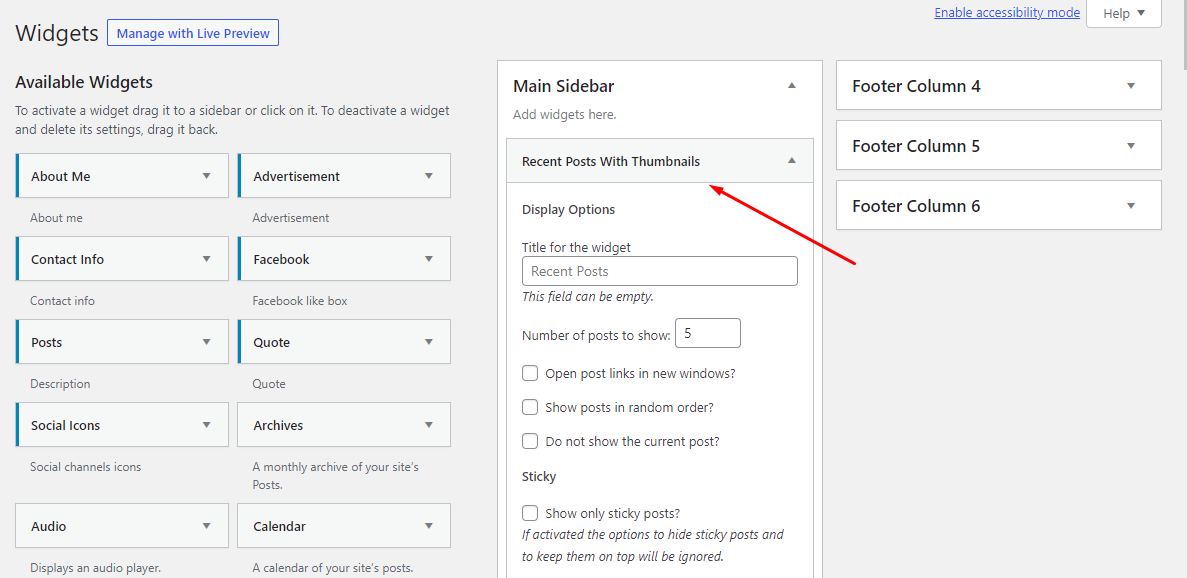 Step 4: Once you are done tweaking with the options, click on Save.
While this plugin offers a lot of option, it doesn't actually let's you add the widget anywhere you want. You can only add the widget to the default set of places for widget. So you will have to rely on Gutenberg block to display the Recent Posts anywhere you want. But what if you don't use Gutenberg and use Classic Editor instead?
Display Recent Posts Using a Shortcode
This method is for you, if you (i) still use the Classic Editor, (ii) but still need options like Gutenberg Latest Posts block.
For this, we will need a plugin as well. In our case, we will use a plugin called Latest Post Shortcode by Iulia Cazan. The plugin allows you to add shortcodes inside your posts or pages to display recent posts. Let's see how it works.
Step 1: Install the plugin, following the step we already mentioned above.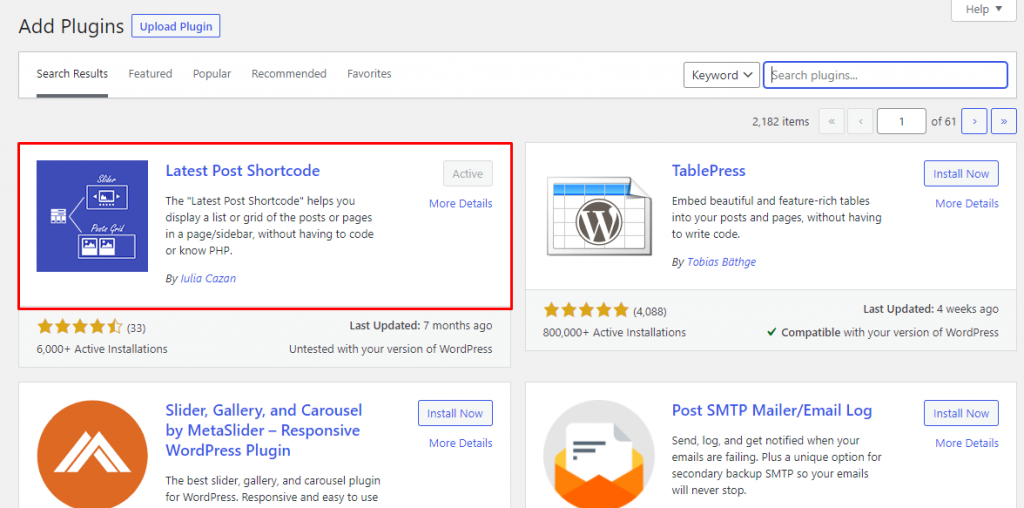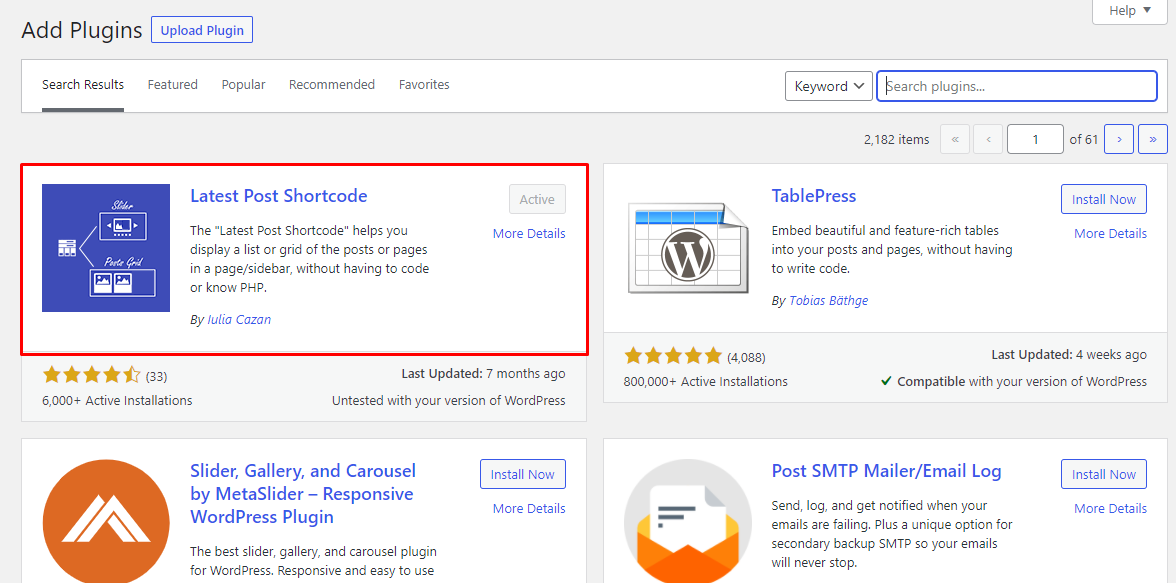 Step 2: Create a new post/page or, enter to any post/page that already exist. Now paste the following line of shortcode into the classic editor.
[latest-selected-content limit="4" type="post" display="title,content-small" chrlimit="50" image="full" elements="0" css="two-columns" taxonomy="category" term="samples" orderby="dateA"]

You can edit the code as you want. Like changing the content limit, chrlimit (which resembles how many characters you want to display), image size, category, sorting, among other stuffs.
You can use the shortcode, as much as you want, wherever you want. It works almost like the Gutenberg Latest Post, while missing some features.

Wrapping Up
It's a game of keeping your audience engaged. Either you do it, or your competitor will do so. Displaying recent posts on your pages can be an excellent way to keeping your audience on your website for longer period of time.
In this post we have presented 4 easy ways to display recent posts on WordPress sites. Couple of them require help of a plugins, while couple of them don't. Choose one that you think most preferable to you, and it will surely help keep your audience hooked on your website.
To get more such helpful article right on your inbox, subscribe our newsletter.
Subscribe to Our Newsletter