As a WordPress enthusiast, we hope that you'd like to know more about WordPress and its related topics. That's why today we'll share about the WordPress Gutenberg Blocks and its untold story. That you should check with the recent release of WordPress 5.4.
The story began in 2016 at the US Wordcamp in Philadelphia. Matt Mullenweg announced that WordPress would be soon launching its new post and page editor. Till that moment, people all over the world have been talking about this issue.
Ultimate Story of WordPress Gutenberg Blocks
As I mentioned earlier that the Gutenberg story began back in 2016.
But, it took several months to release. During WordCamp Europe in June 2017, WordPress introduced WordPress 4.9.8 with a new block editor called Try Gutenberg. Although it was released as a beta for testing purposes.
And people were talking more about this and having more confusion with the new editor. Furthermore, they also had a dream about how Gutenberg will change the future post-edition.
In WordPress, you know Gutenberg is a WordPress Plugin that helps to create or edit beautiful posts in a minute.
Since that Gutenberg WordPress Editor has been used as the default editor of WordPress. If you need it, you can easily shift with the old classic editor.
In this article, we'll cover these topics gradually. If you follow these below lists, you'll easily get familiar with the Gutenberg Blocks including recent release of WordPress 5.4.
WordPress Gutenberg Blocks Launching: Changes and Primary Reactions
Differences Between Classic and Gutenberg Block Editor
Continues Update and Deployment
Gutenberg Editor in WordPress 5.0
Updates of Gutenberg in WordPress 5.1
Gutenberg Editor in WordPress 5.2
Updates of Gutenberg Editor in WordPress 5.3
Gutenberg Editor in WordPress 5.4
Gutenberg and the Future of WordPress
Launching of WordPress Gutenberg Blocks: Changes and Primary Reactions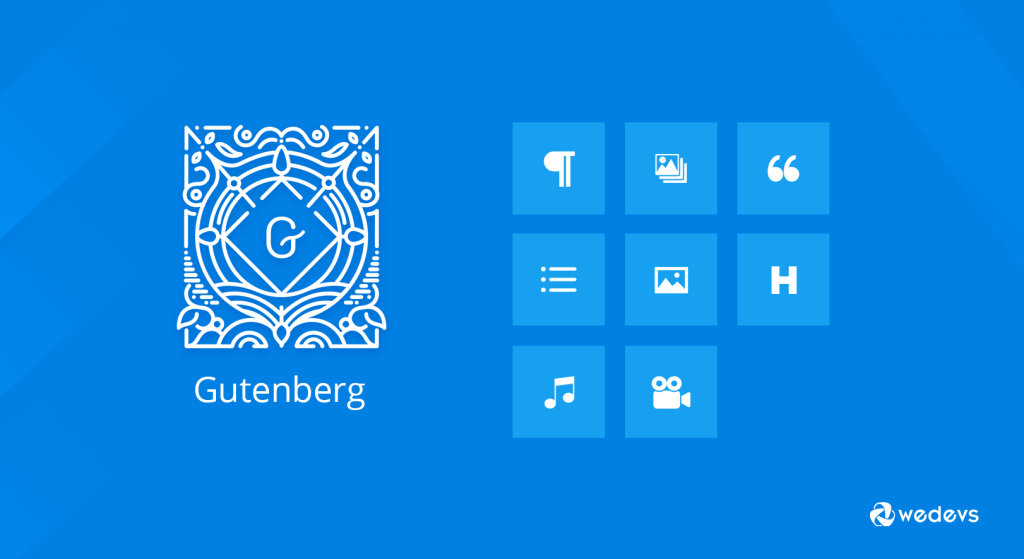 When WordPress comes with its new editor Gutenberg, people worldwide react in many ways. Most WordPress users were uncomfortable with the new Gutenberg Block Editor.
And they were giving their opinion form different web platforms including social media.
Visit the official WordPress Facebook Account to see the opinions of people who included negative reactions, confusion, and questions, with some positive comments on Gutenberg's launch reactions.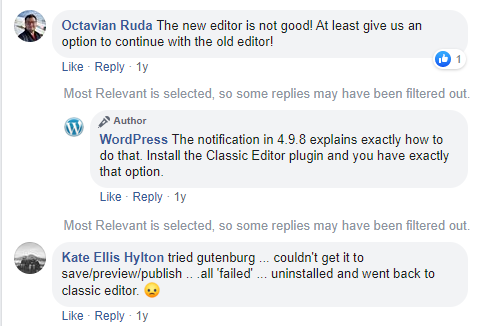 WordPress Classic Editor vs WordPress Gutenberg Block Editor
If you use both of these editors before, you'll easily find their differences. And if you don't, I'll show their differences. Let's compare and try to understand why these two editors are different from each other.
In addition, Classic Editor is a very simple editor that allows you to manually create or edit your post content. Therefore, it takes more time to execute as well as has many limitations. With this tool, you cannot design your custom content effortlessly.
You can see the spreadsheet of the classic editor below this image.

On the other hand, Gutenberg Plugin Editor is very advanced and comes with a huge collection of content blocks. Besides, you can easily build your custom post by dragging and dropping the content.
In addition, you can see your current changes visually and also redo & undo your changes. Most importantly, you can reuse your premade content anywhere on your post.
In fact, it allows you to add a lot of images, buttons, and videos. Besides, it'll also lightweight your word as well as save valuable time.
Let's see the picture below to understand the Gutenberg WordPress visual editor.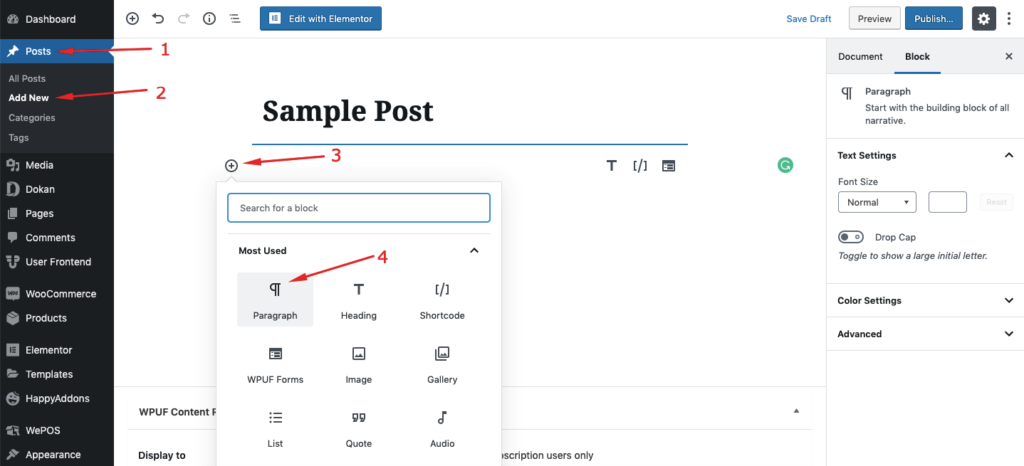 Besides, you can easily learn about Gutenberg FAQ here.
Continues Update and Deployment of WordPress Gutenberg Blocks
Let's, talk about continuous updates and developments in the WordPress Gutenberg Blocks from the beginning to now.
Gutenberg Block Editor in WordPress 5.0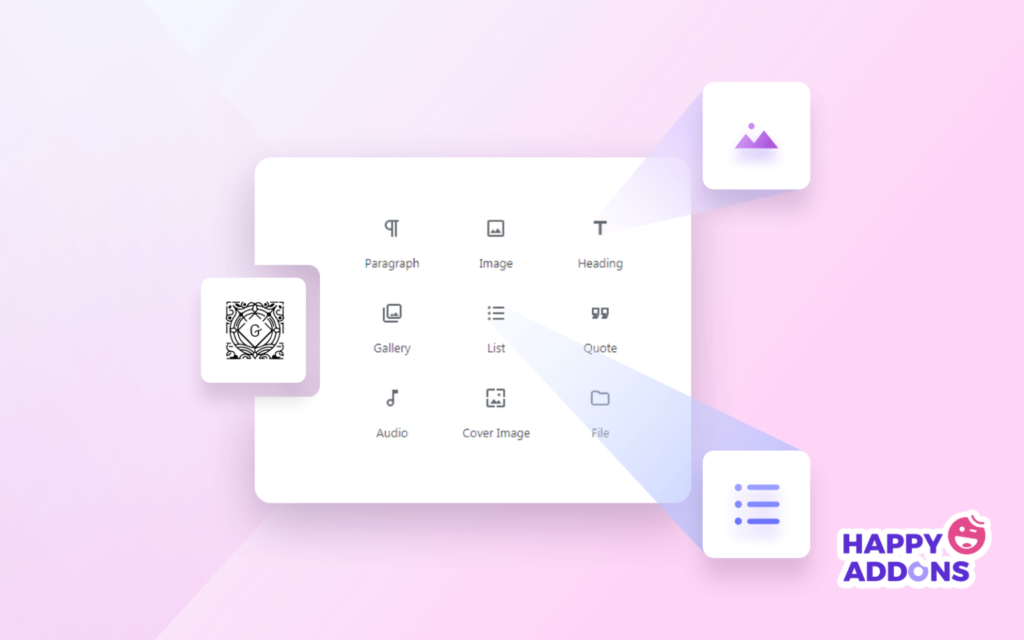 It was a great experience in the release of WordPress 5.0 when WordPress made its biggest change ever. Besides, the change was Gutenberg the new default block editor. And had opened a new door of creating and editing posts and content with Gutenberg.
Gutenberg is all about the predefined blocks. It also allows you to create content by its drag & drop options. In WordPress 5.0, Gutenberg comes with a lot of blocks that were very easy to use and changed the vision of building content.
You may see most of the Gutenberg Blocks in below lists:
Paragraphs
Headings
Preformatted
Lists
Quotes
Code
Images
Galleries
Videos
Audio
Files
Shortcodes
Columns
Buttons
Widgets
Embeds
More
You can use all of the above WordPress Gutenberg Blocks. And also create your custom post content and pages. If you still have more questions about the Gutenberg WordPress Editor, you may look at this beautiful blog where you'll learn 15 amazing Gutenberg tips and tricks.
Gutenberg Block Editor in WordPress 5.1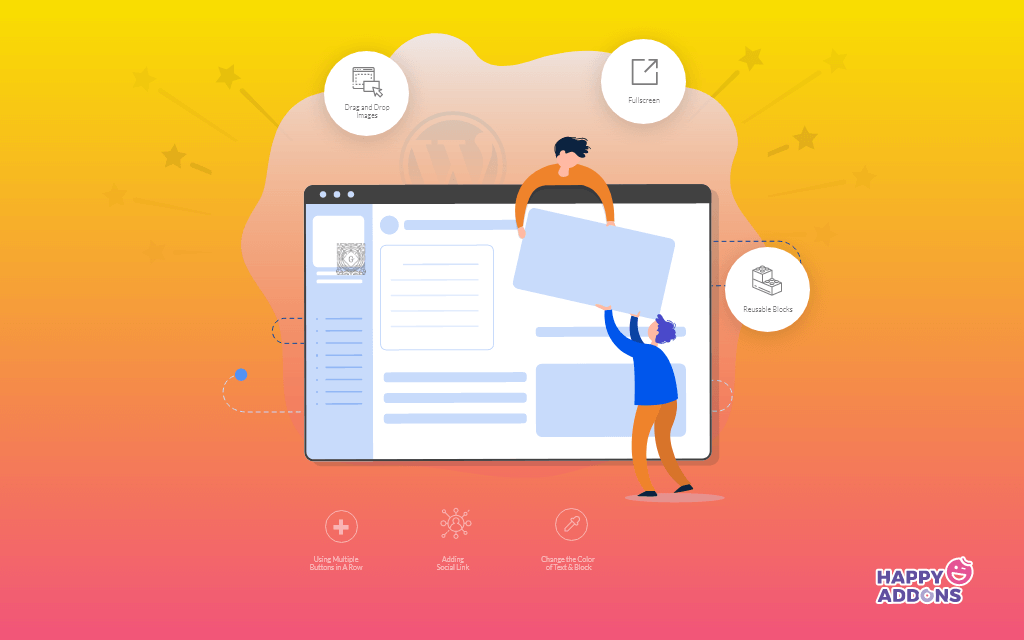 WordPress 5.0 introduced the major release of their block editor. in WordPress 5.1 update, it mainly focuses on its performance. And also try to make it faster, better, secure, and more user friendly.
Performance
Security
Mobile Friendly
Gutenberg Block Editor in WordPress 5.2
Though WordPress 5.2 did not focus on the block editor. But they tried to improve their Site Health issues as well as PHP Error Protection. Besides, it also updated its Plugins Compatibility, Accessibility, and introduced its new Dashboard Icons.
Site health issues
Compatibility
Accessibility
New Dashboard Icons
Gutenberg Block Editor in WordPress 5.3
On November 12, 2019, WordPress announced another update version of WordPress 5.3. And this time it came with a huge update of their block editor. It introduced 150 more new features and focused more on usability improvement.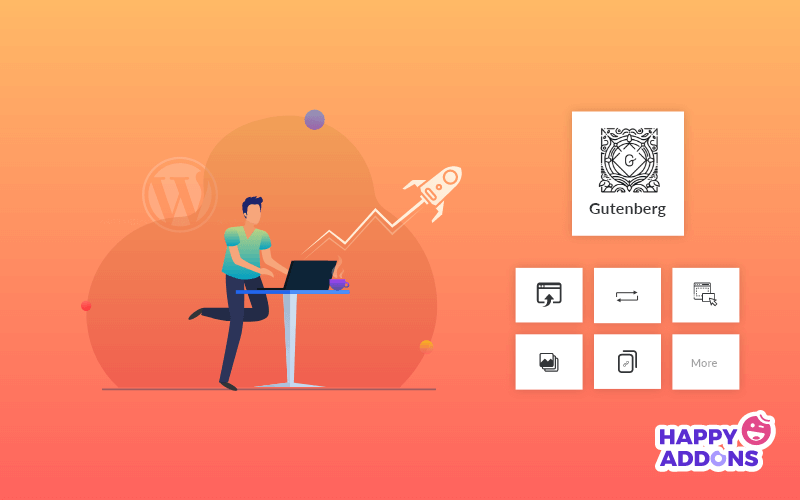 In addition, it also improved large-image uploading support with high-resolution pictures taken from smartphones or cameras. Besides, it is combined with large image sizes so that the pictures will always fit perfectly.
Therefore, Gutenberg reduced its loading time and made it 2x faster since its first launch. Moreover, it also focused on the improvement of editor styles including color, and buttons. It also comes with a combination between the editor and the admin interface.
Speed optimization
Color
Button
The combination between the editor and the admin interface
Gutenberg Block Editor in WordPress 5.4
WordPress 5.4 also comes with some of the improvements to its default Gutenberg block editor. This time it features two amazing new blocks with Social Icons and Buttons.
Besides, it also offers its users to place and replace multimedia in every block. Therefore it allows them to add the color option of group and column blocks. Most importantly, it offers its users to build their dynamic post content for better user experience.
Social Icons
Buttons
Dynamic post content
Moreover, you will find more continuous updates and developments in the WordPress Gutenberg Blocks.
Gutenberg and The Future of WordPress
There is no doubt that Gutenberg and WordPress will be coming with more and more improvements in the future.
If you want more info about Gutenberg and WordPress's future, you may listen and watch the Matt Mullenweg statement.
As well as they'll also become faster, easier, and more friendly among their users. Most importantly, Matt Mullenweg also announced four phases of Gutenberg.
In addition, the Gutenberg team or the contributors always follow these phases while working on it and it'll be a continuous process.
You can see the four phases below:
Easier Editing
Customization
Collaboration
Multilingual Support
You may also see this amazing interview between Adam & Matt. Where they talk more about the Gutenberg future with WordPress.
In addition, you can also know why WordPress is still the best free open-source Content Management System (CMS) in the world.
I hope you'll enjoy it.
Now you get the proper idea about the future of Gutenberg and WordPress.
Conclusion on WordPress Gutenberg Editor
And now we're coming to the ending of the story about the WordPress Gutenberg Blocks and its untold story. We hope the journey is awesome and you know a lot of information about the Gutenberg block.
Hopefully, all of us will get more useful tips on advanced elements and functionalities of Gutenberg as well as WordPress. Truly, it creates a massive impact on the style of post writing and editing.
Thanks to the WordPress and Gutenberg contributors for giving us this stunning block editor.