A lot of activity goes on under the hood of your WordPress website. You're probably not aware of all of it, even if you are an admin. By not knowing all the things happening on your site, managing it becomes harder. Hence this can also leave you exposed to potential security threats.
This is why you should be keeping a WordPress activity log. It's the only way to monitor everything that happens on your website.
In this post, we'll explain what an activity log (also known as audit log or audit trail) is and why you should have one. Then we'll show you how a security audit log plugin helps you know everything that is happening on your WordPress website or multisite network.
Let's get started!
An Introduction to WordPress Activity Logs

A WordPress activity log is simply a record of everything that takes place on your WordPress site. It keeps a record of user logins, plugin updates, WordPress core updates, content and user profile changes, changes to files, and much more.
There are several benefits you and your business can take advantage of when you keep a record of the changes that happen on a website in the activity log, such as-
Ease Troubleshooting
Updates or configuration changes that result in errors are easier to pin down once you have a record of when every change occurred and who did it. Otherwise, troubleshooting a technical issue without logs is like looking for a needle in a haystack.
Improve User Accountability and Productivity
You can see when users log into your website, logged out, what changes they have done, maybe on your WooCommerce store or products, and much more.
Security Logs have multiple roles in security; they are good for both proactive and reactive security. Through the logs, you can pinpoint potential malicious behavior, thus giving you the time to prevent evasive actions and block the attack before it actually happens.
Logs are also a must-have during the post-hack phase to find out what happened, identify the security hole and close it before it is exploited again.
Meet Industry Compliance Requirements
Audit logs help you meet industry standards. In fact, the General Data Protection Regulation (GDPR), PCI DSS, and all other standards require activity monitoring for full compliance, so you can keep track of who accesses sensitive user information.
It's important to note that WordPress does not have an audit log functionality. The WP Security Audit Log plugin generates its own logs. In other words, you can't install the plugin and view a record of events on your site retroactively. This is why it's wise to maintain one on an ongoing basis.
How to keep an activity log of site changes with WP Security Audit Log
Despite the benefits activity logs provide, WordPress doesn't include one out of the box. Fortunately, WP Security Audit Log is an affordable and easy-to-use solution. Here are six ways it can help you keep your site safe.
1. Maintain a Comprehensive Log with a Secure Plugin
The more you know about what's happening on your site, the better-informed your decisions in regard to security, troubleshooting, and managing it will be. WP Security Audit Log has the broadest coverage of any activity log plugin. It tracks more than 400 unique WordPress events.
WP Security Audit Log provides a lot of detail regarding changes. For example, it records the time, date, user and role, and the IP address from where the change was generated. In case of a user profile change, or post-change, it highlights what was changed in that object.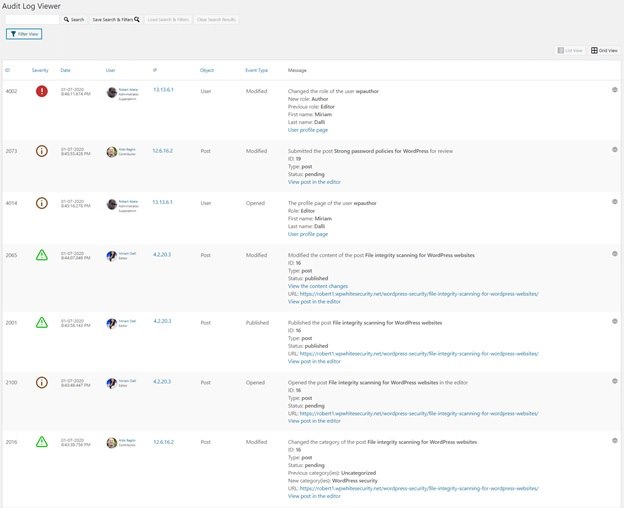 All this just scratches the surface of WP Security Audit Log's logging capabilities. The depth of information it provides for hundreds of WordPress events can't be contained in a single review.
2. Get notified of critical site changes with email & SMS notifications
If there is a log outside office hours, from an exotic IP address, or there are changes in the site's core files, you don't want to find out about it when you check your activity log hours later. Fortunately, WP Security Audit Log enables you to set up email and SMS notifications for any type of activity.
Instant notifications allow you to take immediate action and prevent any possible attack before any damage is done.
3. Find What you are Looking for with Search & Filters with WP Security Audit Log
It also includes search and filter functionality. If you want to view all recent updates to try to discover why a certain part of your site is broken, you can easily do so. There's no need to wade through long lists of events when you're facing a specific problem and need to resolve it fast.
Additionally, you can save search terms and filters for future use. That way, you can perform regular checks for specific events more quickly in the future.
4. Generate Reports for Everyone Concerned
In addition to searchable logs in WordPress, with WP Security Audit Log you can also generate any type of reports from the activity logs.
On top of that, you can configure automated reports, which are daily, weekly, monthly or quarterly reports that are automatically sent to you via email, allowing you to easily keep an eye on what is happening on your website.
5. Store the WordPress Activity logs in an External Database
By default, WP Security Audit Log stores the logs in the WordPress database. However, you can choose to use an external database instead.
Since the logs are not stored in the WordPress database, all the resources on your server are dedicated to your website. Additionally, moving your log to an external database separates it from your site so it cannot be tampered with in case of an attack.
You can also archive old logs to another external database while keeping current information in WordPress.
6. Send the WordPress Activity logs to Third Party Services
Many businesses tend to have a team of administrators and centralize all the information. For example, many businesses send all types of logs to a central Syslog server or to the NOC (Network Operations Center) team's Slack channel so they can keep an eye on what is happening on the website.
With WP Security Audit Log you can easily keep your teams and teammates informed by integrating the plugin with Syslog, PaperTrial, or Slack and mirroring the WordPress activity logs to them.
On top of that, you can also configure filters. So for example, you can configure a filter, so that only critical events are sent to the NOC team Slack channel, and not all of them.
Keep a Log of Changes on Your WordPress Websites
Using WP Security Audit Log to keep a record of all the changes that happen on your websites or multisite networks is one of the smartest things you can do so you can better oversee, manage and keep your websites and their users secure. Activity logs improve user accountability and also allow you to spot suspicious behavior early.
In this post, we introduced you to WP Security Audit Log and highlighted all the ways it can help better manage your website and also meet industry regulations your business might have to adhere to.
No more excuses! Head over to the plugin's website and start keeping an activity log on your WordPress today.