Elementor is the best page builder to design your dynamic WooCommerce-based eCommerce websites. There are several 3rd party Elementor addons that come with unlimited WooCommerce widgets so that you can easily decorate your eCommerce site from scratch.
In the following segment, we will talk about some top-notch Elementor Addons for WooCommerce that are easy-to-use, powerful, and suitable for designing any eCommerce website.
Let's start with a question about why you need to use other WooCommerce addons.
Why You Should Consider Elementor Addons for a WooCommerce Site
We all know that every eCommerce site needs a lot of advanced features and customization options. Using a WooCommerce addon, you can easily get your must-have features for your site. These are important reasons to consider Elementor WooCommerce addons for your eCommerce website.
Allow better customization
Get more advanced features
Easy cart management
Better product filter
Product comparison options
Hassle-free checkout options
& many more
5 Best Elementor Addons For WooCommerce To Make Your eCommerce Website Stand Out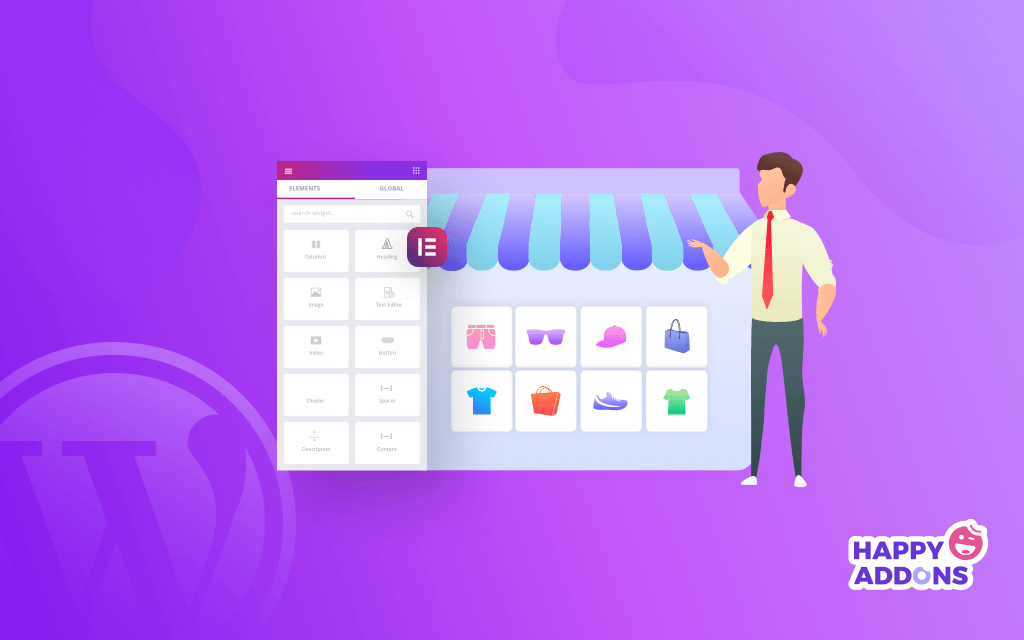 Here, we've picked the 5 best Elementor addons for WooCommerce that have all the possible features you need to build your eCommerce website using WooCommerce.
We also compared these add-ons side by side, so we found Happy Addons to be the best fit. You will find the comparison table after the list.
Let's get started.
Happy Addons

Happy Addons is the most suitable Elementor add-ons that give you more advanced features to build exclusive WooCommerce websites. The amazing add-on comes with several WooCommerce widgets that are easy-to-use, unique, and often needed for an eCommerce site. It also offers responsive pre-built eCommerce templates and blocks that you can easily import to your website.
Moreover, Happy Addons helps to grab more potential customers by creating stunning websites and ensure a better user experience that will cause to grow your eCommerce business.
Key Features
WooLentor

WooLentor is one of the modern Elementor add-ons created especially for WooCommerce users. Using this powerful addon, you can easily add advanced features to your Elementor-powered eCommerce website.
It comes with couple of premium WooCommerce themes. You can get many stunning pre-made templates included in both the free and premium versions.
Key Features
Multiple product layouts
Single product layout
Archive page template
Unlimited custom design for WooCommerce pages
Discount schedule counter
PowerPack Elements

If you have a solid budget in your pocket, you can go with PowerPack Elements. Because this WooCommerce addon is available only in the pro version, this addon also has some exclusive widgets that will add extra functionalities to your WooCommerce website.
Key Features
Woo Category widget
Add to Cart Widget
Woo Checkout widget
Woo Cart widget
Off-Canvas Cart
Mini Cart Widget
Crocoblock

Crocoblock is another great Elementor add-ons that have 50+ WooCommerce widgets for designing your online store. This addon comes with super-fast AJAX filters that help to search for the desired products efficiently.
Therefore, you can easily compare two different products side-by-side using its eCommerce product comparison. Apart from that below are some WooCommerce-focused features from this addon.
Key Features
Products Result Count
Products Pagination
Single Related Products
Products Notices
Products Loop
Ultimate Addons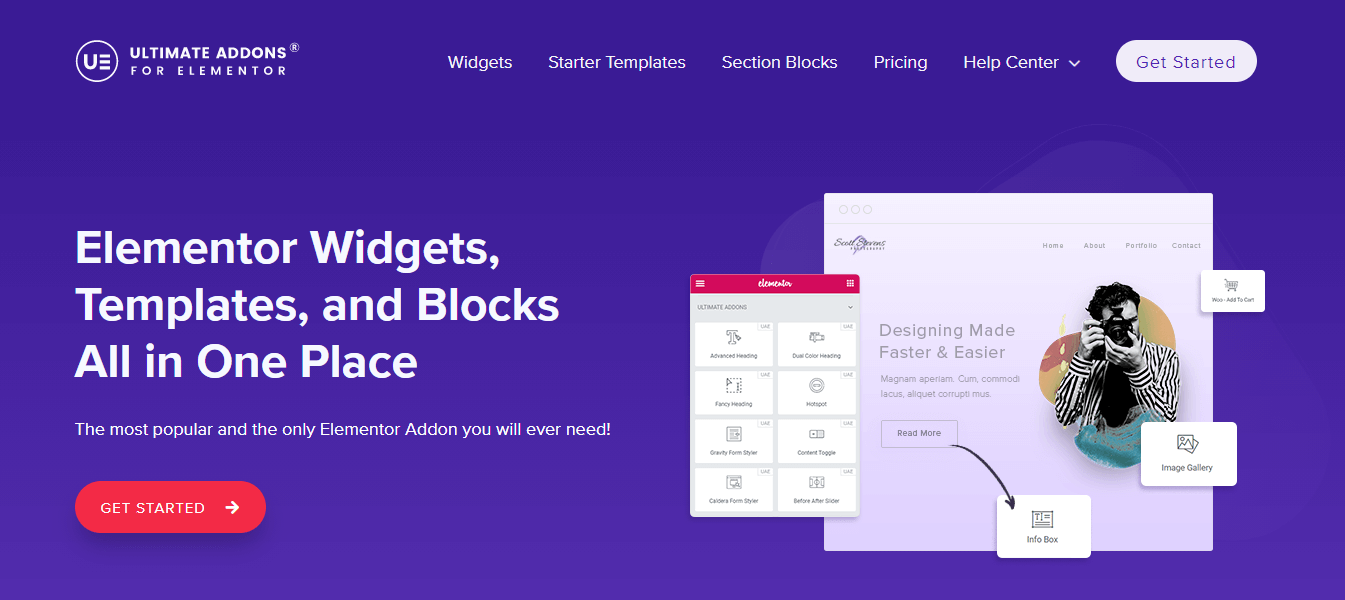 Ultimate Addons is the last WooCommerce addon in our list that also has some notable widgets suitable for eCommerce websites. The addon only has the pro version. So you must pay to use this particular add-on.
However, you can get exclusive templates that can easily import to your WooCommerce site and give it a beautiful look.
Key Features
Product grid
Amazing product carousel
Direct add to cart option
Woo Mini Cart
Let's look at the comparison table.
| | | | | | |
| --- | --- | --- | --- | --- | --- |
| | Happy Addons | WooLentor | PowerPack Elements | Crocoblock | Unlimited Elements |
| Active Installs | 100000+ | 60000+ | 50000+ | 8000+ | 70000+ |
| WooCommerce Widgets | 8 | 30+ | 12 | 60+ | 6 |
| Free Widgets | 40+ | 35+ | 30+ | N/A | N/A |
| Pro Widgets | 45+ | 35+ | 40+ | 60+ | 40+ |
| Total Widgets & Features | 100+ | 90+ | 75+ | 60+ | 40+ |
| Ratings | 4.5/5 | 4.5/5 | 5/5 | 5/5 | 4.5/5 |
| Score (out of 55) | 34 | 29.5 | 26.5 | 24 | 20.5 |
Here, you see the Happy Addons is top of the list because it has a huge user base with positive ratings and has both free & pro widgets. It comes with 8 WooCommerce widgets alone with 85+ other necessary Elementor widgets.
Bonus: How To Create eCommerce Website with WooCommerce, Elementor, and Happy Addons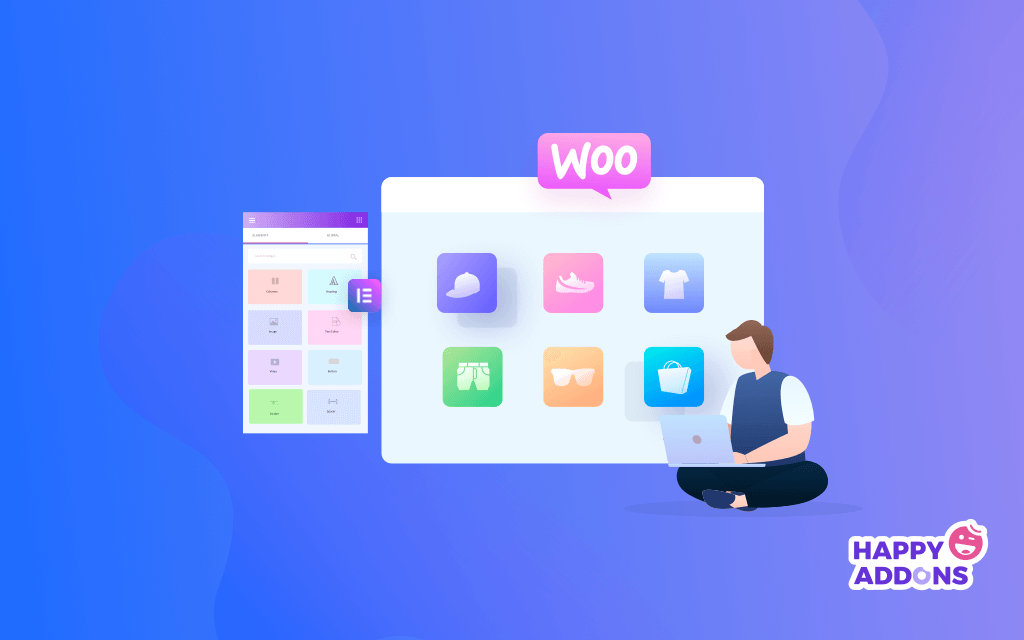 Using Elementor & Happy Addons, creating an WooCommerce-powered eCommerce website is not a big deal anymore. Elementor offers you the options to build your online store from scratch, while Happy Addons gives you better customization functionality with its powerful WooCommerce widgets.
These are some prerequisites that you need to get your job done.
You can easily design your website following 4 simple steps.
Install Elementor, WooCommerce, and HappyAddons
Set up WooCommerce
Select and Import Suitable Happy Template
Customize your Site Using Happy WooCommerce widgets
Check out this ultimate blog to build your eCommerce website using HappyAddons WooCommerce widgets.
Choose Your WooCommerce Elementor Addons
Once you have compared the above WooCommerce Elementor Addons, it'll be easy for you to choose the right one. Before you select any of them, you should read their full documentation. And you need to check every detail so that you won't look back while using them.
We hope that this article gives you a proper idea about how these Elementor addons help you to make an eCommerce site. We've also shown how you can launch your WooCommerce website with Elementor & Happy Addons.
If you like this blog, do share it to your social channel and help others to build your eCommerce website with ease. And subscribe to our newsletter to get our future article. It's free!