In this digital age, designing a website is easier than you might even imagine. The available resources & handy tools make the entire web designing process simpler, especially for non-coders. With pre-made website templates, you can now build a fully-functional website without any programming skills.
Ready-to-use templates provide a base to your website. That makes your hands more flexible, accurate, and accelerate your working speed up to 5-10 times faster.
In today's post, we're going to talk about the most awaited feature of Happy Addons- Happy Template Import. With this amazing feature, you get a number of pre-made layouts for your Elementor site completely FREE. It assists you in producing some significant designs in a flash.
So, without further ado, let's get introduced with how to use templates of HappyAddons.
Getting Introduced with Happy Templates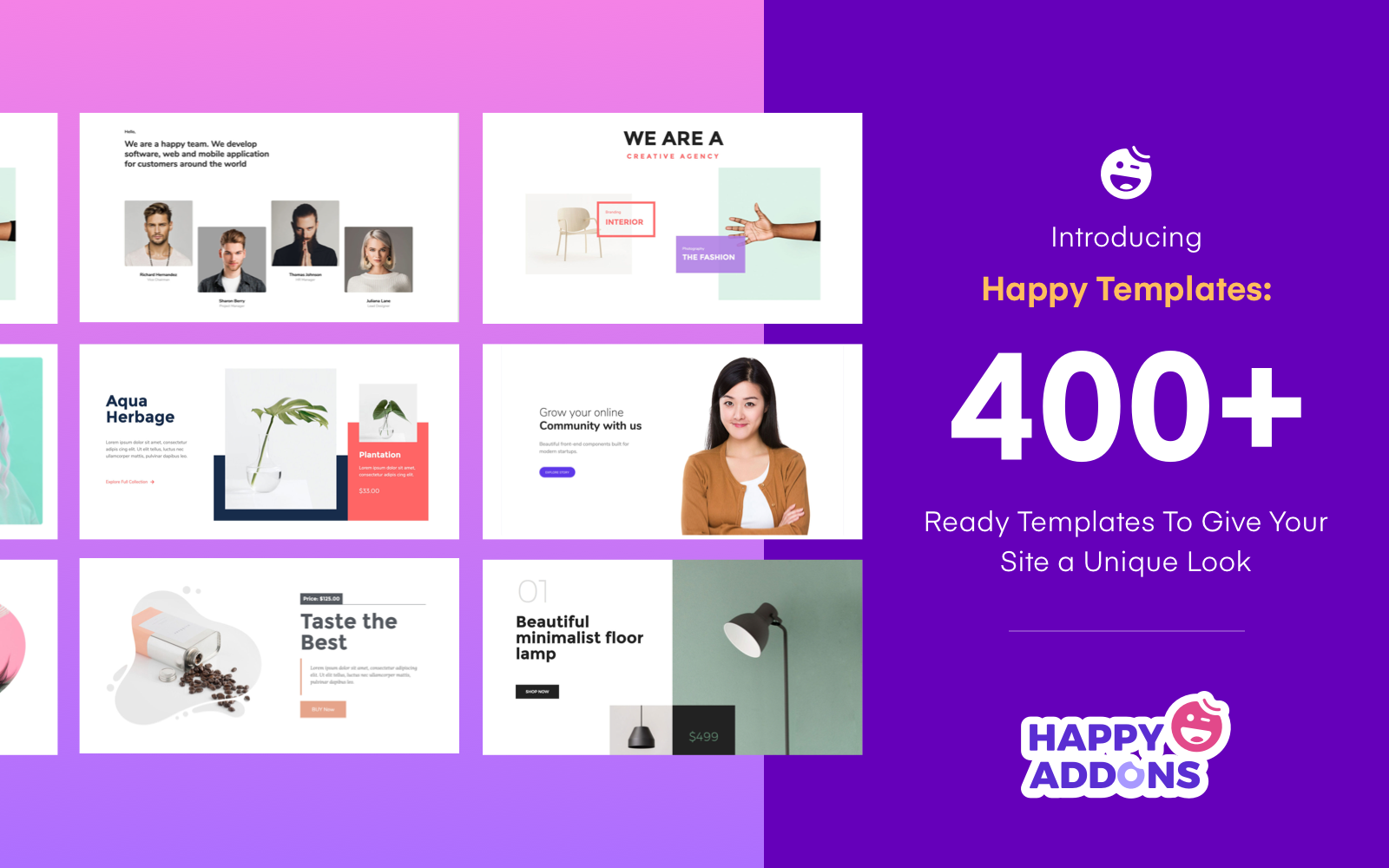 Happy Addons comes with the ultimate template importer feature directly from your Elementor editing dashboard. For the last couple of months, our users have been requesting us to add this feature to our solution. So the expert minds behind the plugin sincerely responded to this call.
Initially, we have released 400+ ready-made unique blocks/sections for our valued users.

Happy Addons
Alike other features of Happy Addons, this feature also works seamlessly with Elementor. You can regularize your task using the general interface of Elementor to access all our Happy templates.
For your convenience, you can check out the following video to know more about Happy Templates and how it works with Elementor.
Why Do You Need Happy Templates?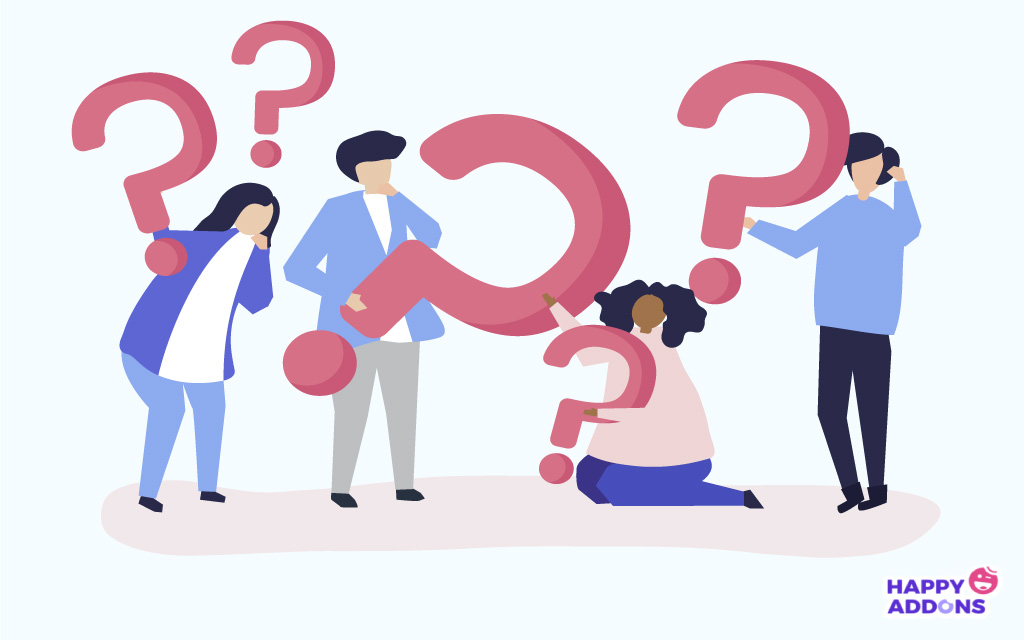 We already have the live copy-paste and cross-domain copy-paste features in Happy Addons. With those two features, you can easily copy a design and apply it to your websites. So, how Happy Templates going to give you something more?
Well, we were focusing on two important things while developing this feature. One, it allows users to customize their design more precisely. Two, boost their works 100 times than before.
Happy Template Import has come with the aim to-
Provide Pre-made Design Elements: It includes all the essential blocks, sections, and parts that can easily help you to produce any type of design.
Give Flexibility to Create Mobile Responsive Designs: You will get an option to check the mobile responsiveness of the templates.
So, having this rich collection of templates is important and useful to give your site a unique look.
How to Pick the Right Template for Your Website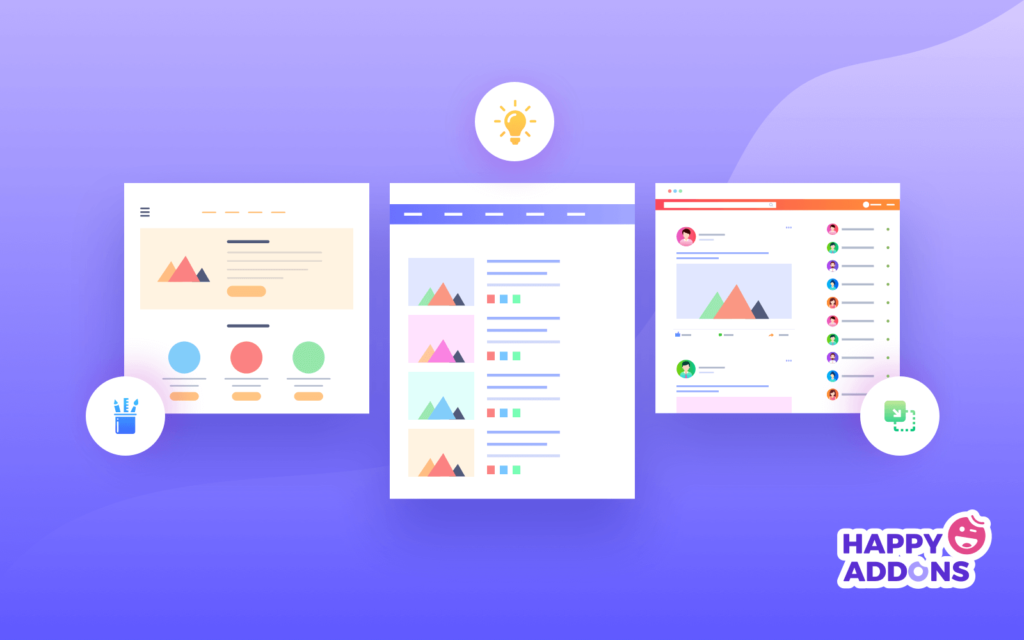 Our template import feature includes all the basic features of the Elementor Template Import system. You can search for templates in two different ways:
by the names of the sections or
filter by page section category.
At first, open the page that you want to customize with Elementor. You'll get a white interface below. Next, click on the Happy icon here.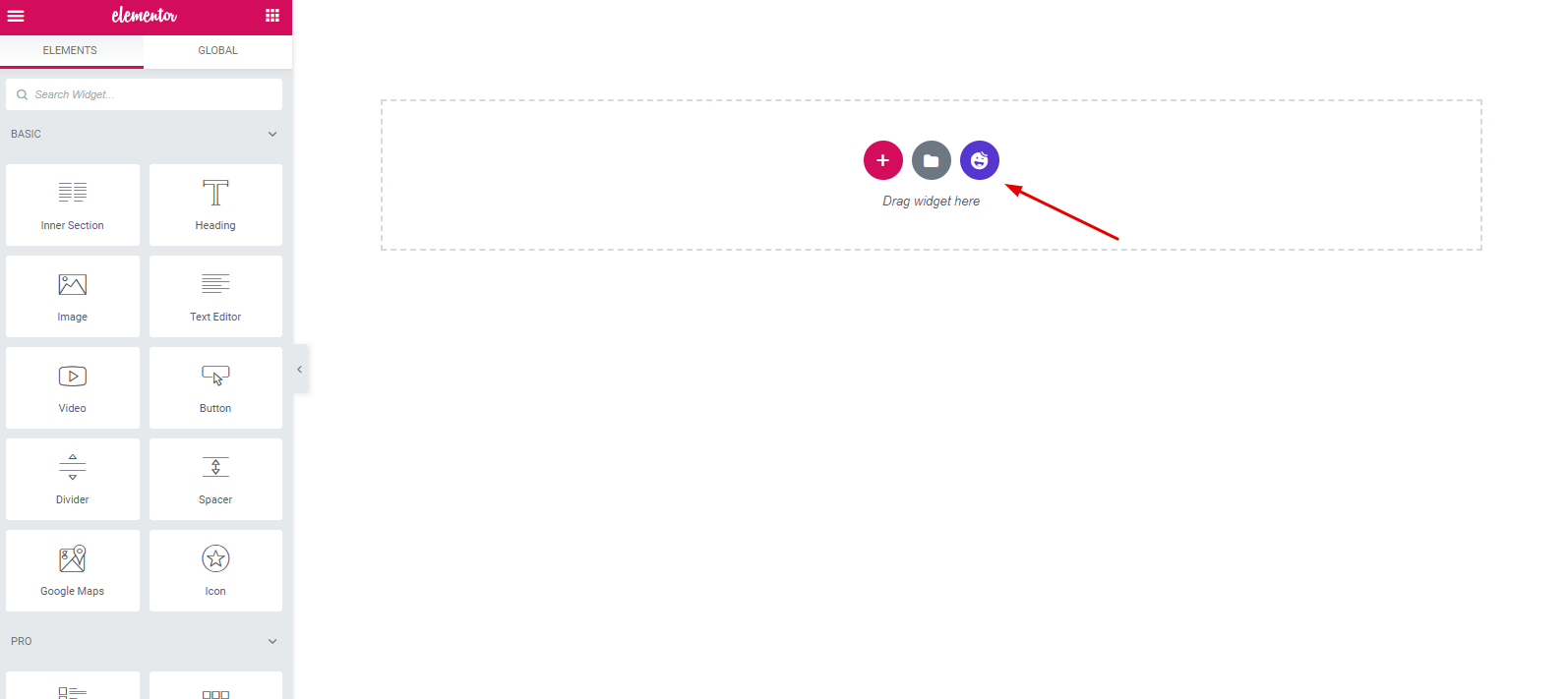 Next, Happy Library will appear, where you can get the templates altogether.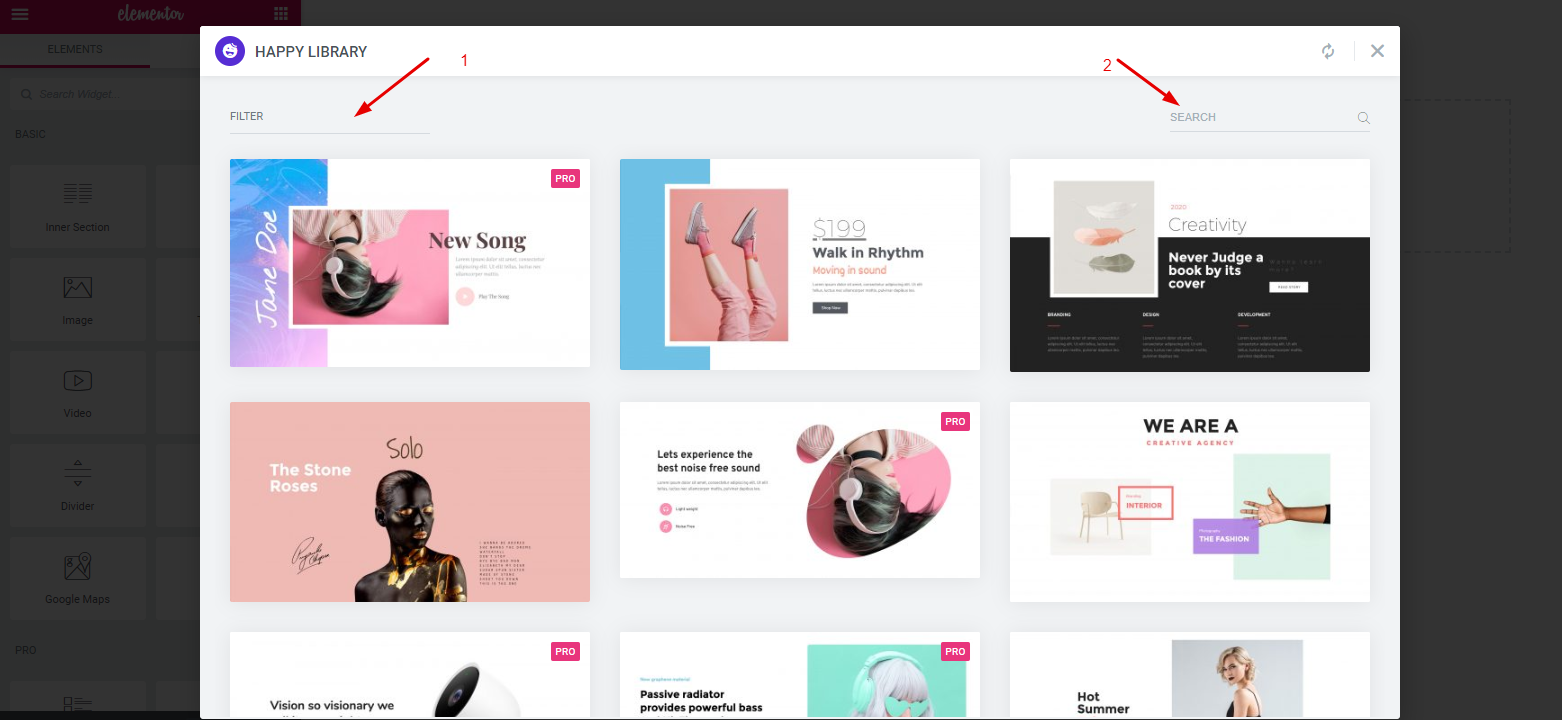 For your convenience, we breakdown the templates according to their category. It helps you to understand each template better.
Related article: Most Useful Website Design Templates: Shape Your Ideas within Minutes
Templates for 'About' Section
If you want to customize the about section of your website, here you can easily find some ready-made templates. To get your desired template quickly type the category on the search box.
However, it has custom-made "about sections" for:-
Portfolio site
Business site
Medical website
Service site
Creative agency site and many more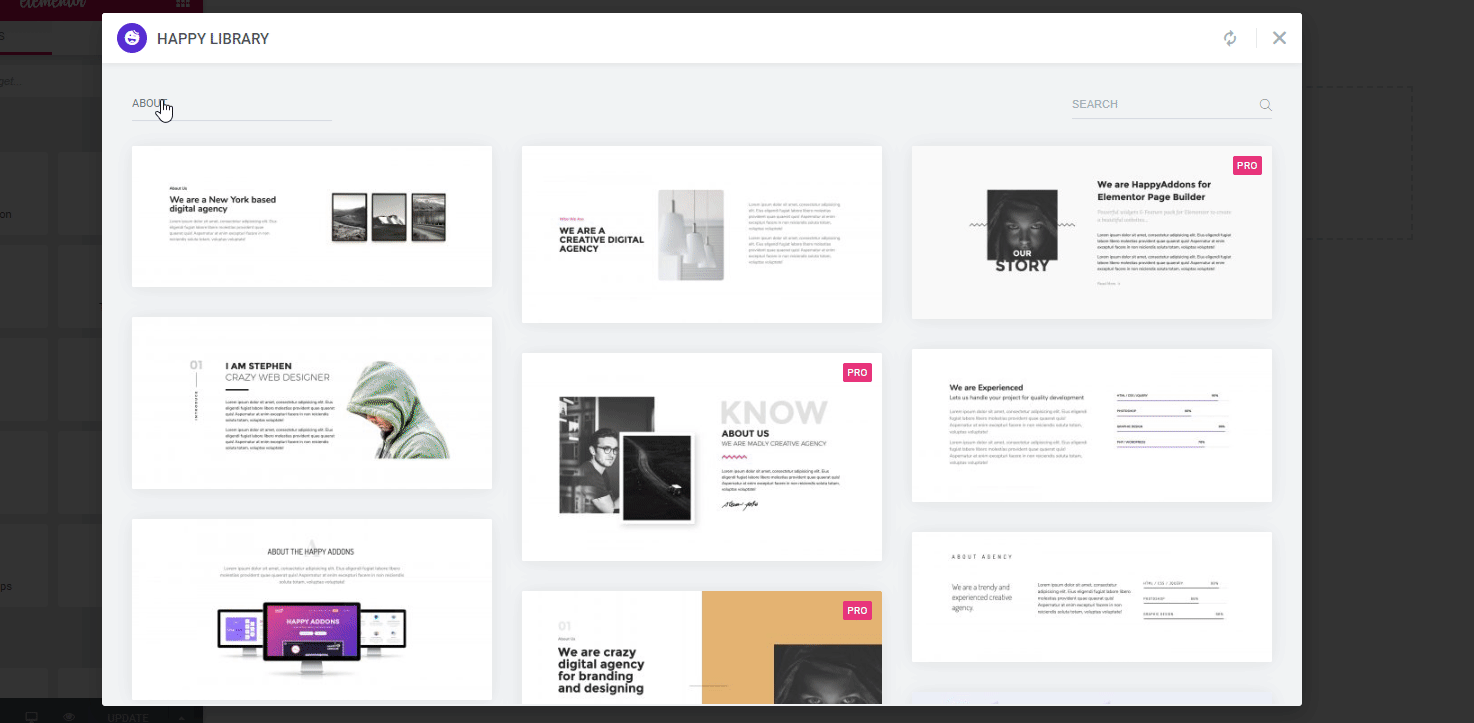 Pre-Made Banner
Banners can bring significant change to your website. This will make its appearance more beautiful & professional. But sometimes we're unable to find the right image for our website.
Don't worry! With Happy templates, you can find some exclusive banners which are custom-made and easy to use.
These templates include:-
Single photo banner
Product banner
eCommerce banner
Nonprofit or charity banner
Consultancy banner and more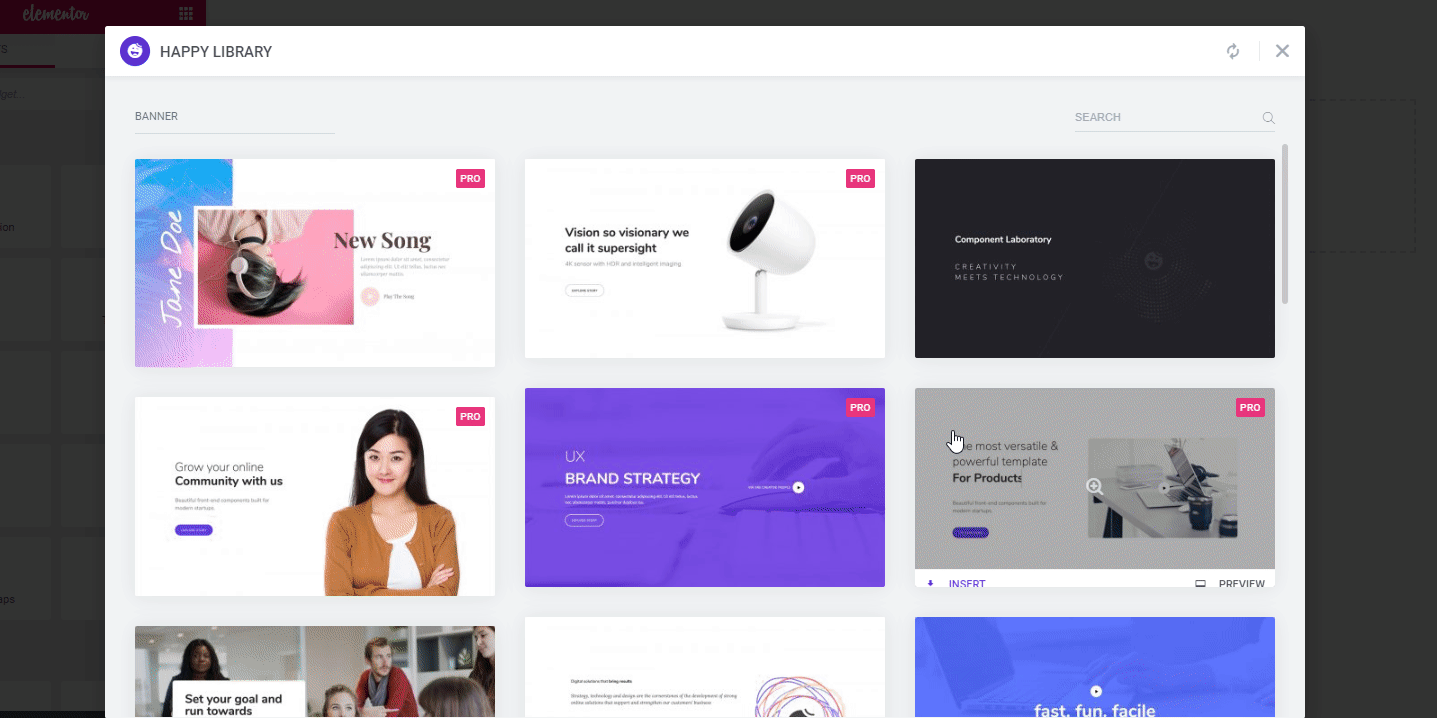 Service Section
After the banners, the service section is also a vital part of your website in terms of showing your company's purposes & intentions. And if you can design it with proper structure, undoubtedly, it will drive more conversions on your landing page.
Thankfully, you can get that privilege with Happy Templates. It enables you to insert some well-designed service templates directly on your Elementor website.
Here is an example below:-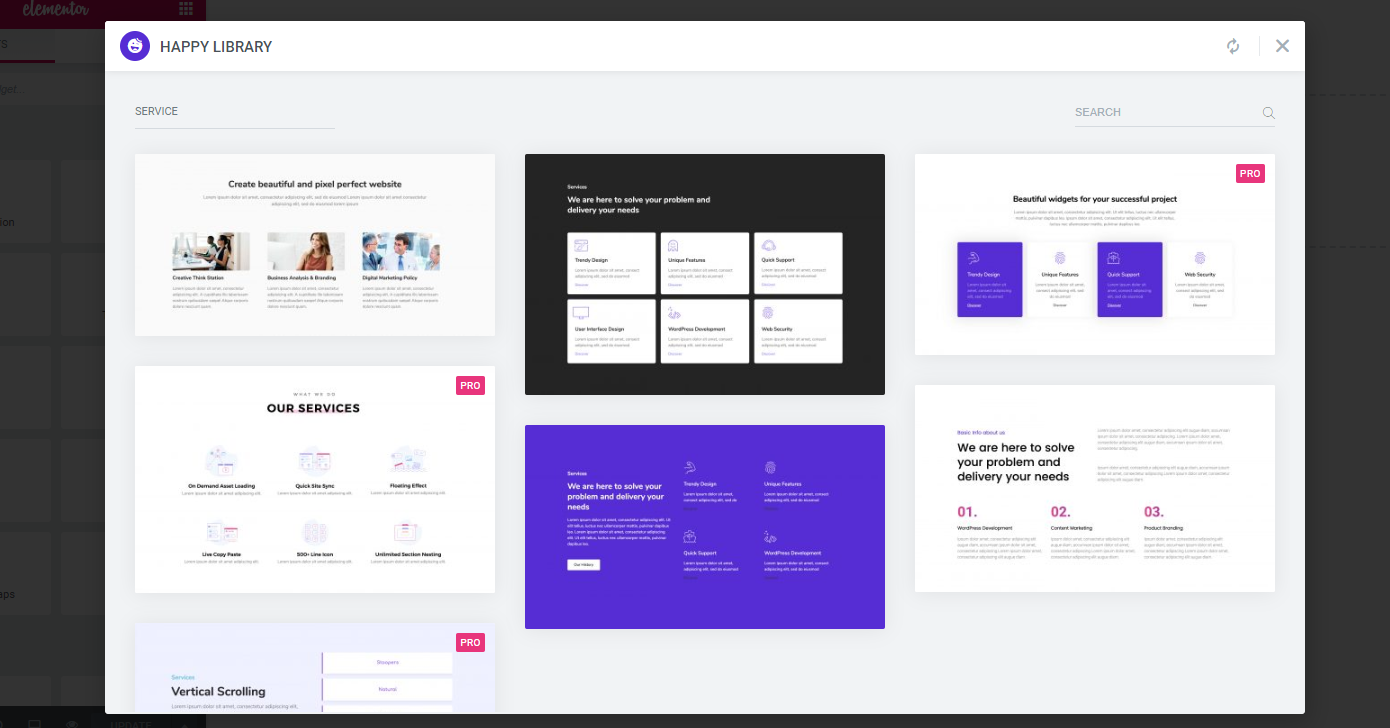 Templates for Testimonial
Having a customer testimonial on the website enhances your opportunity to grab more customers' attention. It builds trust, credibility, and loyalty among the traffic and encourages them to become your customer.
However, it will take a lot of effort and time to design a testimonial section manually. But luckily, Happy templates will let you do that only in just a few clicks. As a result, you'll be able to showcase your customer's feedback or happy scenario smartly.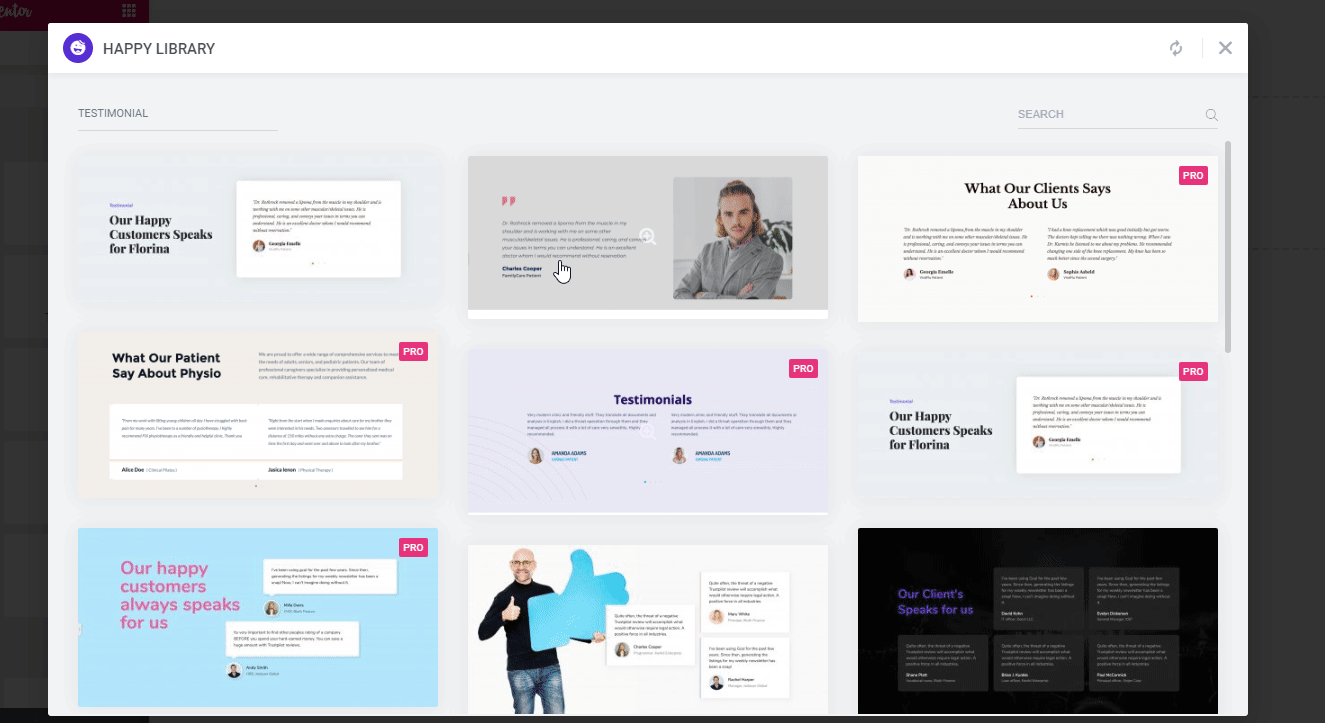 Related article: How to use Testimonial widget of Happy Addons to improve website look.
Gallery Template
Adding an image gallery to your website can help you attract potential customers and generate more sales too. By considering this fact HappyAddons includes some Premade Gallery Templates into its library. So you can easily pick one that best fits your needs.
In the Gallery templates, you'll find:-
Gallery for portfolio
Nonprofit agencies gallery
Art & sketch gallery
Fashion gallery
Different effects, for example, scroll title with photo, etc.
And more.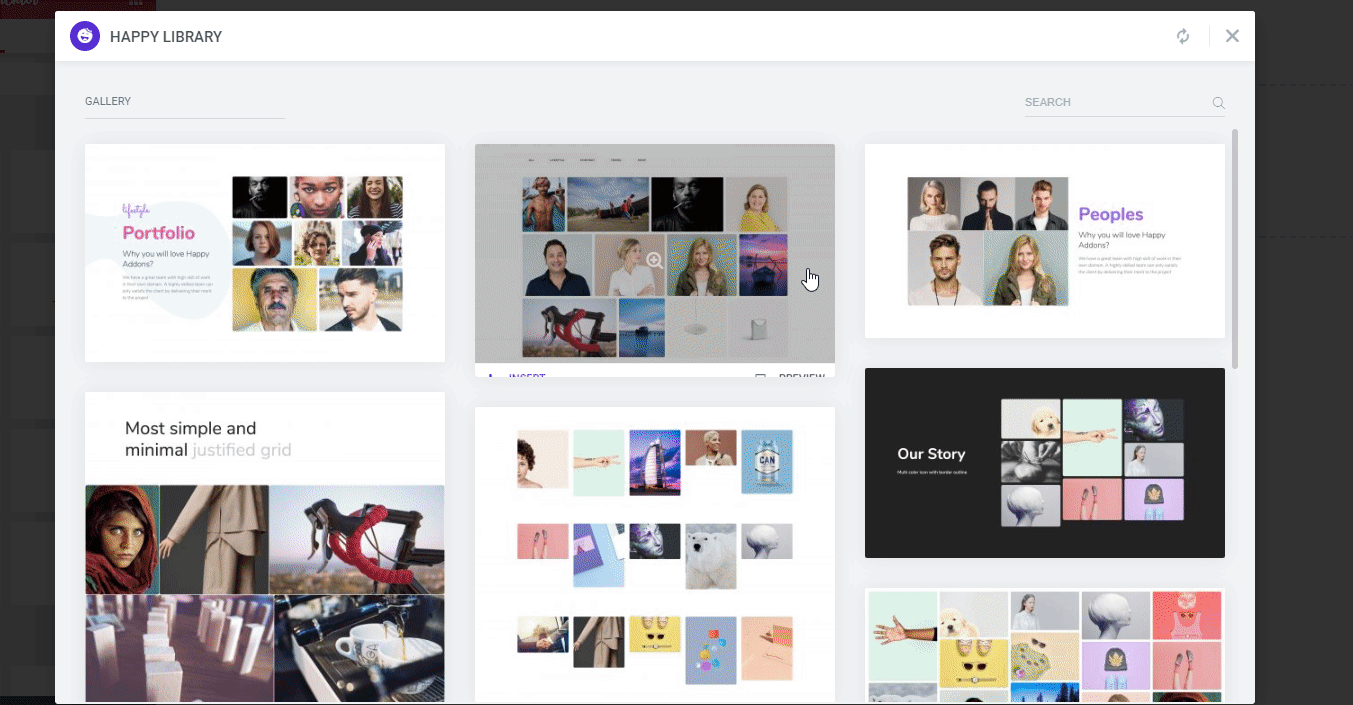 Video Template
You can instantly add stunning videos to your Elementor site using Happy Templates. Also, customize the layout and change the style with ease.
The video templates provide some unique presentations & structures to make your website attractive. Now add all the information and get your design done.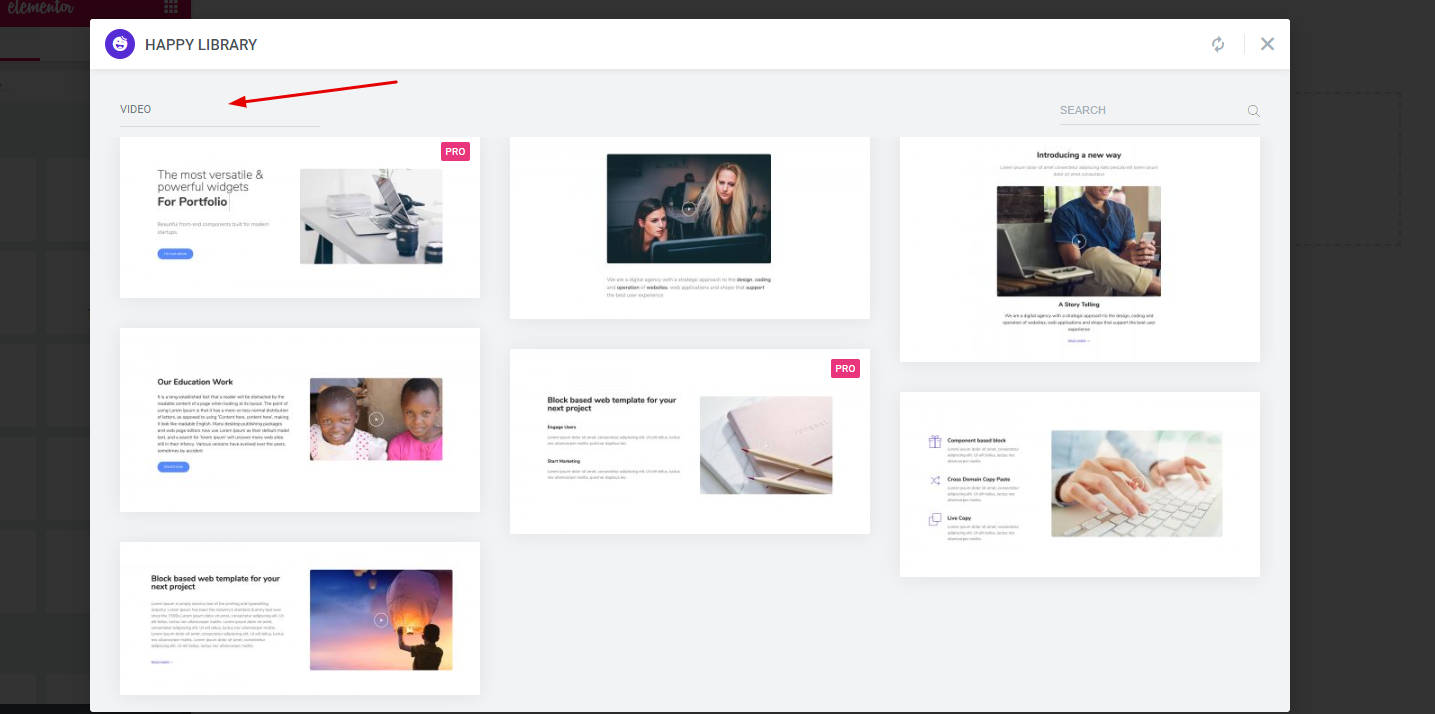 Contact Forms Templates
A contact form helps you to collect customer's data and generate leads. This is the reason, you should also include a contact form on your website. It's a great way to connect with your customers.
Add an in-build contact form sections on your Elementor site following this way-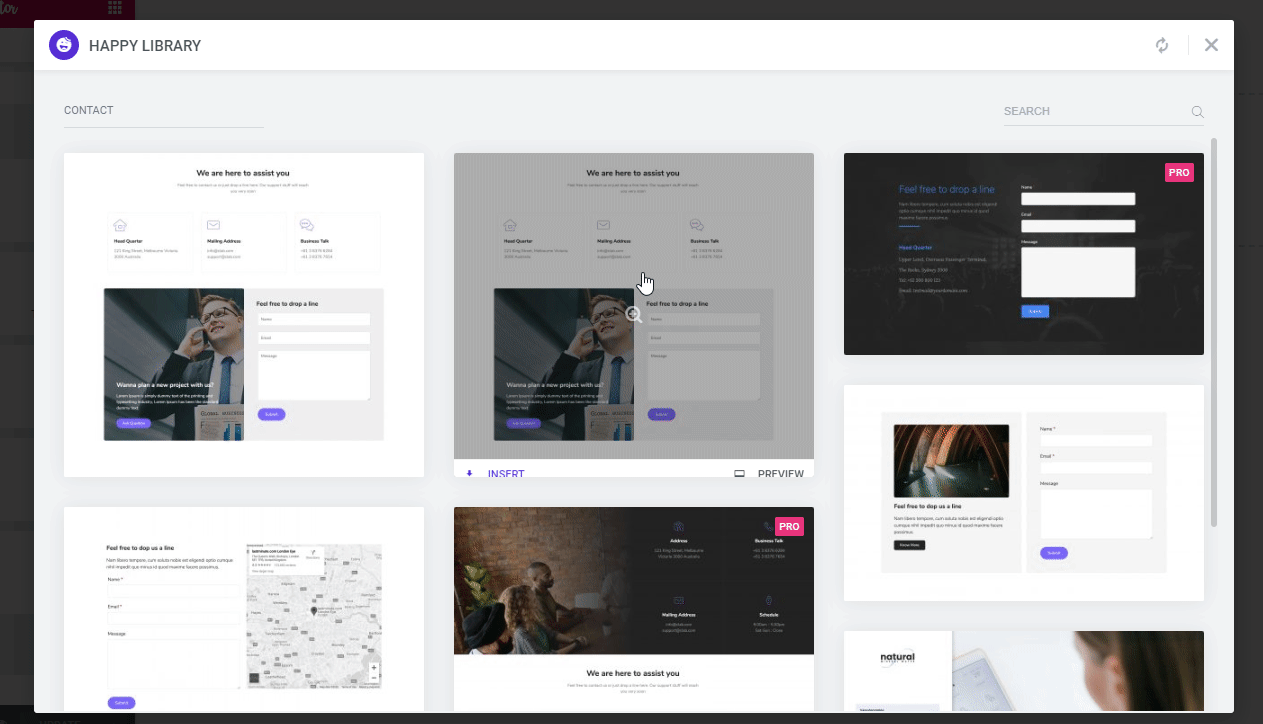 Note: Before using any contact form template, do make sure that you have already installed contact form on your website.
Footer Templates
Following a similar process, you can also add some dynamic footer sections on your website. It's customizable & easy to use. Therefore, pick the right footer template and insert it on your design.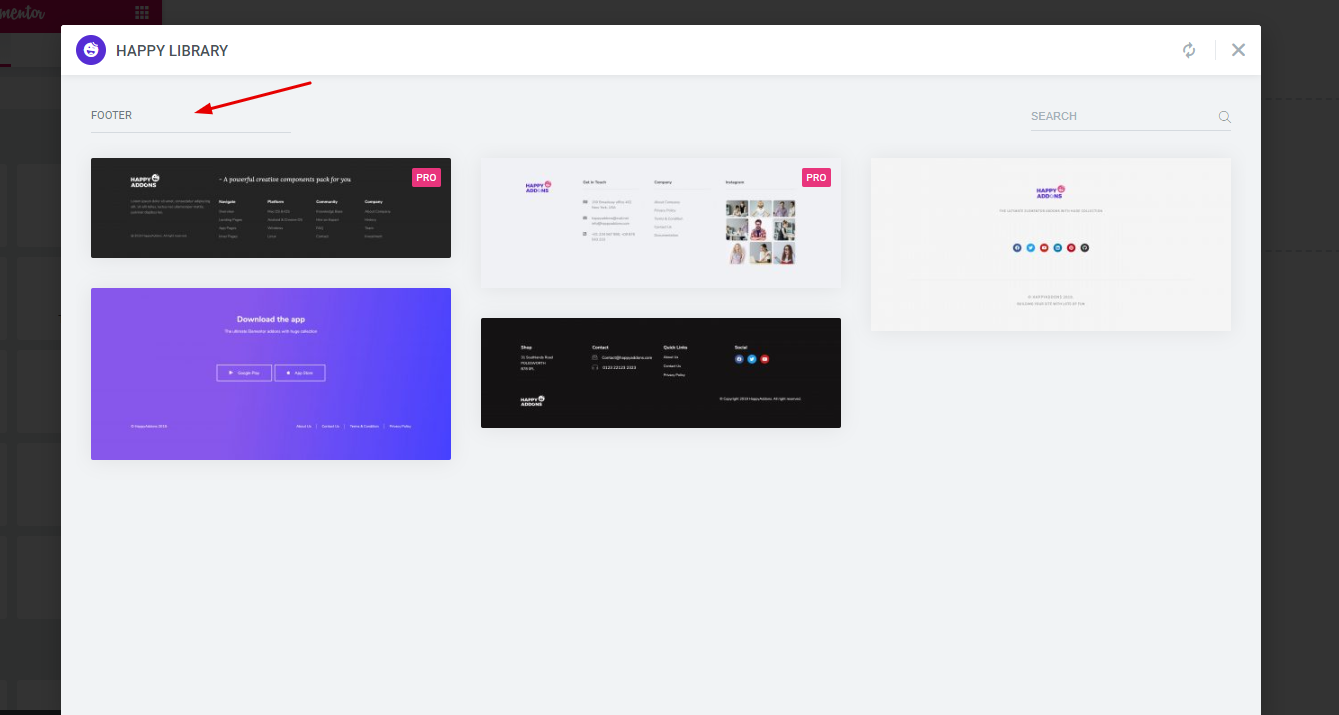 So these are the useful templates that you can use to create an engaging website design.
Not over yet!
HappyAddons facilitates you with some more amazing templates for improving your website design. Such as:-
Call to action
Content block
Coming soon feature
Error 404
FAQ
Intro text
Team
Medial & Health-related templates
Marketing
Fun factor
Parallax
Price menu
Pricing table
Image blocks
Music-related templates
And more
Also read: How To Build a Personal Website with Elementor and Give It a Professional Look with Ease
How to Use Happy Templates on Your Elementor Website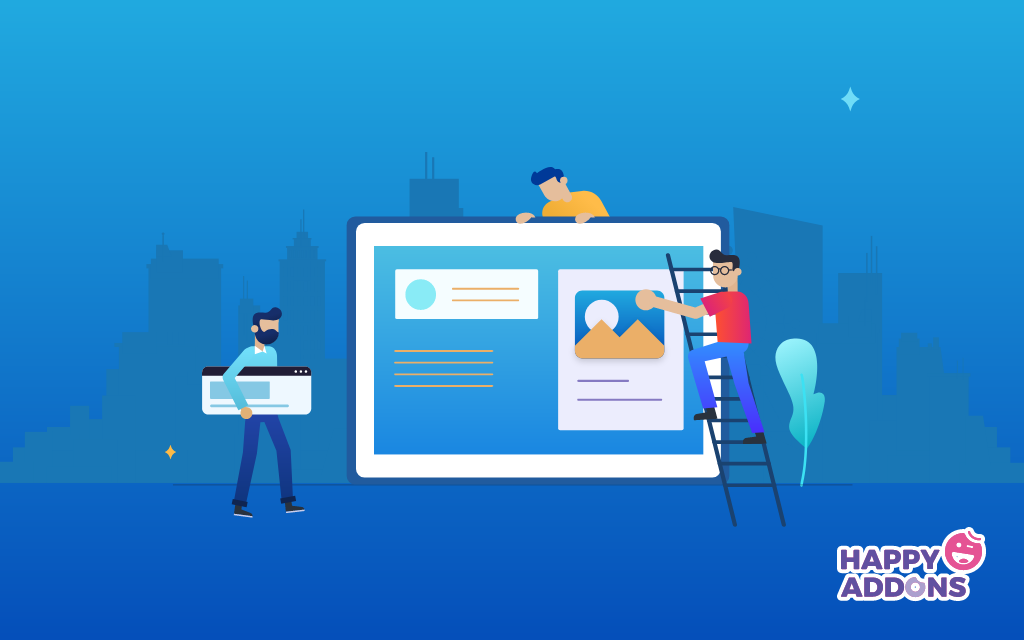 Here are the pre-requisites to add a template on your website:
We assume here that you've successfully installed and configured WordPress, Elementor & Happy Addons on your website. Now, follow the below instructions step by step to design a website with Happy Templates –
Step One
Create a page or navigate to the page that you want to design with Happy Template
Include a title
Select Elementor Canvas
Hit the publish button (or you can keep it as draft)
Click on the 'Edit with Elementor'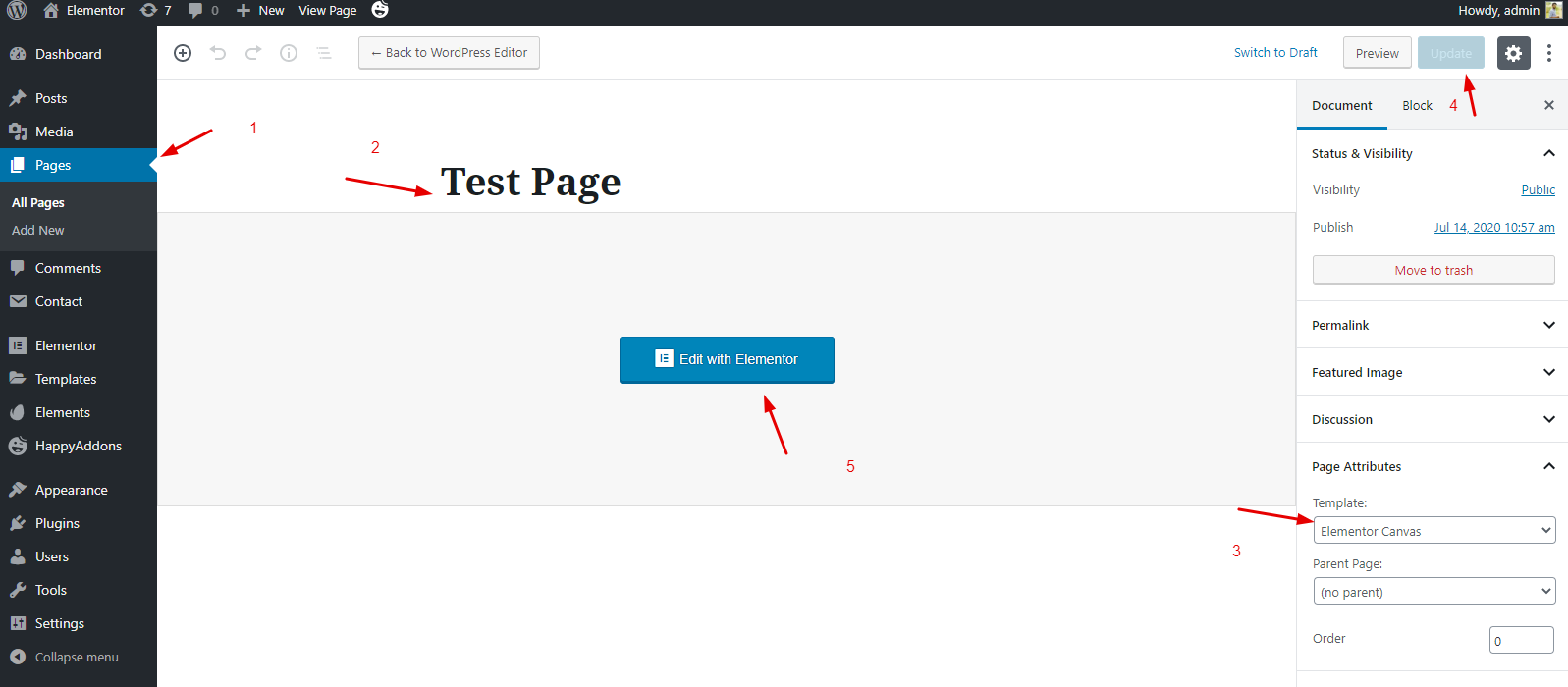 Step Two
Next, select the Happy icon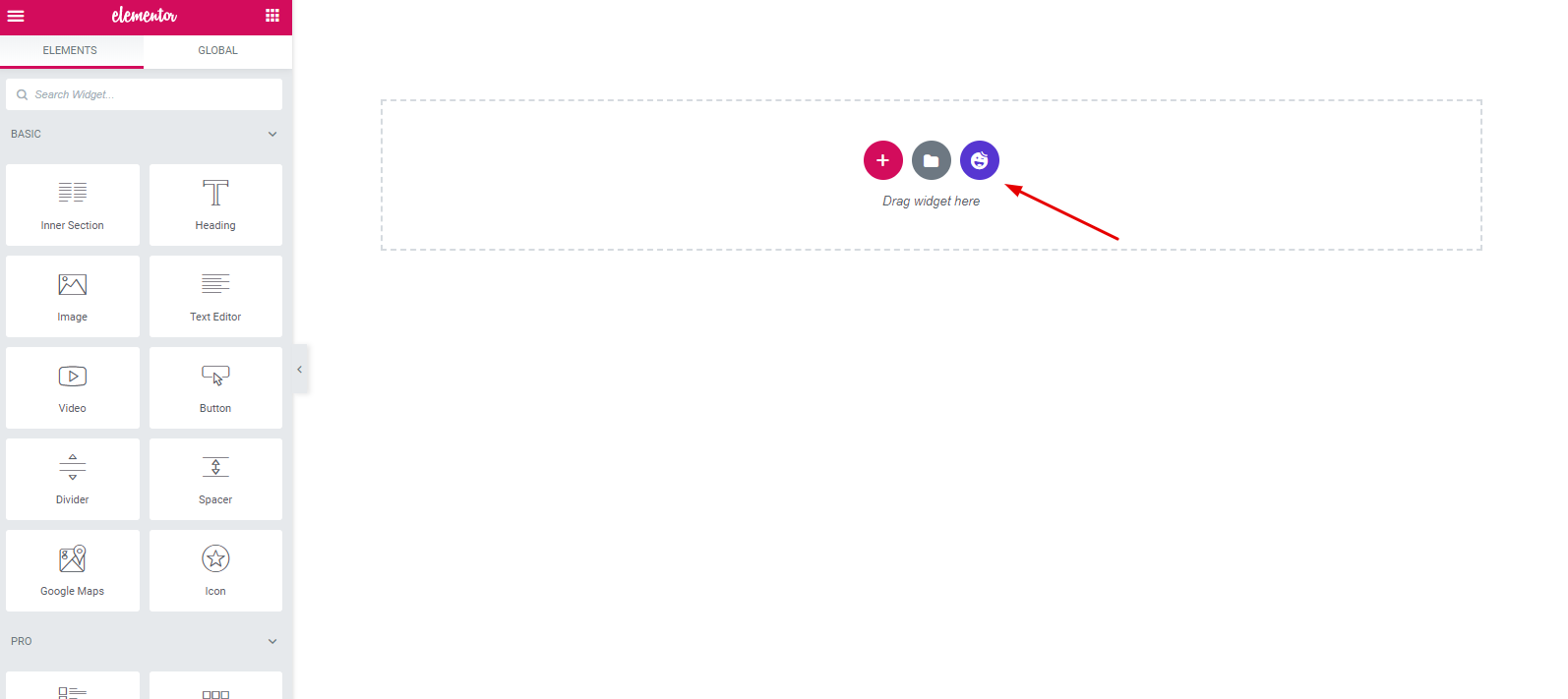 Happy library will appear immediately. From here you can select your desired templates.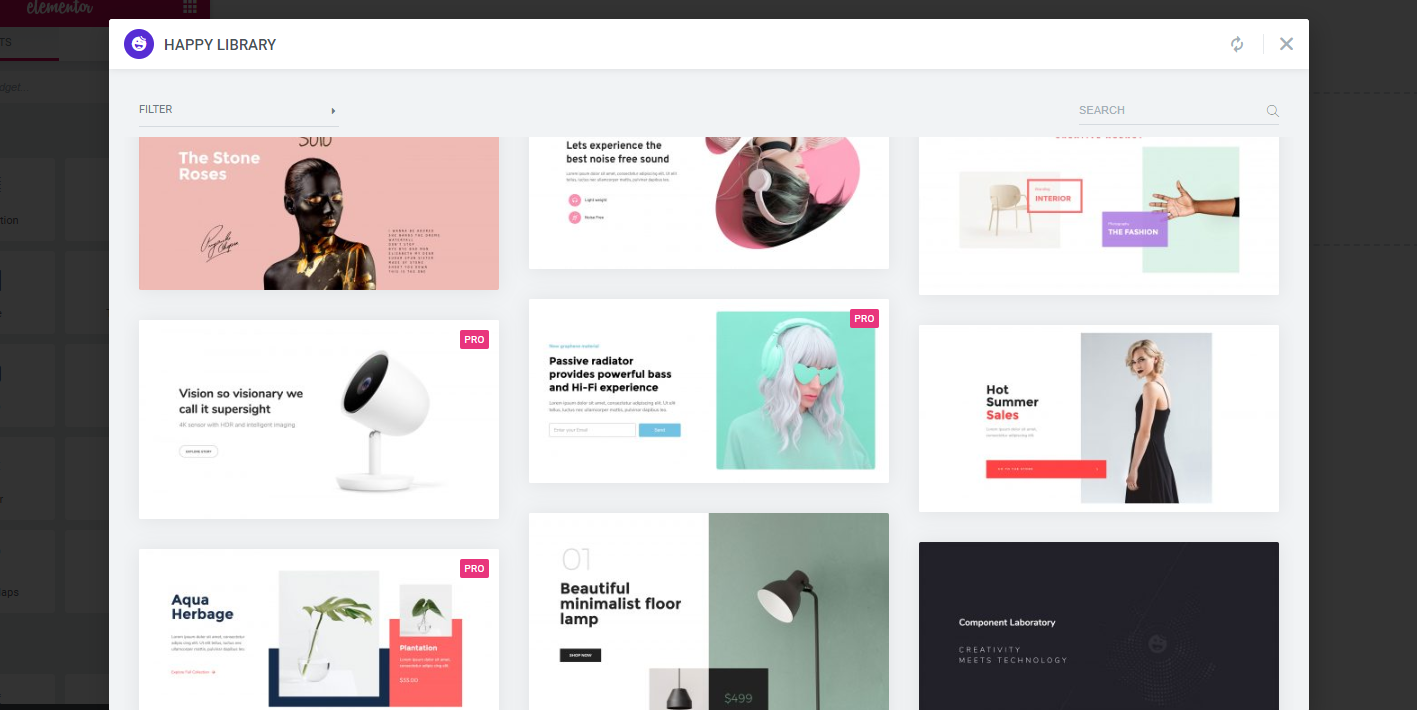 Step Three
Now select a template from this library.
After selecting the template, click on the 'insert' button.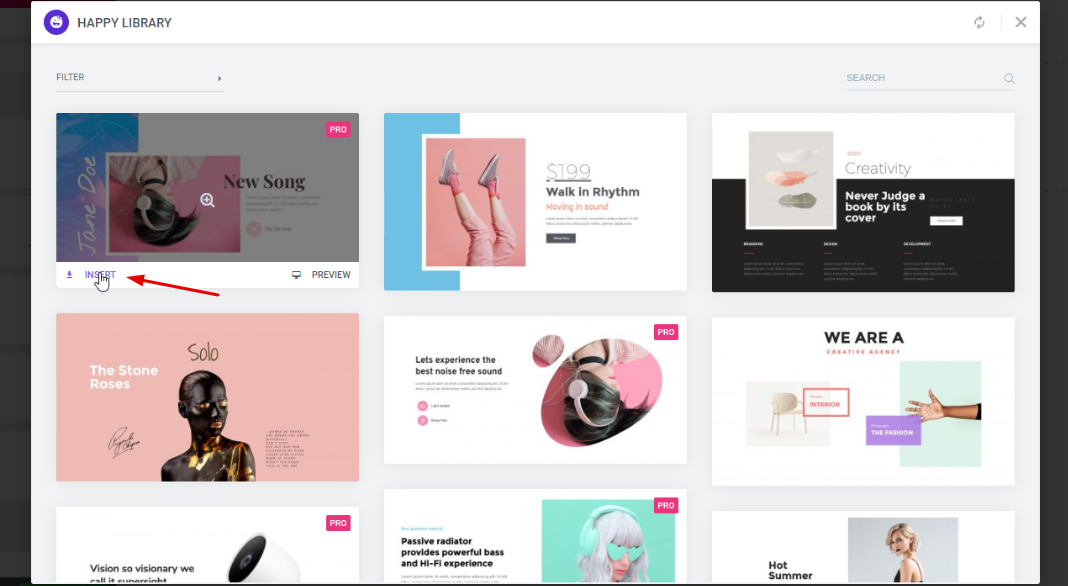 Step Four
Hurrah! You've inserted the template successfully.
Now, customize it according to your website niche.
That's it. Your design is ready to rock!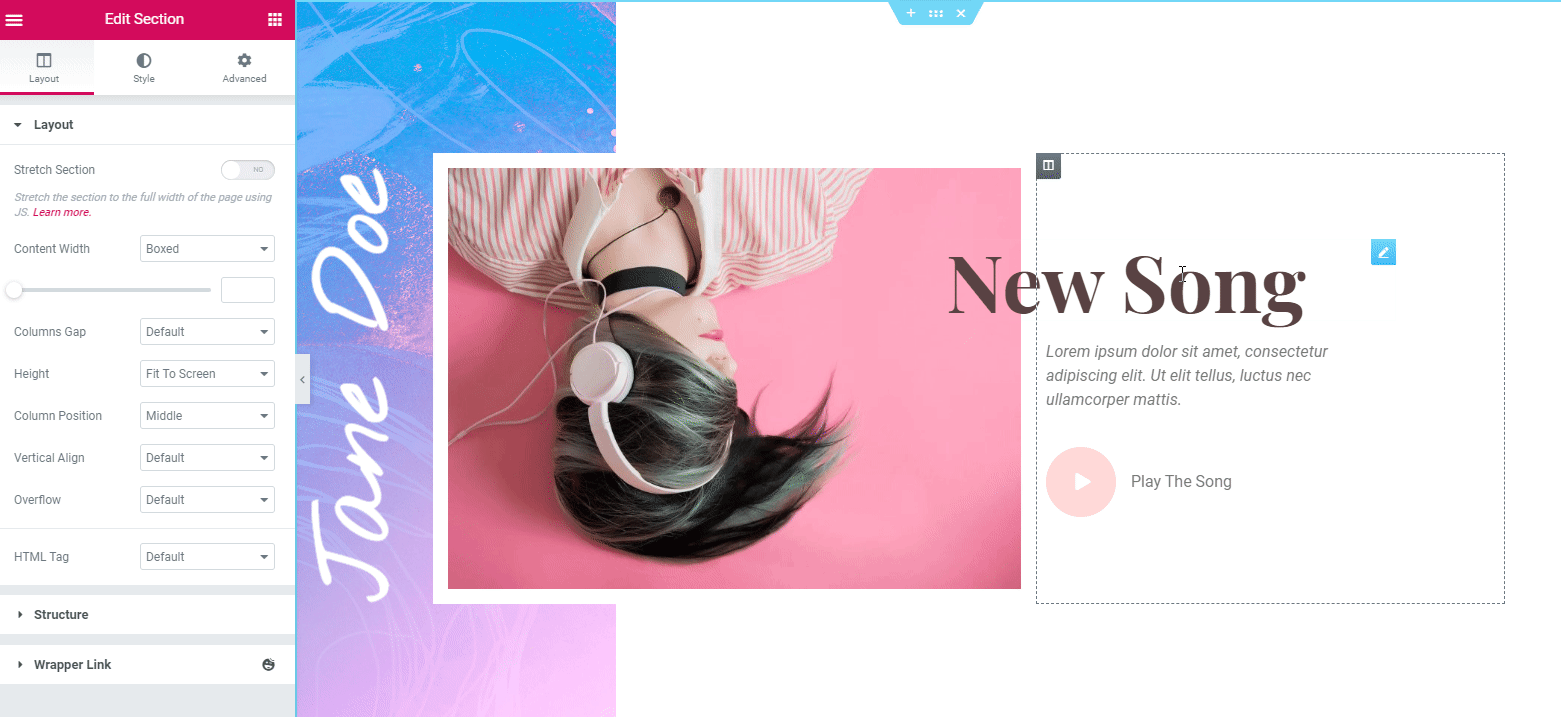 Step Five
You can design other parts of your Elementor site following the same procedure. Such as the about section, service, image gallery, testimonial & footer section.
Therefore, with Elementor and HappyAddons, it becomes super easy to build a full-fledged website in minutes.
Nevertheless, you can check out the following video to understand how these templates work to produce a remarkable design.
Important note: You can unlock all the premium templates by activating HappyAddons pro. It surely helps you to design a feature-rich Elementor site with maximum cost reduction & minimum efforts!
The Ending Notes
Well, the post has come to an end. This post intends to notify you about the new feature of Happy Addons. We solely believe that 'Happy Templates' can fulfill all your requirements to design an outstanding website. It brings all the essential web designing materials in one place.
Using these beautiful website templates, you can design your personal or clients' websites faster than ever. Furthermore, we will keep updating our template library. So that you can also update your website design to meet the changing tastes of the visitors.
Use the comment section below if you still have some questions regarding Happy Templates or its working process!