Proper coding and lucrative designs are what make web templates so popular. The same goes for the Elementor pro templates.
Elementor has been powering 5+ million WordPress websites around the world. That is an achievement in itself. Amazing widgets, revolutionary features, and of course the flexibility for third-party addons like Happy Addons makes using this plugin worthwhile. Moreover, it has hundreds of well-designed, properly coded templates that anyone can use to create the perfect website.
But the question is which ones to use?
Finding the best Elementor templates can be a hard and time-consuming task. So, we searched the Elementor library and compiled a list of some of the best pro templates for you to utilize.
Things to Consider While Choosing a Template for Your Website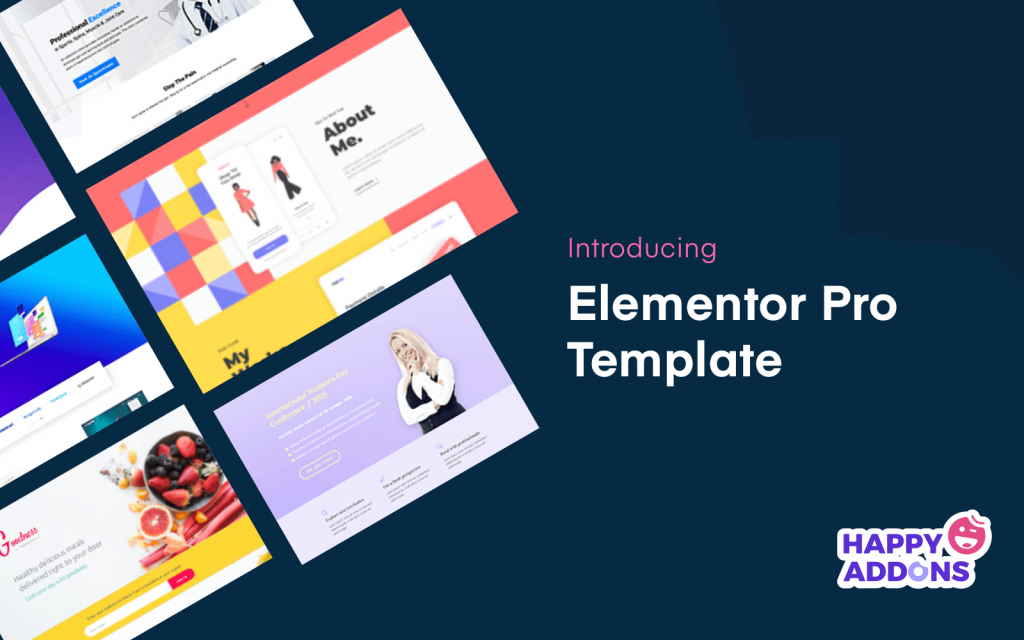 There is absolutely no room to ask about the design quality and performance of Elementor templates. Each one of them is highly splendid. Yet, there're some points you need to consider while choosing a template for your website.
Make sure the template has a design that matches your aesthetic and brand identity.
Decide whether the template is good for publishing the type of content you want.
Ensure it includes a contact form, eCommerce functionality, or portfolio.
Check how easily you can make it mobile-responsive.
Customization is super-easy for beginners.
Finally, you may join the Elementor communities on Facebook, LinkedIn, Reddit, and else. You may post questions to know users' opinions about their experience using the Elementor Pro Themes and which one they recommend.
Best Elementor Pro Templates that You Can Use for Your Websites
You must be wondering why we are talking about the Elementor pro templates without mentioning the free ones. Well, the Elementor template library is only available in the pro version.
That is why every template is now basically a pro template. And we researched them and found these 8 interesting templates for you.
If you want, you can use the following links to jump directly to the section you're most interested in:
1. Restaurant Homepage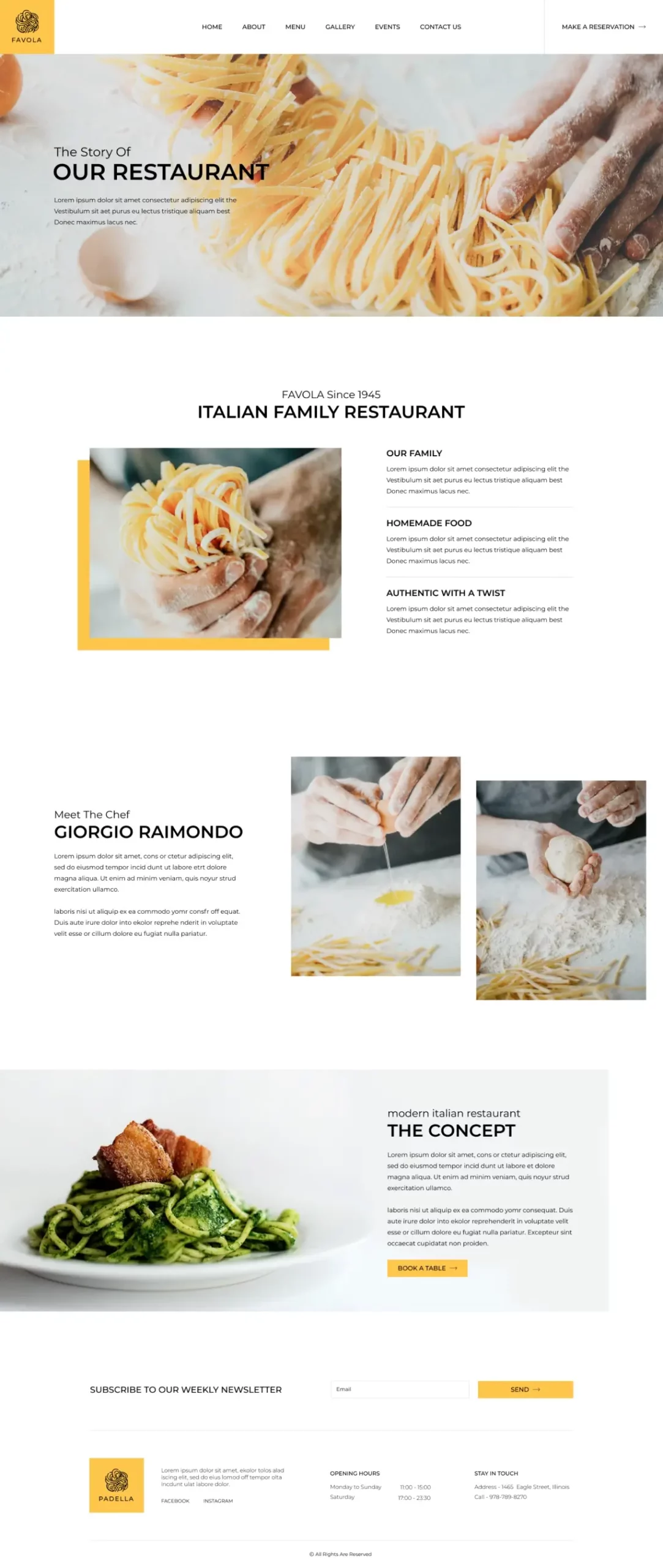 This elegant-looking homepage template is the perfect choice to drive your visitors' attention. Suppose you own a restaurant, pub, diner, or a small food cart. If you are in need of a simple yet effective design for your website then this is one of the best Elementor pro templates you can consider.
Here, you can add a full-width banner image that you can use to introduce your restaurant. Also, it has small containers. Perfect to add your profile and also the popular recipes. All on one single page.
Next to it are content sections and CTA with large images. You will also get a container to add your contact details and a good-looking contact form. In the end, you can add your social profiles.
2. Ski Resort Homepage

If you are the owner of a beautiful ski resort and looking to create a homepage that will justify its beauty, then this Ski Resort template is exactly what you need.
It has six sections. You will get a background with an overlay and a contact form for the banner image part. You will get containers to display your wonderful facilities and CTAs that alternate from side to side. The transition effect is enough to wow your customers.
Moreover, you will get flip animations and hover effects to add more flare to your homepage. The testimonial section with a deep pink background and a section to showcase the quotes from users are also included. And at the end of the page, you can add your social links.
3. Construction Homepage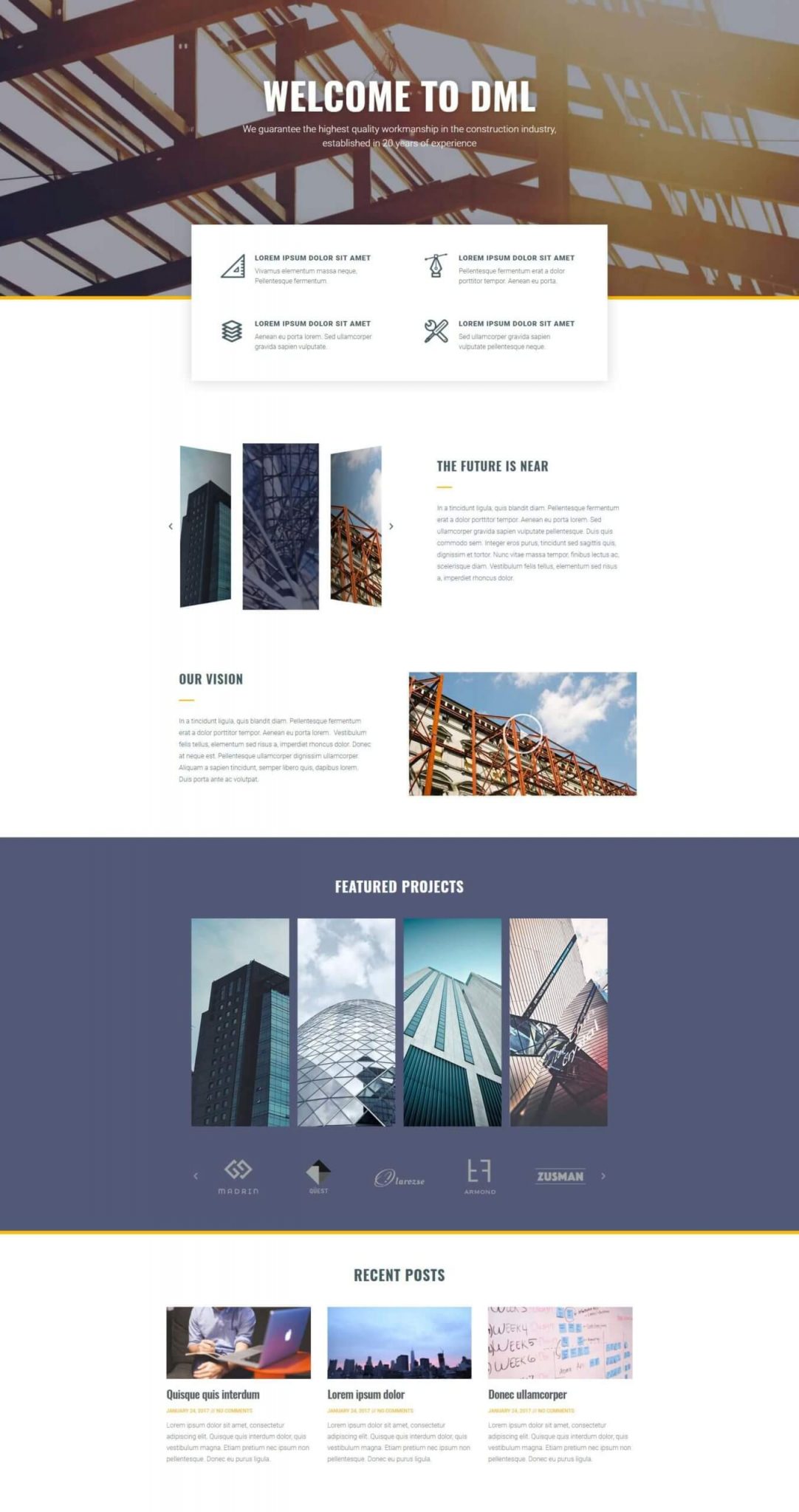 Next in our list of Elementor pro templates, we are introducing the perfect template. It helps you to create the homepage of a construction company.
It is hard to represent all the details of a construction company in an organized way. This template makes that work easier. The banner image section provides you with a background overlay that is perfect for introducing your company. Also, you will get a section under the banner with four containers. You can use that to feature your company features.
In the content container that alternates from one another, you will get a slider for your images and also a video placeholder. Also, you can use a section to showcase your projects. Another interesting thing is, descriptions can only be displayed once a container is clicked. Below is another slider for your client's icons followed by a blog section in three column arrangements.

4. About- CV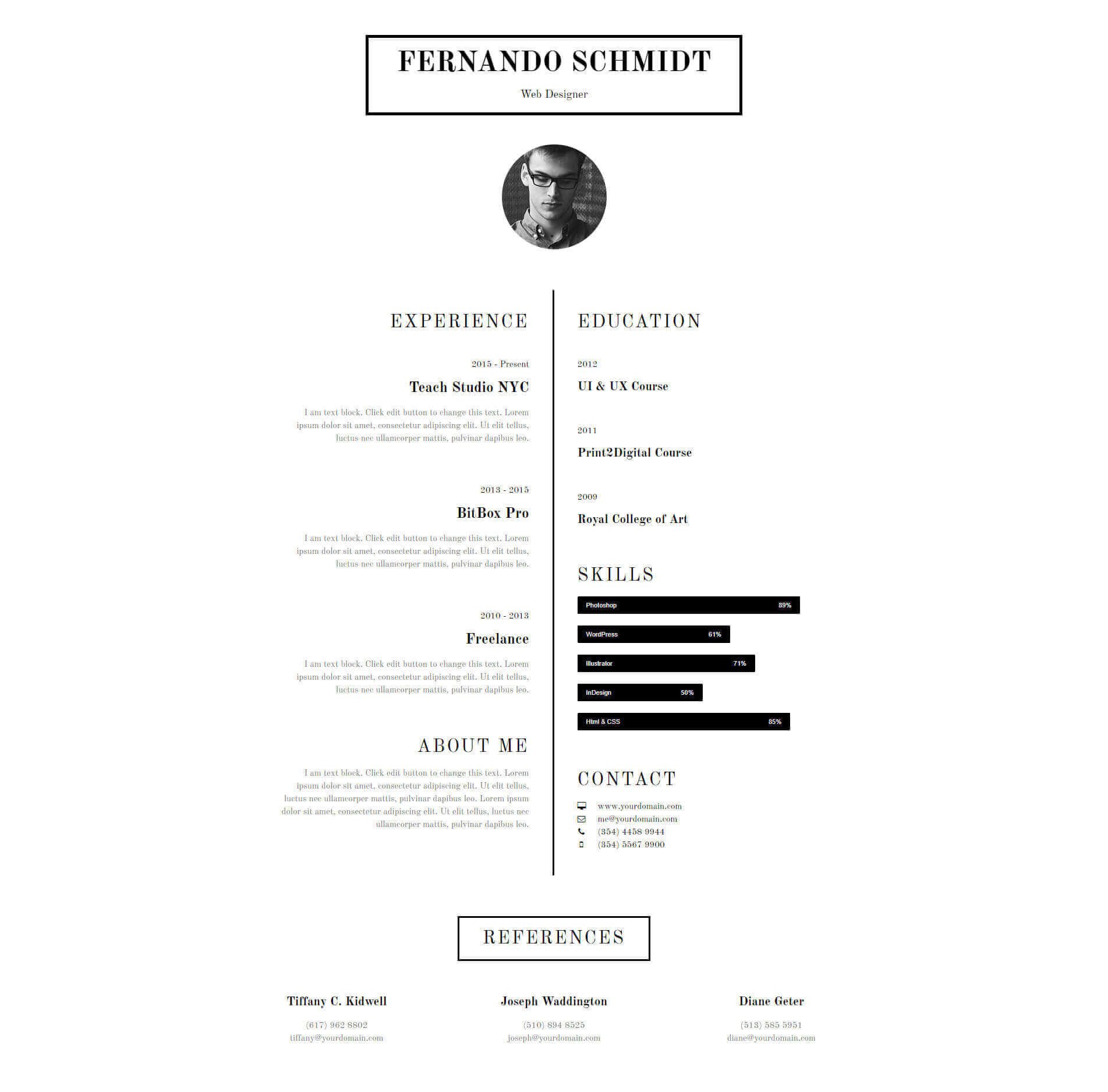 It is important to create a perfect CV to land the right job. Your CV should have:
Personal summary / Career objective
Career history
Academic qualifications
References
Areas of expertise.
About – CV template meets all these requirements. The rectangle part where you can place your name and an icon placeholder to add your image is enough to impress the officials.
The contents are divided into three columns with a vertical line divider and an animated load bar to showcase your skills. The texts are written elegantly with serif fonts.
5. Landing Page- Hotel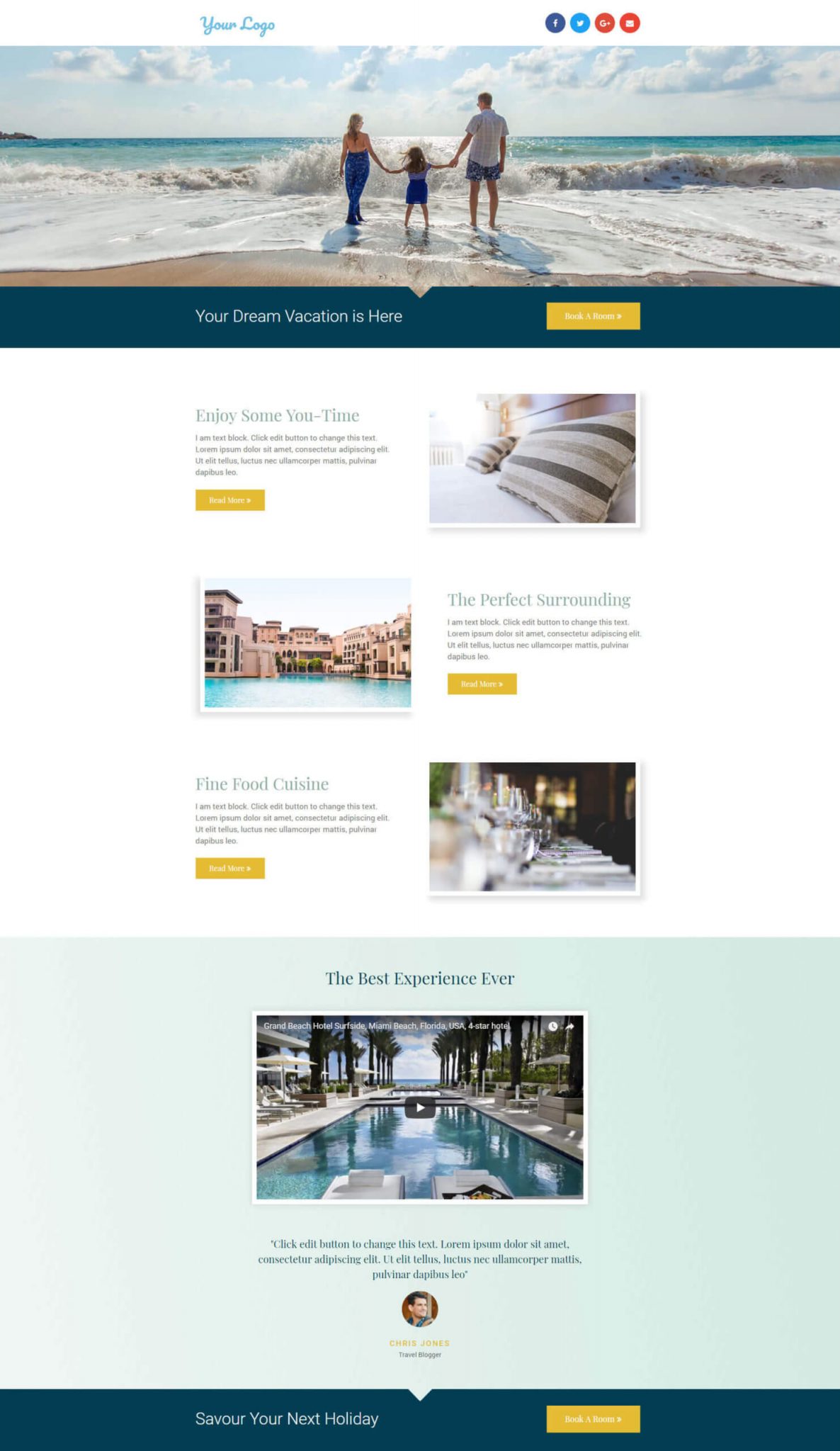 The Hotel template is simple yet beautiful, light, and creative. This template is specially designed for hotel owners to create the perfect landing page to provide personalized services. This template is well suited to any small to big hotel owners, INNs, rest stops.
You can add your logo and social links on the top section of the page followed by a full-width banner image to introduce your hotel. You can take booking orders from your customers using the CTA button below the banner image.
You can use the next section to highlight your services, content and a video placeholder to view a sneak peek of your hotel. While using this template, you will find a touch of simplicity and elegance.
6. Christmas – Gift Shop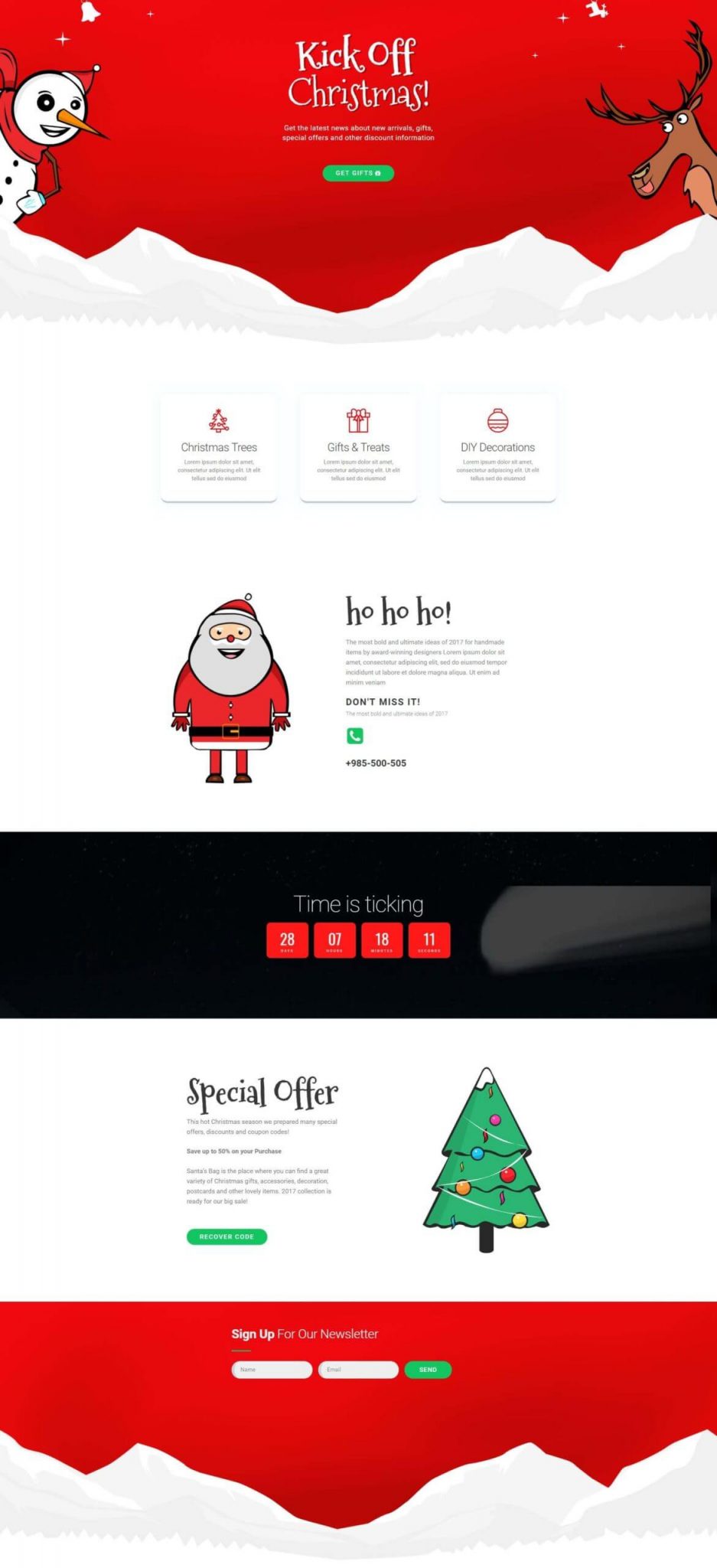 Gift Shop is one of the unique Elementor pro templates. Christmas is the biggest celebration in the world. And all the big to small shops give out Christmas discounts. And this Christmas-themed template is perfect to catch that holiday spirit.
The full-width banner image with texts and buttons at the center uses an artistic (wave-shaped) divider between sections. The section with three containers is perfect for highlighting your services and products. The animated countdown timer increases the FOMO with a video background.
You can end the page with a CTA and sign up form to gather emails.
7. Landing Page – Agency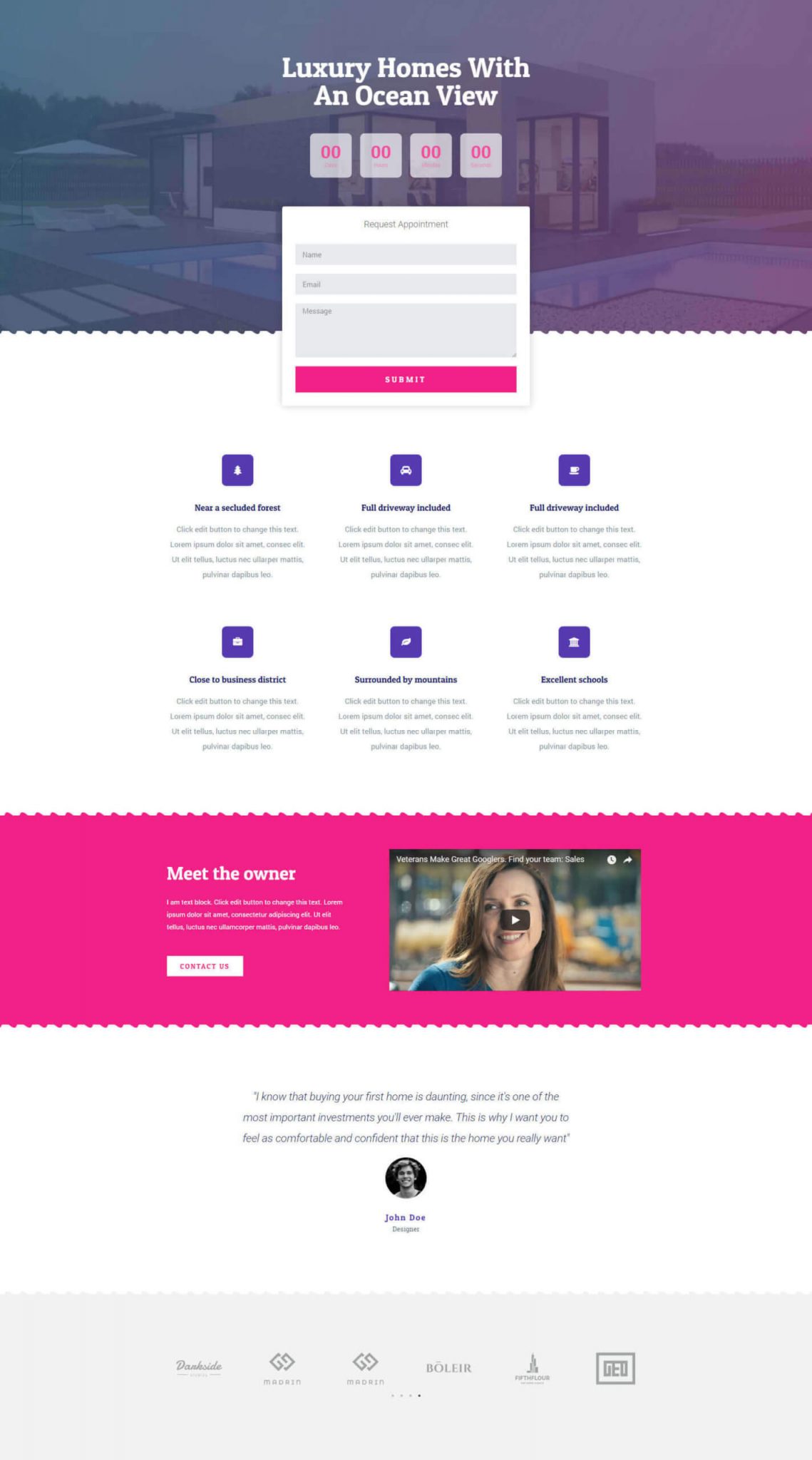 Agency is the perfect Elementor template for real estate agencies. It is funky, elegant and manages to catch the theme of a real estate agent. A fill out form to collect leads and a perfectly partitioned animated countdown timer compliments the full-width banner image.
The section with white backgrounds has six containers to showcase your services. A CTA in a violet background comes with a video placeholder. Before ending the page with a slider of icons, you may also feature your client's testimonial in a section with elements that are well-laid out.

8. Mobile App 3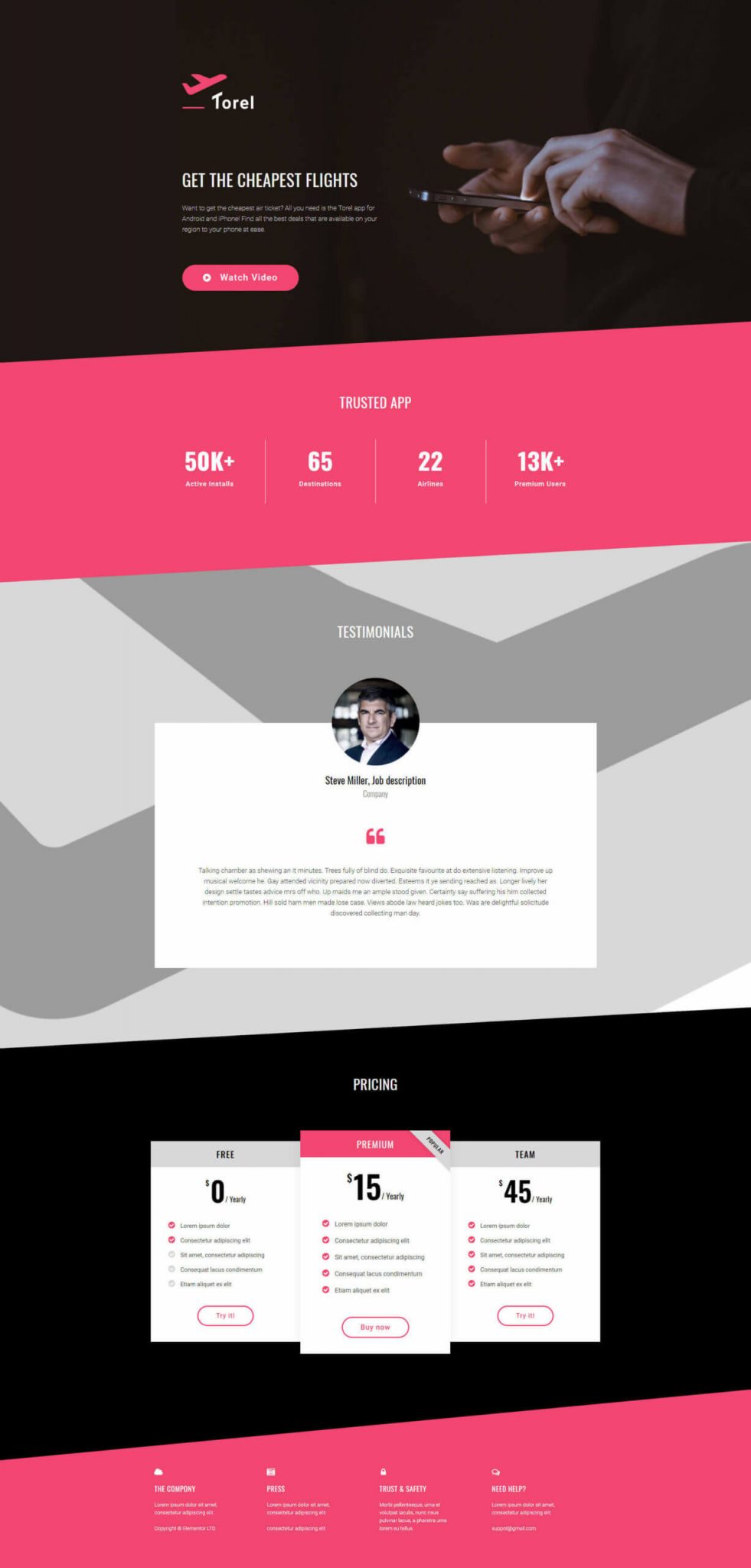 This Elementor Pro template is perfect to create a landing page for a mobile application. It is colorful, sophisticated, and effective for the viewers. You can add a full-width banner image with buttons and texts perfectly partitioned next to each other.
You will get a section of French rose background with a counter. The testimonial section will create a buzz among the customers for it's style, alignment and clarity.
The subscription boxes are a great way to display your prices and features. The page ends with a section with four blurbs, each with White texts and icons.
Need More?… Explore HappyAddons 400+ Template Library
Fortunately, there are many useful Elementor Addons available to enhance your web development experience. Happy Elementor Addons is one of them.
In just one year, Happy Addons has become one of the best Elementor Addons in the market. With it's simple yet elegant widgets, new & necessary features, amazing templates, it has reached 200,000+ active installation in record time.
The reason we are mentioning Happy Addons here is not because of its widgets or features but because of its rich collection of templates.
So, if you are not satisfied with the Elementor template library and its pro templates, then you can definitely go for Happy Templates. It has more than enough designs to satisfy your needs, and also it's straightforward to use.
Moreover, you will get better search optimization as they have added the filter option.
Bonus: How to Create a Page Using the Happy Addons Template Library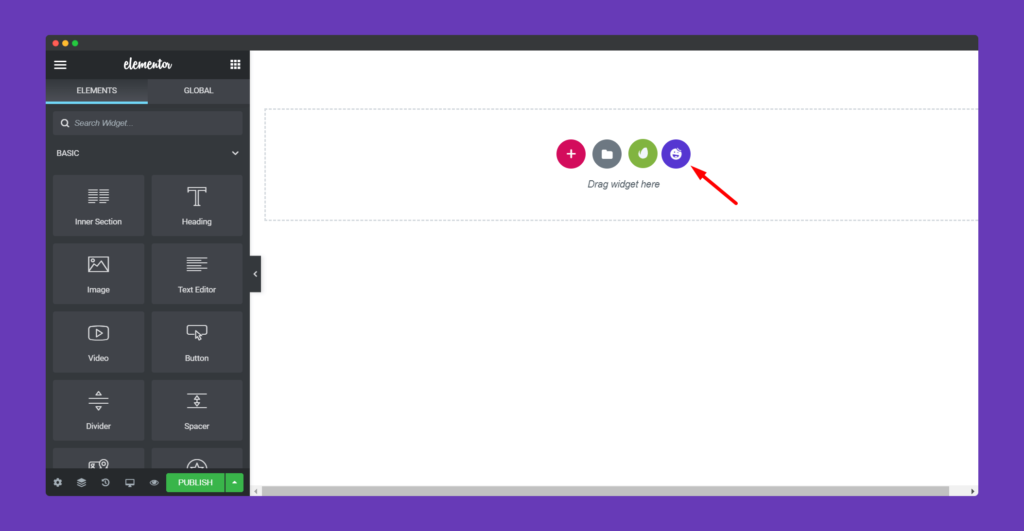 Well, as we said these templates are very easy to use. You can follow these steps,
Choose the selected template or search for the category you are looking for
Click on insert and you are done
Purchase Happy Addons Pro version to unlock the premium templates.
If you are still confused then you can follow this video,:
Final Words
Elementor has made website designing easy. Even if you don't have any coding knowledge you can use Elementor to design a professional website yourself.
So, what do you think about this post? Did we miss something? Don't forget to share your ideas and observations with us.