Video marketing trend is growing exponentially compared to other types of content marketing.
People of all ages welcome video content and vlogging for many purposes.
The above statement is not just a statement but rather proven by numbers. Mostly 68% of people prefer video content for educating themselves and learning about new products or services.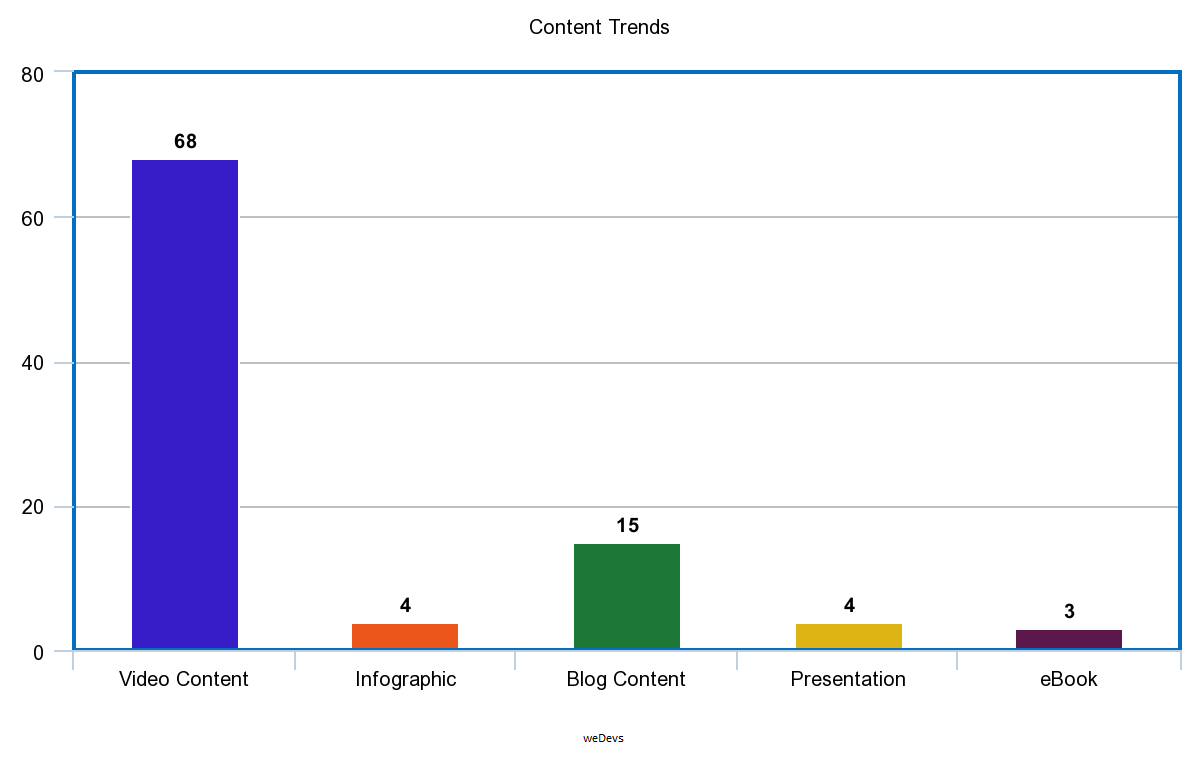 That being the case, today we are here to discuss its benefits as well as recommend you a few successful video marketers to follow- who contribute to improving business growth; with some top WordPress and Elementor YouTube channels!
Video Marketing Benefits in This Information Age
Marketers say that video as a form of marketing or sales content is ruling now with the highest ROI. If you compare its popularity with the blog content, you will eventually understand that it's growing every day.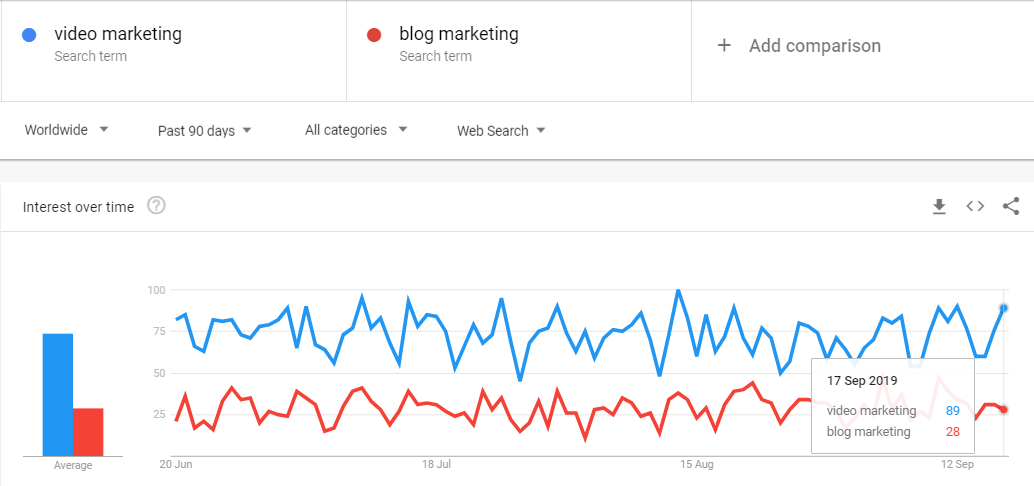 Video content is highly acceptable to the audience because it's easy for them to understand and also easy for the video maker or the company to communicate. This also gives a realistic and personalized essence to the viewer, as a result, it solves the one-to-one communication problem.
In this era, it is considered the digitalized version of typical TVCs. It's also the most versatile and shareable content as of now and the increase by 80% by 2021.
Get introduces to youtube video marketers from the list below who are ahead of the game.
WPCrafter
Adam, the man behind wpcrafter, makes videos easy for WordPress users to understand. His video contents and tutorials deliver WordPress techniques easily so that even a non-tech person can learn things about WordPress.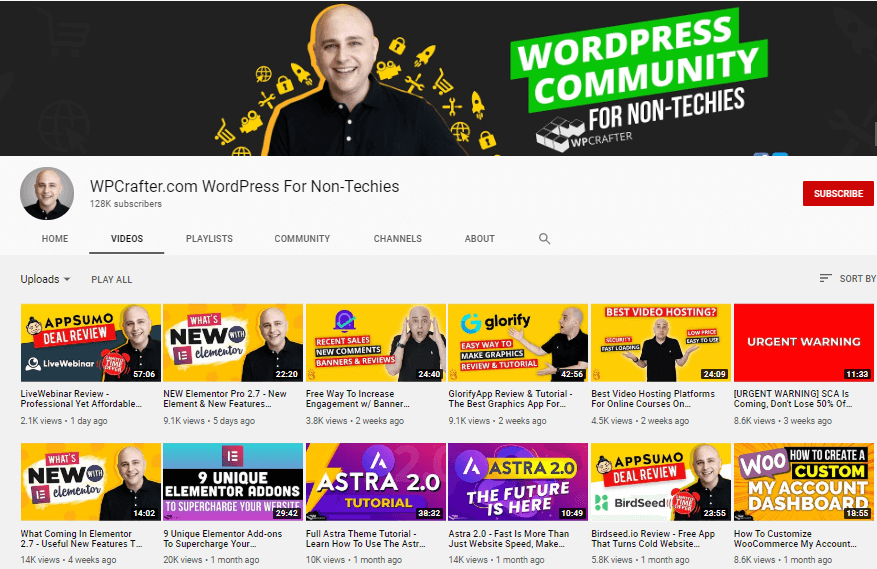 Wpcrafter youtube channel already has 128k active subscribers from the inception of the channel in 2014. And till now, the channel has more than 465 videos for beginners to advanced WordPress developers and users.
Darrel Wilson
Today our first youtube video marketer on the list is one of the most experienced and successful youtube marketers, Darrel Wilson.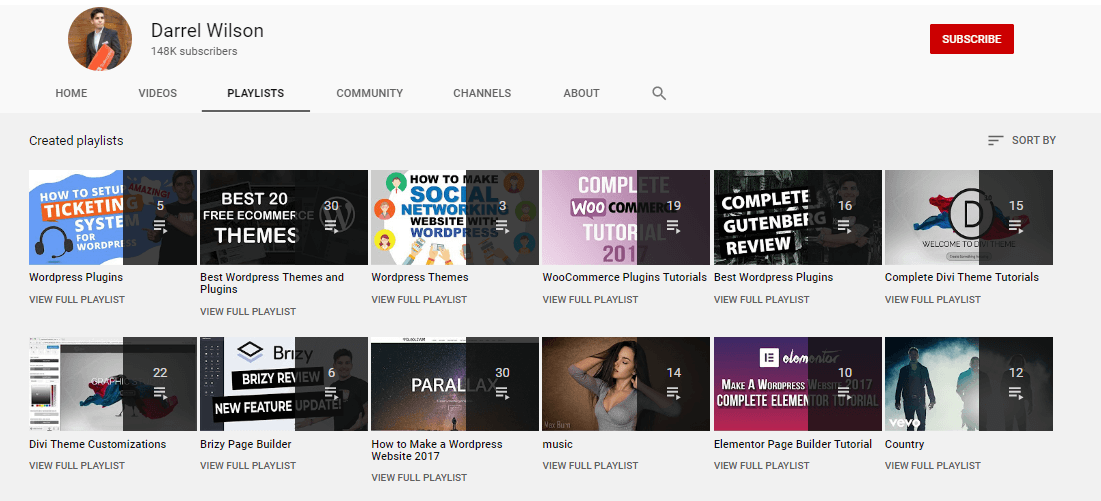 This famous youtube marketer with 148k active subscribers gives tips on making youtube videos besides his main domain of video making. And his main arena of making youtube videos are creating eCommerce and WordPress tutorials and website page-building tutorials.
So if you are going to start your youtube channel, it's worth following his content.
Ferdy Korpershoek
Fredy is known for his tutorial videos on youtube. His youtube channel 'Ferdy Korpershoek' with 98k subscribers, covers videos educating people both at advanced and beginner levels about building websites and everything related to websites.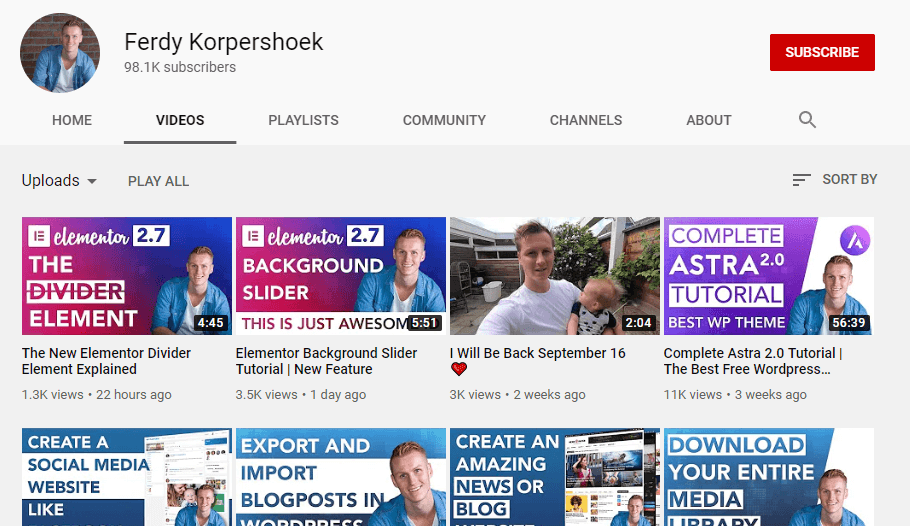 He also makes videos on WooCommerce, Elementor page builder, MailChimp, SEO, and much more. It's one of the best Elementor youtube channels.
webYoda
WebYoda is a great platform for the learner who wants to build visually appealing websites. This provides free WordPress courses and paid designing courses on their site. But it has a youtube channel where webYoda makes beginner-level tutorials to help people who want to make their website using Elementor and WordPress.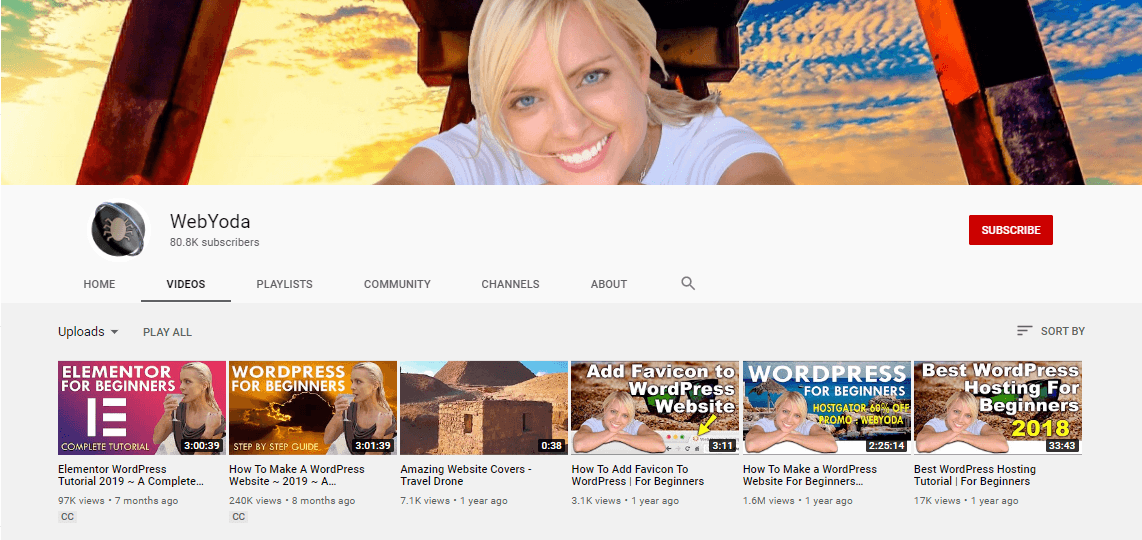 webYoda started its youtube journey in 2017, but in this short span of time, it gained a remarkable number of subscribers and fans. And this undoubtedly explains their success pretty well.
On the official site, webYoda provides Webmaster courses and certifications on WordPress and web designing for Professional Development.

WP Learning Lab
Face you will find explaining and teaching you WordPress know-how is Bjorn Allpas. He is a successful YouTuber at WP Learning Lab where WordPress enthusiasts and learners will get free help from tutorials and WordPress courses.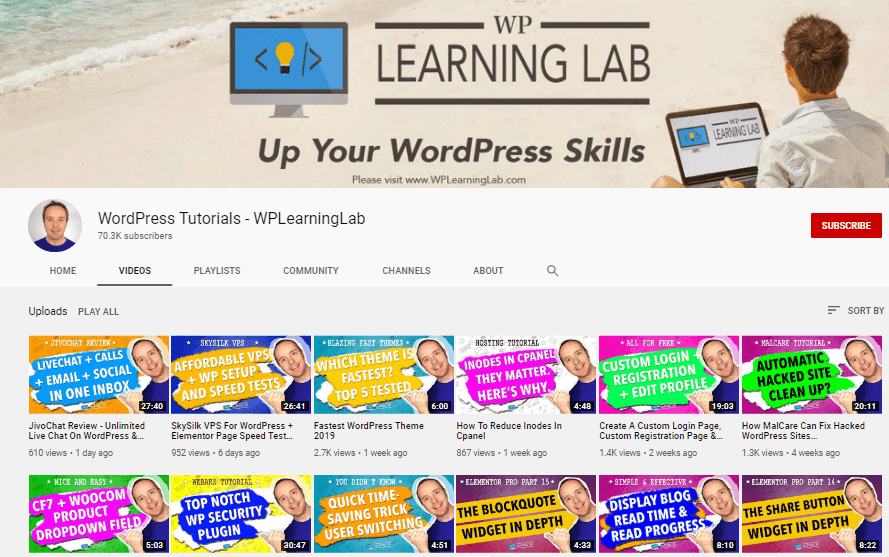 The great journey started in 2014, and then pretty soon, WP Learning Lab gained 69.9k active subscribers. All the videos will empower the viewers on WordPress skills to get started and manage their WordPress site hassle-free. And no offense that people will also learn about using many useful WordPress tools.
If anyone is a beginner, s/he no needs to worry because this channel covers all from beginners to advanced in the WordPress arena.

WPTuts
Another great WordPress-based youtube channel is WPTuts. The channel focuses on Elementor and other WordPress plugins for making tutorials.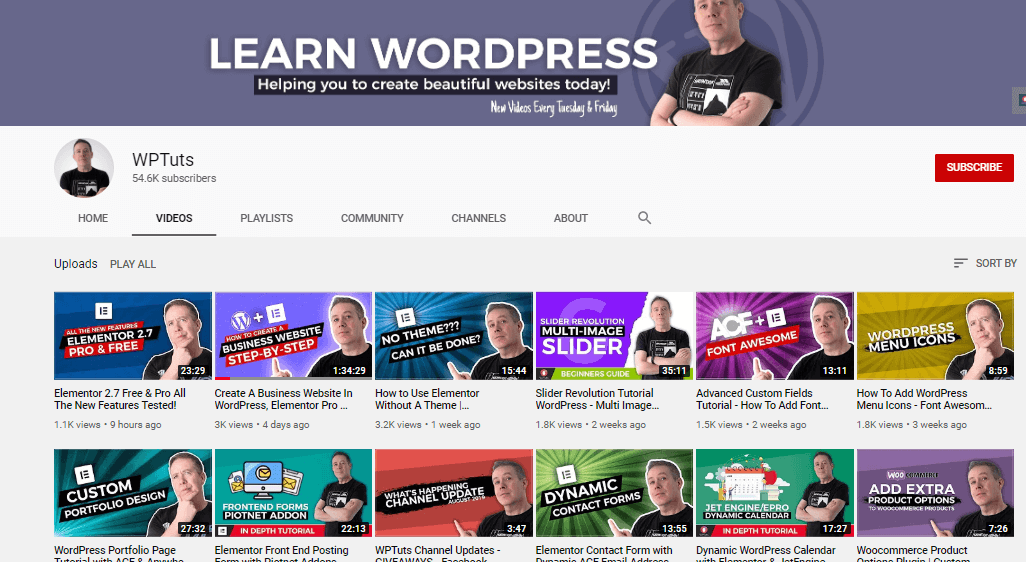 It ensures the audience to help gets more web designing and WordPress-related skills from the content. So it helps build audiences' own websites for several purposes, such as freelancing, business, etc.
Every Tuesday and Friday, WPTuts brings you new content for its 54.6k subscribers.
Create a Pro Website
This thriving youtube channel started in the middle of 2018, but in just 1 year, it reached 36.3k subscribers, which is pretty amazing and shows the success of the channel.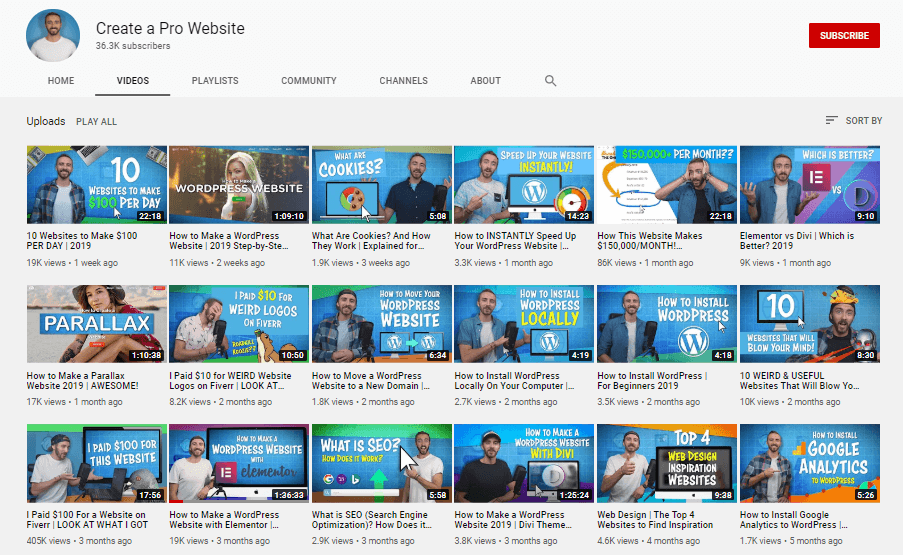 Dale is here as Youtuber as well as an e-trainer to teach anything related to WordPress and websites. He focuses on creating tutorials that help people make their own business website, portfolio website, or any type of website they might need.
Oftentimes, he also will give you design tips and tricks.
Dave Foy
Design Build Web is one of the regular Elementor youtube channels where Dave Foy is your e-teacher. He helps his viewers with the design ins and outs. If anyone is not a coder but wants to make a custom-designed WordPress site, his tutorial videos will help them learn.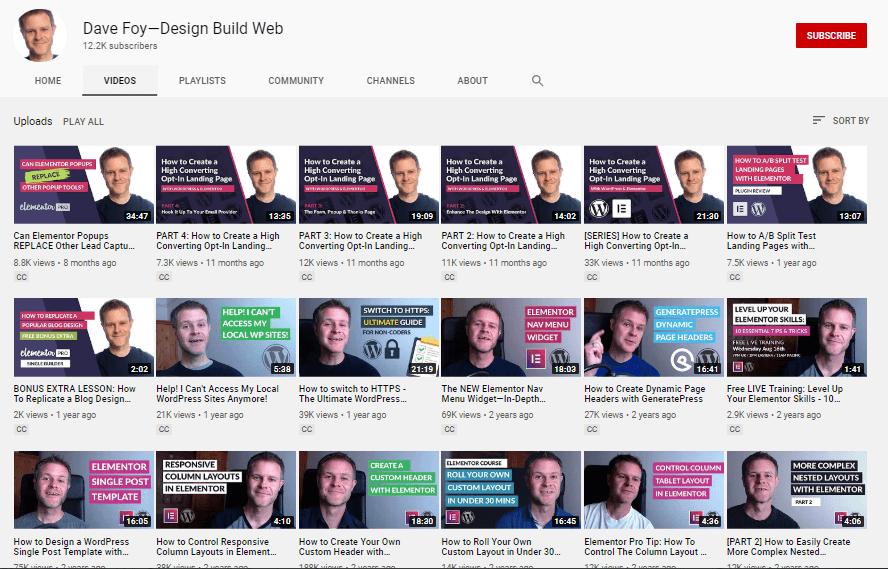 The channel has 12.2k subscribers and focuses on WordPress designing fundamentals and advanced tutorials. Also, the audience will learn about phenomenal design tools like Elementor.

Web Monkey
Alexander Oni is the instructor of Web Monkey youtube channel. Web Monkey is not just a youtube channel, it also has a dedicated digital course platform Web Monkey Academy.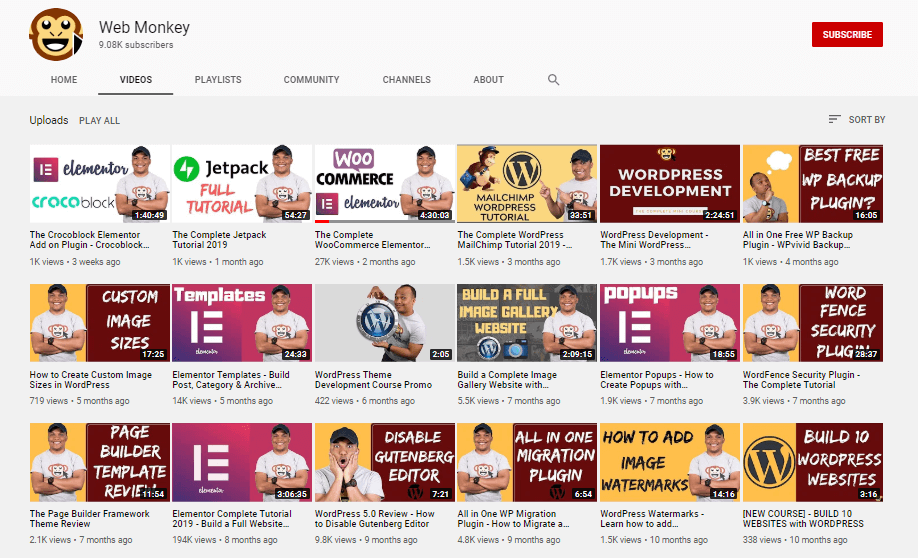 On his Youtube channel, visitors will find enough resources to learn WooCommerce, HTML/CSS, Elementor, and anything related to WordPress.
Apart from youtube marketing and having his own online learning platform, he is also the best-selling instructor on Udemy and Skillshare.
Bohdan Fishbein
Bohdan is another successful Elementor video maker who acquired around 1.56k subscribers on his youtube channel. His main domain of video making is design.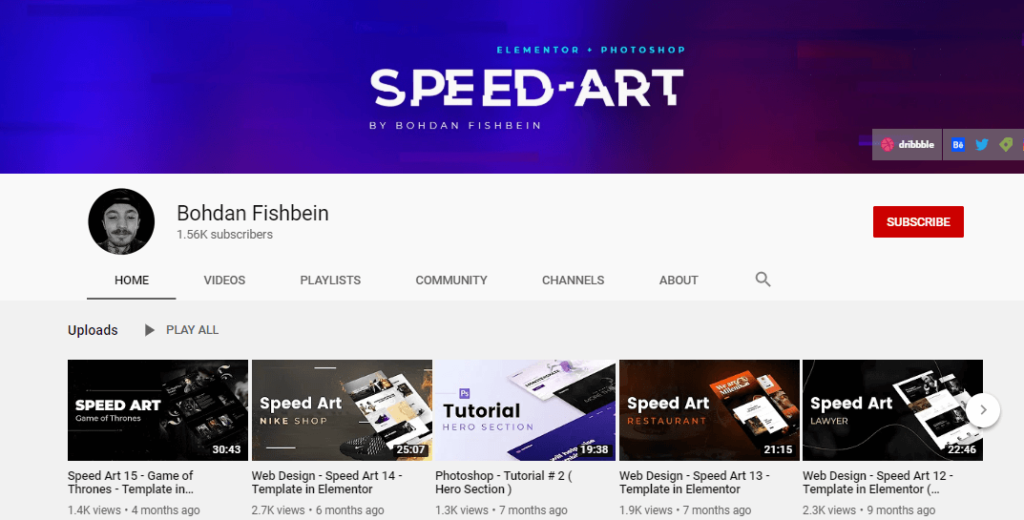 There are lots of Adobe photoshop and Elementor page builder-related tutorial videos that will help you to create your digital content and optimize web pages.
Oooh Boi
Oooh Boi is another Successful Elementor video maker with over 4.7k Subscribers on his YouTube channel. He makes great content on website designing with Elementor.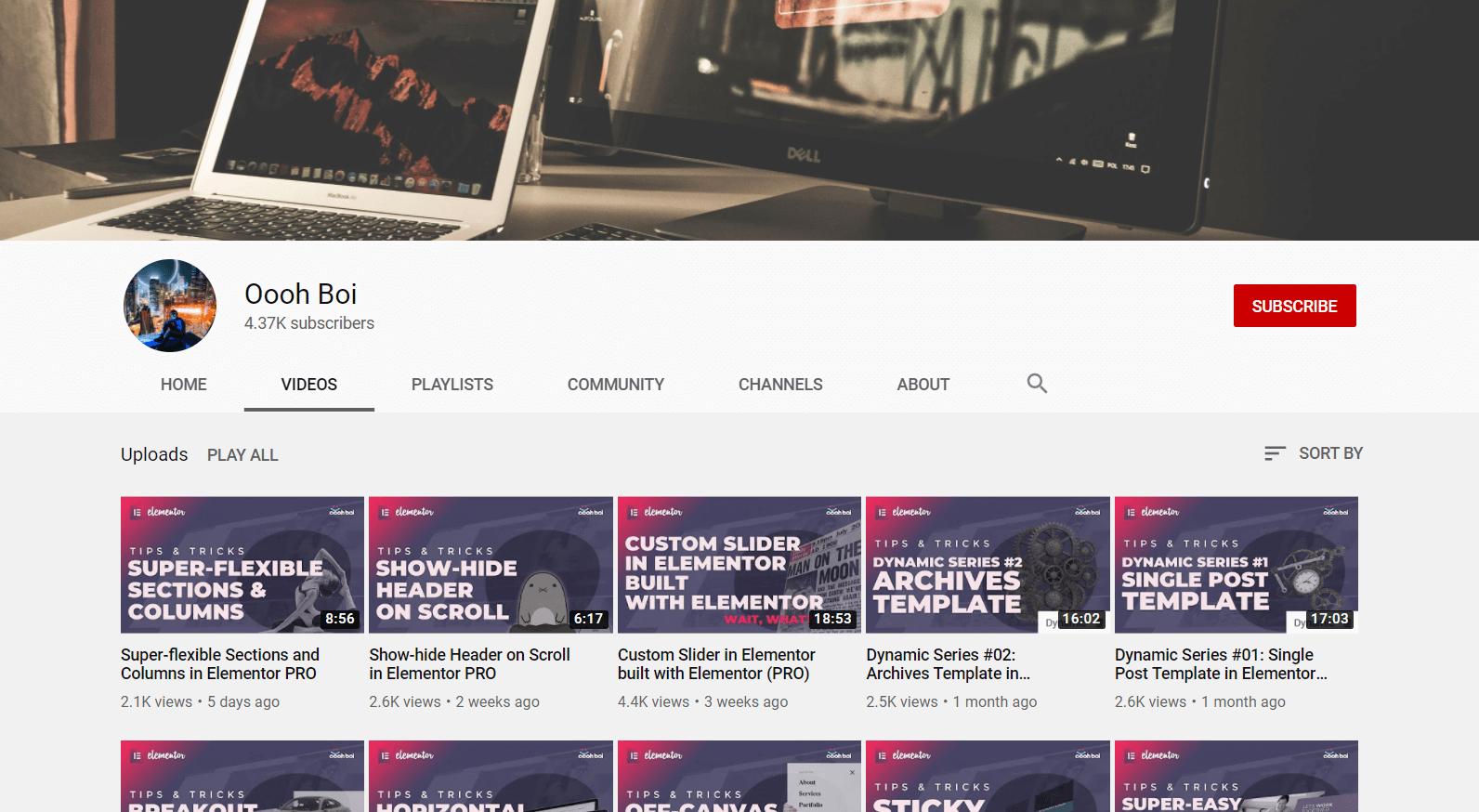 There are lots of videos regarding designing columns, custom shape dividers, and cascading infoboxes. The videos are well organized and easily able to clear all sorts of confusion regarding these topics. You can make a visit now and go ahead with designing your dream website using Elementor.
How Do Youtube Channels & Video Marketing Help Startups to Grow
In recent days, if a business wants to connect with the target audience and build stronger emotional connections with them, video content marketing is the best option to focus on.
There are lots of benefits, such as it drives organic traffic, building trust, and brand awareness quicker than other content types.
As a consequence, it helps business growth, and boosts the conversion rate and ROI.
This is where video marketing creates a great impact in the b2b, and b2c landscape, and enterprises are embracing the video marketing strategy recently.
Almost 90% of consumers claim a video helps them make a purchasing decision easily. That's why recently enterprises are embracing the video marketing strategy.
See this heatmap that shows how much attraction it gets from the browser and why startups can't avoid the power of video marketing.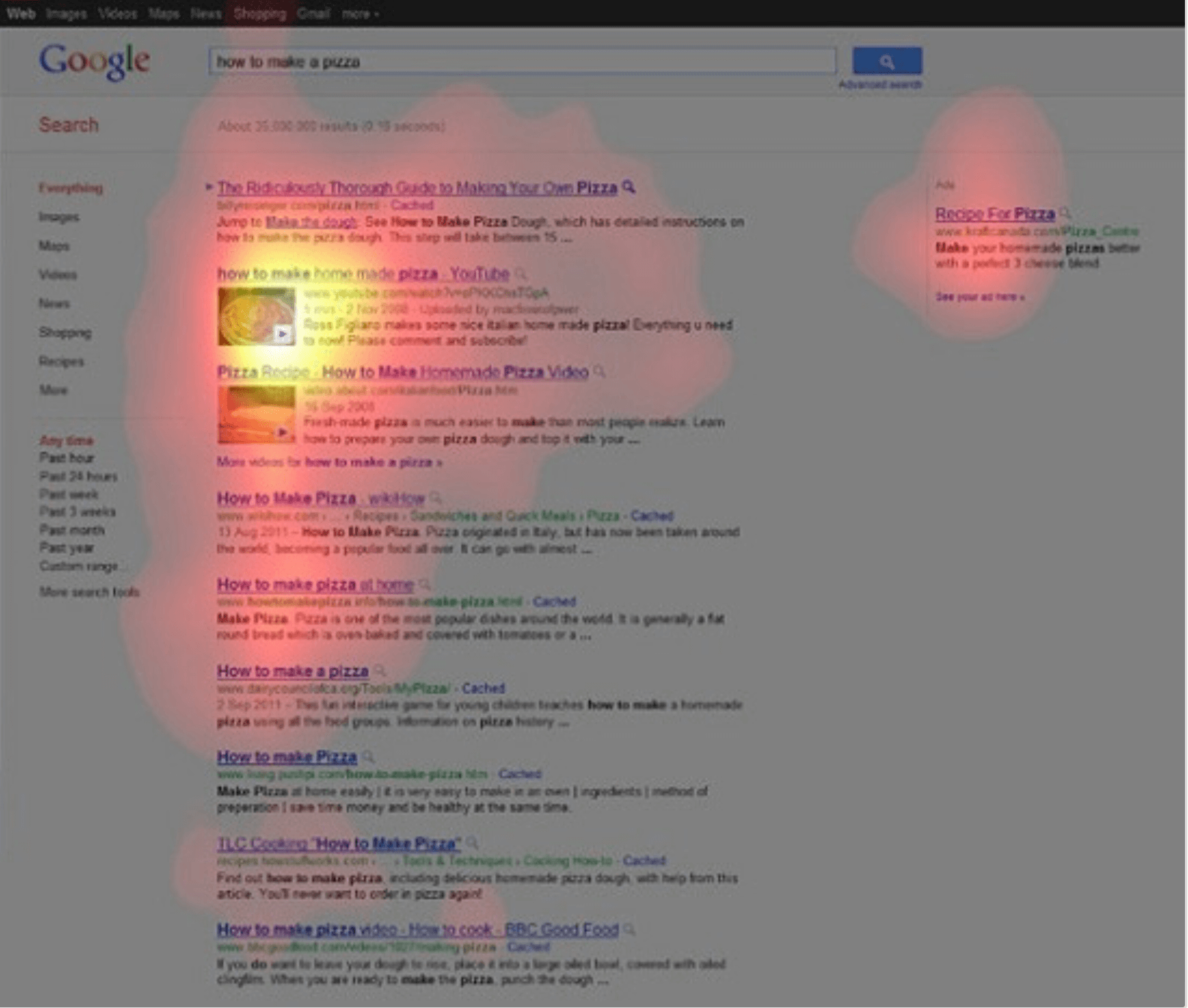 Now here I'm going to put together a list of the most influential video marketers you can benefit from following them.
Also, learn How to Get More Views on YouTube for Free in 2022 (13 Proven Tips)
Last Thought on Elementor Youtube Channels
Since we're at the bottom of this article, I would like to say that if you're a rookie and planning to make video content and want to penetrate the video marketing industry, it's high time to start.
No matter what niche you will choose, these above-mentioned toppers and successful video marketers will always guide you.
If you follow them, you will learn not only things about WordPress or Designing rather the way they present, and the strategies they follow to make the content and maintain content quality. And obviously, they will inspire you to pave your journey.
Start your video marketing channel today!