Are you familiar with Elementor and building sites for own or clients? If yes, then now it's time to explore the Elementor Community and get engaged with the brightest intellects.
Although, it's a great opportunity to communicate with Elementor users over the globe and share your views with them. It's a highly active online community where people work together to solve problems and contribute to making Elementor more powerful. Moreover, you can amplify your web design skills here.
Elementor community always encourages you to share your ideas and verdicts with others and help the community grow rapidly.
Check out this article to know how to join this broad online community and get yourself updated with the latest changes. Let's dive right in!
Why It's Worth to Join the Elementor Community?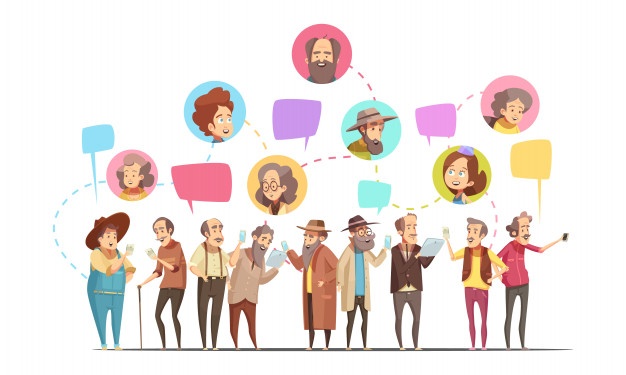 Elementor shares a massive community of designers and enthusiasts. Anyone can get free support from the Elementor communities built on different channels. You can report bugs and their possible solutions to fix them. Also, you will find a lot of common errors documented there with possible solutions.
It's an online gathering of users and developers who work collaboratively to help each other and improve the platform for everyone.
Furthermore, it helps you to connect the people who share the same interests. You will find new edges of creating designs through an open and productive discussion with the scholars.
Most importantly you will get all kinds of suggestions and guidelines for developing your sites from experienced persons. Ideas for new Elementor Addons and extensions come out from these interactive conversations.
The Elementor Community utilize your time and effort by:
Giving all types of developing Support.
Suggesting effective ways to imply.
Discovering new alternatives or updates.
Creating a bond among the Elementor developers or users.
Exploring new opportunities.
Establishing a professional network.
Sharing knowledge and skills.
In short, the Elementor Community of different platforms broads your vision. It assists you to acquire your professional goal as well as personal growth.
6-Popupal Elementor Community You Should Join Today:
You can be a part of this large and potent community to elevate your developing skills in different ways. Here we will discuss the most popular Elementor Communities to append accordingly.
Official Facebook Group
You can join the official Facebook group of Elementor to span your network in the Elementor arena. It's a large group of Elementor users, designers, developers, and people from other fields also. They assemble here to acquire knowledge on Elementor usability and share their thoughts with the crowd. It increases the possibility of building a strong bond among the same people who intend to help each other.
It's a social group for and by a community of Elementor Web Creators. There are around 50K members who update more than 100 posts daily regarding everything related to using Elementor themes, plugins, tuts, and tweaks.
Here, people usually participate in the discussion on several problems they face while designing with Elementor. Also, share profitable tips and tricks to use Elementor. Moreover, you will get all the updated news about Elementor and its useful addons from here.
You can easily join this Facebook group if you have a personal Facebook id. Search for the group and send the joining request.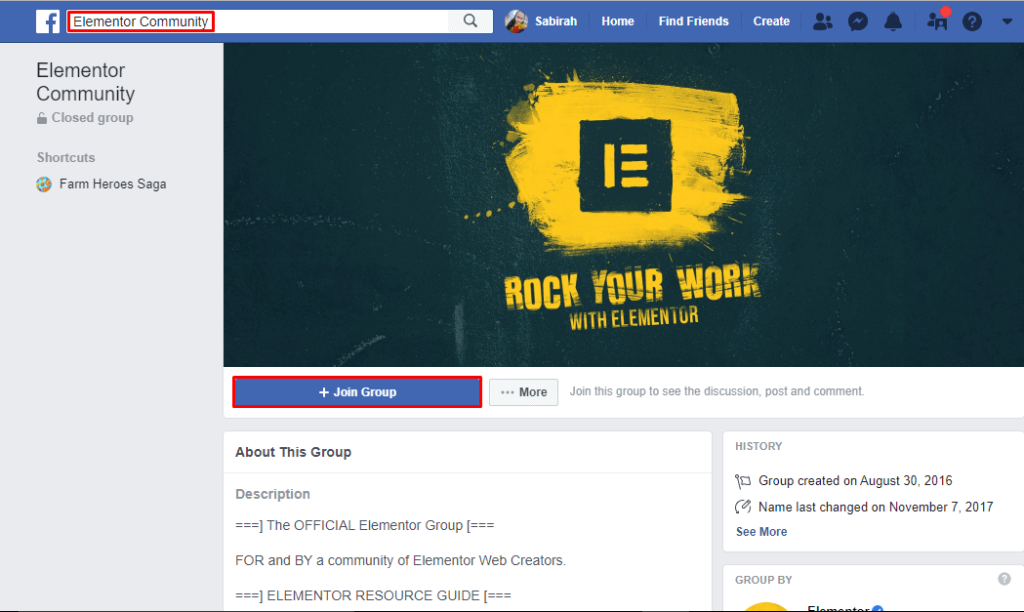 A modal box will appear with some general questions. Attend the answer and submit.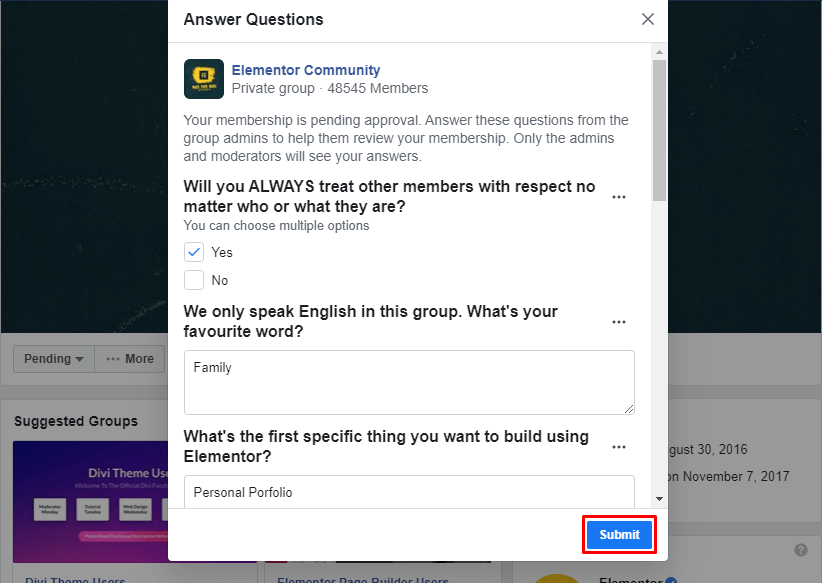 The admin of the group will verify your answers and accept your request within 24 hours. Now you are eligible to share your problems and opinions with the group members and establish your identity into the community.
Elementor Community for Developers
Elementor page builder is the most advanced frontend drag & drop WordPress plugin to build a website easier than ever. Most amazing thing is that you can witness all the previews live and get the facilities to instant live edit and instant page load.
In addition, this page builder is free and open-source. If you are confident enough, you can extend and integrate this WordPress plugin further. You can widen the Elementor facilities by conducting new modifications to the code.
You can get the details from Official Elementor Developer Resources to get started on how to extend Elementor, creating add-ons and extensions. Also, you can visit the Elementor GitHub repository to contribute code and suggest new ideas.
Elementor Meetups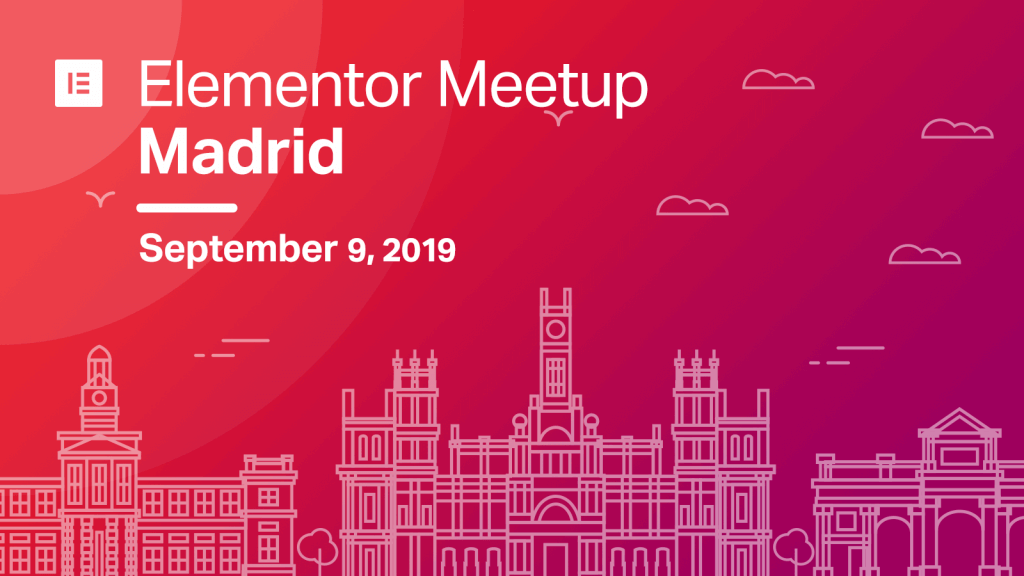 You can join the global community of Elementor by participating in the regular meetups arranged by local or global WordPress users. It gives a vast opportunity to learn, share, support, and inspire people to design or develop websites with this page builder.
You can easily find out the Elementor meetups near you and join accordingly. By going there, you can build a strong network with the Elementor professionals and get help from them to upgrade your knowledge and notion. Also, it will give you new ideas to take your design level to the next grade.
It's an open space to discuss, explore and extend the functionality of Elementor. Moreover, it facilitates you building a real bond among people with the same vision. You can extend your developing skills and contribute directly to the community by consulting with the audience.
Furthermore, as an entrepreneur, you can create leads and new business ideas from experienced traders.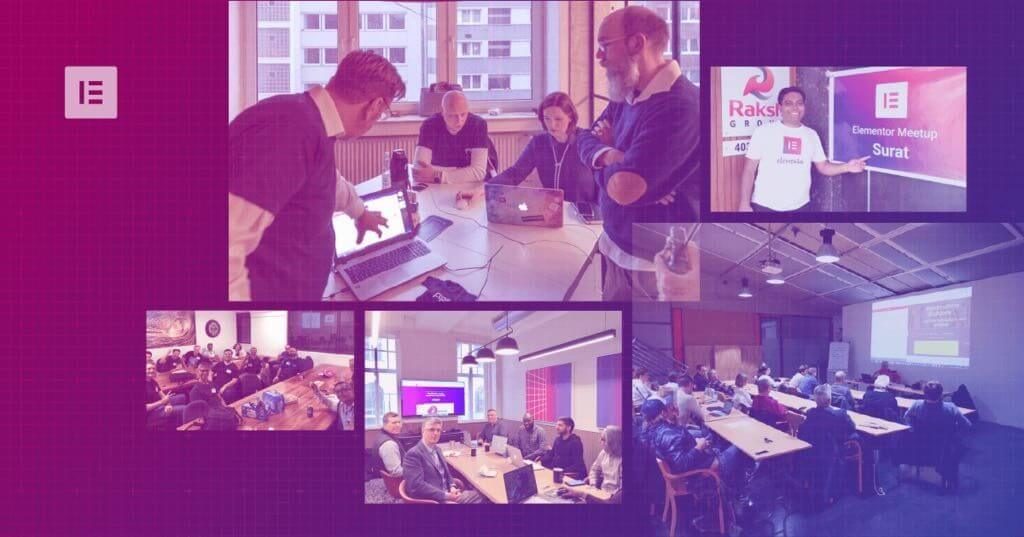 In order to grow and motivate your local developer community, you can host an Elementor meetup in your hometown by applying to the Elementor official site. Elementor organizers and hosts collectively manage all the arrangements to conduct the event successfully with the help of Elementor.
Translation Community
As we all know people love to interact in their local language. Therefore, to keep Elementor user-friendly, it has been translated into over 24+ languages. You can join the Facebook group Elementor Translator to share a bond with the translators who are involved in translating this WordPress page builder. You can translate Elementor to your language and contribute to your local community.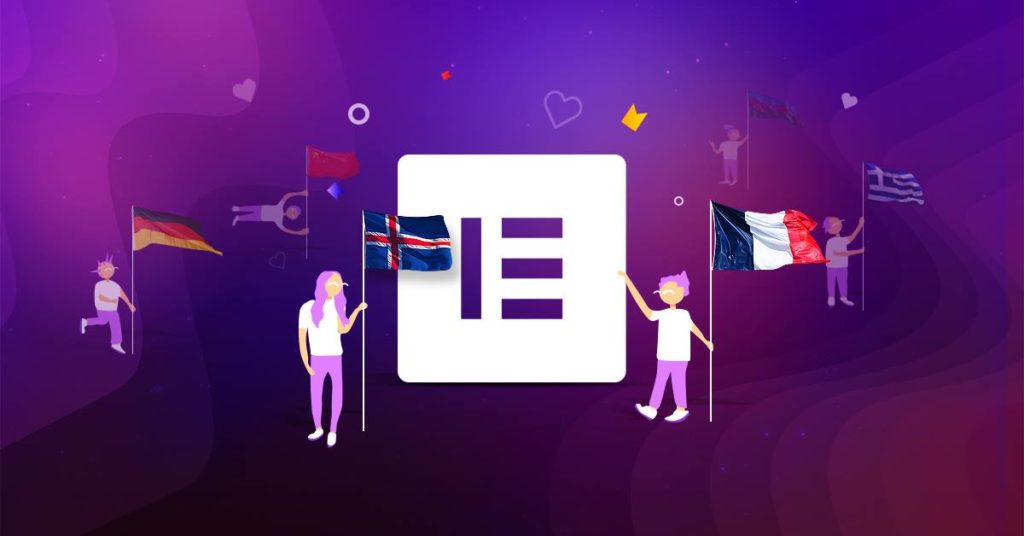 This open-source page builder can be translated into any language. You can check the local language development list and find a way to develop a better possibility. Hence, you can localize the Elementor by following 6 easy steps and updating Elementor.
Elementor supports a million websites over the world. You can build pixel-perfect beautiful, and professional websites at record speeds with this plugin. Availability in multiple languages makes it more flexible for users.
Active Twitter Community
You can subscribe official Elementor Twitter page and be an active member of this awesome community. You will regularly get all the latest updates and helpful tutorials from this page. Members are always ready to assist you in developing sites or solving problems.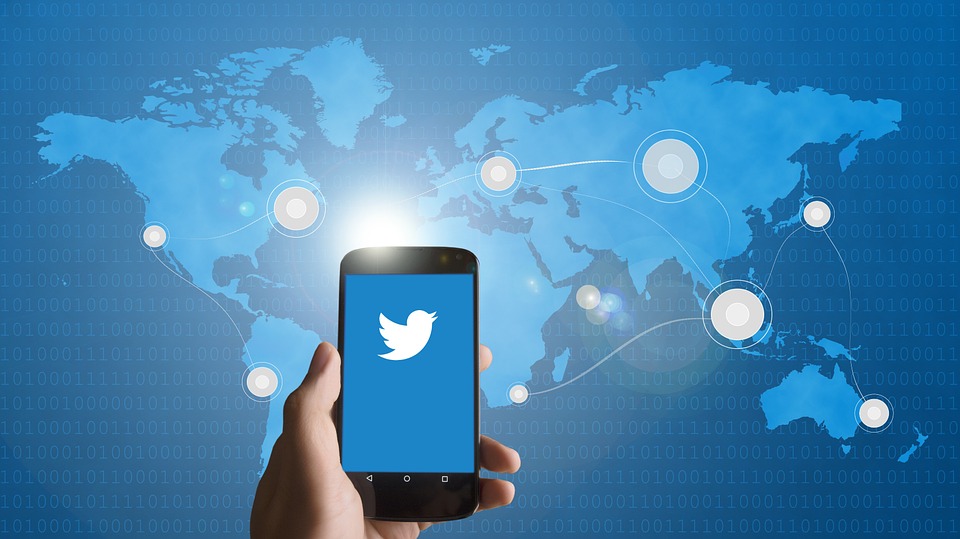 You can join the conversation on this page to share your queries and opinions. Also, you can send a direct message to the page. Moreover, you can build links with Elementor enthusiasts and follow them individually. You will get so many useful resources to upgrade your developing expertise.
With 8k+ followers, Elementor encourages its users to link up with each other. Both developers and users interested in working and learning about WordPress page builders come together to bring a unique and smarter solution to handle this plugin.
You can tweet from your id using a # tag to emphasize a trend and notify the community. Also, you can tag a related person to attend an open discussion session to solve any issue. Extend your developing skills and build up networking with the forward Elementor Twitter community.
Support Forums on WordPress.org
A collaborative forum empowers and influences the group of people to create new opportunities and fight against new challenges. If you have been using Elementor Page Builder to design and develop your sites, then you can join the Elementor Forum to start a discussion on diverse topics.
Here, you can find the documentation of previously asked questions and reviews. Also, you can attend there many unresolved topics and help them to resolve them. Moreover, you can add your suggestions and post your queries to find a better solution together.
It's an interactive group to bring out new opportunities, create bonds, get support, share views and increase engagement.
Happy Addons: Feature-rich Elementor Plugin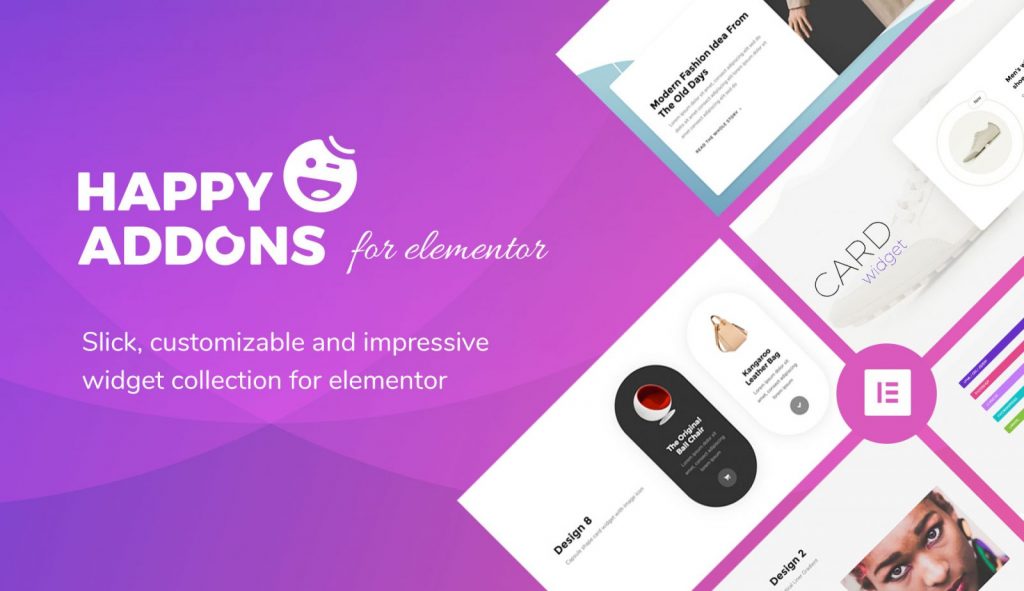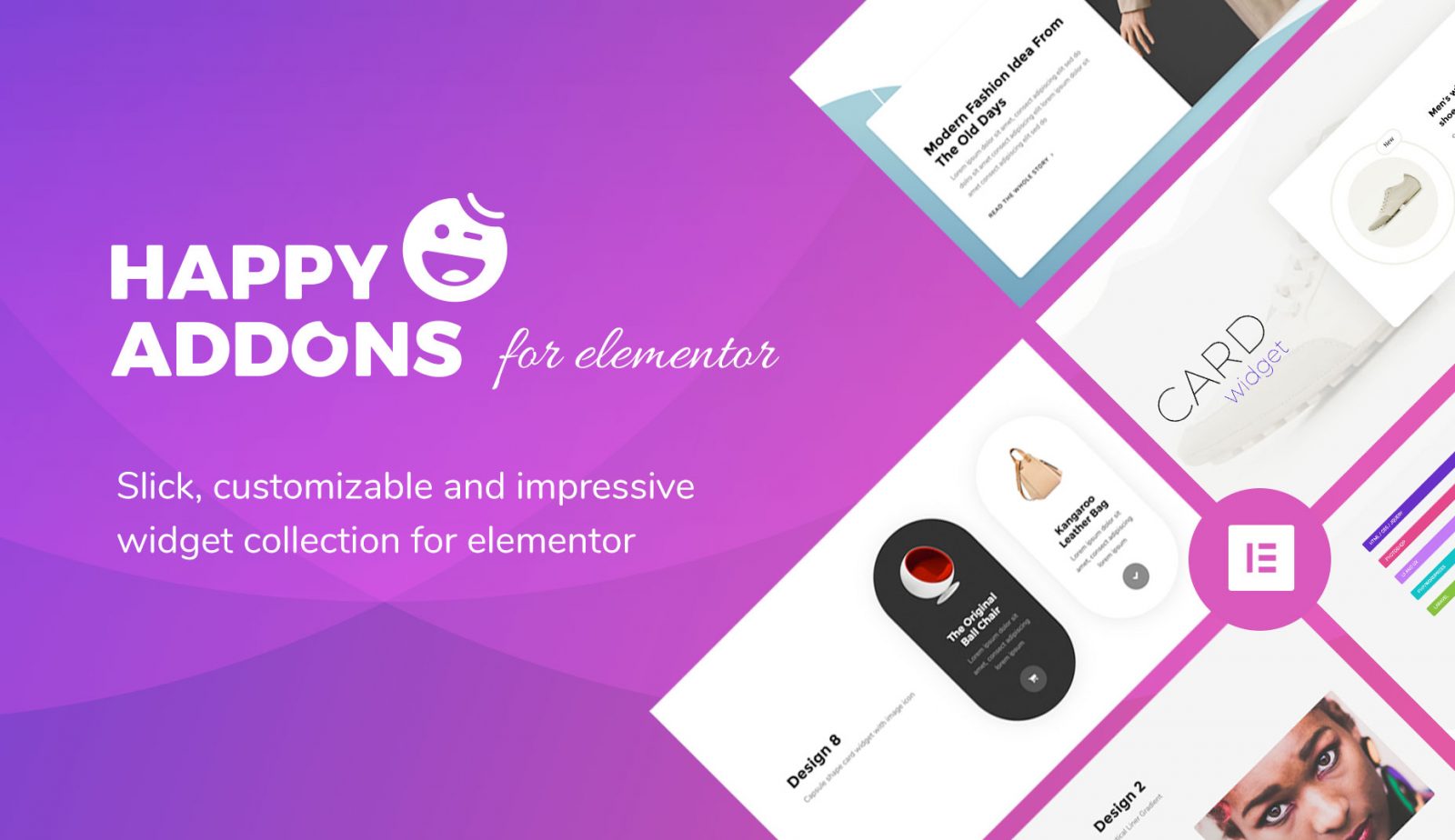 The team of HappyAddons created a new era for enhancing the workability of the Elementor page builder. With these addons, you can update the widget collection and toolsets to design more professionally. Its easy-to-use and intuitive elements will help you to present your web pages more appealing than ever before.
The advanced features and flexibility of Elementor influenced us to come out with something innovative to make it more robust. Elementor makes web development easy as pie.
Whether you are a technical gig or a non-technical person, there are no bindings anymore to design your own site. It seems unbelievable but true that you can build sites now without writing a single code with Elementor.
Final Verdict
Elementor page builder has established itself as the best custom layout creator of WordPress. This plugin's vast and cooperative global and local groups always encourage you to learn and share together. You will get great support at all-time from these platforms. Moreover, it offers an open opportunity to extend the power and performance of the builder.
HappyAddons will add extra features to your Elementor-powered website. These advanced and crafted widgets are well organized, massively customizable, and fit with any website design. Also, it can create amazing animation with Happy Floating Effects.
Like Elementor Happy Addons also share a communal social community to connect directly with its users and developers widely.