Are you in search of the best themes for Elementor? Do you think you can create a stunning WordPress site with an Elementor page builder?
Yes! You are on the right track!
Elementor is the best page builder that can help you design your website from the front-end. It is equipped with intuitive and handy tools that offer a live and drag-and-drop mode. You can use Elementor with any theme; it is highly configurable and easy to use.
Moreover, it has earned an outstanding reputation, esp. if you want to design a customized site. With the help of Elementor, creating a new website is an easy task. No more hassles, no more worries; just select the theme that integrates seamlessly with your plugin.
'If elementor is compatible with all themes, then what is the right theme for me'?
Is the above question haunting your thoughts?
Don't! Look down to the rest of the article. For your convenience, we have enlisted the best themes that work best with Elementor. Choose the one that suits your needs!
Which Theme Works Best With Elementor?
Elementor not only helps users create an outstanding website, but also it is one of the most popular page builder plugins in WordPress. It has over 1 million active downloads. It has outstanding features and advanced functionalities.
Elementor has a template library that offers more than 20 website templates. It can help you create awe-inspiring web pages.
Moreover, its customizable layout feature can help you modify and create fully functioning web pages in minutes. Its drag-and-drop interface can help you alter settings, height, width, column sizes, sliders, margins, padding, and many more within minutes.
However, Elementor itself offers a lot, but you still need a theme to enhance your productivity. Using a theme with the Elementor gives you more access and control over your Elementor designs. It is not only time-saving and convenient to control styles but works great for the future. With Elementor, you can control your style options and page-level controls too.
Most importantly, Elementor and theme can help you build an entire site with a fast loading speed.
What do you say now?
Let's get down to the most popular themes that are compatible with Elementor.
Best Themes for Elementor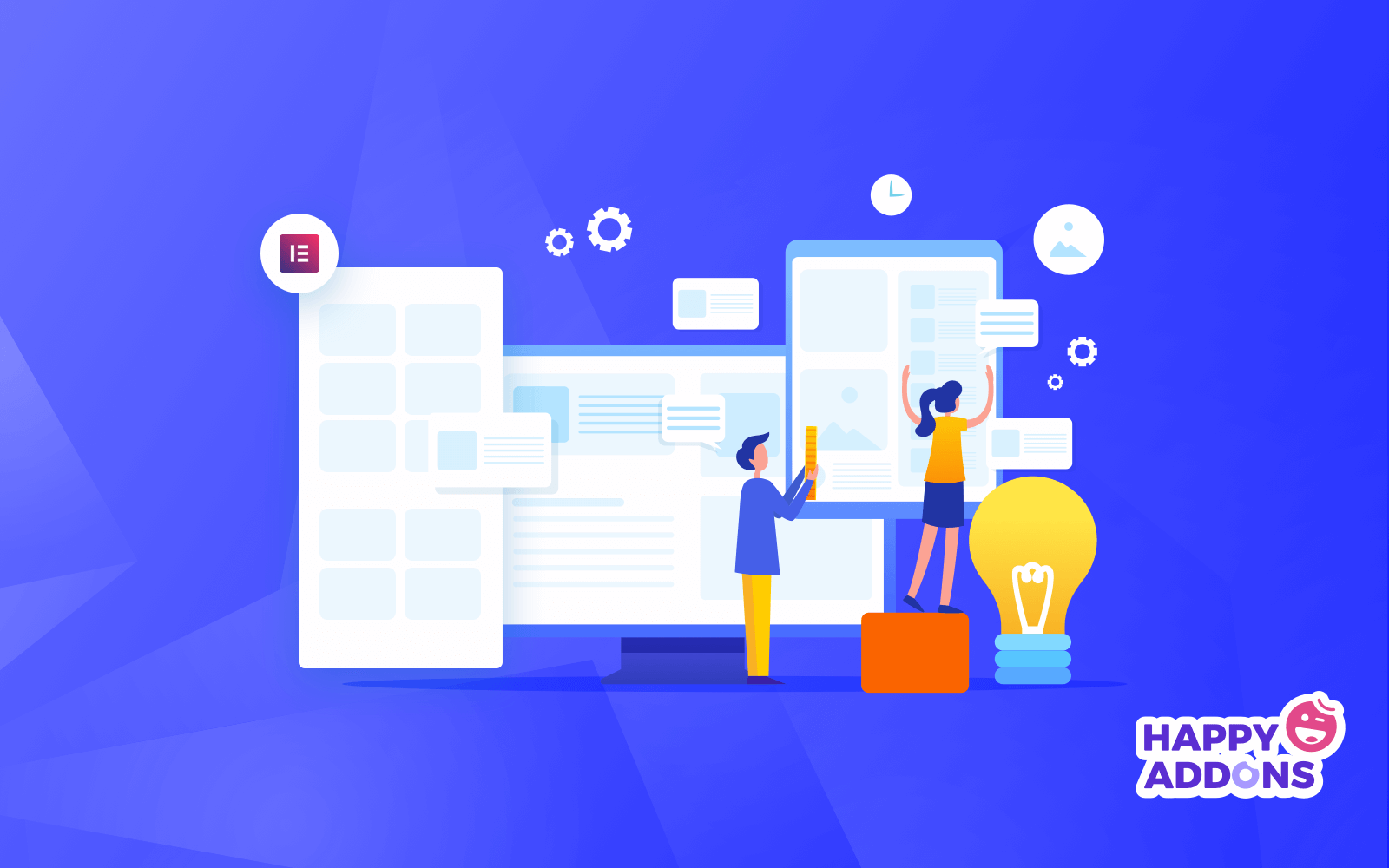 1. Hello Theme for Elementor
Hello is a free theme that is designed for Elementor. It does not offer consistent compatibility with Elementor, but most testing uses the Hello theme. Hello, can help you improve your conversion rate and is one of the best ways to build landing pages. Most importantly, it is fully compatible with popular WordPress plugins.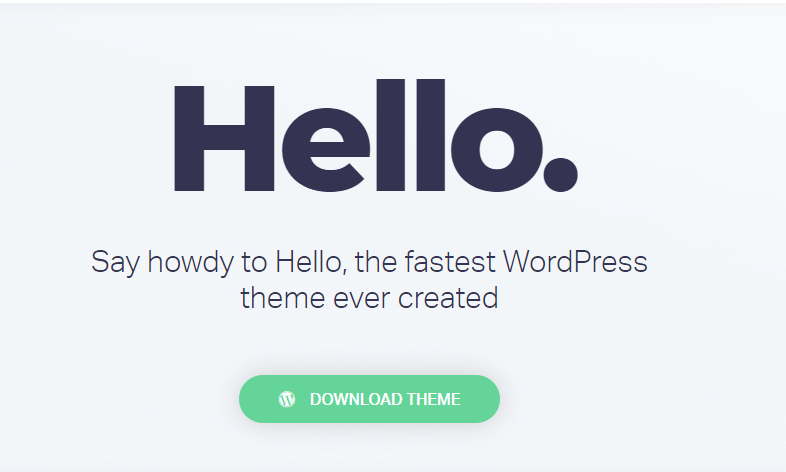 So, with Hello, you don't have to worry about conflicts, just focus on your site.
Let's look into some of its features:
Fast and lightweight
Responsive design
RTL supported
Developer friendly code
Open source plugin
SEO friendly theme
It is the perfect choice for all developers and designers who want to improve their workflow with a highly compatible, effective Elementor theme.
2. GeneratePress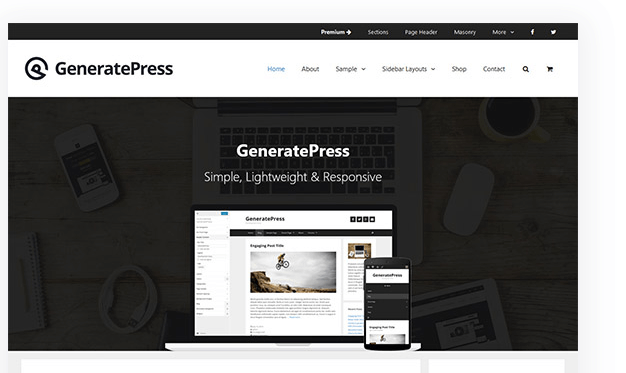 GeneratePress is another remarkably popular theme for Elementor with a fast and lightweight interface. It was developed with a single idea to make the websites' performance effective and efficient.
It is an SEO-friendly theme with a responsive layout that works great on coding standards.
Let's look into some of its specs:
Simple and highly intuitive designs
Responsive design
Unlimited colors
Live WordPress customizer
Multiple blog layouts
Multiple archive page layouts
Advanced typography
Custom CSS
RSS support and much more…
3. Astra- One of The Best Themes for Elementor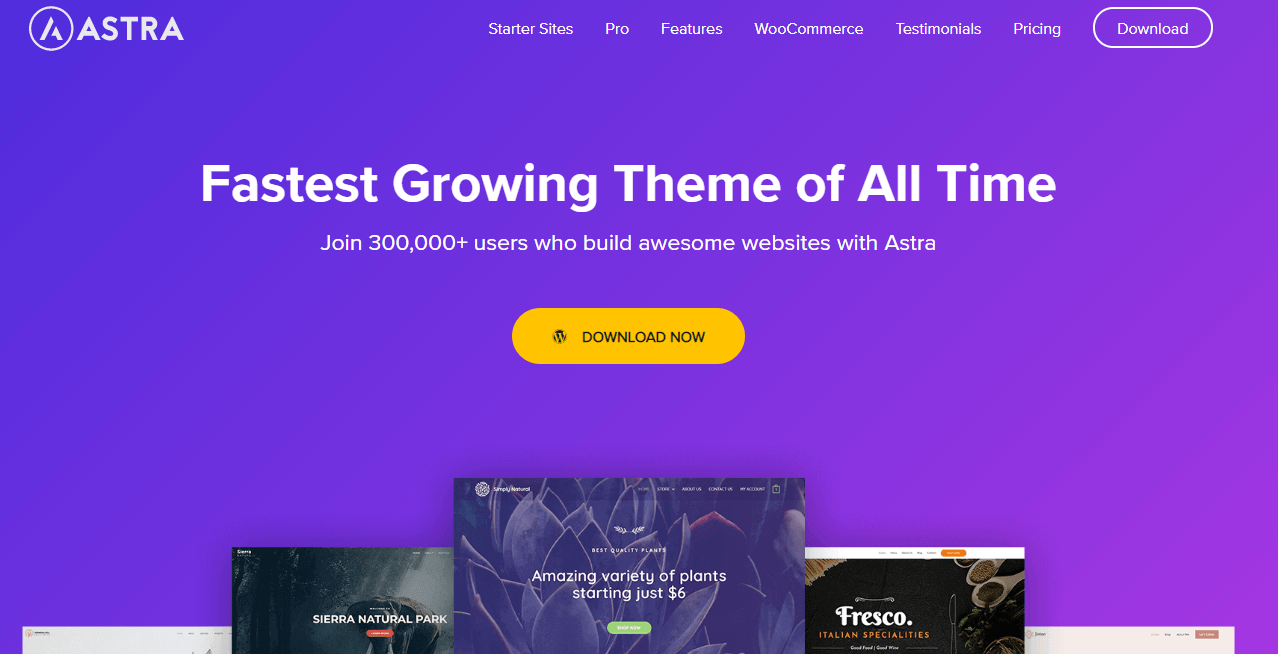 Astra is another popular theme within this list that integrates great with Elementor. They offer a detailed layout control for posts, pages, and custom post types for your site. It allows users to disable post titles, headers, footers, and sidebars and allows users to change the width of the content.
So, if you are looking for a customizer-style Elementor theme for your site, you have it all at Astra.
Want to know more about it? Let's look into the details…
Features and Specification:
Pre-built websites
Customize without codes
Made for page builders
It has super-fast performance
Offers wide range of customization options; layout setting, header options, colors and typography, and blog and archives.
Most importantly, Astra is gaining popularity for fast-performing websites because of three intrinsic offerings:
No jQuery; Astra uses vanilla JavaScript for performance optimization
Feather-light it requires less than 50kb of resources
Fully optimized and speedy; it takes less than 5 sec to load.
4. Sydney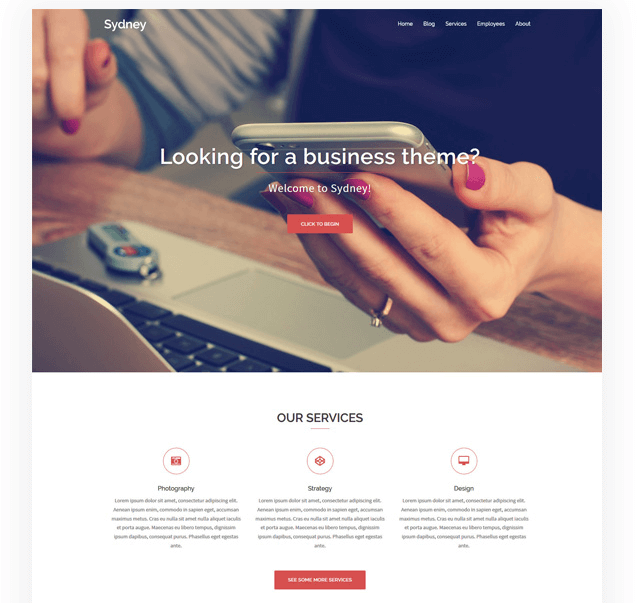 Sydney is a fully compatible, Elementor theme that can help users build professional web pages with ease. With the help of the Elementor theme, you can boost your online presence. Its custom Elementor blocks and loads of customizable options make customization even better.
So, if you want to adjust the front layout and blog layout, you will be assisted with a wide range of colors. Everything is available on the theme customizer. Want to know more?
Features And Specification:
Responsive designs
Highly customizable
Simple and highly intuitive designs
Live WordPress customizer
Advanced typography
SEO friendly
Cross-browser and WooCommerce compatible.
5. Neve

Neve is another lightweight and fully responsive Elementor theme you can rely on. It can help you create a one-page site along with an SEO-friendly approach. This remarkable theme was built with page builders in mind; in short, it was designed for Elementor.
Since its demo content was built using Elementor, during the import process, you can install the plugin if you want. Moreover, its demos and live customizer can help you and your designers create the site of your dreams. It's perfect for newbies and developers.
Let's look into its features.
Features And Specifications.
A lightweight theme built for speed.
Creates professional-looking websites in minutes.
Easy setup and flexible theme.
Offers a wide range of website layout options.
Enables users to import read-made websites in minutes.
SEO-friendly structure and code for high-performing sites.
6. eStar – A lightweight and highly customizable theme

If you're looking for a theme that is as light as a feather, eStar is here. This free WordPress theme can be used for any purpose and is highly compatible with Elementor. Therefore, you can highly customize this theme and make your own business page, landing page, blog, portfolio, etc.
Its minimalist design brings your site a delicate and beautiful look.
If you're a developer, you can extend the theme to fit your needs because eStar has a lot of custom hooks. Moreover, in case you want to build your site with Gutenberg, eStar can work perfectly with all blocks.
Here is what this theme is famous for
Elementor compatibility
Built with Gutenberg in mind
100 Google PageSpeed Score
4 custom page templates
Sticky Header
SEO Optimized
7. Ocean WP

Ocean WP is another popular extendable theme that exhibits an Elementor theme with a fully responsive design. It is a perfect solution for small and large sites. Most importantly, its unique Elementor widgets help users' page builders boost and speed up site creation.
So, whether you are a newbie or a developer, this Elementor theme is designed for all. Its widgets will help you easily create layouts and content, add functionality to your blog posts, and offers an image display option. It is compatible with even WooCommerce.
That's not all; let's look into more detail.
Features And Specifications:
Helps users create websites with creative demos
Fully responsive
SEO base built-in
Fastest page load time
Supports RTL language and translation-ready
8. Hestia- One of The Best Themes for Elementor

Hestia is declared among the official Elementor recommended theme list that is best for developers and newbies. Its modern material design integrates perfectly with the content you build with Elementor. Its page templates, regular template, full-width template, and 100% blank template work great with Elementor.
Moreover, you can customize your own pages your way and build any type of website you desire. Want to know more?
Features And Specifications:
Fully compatible with drag-and-drop page builders
WooCommerce Integration
Offers one-page builders
Gutenberg ready
Offers full control within the customizer
9. Genesis Framework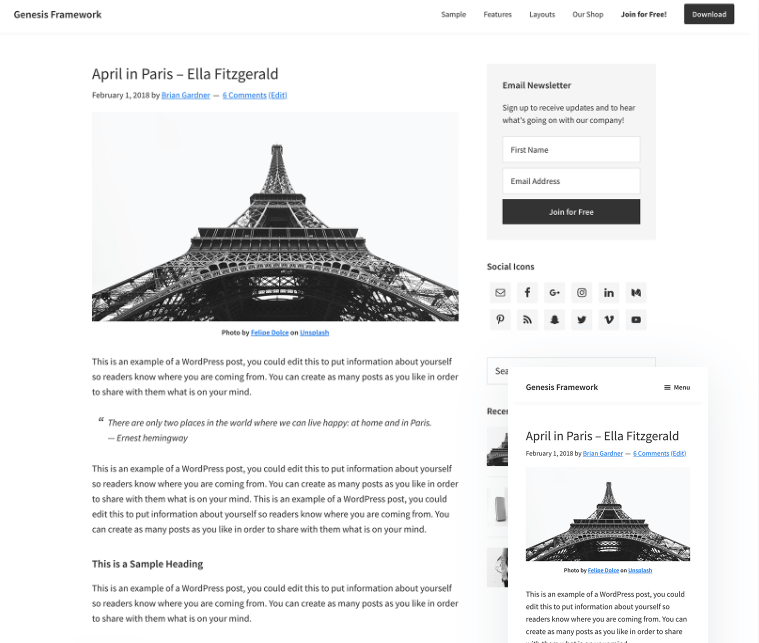 Genesis framework is another popular and performance-optimized theme that can help you build a WordPress site with ease. Its flexibility, performance-based base, and SEO-friendly feature is gaining popularity. You can design your own site your way. What else do you need in an Elementor theme?
Features And Specifications:
Theme options
Theme customizer
Customizable header
Custom page templates
Featured content widgets
Mobile responsive
Gutenberg ready
10. Airi – One of The Best Themes for Elementor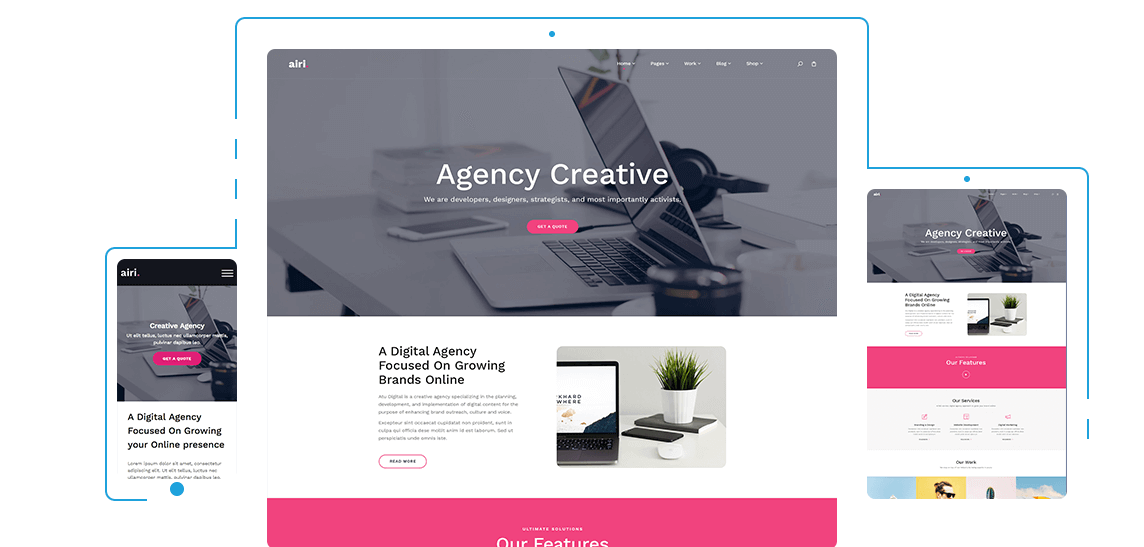 Airi is a powerful, flexible, and free Elementor theme that can help you easily create and build pages for your website. It is not only WooCommerce compatible but offers a wide range of demos for websites. Its demos deal with logistics, portfolio, health coaching, beauty, and more.
It is a perfect solution if you are looking for an Elementor theme because it is highly compatible with the Elementor page builder. All the layouts in the theme are built with the Elementor plugin. You can make professional, visually appealing pages for any site with a wide range of theme options.
Features And Specifications:
Live customizer
Cross-browser and WooCommerce-compatible
Elementor support
Pre-made demos
11. Bellevue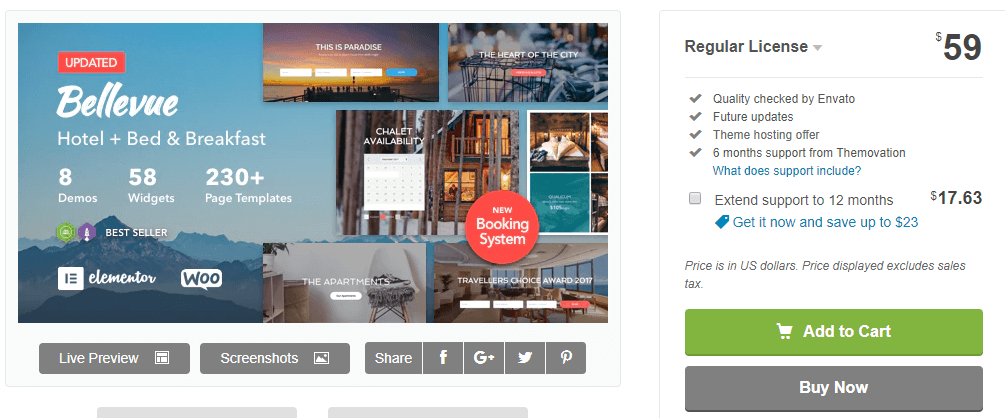 Bellevue is a hotel, bed and breakfast theme designed specifically to be paired with a page builder-like Elementor. It is a powerful Elementor theme that offers unlimited design options for your apartments, vacation rentals, bed and breakfast, travel, or small business websites. Its end-to-end booking system, online calendar system, and secure online payment fully support WooCommerce.
Thereby, it is compatible with WooCommerce and Elementor. Bellevue can help you build your site in the frontend using Elementor live page builder. It is also offering 8 full demos, more than 48 widgets, more than 50 modular templates, and unlimited design options.
Features And Specifications
A guide is set up with one click install.
Live theme options customizer.
Offers drag-and-drop forms.
Master Slider pro.
12. Colorway WP Theme

Colorway is another user-friendly, responsive theme that is fully compatible with Elementor. With the help of this theme's well-designed demos, you can create any type of business website. So, create your website with just a single click.
Moreover, if you want to adjust it according to your desires, do it! You don't need any coding language. Its lightweight framework can help you perform outclass with greater usability.
Moreover, the combination of various Elementor widgets like gallery portfolio, Google map locator, dividers, and burn sliders can help you create an amazing site.
Features And Specifications:
A library of pre-built templates.
Fully mobile Responsive.
Unlimited colors and styling options.
SEO optimized.
Drag and drop customization.
13. Jupiter X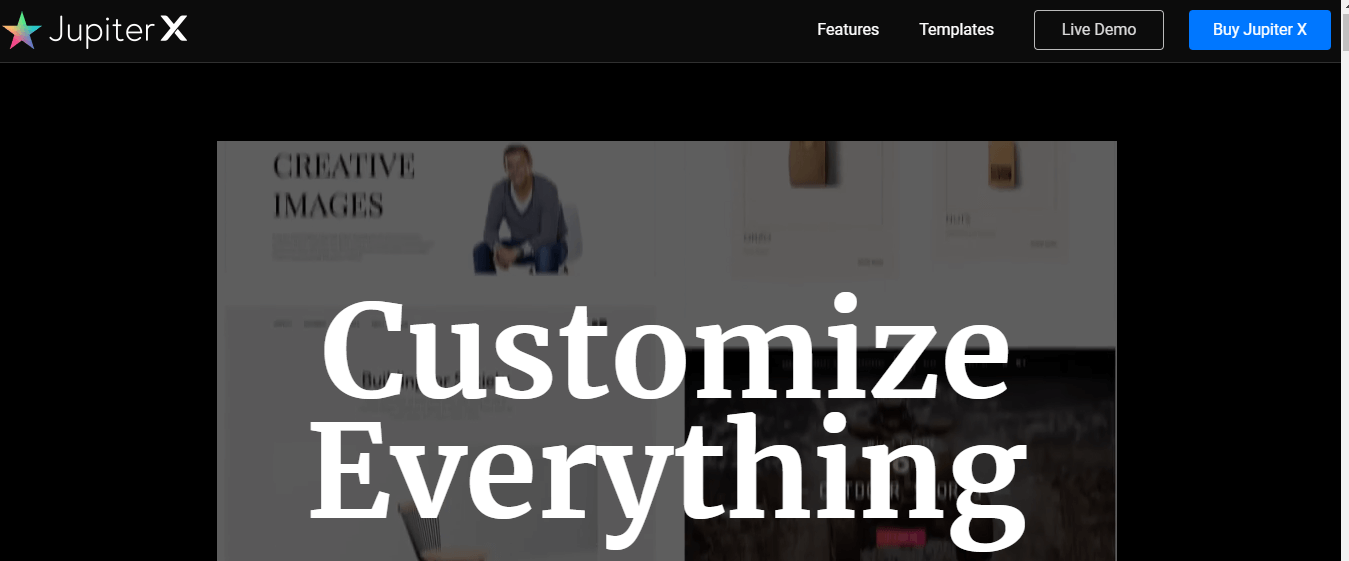 Jupiter X is another powerful yet popular theme that has been rebuilt using Elementor. In fact, it is built by Elementor, which offers full control over your layouts and a high range of customizations, 80 elements, and numerous design options. It is also offering a library of block templates for each section of your site; so build your site your way.
Features And Specifications:
Shop, portfolio and blog customizer.
Header, footer, form, and popup builder.
Multilingual and RTL compatible.
14. Schema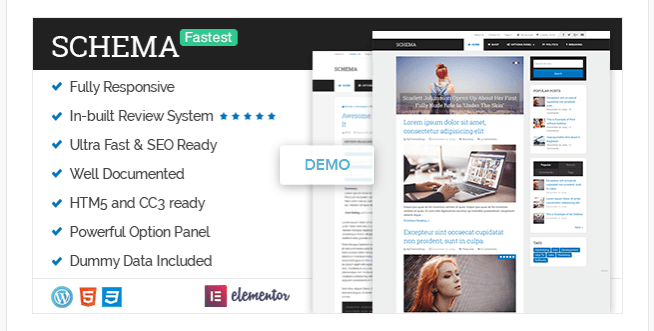 Schema is the last but another popular and powerful Elementor theme you can rely on. It has a fast loading, a low page size, and a good loading speed. Its custom options panels are also remarkable.
However, if you are looking at some pro features, then its header options and customization options are just rocking. Even though it doesn't have an official integration with Elementor, it still works well with Elementor.
Features And Specifications:
Fully responsive
Speed optimized
SEO ready
Wrapping Up on The Best Themes for Elementor
Finally! That was the list of best themes for Elementor you can rely on. If you go through the features we have covered, you will surely get the answer to your question- which theme works best with Elementor?
Did we miss any? Comment in the section below!