Can you recall when was the last time you stayed at a site for minutes though the design of that site didn't impress you? It's tough we know! Because we usually leave a site that doesn't attract us and takes an eternity to load the design.
There is a saying that
You only have one chance to make a first impression
So as a website owner it's our first and foremost priority to make a design that creates the first impression to the visitors.
Here comes the Happy Particle to plays its role. With its different particle effects, you can make your design stand out from crowds. Cool effects make the site memorable for the visitor, and they are more likely to come back. So you should try Happy Particle Effects to make stunning webpages.
And to assist you to use Happy Particles with your Elementor site, here we are with this tutorial guide. Let's dive in!
Say "HI" to The Latest Feature of Happy Addons- Happy Particle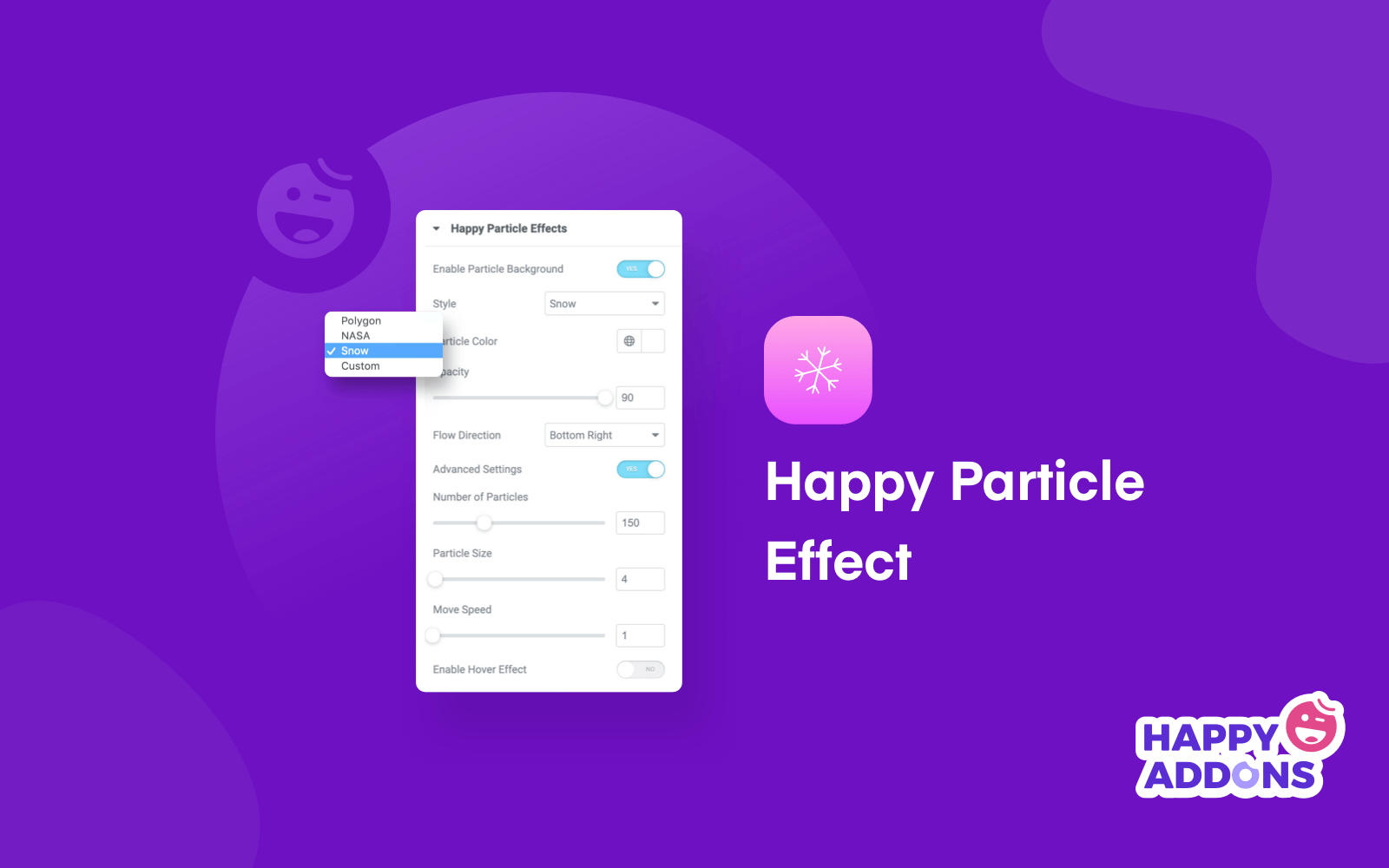 If you have ever come across the Happy Addons, then you already know that how fast Happy Addons is growing. When we are talking about its growth, you will be glad to know that it has been already touched the 200K active installations milestone.
Apart from this, it has many more super exciting achievements in 2022 and with more futuristic plans we are heading to 2023. Having said that the release of the Happy Particle is a part of our plan to add more feathers to the Happy Addons' crown.
We have launched Happy Particle with a goal that it will bring extra happiness to your clients and the site visitors as it will create a wow effect to your website.
Initially, you'll get three completely different effects with Happy Particle. And last but not least you will be able to make an extra whole different effect with your creativity by mixing up some particles. We named it Custom Particle.
1. Snow Fall Effect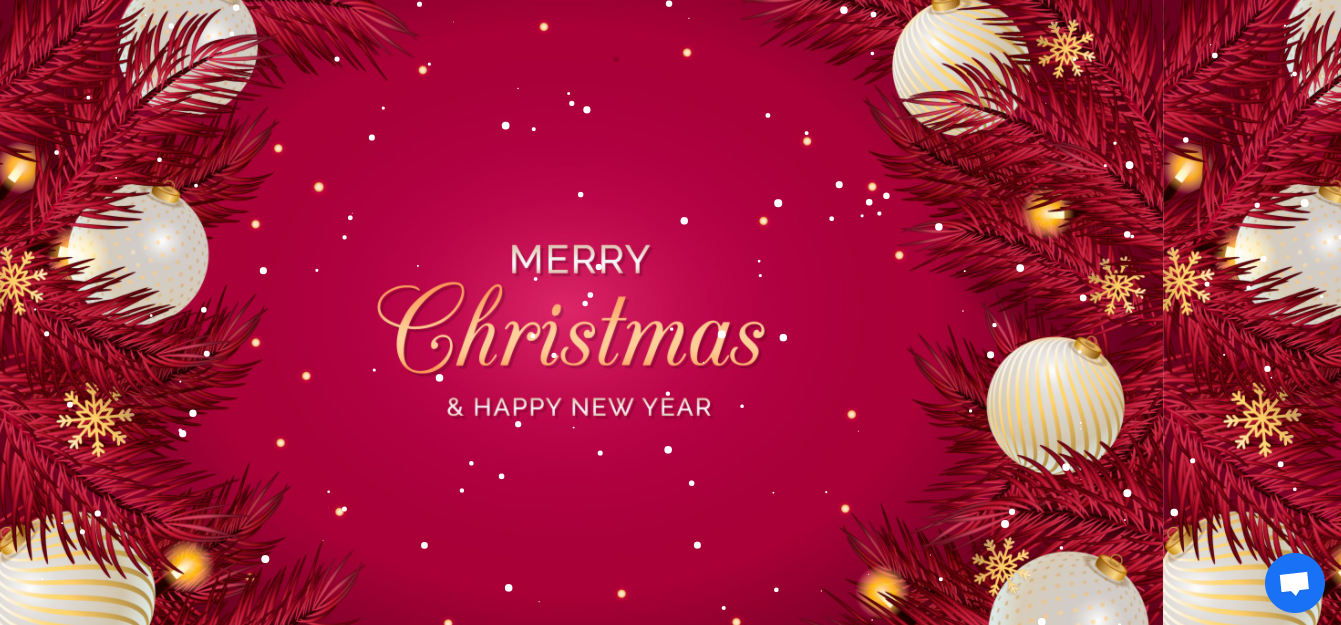 If you want to add some visually soothing particle effects to the background of your website, you can use the Snow Fall effect. It will allow you to set the number of Particles, the size of your particles, the speed of the Particle movements, and the flexibility to add Hover Effect to your Particle effect.
2. Polygon Effect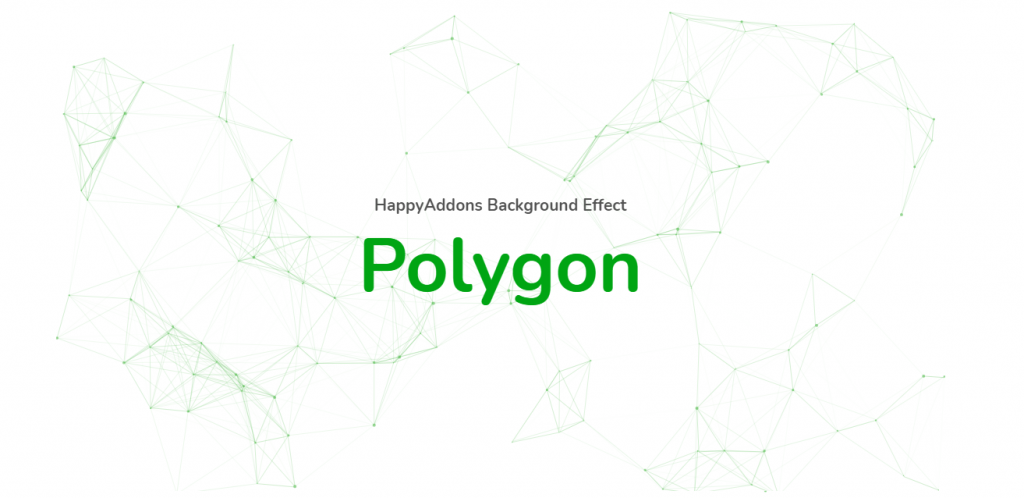 The polygon effect creates magic in the background of your website. Polygon name says all how it will perform with your design. All the points will be added with one another to make your design mesmerizing with a dynamic scenario.
3. NASA Effect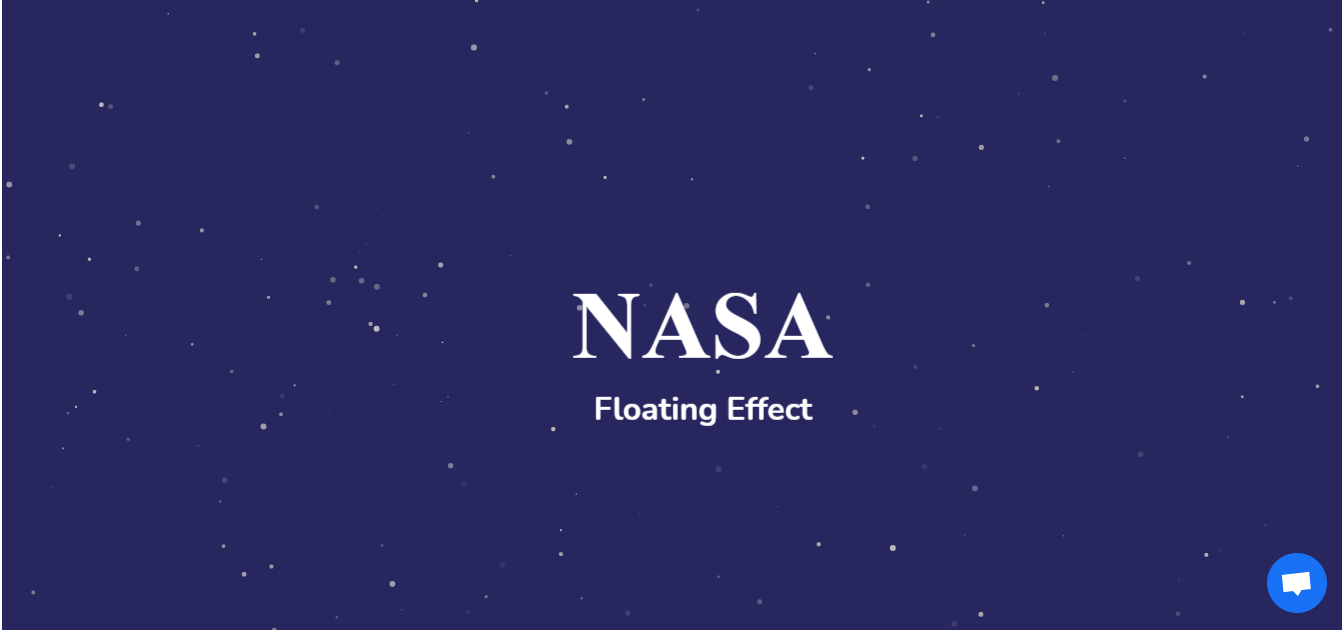 If you want to add some eye-catchy floating effects to your website background, you can use the NASA effect. Like the other two effects, here you can also set the number of Particles, the size of your particles, and the speed of the Particle movements.
4. Custom Effect
Apart from these three-particle effects, we have one more effect and that is the custom effect. If you want to create a particle effect with your own creativity, you can do that using the custom effect. After creating the particle download the JSON file and the Happy Particle will allow you to add that code to your design to get your job done.
How to Use Happy Particle to Make Your Site More Visually Attractive
We do love to visit the site that attracts us. And nowadays attracting people a bit challenging. Because every day we visit a lot of sites and forget every site unless it has something different to catch us.
Here, Happy Particle does the trick. With its wall-breaking designing elements, it makes difference to other websites. And using Happy Particle is an easy peasy task.
Now let me show you how you can design your Elementor site using Happy Particle.
You're here which means you already have your own WordPress site. Because using this particle you need three things:
Elementor (Free)
Do make sure that you have successfully installed & activated Elementor & Happy Addons. Now follow the below steps.
Step 01: Create a New Page or Select an Existing Page
You can either create a new page or select an existing page to apply the Happy Particle effect. To create a new page,

You will get a new page.
Put a page name
Save draft or publish it
Finally, press the "Edit with Elementor" button.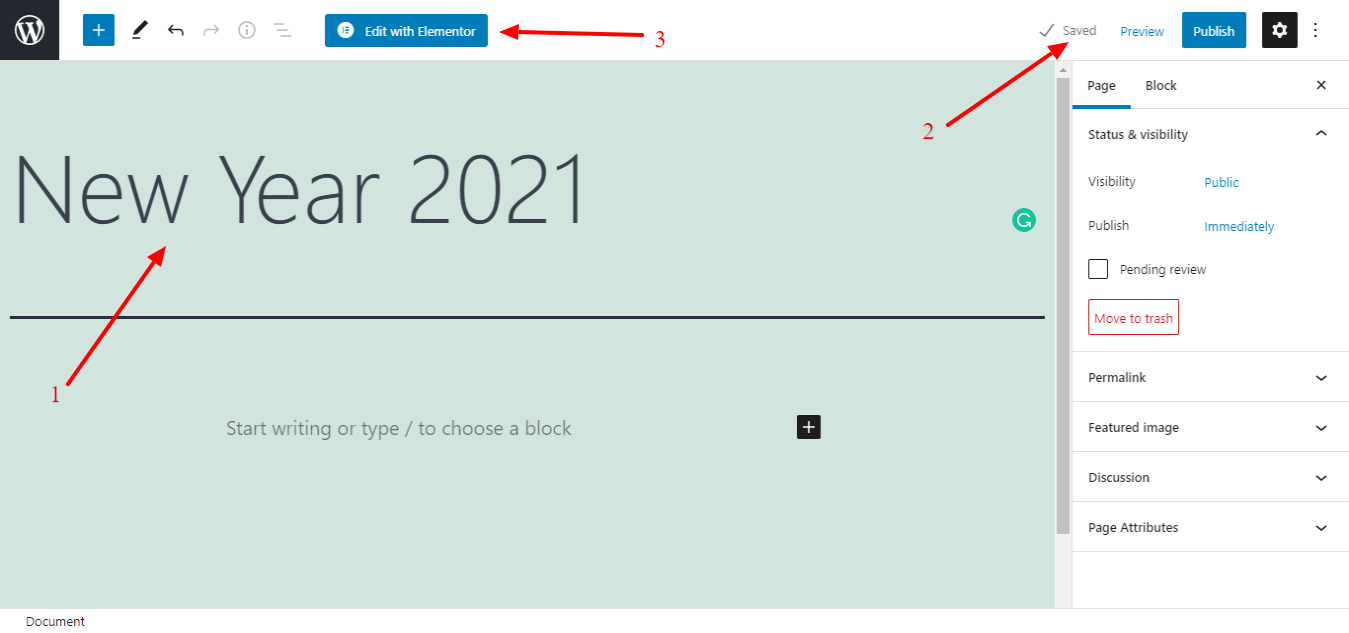 You'll get a fresh page to design.
Step 02: Design the Page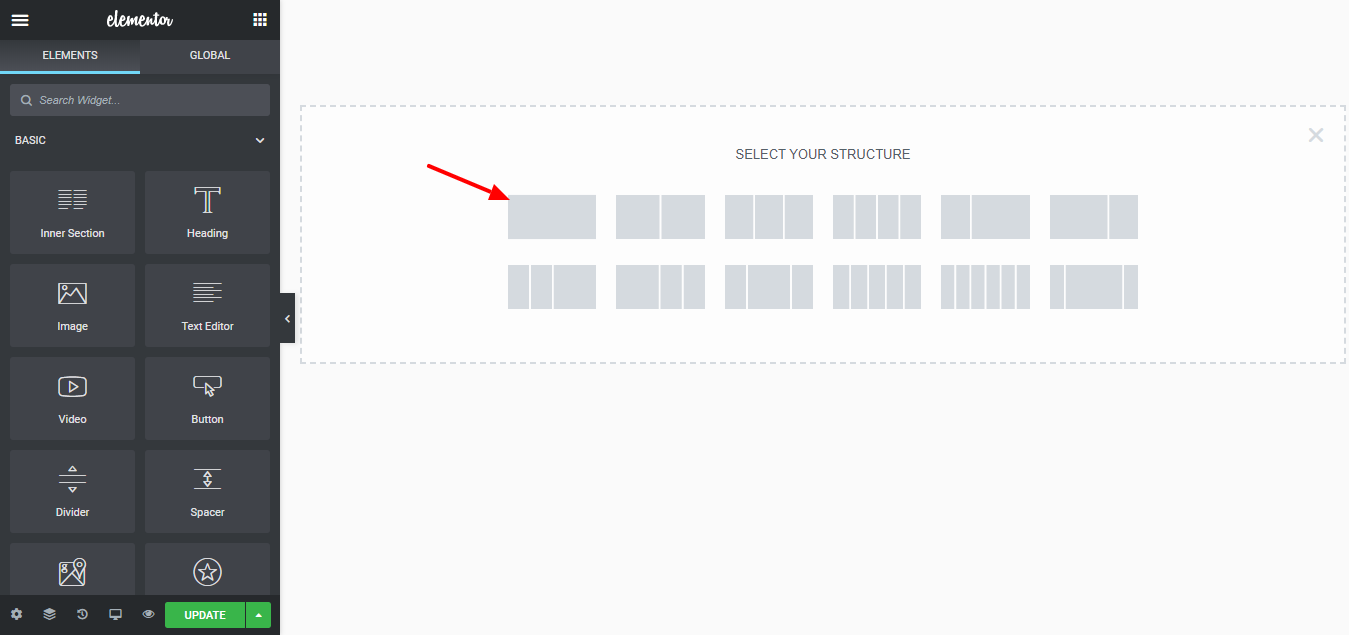 Click on the section option of the Elementor editing page.
Set Height "Fit to Screen".
Turn "Yes" the Stretch Section.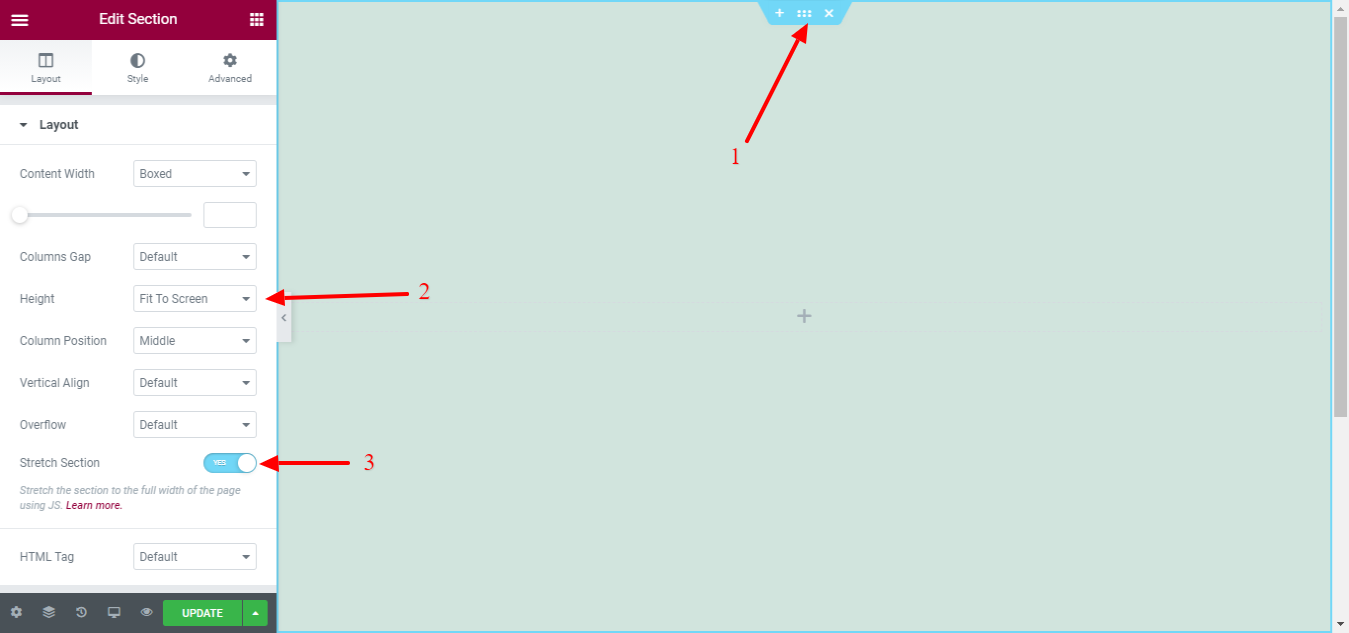 Press the plus sign to add a widget.
Drag a widget to the editor. For instance, we're are here adding the Heading widget.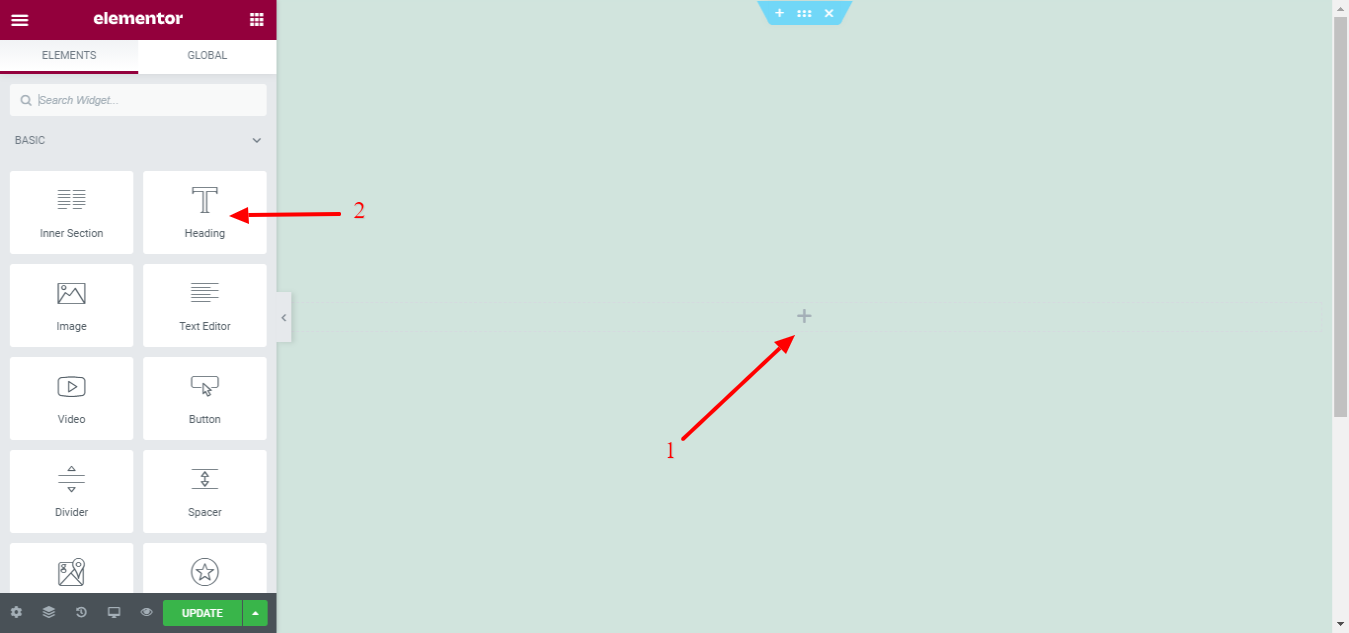 Now edit the heading as per your design skill from styling options.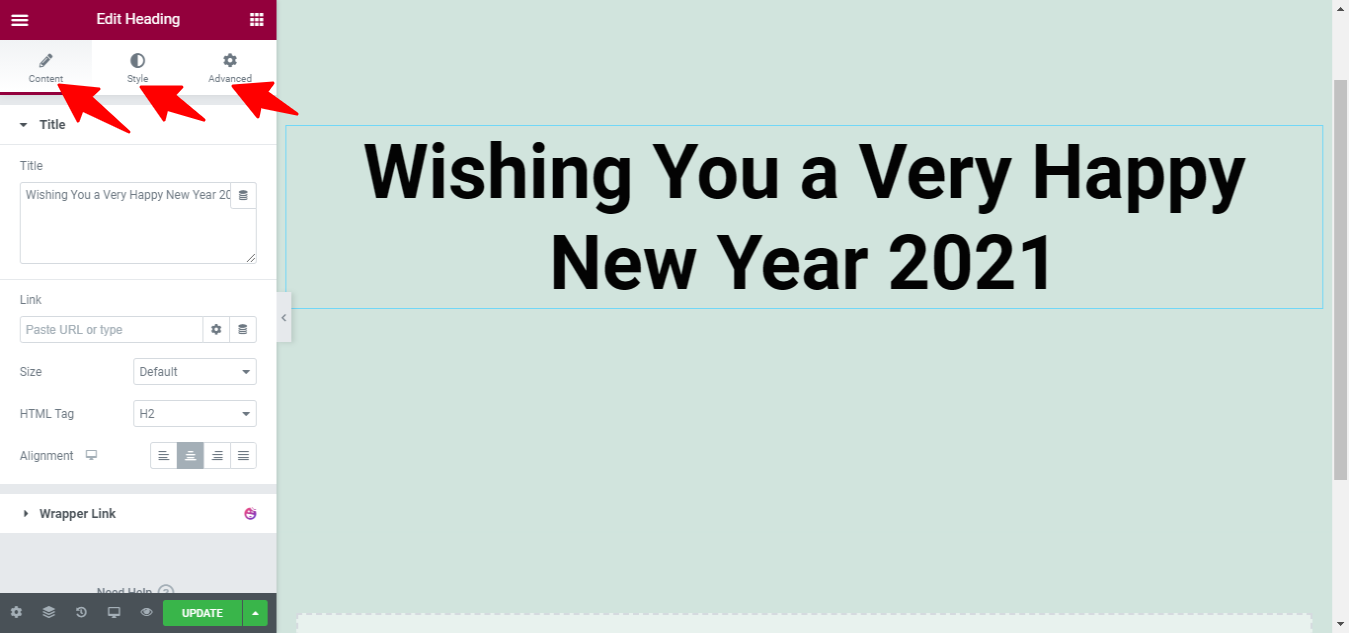 Step 03: Apply Polygon Effect
Click on the section option of the Elementor editing page again.
Go to the Style tab.
Enable the Happy Particle Background. Make it Yes.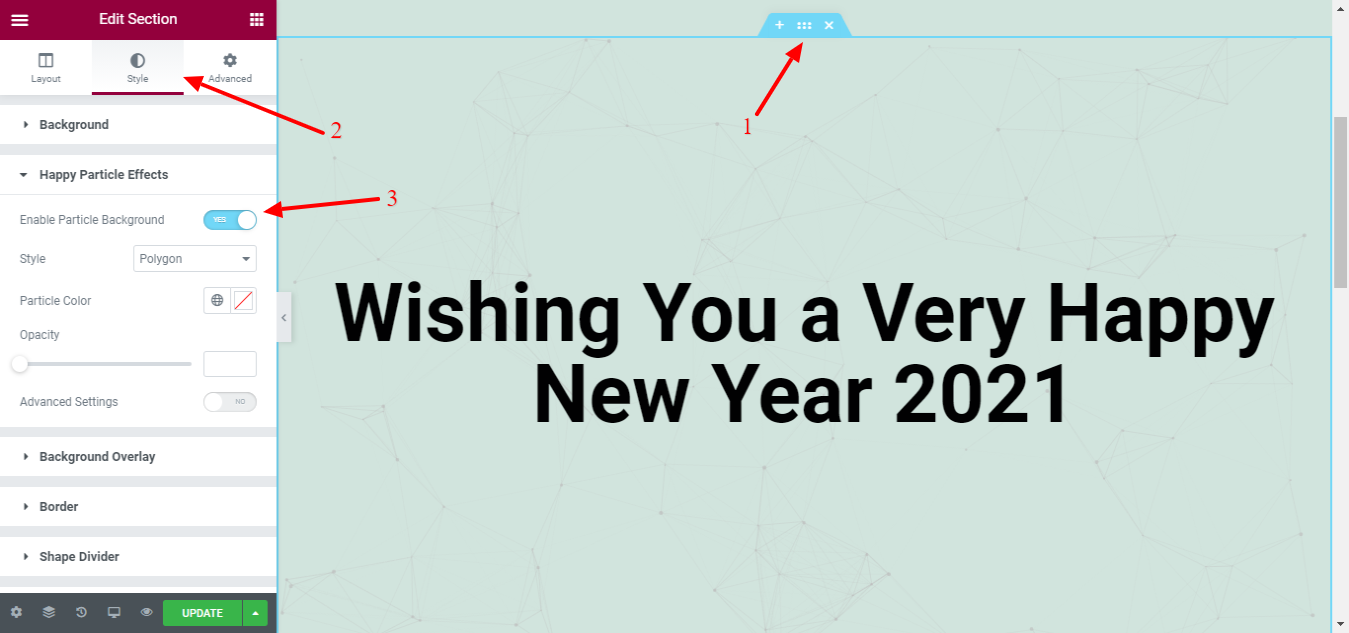 Choose a style (Polygon) from the drop-down list.
You can change the color of the particle.
You can also change the number of particles, particle size, and moving speed by enabling the Advanced Settings.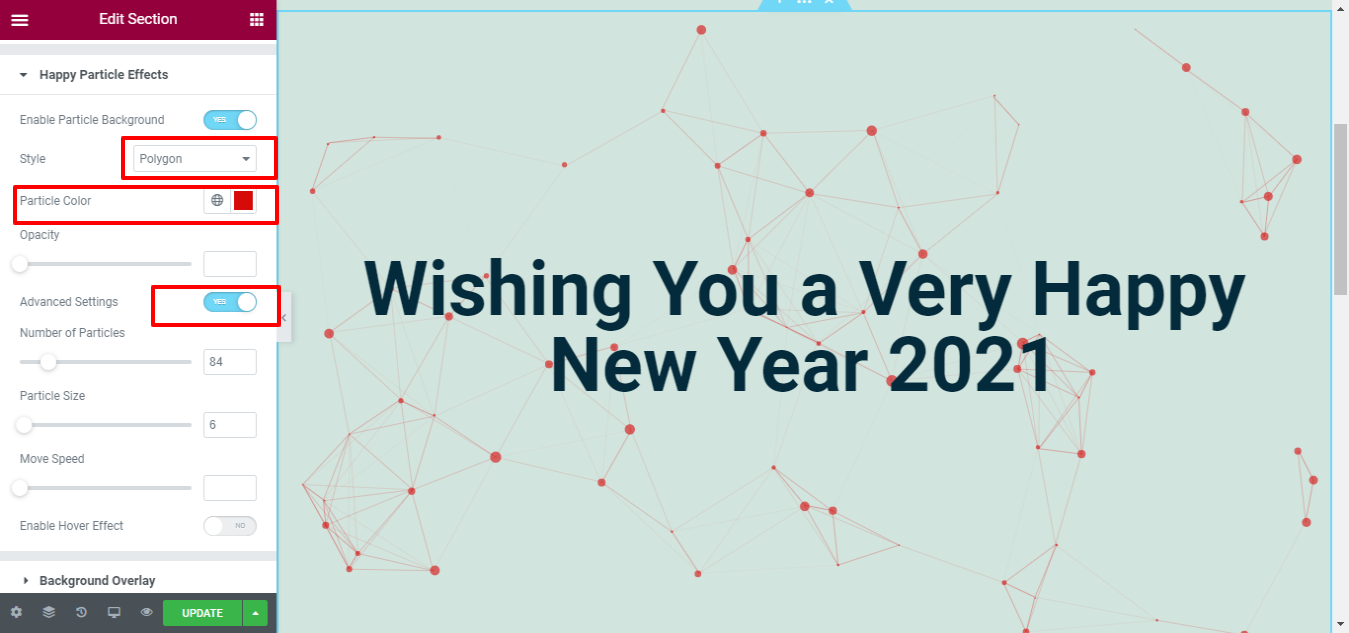 Step 04: Apply Snow Fall Effect
Drag an image widget to the editor.
Upload an image and then customize it from the style tabs.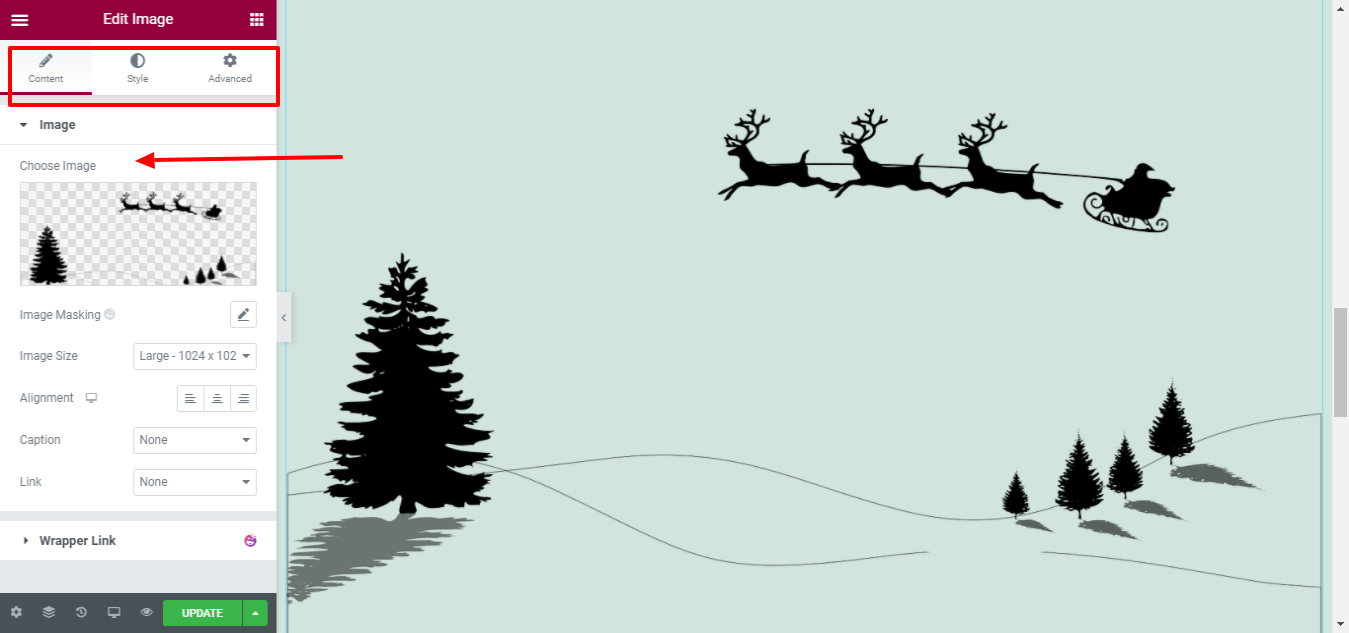 Go to the Happy Particle Effects and turn Yes the Enable Particle Background.
Choose Snow from the style tab.
You can also change the particle number, size, color, speed, and other things from this section.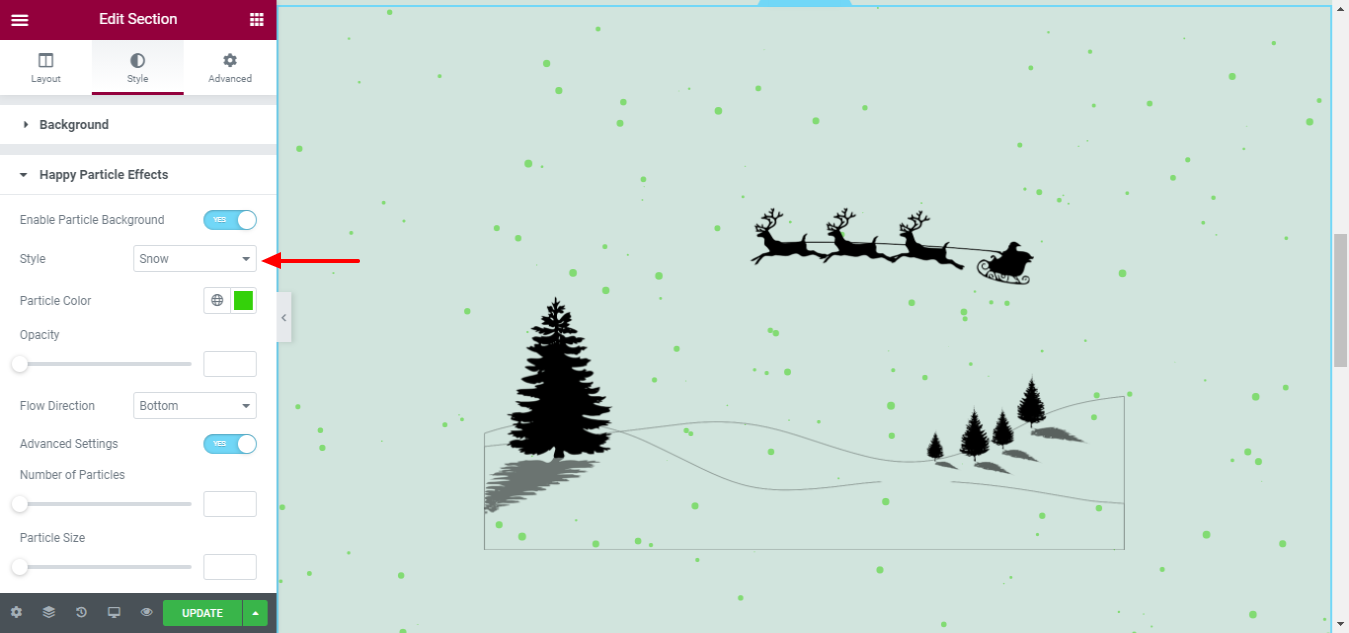 Step 05: Apply NASA Effect
Drag a widget (whichever you want) to the editor. Here we have used a countdown widget.
Apply the NASA effect from the styling section.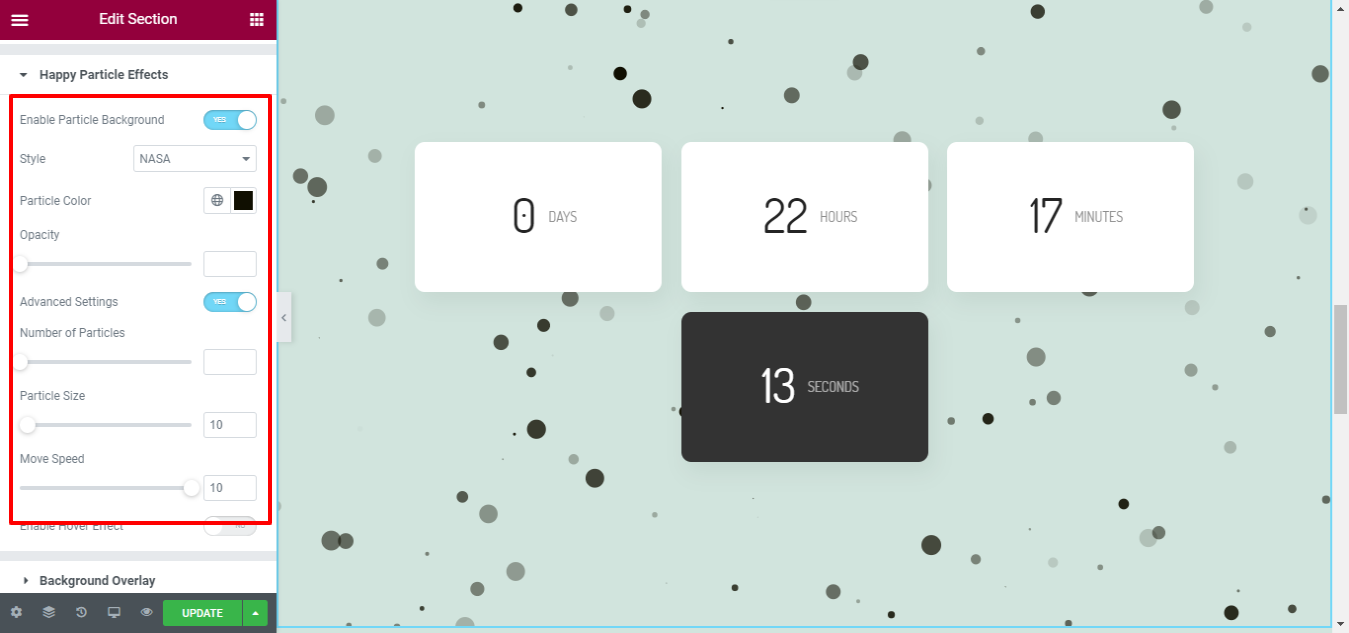 Voila! You have added the NASA effect to your design.
Step 06: Design Custom Particle
You can design your own custom particles. All you need to do is select the Custom option from the Style section.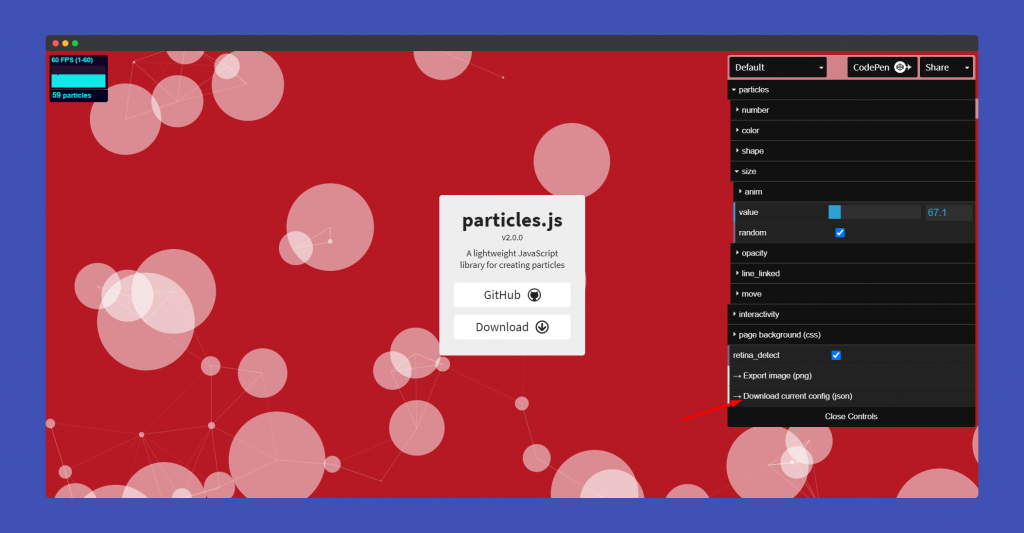 Download the json file and copy the code. Now, paste the code on the marked area.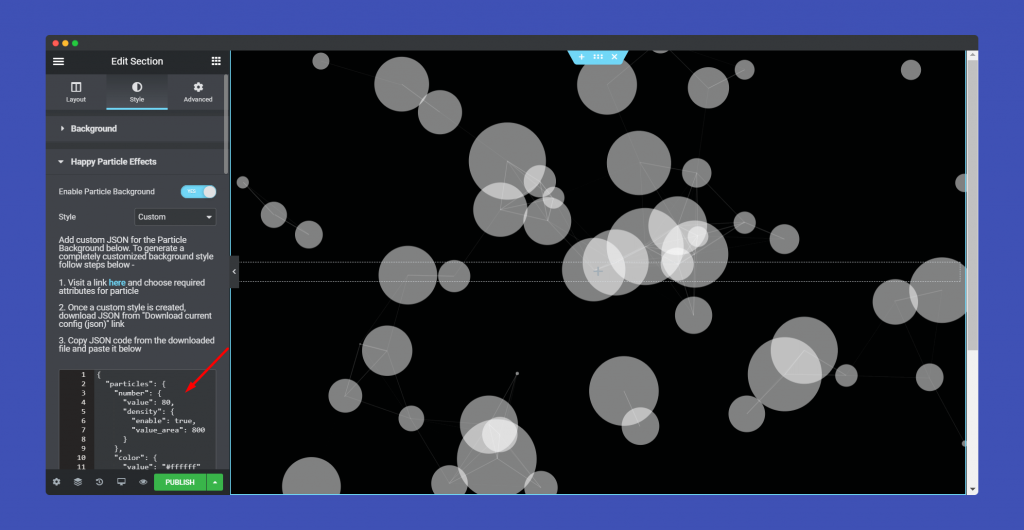 Congratulations! You have completed exploring the Happy Particle effects and created a design with these effects. Do you want to take a look at the final version of your design?
Okay! Let me show you.

Let Happy Particle Make Your Design Stand Out
Using Happy Particle is as easy as pie. Choose a style from the Happy Particle effects and apply it to your existing or newly created designs. It will create an extra wow to your design for certain. That's all you need to get back visitors onboard.
After reading this blog if you still face any trouble to design your site or it bloats your site or whatsoever, you can follow our detailed documentation.
Okay! Now, let me know which effect you love the most. Or, is there anything that you want to suggest to our R&D team? Let us know your feedback through the comment box below.