We are so thrilled to make an exciting announcement.
Today, we here at HappyAddons are super excited to announce that we've accomplished our biggest benchmark of this year- YES!!!! we can now proudly say that we've reached the milestone of 200,000+ Active Users.
That's huge!
200,000+ Active Installs- It means more than 200k people chose HappyAddons as their web development platform.
Let's look back on how we made it to this milestone in such a short time period!!!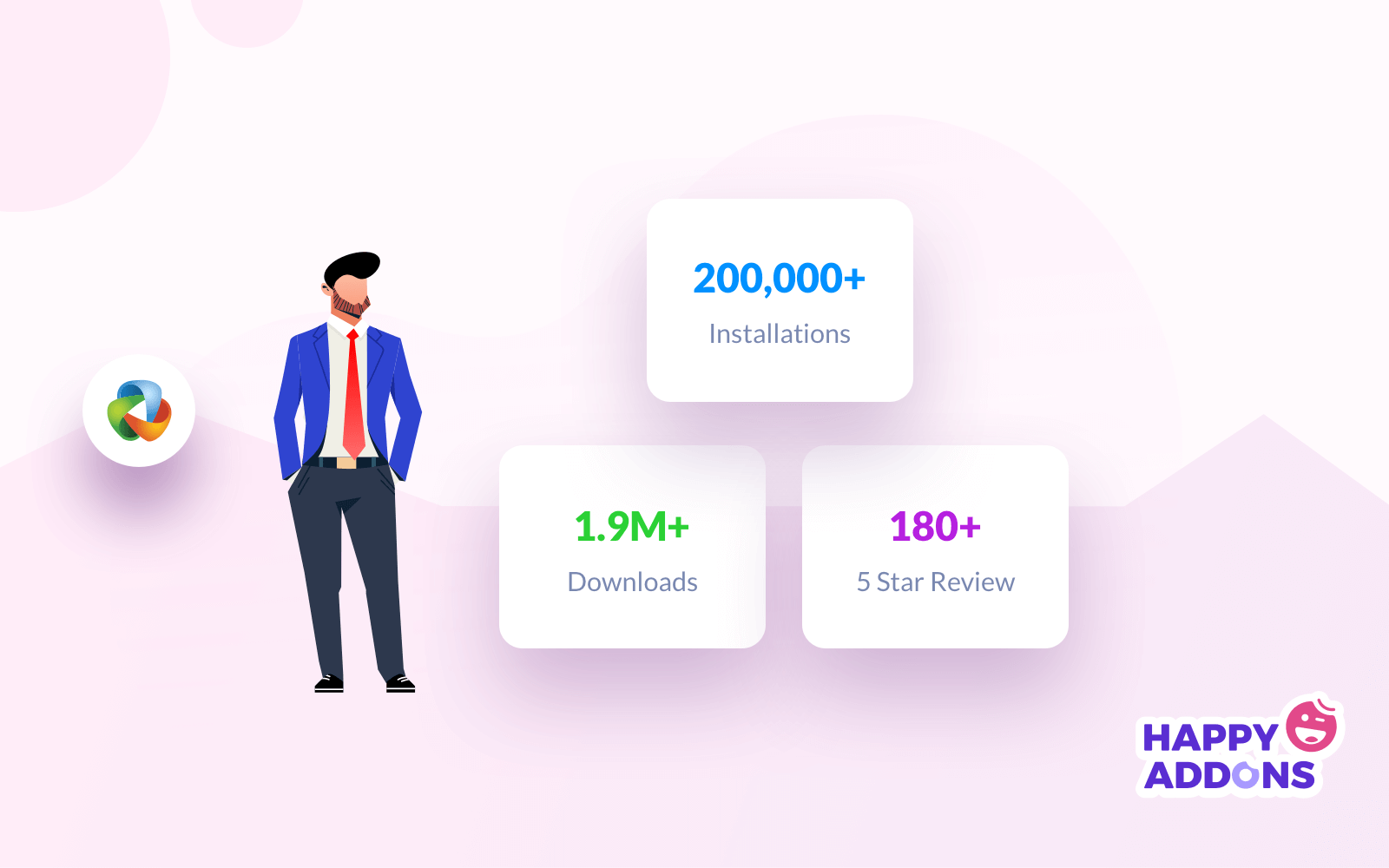 If you are an Elementor fan, then there is zero possibility that you are not aware of Happy Elementor Addons! As it becomes the talk of the town within a short time period. Now Happy Elementor Addons is one of the top choices for Elementor developers.
Feature-rich widgets, super-fast design tools, and easy development skills- are the main ingredients for the immense popularity of HappyAddons. Our growing curve also justifies this statement with adequate evidence.
We hit the milestone of 30,000 active installs within six months only.
Within the next two months, we accomplished another benchmark of 50,000.
And back in (11/12/20) we crossed another benchmark of 100,000.
Today (03/11/21), we are here to announce another big achievement. Yesss!!! Now we are a proud family of 200,000+ members.
That means in 11 months alone, our user base has doubled in size.
We never expected it could happen so soon. We are grateful to all our valued clients, users, well-wishers, and partners for being with us in every thick and thin. Without your contribution, we can't make this happen.
Today we will take you on a short journey to overview the overall journey. So you can explore the secret behind this immense success of Happy Elementor Addons.
Happy Elementor Addons: Advanced Customization Tool for Elementor Users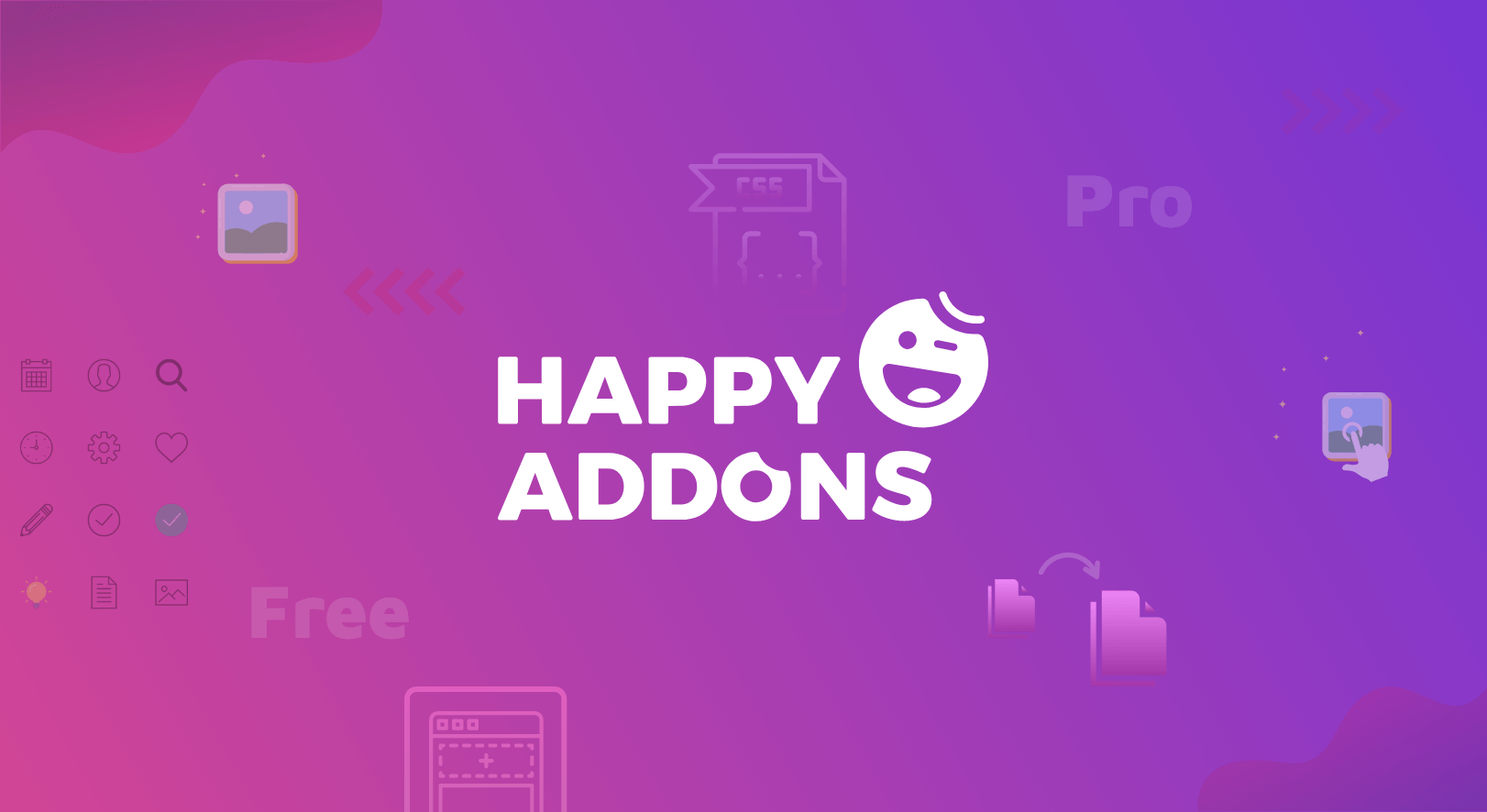 Though Elementor itself is a powerful page builder to create professional sites inside WordPress. But it's really hard for a single plugin to cover every tiny detail of WordPress.
Luckily, there are a number of Elementor add-ons available on the web. They have filled almost all the gaps and covered many vital areas of webpage development. However, Happy Elementor Addons makes a significant place among these designing tools within a few months only.
HappyAddons empowers Elementor users with 90+ amazing widgets and 20+ unique features. Including a wide space for customization.
It makes Eementor site-building experience easier than ever. High-functional tasks like animation, site sync, live copy/paste – you can do everything with HappyAddons in a flash. And to do so you don't need any prior technical knowledge either.
We have introduced the pro version of HappyAddons at the end of September 2020. Before that, we have run the beta version and collected reviews from the real users. And updated the tool based on those feedbacks.
That is the reason, we got a huge positive response from day 1 of releasing the premium version. Although we never stop updating the features of this powerful Elementor addons. We regularly launch new features, updates, fixes, and tweaks and continue to hear from our users.
Eventually, we became a large family of 200,000+ interactive members within 8 months-
As you know we arranged Happy Grand Giveaway for all our clients, users, and well-wishers while reaching 30,000 active installations. This time we also plan something BIG as a token of gratitude!
As we believe in sharing and prefer to spread the LOVE!
Free Built-in Extensions to Give You an Exclusive Experience
With HappyAddons you will get unique and exclusive features completely FREE. It will add additional customization options to your Elementor site.
| | |
| --- | --- |
| 1. Floating Effect | 6. Custom Column Order |
| 2. Asset Loading | 7. Happy Clone |
| 3. CSS Transform | 8. Fixed Size Button |
| 4. Background Overlay | 9. Grid Layout |
| 5. 500+ Line Icon | 10. Wrapper Link |
All these are advanced-level features. Not to mention, you can give a stunning look to your site using these features only.
Especially remarkable, the Floating Effect. With this magical feature now you can create exclusive animations for your site within a few clicks only. And it works seamlessly with all Elementor widgets. Moreover, you can add an amazing background, icons, layouts, and many more with these features.
Not only that, but every feature also comes with a hundred customization options. That means, with Happy Elementor Addons you will get endless opportunities to paint your site as per your imagination.
Happy Blocks, Post Tiles, Social Media Feeds– are some latest addition to HappyAddons pro. Give them a quick look!
Free HappyAddons Widgets for Exclusive Website Design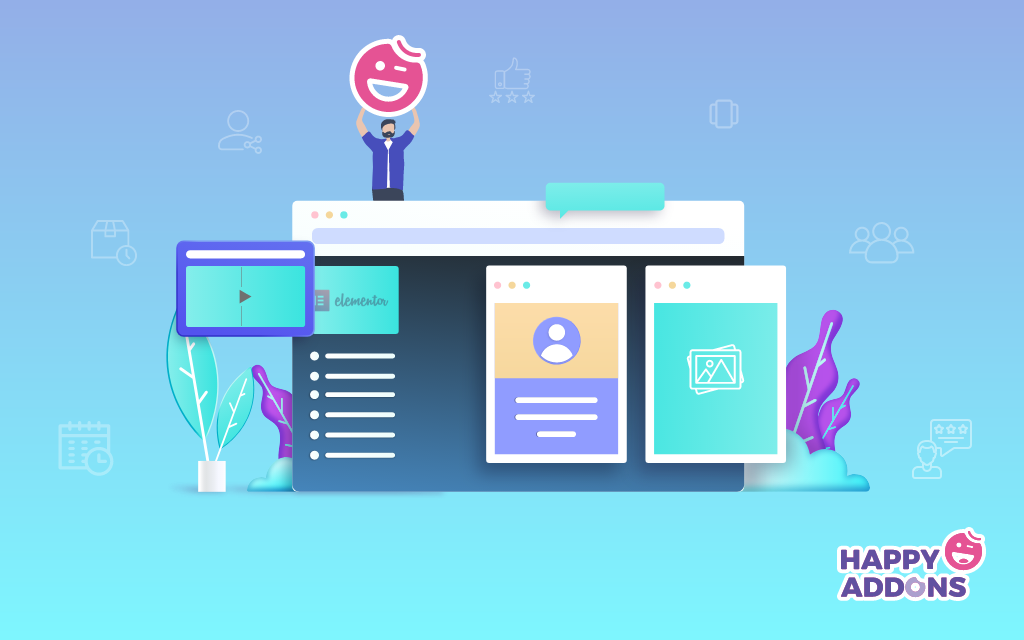 Like features, you will get 40+ FREE Happy Widget to design your Elementor site exclusively.
Some major widgets among them:
| | |
| --- | --- |
| 1. Card | 17. Fun Factor |
| 2. Info Box | 18. Calendly |
| 3. Skill Bars | 19. News Ticker |
| 4. Review | 20. Social Icon |
| 5. Dual Button | 21. Twitter Feed |
| 6. Number Widget | 22. Bar Chart |
| 7. Justified Grid | 23. Gradient Heading |
| 8. Testimonial | 24. Team Member |
| 9. Logo Grid | 25. Post Tab |
| 10. Slider | 26. Social Share |
| 11. Image Carousel | 27. Horizontal Timeline |
| 12. Post List | 28. Fluent Form Widget |
| 13. Image Grid | 29. Taxonomy List |
| 14. Image Compare | 30. 360 Degree Rotation |
| 15. Icon Box | 31. Data Table |
| 16. Step Flow | 32. News Ticker |
It clearly shows, now you can build a highly functional site without any CSS coding proficiency. You can easily build your service page, showing your team members, animated sliders, different types of charts, social feed, clients testimonials, etc. Without writing a single line of code.
And most importantly, we launch new features and widgets depending on the user's demand and current trend every month.
Pro Happy Elementor Addons (Widgets & Features)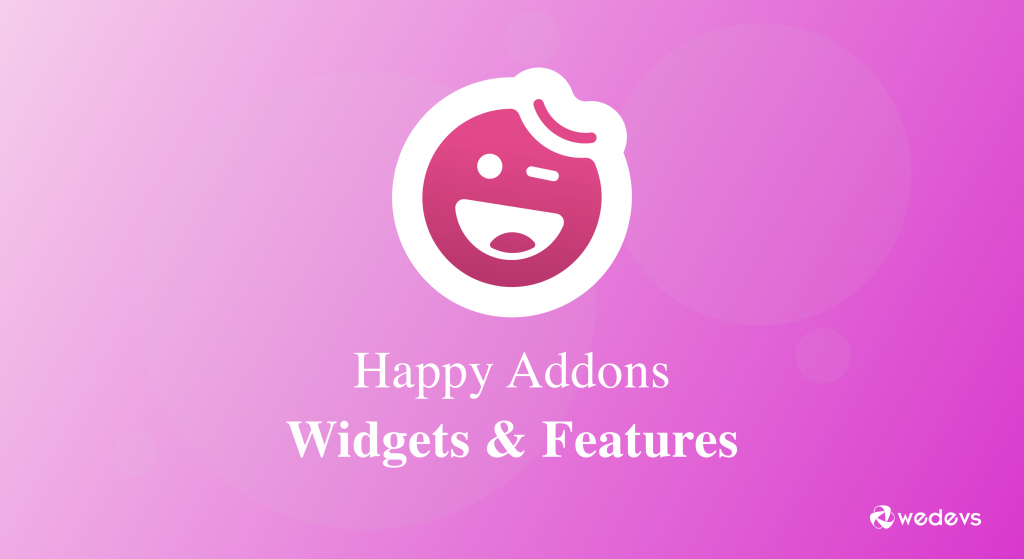 As we said, the free version of HappyAddons is enough to give a slick look to your site. But for unlocking some outstanding features and exclusive design techniques you must go for the PRO version.
Let's see some PRO features of Happy Elementor Addons.
| | |
| --- | --- |
| 1. Preset | 4. Live Copy |
| 2. Cross-Domain Copy Paste | 5. Image Masking |
| 3. Unlimited Section Nesting | 6. Conditional Display |
| | 7. Blocks |
Dreamlike copy-pasting elements from one domain to another domain becomes possible with HappyAddons. Now you don't need to create the same design for every site. It will surely reduce your workload & amplify your workflow significantly.
Furthermore, you can explore some advanced widgets as well with HappyAddons PRO.
| | |
| --- | --- |
| 1. Feature List | 14. Instagram Feed |
| 2. Pricing Table | 15. Advanced Toggle |
| 3. Flip Box | 16. List Group |
| 4. Advanced Heading | 17. Count Down |
| 5. Hover Box | 18. Source Code |
| 6. Team Carousel | 19. Promo Box |
| 7. Scrolling Image | 20. Hot Spot |
| 8. Advanced Tab | 21. Price Menu |
| 9. Advanced Accordion | 22. Business Hour |
| 10. Testimonial Carousel | 23. Line Chart |
| 11. Logo Carousel | 24. Pie & Doughnut Chart |
| 12. Animated Text | 25. Polar Area Chart |
| 13. Timeline | 26. Radar Chart & more |
If you're a blogger then these 8 new widgets from Happy Addons will work best for you:
| | |
| --- | --- |
| 1. Post Grid | 4. Post Carousel |
| 2. Smart Post List | 5. Author List |
| 3. Post Tiles | 6. Post Tab |
| 7. Post List | 8. Taxonomy |
As we said, you will get endless customization options for different colors, styles, effects, and many more with every feature and widget. Also, there are some individual criteria for each widget accordingly.
In short, Happy Elementor Addons makes your hands more powerful with scalable and super fast designing tools. And enables you to portrait all your imagination live at record speed.
How HappyAddons Enriched the Elementor Community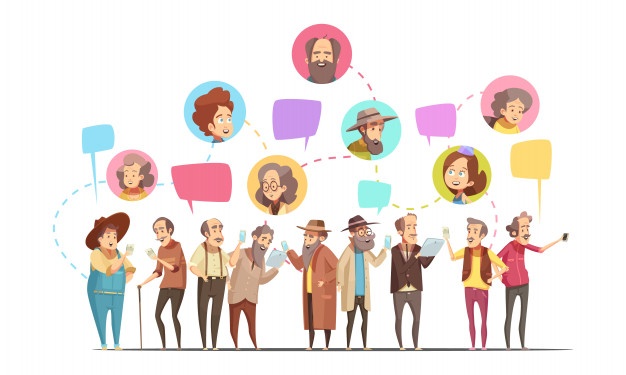 Design is the most crucial part of website development. But Elementor makes it super easy with a simple drag & drop interface. Now you can create a pixel-perfect website inside WordPress without having any prior expertise. Additionally, you can expand the functionality of Elementor with Happy Elementor Addons.
HappyAddons bundles up all the exclusive features to enhance the user's in-hand experience. Grab this easy to use yet highly functional design tool to bring your insights live.
Apart from this, it fosters the design expertise of Elementor community members. So, you can accelerate the workflow while developing a side remarkably with this third-party add-on. As a result, developers can deliver their works faster and attend to more clients than before. It minimizes the time but improves quality.
Thus, Elementor users start using this toolkit for styling their widgets more attractively.
HappyAddons is a unique Elementor Addon. It might be the best addon package for Elementor.

Adam Preiser, Founder of WP Crafter
Furthermore, HappyAddons can easily match up with any Elementor powered WordPress site design requirements. It works seamlessly with all Elementor themes and templates. That increases the acceptance of this add-on among Elementor users.
As we mentioned above, we always prioritize our users at the top. In order to help them, we have a dedicated support team. This team provides 24/7 service for your assistance.
Besides, we have a social community on different platforms to communicate with our users directly.
Happy Addons Facebook Community
Like other WordPress community, we have created a Facebook Community for Elementor users. Here we bring like-minded people under the same roof. So that you can share your experience and all type of queries there regarding Elementor and Happy Addons.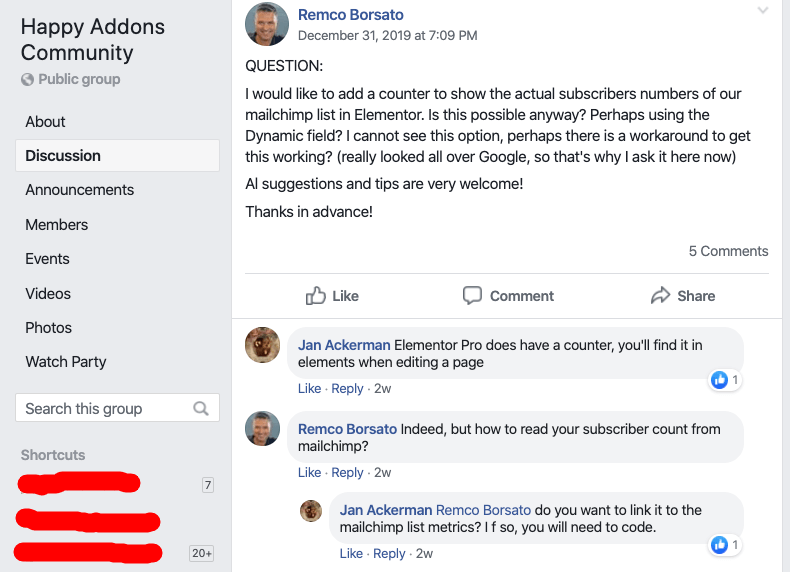 Also, we share our all important updates and news here. Join the community now to get instant solutions and latest news first.
You can also join our Twitter community to stay tuned!
Happy Journey to Success- A Far to Go
We become a family of 200,000+ members and sharing the same bond with all is not an easy task. We appreciate your efforts to make this journey remarkable for us. As we started our journey with the aim of supporting Elementor users with exclusive features and intuitive design styles.
Your immense response and support, however, lead us to broaden our thinking. We started to explore more useful elements only for enhancing your site development experience. With your love, we became a big family of 30,000 members within 6 months only.
For a new Elementor addon, it's a significant achievement as there are a ton of powerful add-ons available on the market.
This achievement boosts our energy and gets us more committed to giving maximum service to our clients. In this continuity, we regularly launch new features and widgets for both the Free & Pro version of HappyAddons.
These attributes are so amazing that we repeatedly cross 2 more milestones of 100k active installations and then become a family of 200,000 members eventually in only 11 months.
We are highly proud and grateful to our users for relying on us!
Happy Elementor Addons: Your Success, Our Achievements ?
Happy Elementor Addons is a powerful resource to create eye-catchy designs in no time. Simply move your carousel and get your site ready to live!
We have launched HappyAddons at the end of 2019. And within the second quarter of 2020, we became a large family of 50,000+ members. And at the end of the last quarter, we extend our family adding more than 100,000+ members.
Currently, more than 200,000 people are using our tool to develop their dream site in a minimum time span at the lowest cost.
During this time we have been confronted with many profound difficulties. The journey was filled with plenty of opportunities, challenges, hardships, planning, executions, failures, and so on. But we never lose our courage. We continue our works and bring new features and the latest updates. Along with the fix and tweak. However, the love and support we got from our users were tremendous!
Are you an Elementor user? Have you installed HappyAddons on your site? You can share your experience below in the comment section.