So you are in trouble to make a decision between Beaver Builder vs Elementor? Well, no one's gonna blame you. When you have two good options, it's a hard deal to choose the best one.
The very reason that makes WordPress the most popular CMS around the world is its flexibility. Hence, WordPress page builder like Beaver Builder or Elementor makes the job way easier. Even if you don't have prior knowledge in web design, they can let you create beautiful websites from scratch.
Both of them have similarities and differences ranging from functionalities, settings, ease of use, and pricing. That's how it becomes difficult to go for one unless you know them well.
But don't worry, we are going to show you how much these two drag-and-drop page builder has to offer you. This step-by-step comparison of Beaver Builder vs Elementor certainly will help you to make a valid choice. Keep reading.
How to Compare Beaver Builder vs Elementor At a Glance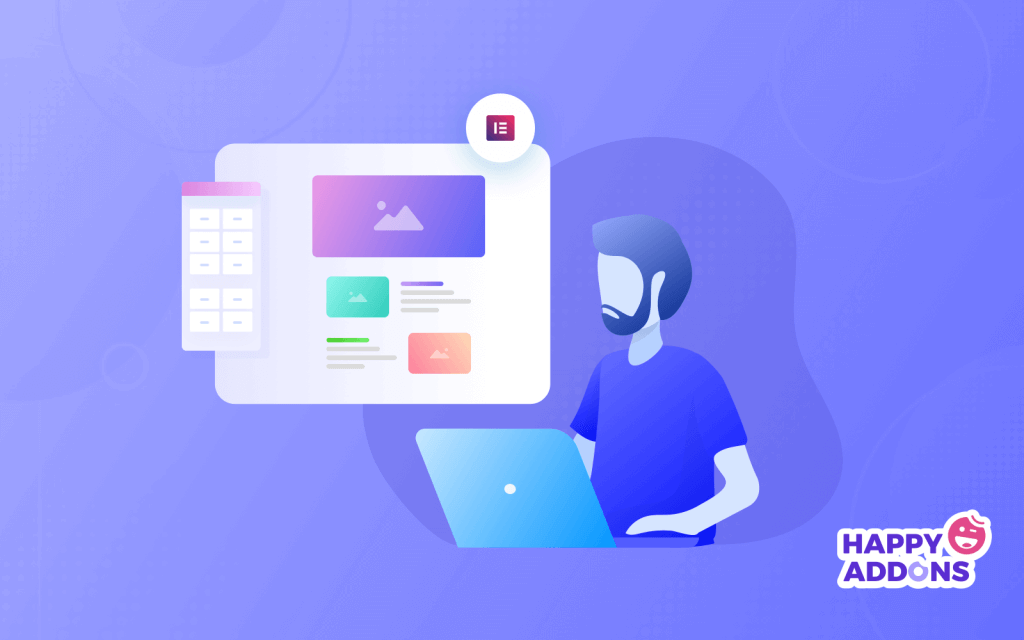 You can make a table, and put all the pros and cons side by side. However, in this blog, we want you to go deeper. Let's focus on every major Elementor components in the first place, then examine Beaver builder by following the same way.
So, we will be focusing on the below objectives –
The basics of the two plugins
Top Features
Ease of Use in Beaver Builder vs Elementor
Third-Party Enhancement
Pricing
Within these points, we will also include some other factors shall you need them to a complete comparison. Let's follow-through.
A Short Introduction to Elementor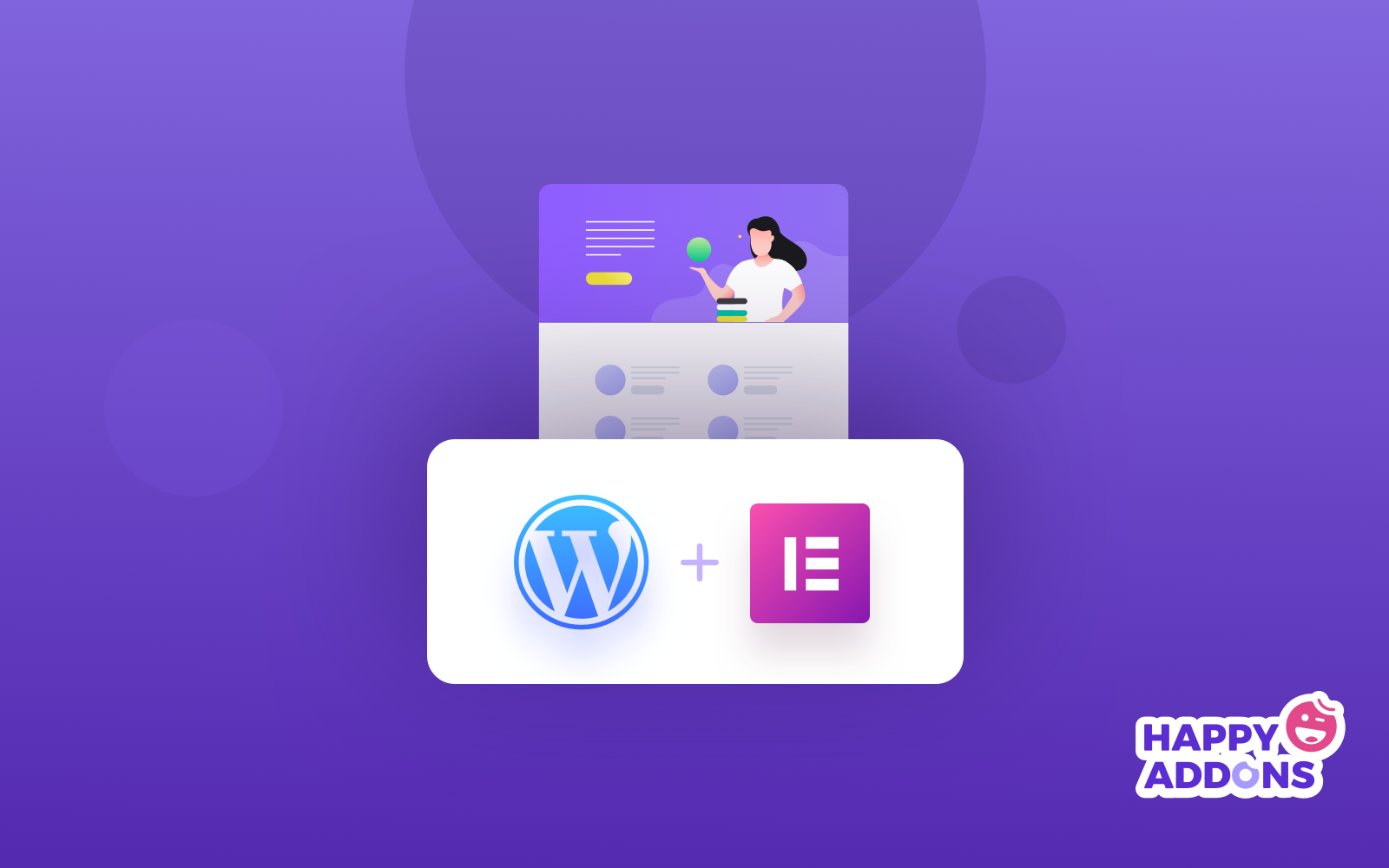 Elementor is a drag and drop WordPress page builder plugin. You can create and customize single or multifunctional web pages with it. Since it's release in 2016, Elementor become one of the most popular page builders amongst WordPress users.
Right now, it is available in 50+ languages, and overall the 6th most popular WordPress plugin. It has over 5 million active installations which are powering 2.24% of the top 1 million websites globally.
Elementor is a freemium plugin. So, you can start using it for free. And then if you need more features or advantages, there is Elementor pro to change your game.
What makes it so demanding even from the beginning? It's the ease of use and a lot of handy options that turn your page building experience enjoyable.
A Short Introduction to Beaver Builder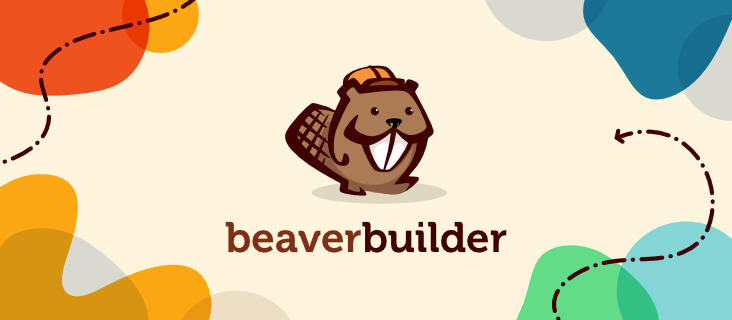 Beaver Builder began its journey back in 2014, it was called FastLine Page Builder then. The inception was pretty much based on the idea of a budget-friendly page builder for WordPress users and developers alike.
At first, it was offering premium services, most of the cases for agencies. But as it gains popularity quickly, the Beaver Builder team started to get a lot of requests to initiate a free version. Therefore, they have launched a freemium model.
According to the company's claim, they are empowering more than 1000000 websites right now.
However, you will find a handful of major differences between beaver builder vs Elementor. To be more precise, you will see changes in navigation and settings, as well as module selection or third party integration.
Let's Check the Eminent Interface of Elementor
Elementor comes with a live editor besides your usual WordPress block editor. So whenever you want to create a new page or editing an existing page, you just choose the option "Edit with Elementor".
Initially the interface has two parts. They are –
Content Editor: Where you can drag and drop the different elements to your page
Style: Here you can set the styling of our elements like size, color, alignments, etc
And then, there is Elementor Pro. It will let you add a wide array of useful elements like buttons, contact form, widgets, and many more.
Hence, you can undo/redo things, delete and add elements as your wish, also you can track your editing history and check revisions.
Every element you add, you can edit it right away. Furthermore, it has an inline text editor that allows you to edit and write your page text with flexibility.
Get a Quick Overview over Beaver Builder User Interface
Beaver Builder also comes with a live editor. It offers the drag and drop option and an intuitive interface. If you even know nothing about editing or creating a page, this interface will help you to go on with editing.

After editing or building a page, you will find the editor bar on the left. Unlike Elementor, you need to add or specify the column or row you want for the page. Then, choose a module like text, HTML, images, or videos. It's the same thing you can call elements in Elementor.
Primarily the interface has three parts.
Modules: You will find the basic editing elements here.
Row: Set a single row or multiple, or drag as many columns you want to add.
Templates: You can use a handful of pre-made BB templates.
Hence, the interface lacks the inline text editor before. But right now, you can edit inline text and save for preview.
Beaver Builder vs Elementor: Top Features and Functionalities
The best thing about these page builders is that they bring you a highly customizable user experience. But literally, they are not the same when you compare their working process and features head to head. However, below you will see a straightforward representation of Beaver Builder vs Elementor regarding this point.
Live Editor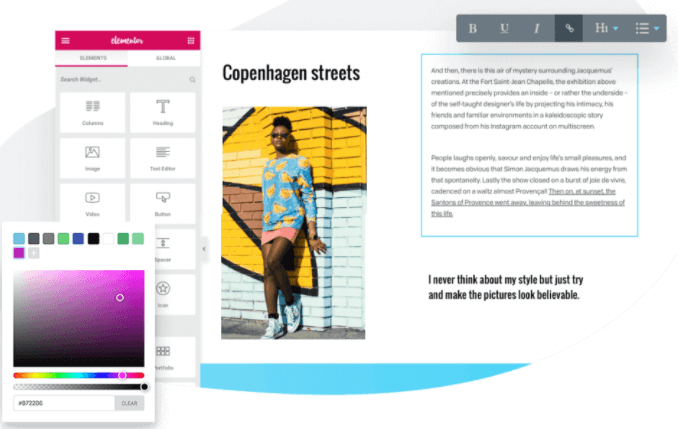 Elementor drag and drop live editor gives you a fun time. All of the elements are handy. And you don't need to make a draft to see the results of adding an element.
Moreover, the overall editing is faster and smoother. The live text editor is very responsive as like all other parts. The workflow is streamlined and has a search console. You just type a particular part and it will take you to those parts immediately.
The last but not the least thing is this – you can save your editing history, and shift the changes throughout your different websites.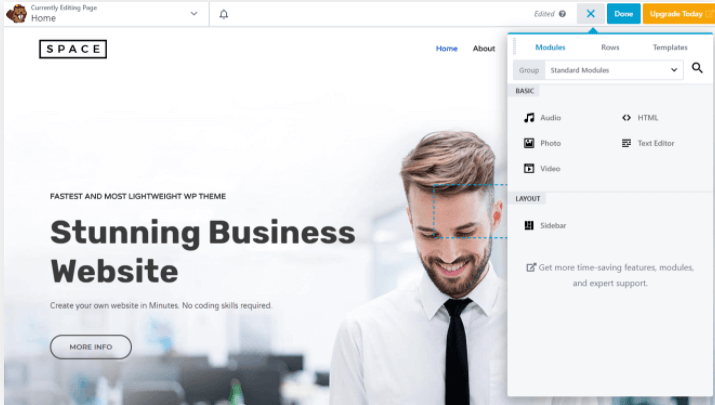 The Beaver Builder live editor is also smooth and fast. It is intuitive, and you can get instant results of the changes you make.
In the case of mobile responsiveness, it has the upper hand over Elementor. The reason is simple, the free version is very limited to the modules. So it makes a lesser impact on your mobile interface.
To get more modules in the editor, you need to purchase premium plans which allow you extensive advantages.
Page Designing Capabilities of Elementor
Maybe Elementor has the most feature reach designing panel than any other WordPress page builder right now. In this regard they are unbeatable. Very often they introduce new and exciting designing tools from their sleeve.
Some of Elementor's most unique design solutions are –
Motion Effects: Creating scrolling and mouse effects is a step away from you.
Custom Positioning: Click on an element and hover it anywhere in your skin to set your desired positioning in no time.
CSS Filters and Blend Modes: You can customize and play with image settings, blend colors or images with this feature.
Shape Divider: Shape divider is a creative design tool that let you reshape your pages backgrounds. It comes with 26 different layer.
Allover, Elementor design panels support you to customize your web pages with a built-in "everything-in-one-place" solution. However, to unleash its full power you will be needing a premium plan.
Therefore, Elementor also has custom fonts, Lightbox overlay popup, and inline elements which let you put two or more elements in side by side in a single column.
Designing with Beaver Builder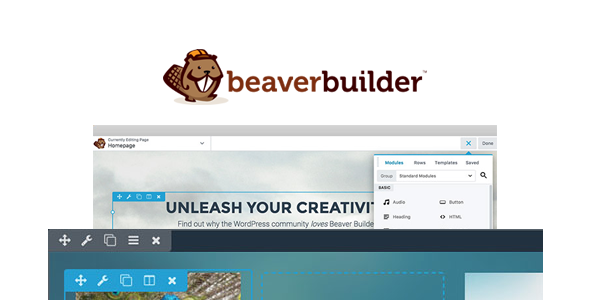 The design panel offers two different layouts – large and small. It is one of the parts of Beaver Builder's responsiveness. With a premium plan, you can establish a cross-device control panel. This will allow you to continue your customization throughout devices.
On a particular note, when you start editing your page with Beaver Builder, it will adopt the global version of your current theme by default. This is different than Elementor, as Elementor tends to apply its own theme while designing a page.
Custom fonts, typography, or editable margin options are similar to Elementor. What lacks the immense variety in regard to designing tools.
Template and Block Library
Elementor has more than 300 designers made beautiful template. As we have said before, when you get to build a page with Elementor, you don't need to think too much about the variety of designs. Always you can choose a new template or keep editing your existing one.
Beaver Builder also has a full template and block collection. You can create a landing page, pricing page, or a custom registration form landing page with a flawless and specialize template collection of this page builder.
Therefore, you can use the Beaver Builder pre-made theme. This theme is a sigh of relief to beginners.
Theme Building Option
Well, if you don't find a suitable template in the library or your current theme doesn't seem fitting to your business, Elementor can let you build your theme with theme builder. Create your header and footer, design different landing pages from scratch, 404 direction and search page, or even a WooCommerce site with Dokan multivendor plugin Integration.
On the other hand, Beaver Builder don't have a complete theme builder. However you can customize your existing theme with a specialized add-on Beaver Themer. It bring back all the features handy to the core plugin. It works almost as a theme builder.
WooCommerce Support
In regard to WooCommerce integration and support, both plugins are similar. You can build a WooCommerce site with them. Furthermore, if you only want to enable WooCommerce on your website, it comes handy in both.
Beaver Builder Vs Elementor: Third-Party Integration
In terms of integrating third-party addons, Elementor is wide open for email automation tools, CRM plugin, assisting powerful widgets or social media integration.
For example, if you integrate a plugin like Happy Elementor Addons, it can turn your Elementor experience into a new level. You will get more enhancement for your site like –
Floating effect
Template Import
Image Masking
Live copy and cross-domain copy-paste
A lot of widgets to create a more intuitive WordPress theme, etc
Beaver Builder Pro also support integrations. However, it is limited to third-party integrations.
Usability of Elementor
We've mentioned above that using Elementor is an enjoyable experience. The user interface is out of any complexity. Anyone with minimal knowledge of WordPress block can easily use Elementor.
Beaver Builder is also a simple looking plugin. After you log in to your site, just go to the option "add a new page" then choose the "Launch Beaver Builder" option. Then you just choose column or row, and drag and drop different modules the basic or pro plan offers.
So, in regard of ease of use, both the plugins are more or less similar.
Beaver Builder Pricing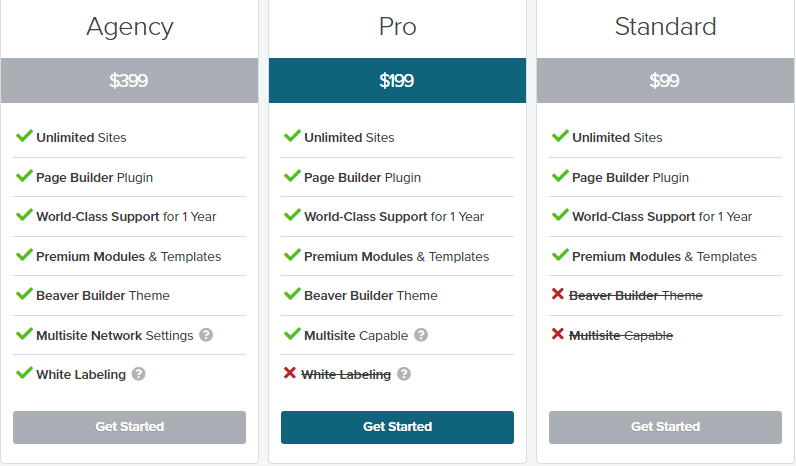 Besides the free Beaver Builder plugin which you can easily install from WordPress Repository, it has three different pro plan – Agency, Pro, and Standard. Yearly pricing starts from $99 which is pretty affordable. Once you purchase a plan, you can use it on an unlimited number of sites.
Furthermore, whenever you renew for a new year, you will get an additional 40% discount on the base price.
Elementor Pricing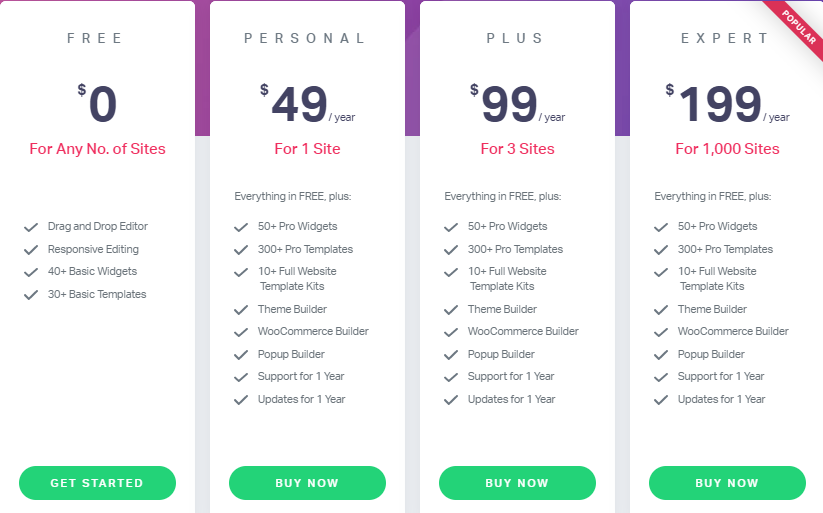 Out of the basic free version, Elementor pro also offers three pricing plans – Personal, Plus, and Expert. The Personal plan comes for only $49 a year, including almost all the premium features and advantages.
Though, it does not support unlimited sites. It's natural for a Page Builder that is boundless and magical with feature richness.
Beaver Builder vs Elementor – A Summary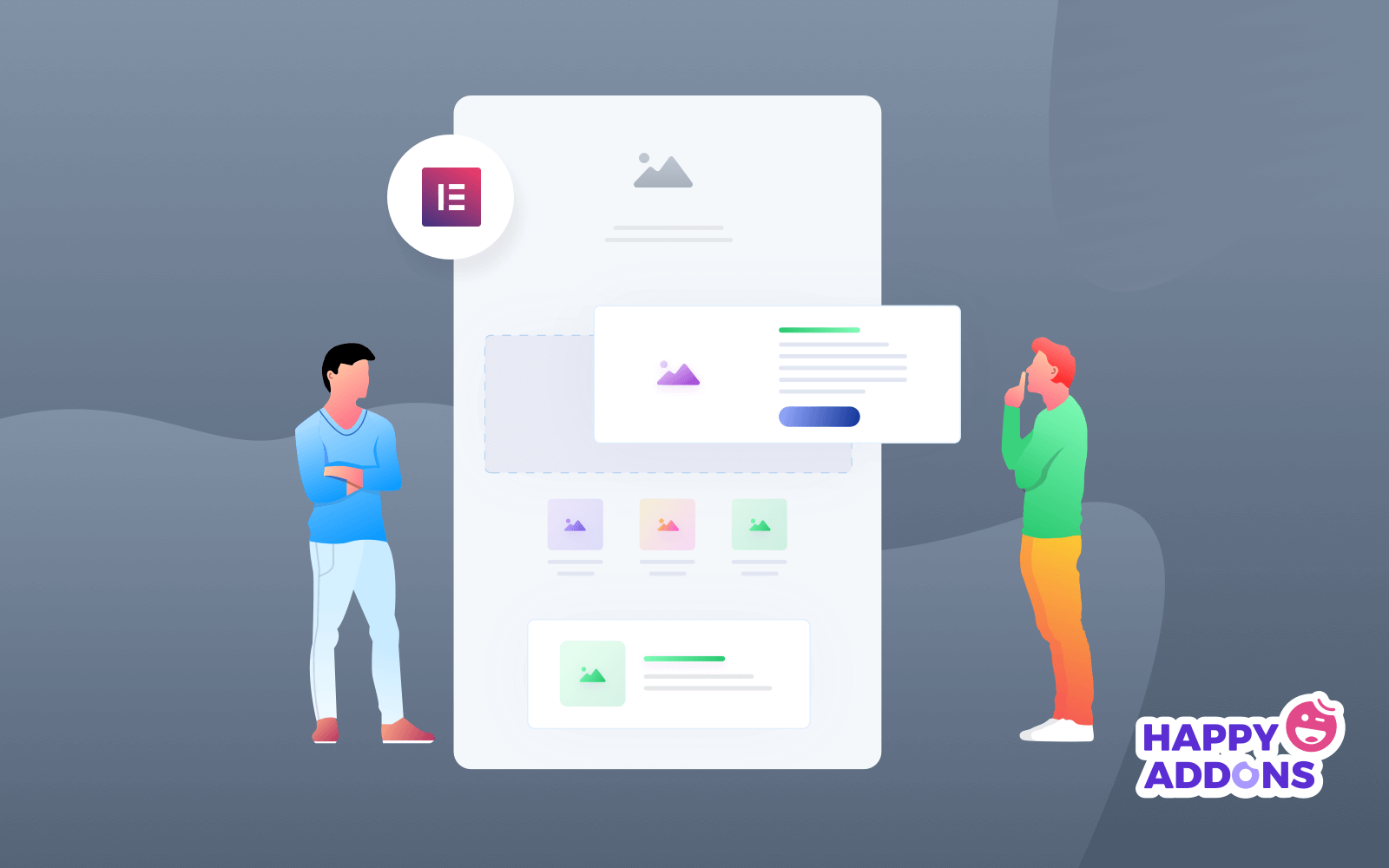 Following the detailed comparison above, we have created the table below for your further assistance. Take a look.
| | | |
| --- | --- | --- |
| | Beaver Builder | Elementor |
| Page Editor | Super Fast and Easy Page Editor | Easy and Live Front End Page Editor |
| Template Collection | Full-fledged template and block library with 56+ templates | Ever expanding template and block collection with 300+ responsive templates |
| Design Capabilities | Super responsive modules to custom designing. Limited in free version. | Large set of responsive widgets. Free plan include a wide range of widgets. Elementor pro is unlimited in this regard. |
| WooCommerce Support | Yes | Yes. |
| Third-Party Integration | Limited third party integration support | A wide range of third-party integration support |
| Relevancy | Good for Agencies | Best for Agencies and Individuals alike |
| Security | Stable and safe security measures | Strong Security support |
| Ease of Use | Easy and simple layouts to control and manage | The working experience in Elementor is simple and exciting |
| Pricing | Value for your money. Price is reasonable. However, if you want to enhance more features, you need to add considerable amount. | For the current pricing plan, totally valued. Features are more in regard of pop-up builder, floating effect or animation. |
| Support | Very responsive and faster customer support. | Reliable customer support. Though Less faster. |
Final Thoughts – Making a Decision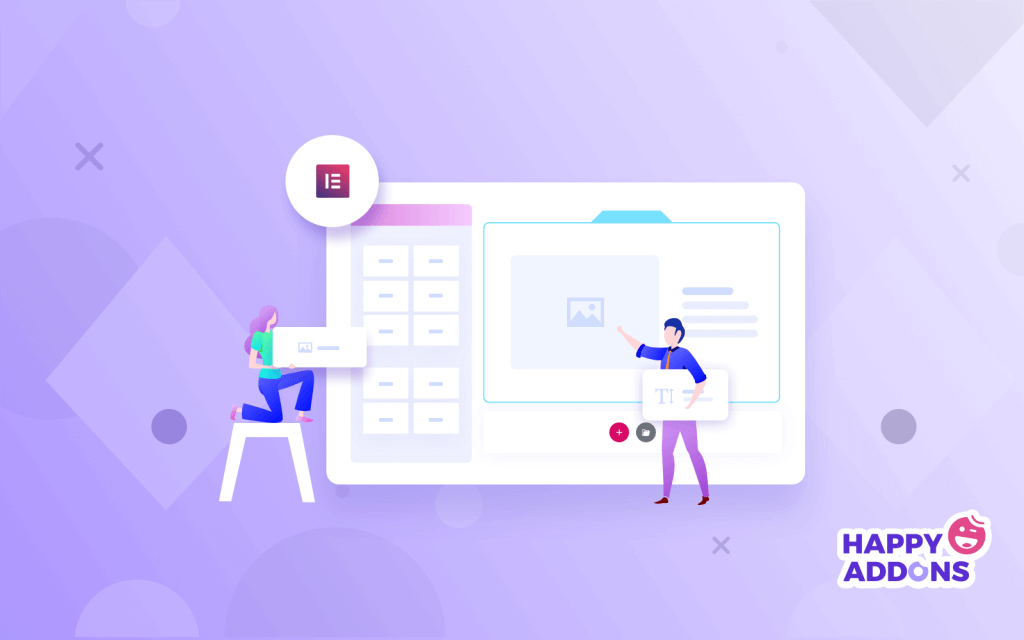 You can see that now after all these detailed comparisons. Beaver Builder is a good option if you want a page builder with simplicity and don't need a wide range of customization features.
On the other hand, when you want to explore more opportunities with lavish design compatibility, ease of use, and playful editing experience, You can certainly go for Elementor.
Therefore, it's up to you. Get yourself a chance to review this Beaver Builder vs Elementor comparison multiple times to make the right decision for your website.
If you have any questions regarding the topic, feel free to ask us in the comments section.