"If you want to design a website then you must-have coding knowledge." this myth has gone with the arrival of WordPress page builders.
This trend gained more momentum with the first release of the Elementor page builder back in 2016.
The Elementor has opened a new era for the people who want to design their own site but can't explore it for the obstacles of coding. This powerful page builder welcomes those people with its tantalizing widgets & features.
So, are you one of them and want to use Elementor to build a uniquely designed website by drag-n-drop? Well, then you are in the right place.
In this article, we will show you how to use Elementor to build a WordPress site step by step. Let's begin!
Elementor Page Builder for WordPress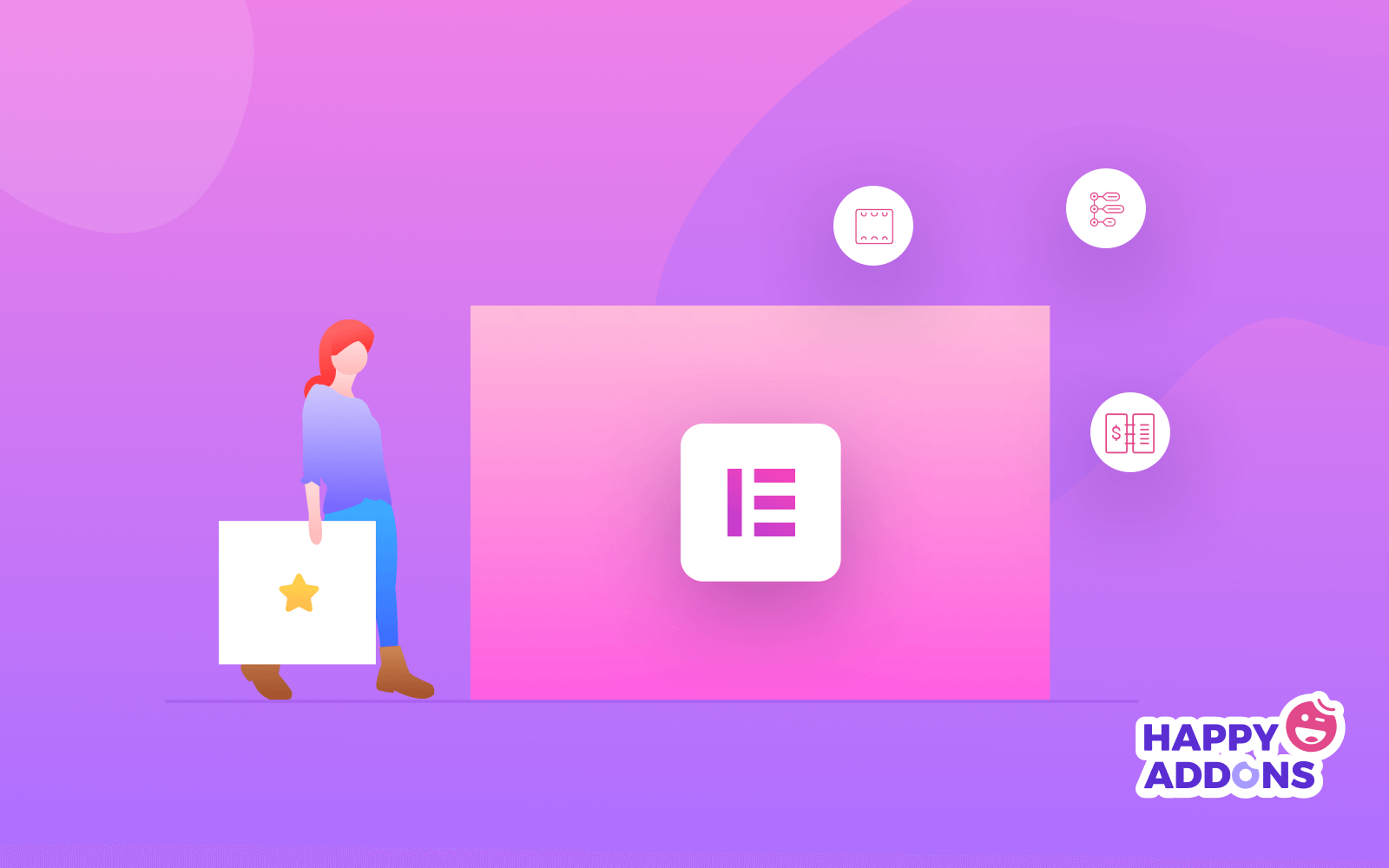 Elementor is a drag-and-drop page builder for WordPress. With the help of Elementor, you can build stunning pages applying a visual editor. Creating a professional site becomes simpler and quicker than before using this frontend page builder.
Now you can control the design of a WordPress website live and customize it with multiple fonts, built-in templates, motion effects, themes, 80+ design elements, and so on.
Why You Should Use Elementor
Elementor serves you as a web design expert and thus you don't have to be a tech person. It's really smooth to use the widgets to build page, content, button, icon, and more by just dragging where you want to place.
So, now the question is "Why You won't Use Elementor?"
To minimize your time, money, and finally the workload, you should use Elementor. It can fulfill all of your demands and if you get stuck anywhere, there is always a support team working for you.
How to Install Elementor
There are 2 ways to install Elementor on your WordPress site. Alike other WordPress plugins, the installation process is easy to execute within a few clicks only.
Route 1: Download from Elementor's Website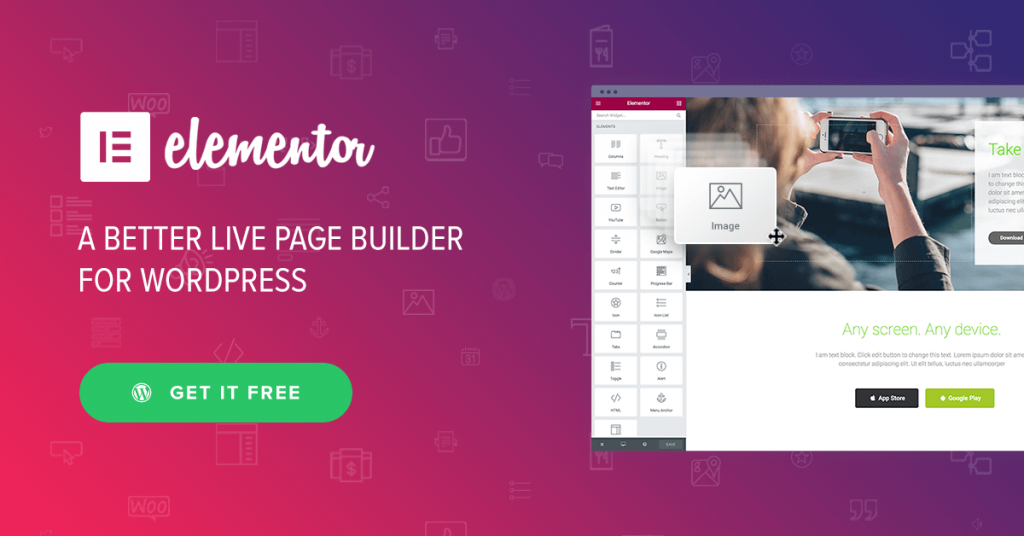 Firstly go to Elementor's Website and pick the free version.
Now find the download button. After entering your email, your browser will download the ZIP file automatically.
Next, go to your WordPress Dashboard, navigate to the plugin section, click "Add New," and upload it.
Is your installation process completed? If yes, then hit "Activate" and you are now ready to build your site!
Route 2: WordPress Dashboard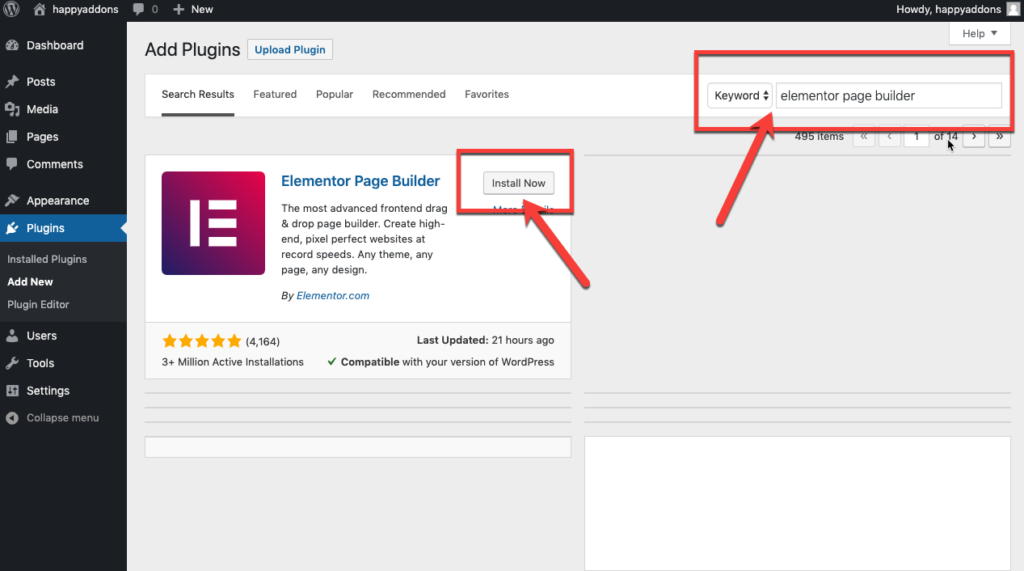 The first step is clicking the "Plugin" button from the left sidebar of your WordPress dashboard and hit the "Add New " button.
Now, search for "Elementor" from the plugin search bar. You will see the Elementor Page Builder at first.
Next, click on "Install" and once it's downloaded click on the "Activate" button.
You can now discover it at the side menu and you can adjust the setting options of this plugin from there. That's it.
How to Use Elementor Page Builder (Free)
Basically, Elementor works with custom post types. Besides, it includes a huge amount of ready-made templates. So, you have to figure out how you like to design your site.
Step 1: Create a New Post or Page

Firstly, go to the WordPress dashboard of your website.
Click "Add New" under Posts or Pages
Step 2. Edit With Elementor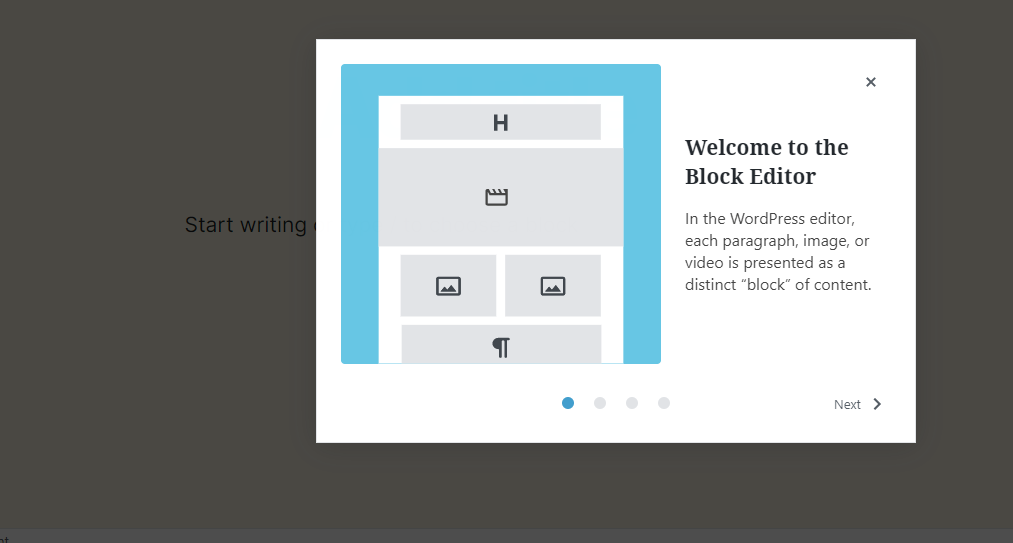 Now you will see this popup and keep clicking on the "Next" button.
Finally, click on "Get started".
To use Elementor Page Builder you need to click the "Edit With Elementor" button.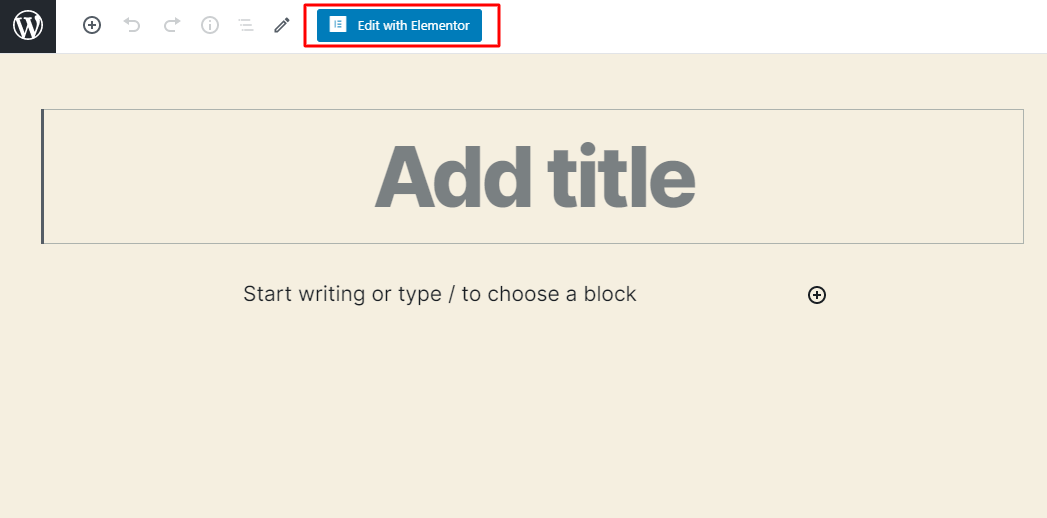 Step 3. Drag Elements & Drop to Main Page
You will see an empty page and a beautiful Elementor sidebar from where you can get your desire widgets
Pick an element and drag it from the sidebar to the empty page.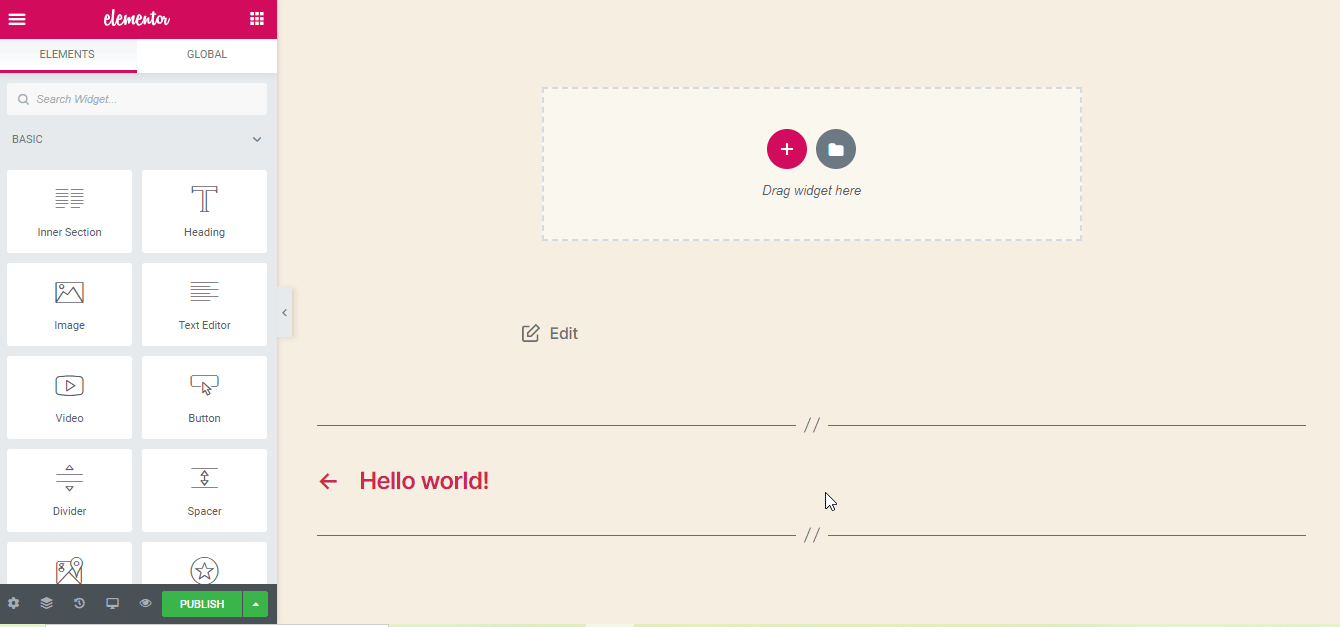 Suppose you want to create a heading for that page. So, all you have to do is click on the Heading widget and drag it to the page (You will see "Drag widget here" in that page)
If you want to customize the structure of that section then click in the "plus" button. Select your desired structure from the "Select Your Structure" option. Let's see what happens when we click five equal columns.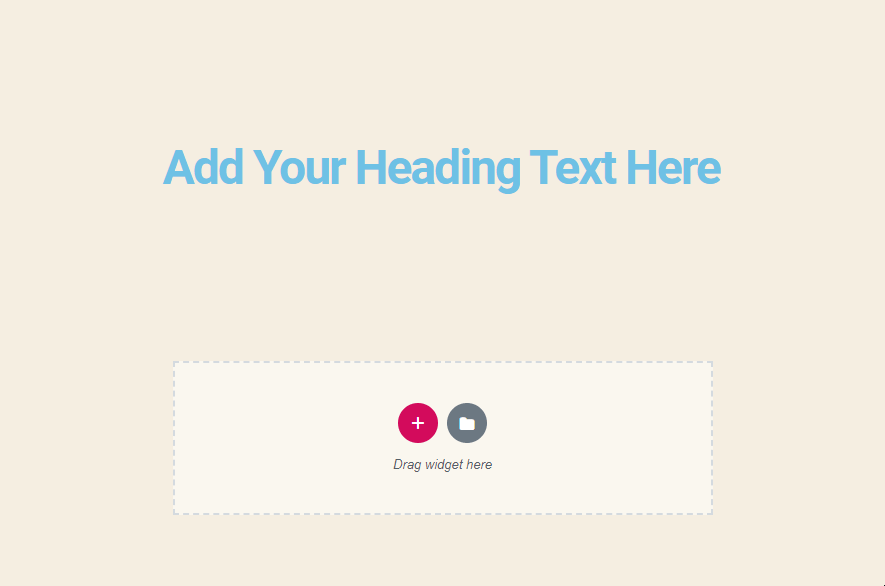 Step 4: Edit the Widget
Whatever you place on the page, you can customize it according to your demand. Click on the six dots to see the full view of the editing section.
Step 5: Publish
Are you now satisfied with the customization? If yes, check out the hard work you have done till now.
For the audience view, have a look in the preview of this page. And, it is really an awesome feature of Elementor which allows you to analyze the edited page. You can see how it will look live without switching the browser tabs.
What is the Difference between Elementor Free & Elementor Pro
If you are searching for a modern yet free page builder then Elementor is one of the best choices for you. It is fully featured rather than many paid builders.
But if you want to add premium outlooks, you must use the premium features and all of them are available in Elementor Pro Version. Those desirable features advance your workflow and provide the full power of attorney to handle the website as you want.
There are lots of add-ons in Elementor. And, amazingly both free and pro-type add-ons are available to enhance your development experience indeed. Such as- Rank Math, HappyAddons, Premium Add-Ons, Wunder WP, Envato Elements, etc. are some useful Elementor add-ons to lessen your workload remarkably.
As a beginner, you don't need the premium version. For now, practice with the free one for your website.
Quick Comparison of Elementor Free and Pro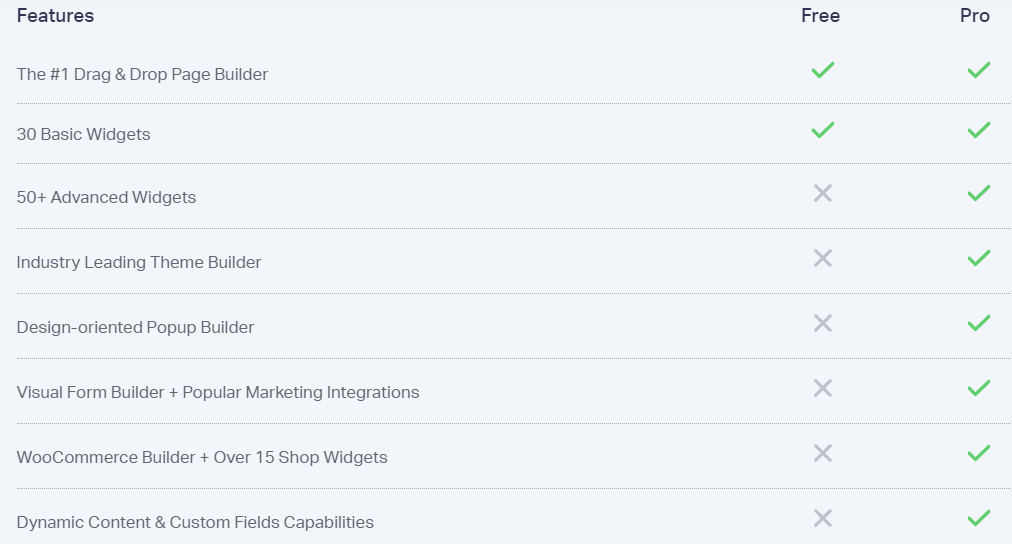 Frequently Asked Questions About Elementor
Question 1: There are lots of free features in Elementor. When should I opt-in for the Pro version?
Answer: It's a common question we have heard from the beginner Elementor users. We have 4-points to show you why you should be a part of Elementor Pro-
You will not have any restrictions with the Elementor Pro Theme Builder. As a website owner, you may know the importance of a premium looked theme.
You can design your forms on the front end, and connect it with any online store or CRM
The Pro version allows using more professionally made templates and blocks. Plus, you can customize them.
Elementor Pro adds fascinating vital widgets and features, which are undoubtedly assets for any professional web designer.
Question 2: Can Elementor slow down my website?
Answer: No, Elementor tries to fasten your site. Elementor uses lots of beautiful design yet it is the fastest page builder till now. If you face any speed problem then try to improve your site performance by insight your website problem.
Question 3: Can Elementor create high-quality themes for my site?
Answer: Yes it can. Elementor Pro can help you to build a premium-quality theme within a few minutes. It's possible to get a rich theme in the Free version also. But for better and stunning performance you must go with The Pro.
Question 4: What type of widgets are free in Elementor?
Answer: 40+ Basic widgets and 30+ Basic templates are free for now. All of the widgets are enough to create a good looking site very quickly.
Question 5: Give me some examples of popular companies that are using Elementor.
Answer: Well, there are thousands of examples in the air. We will introduce with the most popular sites-
Snapbeauty
Creative Core
Netweeb
Khomy Interiors
Hexagon Web
and others. Check the top 10 popular sites built with Elementor.
Question 6: What is Elementor Pro?
Answer: Elementor launched Elementor Pro in December 2016. Basically, it is an extension plugin of Elementor which is built for creating a professional website without hiring any web developer.
Question 7: Can I use Elementor with any theme?
Answer: Yes, you can. Elementor works well with almost any WordPress theme. Take a look at the leading themes for Elementor.
For further queries, you may go through the following blog as well.
Final Thoughts
So, here we have covered all the basics regarding how to use Elementor and why you will go for it without any hesitation furthermore. This fantastic page builder can make a professional web designer with your design method.
Elementor is popular for its easiness at the same time deep functionality is available for every type of user.
Plus, if you are intending to use Elementor Addons then you can try HappyAddons. It is accessible in both the free and pro version. There are different exciting features to build your site effortlessly. Right now 50000+ active installations are running in this Addons.
More amazingly, now you can also find HappyAddons in the Addons page of Elementor.