As a site owner, you may struggle hard to drive traffic to your site and invest in bulks after online advertisements. But the worst part is the visitors are not converting into your potential customers. If you really want to stay relevant and quality consumers on your site for a long time, you need a high-converting and effective landing page.
You can easily make them the loyal advisor for your business through the interactive landing page built with a powerful Landing Page Builder.
Today we will create an optimized and flawless landing page for a digital agency with Elementor Page Builder and Happy Addons that will take a maximum of 5 minutes.
Before jumping into the designing part, let's take a quick glimpse at the importance of landing pages for creating productive leads.
How a Landing Page Helps to Generate Leads
A landing page usually appears in response to clicking on a search engine-optimized search result, online campaign, email marketing, or marketing promotion. It can be your website's main homepage, any other page of your site, or a specially designed web page.
However, to convince your target audience and increase sales, you should design a specified landing page indeed. Nevertheless, a good landing page will target a particular audience, offering them something of value and converting them into leads.
A landing page is a website page specially designed to convert visitors into permanent customers.
In addition, a landing page or lead capture page allows you to capture a prospect's information through a lead capture form. You can use this information to build a future marketing strategy that leads to a higher percentage of your visitors into sales funnels and convert them into customers.
Key Components of an Alluring Digital Agency Landing Page
You may have a strong marketing strategy, and your campaigns might be well-optimized, but without a good landing page, all your efforts and money go down the drain. An optimized landing page is the cornerstone of successful online marketing.
Therefore, your landing page layout must be well-organized and attractive. The core elements and best practices of an effective digital agency landing page are as follows:
a. A Catchy Headline
A magnetic headline will relate your visitors easily to your site. It should be descriptive and useful for users. Also, an informative heading can solve an immediate problem or challenge, focusing on your audience's interests.
b. Easy Understandable Copy
Studies say readers only get to read 20% of web page content. So, decorate your landing page with selective and useful content. Don't include too much information that can distract readers from the main purpose. You should stick to your specific objectives to influence the visitors to what you want to do them.
c. Optimize with Keywords
Like any other inbound marketing content, the landing page also should be optimized with profitable keywords. You can use the keywords in the page title, URL, headers, and text on a landing page to optimize it for search engines.
d. Popular Social Sharing Buttons/Links
You can add social sharing buttons on the landing page so that web visitors can easily share the content on platforms like Facebook, Twitter, LinkedIn, and others. It's a great way to increase your contacts, fan, and followers and spread your brand widely. Also, it will extend your brand engagements with a vast audience.
e. Limited Navigation Option
As we have mentioned above, landing pages are designed to serve a specific purpose. So, you have to describe your message concisely on one page that can keep a visitor focused on the topic thoroughly.
An optimized landing page without navigation bars will prevent distractions, reduce friction, minimize bounce rate, and increase the chances of conversion.
f. Interactive Conversion Form
You can integrate a lead-capture or conversion form where the visitors can insert their information in exchange for any offer or specific purpose. In addition, you should keep the form style simple, compelling, and effective.
g. Employ CTAs That Get Users to Take Action
Place your CTA button that can easily drive the attention of your visitors, and they can find it without scrolling the page. Moreover, you should be choosy in picking the perfect color, shape, size, place, and text for the CTA button or link. Therefore, it will influence your visitors to take much-needed action.
h. Use Attractive Designs and Images
A landing page that includes a relevant image or other media files can give a better visual overview to the readers. Also, it provides clear and details ideas to them. Your design and images can bring out the necessary emotions to influence the readers to take the next step.
Moreover, you should design a landing page that matches your main site's theme and color.
In short, keep your landing page design and content readable and comprehensive. Don't impose unnecessary elements that contradict your brand image. Also, all the components on the landing page should sync with each other to make the messages stand out.
Design Your Landing Page with The Best Landing Page Builder
Elementor has established itself as the best drag-and-drop tool for building beautiful and professional websites. You can use this frontend editor as the best Landing Page Builder. Whether you are a technical gig or not, you can create any complex design visually by watching the changes live.
Moreover, it comes with a template library including thousands of free & Pro templates for WordPress, like landing pages, homepages, pre-designed headers, footers & other ready-to-use templates available for download. Also, you will get unlimited flexibility and customized options to personalize your design. You can create a stunning sticky header or footer using Elementor.
Therefore, you can easily import any preferred template for your digital agency to effectively create a landing page within a few minutes. However, you can create a landing page from scratch by dragging the individual sections step by step.
Furthermore, you will get many powerful extensions for Elementor, like Happy Addons, to give your landing page a new height and dimension.
How to Develop Digital Agency Landing Page with Elementor & HappyAddons
A Digital Agency is an advertising agency that allows your business to engage with a specific target audience. It is directly connected with the ROI of the company. They work with creative design and technical development to drive high business growth and profit.
In order to convert a higher percentage of your traffic into leads and capture their information, you need to design a fully functional and optimized landing page with an advanced Landing Page Builder.
You can develop your digital agency landing page targeting a potential target audience and offering them something of value.
Now, you can build a code-free beautiful landing page for your digital agency in WordPress using Elementor by following this step-by-step guide. Here we will show you how to import a readymade template to design your landing page in 5 minutes only.
However, you can build the page by adding individual elements or segments and customize it to fit your business.
Initial Requirements to Setup Landing Page For Digital Agency
Note: Some special features are only available in Elementor Pro. You will get a lot of functionalities with the free version to develop your site accordingly, but Elementor Pro will give you everything.
Let's assume you have a WordPress site with Elementor installation. There are only 4 easy steps to follow:
Step 01: Setting Up The Landing Page
First, log into your WordPress Dashboard and go to Pages > Add New. Then add a title for your Landing Page.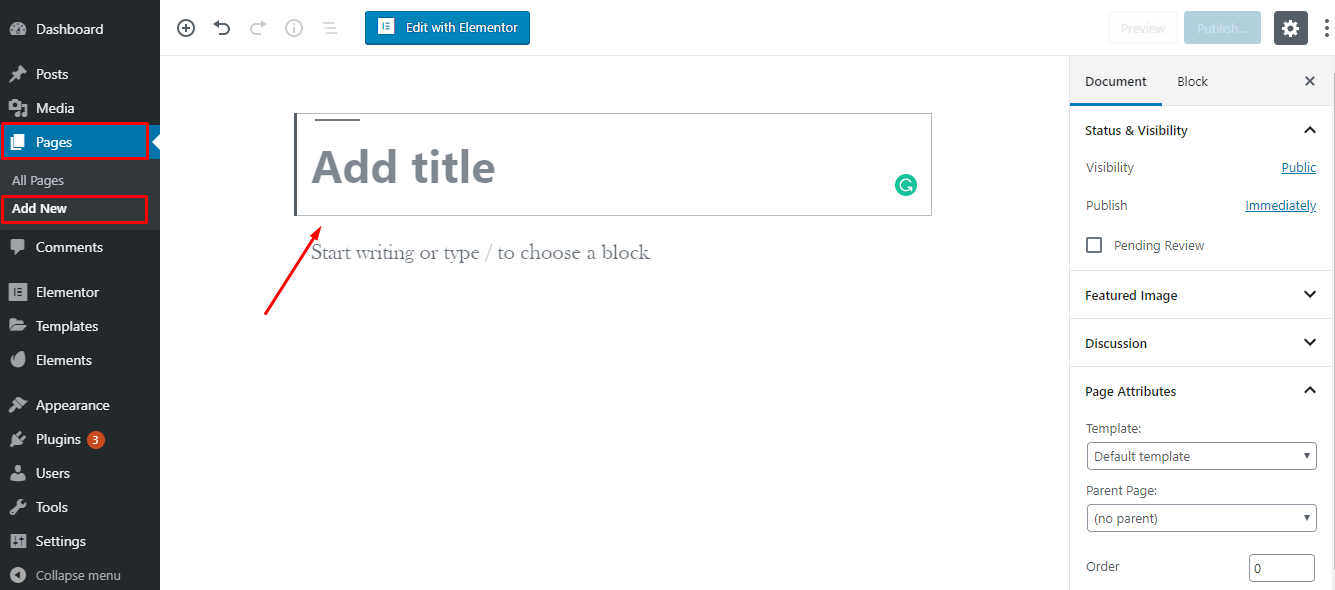 Now set the template as "Elementor Canvas" from the drop-down menu of the bottom left corner.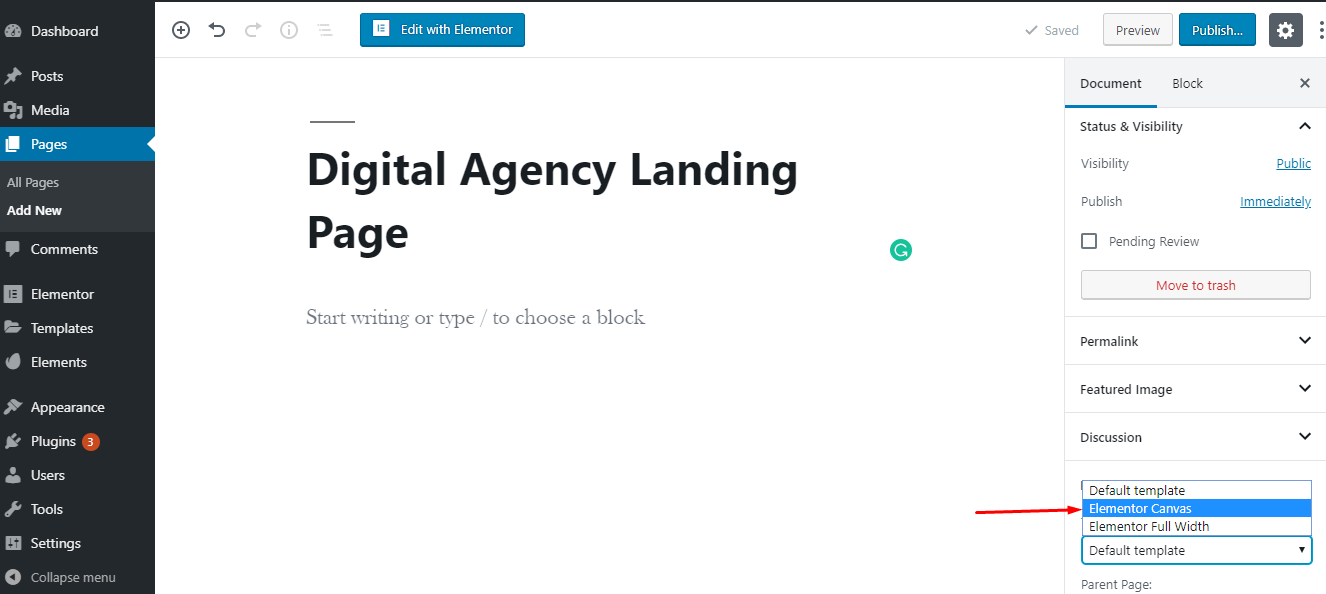 Finally, click on the button "Edit with Elementor" and start designing your page with Elementor.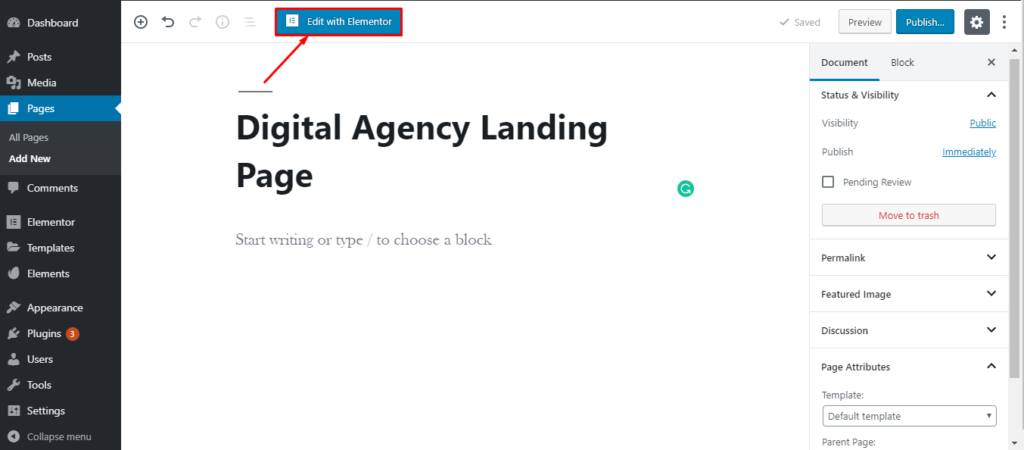 Step 02: Adding a Ready-to-use Landing Page Template
If you are new to Elementor, check out this Elementor Easy Beginner Guide to get introduced to the unique functionalities of this frontend landing page builder.
Now, click on the Add Template icon.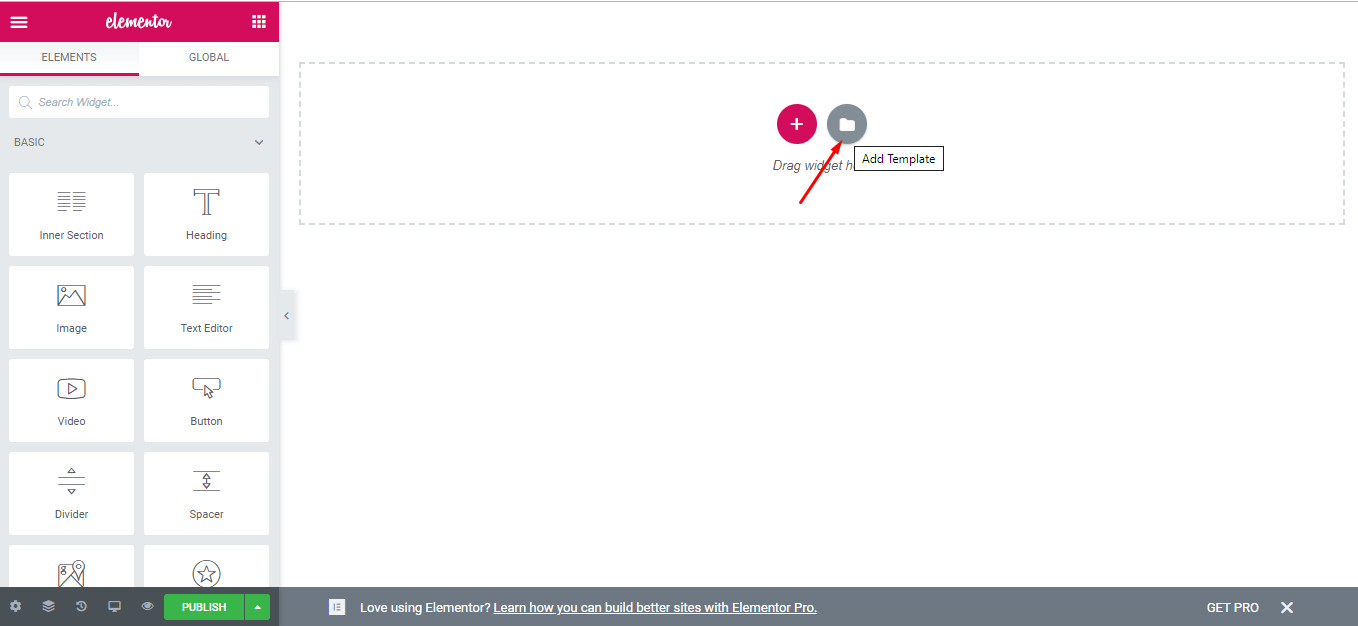 A pop-up window will appear with different options for pre-designed blocks and pages.
Here, go to the Pages section. You can search for a specific type of industry on the search bar or scroll down to pick the ready template fit for your business. In this advanced Elementor Template Library, you will get plenty of varieties for digital agencies.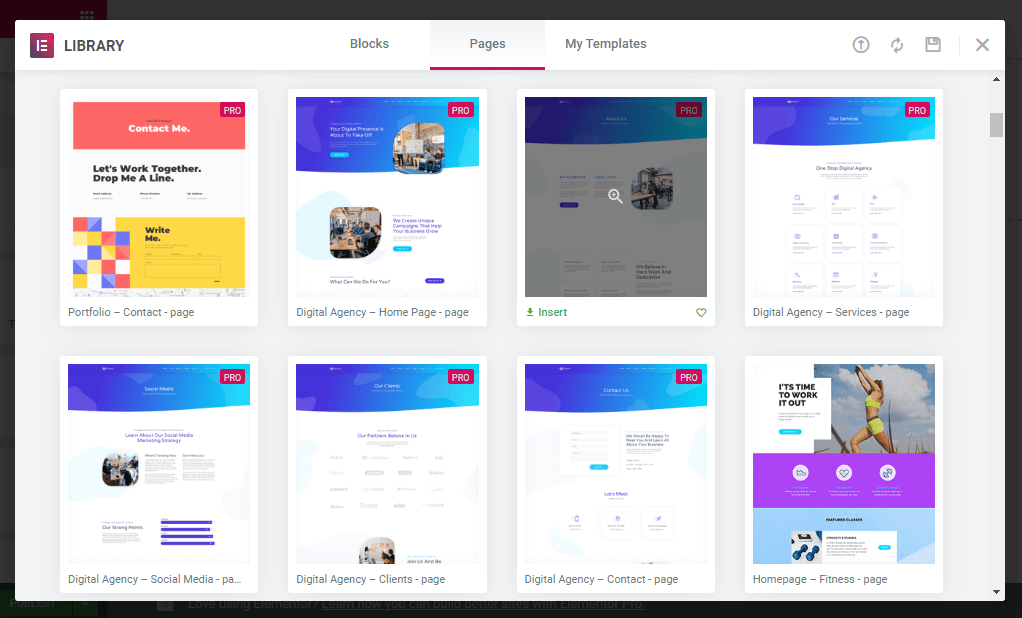 After selecting a template, click on that particular design. Here, you will get a quick preview. Now, if you find it appropriate for your agency, click on the insert button to add it to your design.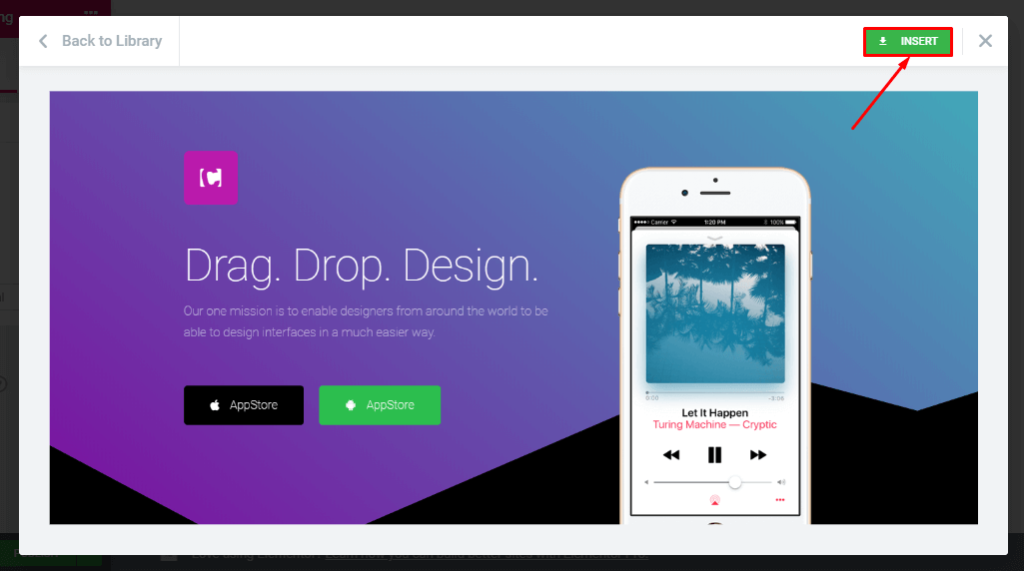 Step 03: Add Elements To Your Landing Page
Most amazingly, you can edit and personalize each section of your readymade template imported from the library.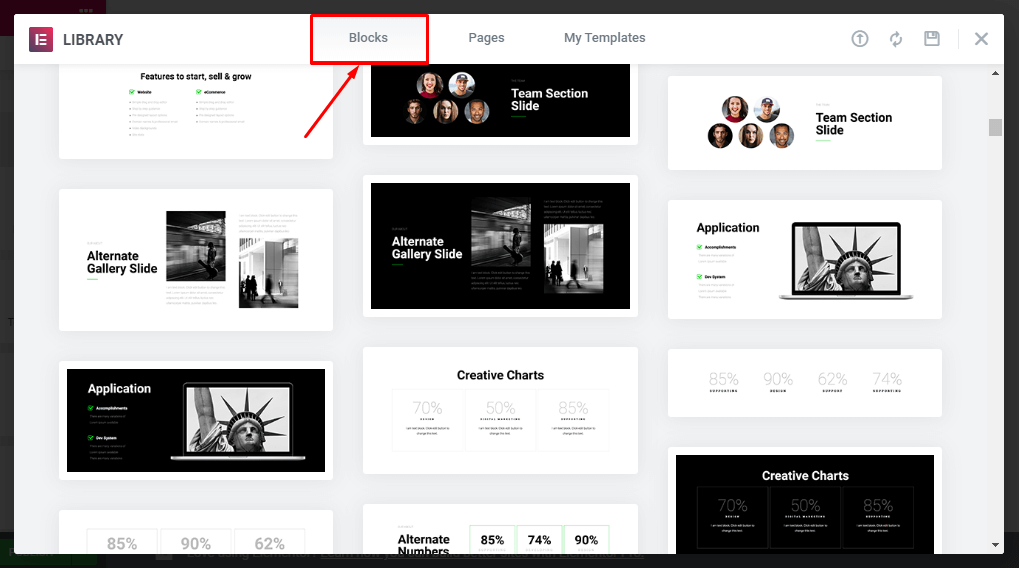 Also, you can design your landing page manually, adding elements like a Header, Footer, Testimonial, Newsletter, Form, and other elements we have mentioned above.
Hence, you can also design it from scratch or add it from the Elementor Block section.
Step 04: Customize Your Digital Agency Landing Page
In addition, Elementor allows you to paint every inch of your site as per your preference. You have the flexibility to change the color, typography, text style, alignment, size, and unlimited customization options. Indeed you can select an individual section of your design and change the style.
After selecting a segment of your design, you will get three tabs on your Elementor Panel, including Content, Style, and Advanced. Now, you can modify your Landing Page design by clicking on the individual tab.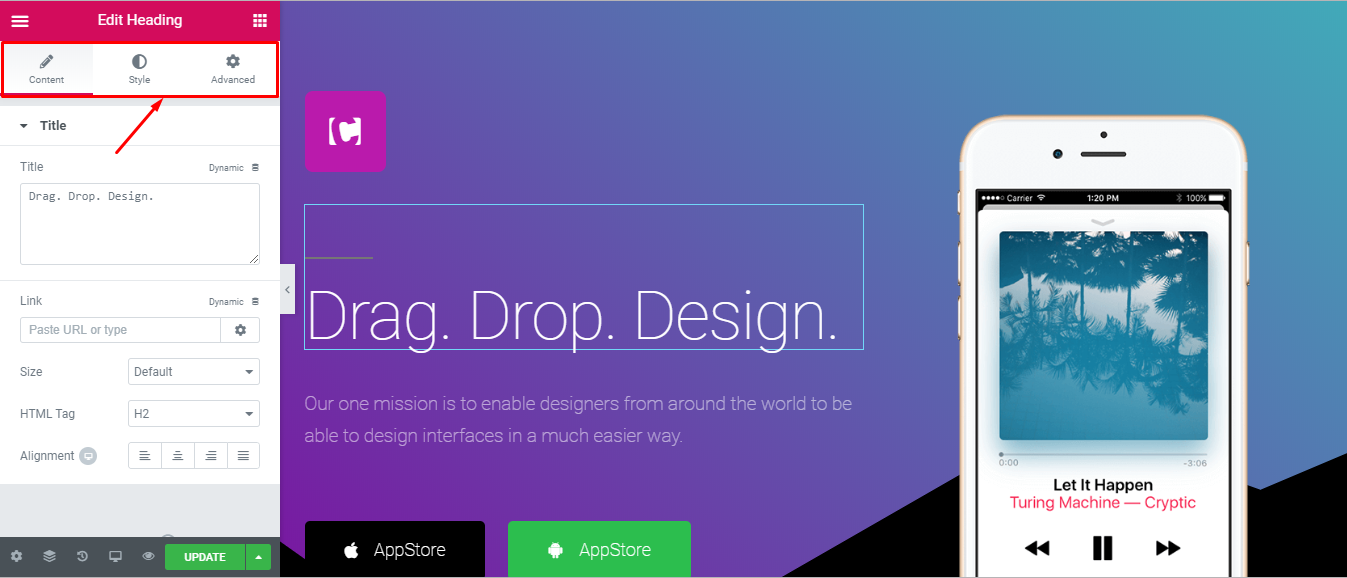 However, you can edit your site with powerful Elementor Widgets-Addons.
Moreover, if you are a technical person, you can add your personal CSS code snippets from the Elementor Panel immediately.
Also, you can publish your Landing Page in multiple languages with Elementor and WPML targeting specific local zone to span large.
Step 05: Insert Floating Effects with Happy Addons

Now, you can give your design a new height with HappyAddons. It allows you to add motion effects, advanced animation, slider, image gallery, icon box, skill bar, and a large collection of feature-rich widgets for beautifully design websites.
At first, add the Happy Addons extension on your Elementor site like any other plugins of WordPress.
Now, click on the Advanced Tab and scroll down to enable your Floating Effect and CSS Transform.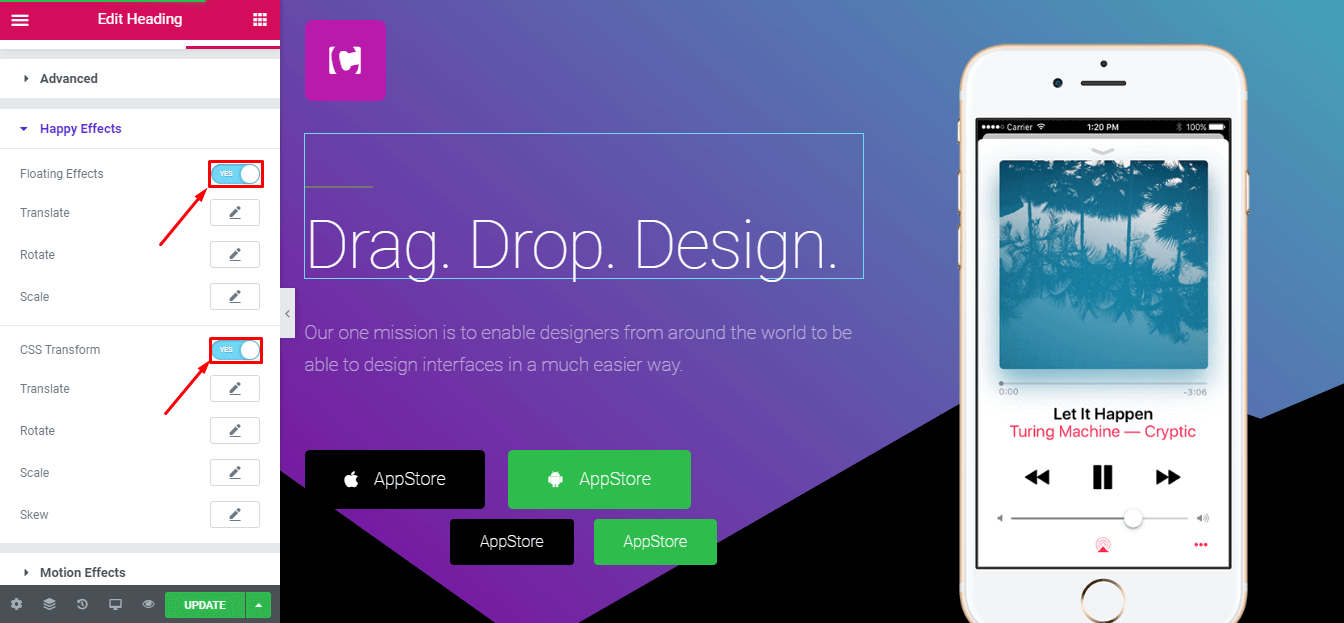 Check out the details guide on How To Float Elements In Elementor Without CSS Coding.
Step 06: Preview Result & Publish The Landing Page
Before you publish the final design, a good rule of thumb is to preview the result and make sure everything looks in order.
So, click on the eye icon at the bottom left panel to see the preview of your landing page.

Then, hit the publish button to live your web page. After that, the green PUBLISH button will be changed to a grey Update. 
In this way, you can build an attractive landing page in a few minutes with the best landing page builder.
Why Landing Page is an Essential Part of Digital Agency Marketing
A persuasive landing page is an indivisible part of inbound marketing. You have put a lot of effort into expanding your digital agency and also invested a handsome amount in promoting the brand. But all your attempts will be wastage if you cant generate enough sales for your business.
HubSpot in its analysis of 7,000 businesses found that companies see a 55% increase in leads when they increase their number of landing pages from 10 to 15.

HubSpot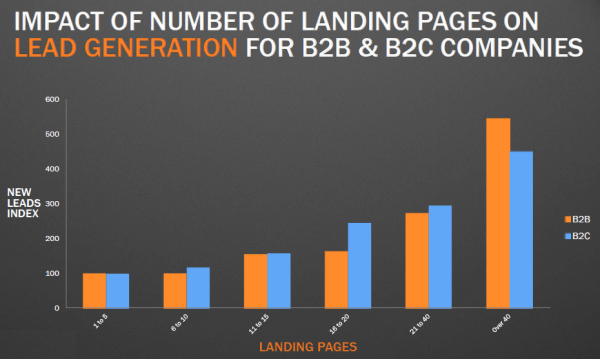 It clearly shows that the number of specified landing page directly impact lead generation. Let's see how a landing page built with a landing page builder can be a great road map to generate productive leads.
Convert Your Audience into Leads
Generally, a specified landing page is designed to explain a particular offer or serve a distinct purpose. It usually influences a visitor to take a specific action, including sharing information, downloading something, purchasing, sign-up or anything you want to do specifically by your audience.
As it is more specific and target-oriented, it can meet the visitor's expectations accordingly. Moreover, it is optimized to push the audience taking a quick decision. Hence, landing pages creates more conversion opportunities for your agency, targeting a focused group of potential people.
Crucial for PPC and SEO Campaign
Online advertisements involve cost. The landing page can be the best option to take the best output from your investment. You can arrange the distinct web page properly where your target visitor will land by clicking on the ads. Also, an optimized digital agency landing page can help you get more conversions by explaining the offers or promises you have made on ads before. It will help to target highly specific keyword phrases.
Furthermore, you can capture all the data and re-use them later for future advertisements. It will cut your advertising costs.
Collect Prospect Demographics
By adding a lead capture form and track the data on landing pages you can understand your users more closely. It will lead to analyzing your visitor's behaviors and other activities toward your call-to-action or tempting offers.
In addition, it will help you to realize what marketing approaches perform the best with your target audience. Hence you can plan for your future marketing strategy in a better way.
Convince Visitors to Make a Decision
As we have mentioned above, landing pages are optimized to perform a specific task. It inspires distinct customer action. On the site's home page, visitors usually get confused among a wide variety of actions. That is also a great way to engage your audience sometimes.
However, a specified landing page removes all the distractions and focuses on only one particular item you want them to do.
Increase Brand Awareness
An effective landing page conveys a clear message and convinces web visitors to perform the call to action. Also, a lead magnet landing page increases your opportunities for turning prospects into leads.
Companies with 40+ landing pages get 12 times more leads than those with 5 or less.

HubSpot
You can optimize the elements of a landing page to describe your brand in more detail. It will increase conversion and brand recognition simultaneously.
Bonus Tip: Expand Business with Dokan MultiVendor Marketplace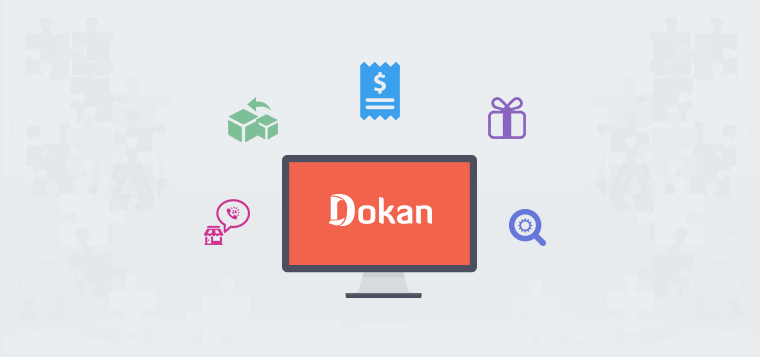 Well! to get big, you have to think big. A new concept of Multi vendor Marketplace has been buzzing for the last few years. You can also introduce a huge expansion in your business by creating an online marketplace for your digital agency.
Many different digital agencies can be enrolled in a Marketplace, and users will get a huge scope to choose. It will maximize the opportunity to spread any business worldwide and target a big audience.
Most surprisingly, you need not hire a developer today to configure your Marketplace and earn a commission. With Elementor & Dokan anyone can set up their online marketplace in less than 30 minutes only.
Final Verdict on Choosing a Perfect Landing Page Builder
An optimized landing page is the most important tweak of a successful digital campaign. Since landing pages are designed to target a specified audience to drive conversion.
Now, you can design an independent and highly effective landing page focusing on a single object with the best landing page builder. A great combination of Elementor and HappyAddons can help you to develop a stunning landing page that increases your engagement and generates more leads.