Are you on the thought of building your own website? You might be wondering if you have to hire a web developer for this purpose, right? Not actually!
Though it was quite common for people used to build their websites from scratch using raw codes, they can now create their websites with just a few simple clicks.
How? Very simple, with a free website builder tool!
Well, it's much simpler than you might think. But as the market is oversaturated with too many free website building software. You may end up with confusion.
With that in mind, we have come up with this brand new article that will guide you to take an informed decision so that you can have fun and experience a pain-free process while building a website.
Here Are the 7 Best Free Website Building Software
Wix – A Well-balanced Website Builder. 
Webnode – Setup Your Site Faster. 
Weebly – Ideal for Small Businesses. 
WordPress – The Versatile One. 
Webstarts – Great as a Free Tool.
Ucraft – Connect Your Domain for Free
Jimdo – Great for Small Online Store Builder. 
1. Wix – A Well Balanced Website Builder
Wix is the biggest player when it comes to website builders as they have a large pool of customer base. It not only ships with myriad unique features but also comes with a set of useful templates. If you are planning to build a paid website, then nothing can beat Wix.
But what about the free plan?
Luckily, it will not disappoint you! And it has only a few restrictions with the free plan. For instance, you will see a small yet pretty visible ad sticker at the top of your website, which doesn't go even if you scroll down pretty far. However, this ad will not be sticky on mobile devices regardless of your scrolling. The free URL is a bit too long, and it's really hard to remember easily.
You can also avail of their Combo plan to use your own custom domain name at just $13 per month.
You can also get the cheap yet lucrative Connect Domain plan at just $5 per month. But this plan is not supported in every region anymore.
Pros:
Spectacular selection of themes and the flexibility of an editor.
An extensive app market, and 500MB free webspace.
No page limit.
Full SEO customization.
A relatively cheap entry-level at $5 per month, which allows you to use your own domain name (ad-supported). Unfortunately, it's not available in all geographies anymore.
Cons:
Tthe Wix ad is very visible and sticky
The free URL is too long and not easy to remember, unfortunately.
The URL you will get for free: accountname.wix.com/customname
2. Webnode – Setup Your Site Faster
Webnode is famous for its stylishness, responsiveness, and intuitiveness. However, this website builder's editor was getting outdated and so the development team did a great job to make it modern and give an outstanding look.
Webnode also comes with a premium plan variant that costs $3.95 per month. This plan will only allow you to use a domain name and to contact their premium support.
Unfortunately, with the free version, you won't be able to use eCommerce option though it has non-intrusive ads. The free version comes up with a mere 100 MB of free space.
Pros:
Non-intrusive ads.
Stylish and responsive templates.
No page limit.
SEO settings can be changed for all pages.
Cons:
Ungenerous 100 MB free space.
Need to work on the improvement of features (eCommerce).
No app store for additional site features.
The URL you will get for free: customname.webnode.com
3. Weebly – A Great Website Builder with One Downside
Weebly is undoubtedly a popular website builder with decent features and usability. As we are looking at the free website builders we have to judge Weebly with different criteria.
Because with the free version, it does not simply stand out due to the oddly placed ad in the website's footer which even tranforms it with a mouseover effect.
In general though, it's a very decent product, which offers great usability. There's even an App Center with additional features. Paid plans start at $6 per month.
Weebly will even give you an App Center with additional features. The Premium plan starts with $6 per month.
Pros:
Responsive themes.
Appcenter with third-party add-ons.
500 MB of free web space.
No limit on pages.
SEO settings can be edited for all pages.
Cons:
Odd and visible footer ad.
Annoying cookie notice that even interferes with Google analytics visitor tracking.
The URL you will get for free: customname.weebly.com
4. Jimdo – Great for Small Online Store Builder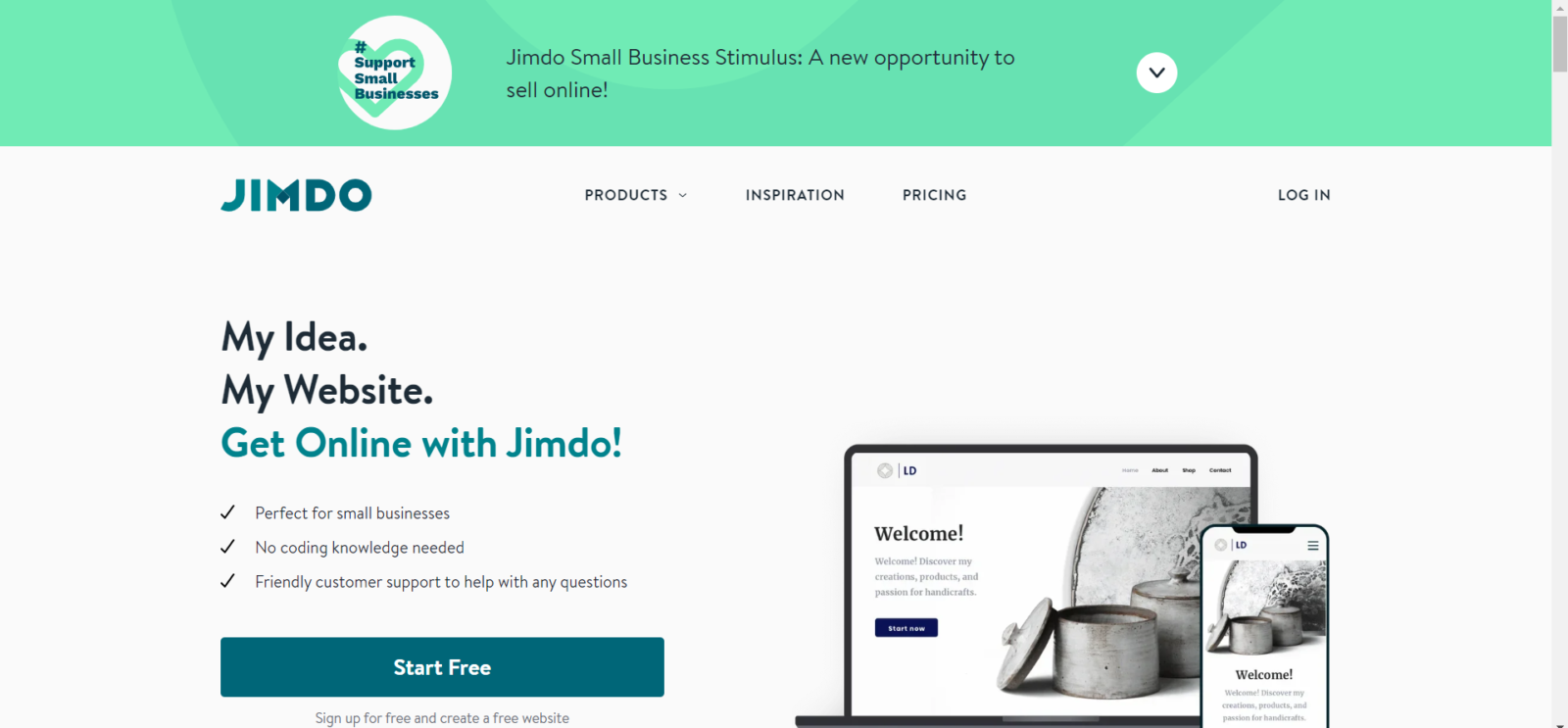 The beneficial thing about Jimdo is that it won't cost you any money whether you choose to go premium one day. Their least expensive Jimdo Creator plan at $10 every month and will permit you to utilize a proper domain.
If you ever not want to upgrade your website then they will provide you a pretty nice plan. Their (quite restricted) template archive isn't just free but also completely supported with phones and tablets (responsive). There's likewise a versatile application that you can use to manufacture and alter your site.
What's more, as opposed to most other webpage builders, Jimdo additionally lets you utilize the online store – up to 5 articles for nothing. At that point, there is additionally Jimdo Dolphin, which targets total learners. It comes with the most basic & important features, to guide you through the site-building process effortlessly.
Pros:
The free plan shows only a small ad.
500MB webspace, which should be more than enough for most sites.
No page limit and a blog is included as well.
Includes SSL encryption.
Cons:
Their template selection could be better in both quantity and quality.
No app market.
The URL you will get for free: customname.jimdofree.com

5. Webstarts -Great as a Free Tool
With regards to Marketing, Webstarts isn't actually bashful. With nearly 4m clients, they guarantee to be the #1 Rated Free Website Builder (without really saying who evaluated them).
To be reasonable, Webstarts' free arrangement is a strong decision. It incorporates access to all the significant highlights, for example, the blog, and you can even enact the online store.
The item feels like Wix – in that all the components can be moved around uninhibitedly.
In the component and layout divisions, however, you'll discover much less assortment. We don't generally comprehend that Webstarts doesn't offer a versatile upgraded site seen in their free arrangement. Neither will your site be SSL scrambled.
Pros:
Generous 1GB storage space.
Online store includes 10 products for free.
SEO settings can be edited for all pages.
SSL encryption seems to be included in free plans.
The footer advertisement isn't very intrusive and can be closed by your website's visitors (it doesn't disappear when scrolling though).
Cons:
Outdated backend.
Doesn't let you view mobile-optimized view with the free plan.
SSL encryption seems to be included in free plans but will be charged for in paid plans (at an outrageously expensive $8 per month!).
The URL you will get for free: customname.webstarts.com
6. Ucraft – Connect Your Domain for Free
When talking about website building tools the Ucraft website builder checks a lot of boxes. The best aspect where the platform really shines in is that it will allow you to connect an existing domain name for free! They even pack in a free SSL with a number of stylish templates.
As far as its paid plan is concerned, it has a premium plan that starts at $10, including premium features like multilingual sites.
The editor interface is a little bit complex, as it is not that intuitive. But you will have comparatively better options to tune and fine-tune the elements, for example, colors, fonts and spacings. However, the editor is kind of slow loading and a little buggy (though acceptable).
Pros:
Ability to connect a proper domain name for free.
Templates look pretty modern and there is a decent selection available.
Helpful support.
The size of the advert on free websites is acceptable.
SSL is included in free sites.
Cons:
You are limited to only the Basic Elements in the free plan. That excludes anything to do with articles, social media, or e-commerce.
The editor was sometimes a bit slow loading, felt a little buggy (but nothing too bad), and generally more complicated than other site builders.
The URL you will get for free: customname.ucraft.net
7. WordPress.org – The Versatile One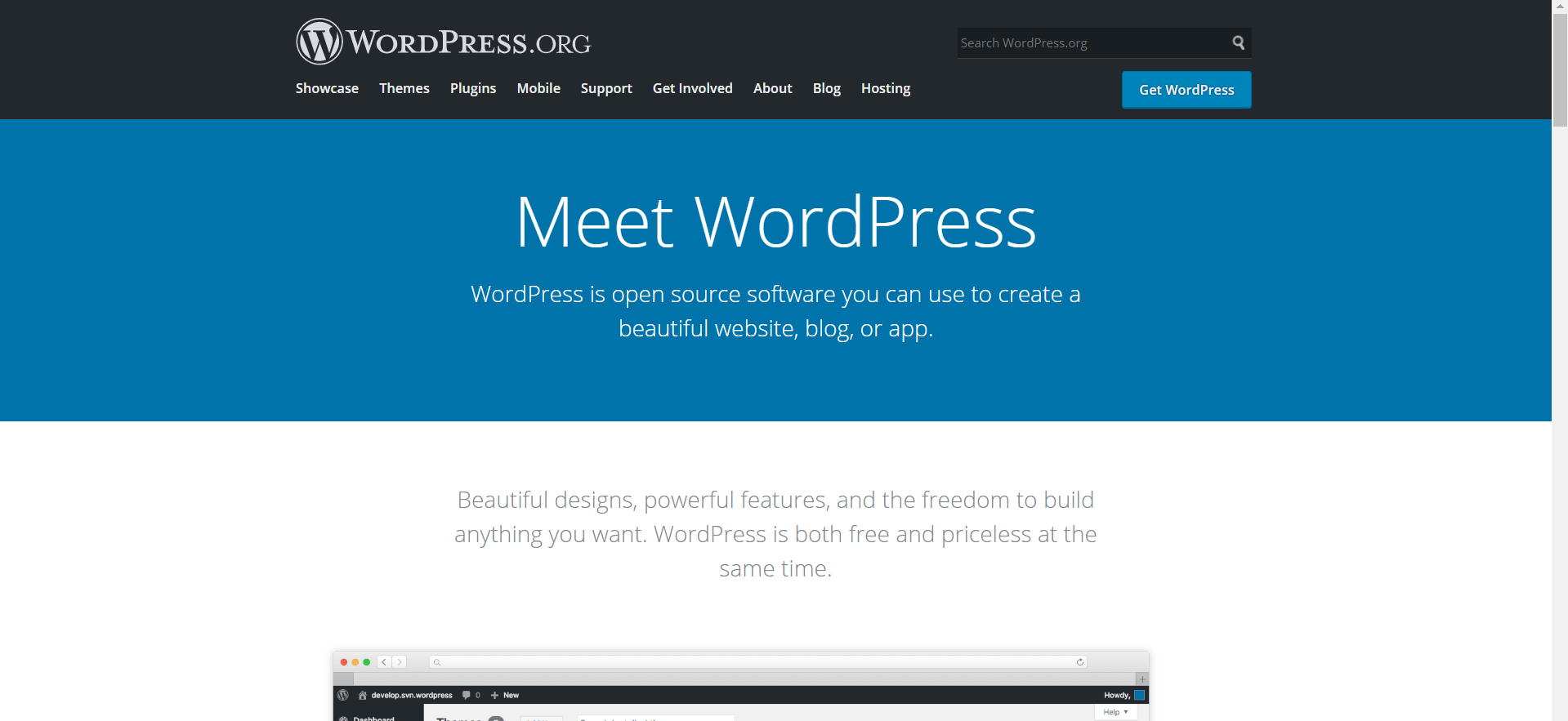 WordPress.org is completely free to use and it complies with the open-source license agreement. With this amazing tool, you can build any kind of website within just a few minutes. You will get a free theme and plugin market to add additional features to your website.
However, you will have to buy your own domain name (URL) and hosting plan to use the free platform. A budget WordPress.org website may cost around $7 per year.
However, don't mess WordPress.org to WordPress.com. If your only vision is to run a mere blogging website then WordPress.com can be the perfect platform for you. The price of the WordPress.com starts at $5 per month. It is to be noted that WordPress.com has a bunch of restrictions too!
Pros:
Completely free to use.
Free Theme and Plugin market.
No limit on pages.
SEO can be edited for all pages.
Intuitive admin panel.
Own URL.
Cons:
Simplistic interface.
Self-hosted.
Choosing The Right Free Website Building Software
The website builders we mentioned here are all good from their own perspectives. But still, get confused about picking the right one for you?
Our suggestion will be to identify your purpose for website building and then try to find the perfect website builder from these lists.
If you found the perfect one for you, don't hesitate to share that one with us in the comment section below.