Happy Addons comes with 50+ widgets and 20+ unique features to add extra power to your Elementor site. It lets you build professional websites without any prior expertise in coding. So you can design highly functional websites in less time without hiring any professional.
Elementor is a powerful tool by itself. But one plugin can't handle all the use cases of WordPress. In this situation, other Elementor addons can fill the gaps with their integration.
Happy Addons adds a new feather to the Elementor Community with extraordinary features and design tools. It can portrait all your imagination live at record speed.
This article will describe how Happy Addons can make your next Elementor Website look prettier than ever. Additionally, you will get all the details to join our Facebook community. There you can share your experience and find a quick solution from users, community experts, and our dedicated team members.
How Happy Addons is Helping the Elementor Community with Unique Features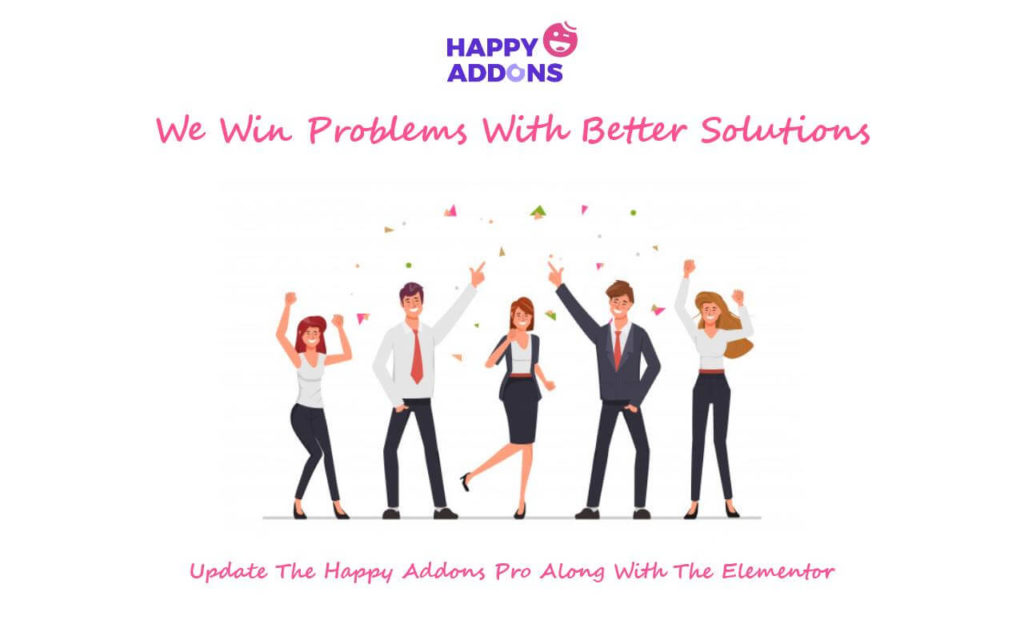 Design is an integral part of website development. And Elementor makes it super easy to create a pixel-perfect website inside WordPress. The simple drag-and-drop interface enhances the user's experience with plenty of custom and creative widgets. Also, it fosters the design expertise of WordPress community members.
However, you can amplify the functionality of Elementor with Happy Addons. It can seamlessly align with any Elementor-powered WordPress website design requirements. It is working smoothly with all Elementor themes and templates. Furthermore, it will accelerate your development skills faster than ever.
HappyAddons is a unique Elementor Addon. It might be the best addon package for Elementor.

Adam Preiser, Founder of WP Crafter
Let's see how Happy Addons has enriched the Elementor community with amazing tools and features for every level of users:
Floating Effect (create an animation of any widgets)
Background Overlay (add background image or color)
500+ Line icons (extra with 1500+ Elementor core icons)
Unlimited Section Nesting (Elementor offers only a single section)
Cross-Domain Copy Paste (copy any design from another domain)
Preset (400+ design templates)
Live section copy-paste from Happy Addons live demo site
Site sync (sync staging site's design to live site with a single click)
Floating Effect
Now you can add stunning animations for any Elementor widget with this amazing feature. You can apply floating particles, bouncing effects, borderless backgrounds, multiple content colors, and more with endless customization options.
And guess what! All you can do without any CSS coding proficiency.
Moreover, Happy Addons supports an exclusive 360-degree object rotation feature to give your site a complete look. This built-in motion effect can animate and rotate objects axis-wise. Also, you can control your animation's delay time and more.
You will find these features under Advanced Tab on the Happy Effects Panels. There are two options: Floating Effects and CSS transforms. So, it will take your webpage to the next tier. And you can easily create an eye-catchy design for your clients.
Background Overlay
Background overlay functionality is a core feature of Elementor. You can also find this in other third-party add-ons. But you can apply an overlay on some selected widgets only. Happy Addons comes to rescue you from this limitation. Now you can add background overlay in any widget wherever you want.
You can control the opacity and transparency of the overlay image or color. It will enhance your design experience indeed.
Moreover, this global feature allows you to add an overlay color or image on any third-party widget. Additionally, you can use the Background Overlay. It lets you add an overlay to any section or element within Elementor Page Builder.
500+ Line Icons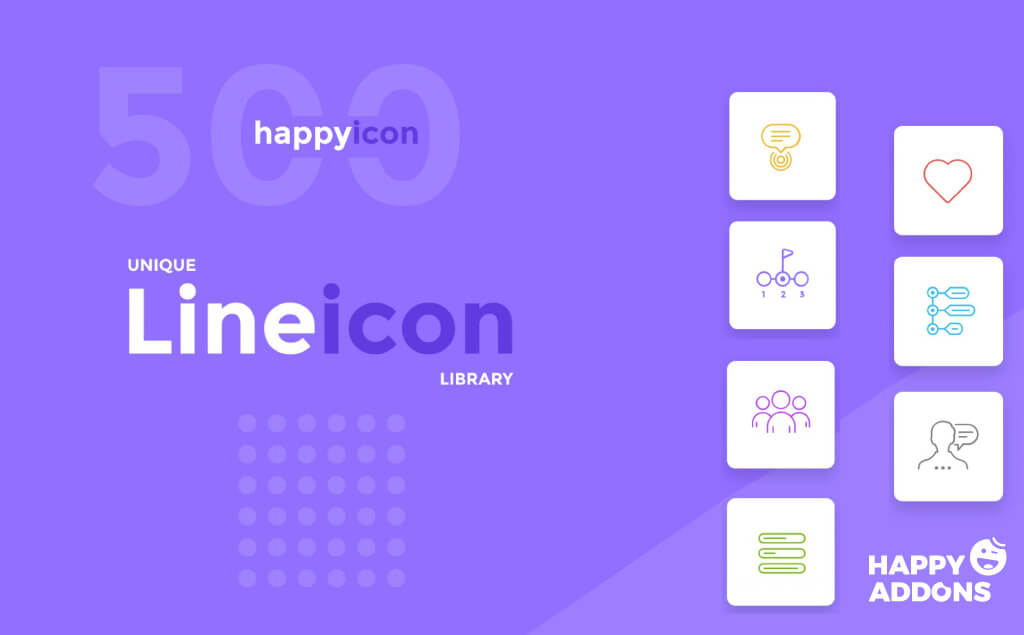 If you want to make a stand out of the crowd, you must add something unique. Elementor provides 1500+ font icons for its users. But they are mostly "fill icons." Since everyone is using them randomly, you should apply something unique to your site.
In recent days, the line icon has gotten hype to give a bit different look to any site design. Therefore, HappyAddons include a set of 500+ line icons by default for all users. And you can use the Whole Happy Icon Library completely free.
According to Designmodo, "Line icons are the reflection of the delicate and exquisite nature of the agency behind the website. They perfectly illustrate the point and add freshness and crispness to a design."
Thus, you can introduce a unique and innovative look to your site with Happy Icons.
Unlimited Section Nesting
Happy Addons makes your wings wide to design all your imaginations. Now you can include unlimited sections to your design. And these sections can be used to show multilayer widgets or images. It leads you to break the usual web design mold.
With the Unlimited Section Nesting Feature, you can add unlimited sections within a single section. It will give you the flexibility to customize your Elementor Canvas according to your requirements.
However, it is currently impossible with stock Elementor sections and columns. You can not insert more than one section within a page in Elementor Page Builder. But you can enhance the features of the Inner Section Widget with Happy Addons Pro.
Cross-Domain Copy Paste
If you frequently design sites for your clients or personal usages, it's very common to have this dream. It would be great if I could copy the design of my previous site and paste it into my current one. Happy Addons has fulfilled your goal in a twist.
With Cross Domain Copy paste, just copy, paste, customize and go live. Yes! It is that easy than you can ever think.
Now you can copy any widget with all its data and paste it to your newly created website in seconds. Thus, it will remarkably minimize your designing time and the hassle of repetitive work. However, at this time, you can copy and paste elements within a single domain. But shortly, it will be available for multiple domains also.
Preset
Are you struggling to get the desired look for your website? Happy Addons comes with a pre-defined collection of designs. Now you can unveil any widget in a different style using our preset engine. It will only give a sleek and stylish look to your plan within a few clicks.
With preset, you will get 400+ premade designs to use instantly.
So it requires no extra time to make your site's design unique and innovative. However, now you can simply premade design presets for our Happy Widgets only. It lets you experience the Instagram Photo Editing environment within Elementor Page Builder Plugin.
Live Section Copy-Paste
LiveCopy feature allows you to use our premade designs instantly. You can copy from the Demo sections and paste it directly to your web pages. It's really easy to choose from a large number of HappyAddons demos. Then copy your desired design section from the front-end and paste it with all the resources to your live site.
After copying from demos, you can customize a little like text editing, branding, and others. And get a fully professional website in less time.
People usually find it difficult to create a perfect design like the demo. Also, they need inspiration to create innovative designs. To solve these issues, Happy Addons introduced this LiveCopy feature. So you can now design more creative and unique layouts with a few clicks only.
Site Sync
Most developers prefer to build testing or staging sites first. It helps them to analyze all the functionalities before going live. Of course, you can also create a staging site before finalization. But you have to take the hard way of making it live manually. It is time-consuming.
Happy Addons can save you time and hard work with the Site Sync feature. Now you can easily create a replica page with a single click on the sync option. So you can easily live your site up and run from the testing state.
Besides these unique properties, Happy Addons supports other features and widgets, such as image masking, happy clone, custom column control, and so on.
These features are working as an enhancement to the core of the Elementor. Moreover, they are compatible with all Elementor themes and templates. Therefore, it has been helping the Elementor Community in many aspects.
How Happy Addons Facebook Community Helps the Users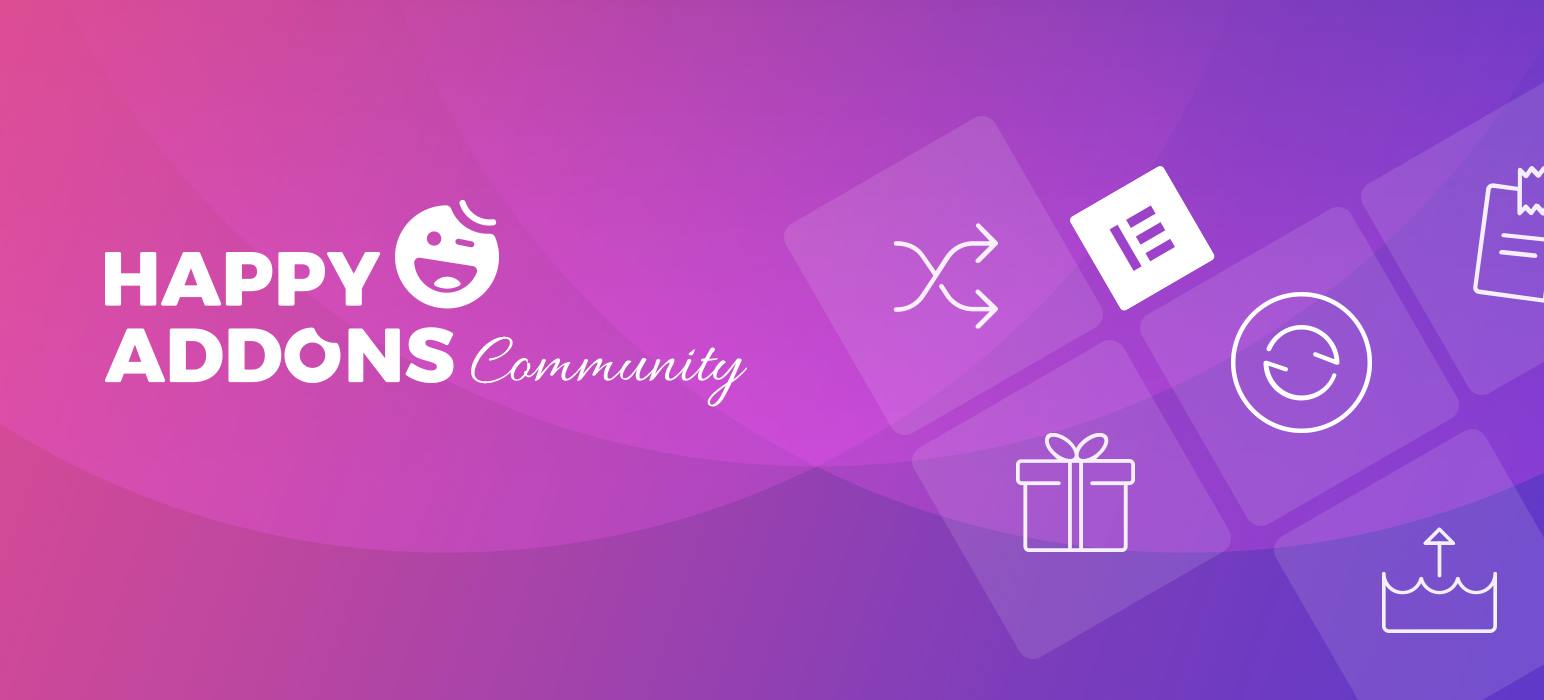 Like other WordPress communities, we have established a Facebook Community for Elementor users. Here we are uniting like-minded people to create a strong bond among them. You can share your overview and all type of experiences there regarding Elementor and Happy Addons.
We are a family of around 500 people. And it is growing day by day.
Our dedicated team members are always ready to help you. Also, there are many Elementor users and enthusiasts available in the group. Therefore, you will get useful tips and innovative ideas to uplift your skills while developing your site. Besides the Happy Addons team, the other community members are also ready to stand beside you.
Furthermore, we regularly post important updates and news regarding the industry. So you will get all the essential information before others. So, this Elementor community can be your life saviour with an instant solution.
Here our team members responded to a query with an instant solution.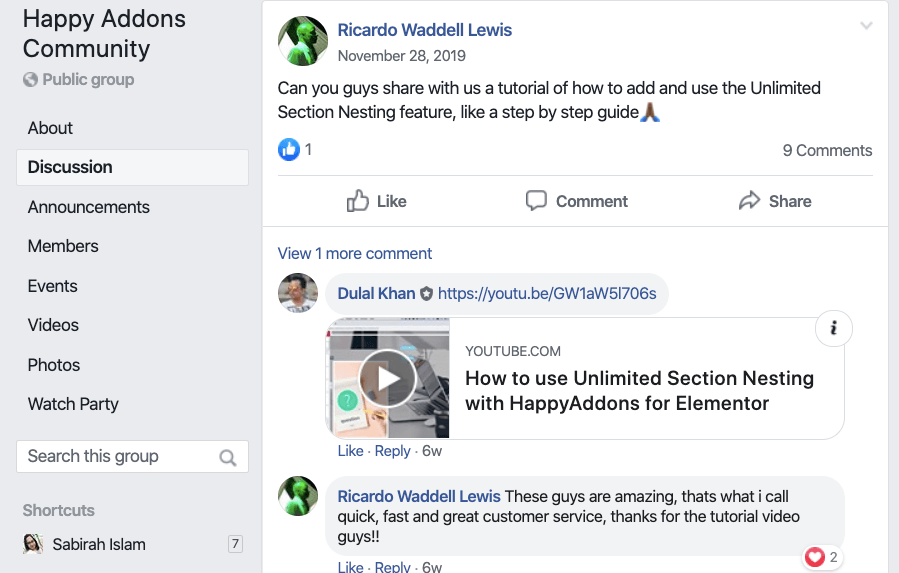 Also, other community members help each other in an emergency.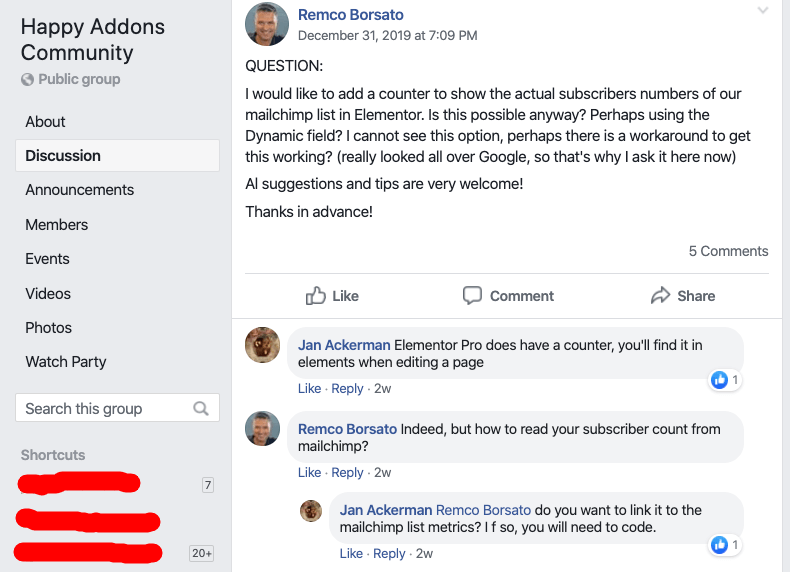 In this way, we are building a strong unity among the users. You need not wait in queue for any solution. Our Facebook community is always open to help you in no time.
Grow Your Elementor Community with Us
Elementor helps you to build your WordPress site without any expertise in web development. And Happy Addons will make your hands more powerful with interactive and super-fast designing tools.
However, it seems very common to face problems while developing a site. In that case, you can contact our responsive support team for any assistance.
Besides, you can also join the versatile Happy Addons Facebook Community to get reviews and the latest updates regularly. It is an open place to upgrade your skills and solve problems with a better solution. Like Elementor Community, it helps you spread your potential and get worldwide support.