Website designing has become easy with Elementor. As it supports many exclusive widgets to build a high-quality website within a few minutes. However, Elementor has some unique features as well. Elementor Preset is one of them. It will enhance your Elementor page building experience to create an intuitive website.
Preset is a set of pre-made templates that one can use to design any widget while building an Elementor site.
Elementor offers 300+ ready presets for its users. Therefore you can use these Presets to create stunning websites or landing pages for your business. Here, you will get a handful of options to execute.
In this article, we will show how you can design websites using Happy Elementor Preset.
Elementor Preset-How It Will Help You Create Stunning Websites
As the proverb goes, the first impression is the last impression.
Your customer's first impression of your brand largely depends on your website representation. Therefore you should design your site to be interactive and impressive for your target audience.
Let's assume you have a website for your digital agency. In order to get more customer engagement, you must make the site stunning. Because people will visit your website and form an opinion on your brand.
But creativity is often a hindrance. Creating a beautiful website requires time and effort. And you may not have that much time always on your hands. It happens especially while you are working for a large number of clients. That is where Elementor is a lifesaver.
Elementor templates or presets are used to create appealing websites.
You can choose from these templates and start building an exclusive website immediately. These Elementor presets add an extraordinary feather to Elementor features.
To use this feature you have to simply click on the file emoji section. Then, the template or preset library will open. You can choose any of them and insert into your webpage. That is how easy it is.

A short note to remember, you can only unlock all the templates using the Elementor pro version.
Also, you can add any widget to the template for giving it a more exclusive look. Here, you will get all the freedom to fly. Elementor Preset might be an exclusive feature for its users. But there are some third-party Elementor addons available in the market that have taken the Preset feature to the next level. The most talked-about addons in the current Elementor Community is Happy Elementor Addons.
Besides, a large number of ultimate widgets, they offer over 400+ Preset designs for their users. So you can easily give an exclusive look to your website with Happy Addons.
Introducing Happy Elementor Addons Preset
The difference between the Preset of Elementor and Happy Addons is unlike Elementor, Happy Addons Preset is used for widgets. That means the premade designs of Happy Addons are only applicable to widgets.
Does it seem confusing to you? Let us explain the process step-by-step. It requires less than 15 minutes to organize your site accordingly.
How Happy Elementor Addons Preset Works
However, the preset feature is only available for Happy Elementor Pro version users.
With Happy Addons, you will get a ton of extraordinary widgets. You can integrate these widgets with the templates of Elementor.
At first, select an Elementor Preset. Now you can add the Advanced Heading widget to give your heading some uniqueness.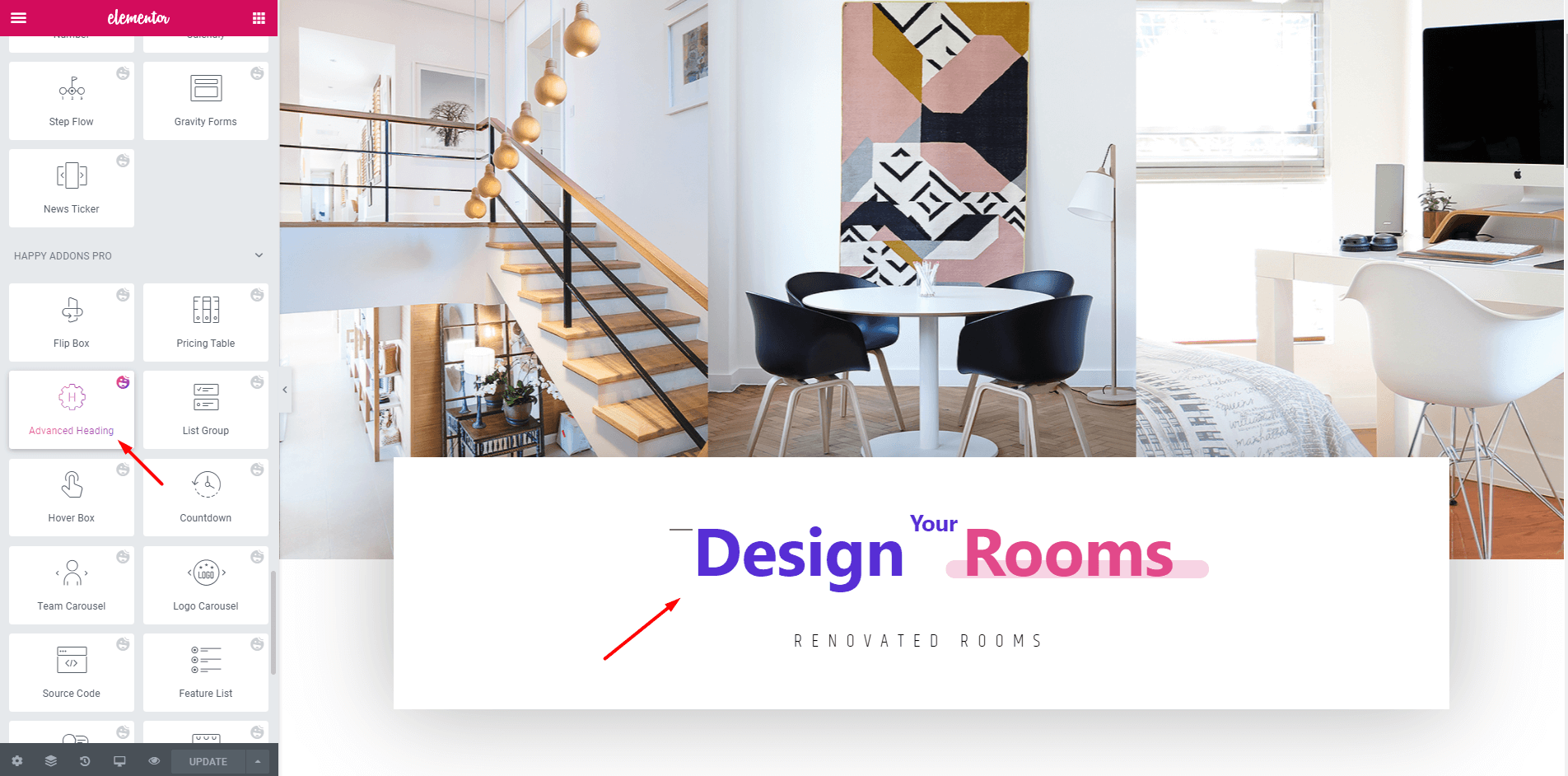 After adding a widget, if you go to the content section you will find an option called Preset. There you will find options called Design 1, Design 2, Design 3 and so on. You can check the designs by clicking on them. With each individual design, you will notice an amazing modification of the widgets.
After that, select your required design that suits your brand and set it on your website.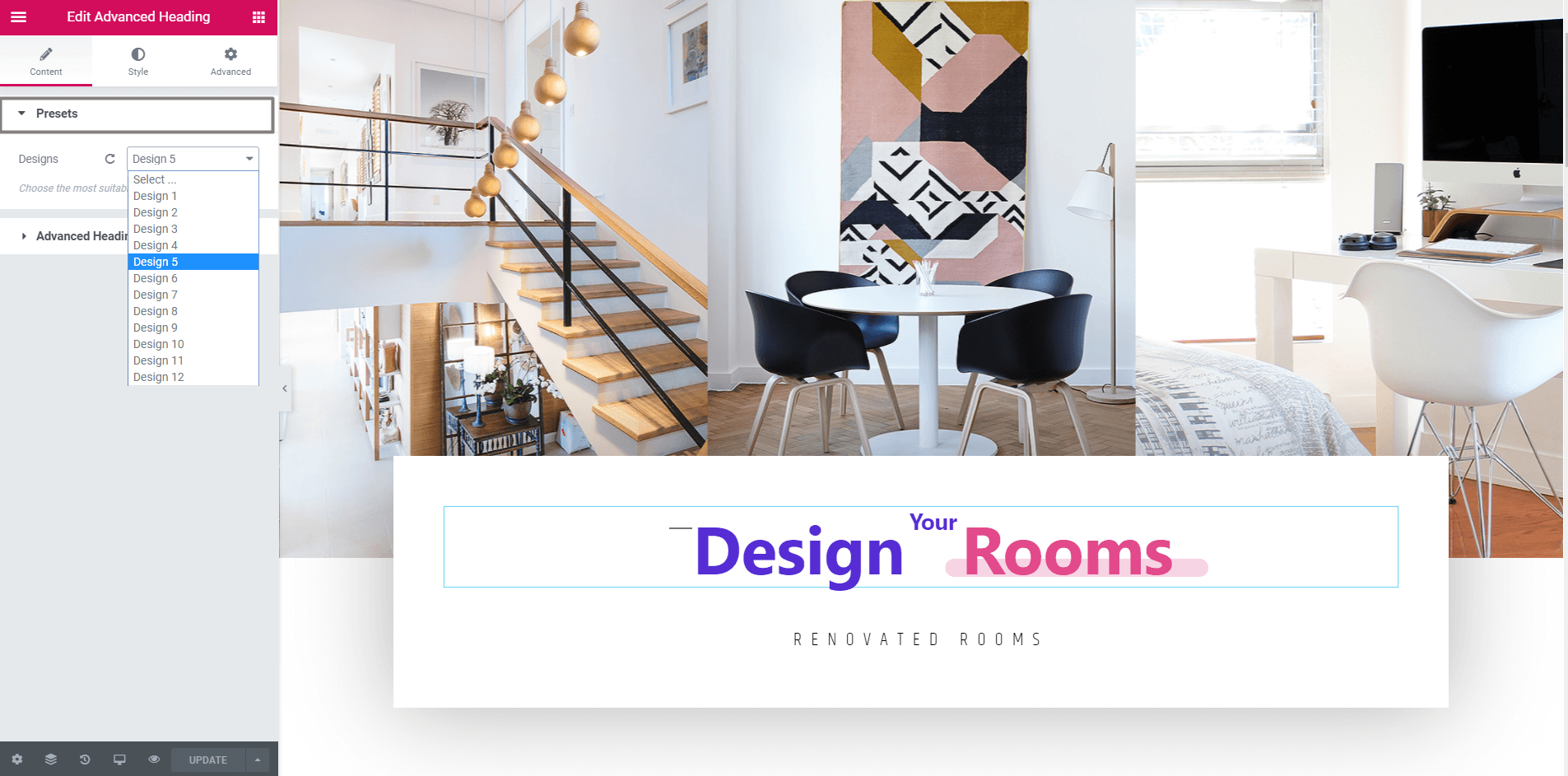 Check out this GIF of the Icon Box widget, whose design has been changed using Preset.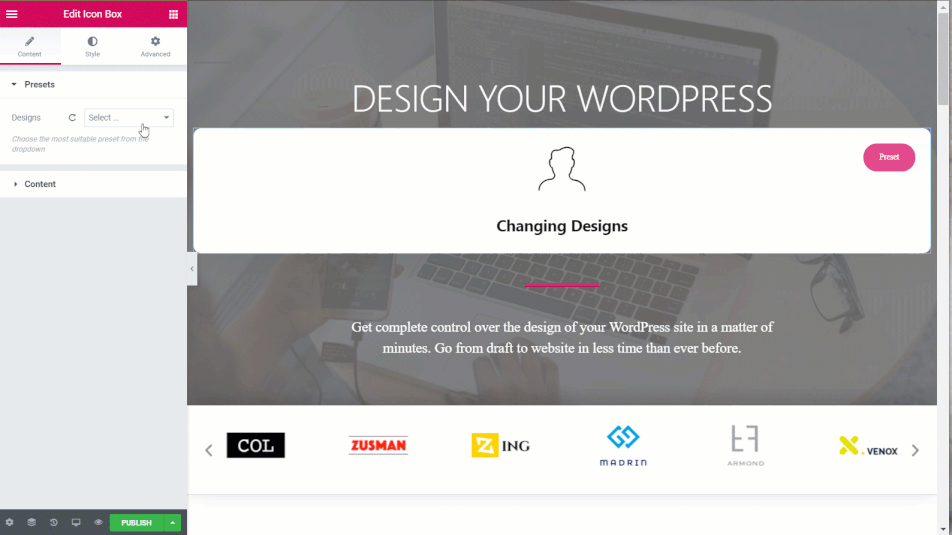 See how easy and simple it is to use Preset. You can easily create stunning websites using this Happy Elementor feature.
You can create an Interior Designing Website with ease as bellow.

Also, you can design an About Us page within 5 minutes with Happy Addons Preset.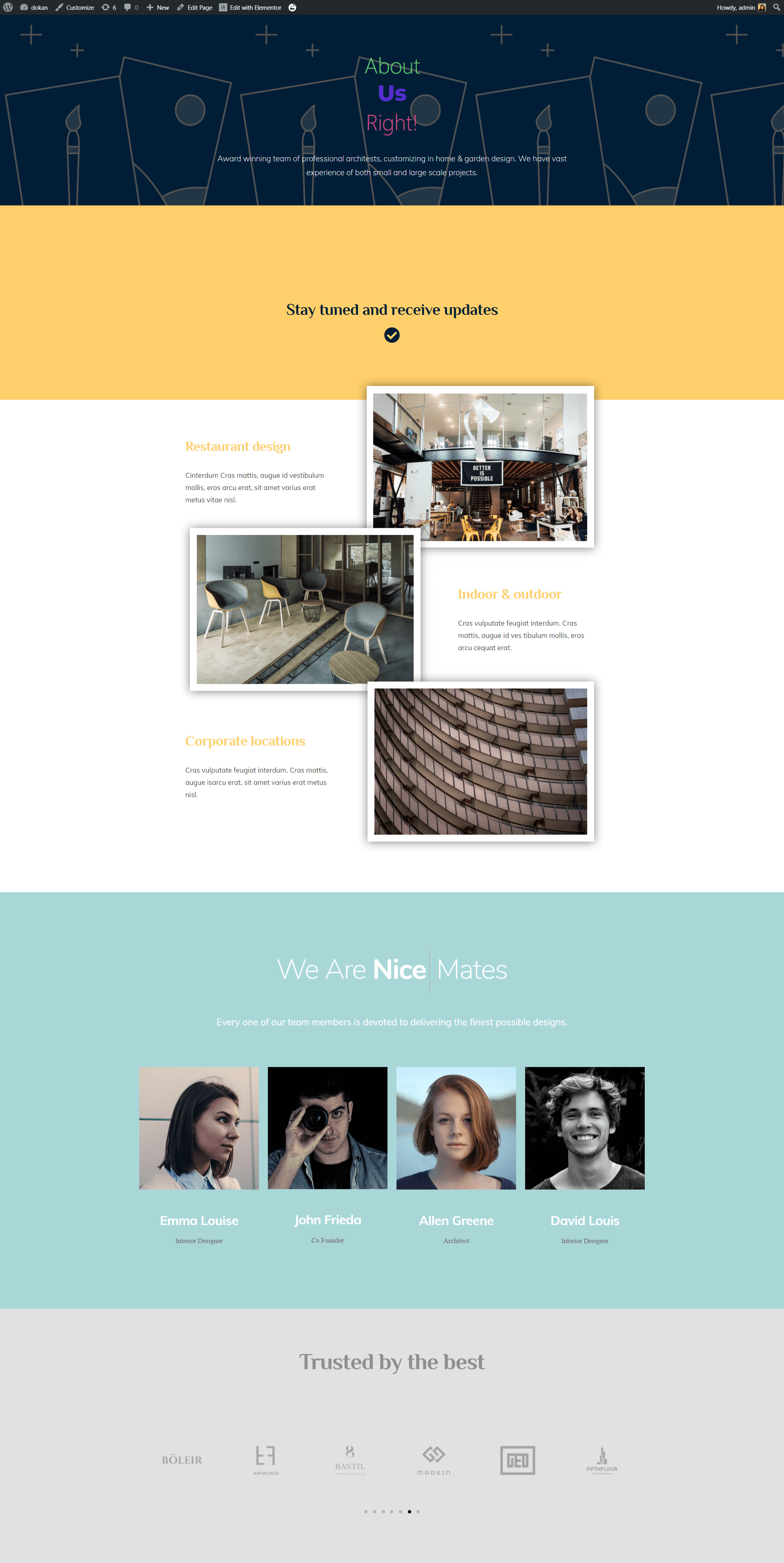 In addition, you can design a high configuration Contact Us page indeed.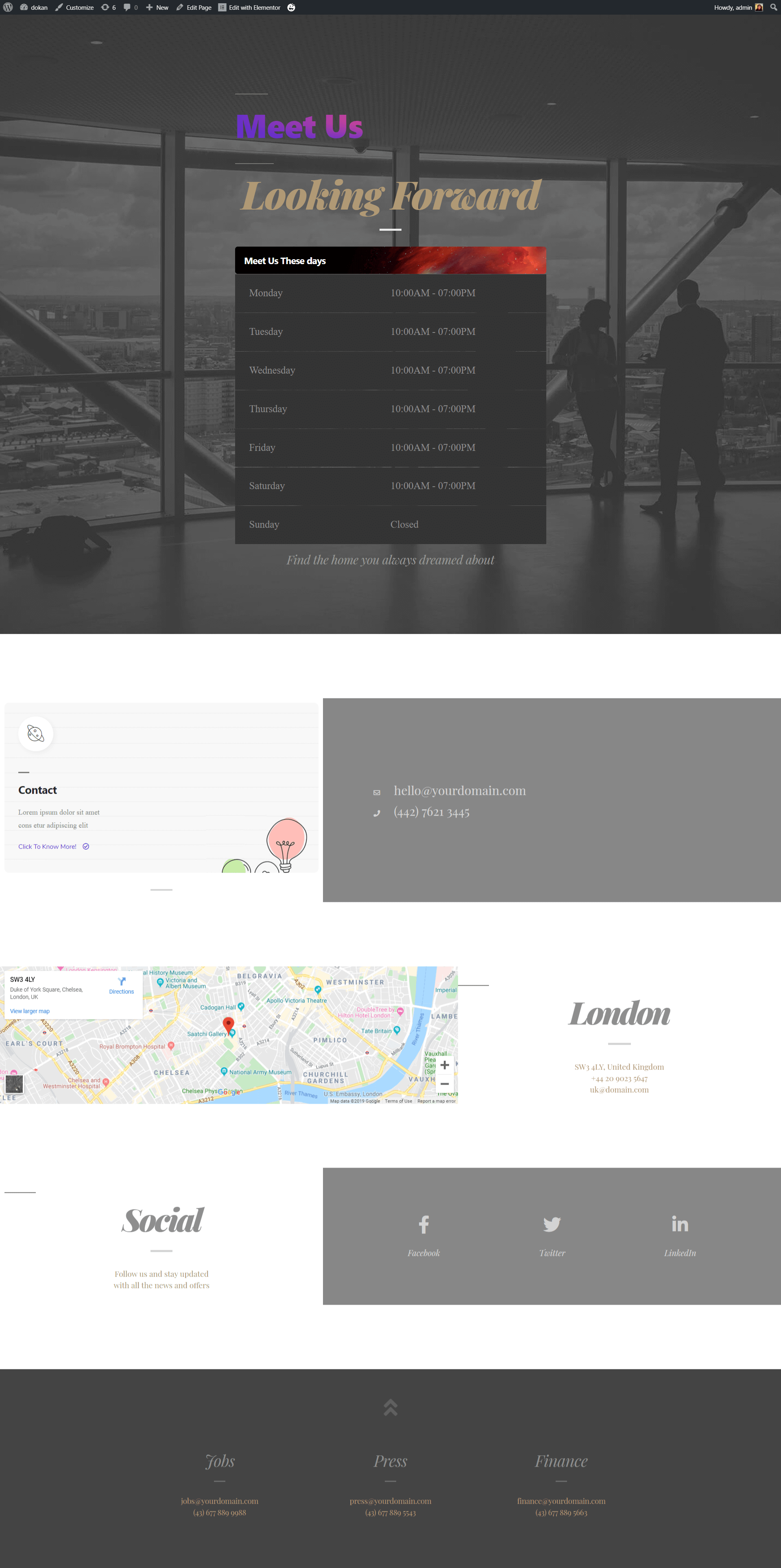 From above, it's clear that any exclusive designs can be created easily with Happy Elementor Addons. Therefore, you can design any page of your website without writing any code. All you need is the right tool and the right initiative.
Wrapping Up
Now you can design your websites by own with smart utilization of the right tool. It needs no professional which was impossible once. Using Elementor presets or pre-made templates will make your website look exclusive, classic and stunning.
Furthermore, the Preset collection of Happy Elementor Addons lets you showcase any widget in different styles. You can choose any style from a collection of pre-defined collection of designs in a minute. Therefore, you require only a few minutes to configure any widget according to your desire.