When it comes to choosing a WordPress Starter theme, there are so many options to simplify your theme development process significantly. But pick the right one from the crowd can be a little bit tough for the beginners. Let us help you by projecting the spotlight on important facts.
A WordPress starter theme allows theme developers to create their own WordPress theme for the clients or their personnel usages. It will give you a functional foundation to start from. Fundamentally, you can use these blank themes as your base while creating a website.
In this article, we have listed some of the best Starter WordPress Themes that you may consider while developing your site.
Short Introduction to WordPress Starter Themes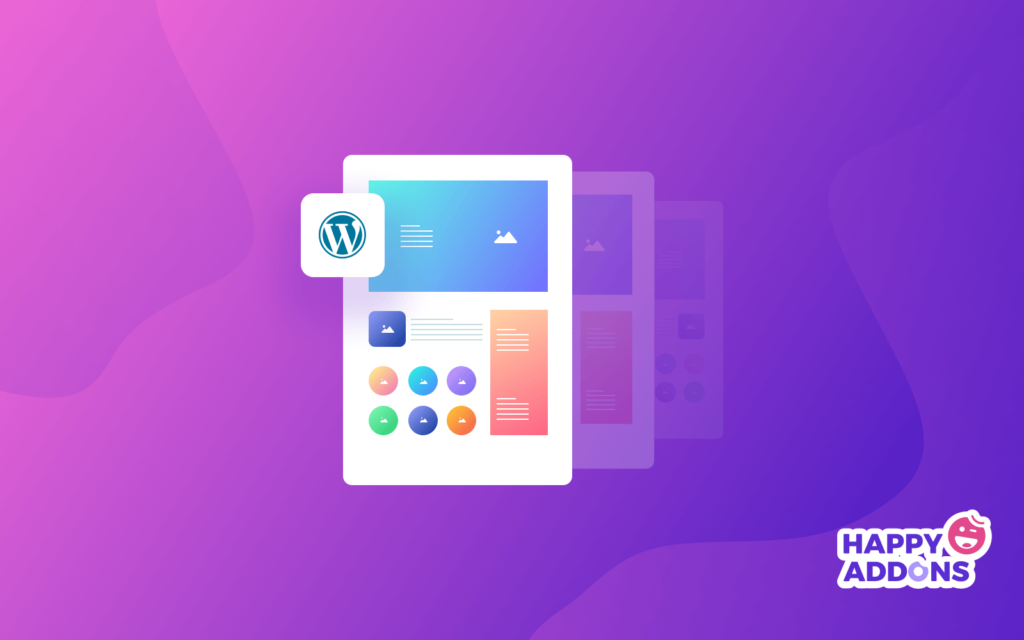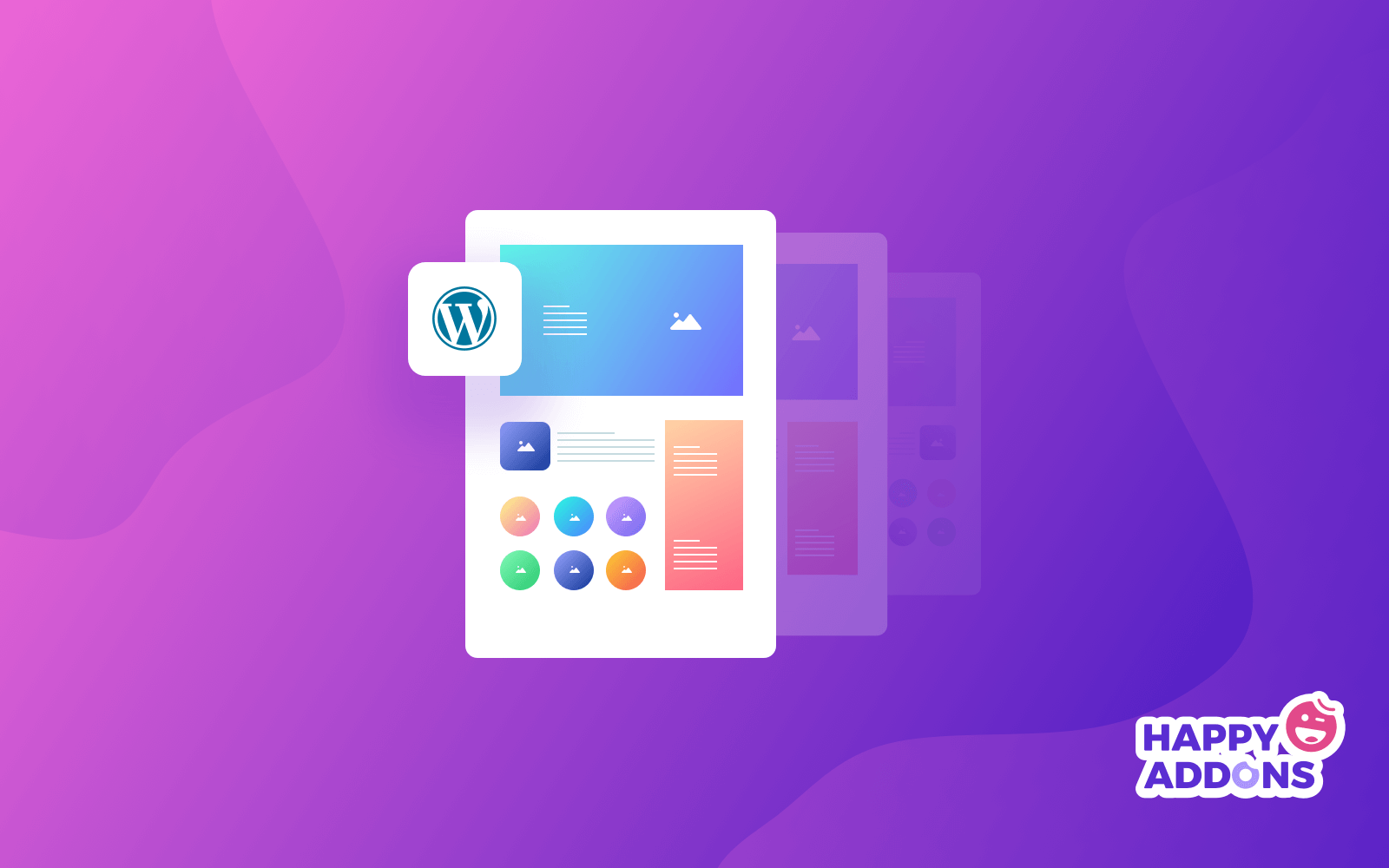 Starting from scratch is extremely time-consuming and sometimes frustrating too. Though it gives you the full freedom to impose your own creativity into your site design. Finally, it ends up with something unique and extraordinary.
However, if you are tensed about the extra efforts and time, then a fundamental or blank starter theme can help you out easily. These themes are like wet mud. You can mold them into any shape that you want. Plus, they can be optimized for any type of websites like a personal blog, portfolio, or business site as well.
As we said a WordPress Starter Theme comes with a minimal design and simple layout. It provides you the basic skeleton to proceed with your development process effortlessly.
Moreover, unlike other standard WordPress themes, these blank layouts include only foundational code. Therefore, you can extend the functionality according to your site requirements and build a completely new theme within a short time period.
Starter themes are totally different from parent theme or theme framework. They don't come with custom hooks, additional styles, filters, or template tags. But you will get the primary code for displaying posts, comments, and pages.
Top 10+ WordPress Starter Themes for Website Developers
Check out the most used WordPress starter themes that you may also use as your base while creating your own theme.
Astra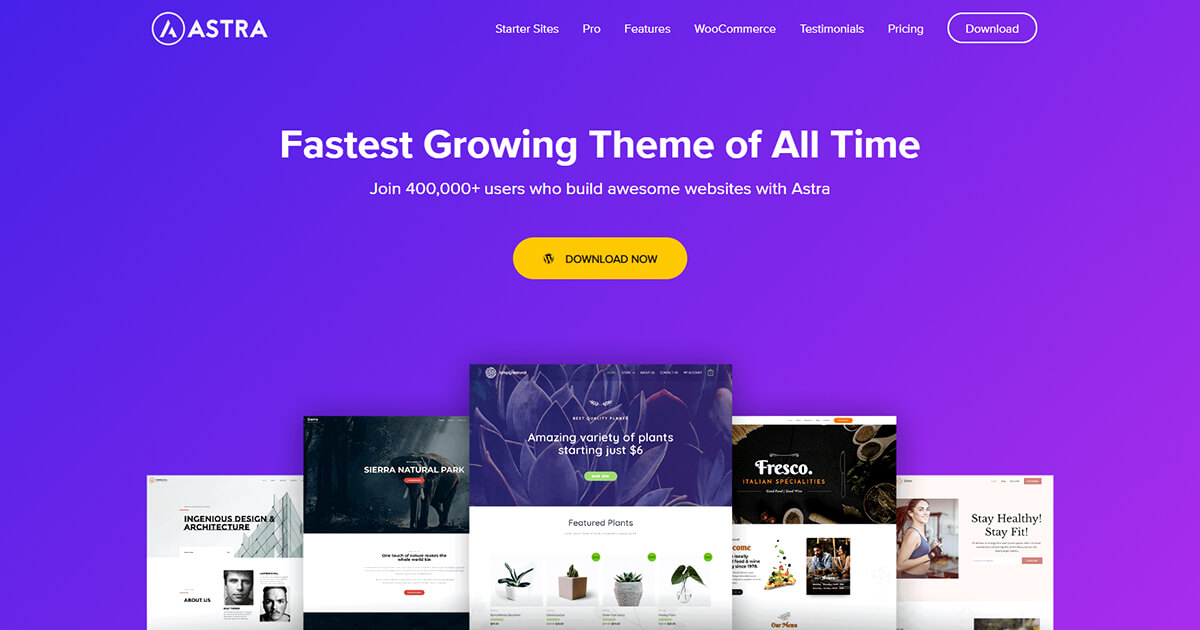 Astra is a premium WordPress theme that comes with elegant and stylish designs. It supports over 100 starter themes and pre-build websites to create multiple types of websites with ease.
It is acceptable for several business niches, that's why you can easily find a perfect demo that fits your requirements. This fully editable and super fast theme is equally suitable for both professional developers and beginners. Work seamlessly with all popular site builders.
100% money back 14 days trial facility gives you the freedom to shift your choice.
Total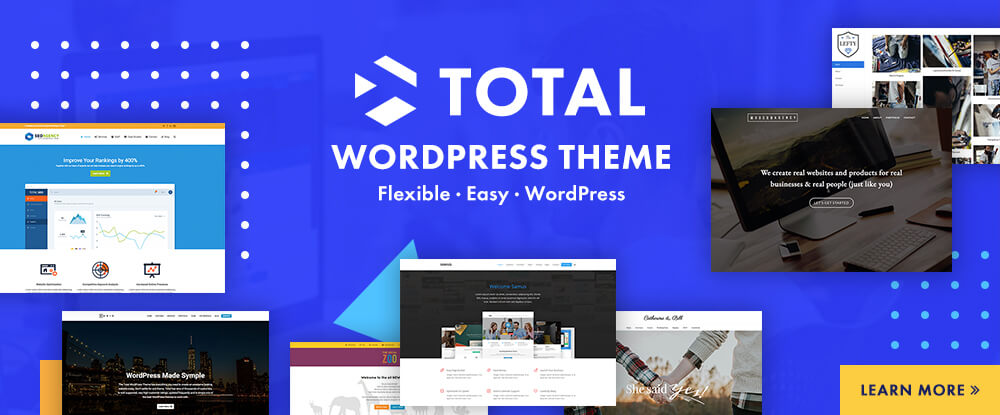 The Total WordPress theme is a great premium starter theme choice as it includes easy-to-use features to get your site up and running quickly.
Choose from 50+ quick import demos, 90+ section templates, 70+ cards, and tons of pre-styled page elements to create a stunning website. Or use the theme's custom WPBakery page builder blocks and hundreds of live customizer settings to create a one-of-a-kind site.
Plus the theme is SEO friendly, optimized for speed, and integrates with popular plugins (including WooCommerce, bbPress, the Events Calendar, and more) for even more options!
Underscores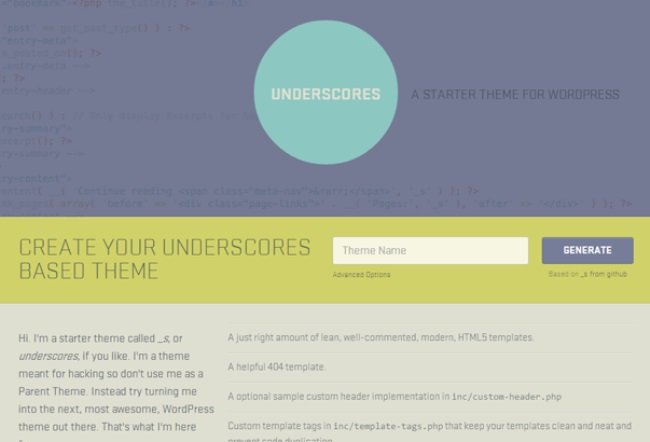 Next up, Underscores is a powerful WordPress starter theme developed by Automattic. This minimalist theme is created with HTML5 and CSS. The clean code system allows you to build a unique WordPress theme quicker than ever.
It provides two sample layouts, one having a sidebar on the right and another with a sidebar on the left. Since 2012, all WordPress default theme uses Underscores as a base. Therefore, creating a standard WordPress theme based on your preference becomes easier using Underscores.
UnderStrap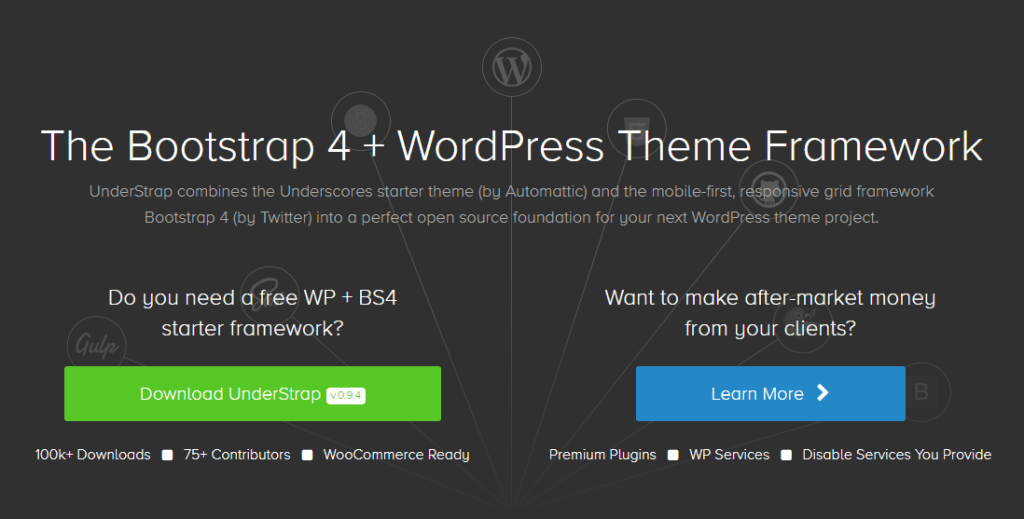 This WordPress theme framework is built on Bootstrap 4 and Underscore which tied together by Gulp, npm, and SCSS. It also gives support for Jetpack, WooCommerce, and Contact Form 7. You can easily modify this responsive theme as it provides a grid framework.
Most importantly, you will get regular updates from the theme authors. So, it can be a good choice to build your own parent theme using Understrap.
Genesis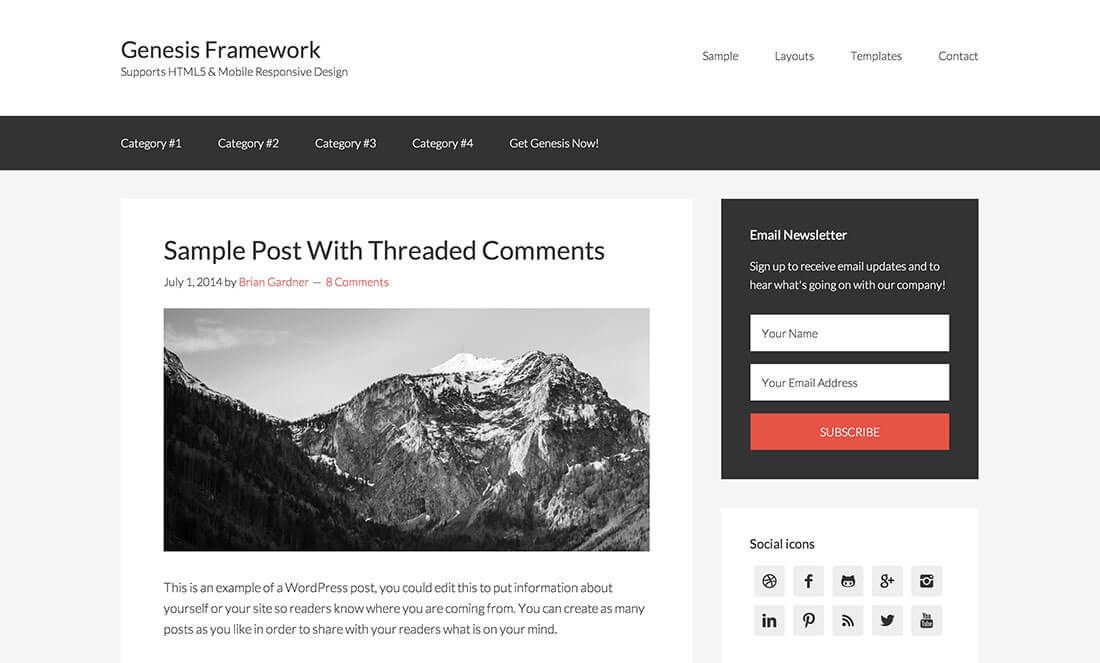 Genesis is a professionally designed framework that can handle a turnkey project with the highest level of security. This developer-friendly starter theme is built with technical SEO in mind. Therefore, you may get an advantage over the ranking factors from this open-source theme.
It requires you to develop using child themes instead of editing the framework directly. In addition, it needs WordPress' hooks to help you in designing your themes.
However, you will get both pre-designed widget and layout options in any Genesis theme. It supports 6 layout designs, custom page templates, featured content widgets, and powerful theme options panel. So that you can customize your theme setup using helpful resources, demo content, plugins, and custom Gutenberg blocks.
Sage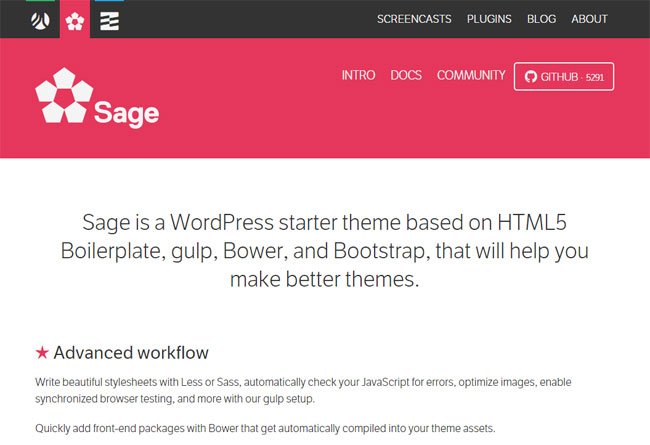 This modern WordPress starter theme includes advanced tools to speed up your theme development process. Sage is based on HTML5 Boilerplate, Gulp, Bower, Bootstrap, and BrowserSync. It includes Theme Wrapper to avoid code repetition in every template.
Frontend developers are more likely to use Sage for their projects because of:
Proper documentation
Active community
Advanced technical spec
Frequent update
However, you need to use components like composer and yarn to edit your theme with Sage. That may seem a bit complex to newbies. But once you get habituated, it will increase your productivity significantly.
JointsWP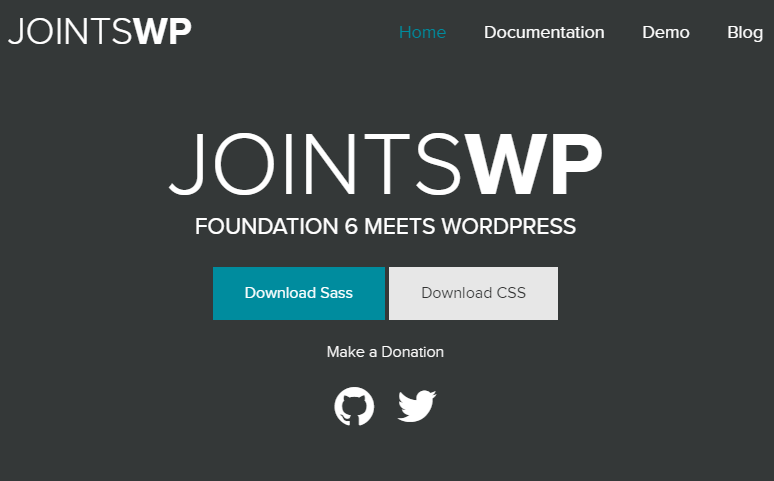 For creating a complex design with quick responsiveness, JointsWP is a perfect choice for the site developers. One can build a well-structured website using the JointsWP from scratch. It is built on Foundation 6 framework with CSS or Sass flavors.
HTML5 Blank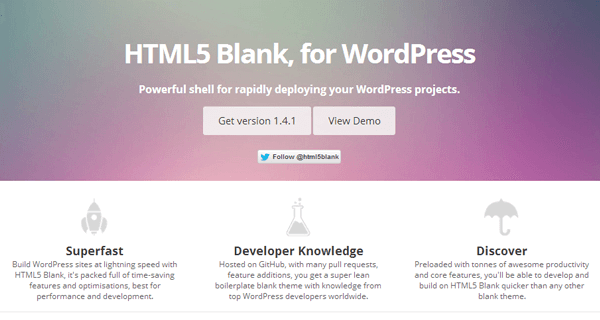 This WordPress starter theme is specially designed for performance. It's an open-source theme allowing you to convert standard HTML and CSS into WordPress.
HTML5 Black helps to create a standard WordPress theme super quickly with pre-web-optimization. You can use shortcode API's in the boilerplate code and dynamic sidebars.
Catch Stater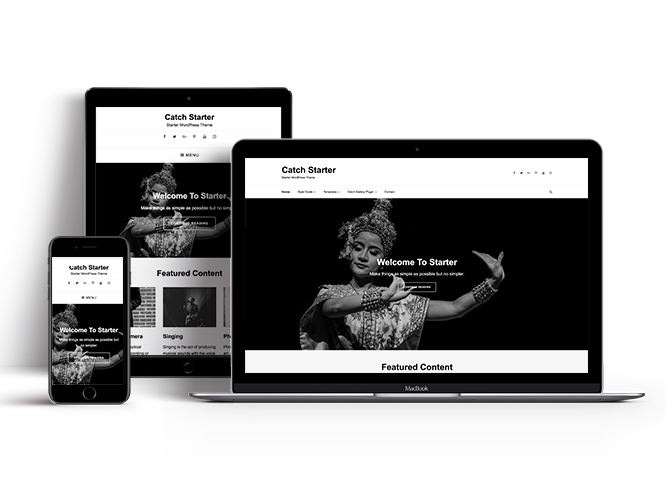 Next is Catch Starter- a dark-colored WordPress theme for the website designers. The main elements of this base theme are-
Crucial features
Minimal Design
Secure standard code
It includes a number of exclusive features like content slider, portfolio, services, and testimonials. The layout is highly responsive and gives flawless visuals to your website regardless of the device.
Most importantly, this starter theme supports translation so that you can use it to create a multilingual site.
WP Rig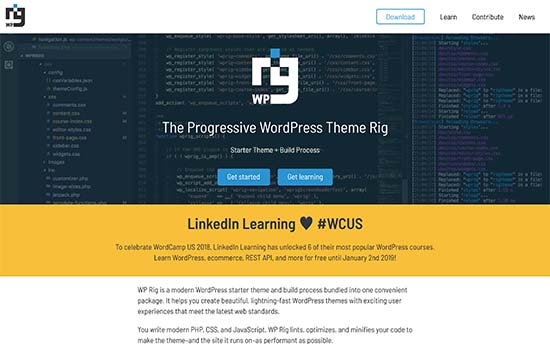 WP Rig is a complete package of useful development tools that helps you to build modern design and high-performing websites. Even though this theme is specially optimized for performance. It provides you distinct development base that lints, organizes, and compresses your code for greater performance.
Quark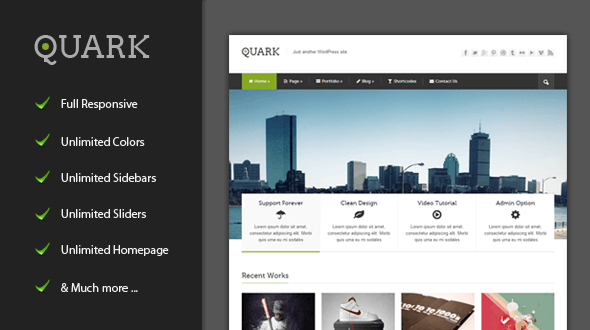 Last in the list comes Quark- a building block to create modern, sleek & responsive WordPress themes. Quark is written in HTML5 & CSS3 based on the Underscores and TwentyTwelve themes.
It aids with high performing design including a strong foundation, responsive layout, over 300 icons, post formats & templates, and others. Also, supports Normalize to ensure that browsers render all attributes more consistently, and Mordernizr to identify HTML5 and CSS3 browser capabilities.
Let's walk you through the important aspects that you should know to get the right starter theme.
4 Things to Consider for Selecting the Right WordPress Starter Themes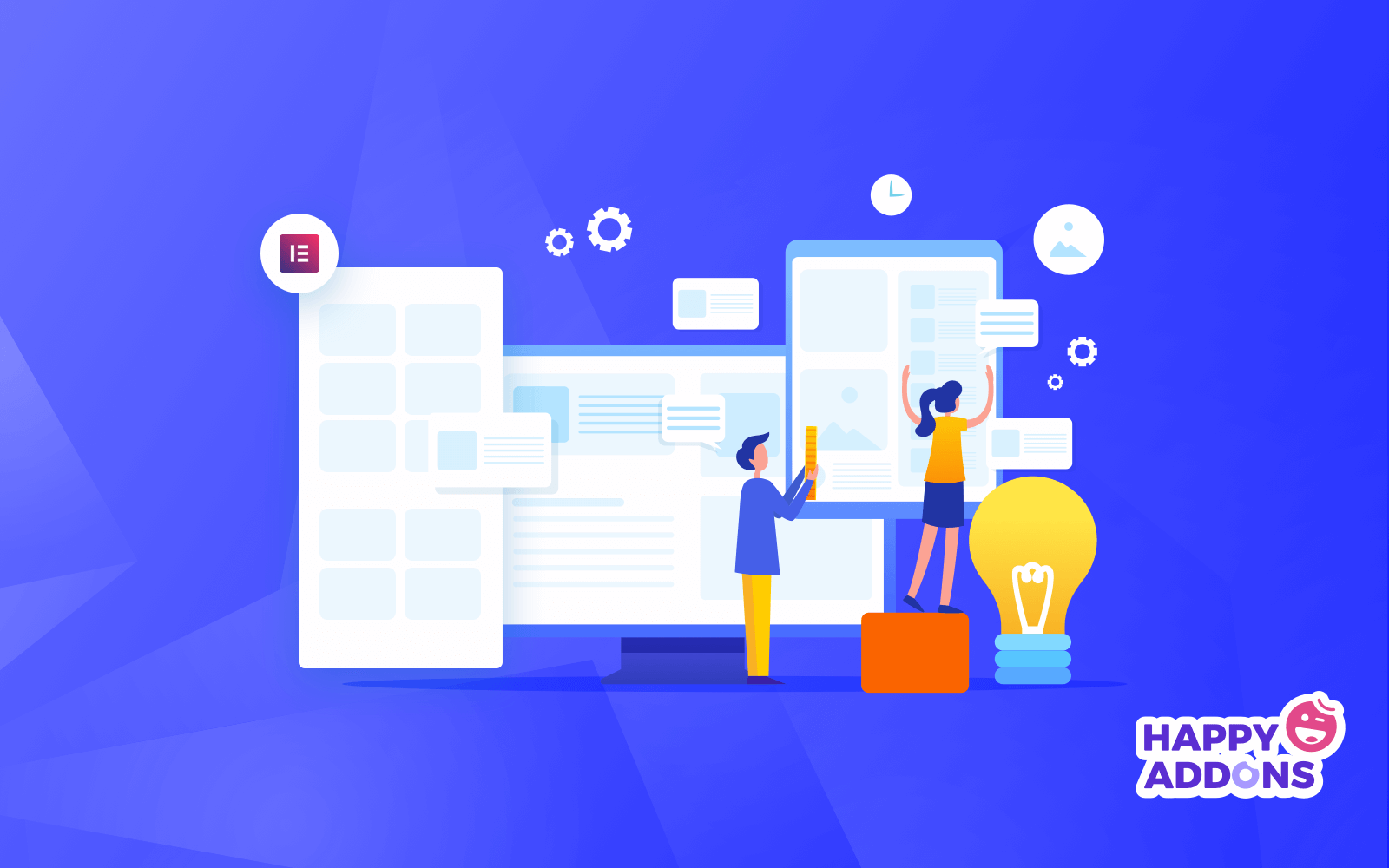 If you want the flexibility to build a custom theme but not prefer to start from the null, then a WordPress Starter Theme can be the perfect tool to roll out. Get a quality base to begin your theme development journey smoothly.
However, if you decide to implement a starter theme on your site then the theme should satisfy the following features as well.
1. Fast Base-Level Speed Theme to Improve Your Site Performance
Well, by starting with a starter theme you have already taken a long root to reach the goal. So, going with a fast base-level speed may help you accelerate the success wheel. In addition, a lightweight WordPress starter theme can facilitate you with better user experience and increased visibility on the search engine.
2. Drag-and-Drop Functionality to Accelerate Your Workflow
A starter theme with a drag-and-drop facility can minimize your workload significantly. Drag-and-drop builders let you portrait your imagination in real life. You can visually witness the changes and sum up with your innovation faster than ever.
3. Pre-designed layouts To Explore More Design Options
It's better to use a starter theme that comes with readymade designs and layouts. So, you can implement them while customizing the site right from there. Most amazingly, it lets you preview the design, include them into your site, or discard them immediately if you don't like them.
4. Unlock Premium Components to Expand Your Accessibility
To amplify your theme's functionality sometimes you may need some advanced features and proficiency. If your stater theme having the access to more upgrade and premium attributes then it would be helpful for your theme development.
Nonetheless, use the regularly updated and actively maintained themes by its authors. Instead, an outdated theme can slow down your project's capability.

So, What are You Up to? Start Designing Your Own WordPress Theme
Working with your own unique theme is a matter of proud and satisfying, but it's also time-consuming starting from scratch. However, if you have the right tool in your hand then your workload can be minimized remarkably. WordPress starter themes exactly do that.
These foundation themes can enhance your development experience along with the proper customization options. More preciously, it helps you to build your own standard WordPress theme.
If you are a novice, use Underscores as the foundation of your first theme development project. However, Sage can be a good option while you get an expert on your work. Working with Genesis can facilitate you with great SEO support and site privacy indeed. Nonetheless, for a wide range of design options, there is no alternative to Astra.
Do you have any questions regarding WordPress starter themes and how to choose the right one? Do share your views in the comment section below!