Are you looking for the best Elementor Tutorials blog sites & YouTube Channels for 2023? Then you have landed in the right place.
Elementor earned immense popularity over the last few years due to its user-friendly interface and usability scale. With this WordPress page builder, you can build a high-functional website without having any prior expertise. It also minimizes the web-development time and cost as well.
More than 5 Million people are using Elementor for developing their sites.
Following this remarkable advancement and user demand, many blog sites and youtube channels have been introduced. They are publishing regular updates and educative Elementor tutorials. Moreover, many WordPress blogging sites have created an additional section to upload Elementor news and content.
In this article, we have listed some popular blogs and YouTube channels that will help you to acquire knowledge about Elementor. Explore more about its designing tools, addons, working process, and others.
Table of Contents
Top 8 Blog Sites for Elementor Tutorials
There are many Elementor tutorial websites and YouTube channels available on the web. You can use these resources to gather knowledge about this WordPress Page Builder. These training sites will teach you how to start with Elementor to use all its custom features & functionalities along with the updates.
Elementor
Happy addons
weDevs
Themeisle
WPLift
WPBuilt
Astra
Greengeeks
Elementor – Tutorials and Updates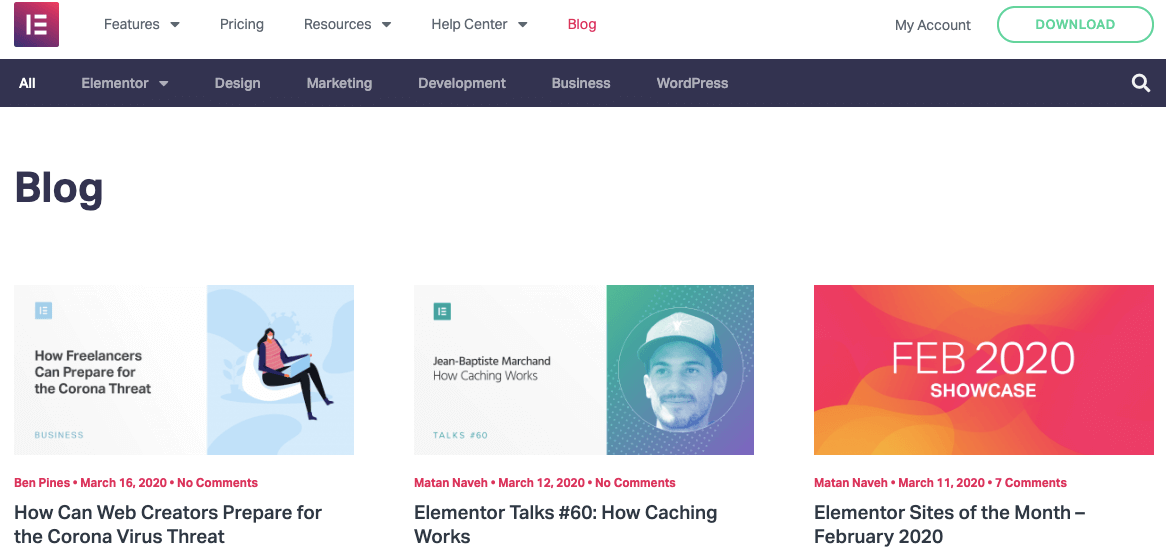 Its the official blog site for Elementor users. You can find here all types of Elementor resources including articles, inspirations, interviews, success stories, news, tutorial videos, and others. You can consider it as the Elementor User Manual! Here you will get all the assistance that you need to build your own website.
The contents are classified into different categories. So that visitors can get their required information easily. These include New Features, Design, Development, podcasts, Case Studies, Template Kit, and so forth. Also, you can visit Monday Masterclass to learn from the expert's blogs.
Moreover, they use easy navigation and a user interface. So anyone can browse the site effortlessly. Not to mention, all the contents are highly educative and easy to understand. That's why the site has a high user engagement rate with regular comments and interactions with the authors.
Happy Addons- Feature-rich Elementor Widgets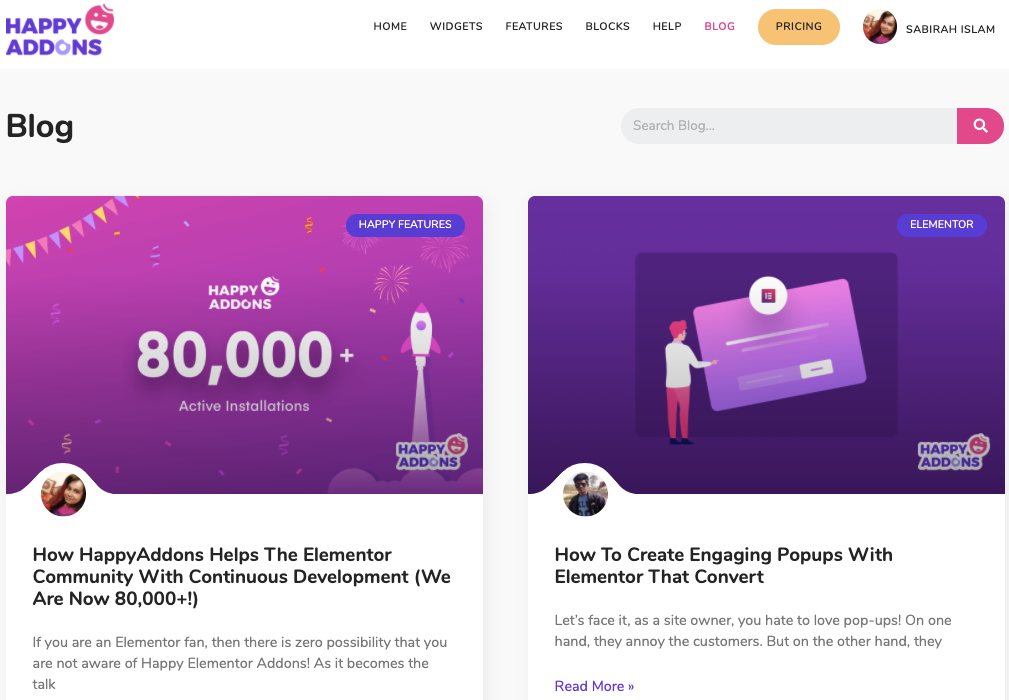 Well, Happy Addons is a powerful Elementor Extension. In the last 6 months, it creates a huge buzz among Elementor users. As it takes web development to the next stage. Now you can add animation, perform cross-domain copy-paste, create unlimited nesting, and do more amazing things regardless of having any coding knowledge.
From the beginning, Happy Addons has been contributing to the Elementor community in every possible way. As a part of this, they publish research blogs and training materials regularly on their site. These articles will help you to get a strong grip over Elementor.
Furthermore, you will get access to the world of different Elementor Addons. That will make your site development experience more memorable. Also, they use infographics and video tutorials for the reader's easy understanding.
weDevs- WordPress Tutorials & Reviews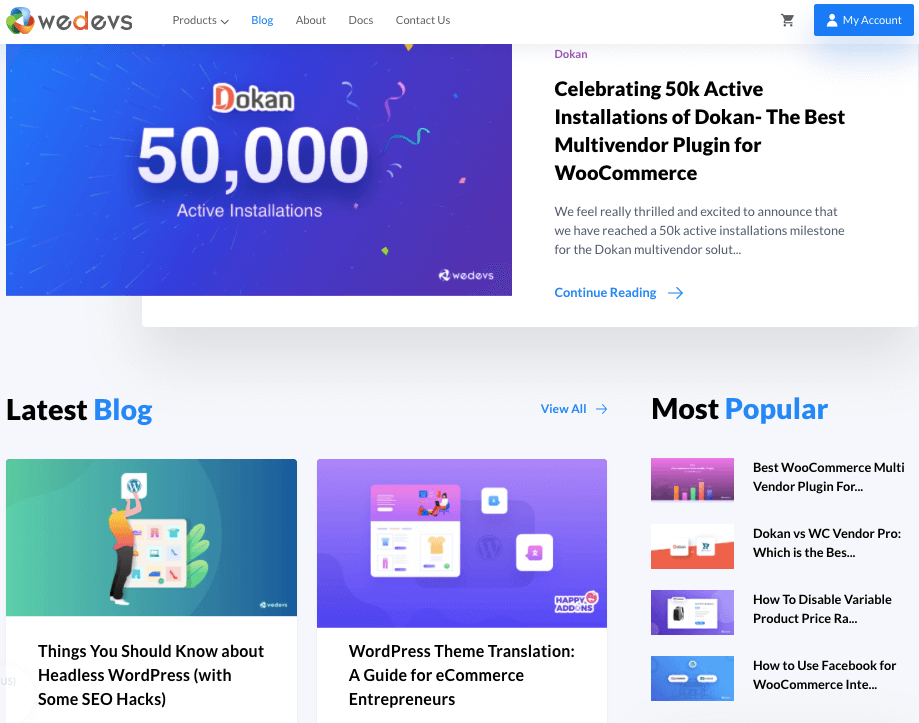 weDevs has been updating blogs for WordPress users for more than 5 years. They cover all the WordPress-related news, updates, and tutorials on their site regularly.
weDevs is the proud creator of many useful WordPress plugins like Dokan, WP User Frontend, Project Manager, wePOS, and others. Besides publishing blogs on their plugins they are always trying to assist WordPress users with educative content. From their articles, you will get all the knowledge related to building WordPress sites and run them successfully as well.
Furthermore, it will teach you about promoting your eCommerce business and operating an online marketplace seamlessly using Elementor. After launching Elementor, they also started sharing Elementor tutorials and useful content for the user's advancement. Thus, you must be beneficial if you visit their site often.
Themeisle- WordPress Blogs & Tutorial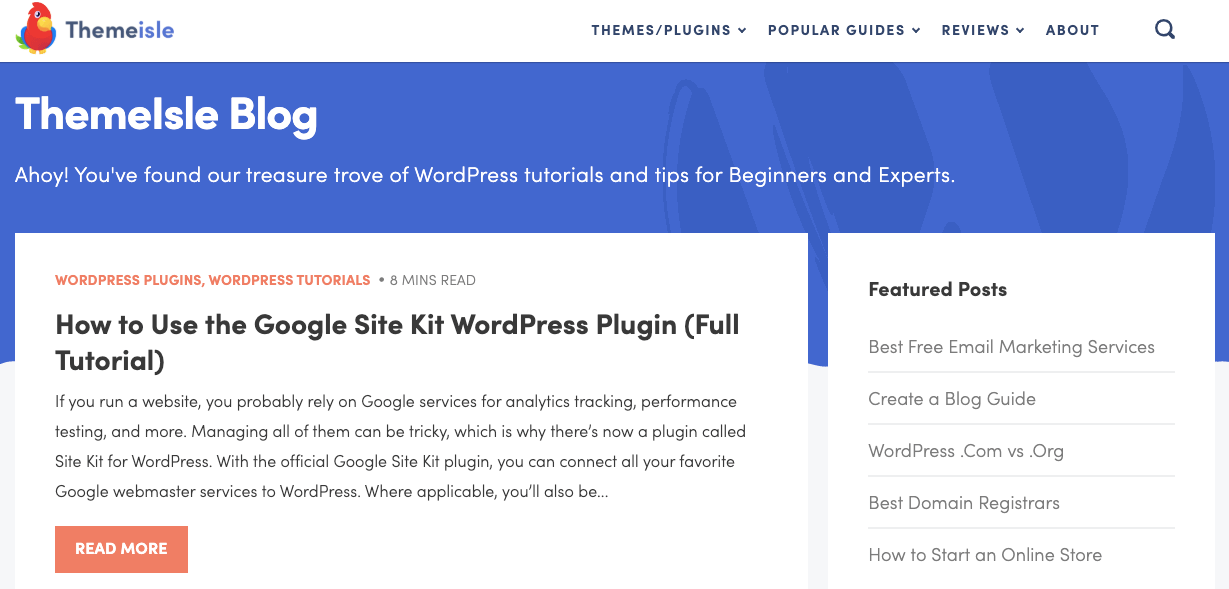 Themeisle published blogs and reviews aimed at the readers with both newbies and experts of WordPress. They upload blogs in different categories like WordPress, tutorials, plugins, themes, hosting, and others. You will get content from every arena of WordPress there.
In addition, they have a specialized section for Elementor users. Here you will find blogs on Elementor themes, addons, functions, widgets, and tutorials. Also, they have a number of comparison blogs that will guide you to pick the best product for your business. You can visit the listing blogs to get an idea of available options in a particular category.
WPLift- WordPress Learning Site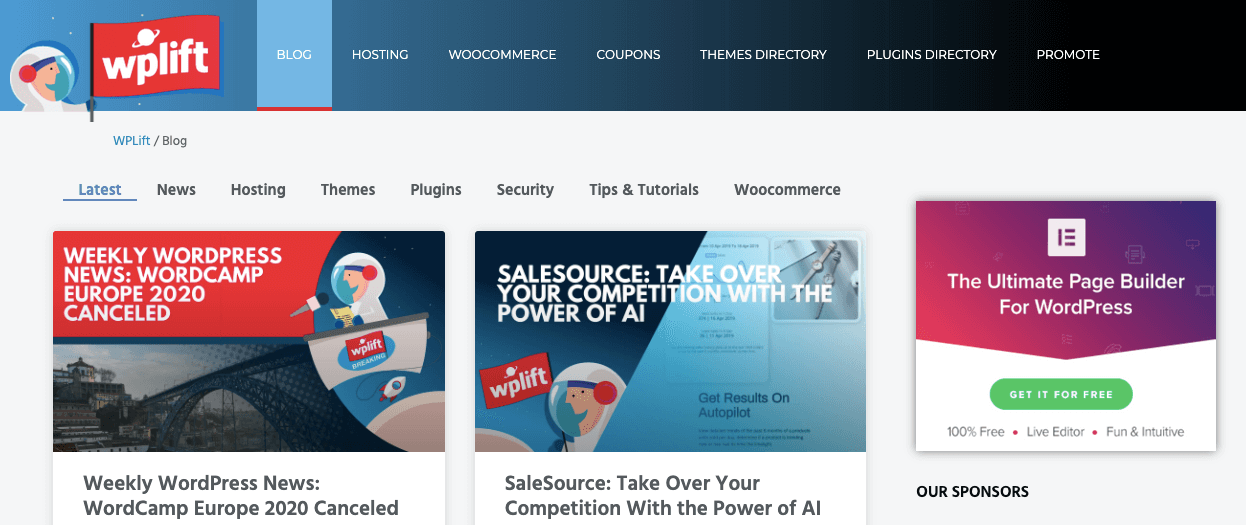 With WPLift you can enter the vast universe of WordPress easily. As they host a highly educative blog site for their readers. You will find articles in specialized categories. It includes WordPress Hosting, News, Themes, Plugins, Security, and others. There are 50+ helpful blogs under each section.
Also, you will get access to the Tips & Tutorials category. Here, they upload teaching blogs in different groups. So that you can easily search for your required one. You can get knowledge about increasing traffic, managing your blog, handy tools, and techniques from these articles.
Plus, they have a number of blogs on Elementor updates, latest offers, designing tools, templates, and others. Further, they release blogs on popular Elementor addons and their usabilities.
WPBuilt- Elementor Tutorials & Blogs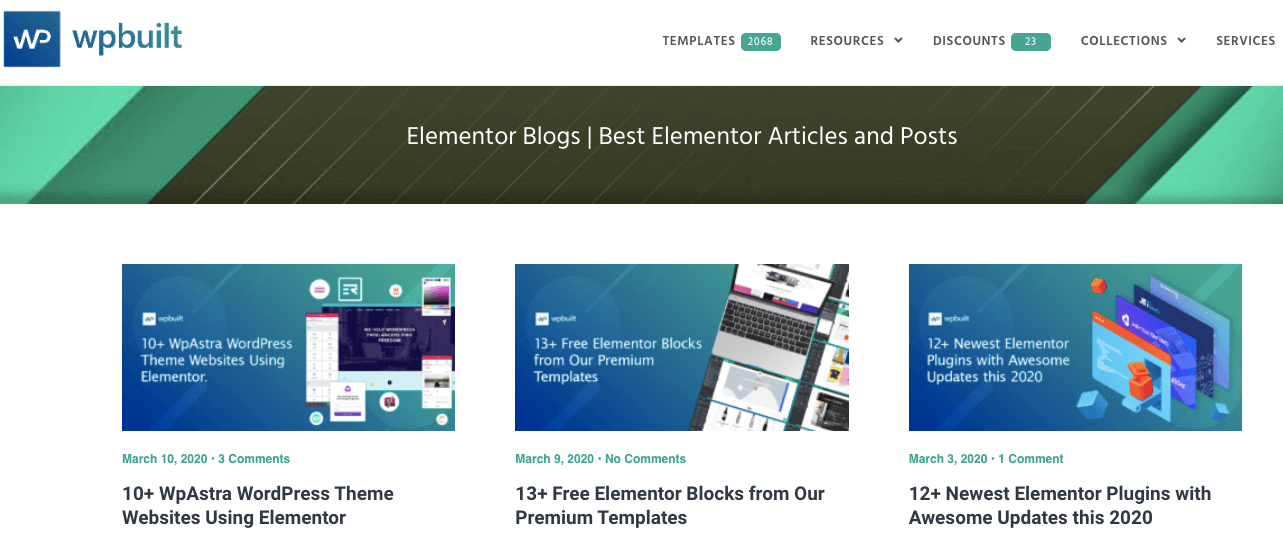 WPBuilt supports a rich collection of Elementor themes and layouts. Also known as a reliable place for Elementor tutorials, basic guides, and other helpful resources. They have 30+ dedicated blogs focusing on Elementor themes, plugins, and templates. Apart from this, they have a separate tutorial section. Where they share 40+ teaching blogs for all types of Elementor users.
Tutorials are divided into several categories Free, Pro, beginners, and Expert. This representation will help you to browse the content in a disciplined way. Undoubtedly all the articles are well explained. They discuss all the topics elaborately. As a result, the WPBuilt blog becomes popular within a short time period in the Elementor community.
Astra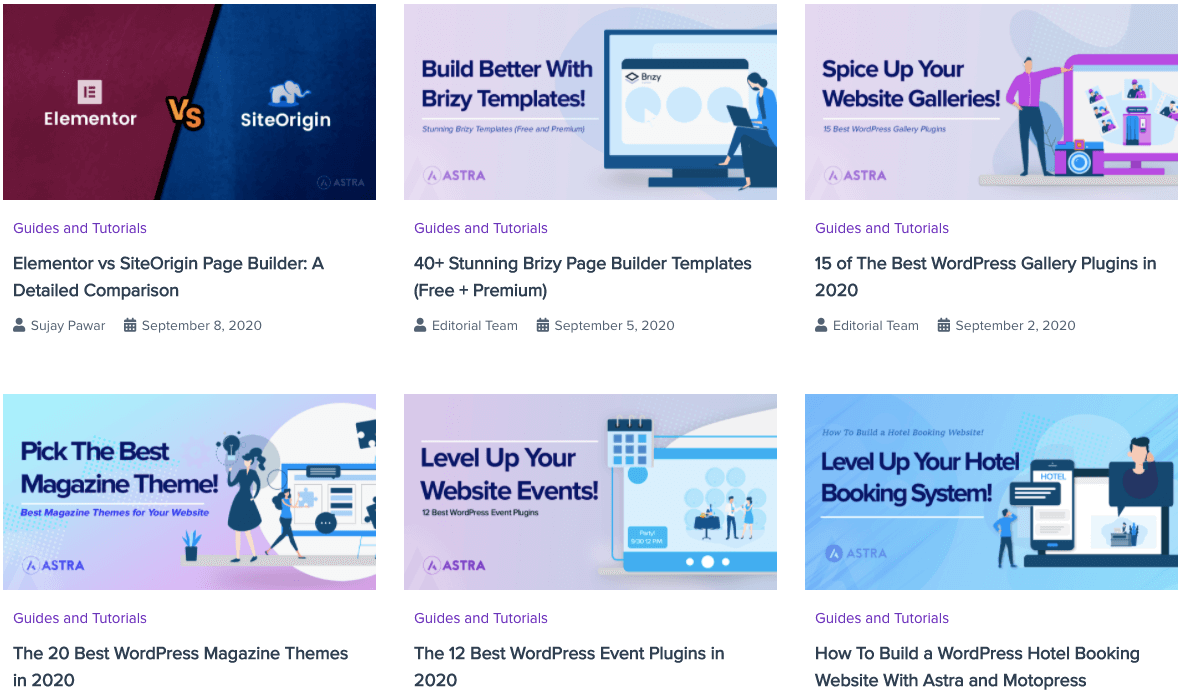 For WordPress users, Astra is a renowned name for beautiful and professional-looking website designs. Astra is a fully customizable, SEO-friendly, and fast WordPress theme. Most importantly this theme is fully compatible with major page builders including Elementor. And you can build any type of website such as a personal portfolio, online shop, business website and so many in Astra.
It has 100+ blog posts on different topics related to site building, the latest updates of WordPress products, productive comparison, plugins review, guide, effective tips, and tricks, etc. There you'll get plenty of resources on Elementor too. Accelerate your workflow with Elementor by going through these helpful blogs and tutorials.
Greengeeks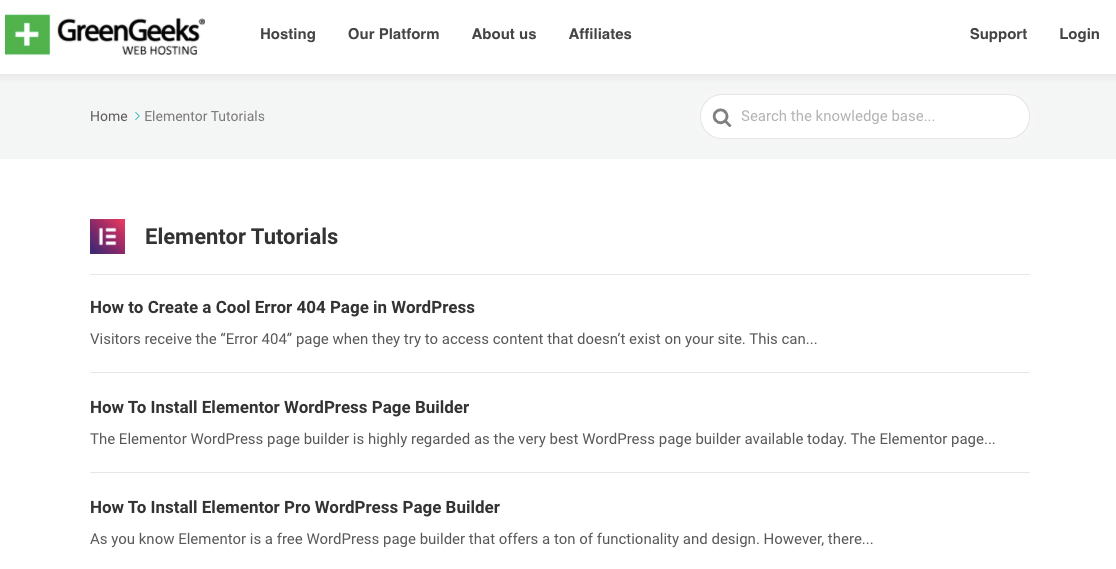 Greengeeks is a trustable hosting provider for website owners. If you want a secured and high-speed site in an inexpensive plan then you can surely give it a try! They have an individual hosting plan for the WordPress site- that's undoubtedly great news for WordPress fans. Besides, being an eco-friendly hosting platform it has a dedicated section for Website Tutorials. Here, you'll find several categories including a number of helpful contents.
Under the Elementor tutorial, there are 20+ tutorial blogs elaborating on different designing procedures inside Elementor. If you are planning to create. your next website using Elementor then you must go through these helpful blogs to get a complete guideline.
Top 8 Video Channels for Elementor Tutorials
Besides blog sites, there are some amazing YouTube channels too for learning Elementor. These channels are well known for sharing Elementor resources- teaching videos, step-by-step outlines, latest news & updates.
Research says mostly 68% of people prefer video content for educating themselves, learning about new products or services.
Let's have a quick look over our compiled list of the best Elementor tutorials- YouTube Channels:
Elementor Page Builder for WordPress
Happy Addons
weDevs
WPCrafter
Ferdy Korpershoek
WPTuts
Web Monkey
Darrel Wilson
Elementor Page Builder for WordPress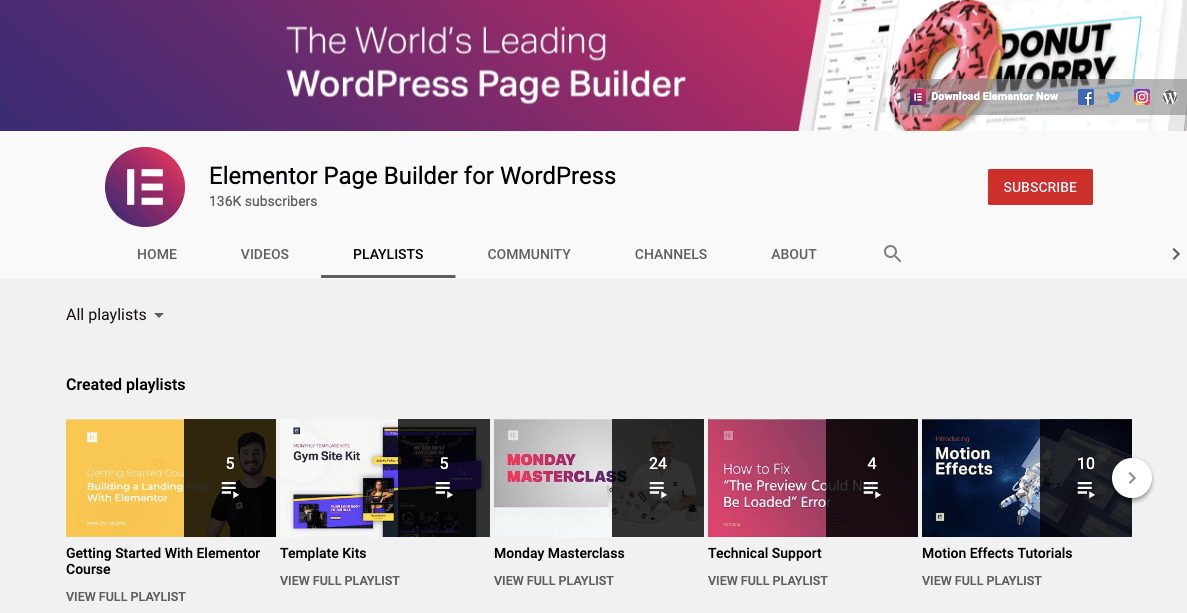 This is the official Elementor YouTube channel. They regularly upload videos on how to use Elementor, fix the bugs, manage the widgets, and others. At this time they have 321 videos on their channel. You can build a professional Elementor site by taking help from these videos.
On average, they upload two new videos every week. This channel has a wide range of playlists like Getting Started With Elementor, Template kits, Technical support, and many more. Here you will get a tutorial made by the experts.
Happy Addons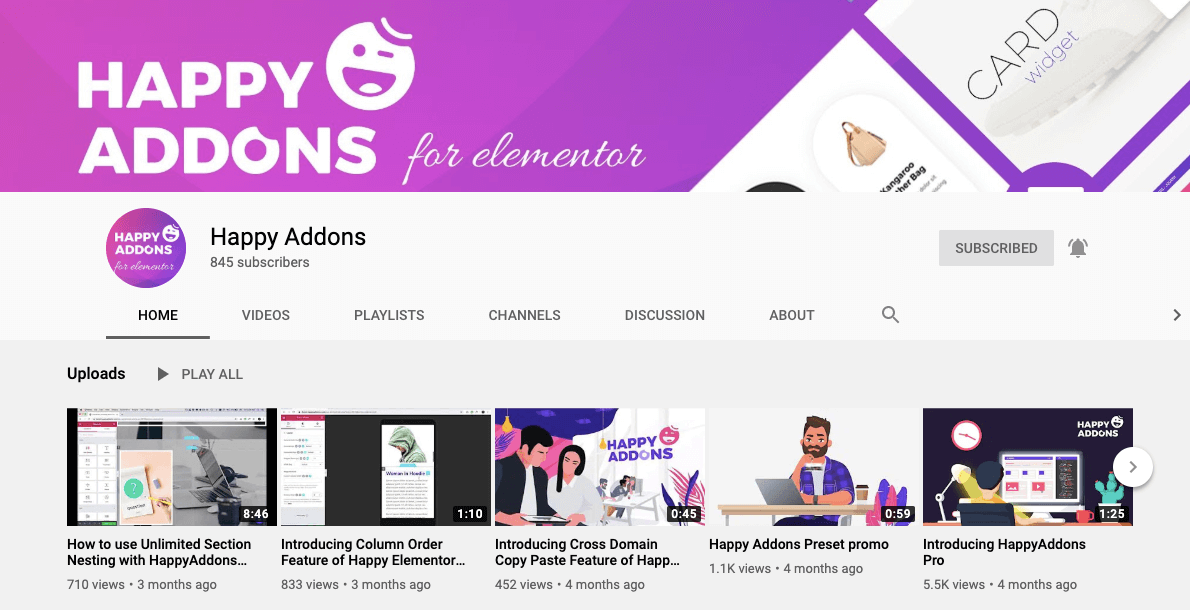 HappyAddons is a quite young participant in this race. But in a short time, it contributes a lot with valuable content and educative tutorials. It has around 1k subscribers and 20+ videos for Elementor users. Here you will get tutorials focusing on HappyAddons widgets, features, and working process. These materials will surely help you to make your Elementor site more attractive.
weDevs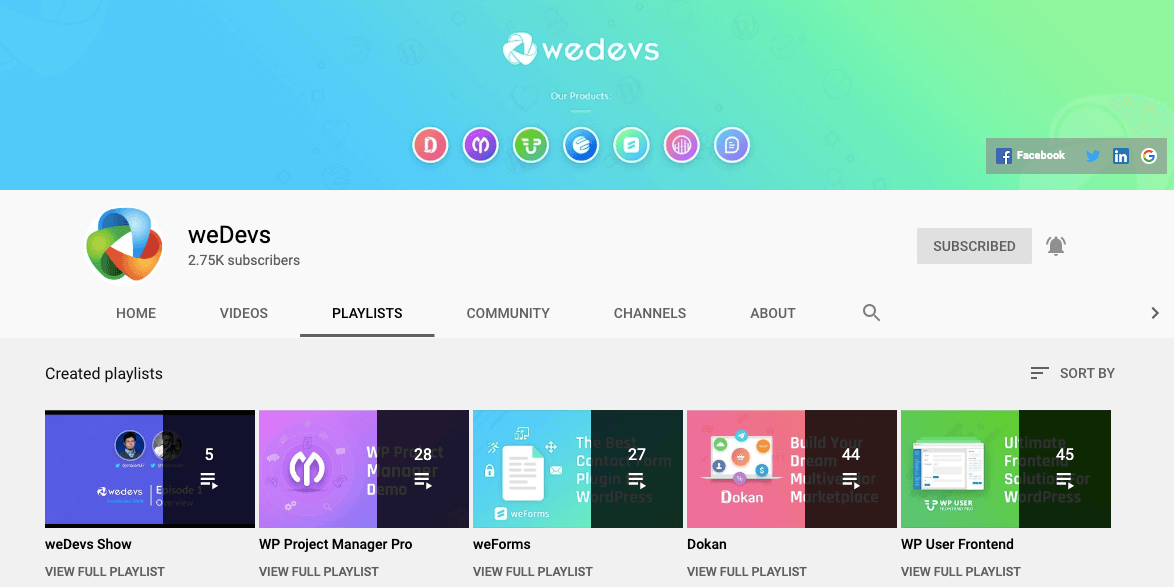 With 2.75k subscribers, weDevs has made a long journey so far. And achieved a lot of love from its viewers for amazing videos, tutorials, and reviews. Now they have 250+ videos on their channels with segmented playlists. You will find useful videos on WordPress, plugins, themes, and others. They have a show named "weDevs Show" where they discuss several topics of WordPress and its community.
WPCrafter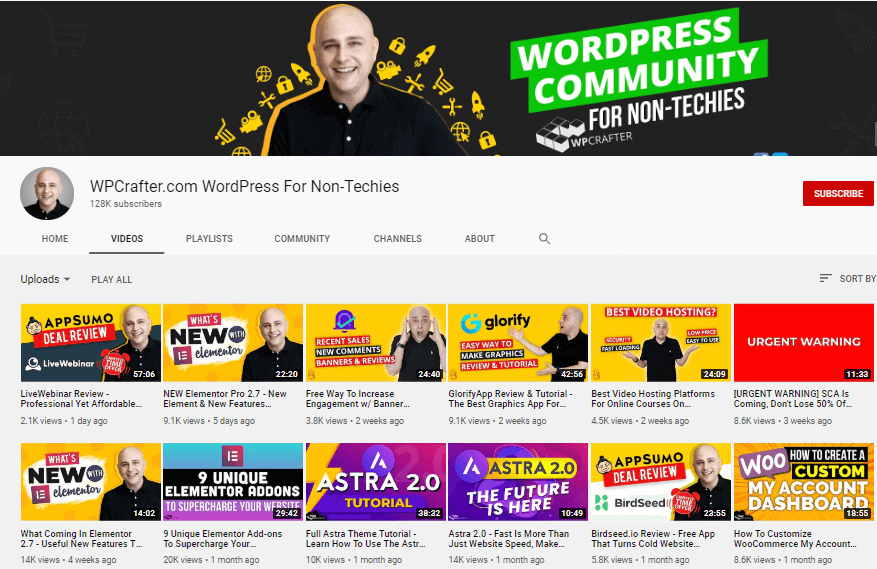 WPCrafter has 190k subscribers and more than 450 videos covering different topics of WordPress. Also, it has a dedicated playlist for Elementor Page Builder. They published 50+ videos in that section for Elementor users, newbies and experts. Reviewed a lot of Elementor plugins and themes to educate the viewers accordingly.
On average, they upload two new videos every week on this channel.
Ferdy Korpershoek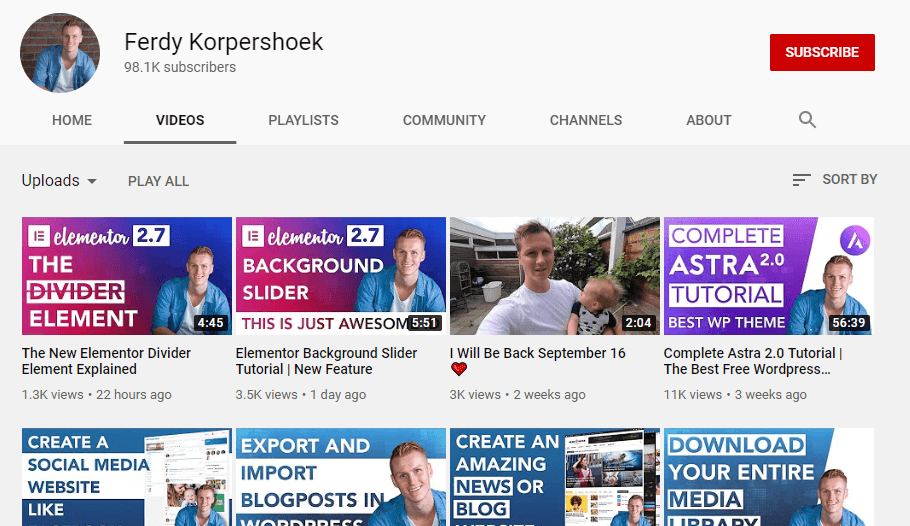 This channel is all about teaching people how to make a WordPress site by yourself, create a webshop, build an email list, make money on the internet, and more. Fredy usually publishes videos twice a week. You will find a playlist named Elementor Pro Tutorials with 30+ videos for the viewers.
From these tutorials videos, you can learn how to improve your site look using Elementor. He shows everything steps. So, beginners also can easily follow all the instructions and create their first Elementor site in no time. Besides, he reviewed a lot of Elementor themes and plugins as well.
WPTuts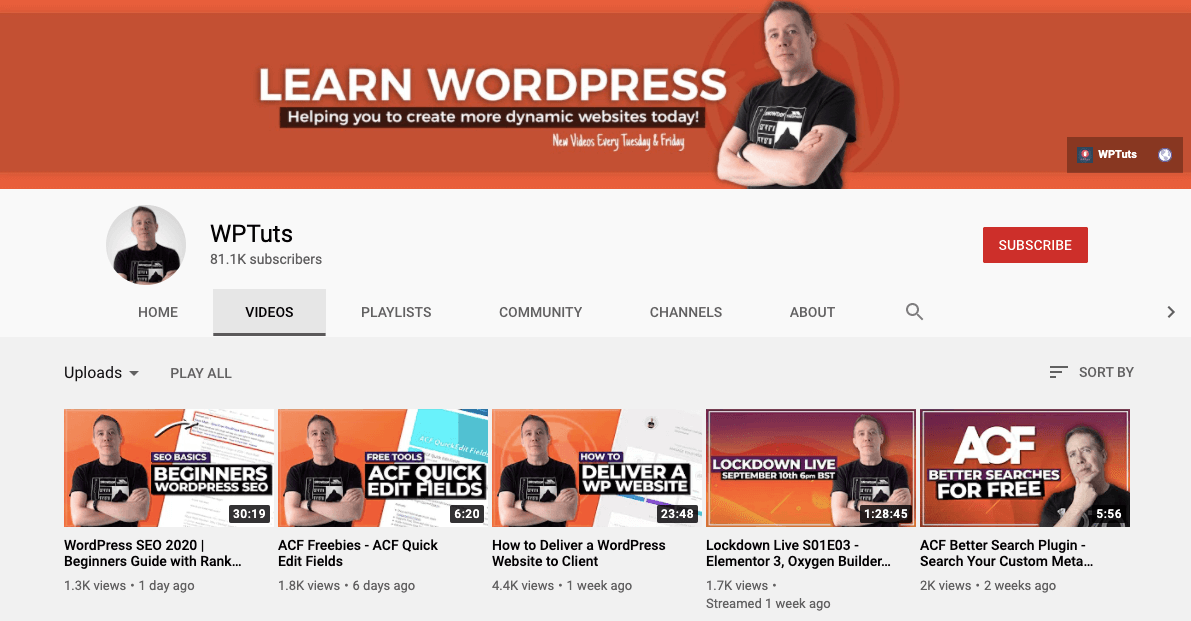 WPTuts works in a unique approach to help its audience with different design patterns, detailed tutorials, and clear guidelines. Unlike other YouTube channels, they don't publish one or two videos about a specific topic; rather they used to cover every tiny detail of any plugins or development procedure on their channel.
WPTuts has published more than 120 videos on Elementor, 45 on Slider Revolution, 32 on Visual Composer, 30 on WooCommerce, and other playlists as well. Also, they have a dedicated playlist of WordPress tutorials for beginners.
Every Tuesday and Friday, WPTuts brings you the new content for its 81.1k subscribers.
Web Monkey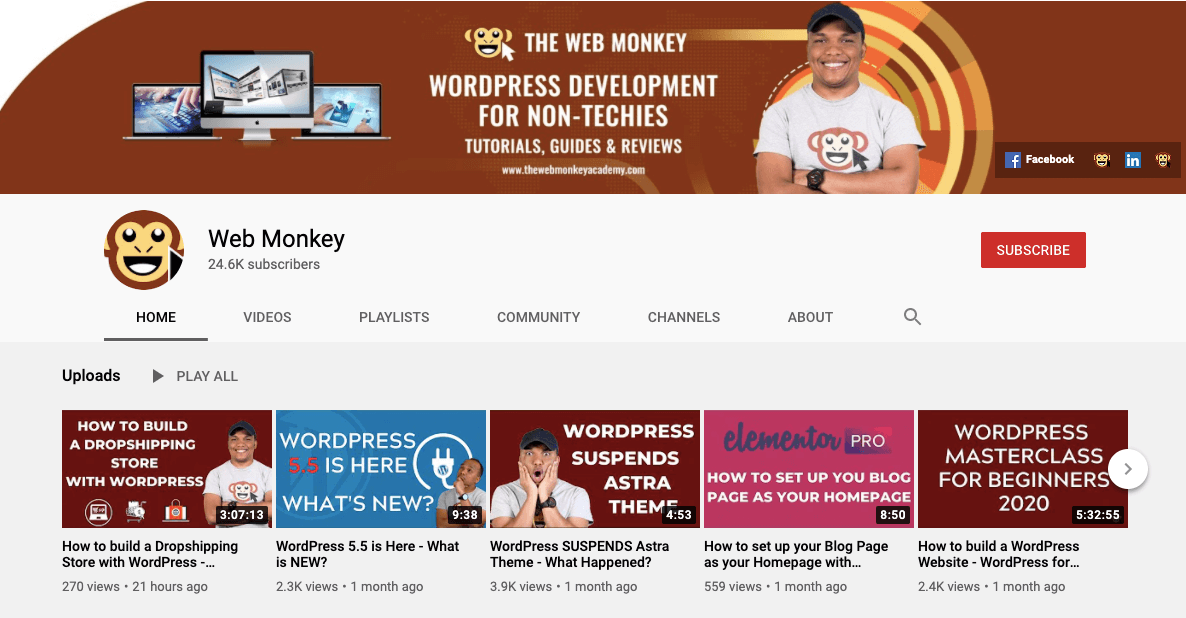 Alexander Oni is the instructor of the Web Monkey youtube channel. Web Monkey is more than a youtube channel, it also operates a dedicated digital course platform- Web Monkey Academy.
In this Youtube channel, you will find enough resources to learn WooCommerce, HTML/CSS, Elementor, and anything related to WordPress. He used to publish helpful tutorials regularly in terms of sharing the latest updates and news.
Apart from sharing videos and running his own online learning platform, he is also the best-selling instructor on Udemy and Skillshare.
Darrel Wilson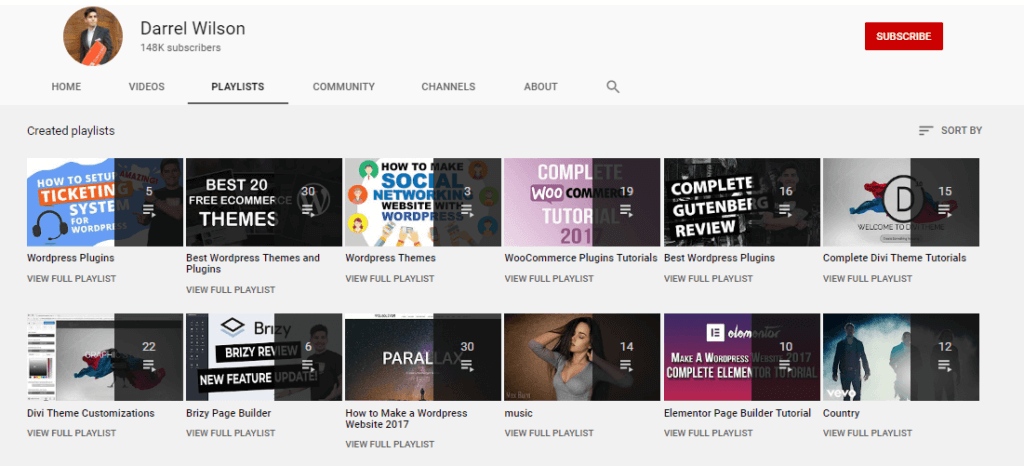 Darrel started this channel to upload free tutorials on WordPress, website creation, and WordPress SEO. Here you can learn how to easily create your WordPress website in a few clicks. There are 219K subscribers on this channel. They also have an individual playlist for Elementor users titled "Elementor Page Builder Tutorial".
Here, you will learn about different WordPress themes, plugins, and services- their advantages & limitations. His detailed tutorial videos are so beginners friendly and easy to understand. If you are about to build your first Elementor site, go through these videos for a quick start.

Well, this was the list we made for you. Elementor empowers a non-technical person to do the same once that was only possible by the professionals.
On the other hand, it makes developers' hands more powerful. Advanced control tools accelerate their workflow with maximum productivity. As a result, now they can complete their projects faster than before. So, these Elementor tutorials will help both technical and non-technical persons to earn more money indeed.
Educate Yourself with Elementor Tutorials Blogs & YouTube Channels
Elementor is one of the most powerful WordPress Page Builders with over 4,000,000+ users around the world.
In order to help the users and make their journey easy many Elementor tutorials websites and YouTube channels have been introduced. Today we have compiled a list of the best Elementor training websites & YouTube channels. Check the list and proceed to the next step. However, we suggest you visit all the sites at least once as they have helpful content for you.
Do you use the Elementor page builder to design your WordPress websites? Don't forget to share your experience in the comment section below.