Are you having a hard time finding the perfect Elementor template? Well, nothing to worry about.
Elementor page builder powered over 5+ million WordPress sites globally. What makes it super permissive? Of course the drag and drops editor and openness to third-party widgets like Happy Addons. Furthermore, there are hundreds of Elementor templates to create highly converting web pages. It has both free and pro versions.
But finding the right design for your business is never been easy. So in this post, we have hand-picked some of the best Elementor templates for you. Also, we will show you how to create a page using a template from the Elementor template library step by step.
Top 12 Free and Premium Elementor Templates at a Glance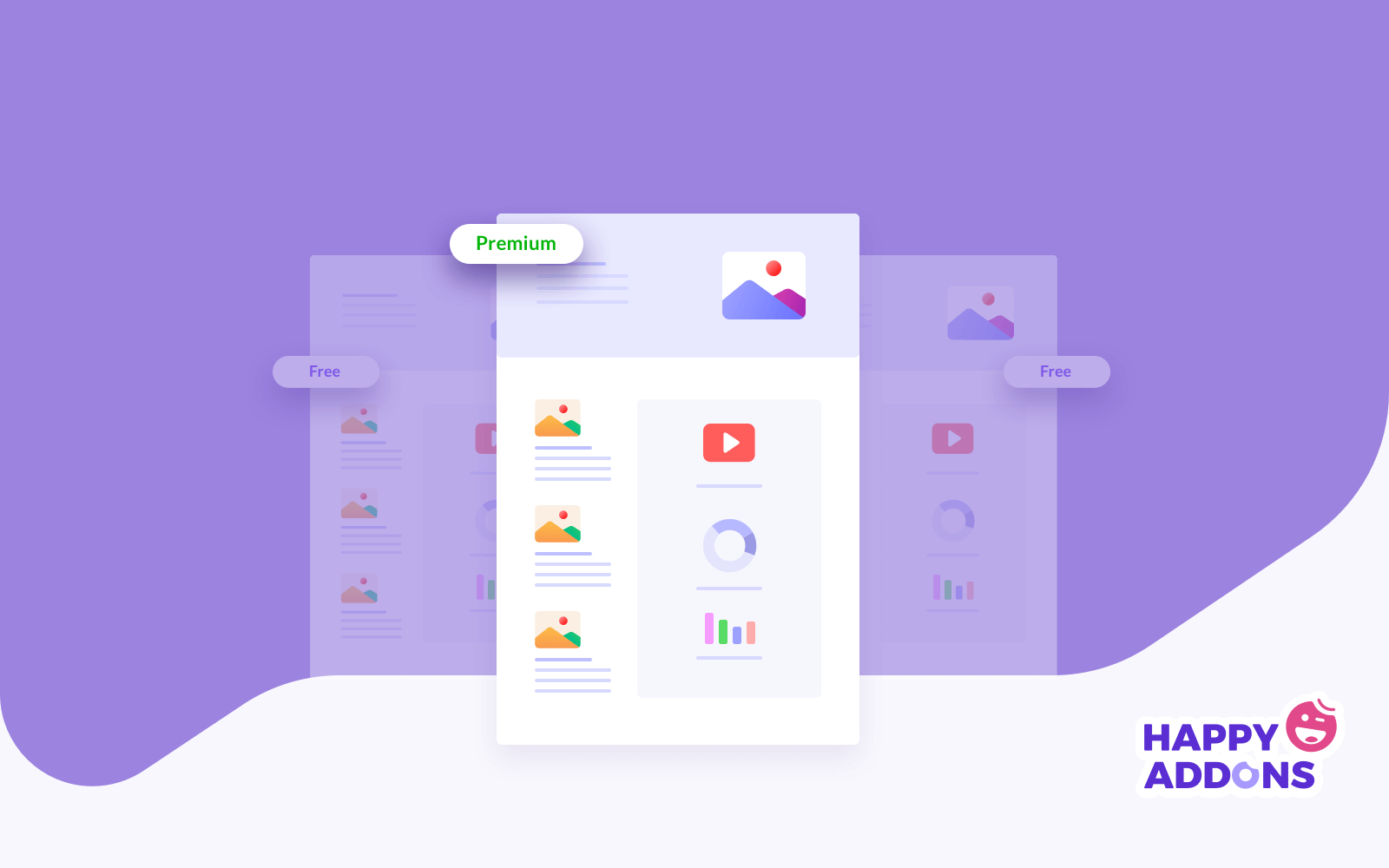 The Elementor library already has a tremendous collection of free and premium designs. Furthermore, it doesn't end your possibilities there. Countless professionals are creating beautiful Elementor templates every day. They are floating in the marketplace just like colorful hot air balloons.
Here, we have listed both free and premium templates consecutively to uplift your web page's appearance.
Let's take a look.
Free:
Homepage – Agency
About – Personal
Product App – Library
Contact – Modern
Landing Page – Real Estate Two
Neve – Blogging and Beauty
Premium:
Homepage – Law Firm
Landing Page – Stylist
Contact Page – Snowboard Side
About – Travel
Black Friday – 80s Style
Magazine – Homepage
1. Homepage – Agency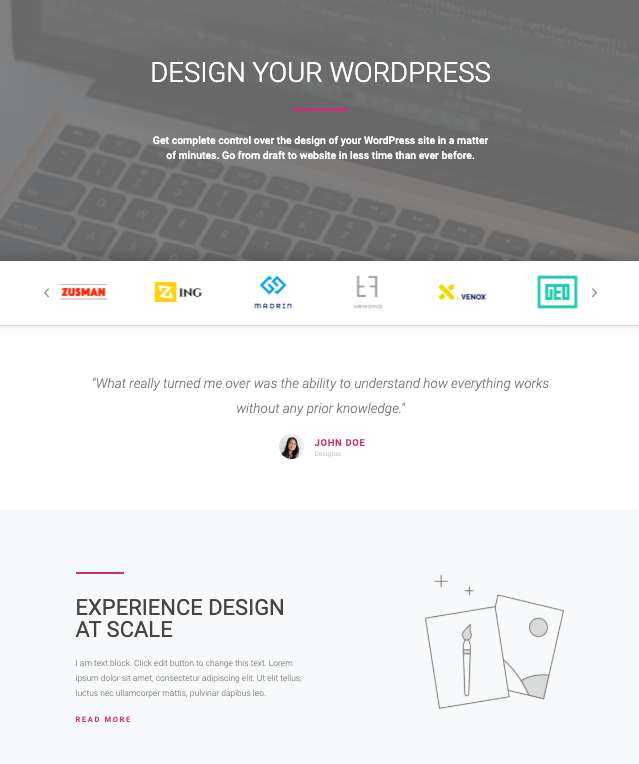 Agency is a free Elementor template designed for building responsive homepages. If you are an owner of a small firm, ad agency, or any type of business that needs a simple but effective visual, this can be a good choice. It is divided into eight customizable sections. You can use each part to focus on various prospects of your service or remove some of them whenever necessary.
In one single page, you help you to display your successful projects, interactive customer review, product features, etc. Furthermore, the banner slider would be very helpful to show your brand partners or product categories. In the Elementor editor, you just upload images to the slider segment and set their size as thumbnails or other formats. The setup is quite easy.
2. About – Personal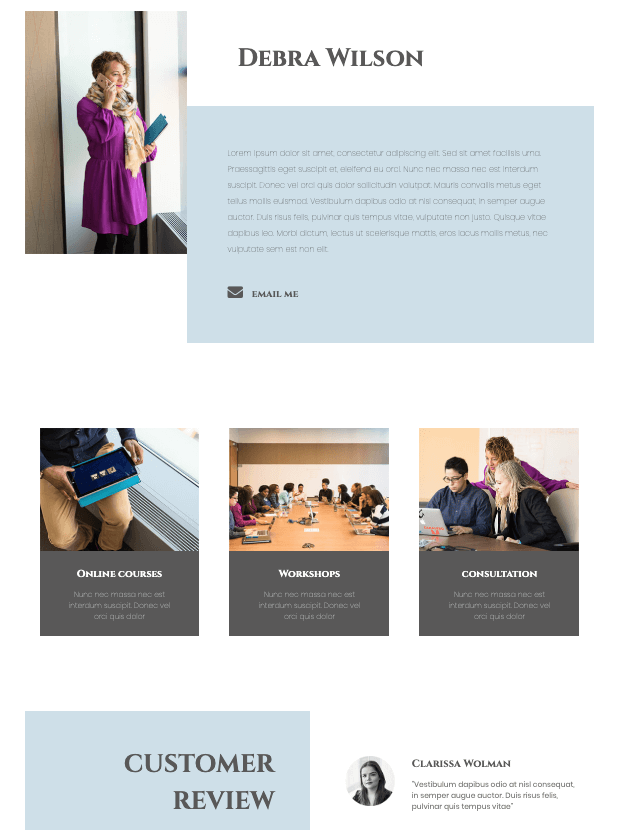 Whether you are a digital marketer, influencer, designer, or consultant, Personal is one of the best Elementor templates for you. It is highly centered on individuals who need to create an online portfolio. Of course, it is free and highly adaptable.
The main reason we are calling it a fine choice is its minimalism. Just take a closer look and you can see. This template only has three sections. Introductory part, key project highlight, user testimonials. And, then there is a lot of white space that would make the UX so smooth and enjoyable.

3. Product – App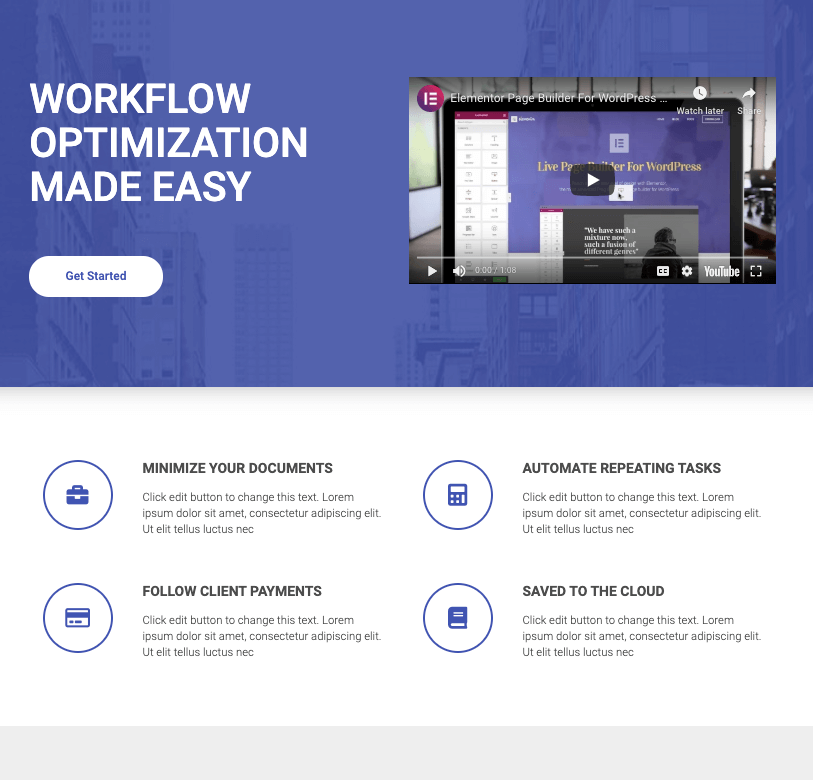 APP is one of the simplest templates for Elementor. Creating a product page shouldn't be unorganized and defocused. Unless it is connecting, people won't convert. You must create a web page that shows people how your product can help them. The App Elemenor template is just the right choice to accomplish this goal.
In the header segment, there's an option to stream a tutorial video. The next part can be used for displaying your product features. Moreover, you don't need to create a different pricing page. Adding your pricing plan to the product page is considered a smart decision. Hence, if you need to create an elaborate pricing board, linking that with your product page would only take minutes.
On the other hand, this template is also suitable for creating landing pages for software and WordPress plugins.
4. Contact – Modern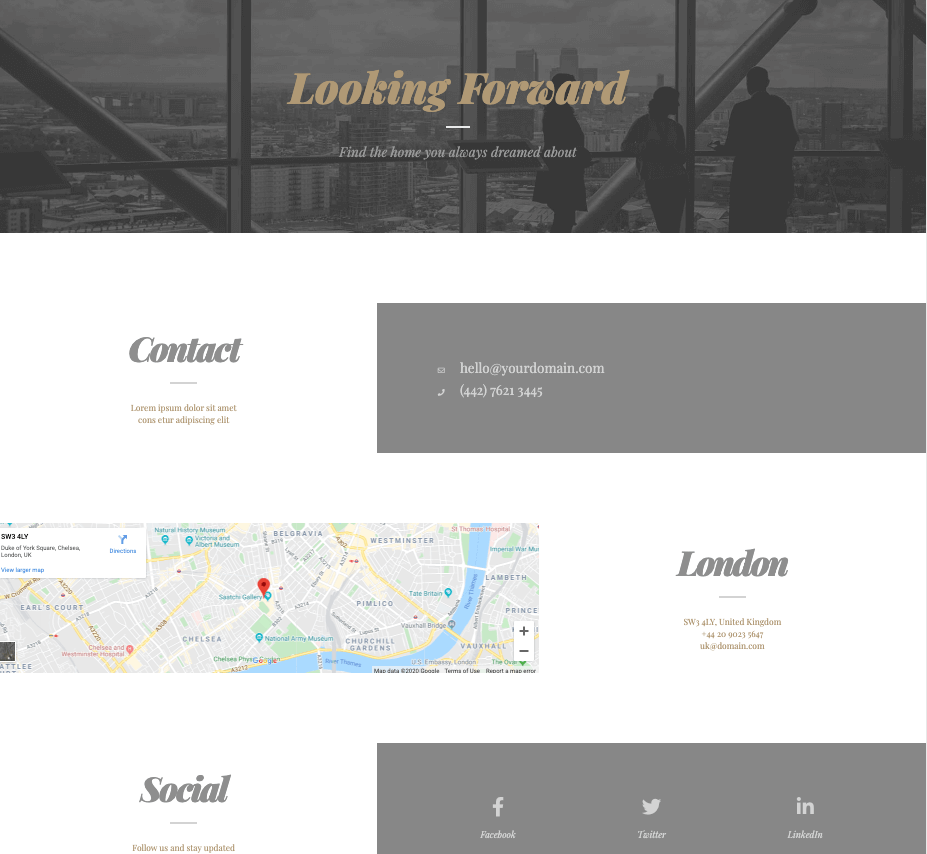 It needs only a few steps to create a contact page with Elementor. Though in some cases we don't want to spend much time for customizing. That's why premade designs are also popular.
If you are searching for a free contact page template, Modern comes along with all the simplicities. It is minimalistic, and a lot of space lets you add a contact form too. The map section helps your customers to find where you are. The social sharing option is pretty much highlighted through a separate page section.
5. Landing Page – Real Estate 2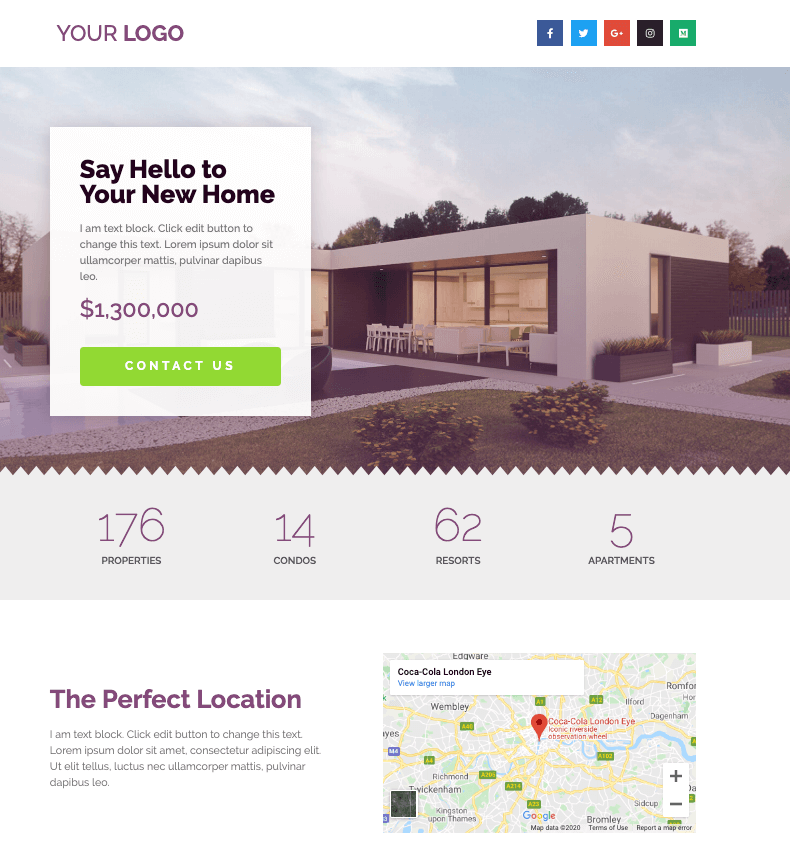 Real Estate 2 is mainly designed for builders. Nonetheless, it helps any business that wants to showcase its accomplished projects with a beautiful large banner and a responsive count table.
Besides, it has a tiled gallery, Google Map accessibility, and a video streaming advantage. Overall, it's ready to customize your landing page with Happy Elementor Widgets.
Therefore, you can change background color and images. Add or remove sections. Though it's a free template, Real Estate 2 compatible with any pro Elementor features.
6. Neve – Beauty and Blogging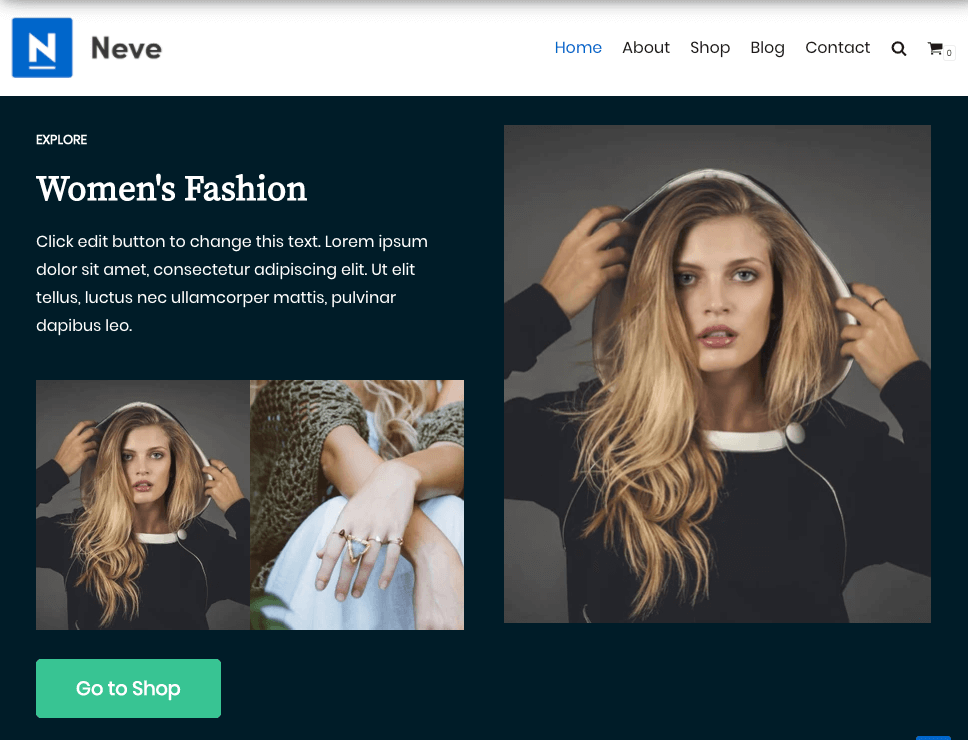 Neve is a mobile responsive free Elementor template. It is developed by JustFreeTheme for Elementor users. What you need is to download the template and start customizing it.
Whether you are a blogger or you do need a content-sharing website this template is a great fit. Furthermore, it is highly suitable for beauty and fashion magazines.
The interface is playful. You can add a slider for featured posts. Also can create a custom header that you can display on different pages. Therefore, you can add a slider to any part of your landing page.
7. Homepage – Law Firm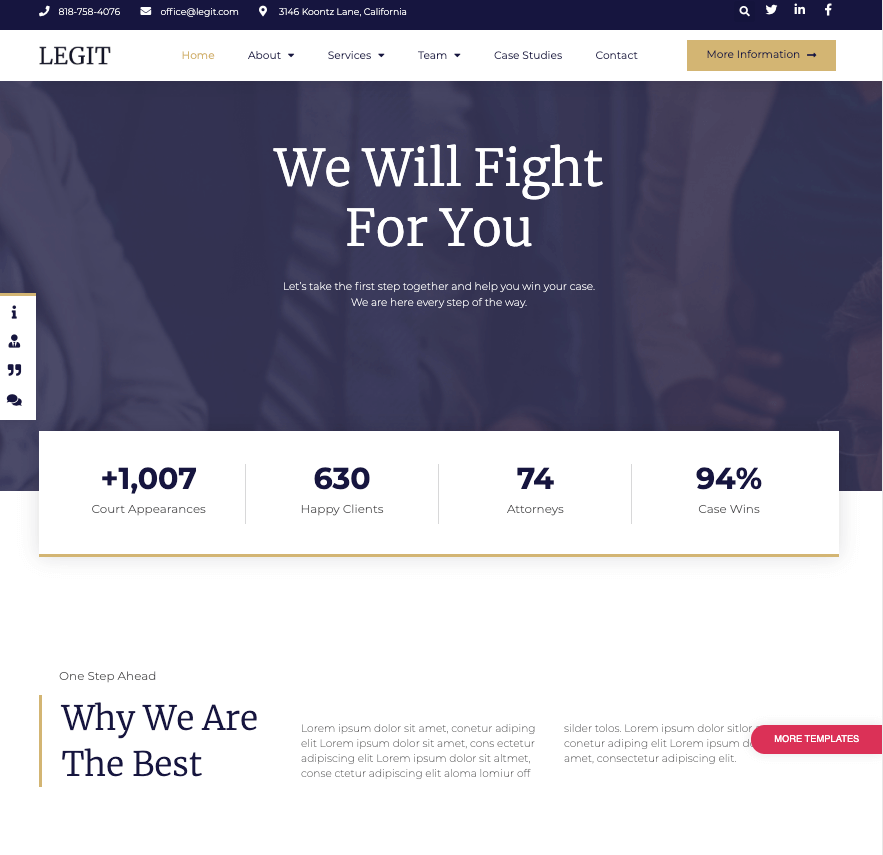 In our opinion, if we really want to imply any gorgeous Elementor template, surely that is Law Firm. Just look at it. From top to bottom, a Law Firm is defining its poshness and golden linning. Well, it's not only the looks. This template has 17 different sections but you won't be bored while surfing the site. It evokes a powerful user experience.
That's the reason we are listing it atop in our pro Elementor template. Only after you purchase a premium plan, you can avail of this design. However, it is best suited for corporate organizations, consulting businesses, educational institutes or universities, etc.
8. Landing Page – Stylist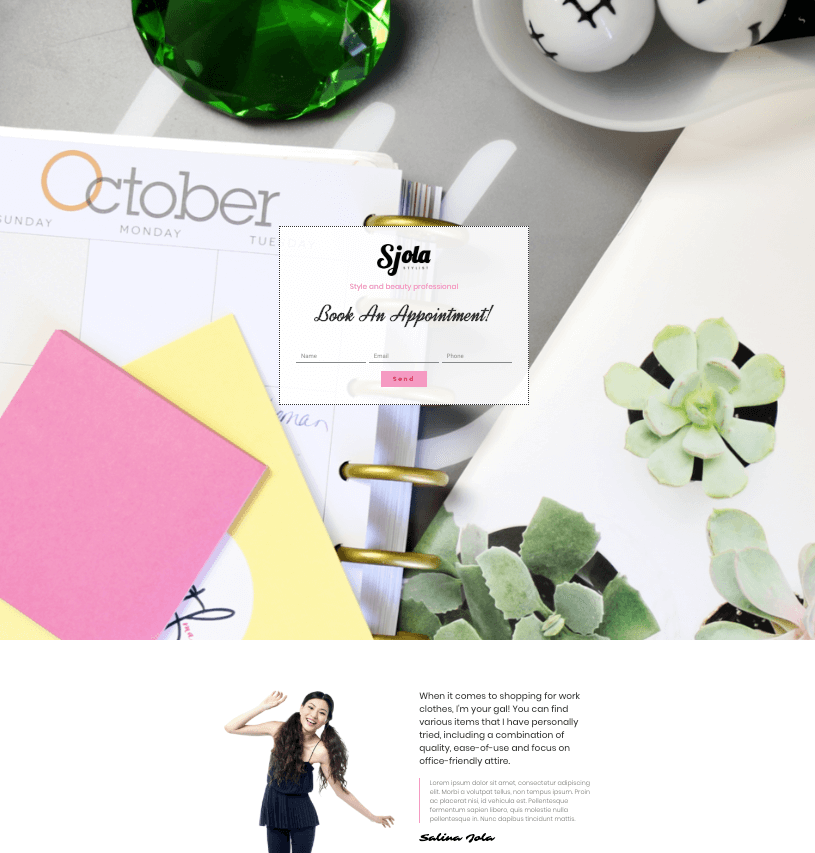 Stylist designed for beauty. It's soft, light, full of heart, beautiful, and fun. This Elementor template is mainly designed for beauty experts who want to create a website to provide personalized service. Moreover, it is well suited for a spa business, saloon, or parlor. Even if you are a life coach, trainer, or consultant, a Stylist is a good option.
With this pro Elementor template, you can tell about your story like a story. Show different offers and gifts. Most importantly, you can take appointments from clients with a simple form like an email option. Furthermore, there's a perfect gallery to showcase your earlier service experience with different people.

9. Contact Page – Snowboard Side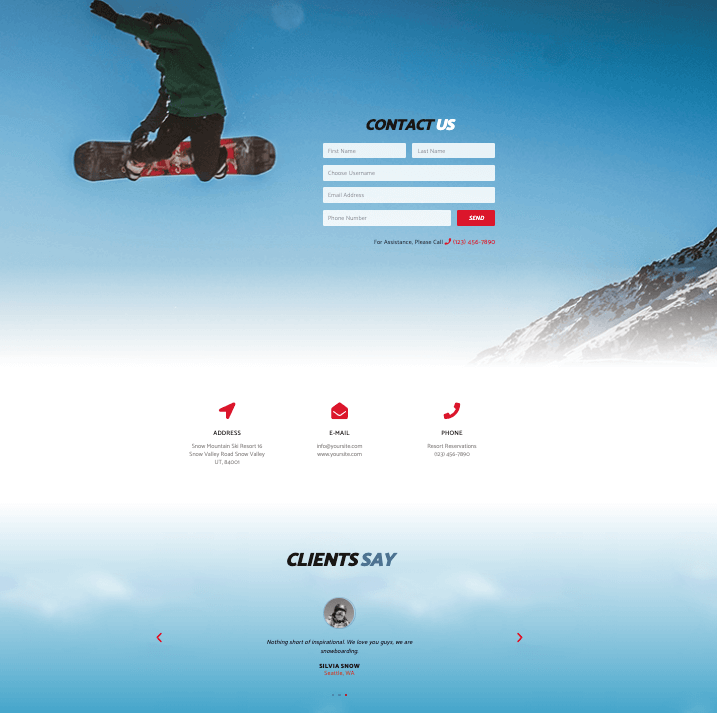 51% of people think detailed contact information is the most vital thing that many websites neglect. In that sense, contact pages are crucial too. Though most companies keep it simple, sometimes it needs to design with more options. For example, you can add a map or video tutorial.
Snowboard is something like that. It will help you to create an interactive contact page. You can change the background image, add a contact form, and a text slide to display client testimonials. Sometimes, a customer may directly land on your contact page. So why not put something that catches their attention and they choose to stay?
Snowboard just combines contact info and form on one single page. It is highly responsive and customizable.
10. About – Travel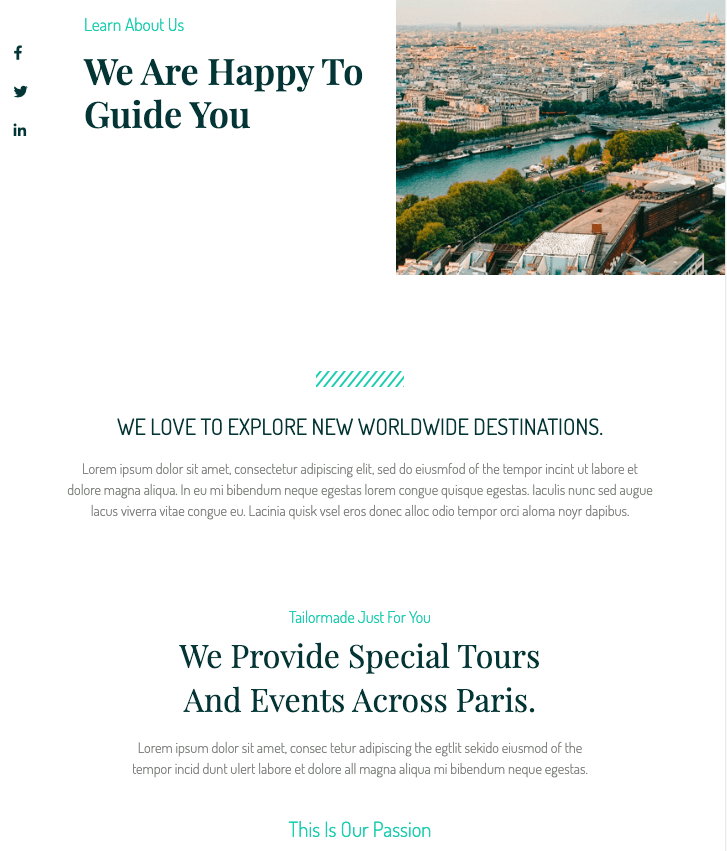 Travel has a simple yet powerful and interactive layout. It's suitable for both travel agencies or any individual travelers. Besides, it's possible to build a tourism community with this pro-Elementor template. What's the core advantage here?
You can show your tour stories either in words or images gallery. Start a travel blog. Ask people to share their experiences under your organization. On the other hand, booking features let you integrate your service with third-party hotels, airlines, and busses.
11. Black Friday – 80s Style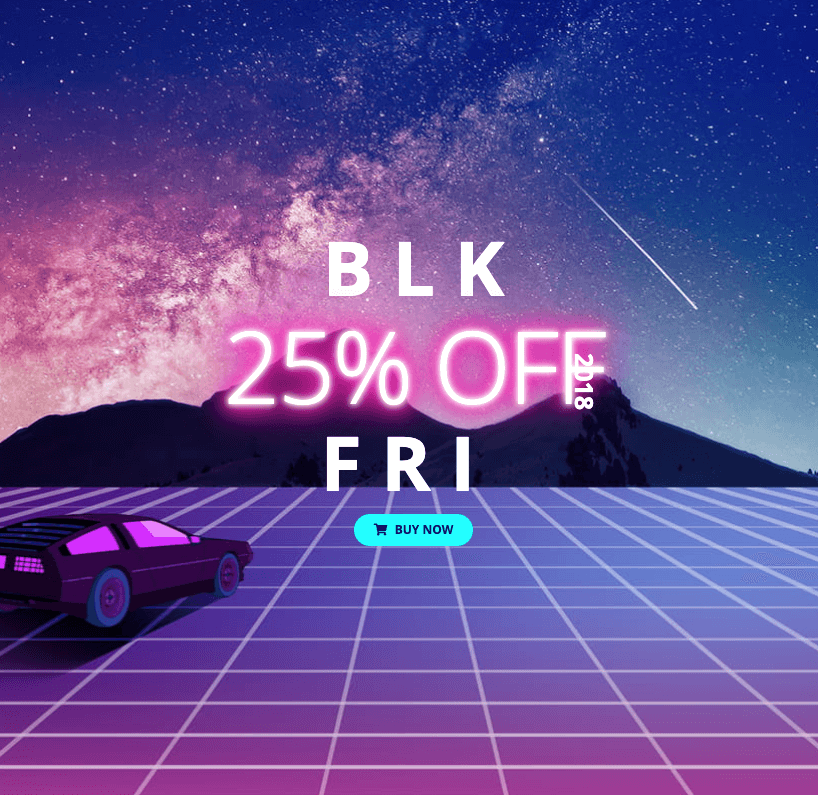 To create a sales page, offer page, or on any occasion like Christmas and Black Friday, the 80s retro look will add an extra attraction. The graphic works in this template are mind-blowing. The animated or floating effect lift your appearance to a newer level.
It has four separate parts. So you can even create a landing page or pricing page within an 80's steampunk futuristic outlook.
12. The Magazine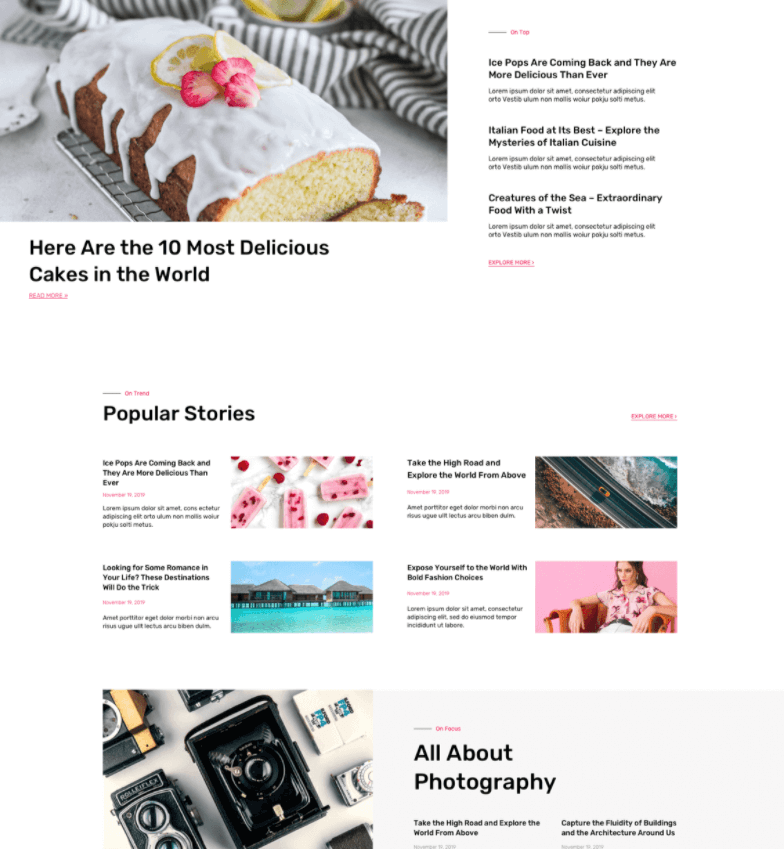 The Magazine is a complete template package for any Elementor user. It aims to build beautiful pages for your travel blog, entertainment site, and restaurants. Therefore, the designs are eye-soothing, and highly readable, and the navigation is so easy.
It has different features to help you create highly responsive homepages, landing pages, and pop-up sites. Though it is a premium kit, and comes with Elementor pro plans, the price is pretty affordable regarding the commendable features.
13. Happy Blocks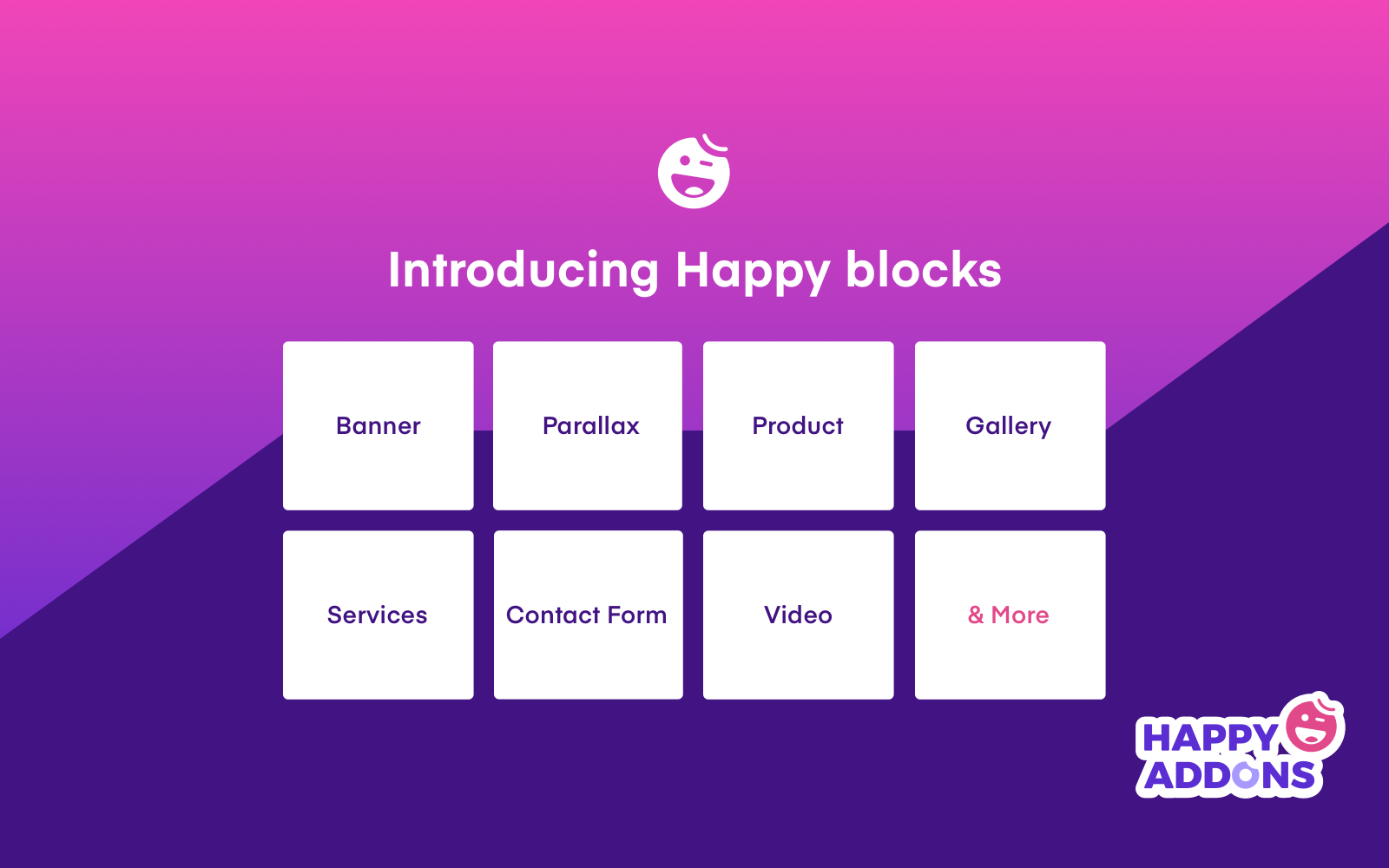 Happy Addons is one of the most popular third-party widgets collections for Elementors. And Happy Blocks brings more power to it. As a complete Elementor template, Happy Blocks let you build any types of web pages in minutes.
So, rather than choosing a specific template for your website, using Happy Blocks will be easier and open the newest possibilities for your web design. Besides the common page building features like creating banners, Client Logo, Sales Page builder, or Content Block, it also has Parallax or CTA builder.
You can avail Happy Blocks with any of the Happy Addons package. This powerful plugin just takes your Elementor experience into the next level.
How to Create A Page from Elementor Template Library
Well, now that you learn about the top Elementor templates out there, you may also want to know how these templates work. If you are a consistent Elementor user, you can also skip this part. Here we are going to show you how to add a template from the Elementor library to create a beautiful page.
Step One: Go to your plugin section, and then to Add new. Install Elementor in your WordPress site.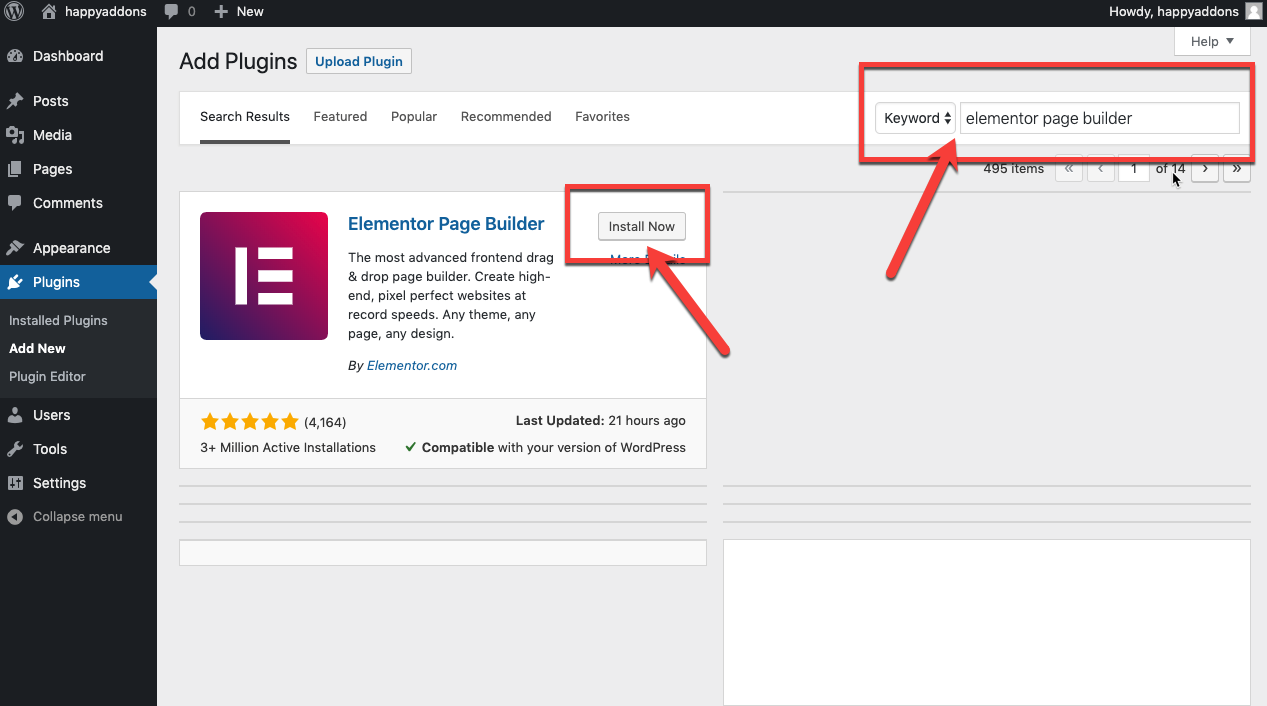 Step Two: Now go to Pages >> Add new. And then click on the blue button "Edit with Elementor". It will take you to the Elementor editor from the block editor.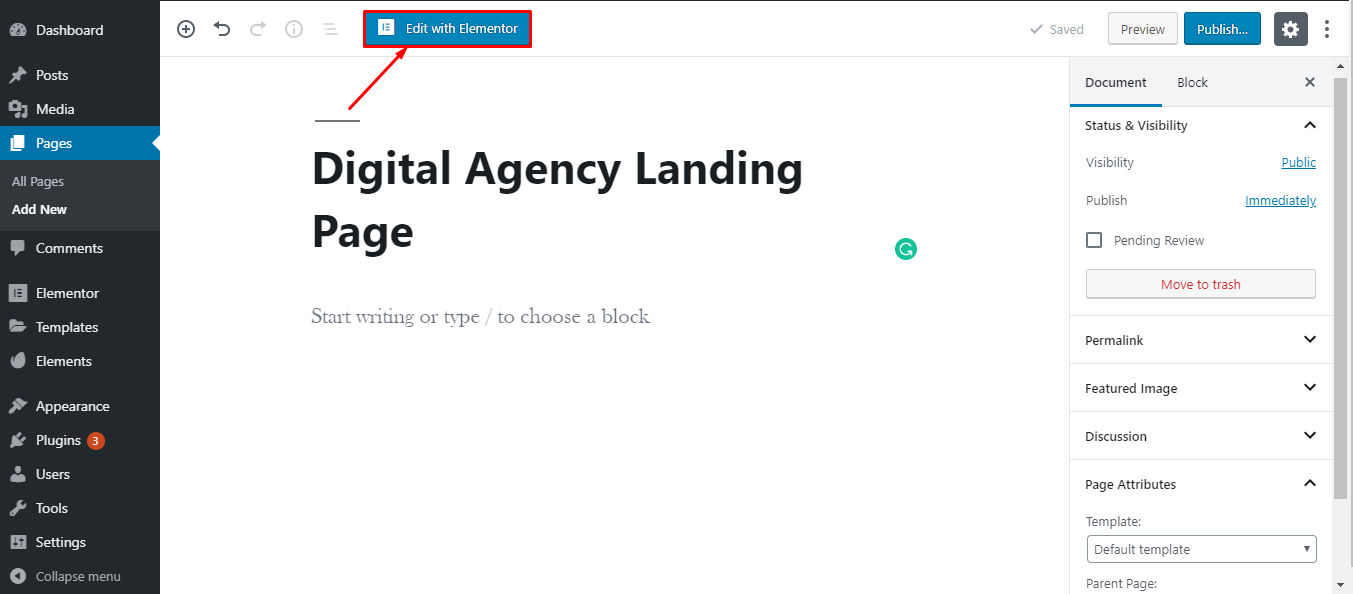 Step Three: On the next page, click on the file image to go to the Elementor library.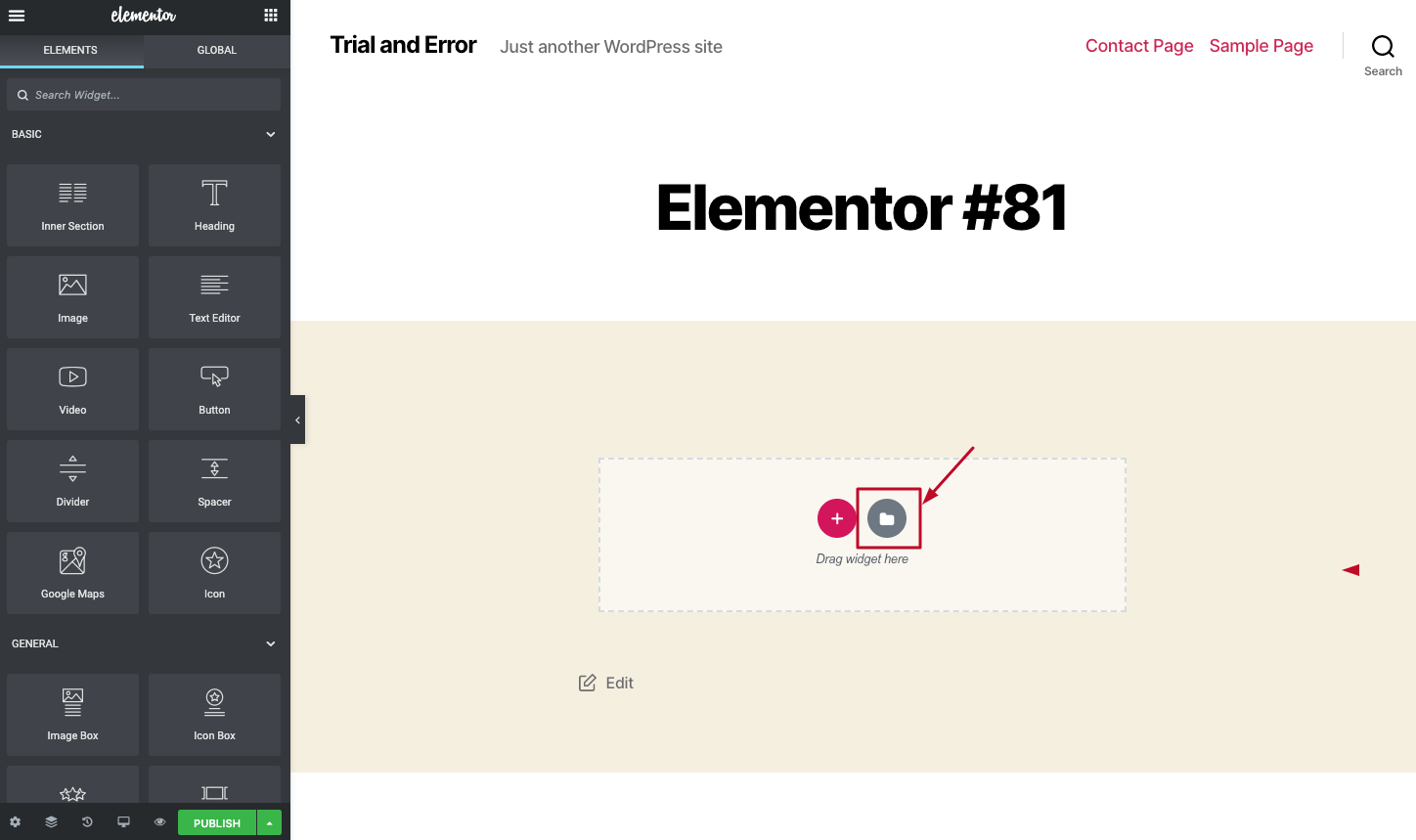 Step four: The next page will take you to the library. You will find all the Elementor template collection here. Choose whatever you like (to get a premium one, you need to be a pro user).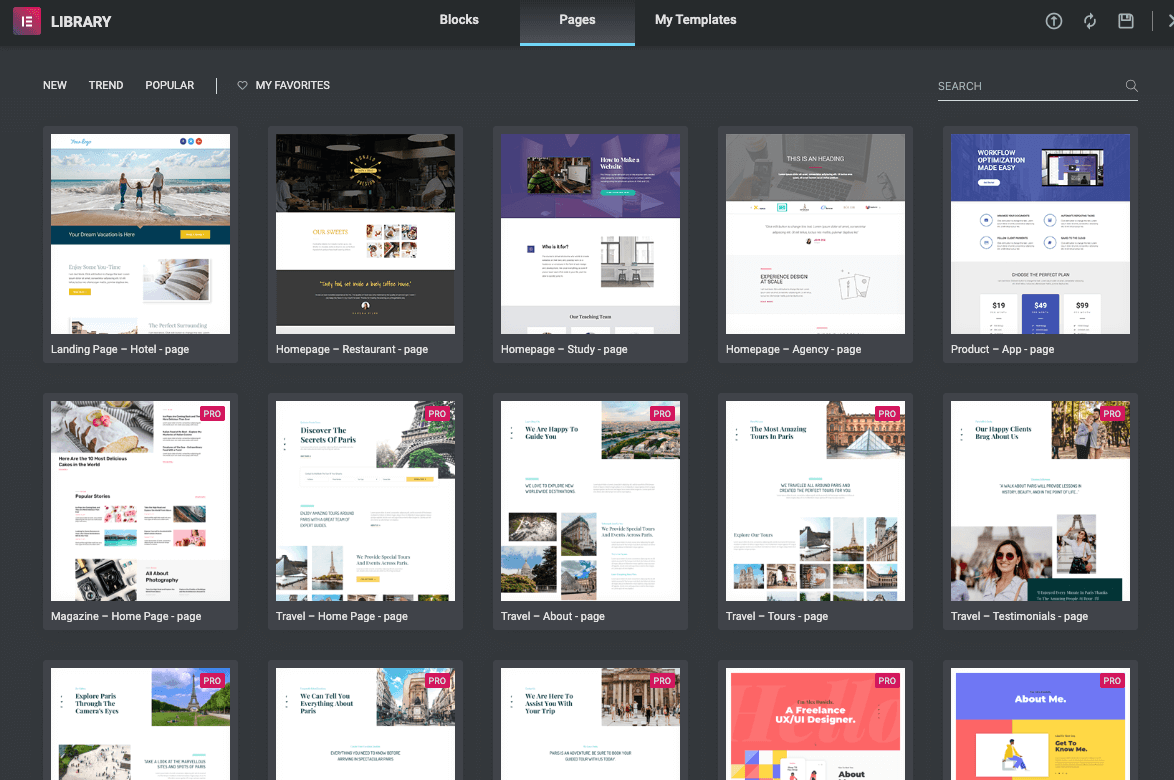 Step Five: For example, we choose the Homepage – Restaurant. Just select it, and then click on insert.

Final Step: You will find the template right on your editor. Now start customizing it. After customization, hit publish.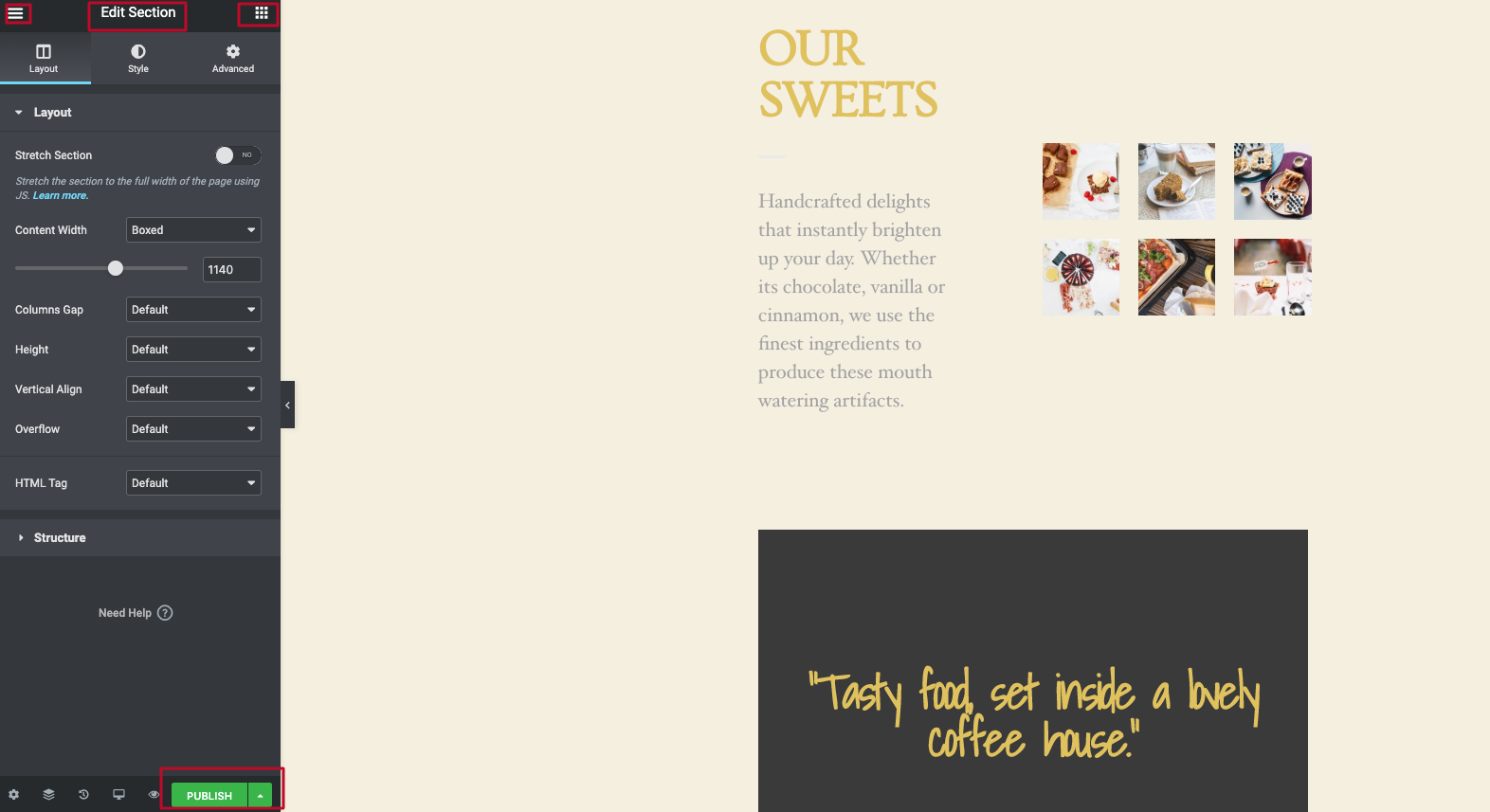 To make your page more responsive and converting with powerful Elementor widgets, install Happy Addons in a minute.
Wrapping up on Top Elementor Templates
Before we wrap up this post, we want to give you some additional information. You should know that there are several third parties who create templates for Elementor.
Some of the other notable resources that sell or provide free templates for Elementor are-
Envato Elements
Template Monster
Easy ThemePacks
Sizzify Lite, etc.
Well, that's it. Have you made up your mind about any specific design from our list? Don't forget to share what you think with us.