Are you looking for some amazing full-page editing templates to design your website? Your search ends here. Recently we have added some templates to HappyAddons that you can use to design your whole page of a website with a click.
Happy Addons is one of the top Elementor Addons in the industry. It has some of the most amazing widgets, backed up by some jaw-dropping features that have taken the Elementor community by storm.
A few weeks ago, we have added 400+ Happy Blocks that lets you build any types of web pages in minutes. And now the full page editing templates to make your web design journey easier!
Let's dive into details.
HappyAddons Full-Page Editing Templates: The List You Should Check
As we said, Happy Addons full-page editing templates will help you design a page for your website in a matter of minutes.
If you go through the list of templates, you will see that most of the templates we have added are popular among the website owners. And they are very easy to customize as we have kept the flexibility option.
Here is the list of templates we have added so far:
Agency-Homepage
Gaming Site-Homepage
Halloween
Digital Solutions-Homepage
Pricing Page
Gym-Homepage
Component Laboratory-Landing Page
Portfolio
And more upcoming..
How to Create Your First Page Using A HappyAddons Full-Page Editing Template
Now, that you know about the new Happy Addons full-page editing templates, you must be wondering how you can use them to design your website pages.
However, if you are a regular Elementor user then you can skip this step. We are going to pick a full-page editing template from the Happy library and create a beautiful page for your website.
Step One: From your admin dashboard you need to create/add a new page. For that navigate to WP Admin -> Pages -> Add New. You can add a title or wait till later. Click on the Edit with Elementor button located on top of the page.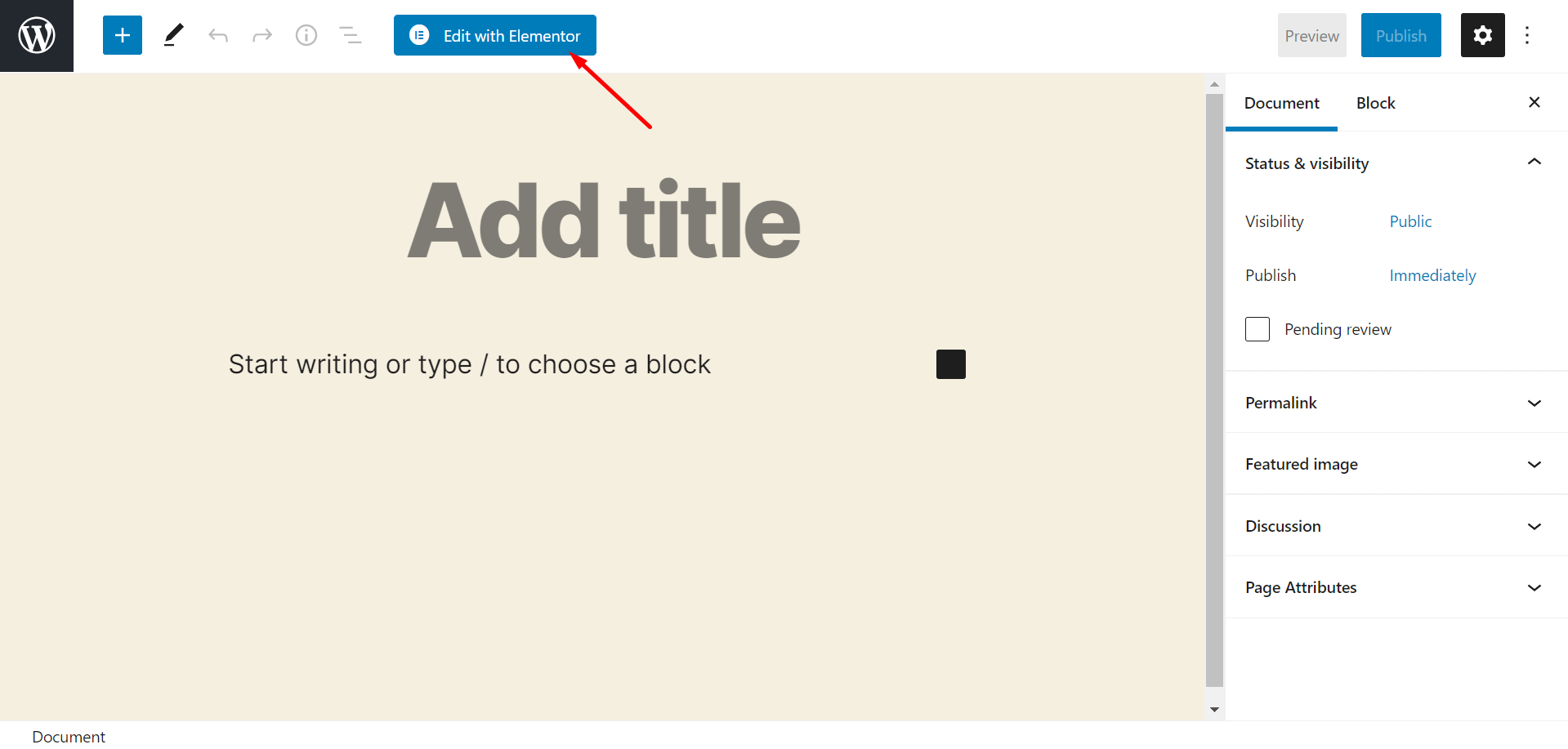 Step Two: You will be redirected to the Elementor editing page. Now, on the editing area, you will notice the Happy Templates Icon. Click on it.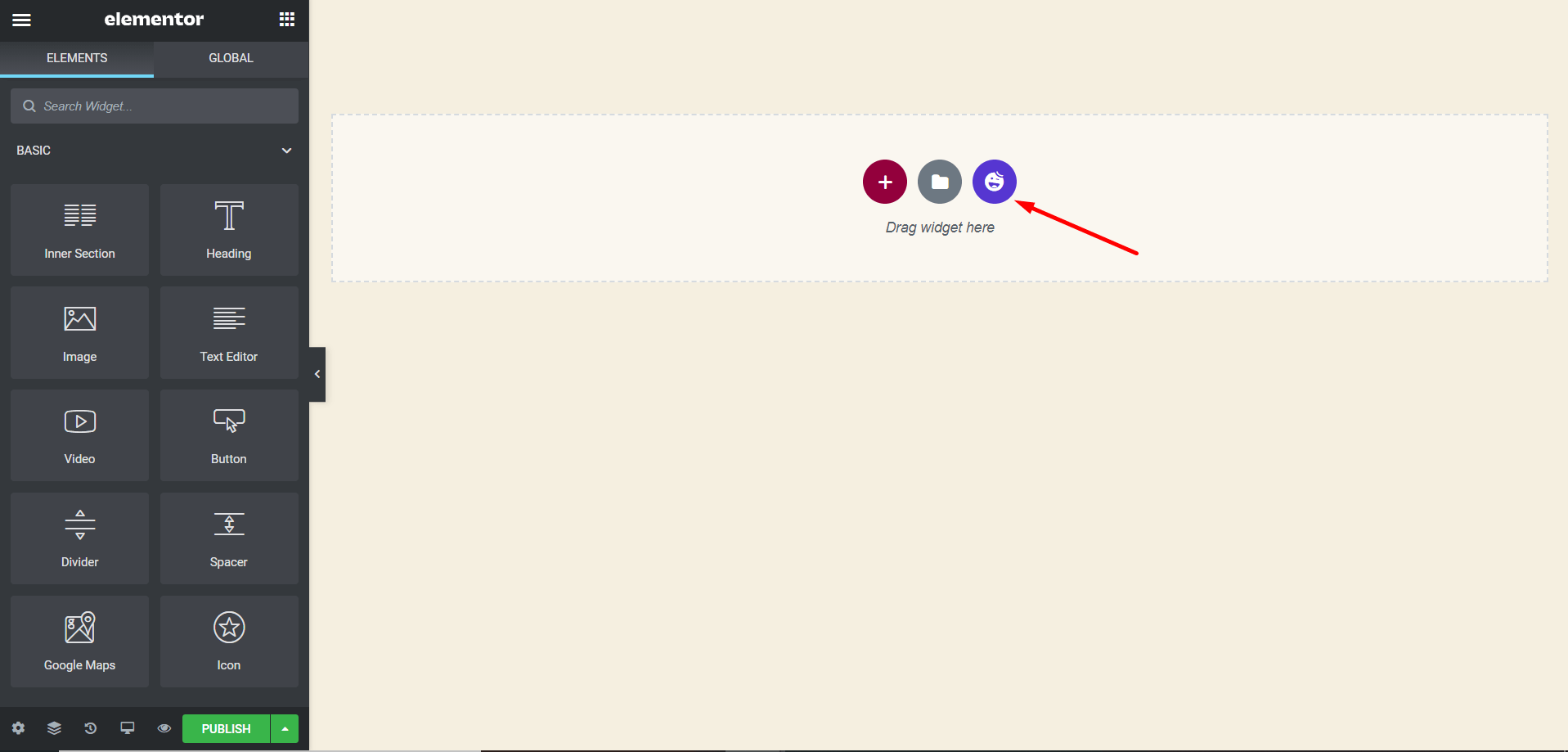 Step Three: Now, you will find two options. Happy Blocks & Pages. Choose Pages.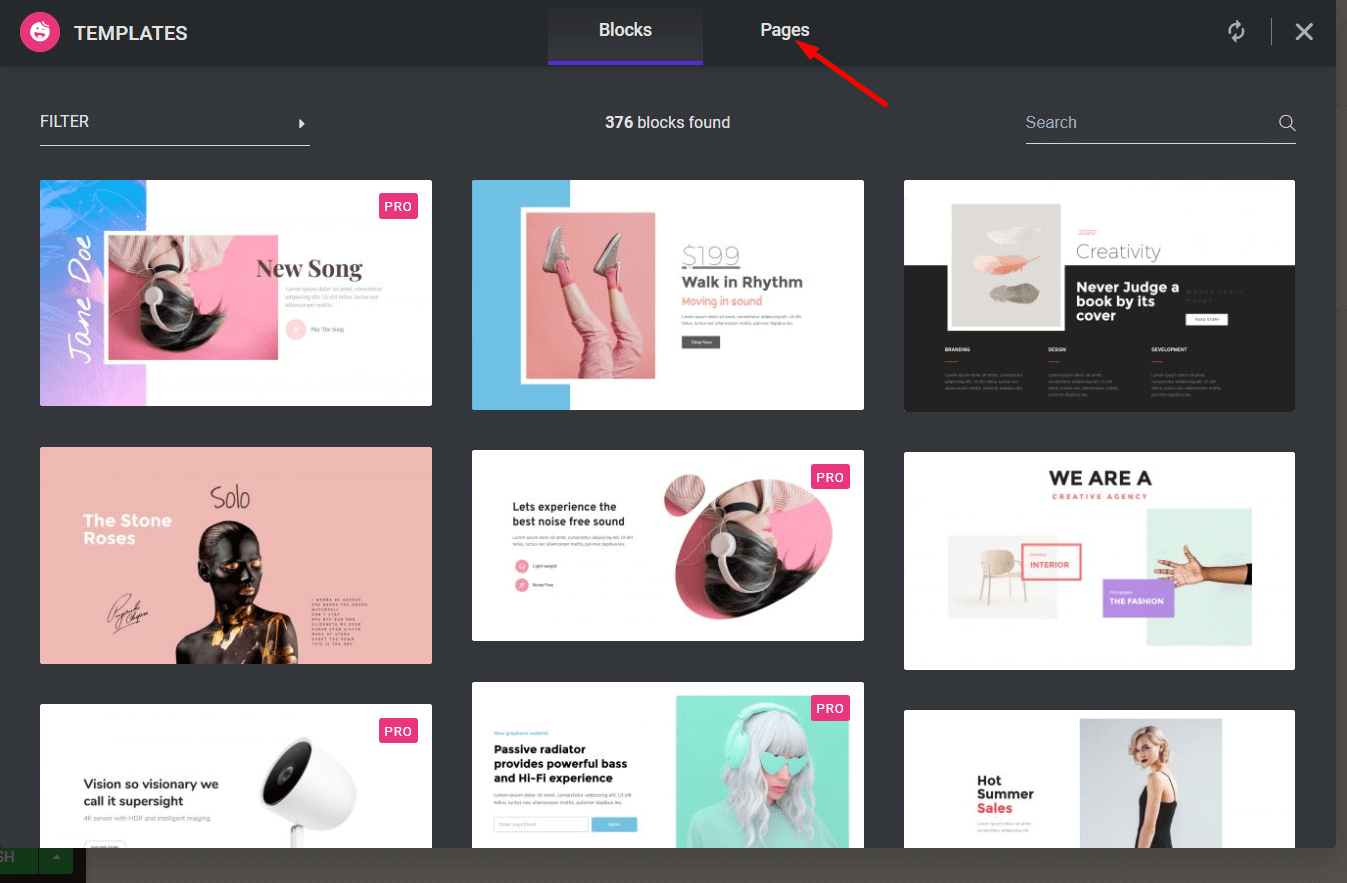 Step Four: On the pages section, you will find all the full-page editing templates available for you.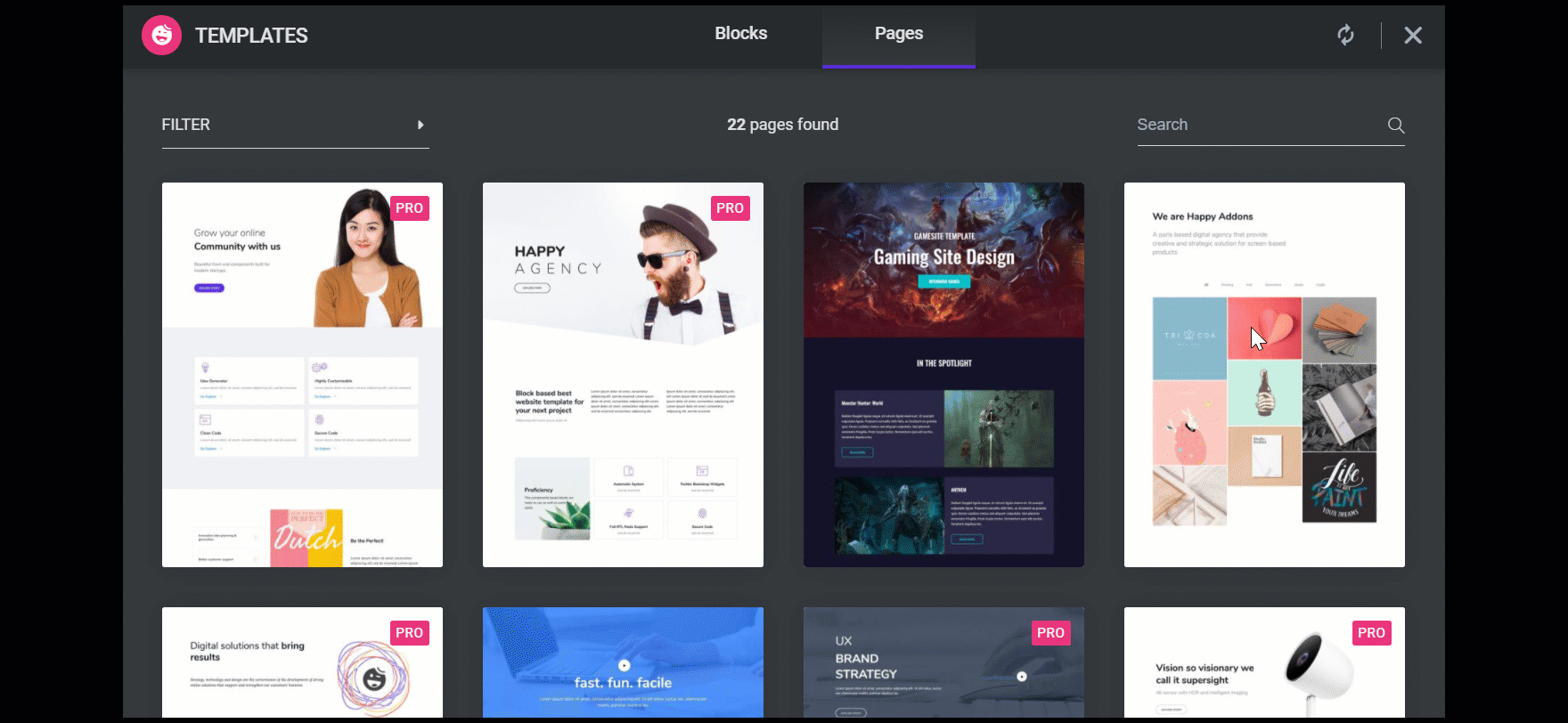 Step Five: For search optimization there is a filter option. If you click on the filter button, you will find all the categories available in the library. Choose the one you are looking for.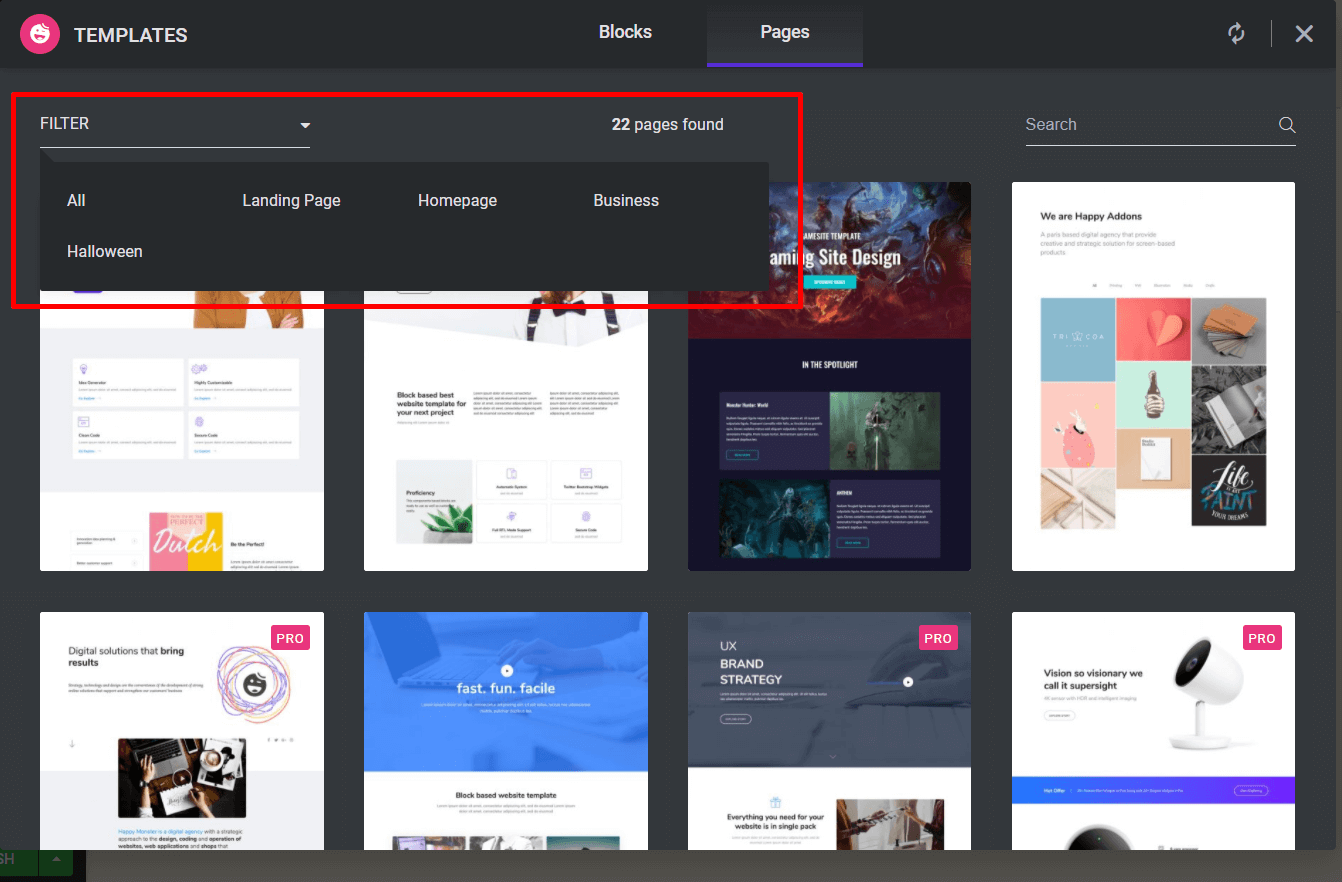 Step Six: After you have finalized the template, click on Insert. However, before inserting, you can preview the template in Desktop, Mobile, Tab view. Cool, isn't it?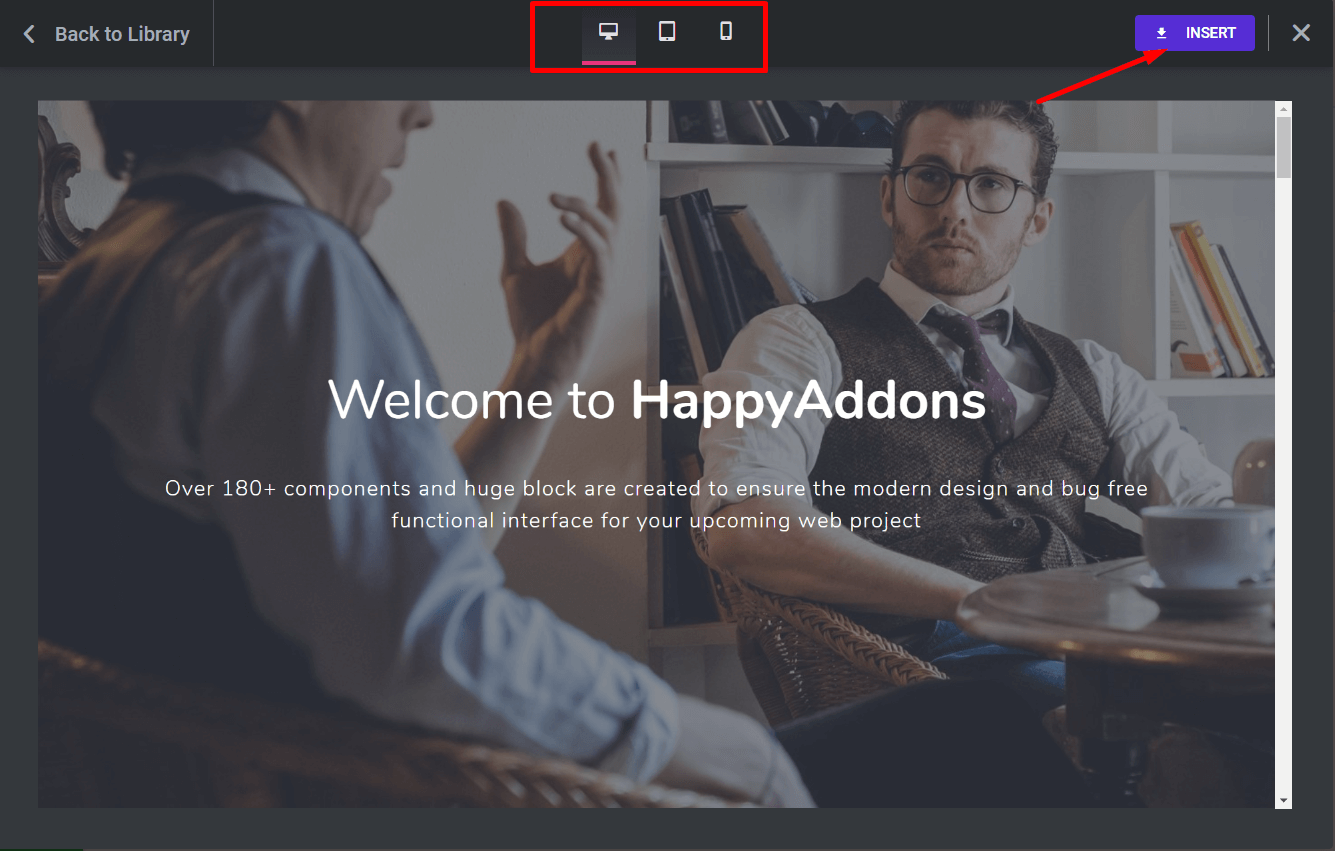 Step Seven : Lastly, after inserting the template (in our case the business template), the page will look like this,

Sneak Peek of this Template
As you can see we chose this business template to design our page. This template has 10 sections. You can add a full-width banner image with texts to introduce your company.
In the next section, you can use the button to collect leads. For example, if you run a hotel you can use this button to take bookings (Book Now). There is a section with a video placeholder. Just replace the video there. You can add a promotional video if you like.
The next section has six containers followed by the section with slider images. You can add your product features or services there. The testimonial section also has a slider option, so you can add as many reviews as you like without hurting the page dynamics.
Below the News and blog section you can add your product or partners icons, followed by a CTA section.
How These Full-Page Editing Templates Make Your Life Easier
In the world of website designing, templates have become an integral part. Especially, full-page editing templates. If you want to design a website at a faster speed then you can use templates.
However, not any kind of templates will do. You need to use templates that are attractive and flexible. Also, it should have proper coding to fit your criteria easily.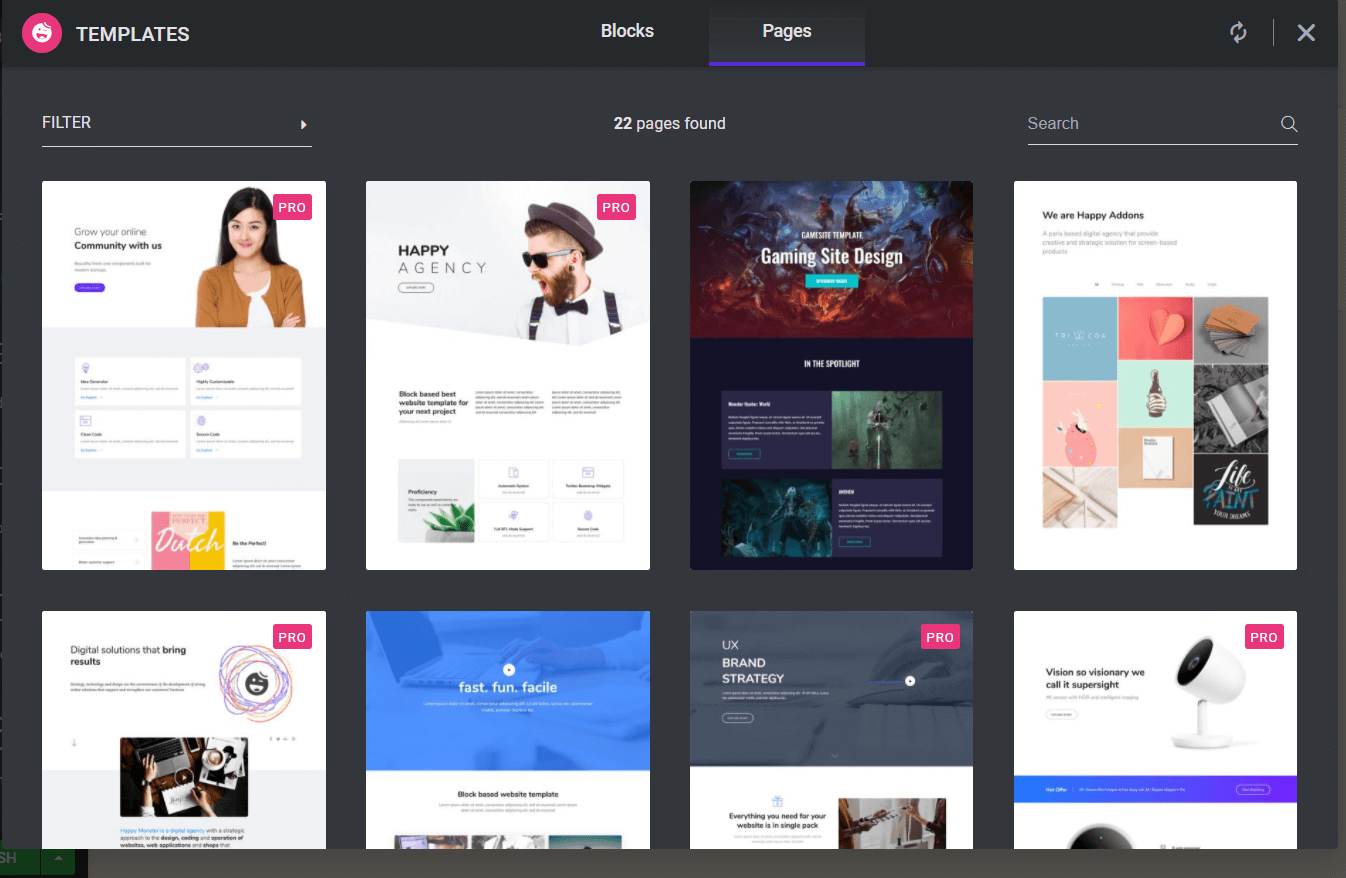 That is the reason you need to use templates from reputed companies. That is why Elementor has gained such a reputation as one of the top WordPress page builders as they offer some of the best full-page editing templates for WordPress.
Moreover, when addons like Happy Addons also add templates to their library, the collection of rich templates gets bigger and bigger.
Good News: We Are Offering Free Templates for You!
Some time ago, Elementor tweaked its policy about using their templates. At first, there were some templates you could use with the free version of Elementor. However, from now on if you need to import any kind of templates from their library you have to purchase their pro version.
That created a problem for users who were looking to start their website for free or on a minimal budget. So, we have added some templates that come with the free version of Happy Addons.
Yes, there are some templates you can use only with the pro version of Happy Addons. However, there are still some lucrative and amazing full-page editing templates that we have added with the free version.
Also, don't forget about the Happy blocks that will help you open new possibilities in website designing.
Flexible & Properly Coded, Easy to Use
As the addon with 90000+ active installations, it is our duty to provide you with the best. That goes for the Happy blocks and templates as well. So, you will find all the Happy templates properly coded and flexible.

You can take any design and make changes per your requirements. Also, the templates are fit for any kind of WordPress websites.
The Collection will Only Get Bigger
It's true there only a few (22 to be exact) full-page editing templates in the Happy Library right now. However, it is only the start. We will continuously add more templates to the library as the time goes on.
All the templates will be of premium designs with free and pro mixed. We will add more categories that will cover all types of businesses and users' needs.
If you were worried about not being able to use the Elementor templates and increasing the load on your website by using a plugin only for templates- Happy Addons will surely make your life easier.
Just be patient and you will get your deserved reward.
Conclusion
Website designing is all about imagination. And if you have the right resources, you can easily bring your imagination to life. Happy Addons is trying the same.
As one of the best Elementor add-ons, we are always trying to bring new elements (widgets, features, templates, blocks) to elevate the experience of website designing. These full-page editing templates are part of this process.
What kind of templates do you want? Have a specific design in mind? Don't forget to share with us.