If you are using Elementor, most of your design hassles are taken care of by it!
Perhaps, we can't overlook the importance of a theme working smoothly with Elementor. A quick Google search will show you hundreds and thousands to choose from, and most of which will work seamlessly with specific page builders.
Wouldn't it be easier if you knew which ones specifically work the best with Elementor?
In our previous blogs, we've already listed the Top 10 Free WordPress Themes For Business and the most popular WordPress Themes for Elementor. In this series, today we've compiled another list of the best free themes for Elementor!
If in case you're in a hurry, get a quick look over the top 10 free Elementor themes:
| | | | | |
| --- | --- | --- | --- | --- |
| Theme | Version | Active Installation | Last Update | Loading Time |
| Page Builder Framework | 2.5.8 | 20,000+ | 28th September 2020 | 156 ms |
| Kava | 2.1.0 | They Don't Track | Not Available | 617 ms |
| Flexia | 2.2.0 | 1000+ | 22th October 2020 | 7.3 s |
| Customify | 0.3.5 | 40,000+ | 7th September 2020 | 1.71 s |
| Envo Shop | 1.0.6 | 6000+ | 26th October 2020 | 7.1 s |
| Bard | 1.7.5 | 20000+ | 27th October 2020 | 3.7 s |
| Business Event | 0.5 | 800+ | 14th October 2020 | 15.8 s |
| BeShop | 1.0.12 | 1000+ | 22nd October 2020 | 1.4 s |
| Total | 1.2.47 | 50000+ | 24th September 2020 | 4.2 s |
| Magazine NP | 1.1.4 | 1000+ | 15th October 2020 | 5.1 s |
10 Best Free WordPress Themes for Elementor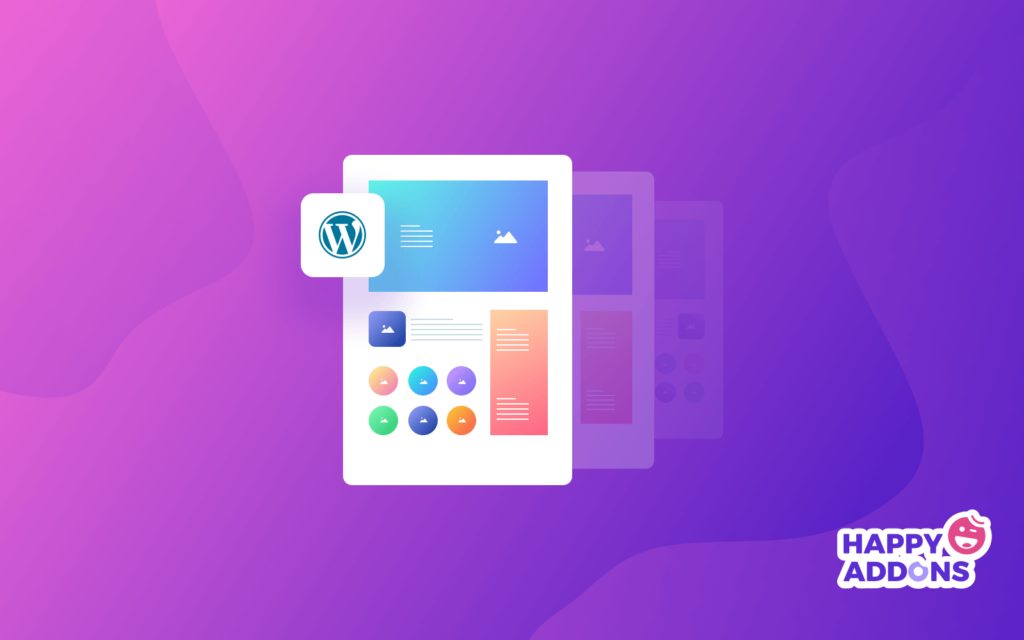 So many options with a single click in the WordPress directory. There are also elementor blog templates as well. But, you should consider different factors before choosing the right option for your site!
These themes are recently updated and are quite popular as well!
1. Page Builder Framework- Build with Passion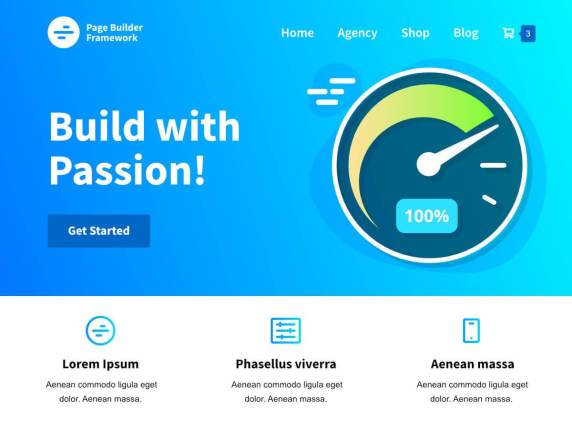 When you are in search of easy yet attractive website creation, you must have a look at Page Builder Framework. It is a superfast, lightweight, free theme for Elementor. The frontend of this theme weighs only 50KB. So, you can imagine how light it is.
If you are a picky designer, Page Builder Framework can figure out all your customization. From the ground building, this theme is SEO optimized and 100% Gutenberg compatible. Key Features-
Extends high page speeds
Superfast and lightweight
Follows the most advanced web standards, like- HTML5 and schema.org markup
Flexible and extendable
Endless customization
Specially designed for page builders
Well, the unlimited customization will assist you to explore all your creativities. Whether you want to build an agency website, blog, WooCommerce storefront, or portfolio website. Moreover, this theme will not slow down your site speed.
2. Kava- Tremendous Potential Theme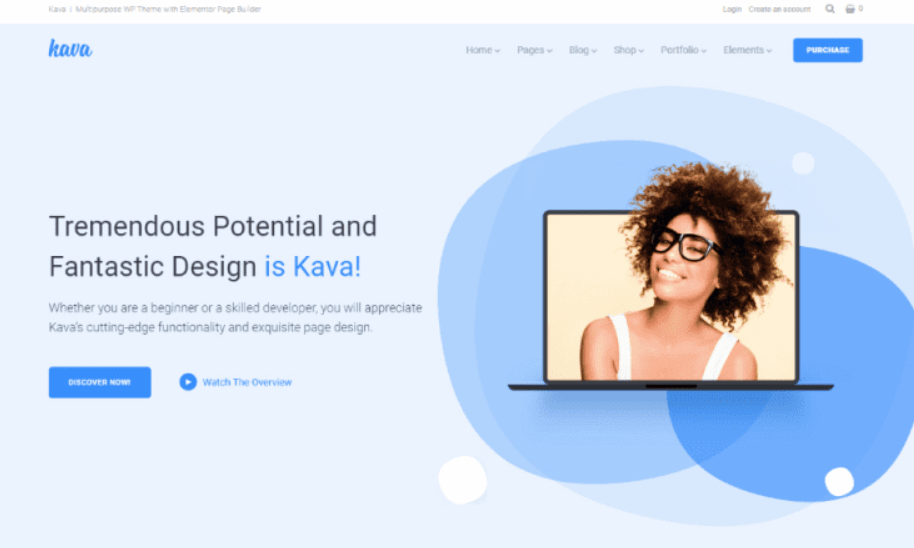 Kava is a clean and sharp theme developed by Crocoblock. Let me introduce their premium Elementor add-ons like- JetPopup, JetMenu, JetWooBuilder, and JetEngine.
This free theme is fully compatible with Elementor and the best choice for bloggers. You can't download it from the WordPress theme directory, you have to visit their official site if you want to avail this incredible theme. Check out the highlights-
Perfect match with Elementor
Powerful blogging theme
Fully Customizable
Get 50 stylish blog page layouts
Translation and RTL ready
Developer friendly
Besides, blogging you will get options for building your WooCommerce storefront. The most essential part of a theme is device responsiveness. And, Kava has made it very well. whether it is mobile, laptop, or tab, your website looks fantastic.
3. Flexia- The Flexible WordPress Theme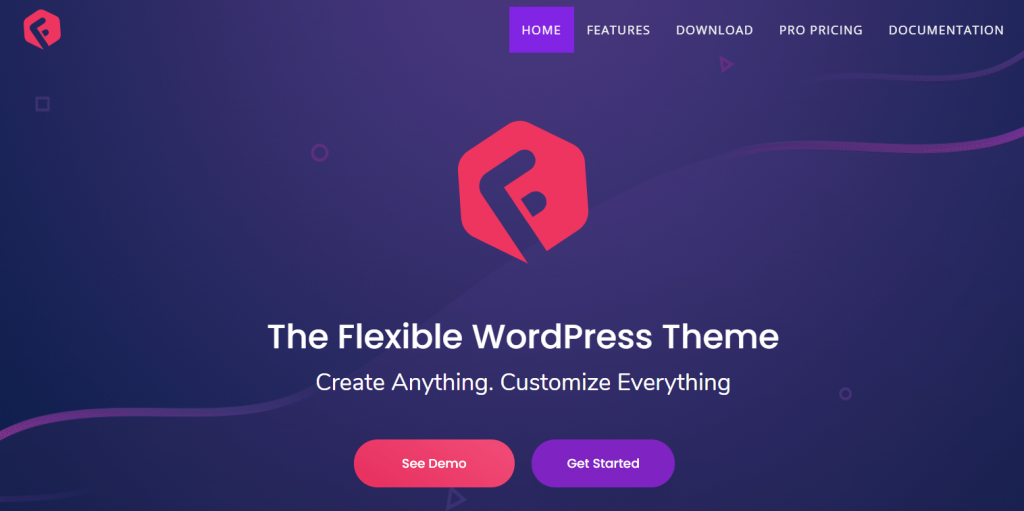 If you use addons on your Elementor powered website, Flexia can help you out. Especially, if you use Essential Addons, as both of them are built in the same company.
WPDeveloper always prioritizes the flexibility of their product. Flexia has also followed that tradition. This feature-rich theme is Freemium. If you use Elementor pro, don't need to use the pro version of Flexia. The famous features of this theme are-
Customize the single post layout
Customize website and overlay colors
Flexible header, footer, and layout
Natural responsiveness
Typography control
Translation and RTL ready
SEO friendly
You will get seamless integration with EDD (Easy Digital Downloads). So, building digital products is now easier with Flexia. Besides that, this best free themes for Elementor has enormous support.

4. Customify- Start Your Amazing Website Today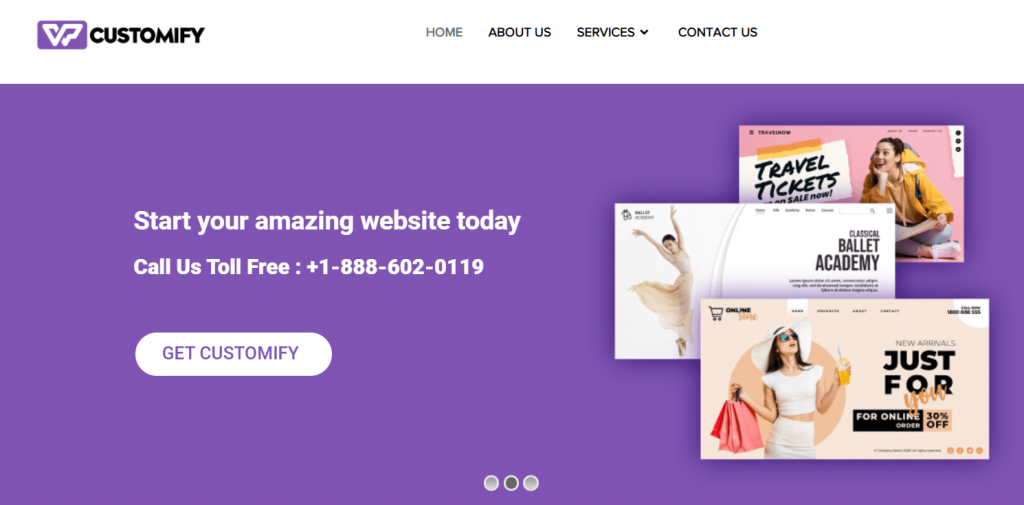 Customify is another theme that comes with over forty thousand active installations, and it was last updated on 7th September 2020.
If you are looking for a WordPress theme that offers speed, SEO, and excellent usability, then this theme fits the bill!
Customify works with a range of page builders such as Elementor, SiteOrigin, Beaver Builder, Visual Composer, and Divi.
Some awesome key features of Customify-
Highly Customizable
Responsive Design and SEO friendly
Simple & Highly Intuitive Design
Fast & Lightweight
Advanced Typography
Additionally, it's compatible with all well-coded plugins such as Yoast, Orbit, WooCommerce, and bbPress.You can use this theme for any purpose, whether it's for your portfolio or business, the choice is all yours!
5. Envo Shop- Free WooCommerce WordPress Theme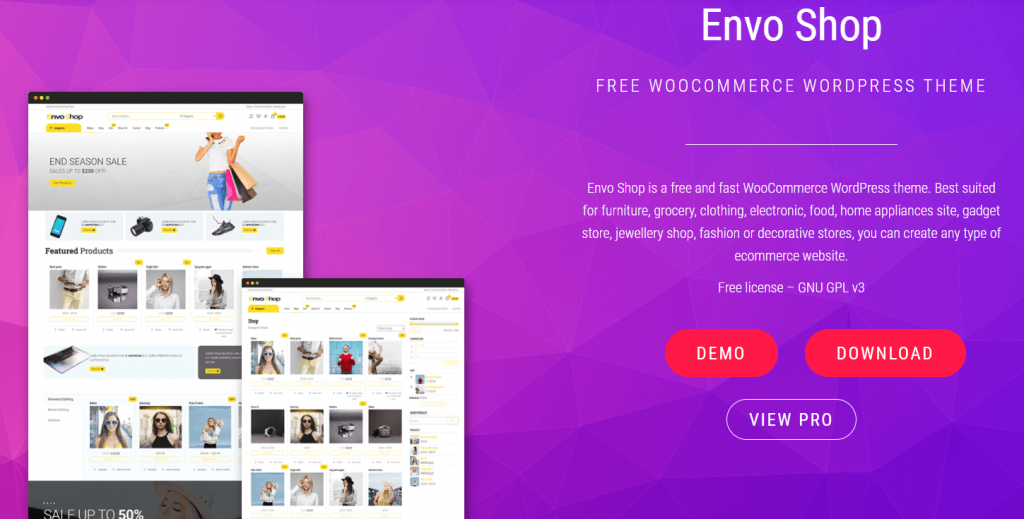 It's a popular WordPress theme, with over five thousand active installations, and it supports a variety of page builders such as Elementor, SiteOrigin, Visual Composer, Divi, and many more!
Envo Shop offers various key features:
Fast and lightweight theme
Comes with a clean and modern look.
Responsive design
WooCommerce compatible
SEO Optimized
It's RTL and WPML ready, and for being SEO friendly, this theme is unstoppable. Moreover, it went through a recent update on 26th October 2020. Check out the demo site.
6. Bard- The Beautiful Theme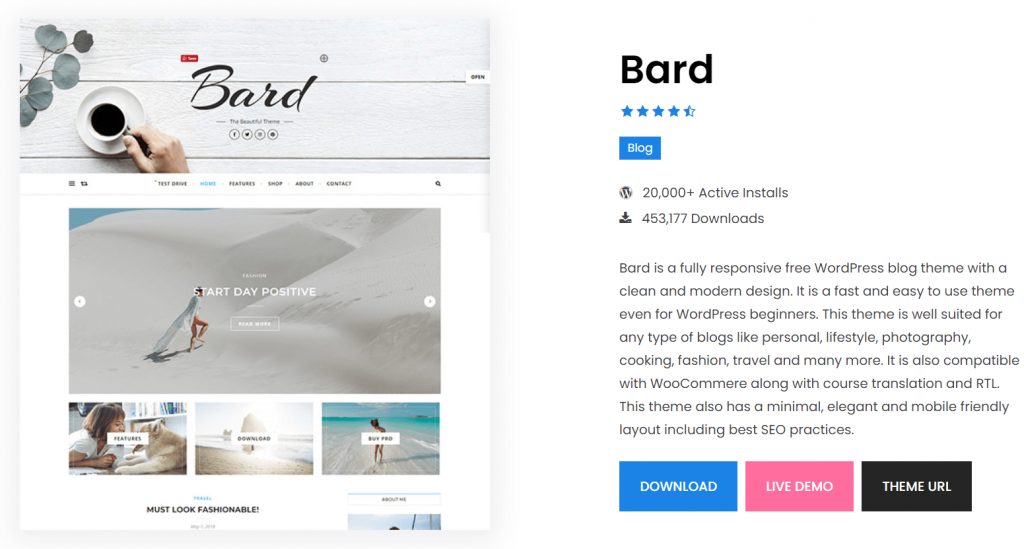 If you are looking to create a blog for any niche, WooCommerce shop, or a small business website, this is the theme that you must check!
This best theme for Elementor will offer your site visitors a minimal and mobile-friendly elegant layout to amaze. Plus, it's easy to use for WordPress beginners.
There are various benefits of this theme:
Responsive design will display your website on any device.
Fast, retina and mobile display
Compatible with well-known plugin
RTL and translation ready
Comes with SEO practice coding
Bard comes with various features such as header image, full-screen slider, image and text logo, Instagram slider widget support, footer menu support, GDPR compatibility plugins support, and more!
Additionally, this theme works effortlessly with major page builders such as Elementor, Divi, SiteOrigin, and Visual Composer. Its last update was on 27th October 2020, and has over twenty thousand active installations!
7. Business Event- Digital Thinkers Meet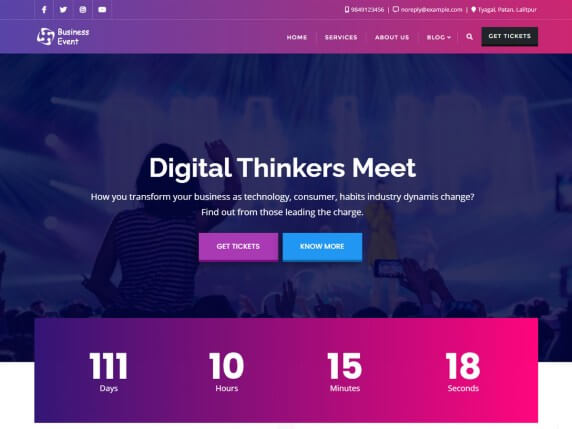 If you want a theme for your business website, a Business Event could be the best fit! It's a dedicated event theme for business meetups and conferences, product release events, and other marketing and business-related events.
One of its benefits is, it works with a variety of page builders such as SiteOrigin, Divi, and Beaver Builder, alongside Elementor ( it fully supports Elementor).
Some of its features are:
Additionally, their helpful support team is always there to help you out in case you end up having any issue with the theme.
There are some more WordPress Themes for Elementor
8. BeShop- Just Another WordPress Theme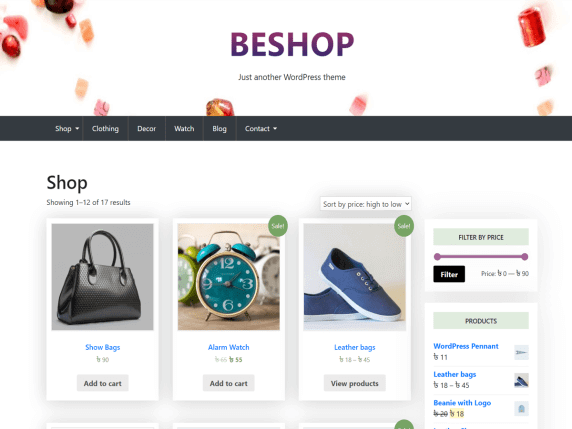 It has over a thousand active installations, and its last update was on 22nd October 2020. BeShop will give your site a unique look along with supplementary post layouts.
The benefits of BeShop theme-
WooCommerce compatible
SEO friendly
Fully customizable and flexible
Responsive
Super-fast WordPress theme
Not only you can use it with Elementor but with other page builders such as SiteOrigin, Divi, and Visual Composer. You can use this theme to create your website for any purpose, for example, blog creating, e-commerce store, or business.
9. Total- Complete WordPress Theme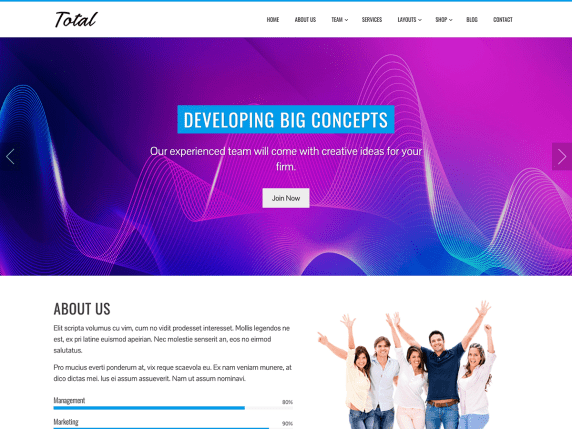 Total has over fifty thousand active installations! And, you'll get a whole package with great features to create a well-functioning website.
Not only it offers an elegant and clean design, but also parallax sections, along with its theme color-changeable option!
Its customizer will allow you to configure your site with the live preview.
Some of its features and benefits are:
You can use this theme with any top page builders.
Import the demo with a single click
It's SEO-friendly.
Compatible with WooCommerce and other popular plugins
Offers cross-browser compatibility.
It's fully responsive!
10. Magazine NP- Clean and Elegant Theme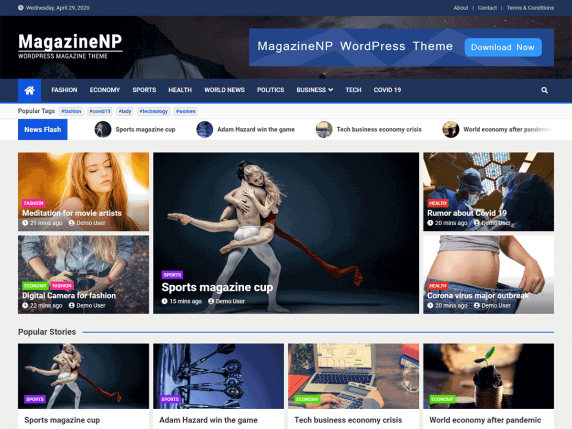 If you are looking for an elegant and simple design, you should check this out.
You can use this theme to design your website, blog, news portal, or online magazine site. Magazine NP also supports Elementor beside other popular page builders.
Some of its features are:
Widget-based theme
RTL support
SEO-friendly
WooCommerce support
Live Preview
Extendible with the premium plugin
The last update of this theme was on 15th October 2020, and it has over one thousand active installations.
Best Free Elementor Theme: Comparision Table
| | | | | |
| --- | --- | --- | --- | --- |
| Theme | Version | Active Installation | Last Update | Loading Time |
| Zakra | 1.5.3 | 50,000+ | 14th October 2020 | 1.181 s |
| Rife Free | 2.4.10 | 30,000+ | 7th September 2020 | 497 ms |
| Phlox | 2.7.1 | 40,000+ | 24th October 2020 | 7.3 s |
| Customify | 0.3.5 | 40,000+ | 7th September 2020 | 1.71 s |
| Envo Shop | 1.0.6 | 6000+ | 26th October 2020 | 7.1 s |
| Bard | 1.7.5 | 20000+ | 27th October 2020 | 3.7 s |
| Business Event | 0.5 | 800+ | 14th October 2020 | 15.8 s |
| BeShop | 1.0.12 | 1000+ | 22nd October 2020 | 1.4 s |
| Total | 1.2.47 | 50000+ | 24th September 2020 | 4.2 s |
| Magazine NP | 1.1.4 | 1000+ | 15th October 2020 | 5.1 s |
How To Select The Best Theme For Your Website?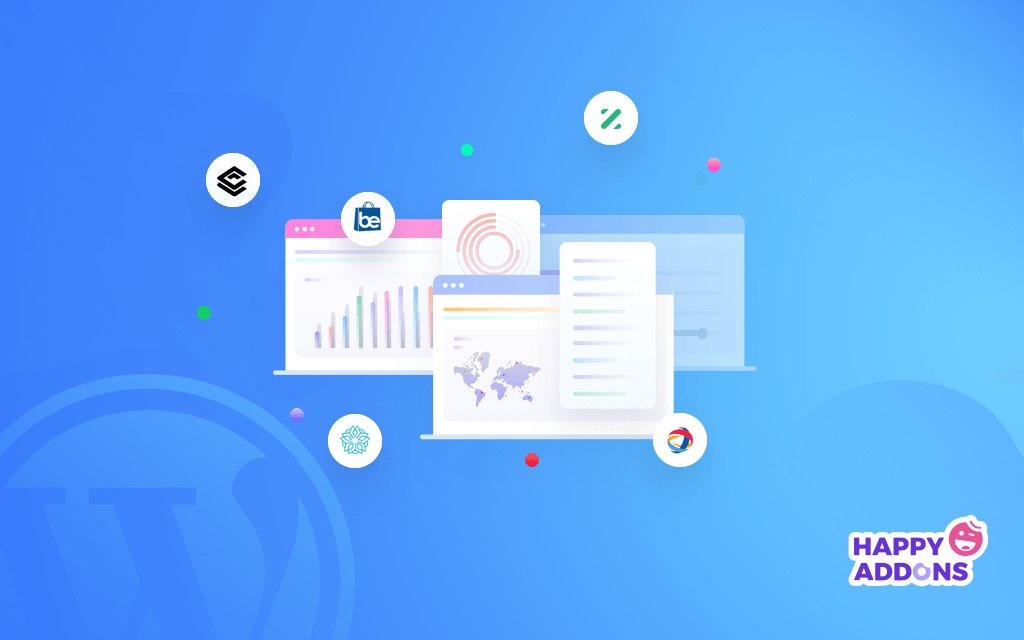 Now that you have so many free elementor themes to choose from, it can feel overwhelming to select the best theme for your site! There are some crucial factors that you need to consider when making the right selection. Here's what you need to examine:
Always Go for Faster Loading Themes
Loading speed is crucial for any website! It affects your site bounce rate. The users will leave your site if it takes a lot of time to load. Additionally, pages with longer loading time can affect conversions negatively.
Select a Simple Theme
Who doesn't want to use the best elements and vibrant colors to design their site to make it stand out?! Well, if you are looking to make your site appear sophisticated, it's best to go for minimalist themes that work with elementor.
If there are too many design elements and bold colors, it will make the site viewers overwhelmed. Additionally, it will affect the website's usability.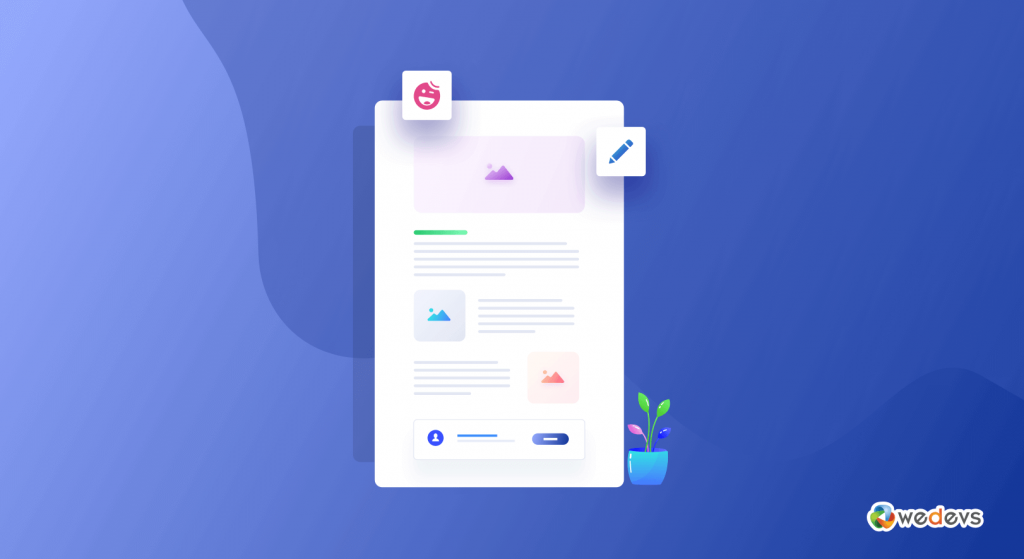 Go for Responsive Themes
The truth is, responsive is the new requirement which is a must for any website. An increasing number of users are accessing sites through their mobile phones and other portable devices.
And, this is why your website needs to be responsive to scale automatically to fit the device screen. Mobile users aren't interested in browsing a non-responsive site and will move to a responsive one!
Make Sure the Theme Comes with Browser Compatibility
No users will use the same browser to access your site. A theme without browser compatibility may appear fine on your browser, but cause issues in other ones. Besides that, mobile-friendliness is also essential.
Make Sure the Theme is SEO Friendly
Many people ask, 'Can I use elementor with any theme?' Well, it's best to go for themes that are compatible and are SEO-optimized. If you check any theme description in the WordPress directory, you'll find that many of them specifically mention "SEO-friendly" in their details.
A theme can look amazing, but due to poor HTML coding, it can affect the site's ranking on the search engine. Moreover, these SEO optimized themes will help your site to perform better in the search engine results, provide higher ranking and better visibility.
Free Vs. Premium Themes: Which One Should Get?
You'll find that there are both free and premium WordPress themes. there is a common question- Does Elementor work with any theme? Yes, it does, and that includes both free and premium.
If you are a beginner, it's best to go for a free one initially. The benefits? You'll get to save cash, and also you can check out suitable themes for your site with ease.
Some may question the quality of a free theme; however, to their surprise, these themes go through a stringent theme review procedure. Moreover, they also go through testing for standard compliance code, along with additional relevant tests for security and privacy.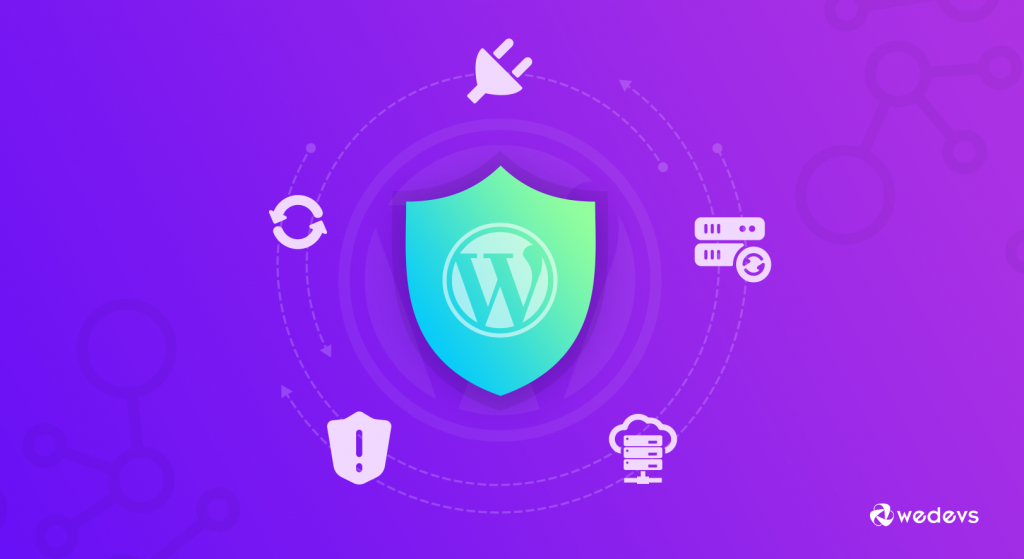 Only after these tests, these themes can get their names approved for the official WordPress directory. You can also find free elementor templates.
On the other hand, premium ones will offer users more customization and features to design their website. Plus, there are more unique premium themes compared to the free ones.
However, you may end up finding out that these premium themes can come with a lot of unnecessary options that you don't even need for your site. Also, some premium themes do come with sub-par coding standards, making it tough to use some plugins.
So, it's up to you whether you want to go for the free or the premium themes. If you are planning to create a website for a small business or a blog, selecting a free theme is a great option! To make your theme smooth and secure for your site there is no alternative to update your theme regularly.
FAQs about Best Free WordPress Themes for Elementor
Question 1: Does Elementor require a theme?
Answer: Yes, it does. There are various themes, which works perfectly with Elementor, a well-known page builder. Over 800,000 WordPress sites use both free and premium ones, and you can use any one of them to design your site.
Question 2: How can I create a theme in Elementor?
Answer: To do so, you'll need to click on 'Appearance' and select 'Themes'. Click on 'Add New' and search for "Hello Elementor". After that, install the theme and activate it to use.
Question 3: Is Elementor a plugin or a theme?
Answer: Elementor is one of the most popular page builder plugins to create your website. If you use it, you don't need to use the WordPress editor. One of its advantages is that it's compatible with most of the WordPress themes. Additionally, you can find premium templates as well.
Question 4: Why should I use Elementor?
Answer: If you want to save your time when designing a website, Elementor is your best bet! It's easy to use, and most of its features are available for free. Plus, it's also the right choice for those who don't know how to code.
Question 5: Which free theme is best for a WooCommerce site?
Answer: Zakra is one of the best free themes that you can consider using to design your WooCommerce site. However, there are also other impressive WooCommerce themes you can consider are Storefront, Astra, Neve Shop, Hestia Lite, and Rife Free.
Final Thoughts on Best Free Themes for Elementor
If you want to build a great looking website, a free WordPress Elementor theme will help you to get started! There are so many benefits offered by them, which makes it easy to create a fully functioning site without much hassle.
Thousands of free themes available in the WordPress directory, those are compatible with Elementor. We hope that this list will help you to find the right one for designing your site!
Although you have a lot of options from the best free themes for Elementor to select from, don't forget to consider a few crucial factors to help you choose the right Elementor compatible theme for your site.