Team Happy Addons never hesitates to launch innovative features and widgets for the users. Each of the features has the endowment to boost your website and make it more beautiful than your competitors.
Today we are announcing 3 new widgets for our users- Smart Post List, Post Tiles, Post Carousel. It can make your Elementor website way better. Especially, these will help bloggers.
We always try to keep updates to give you a smooth experience while constructing the Elementor website.
Who Need HappyAddons New Features the Most?
Blogs are an indispensable part of a website. You can get organic traffic through it. Moreover, it uses for educating the audience and the potential customers of your service or product. So, you should exhibit them delicately.
The latest 3 widgets are mainly designed for bloggers who tend to present their blog posts in a smart and attractive way.
You must remember that all these features are members of Happy Elementor Addons Pro.
Utilizing 3 New Widgets of Happy Addons with Ease
Here, we will show you how effortlessly you can use each of these features. Remember, you must have installed Elementor and HappyAddons Pro on your WordPress site to avail of these functions indeed.
If you are new in Elementor then check this beginner guide to design your dream website in a flash.
Let's get started.
1- Smart Post List
It assists you to show your blogs to the readers through a list. The audience can easily select his/ her preferred content with the Smart post list.
Step One: Drag and Drop to Design Canvas
Firstly, select the widget and drag it to the design canvas.
If your website has enough blogs, all of them will automatically appear there.
Step Two: Customize Your Design with Post List
To customize, you will get the layout option. Sometimes, people like to show the top bar at the bottom. For that, they have to toggle it on or off. The same goes for the first post feature image.
Please be Noted: Only the post will appear as a featured image. Others will remain the same.
Be careful about certain things. If you need a better view, you can keep column 2 or 3.
Well, with HappyAddons you will get unlimited options to personalize your design. Check the full documentation to explore more design options for your website.
Below we would like to share the final look that we have created using Smart Post List-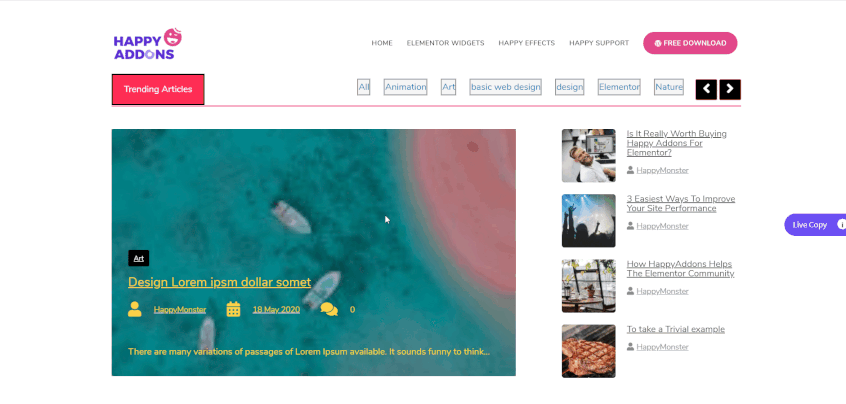 Check the video below before using Post List widget on your Elementor website:
2- Post Tiles
This is one of the most demanding HappyAddons New Features. With the Post tiles widget, featuring your most interesting blog posts will be more effortless. Moreover, you can do it stylishly.
Step One: Get the Widget from Editor Panel
At first, select the widget from the left sidebar and then drag it to the design canvas.
After adding the widget, all the blog posts will appear here under any one of the post templates.
Step Two: Customize the Layout with Post Tiles
Now, you will have 3 options in the content section-
Next, click on the Layout option. You can adjust the layout settings according to your need. Do experiment with distinct layouts to showcase your posts.
So, it has more steps to give the final look which you can do by just following the full documentation of the widget.
Here is the frontend view of the design using Post List Widget-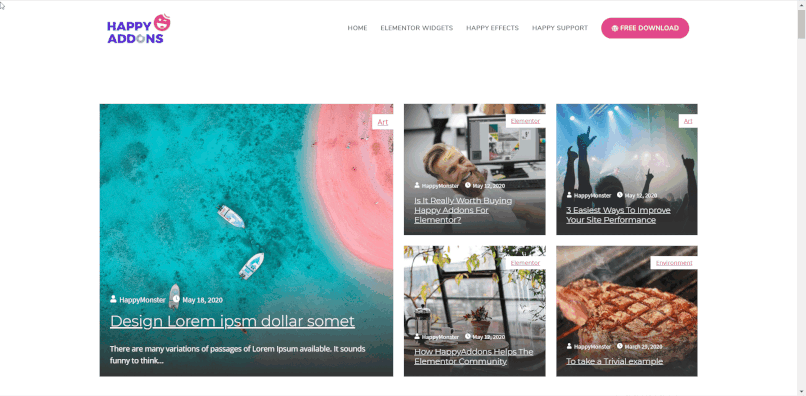 3- Post Carousel Widget
The recently released Post Carousel widget can easily show your post on the carousel. And, it makes your content look more professional.
Step One: Drag and Drop the Widget into Your Design
Pick the Post Carousel from the left side menu bar, and drag it in the selected area drop the widget there.
Step Two: Start Content Section Customization
In this section, you will find the options to modify-
Layout
Query
Carousel Settings
Wrapper Links
With Layout edit Image Size, Show Badge, Show Excerpt, Excerpt Length, Active Meta, AuthorDate, Author Avatar, Author Name, and many more.
Note: When you work on the post image layout. Make sure that Query > With Featured Image is enabled.
Setting up the Post Carousel widget is not that difficult. You can find more design ideas from this full documentation. Without wasting more time let's see the frontend view-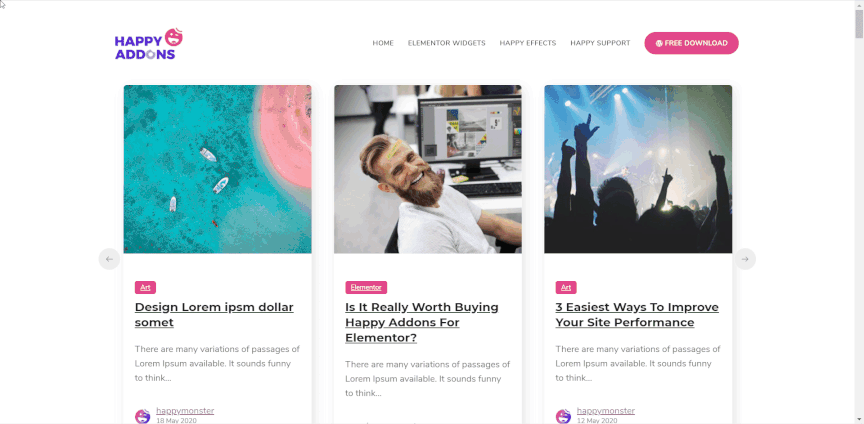 Creating image Carousel is normally quite hard for the beginner but HappyAddons has made it easier than ever.
Final Words on HappyAddons Feature update
We have gotten a huge request to build some widgets for blog posting. Thus, the three widgets add to the feature library. Our innovation and hard work will be a success only if you get benefits out of it.
Undoubtedly, your blog page of the website will look fantabulous and professional after applying these features. The fun part is, you can do it with a few clicks only.
Furthermore, if you face any problem or bug issues don't forget to share it in the comment section below. Besides that, we have a great support team that is always ready to assist you.