With another trip around the sun coming full circle, it's time to share HappyAddons year in review-2020. Let's explore together how we made it so far and enable everyone regardless of their prior technical expertise to design a highly functional website in no time flat.
We are truly thrilled and excited after ending a year successfully by accomplishing the biggest milestone! Yesss!!! now we are a big family of 100,000 active users. A big thanks to all our users, well-wishers, and site owners to choose us as their web development platform.
To enhance the web development experience for Elementor users- HappyAddons started its journey in the middle of 2019.
It was quite challenging for us to make our first year actual effective despite the on-going pandemic. However, this past year has been quite a significant one for us in terms of launching many new and exciting features, as well as the expansion of the existing team.
Here's a quick look at some remarkable facets from 2020 by-the-numbers:
90,000+ active users (3x growth rate compared to 30,000 last year)
Launched 40+ releases
75 five-star reviews, and counting…
PRO: 7 new features and 24 new widgets released
FREE: 3 new features and 26 new widgets released
Wrote 100+ blogs & 35+ docs
Replied more than 3,000+ tickets
Established a Facebook community of 1500 members
Let's shed some light on our major updates and achievements that we celebrated this past year.
HappyAddons 2020 in a Flash!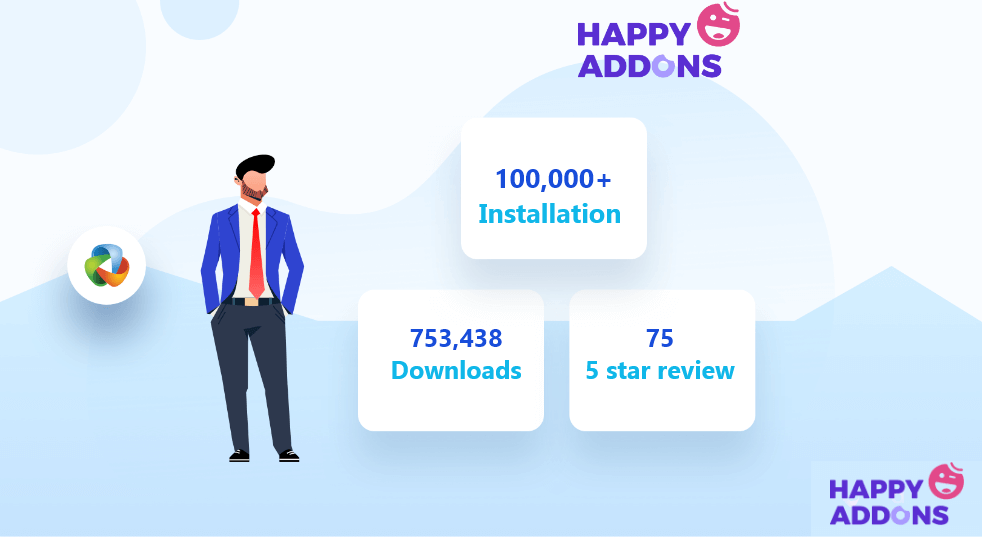 Elementor is an easy-to-use and flexible WordPress page builder plugin. Here you can easily drag and drop elements, edit them, and preview everything in real-time. It enables you to create a perfect website without writing any code. Plus, it allows developers to help Elementor grow faster. This is how the idea of HappyAddons came out.
HappyAddons is a third party Elementor addon that makes your hands more powerful to design a professional website instantly. And extends the customization options even further.
The main motto of Happy Elementor Addons makes your development process smoother by adding additional features, widgets, and extensions. You will find all your desired functionalities here to build stunning websites. It includes a bunch of advanced features like Animated text, Motion Effects, Trendy Blocks, Display Conditions, Social Media Feed, and so forth.
Latest version: 2.16.0
Last updated: 4th December 2020
5 Star Rating: 75+
Currently, HappyAddons has 75+ widgets (35 free & 40 pro) and 15+ features. Two major additions of 2020 were- 200+ Happy Blocks and 400+ Happy Templates. Using these pre-made layouts you can accelerate your workflow and create beautiful new designs in a flash!
The pricing of Happy Addons starts at $39/year which unlocks 50+ widgets, 500+ line icons, exclusive features like Live Copy, Display Condition, Preset, etc., and one year of updates with 24hr support response.
Our Journey from 0 to 100k+ Happy Members
Here's a quick recap of our journey so far, and some milestones we have hit on the way.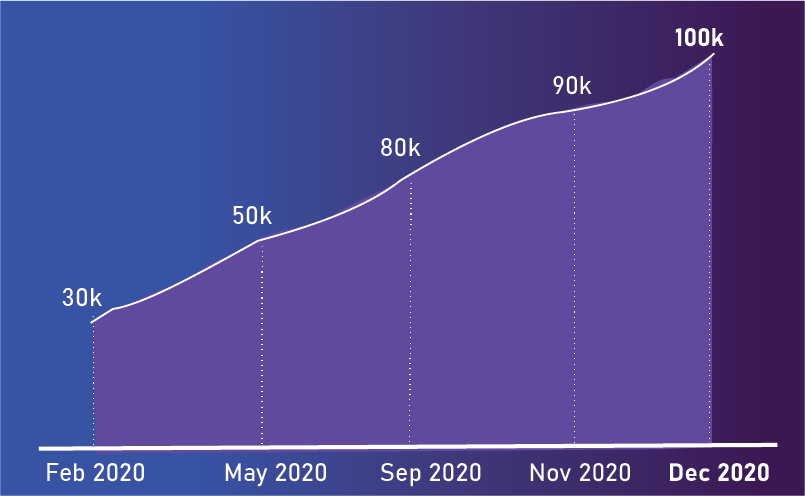 We've published the pro version of HappyAddons at the end of September 2019. After that, there is no looking back! We continue our journey with great force. As a result, we achieved our first success within six months only. We reached our first milestone of 30,000 active installs in March 2020.
Then within the next three months, we crossed another benchmark of 50,000. We are so lucky to get this much love and support from the entire Elementor community.
We were really worried about the next milestone. As we all are working remotely due to the COVID-19 pandemic. But HappyAddons ensures all the facilities keeping all the team members aligned. So that they can work together as a team from home.
That's why the pace of growing never slows down. Rather it gets faster and we unlocked our biggest milestone of 2020. This December we've reached 100k active installations.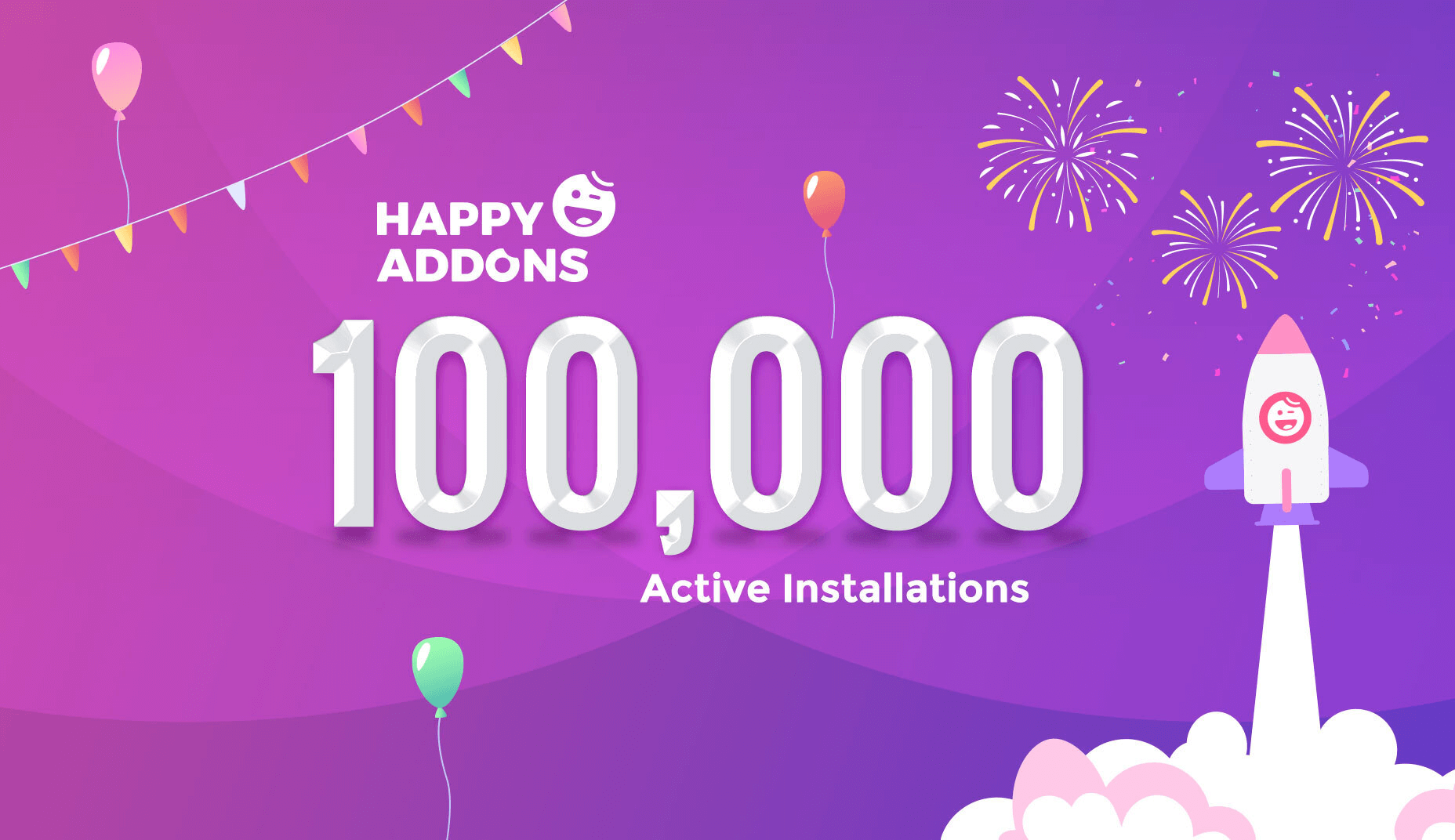 That means within 6 months, our user-base gets doubled in size.
How We Support People During Covid-19 Pandemic
It's probably fair to say that 2020 has been a tough year for most of us. Our whole life might have been thrown upside down. Nearly half of the world's 3.3 billion global workforces are at risk of losing their livelihoods. In this situation, we encouraged people to start their own online business.
During this pandemic, we inspired people to set up their online business using Elementor. For that, we introduced multiple WooCommerce widgets. Therefore, people can easily design their online shops and start earning money!
Apart from this, we offered up to 40% OFF last summer to save our users' pockets.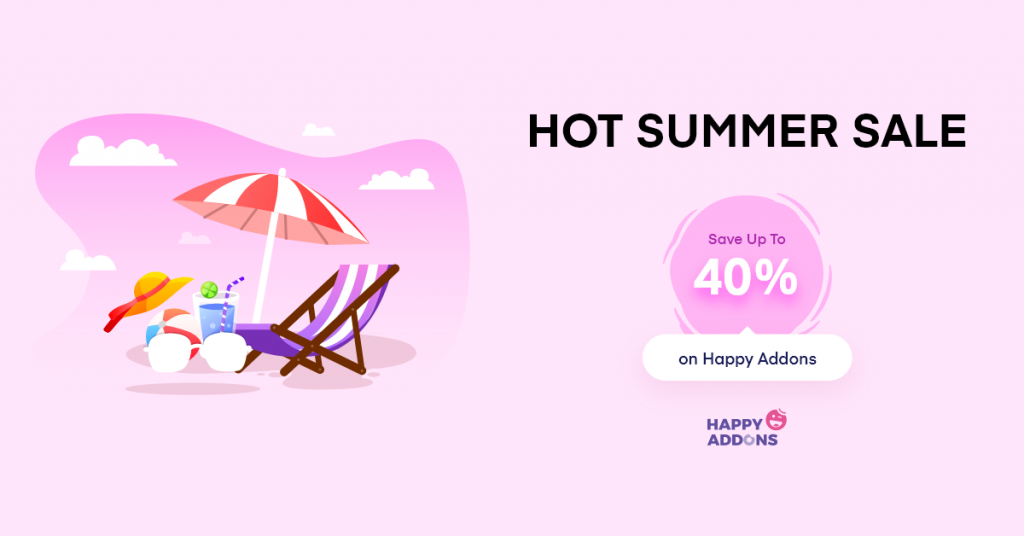 Most importantly, we've followed all of the directives and updates outlined by the World Health Organization (WHO) and the Center for Disease Control (CDC).
In this HappyAddons year in a review let's highlight the new widgets and features from last year-
Happy Widgets That Will Definitely Blow Your Mind
Throughout 2020 we've introduced 25+ FREE widgets inside HappyAddons. Some important picks:
| | |
| --- | --- |
| Horizontal TimeLine widget | Social Share widget |
| Data Table widget | WP Fluent Forms widget |
| 360° Rotation widget | Taxonomy List widget |
| Post Tab widget | Post List widget |
| Twitter feed widget | Bar Chart widget |
| Social Icons widget | Fun Factor widget |
Throughout 2020 we've introduced 20+ PRO widgets inside HappyAddons. Some important picks:
| | |
| --- | --- |
| Modal popup widget | Advanced data table widget |
| Product Category Grid widget | Product Category Carousel widget |
| Post Grid widget | Sticky Video widget |
| Author List widget | Smart Post List widget |
| Post Tiles widget | Product Grid widget |
| Product Carousel widget | Post Carousel widget |
| Twitter Feed Carousel widget | Breadcrumb New widget |
| Pie & Doughnut Chart Widget | Line Chart Widget |
| Rader Chart Widget | Polar Area Chart Widget |
| HotSpots widget | Price Menu widget |
We regularly adding more and more widgets to meet your expectations.
Happy Features- Supercharge Your Website Building Experience
We've dished out the following features as hot as ever from January 2020 to December 2020-
Prime Free features added in 2020:
Grid Layer feature for designer
Wrapper Link feature for section, column, and widget
WPML support for all widgets
Twitter feed timestamp settings
Prime Pro features added in 2020:
Display condition global feature (Works with all widgets, section, and column. Available inside advanced tab)
Self Hosted Live Copy
Section template inline editing
Instagram New API integration
Extension we bring this year:
Particle effect extension
happyaddons/extensions/image_masking filter hook to disable image masking
happyaddons/extensions/display_condition filter hook to disable display condition
happyaddons/extensions/grid_layer hook to control Grid Layer
happyaddons/extensions/background_overlay hook to control Background Overlay
happyaddons/extensions/wrapper_link hook to control Wrapper Link
happyaddons/extensions/happy_clone hook to control Happy Clone
happyaddons/extensions/adminbar_menu hook to control Adminbar menu
happyaddons/extensions/floating_effects hook to control Floating Effects
happyaddons/extensions/css_transform hook to control CSS Transform
happyaddons/extensions/on_demand_cache hook to control On Demand Assets
Besides adding new widgets & features, we fixed a lot of major issues and updated many functionalities too. Such as-
Updated compatibility with WP 5.5.x
Updated compatibility with Elementor 3.x.x
Include 44 new Happy icons
Instagram data cache system update
Solved JS function backward compatibility issue
Post Carousel compatibility with WPML
On-Demand Assets Loading compatibility with WPML
GravityForms widget issue causing Elementor editor continuous loading
and many more
HappyAddons Exclusive Addition- Extend Your Imagination to Infinity
In 2020, we bring some extraordinary features to reduce your web development time:
400+ Happy Templates
These ready templates will accelerate your working speed up to 5-10 times faster. Using these premade layouts you can create beautiful designs in a flash.
200+ Happy Blocks
HappyAddons includes more than 200 ready-to-use blocks in different categories. So, no need to spend countless boring time just to get your desired look. Get everything instantly.
Like Happy Effects, these features also got a huge response from our users!
Happy Grand Giveaway- Token of Our Gratitude & Love for You!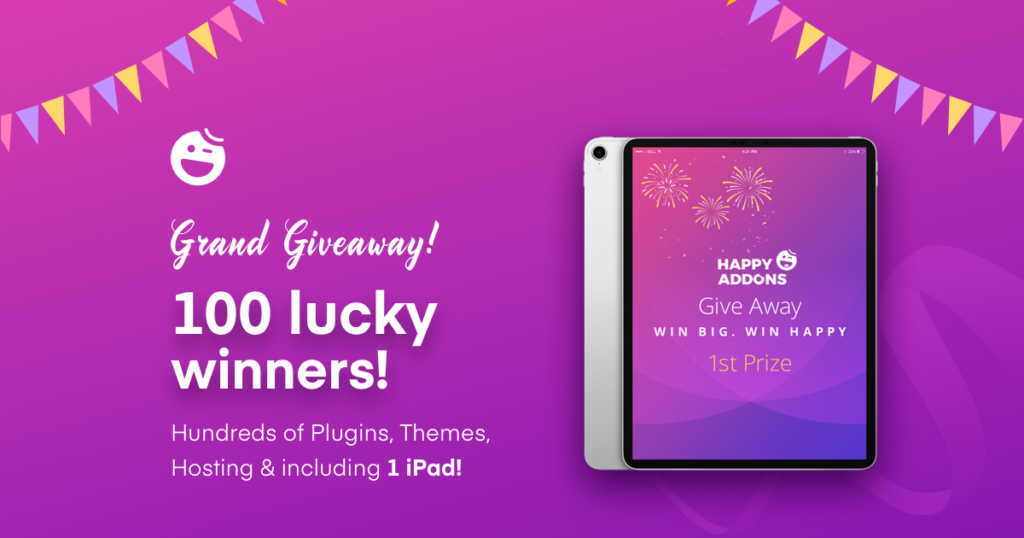 We celebrated our 50k active installations quite grandly. We've arranged a grand giveaway to show our gratitude to all Happy users announcing a massive $35,000+ giveaway of WordPress products. It includes hundreds of WordPress Plugins, Themes, and Hosting plans.
The lucky winner won an iPad also.
Also, we offered several discounts and special packages on special occasions in 2020. Our biggest sale was announced last month on Black Friday- Up to 50% OFF on all premium packages.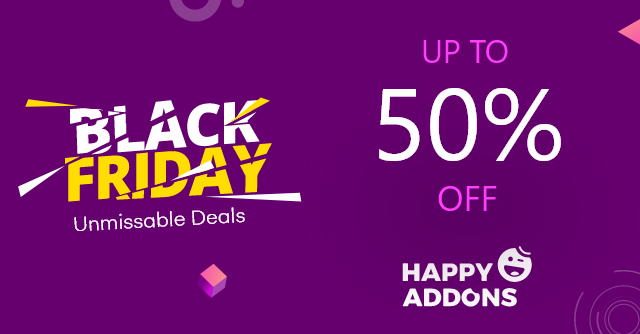 Happy Community
What goes around come around!- We always try to work in favor of our users. To give all our users seamless response we established Happy Community on different social platforms.
1.2k likes on HappyAddons Official Facebook page
1.52k YouTube subscribers
Around 1500 members in HappyAddons Facebook Community
Check out the following profiles to join our Facebook or Twitter community:
Also subscribe to our YouTube channel to get the latest news, updates and detailed tutorials-
From these social platforms, you will get helpful resources regarding website development with Elementor, using different addons, etc. Also, you can help others by sharing your views and experience. Our support team members are also active there. So you'll get a quick response to your queries without waiting in the queue.
Happy Resources
27 Videos Published
This year we made more video tutorials to make our users' journey simpler. You will get individual video on almost every Happy widgets and features.
106 Blogs Written
Throughout 2020 we published more than 100 blogs covering different related topics of Elementor. These blogs help you to enhance your product knowledge.
35+ Docs Updated
With a new release of widget or feature we also update our documents. So that you may not face any problem with the new addition.
Happy Team at a Glance
30 Avengers (Employees)
There are 30+ employees in HappyAddons working in different departments. A project manager aligns all the project activities and goals with the strategic vision of our organization.
10 BIG Monsters (Developers)
Our expert development team is responsible for bringing new usable widgets and features. Having a deep understanding of users' insights they always make the options and design process user-friendly.
5 Ninja (Support Team)
Our support team includes 5 supporters from around the world who speak 3 different languages, while our official language remains English.
We got 3k+ support tickets from 1.5k customers in 2020. It means we get an average of 10 support tickets every day. Most amazingly, 95% of our users are happy with the service they received from our support agents.
As we promised at the beginning of 2020 to provide 24/7 support- we successfully keep our promise and deliver high-standard customer service throughout the year.
Don't Take Our Words! Hear What Our Customers Say
Our all plans build around Elementor users' demand and their requirements. We're proud and honored to have received plenty of positive comments and appreciations from our clients!
To date, we've earned 75+ 5-star reviews on WordPress.org. out of a total of 80 ratings with an average of 99% customer satisfaction.
We are always pumped to read our clients' reviews. We go through each and every review and plan for our next strategies considering them. Here are some of our clients' feedback from 2020: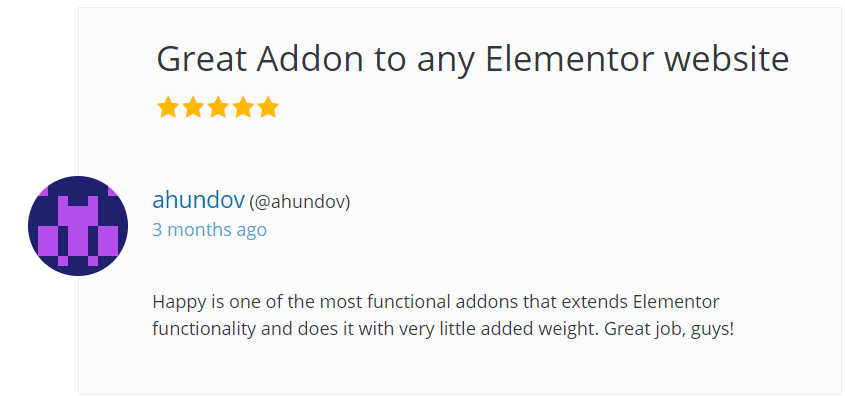 As we mentioned above, we also provide support on different social platforms. Our responsible team members are always active there to respond & solve issues ASAP. Some snaps from our social community:
Another one where our representative respond immediately after getting query from an user:
Well, it's difficult to keep track of all updates that HappyAddons experience in 2020. In this HappyAddons year in review- 2020, we just tried to spotlight all the significant areas of effort so far.
Web Design Made Easier with Happy Elementor Addons
HappyAddons is a faster and secure foundation for WordPress websites. In the spirit of moving forward and continuous improvements, we promise to continue this fantastic journey. We are committed to adding more value to the WordPress community.
Important to mention, a number of unique and advanced features make us popular among Elementor users within a short time period. Positive feedback from customers and hold a large family of around 100,000k members mostly strengthen this fact.
We'd like to express our sincere gratitude to each and every member of the HappyAddons community for supporting us.
A BIG Thank you to all Happy Users! ?
Here's a big shout out to all our clients and partners who made 2020 memorable.
Happy New Year 2021 ??