Despite many people terming it as slow, unstable, or even insecure, shared hosting is dominating the hosting market with a 37.64% of revenue share. It's easy to read reviews online and get confused about Shared vs Managed WordPress Hosting, and which type of hosting is suitable for you.
If you are planning to build a WordPress site or any site for that matter, hosting is the first quest that you will have set sail for. And it might take a lot of time to choose the perfect hosting, especially if you are building a WordPress site.
You will have to take into account a lot of things, like speed, security, and if there is a dedicated WordPress-friendly environment on offer or not. Unlike many other articles, you will find online, we will not bash one type and promote another.
Rather, we will help you on your quest to choose the type of hosting that will suit you. Sounds fair enough? Let's dive right in then.
Why Hosting Types Matters?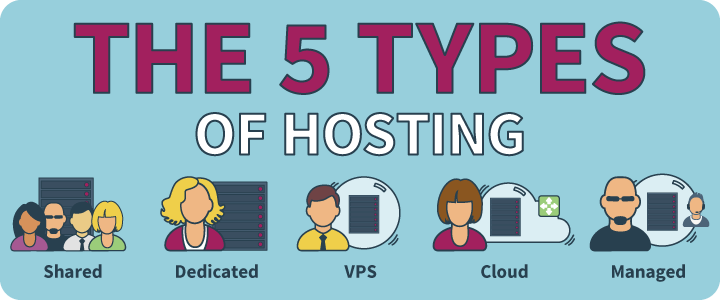 Before we let you know why hosting types matter so much, let's take you on a stroll first.
For beginners, let's clear out what hosting means? Hosting is the space on the internet where you can set up your website and store your files. In another way, you can think of hosting as your online hard drive.
Now unlike your pc hard drive, we call these storage spaces "web servers". Around the world, hosting providers build data centers to keep these web servers as protected as possible. That is why we can hardly ever see websites go down.
Unsurprisingly, maintaining these web servers is a costly thing to do. So hosting providers usually share a common server with many people, and not spend any bucks on optimizations. It helps to keep the cost down for general people like us to build a website.
But if you want a more optimized environment for your website (speed optimizations, extra security protocols, etc.), some hosting providers also provide that type of feature, albeit for more money.
And if you want a more stable website, you can even opt for fully private servers, which are the most costly options.
So, in short, hosting types are there so that everyone can build a website no matter what is their budget. Depending on budget and priority, you can choose the type of hosting provider that you can afford or need.
What is Shared Hosting?
Shared hosting is the cheapest and likewise the most popular hosting option. It is a type of hosting, where multiple people share a single web server.
Now, this web server can either be managed or not-managed. So technically we can not compare between shared hosting vs managed WordPress hosting, as shared hosting can also be a managed hosting.
However, the following part of our discussion will show you the pros and cons to understand shared hosting better.
Pros of Shared Hosting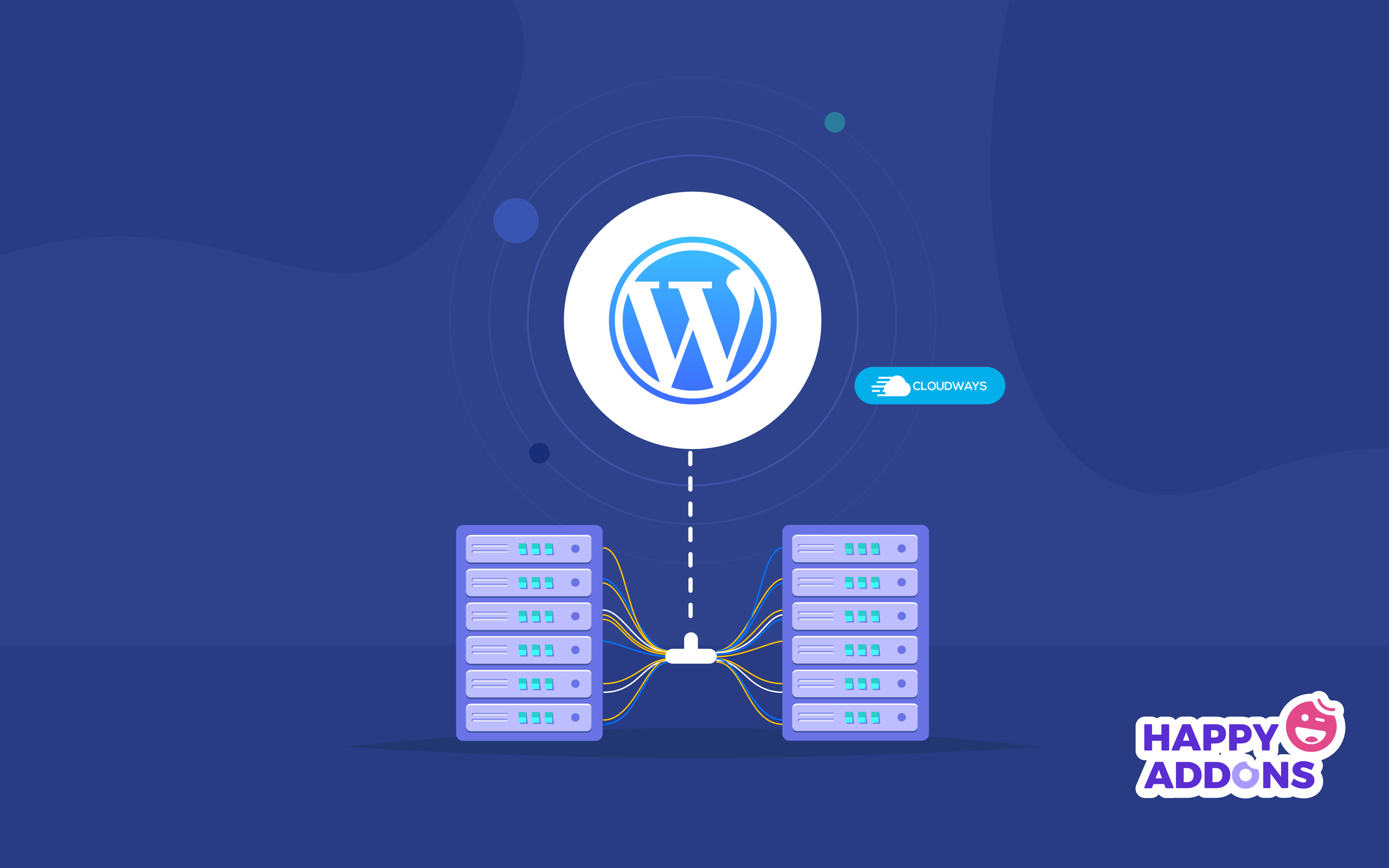 Shared hosting is the most common and widely-used form of hosting. So there must be something that sets this apart from the other options, right? Let's look at the pros of Shared Hosting.
Cost Friendly: This is the prime reason behind the popularity of Shared hosting. Comparing between regular shared hosting vs managed WordPress hosting, the latter is the cheapest of the two.
Emails with Own Domain: More often than not, hosting providers let you create unlimited emails with your own domain.
Customizability: Shared hosting can give you more customizability than managed hosting.
Flexibility: Shared hosting is often very flexible. Unlike managed hosting, they are not optimized for any specific type of website (Such as WordPress Hosting), so you can build any type of website using shared hosting.
However, with all being said, shared hosting can also be managed, so some of the pros of shared hosting can also apply to managed hosting.
Cons of Shared Hosting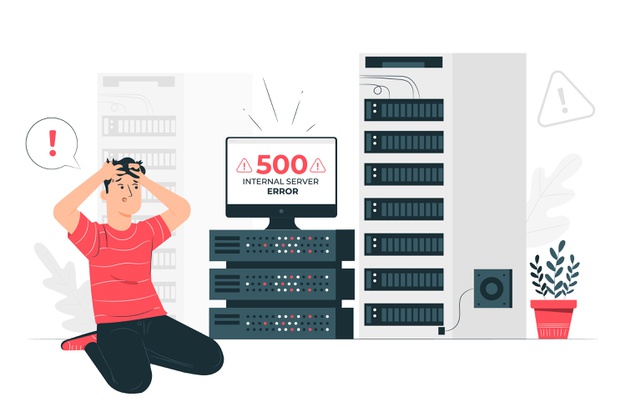 Now despite being the popular choice, shared hosting is far from perfect. It is in fact the least secure form of hosting (albeit that can be dealt with by taking appropriate security measures).
But that doesn't lessen the cons of the cheapest type of hosting. As we have already talked about the pros, now let's take a look at the flip side of using shared hosting.
Performance Issues: Performance is the first concern when it comes to shared hosting. As several different websites cram inside a single space, if some of them start using more resources than usual, it will hamper your website performance as well.
Security Concerns: Perhaps the most common saying about shared hosting is that it is not secure enough. To some extent, we can not disagree that shared hostings can be a bit insecure. When you have multiple websites from different owners sharing a single space, if one of the websites gets infected with malware, it poses a security threat to the others as well. This is why shared hostings are often not the most recommended ones.
Everything on Your Hand: When you opt for unmanaged shared hosting, you will have to deal with all the security, performance, and other issues on your own. Whether you want to build a WordPress site or an HTML one, you have to build the environment from scratch.
More Downtime: Another issue with most shared hosting is downtime. While every hosting gets down from time to time, because of more users shared hosting has to take more strain and as a result, gets down more often than other hosting plans.
What is Managed WordPress Hosting?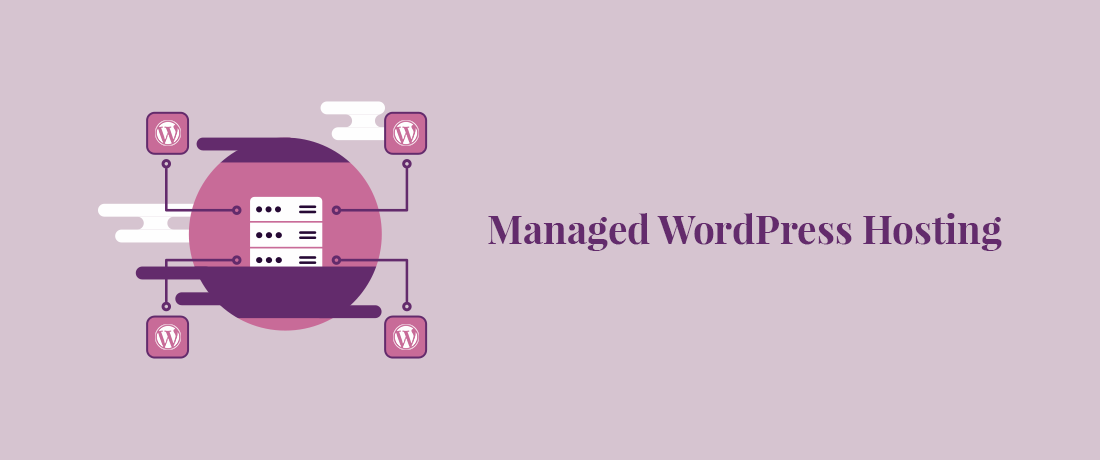 Managed WordPress hosting is another increasingly popular hosting method. When a hosting service provider assigns you a server space (shared or private) but manages it by themselves. Unlike regular shared hosting, with managed hosting, the provider controls your server, provides security, optimizes speed, and take care of your data backup services. Managed hostings are often optimized for a specific kind of websites, such as WordPress.
Pros of Managed WordPress Hosting
Managed WordPress hosting is easy to maintain. Well, to be honest, in the case of managed hosting, you don't have to maintain the server at all. The core rationale behind managed hosting is leaving the server-side issues to the hosting provider so that you can focus on building the perfect website for your visitors.
Seems perfect for you? Then you might want to read some of the more bright sides of managed WordPress hosting.
Handled by Experts: Managed WordPress hosting lets you stay out of hassles for most unwanted issues, as your server-side will be handled by hosting and WordPress experts. This is why, if you are someone new in the world of the web or WordPress, managed hosting is the perfect choice for you.
Highly Optimized for Performance: Managed WordPress hostings are optimized for speed from the server-side, so your website will load faster than most websites.
More Secure: Apart from the free SSL, managed WordPress hostings often come with built-in security plugins, so your website is protected from spam, malware, or brute-force attack.
Automatic Backup: Every day new updates come for WordPress plugins. WordPress too releases updates every once in a while. If you are not active enough on your website, you could miss out on most updates. This can lead to security threats for your websites, or you might even miss out on great new features as well.

However, as managed WordPress hostings usually offer auto-updates for WordPress and its plugins, you will be on the safe side. Even if you hardly get any time to monitor your site, you can stay tension-free.
Cons of Managed WordPress Hosting
So far so good for managed WordPress hosting, right? Well, like every other hosting service, managed hosting also lacks in some areas.
If you don't want to feel betrayed later, get to know where they fall behind.
Less Cost-friendly: As you can already guess, managed WordPress hostings are not cheap. Because you have dedicated experts who will look after your site, you are not just paying for the product, but for the service as well. So generally, managed WordPress hostings tend to be comparatively pricier than regular shared hosting.
Limited to WordPress: What happens if one sunny day, you decide that WordPress is not cutting it for you, you need a custom-developed website? We have bad news for you in that case. If you opt for Managed WordPress hosting, you will only be able to run a WordPress site with that hosting plan.
Forget Own Domain Emails: Very few managed WordPress hosting plans offer free emails with the domain name, so unless you pay higher, there's a good chance you will not be able to create emails with your domain name.
Restriction on Plugin: There's some specific restriction on which plugins you can not install on your WordPress websites, which is because managed WordPress hosting providers want you to have a faster website and you might be barred from installing plugins that are proven to slow down websites.
Shared vs Managed WordPress Hosting – Which One Should You Choose?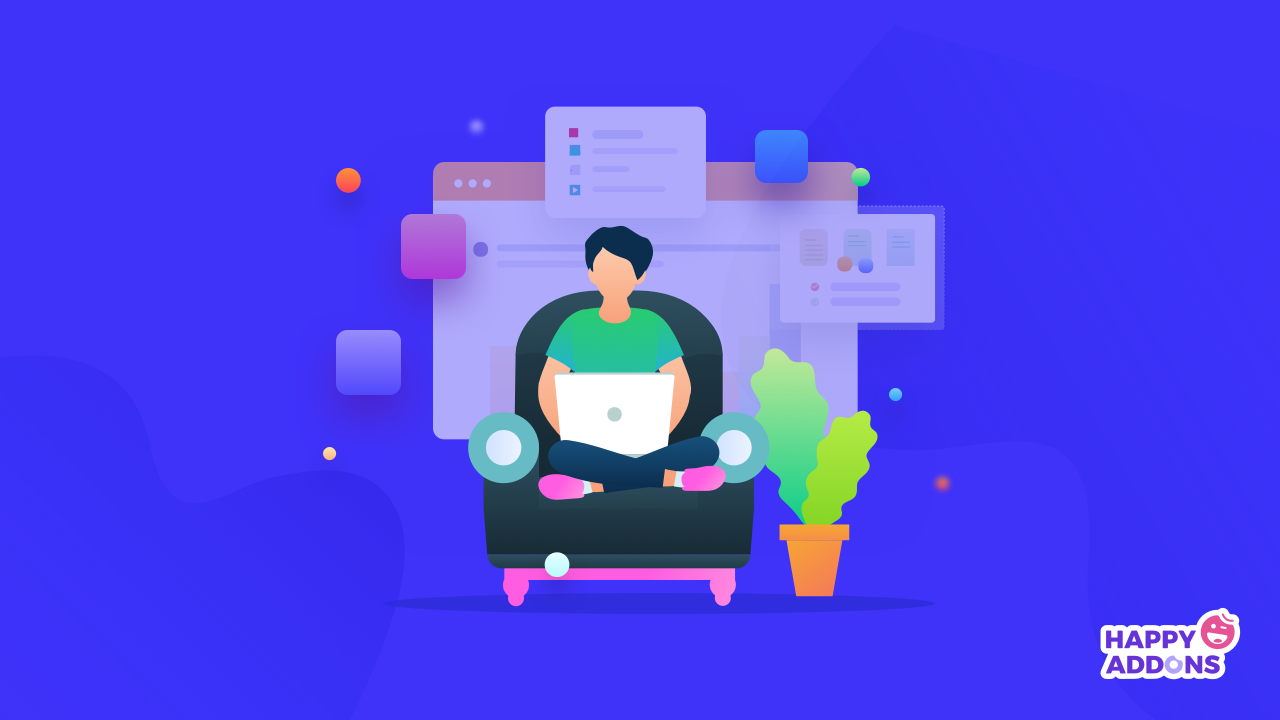 For beginners, choosing between shared vs managed WordPress hosting is one of the biggest decisions to make when it comes to building a website. But the truth is, there is no better or worse hosting plan. So which one should you choose?
If we take the facts we talked about above, we can have a brief comparison, which can led to help you find the perfect plan for you.
Shared hosting is the cheapest hosting plan, but it also lacks in speed and performance. So if you want to run a blog or a new website that will not bring tons of visitors overnight, you will be fine with it. However, if you are not an expert, it might be hard for you to manage security, performance, SEO, and everything else by yourself, which you might need to do in the case of Shared Hosting.
Shared Hosting is Suitable for: Blogs, new websites, and small websites with fewer visitors.
Managed WordPress hostings are comparatively pricier but offer managed WordPress optimization, better security, and help you get the better overall performance of your website. So if you have a website with more visitors, a website that will feature a lot of media files or a website that will have protected information, we suggest that you opt for managed WordPress hosting.
Managed WordPress Hosting is Suitable for: Large websites, Media-rich websites, websites with a large number of visitors, websites with confidential information.
Top Shared Hosting Providers
The primary selling point of shared hosting is that they are cheap. So we will focus mainly on cost-friendly options. Here goes the list of best shared hosting providers –
1. Hostinger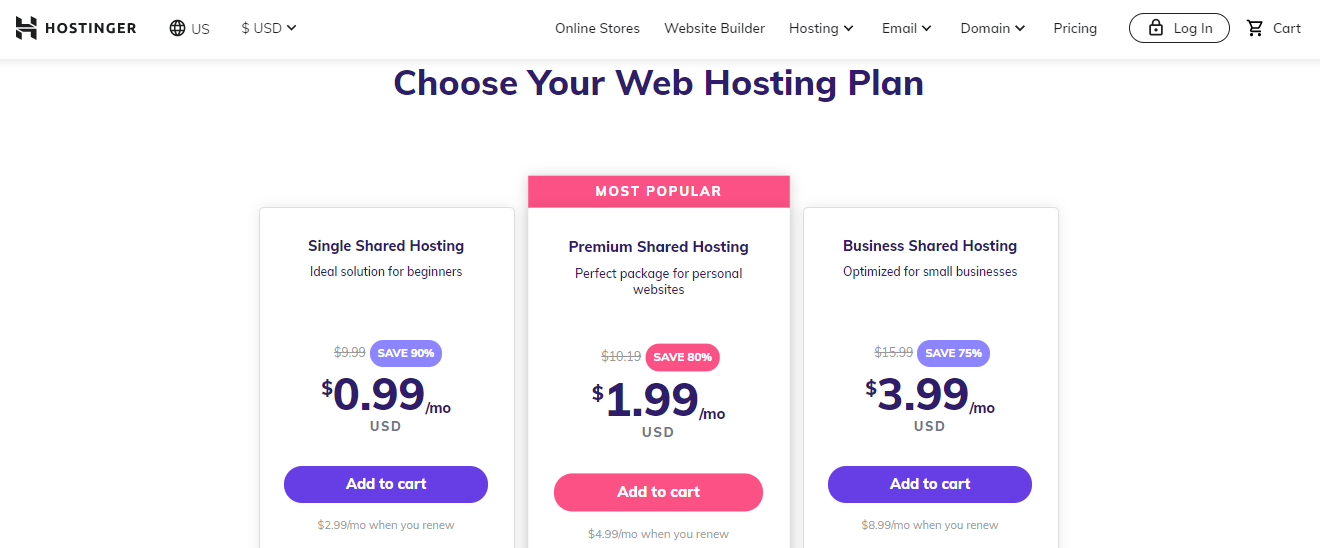 Hostinger provides one of the most cost-friendly shared hosting plans. Starting from lower than a buck, you can find a lot of options, all under budget.
There are various other reasons for ranking Hostinger on top of our list. Apart from the core features, you will be getting the following from Hostinger's cheapest shared plan. An impressive list we must admit.
Free SSL.
GIT Access.
Cloudflare Protected Nameservers.
24/7/365 Support
99.9% Uptime Guarantee
DNS Management
Access Manager
2. HostGator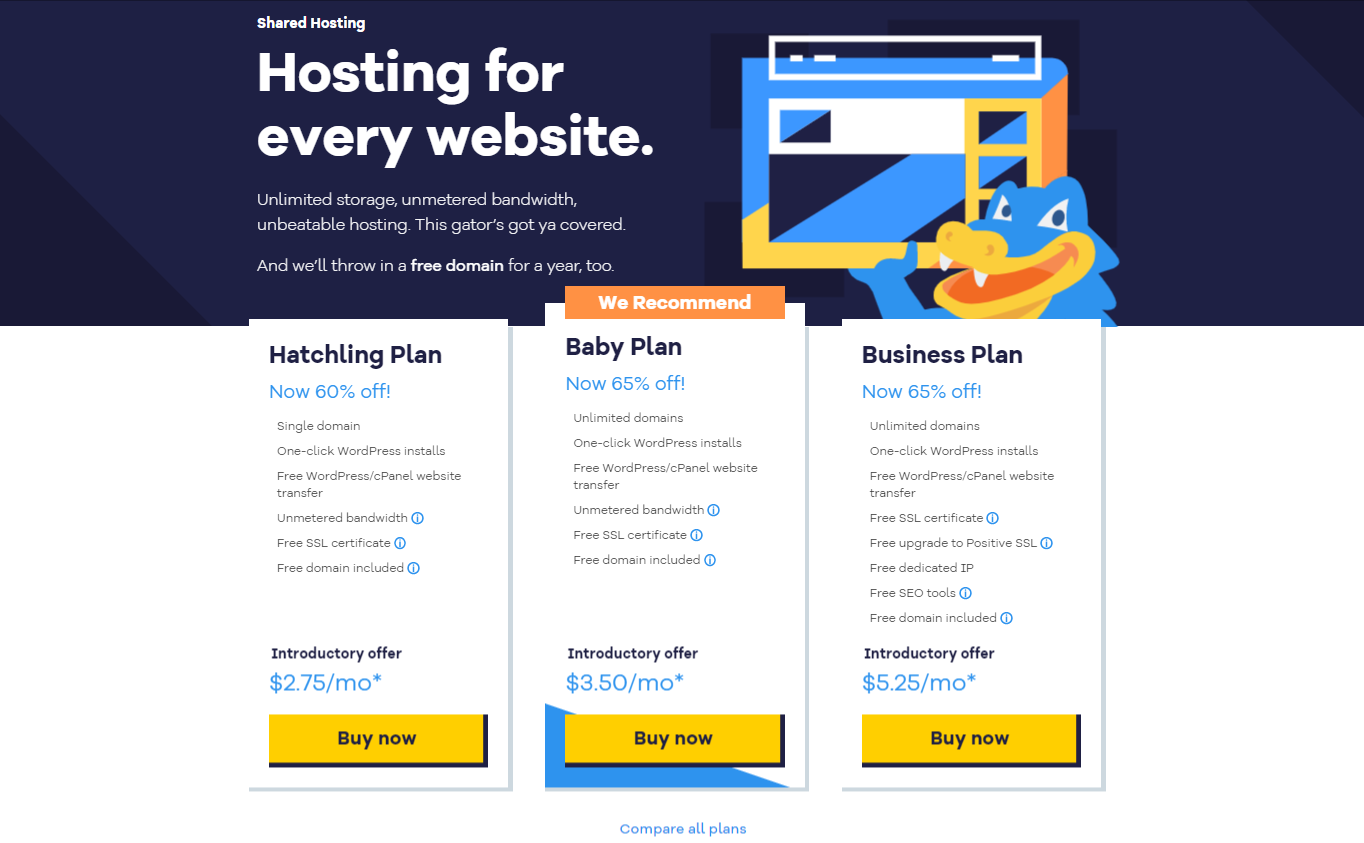 HostGator is another great hosting provider that provides shared hosting at competitive price point. They also offer some eye-catching features on top of that.
The list includes –
Free WordPress/cPanel website transfer.
Unmetered bandwidth.
Free SSL certificate.
And a free domain*.
3. Bluehost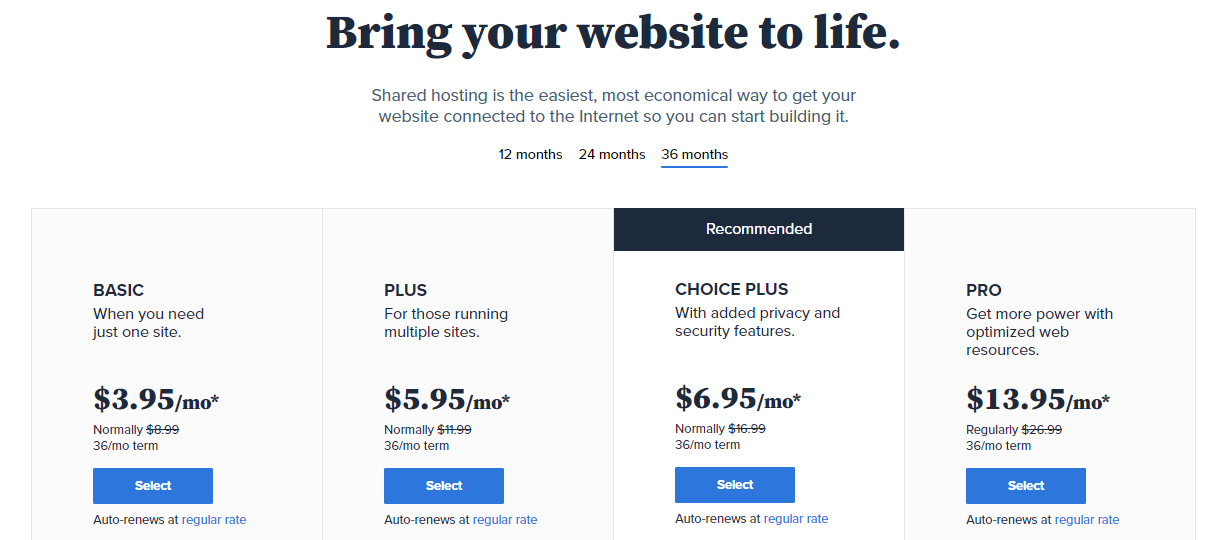 Bluehost is one of the most renowned names when it comes to web hosting. Their pricing is a bit more than others but considering the after-sale service and stability they provide for your site, they are one of the best in the world.
Their starter package for shared hosting offers some extras as well.
Custom Themes
Free Domain – 1 year
CDN Included (Free)
Free SSL Certificate
Top Managed WordPress Hosting Providers
There are quite a few big names on the list of the best managed WordPress hosting.
1. SiteGround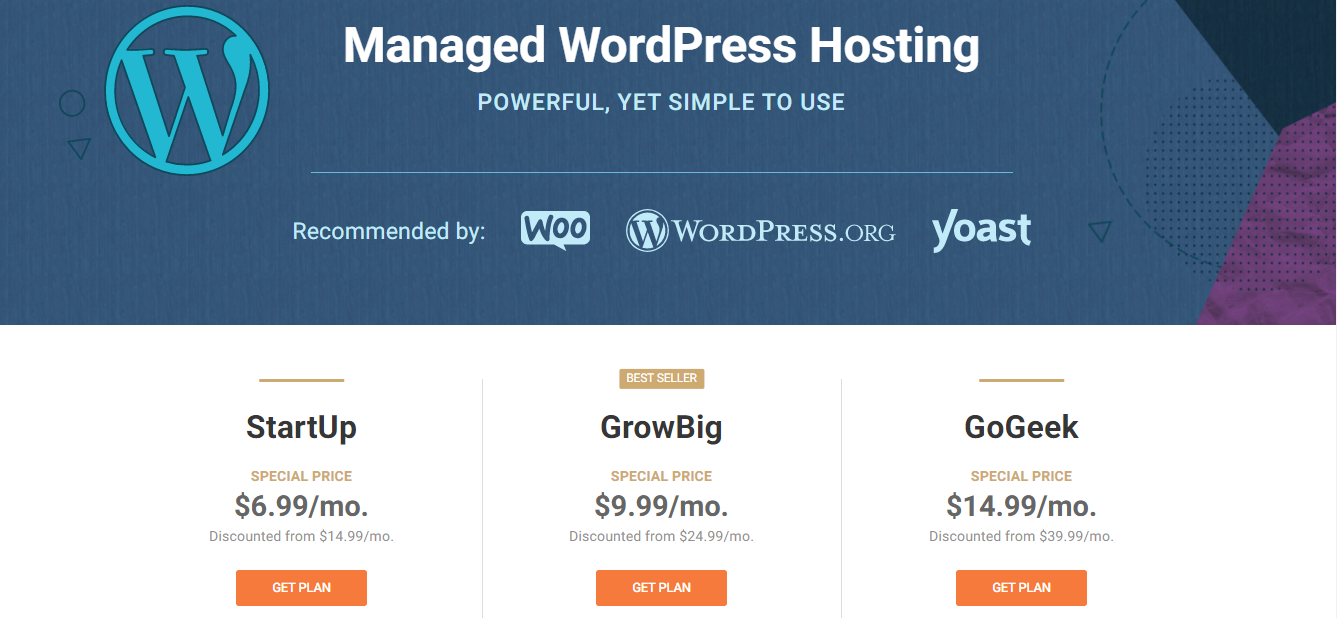 SiteGround is one of the top hosting providers online. They are in the business for a long time and provides excellent service. Their terrific history of customer service made them an auto choice in this list.
Their starter plan offers the following, apart from the regular features –
Free WP Installation
Free WP Migrator
WordPress Auto-updates
Free SSL
Daily Backup
Free CDN
Free Email
WP-CLI and SSH
Unlimited Databases
30-Days Money-Back
2. Cloudways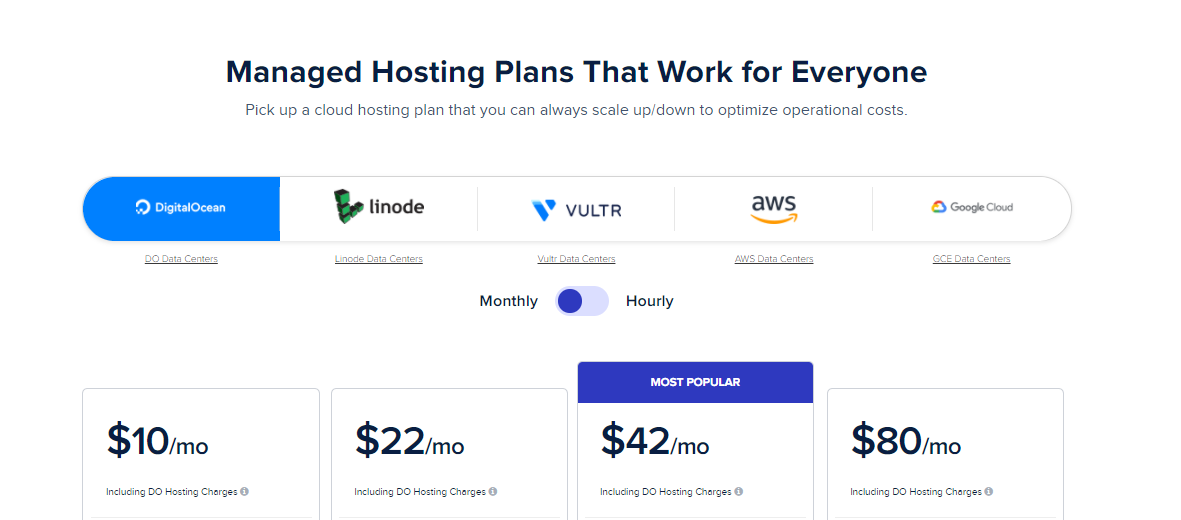 Cloudways is a managed hosting service provider. They are an expert and reliable name in the field of managed WordPress hosting.
Their basic plan got you covered with the following features.
24/7/365 Support
Free SSL
CDN Add-on
Free Migration
Unlimited Application Installation
Dedicated Firewalls
24/7 Real-time Monitoring
Automated Backups
Staging Environment
Optimized With Advanced Caches
Auto Healing
Regular Security Patching
SSH and SFTP Access
3. DreamHost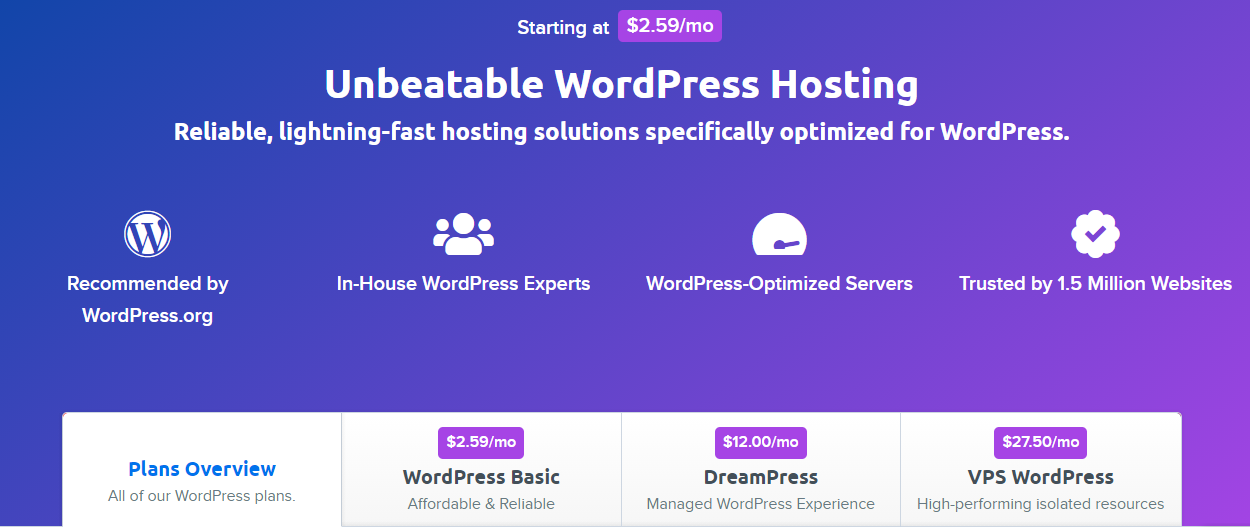 DreamHost is an increasingly popular hosting service. That is because they offer an amazingly cheap managed WordPress hosting service. Their WordPress basic plan is as low as it gets.
For the price, they can not afford to fill in much extra, but they do offer the following in the basic plan.
WordPress Pre-Installed
Free Automated WordPress Migrations
Fast SSD Storage
Free SSL Certificate
Choose your Hosting and Start Building Your Dream Website Today
Hosting is one of the first things that you will have to choose when you plan to build a website. Although there are many types of hosting available, we have tried to compare and clear your confusion about one of the most asked questions online about hosting, which is shared vs managed WordPress hosting.
While two of them are not exactly the opposite and can exist together, managed hosting does offer a bit more security compared to regular shared hosting plans. However, shared hostings are the cost-effective option if you are just starting out and on a budget.
If you have already decided which type of hosting you want, consider Elementor page builder to start building your website easily. Need a guide? Here's one to start on!